Philly Cheesesteak Tater Tot Casserole is a great weeknight dinner idea! Made with ground beef, potatoes, cheese, and veggies for an easy recipe. Gluten free.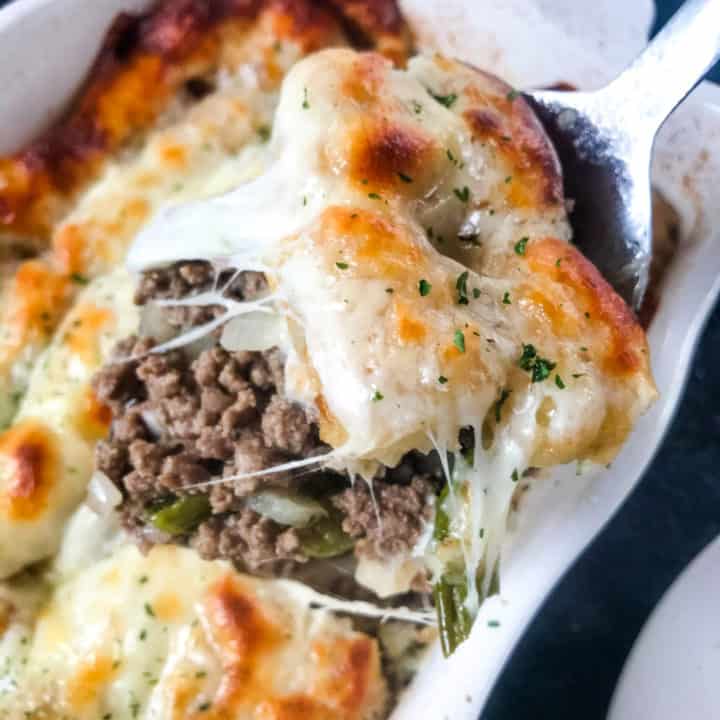 This Philly Cheesesteak Tater Tot Casserole is a combination of ground beef, onion, and green bell pepper layered with provolone cheese and potato tater tots. A great option for a fast dinner idea on busy nights that is kid friendly!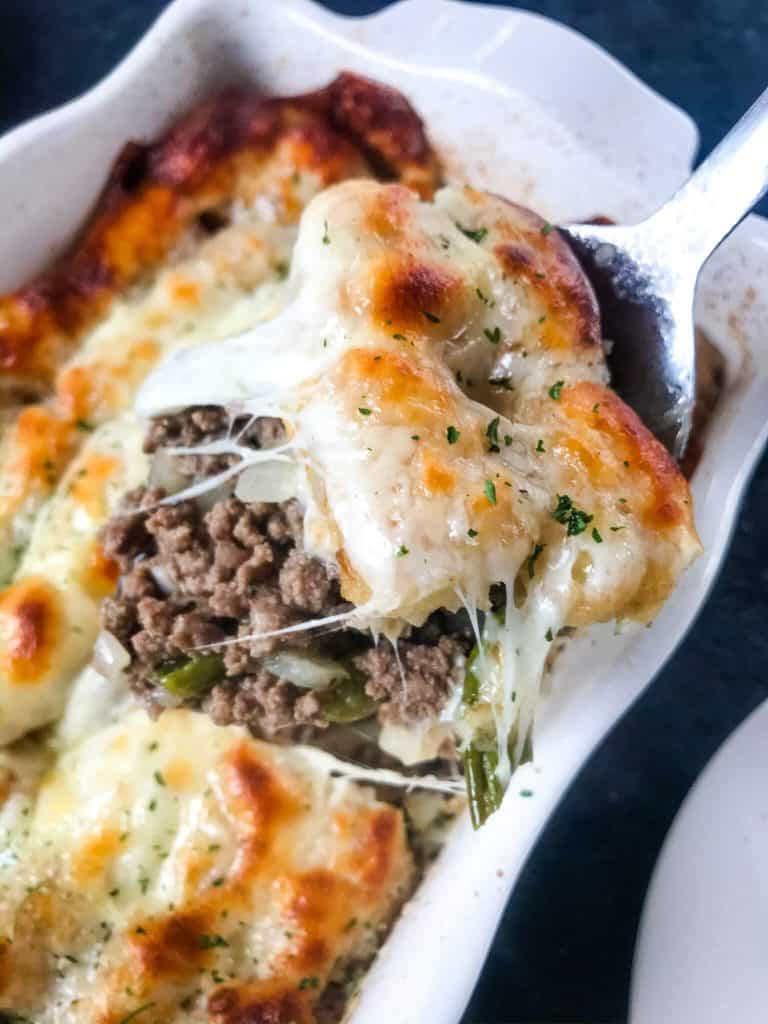 Why You Will Love This Recipe
Welcome to the delicious world of comfort food with a twist! Introducing the Cheesesteak Tater Tot Casserole—a mouthwatering combination that will satisfy your cravings and leave you begging for seconds.
This tater tot casserole takes the iconic flavors of a classic cheesesteak sandwich and elevates them to new heights by incorporating tater tots and gooey cheese.
This casserole recipe is a perfect weeknight meal for a family!
Whether or not a cheesesteak has bell peppers in it is a debate, but I personally love it and have included it here in this gluten free Philly Cheesesteak Tater Tot Casserole.
I love using the flavors of a Philly cheesesteak in different recipes! Find more Philly cheesesteak inspired recipes here!
I am a big fan of potatoes and the idea for tater tot casseroles came to me randomly one day. I figured, why not layer some favorite foods and flavors with a bunch of delicious, golden, tater tots?!
A cheesy beef casserole seemed like a great variation.  You can find more tater tot casseroles here!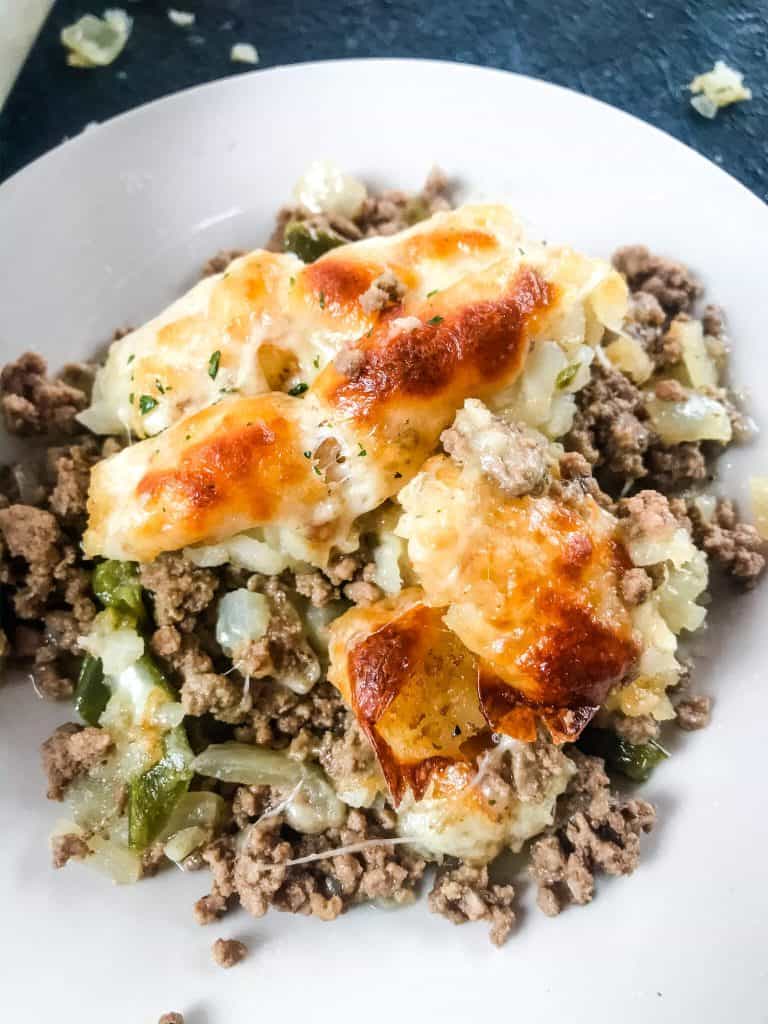 Ingredients
These are the ingredients you need to make this beef tater tot casserole recipe:
Tater Tots
Ground Beef
Green Bell Pepper
Yellow Onion
Provolone – See below about the provolone vs Cheez Wiz content
Chicken Stock – or broth
Garlic Powder
Salt
Black Pepper
Provolone vs Cheez Wiz
You are also going to find both provolone and cheez wiz in Philly, but I am told the locals go with provolone.
If preferred, you could swap out provolone for cheddar to give more of that cheez wiz flavor.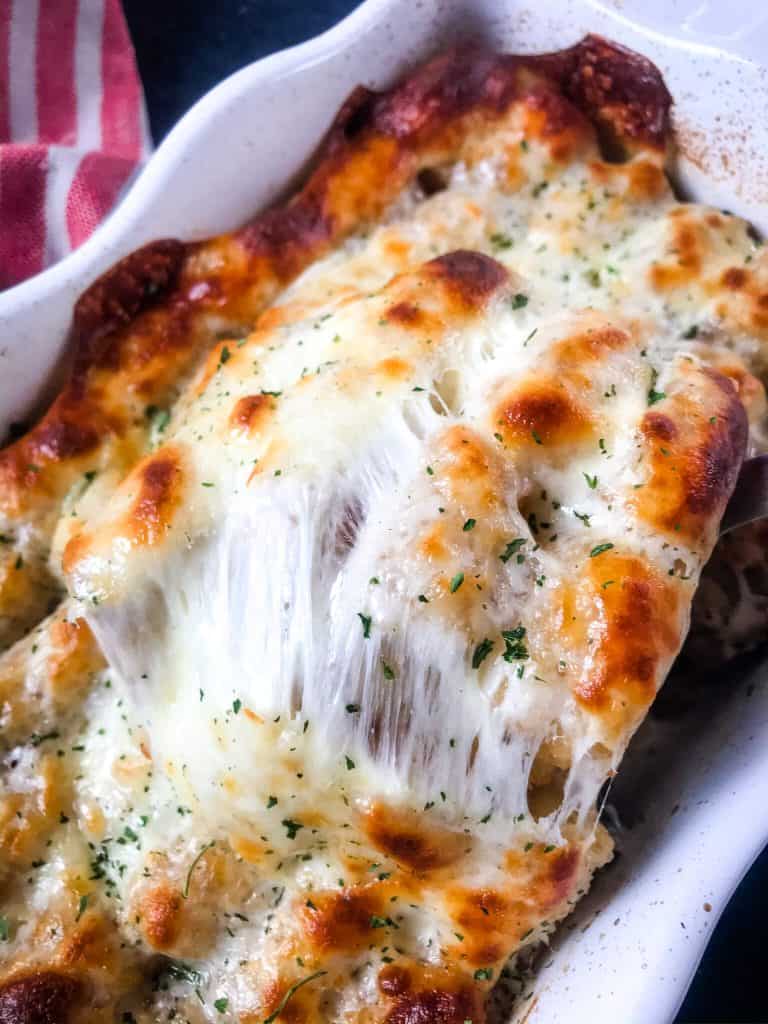 Instruction Overview
Cook the ground beef (as we will not be baking long enough for this to happen!).
Cook your onions and peppers until soft but still crisp.
Add the seasoning and stock to keep things moist.
Layer your dish with the beef mixture, cheese, and potatoes.
Top with more cheese to get that golden brown top!
Bake until tots are cooked through and cheese is bubbling.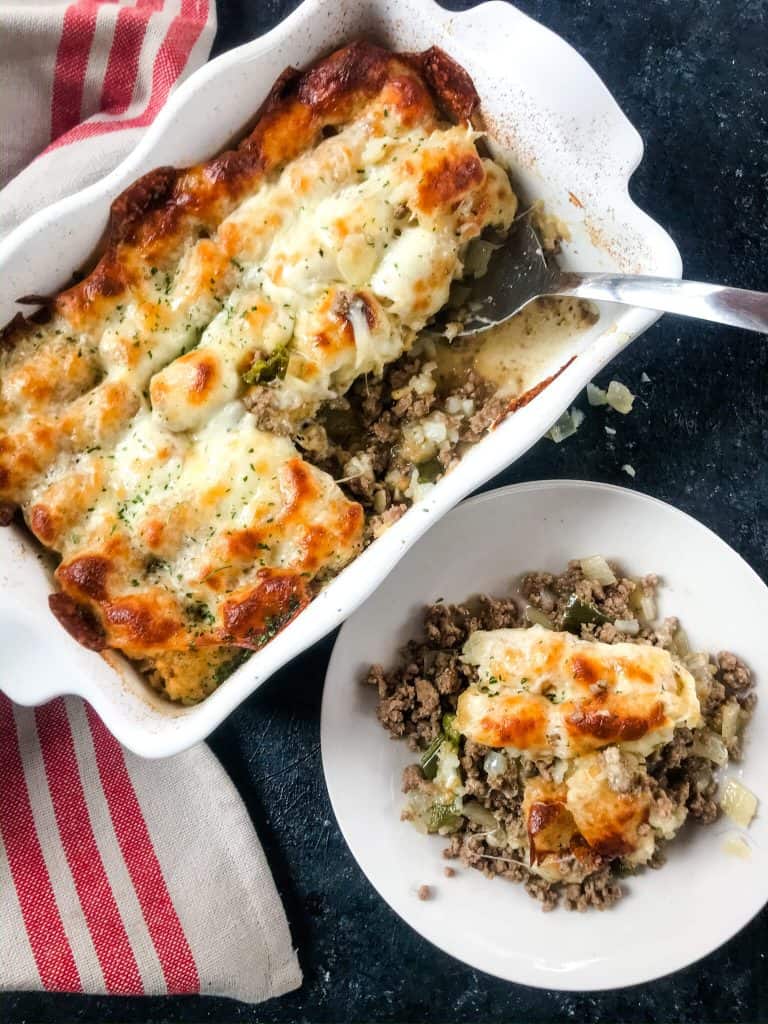 Modifications and Substitutions
If you are not a fan of provolone cheese, or do not have any on hand, mozzarella is a great substitute!
Slices of cheese help prevent the tater tots from getting soggy when cooking as they act as a sauce barrier. But either shredded or sliced cheese of any kind will work! This Philly cheesesteak casserole is versatile to whatever you have.
Cheddar is also a great swap if you want that sharper cheddar flavor instead.
This recipe would also work with ground chicken or ground turkey.
Kim's Tips
I also use a smaller baking dish that is approximately 6×9 inches instead of the larger, "typical" size.  This is because the meat to tot ratio would be very different. 
You can use a larger dish and double up the beef part of the recipe to keep the ratio, or bake in any other smaller dishes like a square dish or loaf pans.  Or just use a larger dish but don't pack the tots in as much.
The chicken stock helps prevent the meat from drying out too much. You can use less if desired so that it is not saucy, but you do run the risk of it getting dry.
FAQs
What is Tater Tot casserole made of?
A tater tot casserole has a layer of meat, veggies, and cheese with a top layer of tater tots. This specific recipe uses ground beef, peppers, onion, and cheese to replicate a cheesesteak.
Why is my Tater Tot casserole runny?
This can happen based on the ingredients you are using.
For this recipe, since we add some stock to keep it moist, it can seem runny. You can skip the stock altogether if desired.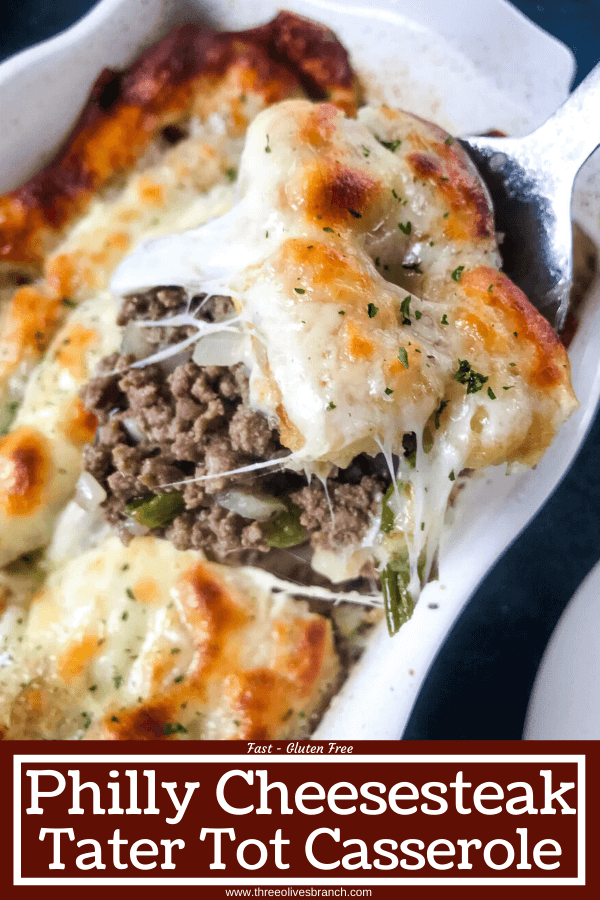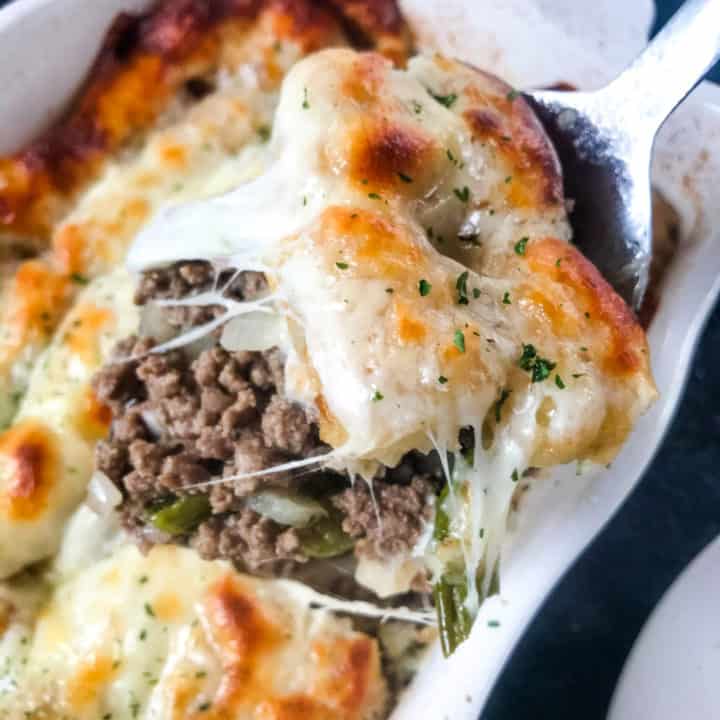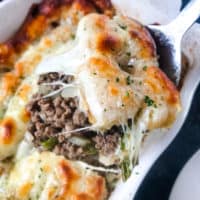 Philly Cheesesteak Tater Tot Casserole
Philly Cheesesteak Tater Tot Casserole is a great weeknight dinner idea! Made with ground beef, potatoes, cheese, and veggies for an easy recipe. Gluten free.
Print
Pin
Rate
Instructions
Cook the ground beef until cooked through, approximately 7-10 minutes. Drain excess fat.

Add the onion and green bell pepper. Cook until softened, approximately 3-5 minutes.

1 cup yellow onion,,

1 green bell pepper

Add the garlic powder, salt, and black pepper to the meat. Stir until fragrant, approximately 1 minute.

1 teaspoon garlic powder,

1/2 teaspoon salt,

1/4 teaspoon black pepper

Add the chicken stock. Stir to combine. Adjust seasonings to taste.

Pour the meat mixture into a 6×9 inch baking dish. Lay out half of the cheese slices across the meat (or if using shredded cheese, sprinkle 1 cup across the meat).

8 ounces provolone cheese

Layer the tater tots in rows across the top, using approximately 1 pound of tater tots (1/2 standard bag). Lay the remaining cheese slices across the top of the tater tots (or sprinkle the remaining shredded cheese).

1 pound tater tots,

8 ounces provolone cheese

Bake the casserole until the tots are cooked through when inserting a fork and the cheese is melted, approximately 15 minutes. Serve immediately.
Notes
I found the smaller 6×9 inch baking dish was perfect for this recipe. A "normal" baking dish is much larger and would give you less meat for the same amount of tater tot coverage. Other options include doubling up the meat for a larger casserole, making more servings, or using any other smaller baking dish like loaf pans or square dishes.
Nutrition
Serving:
1
serving
|
Calories:
729
kcal
|
Carbohydrates:
37
g
|
Protein:
38
g
|
Fat:
48
g
|
Saturated Fat:
20
g
|
Cholesterol:
121
mg
|
Sodium:
1416
mg
|
Potassium:
852
mg
|
Fiber:
3
g
|
Sugar:
4
g
|
Vitamin A:
609
IU
|
Vitamin C:
35
mg
|
Calcium:
476
mg
|
Iron:
3
mg
More Philly Cheesesteak Inspired Recipes
Philly Cheesesteak Recipes
Great recipes to enjoy the classic flavors of a Philly cheesesteak sandwich!

By