A simple soup filled with the flavors of a Philly cheesesteak!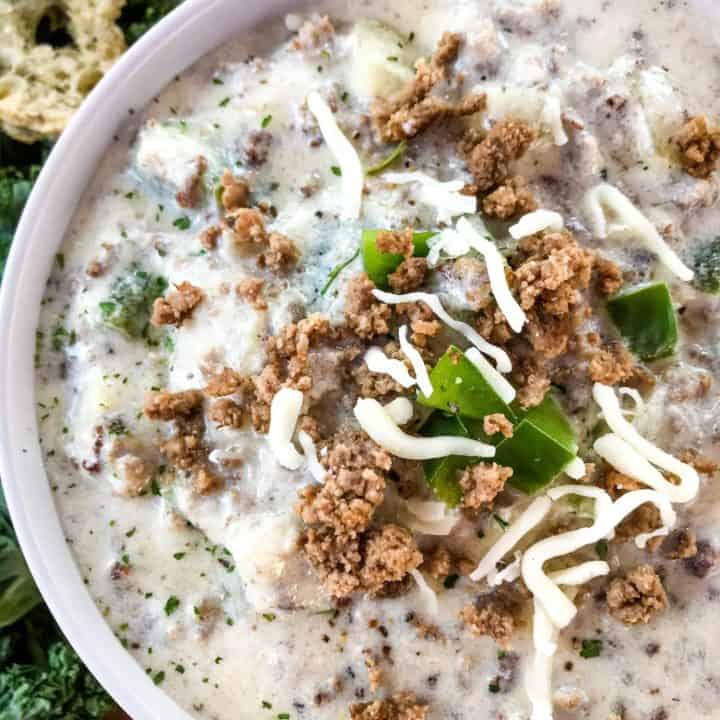 This Philly Cheesesteak Soup recipe is fast and simple!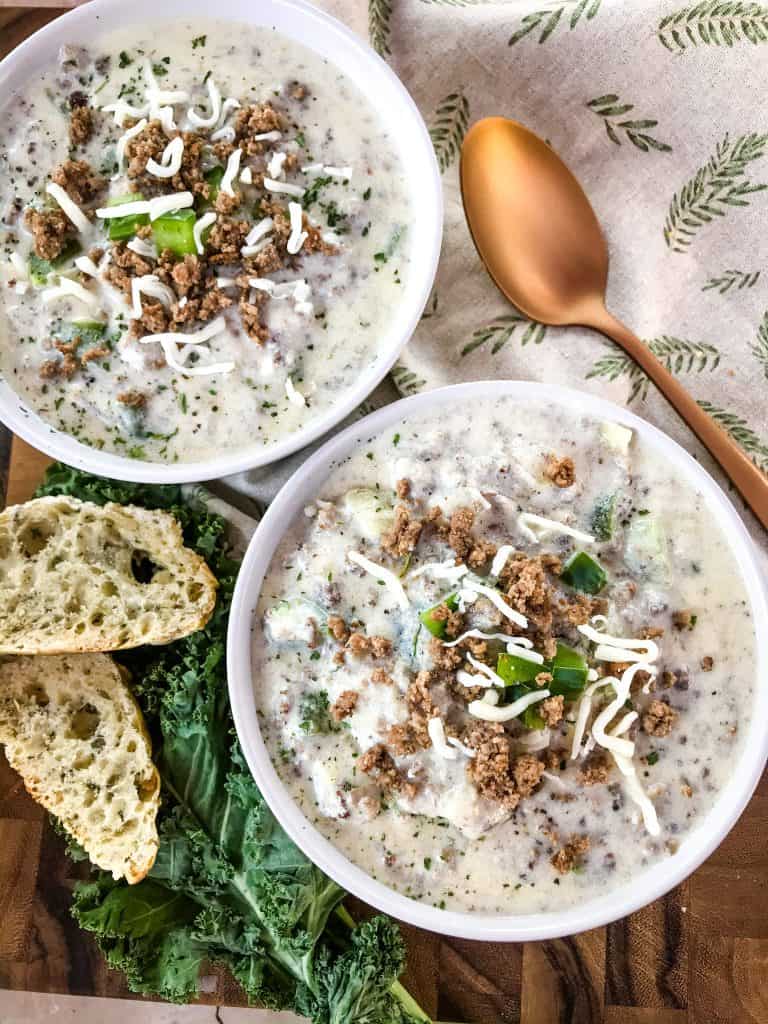 This post contains affiliate links.
The flavors of a cheesesteak are pretty simple, and there is not a lot of complicated seasoning. I travel out to Philadelphia quite frequently for work, and have fallen in love with these sandwiches. Now, I like to use these flavors in different recipes. Find our collection of Philly cheesesteak inspired recipes here!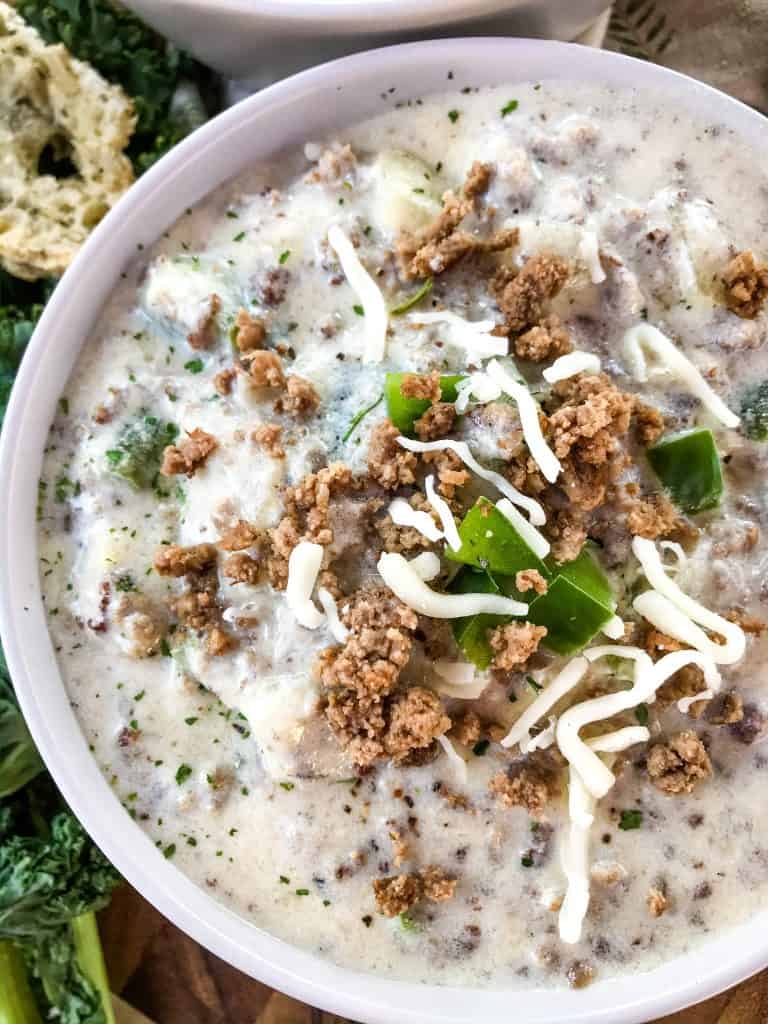 A traditional Philly cheesesteak sandwich is made with sliced steak. But this soup uses ground beef for a faster and more accessible recipe. The ground beef soup is cooked with some onion and green bell pepper in a creamy broth loaded with cheese. The more traditional white cheese in a cheesesteak is provolone, however it can be trickier to find and have on hand, and has a very distinct flavor. You can also use mozzarella or Monterrey jack, or a combination. I am told that in Philly the locals prefer provolone on their sandwiches, but tourists go for the Cheez Whiz. So if you want more of a Cheez Whiz twist, you could add some cheddar to the mix.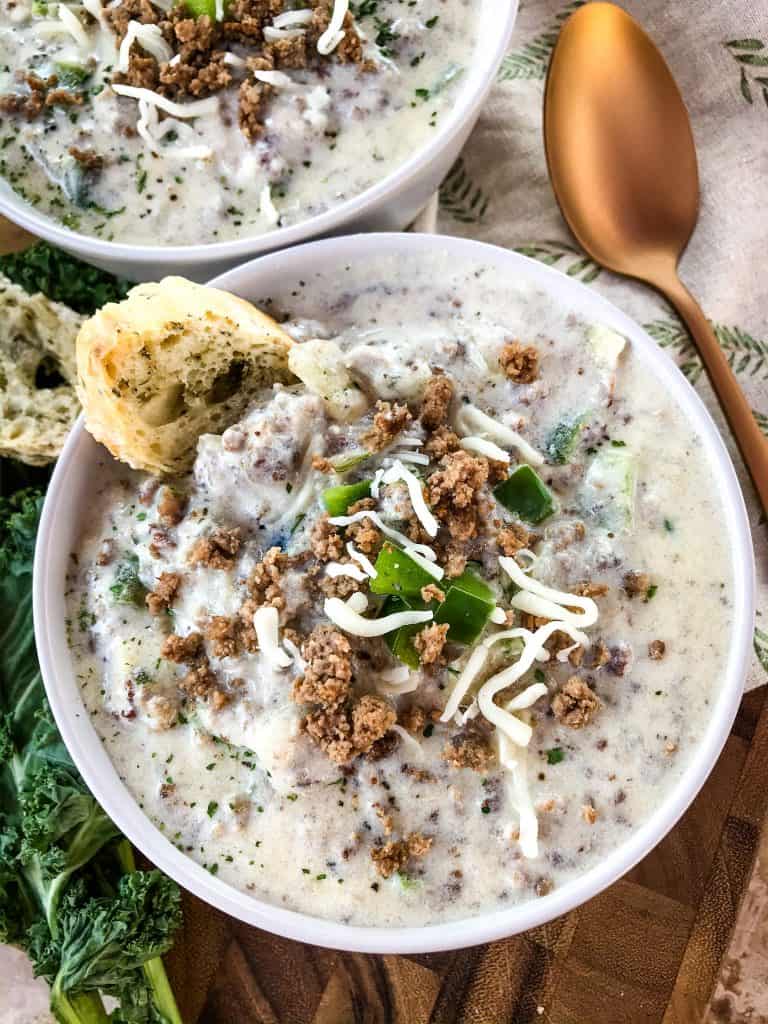 I was amazed at how fast this Philly Cheesesteak Soup came together! It does not take long for the ingredients to cook, and the sauce easily thickens from the cornstarch and cheese. This cheese soup is also gluten free and keto low carb which makes it great for a lot of dietary restrictions. The soup is also pretty thick in consistency, which I prefer for soups like this. But if you do want it thinner, you have a few options. Either increase the amount of milk and/or stock that you use, or decrease the amount of cheese and omit the cornstarch so it does not thicken as much. Just adjust your seasonings as needed and enjoy a little bit of Philly in your own home!
Soups with Meat
Find some new soup night favorites!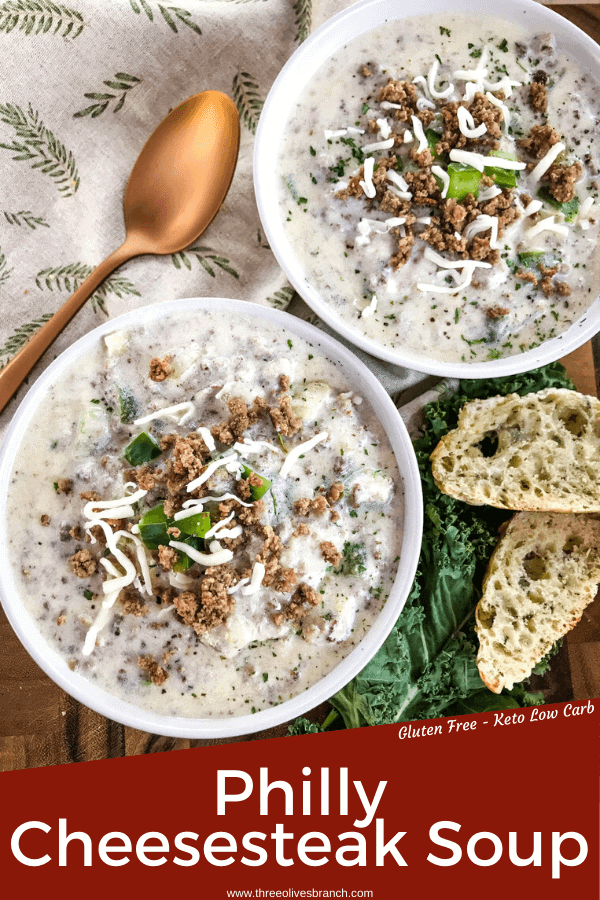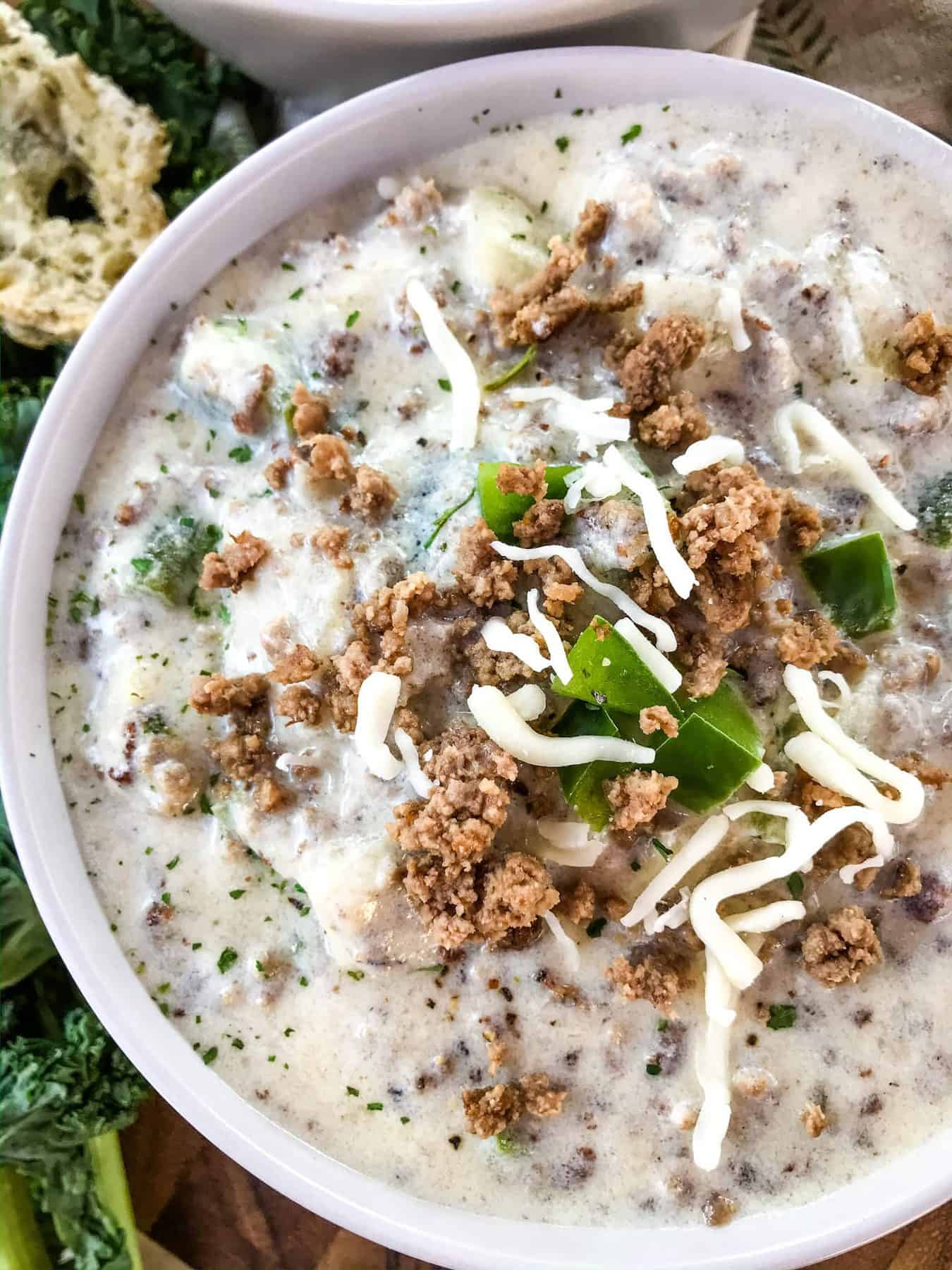 Instructions
Cook the beef in a large soup pot over medium heat until no longer pink. Drain off extra fat. Keep the beef in the pot.

Add the bell pepper and onion to the pot. Cook until the vegetables are just softened, approximately 5 minutes.

Add the cornstarch (if using), milk, beef stock, salt, and pepper. Stir. Bring to a boil over high heat.

Reduce heat to medium low and simmer for 10 minutes.

Remove from the heat. Add the cheese and stir until the cheese is melted.

Season to taste with salt and pepper. If too thick, add more milk or stock. If too thin, continue cooking down or add more cheese or cornstarch.
Notes
The cornstarch helps to thicken the soup, but the cheese thickens it as well.
For a thinner soup, do not add cornstarch. Add more milk or stock until you reach your desired consistency.
Nutrition
Calories:

632

kcal

|

Carbohydrates:

18

g

|

Protein:

41

g

|

Fat:

43

g

|

Saturated Fat:

21

g

|

Cholesterol:

149

mg

|

Sodium:

943

mg

|

Potassium:

854

mg

|

Fiber:

1

g

|

Sugar:

15

g

|

Vitamin A:

884

IU

|

Vitamin C:

25

mg

|

Calcium:

590

mg

|

Iron:

3

mg

By