An Italian bread salad filled with cantaloupe, prosciutto ham, fresh mozzarella, and arugula with a citrus honey dressing.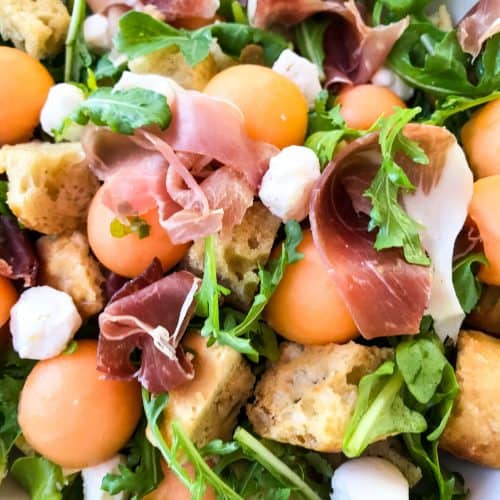 A simple Prosciutto Melon Panzanella Salad for summer! Fresh cantaloupe melon is mixed with prosciutto ham, mozzarella cheese, arugula, and bread.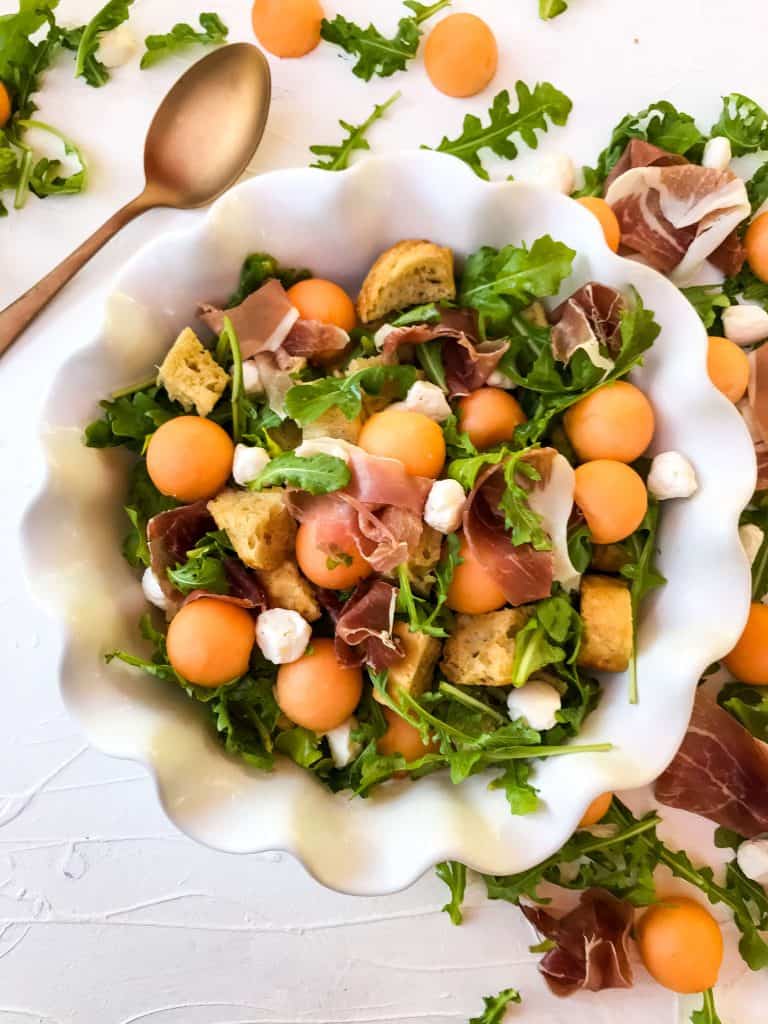 This post contains affiliate links.
If you are new to panzanella salads, think of them as a salad with less lettuce and extra, giant croutons! This classic Italian salad is versatile and a fun side dish for summer BBQs.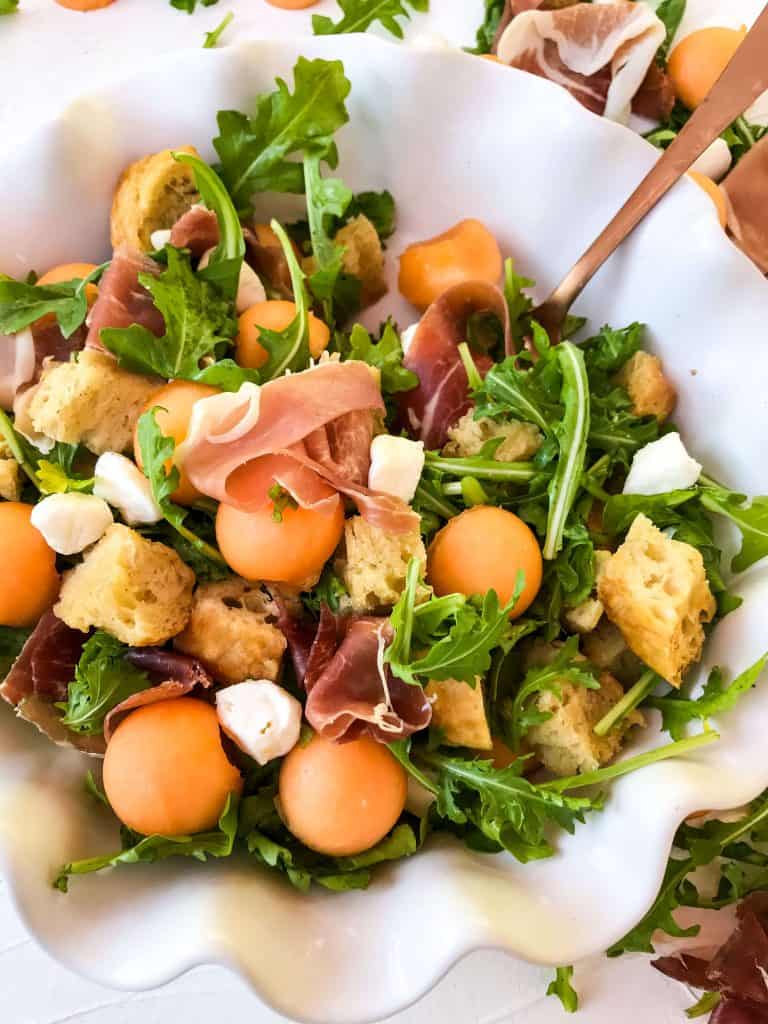 A classic dish in Italy that you will find just about everywhere is prosciutto e melone. This is a very, very simple appetizer that is just wedges of cantaloupe melon wrapped with thin slices of prosciutto ham. That's it. It is SO simple but the simpleness of Italian recipes is what makes them so great. And that means you want to use fresh and high quality ingredients.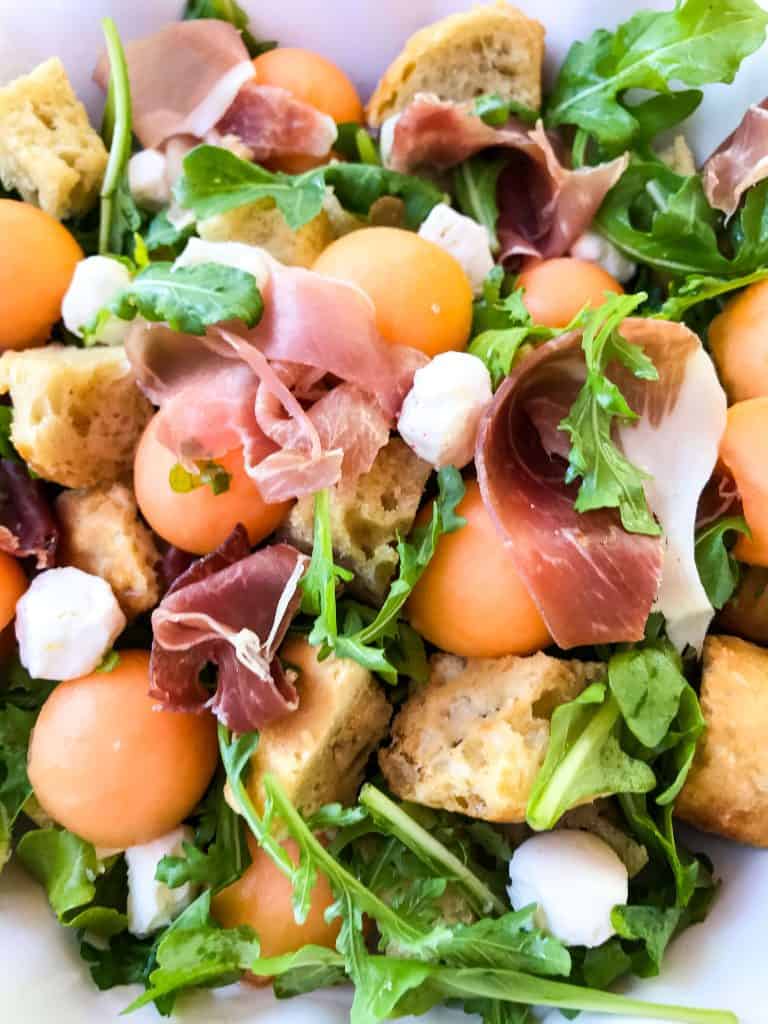 A natural pairing with prosciutto ham and cantaloupe is mozzarella cheese which adds a great creamy texture to the Prosciutto Melon Salad. Plus, there are a lot of cheese lovers around here, so it is always welcomed.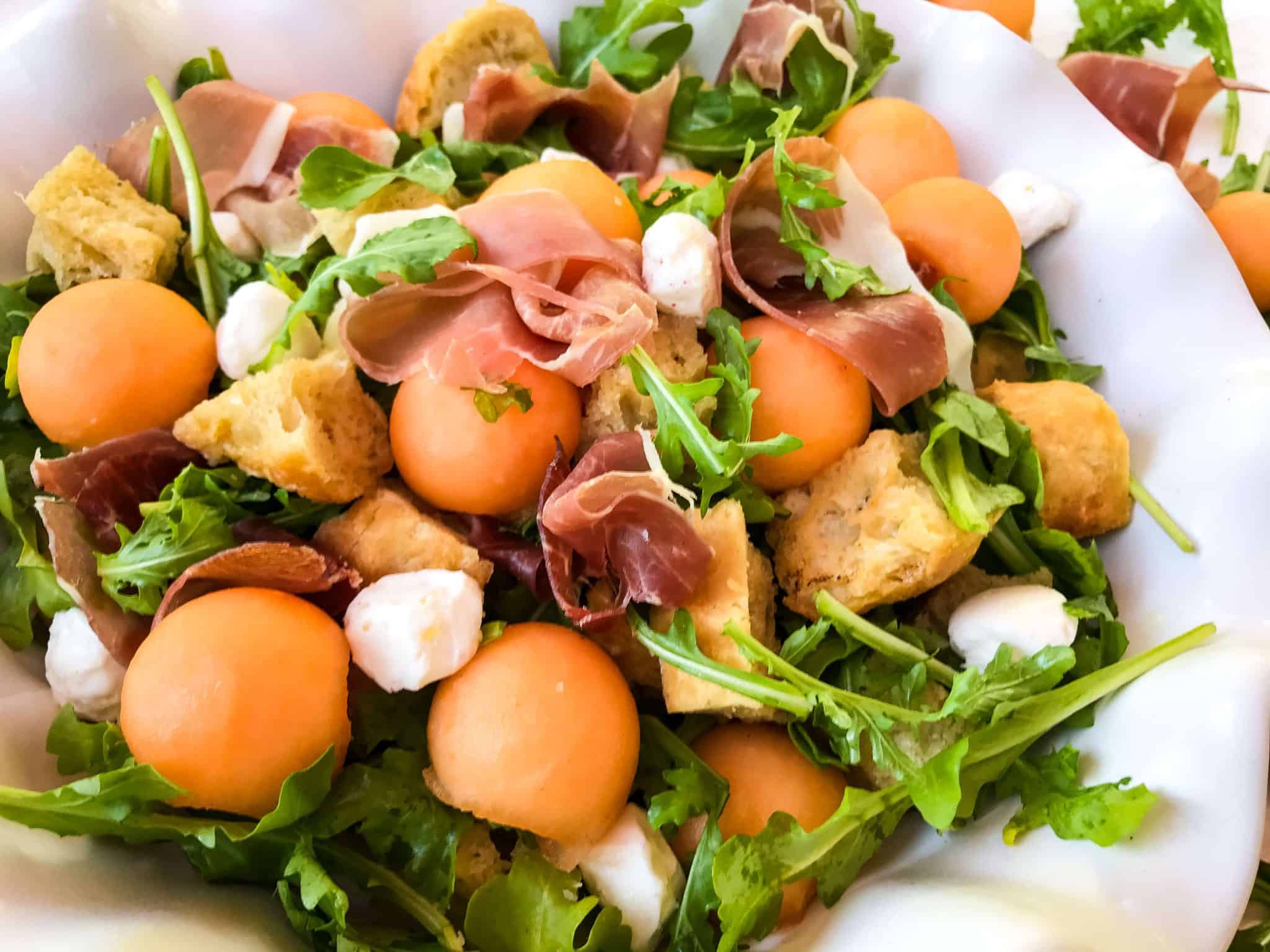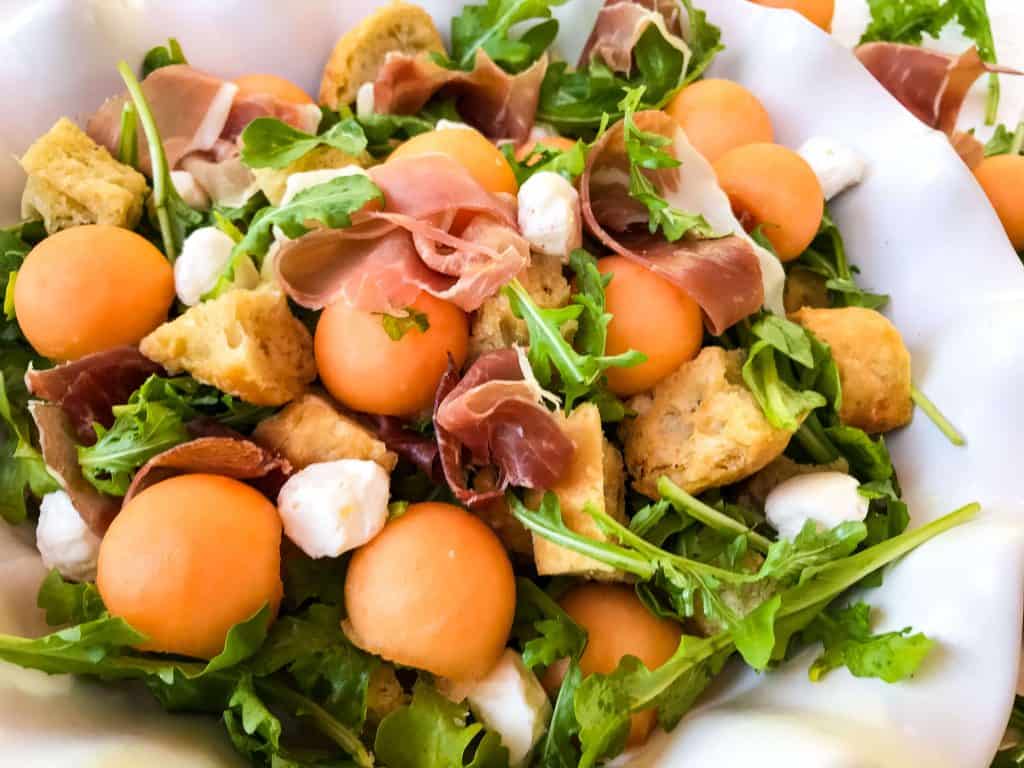 You can find prosciutto pre-sliced in packages near the deli counter at your local supermarket. A little goes a long way here, so approximately 3 ounces is enough (unless you want more!). Just tear the prosciutto slices into smaller pieces, about 4-5 pieces per slice, for the Panzanella Salad.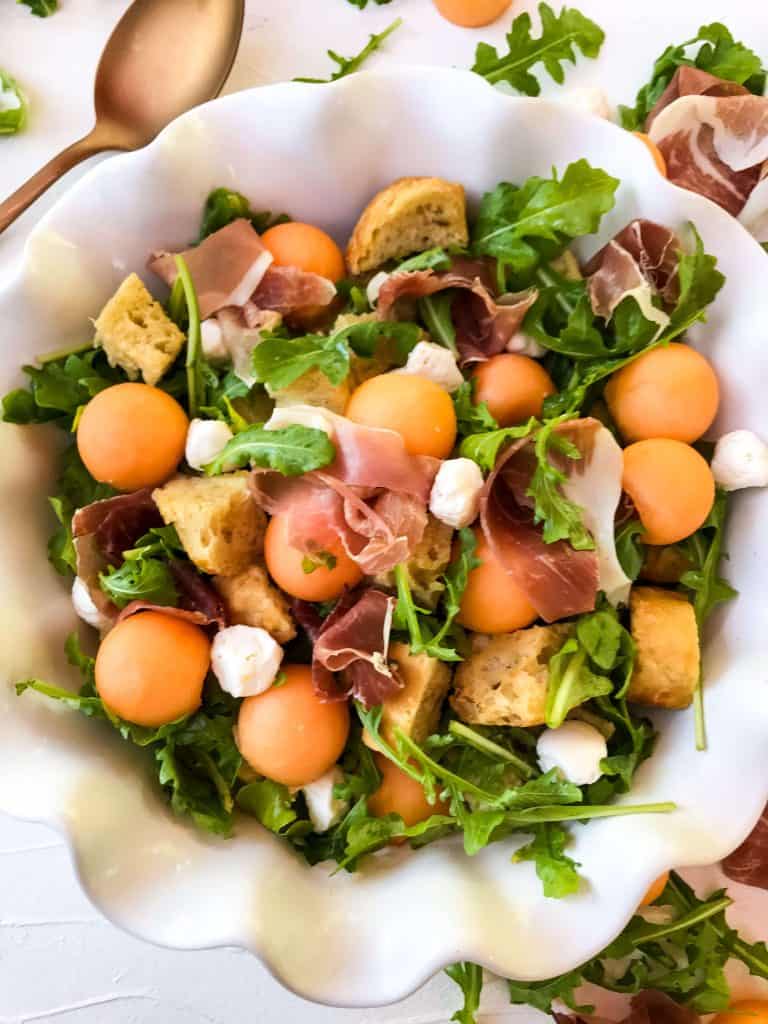 The bread salad was so pretty, part of me did not want to dive into it. Kind of like when you have a pretty cake or something. But it is meant to be eaten and tastes as great as it looks!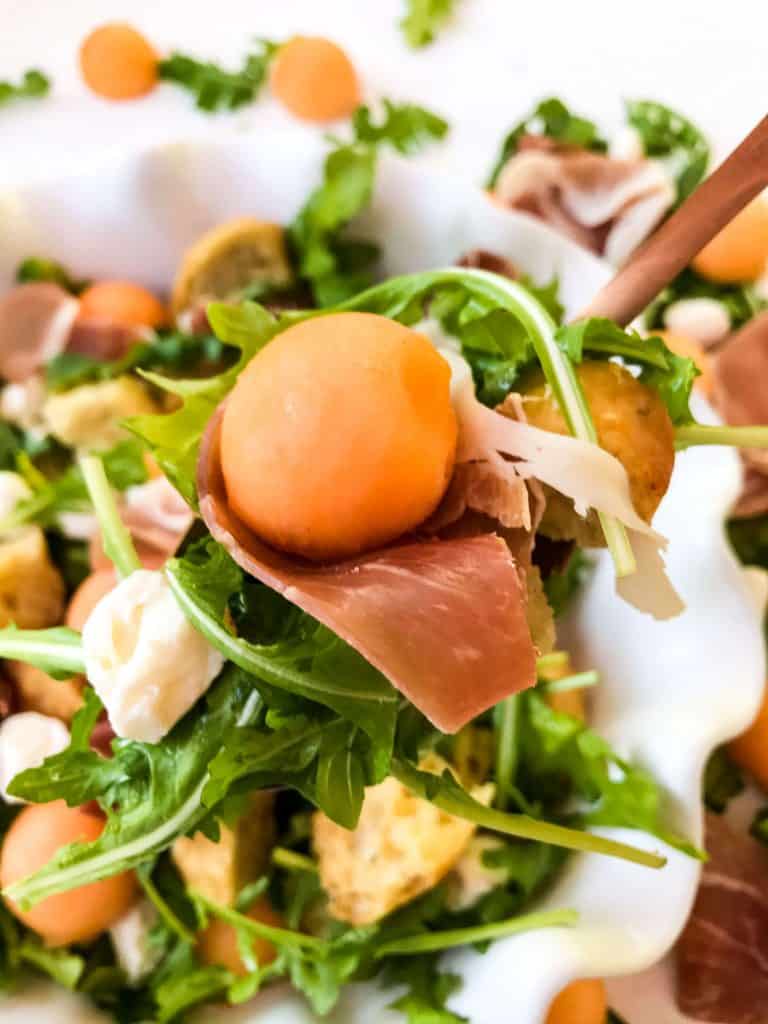 You can use any dressing you like or have on hand. The dressing included in this Prosciutto Melon Panzanella Salad recipe brings a great balance of citrus and tang with a touch of sweetness to the salad. It literally takes just a couple minutes to make. But you can also use a dressing that is citrus based or a vinaigrette. I would avoid anything too sweet unless you want a sweet salad.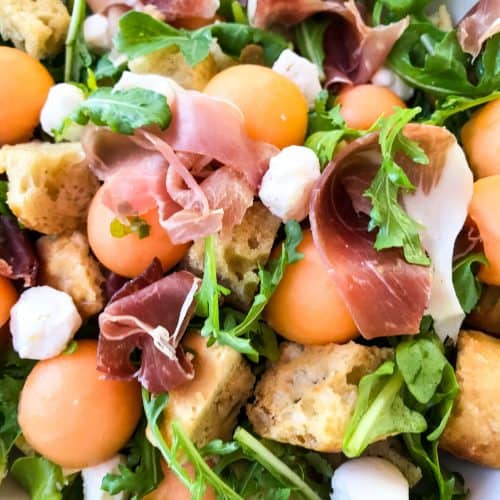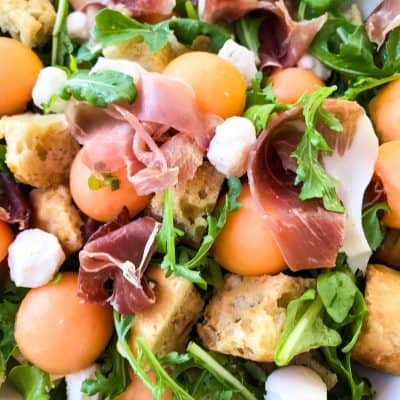 Prosciutto Melon Panzanella Salad
An Italian bread salad filled with cantaloupe, prosciutto ham, fresh mozzarella, and arugula with a citrus honey dressing.
Print
Pin
Rate
Ingredients
Panzanella Salad
6

cups

hearty bread, cubed

(approx 1 pound total)(see note)

salt

1/2

cantaloupe

cut in 1 inch pieces

2

cups

arugula

lightly packed

3

ounces

prosciutto

(more if desired)

8

ounces

fresh mozzarella pearls

(or other fresh mozzarella cut in bite sized pieces)
Instructions
Preheat oven to 300F.

Cut the bread into approximately 1 inch cubes and spread on a baking sheet. Drizzle the bread with olive oil and a little salt.

Bake the bread until the cubes are just crunchy but do not squish or bend. They should not be as hard as croutons. The time this takes will depend on how dry/dense your bread already is (for me it typically takes 20-30 minutes). When done, set aside to cool to room temperature.

While the bread is baking, prepare the mix-ins. Either cut the cantaloupe into 1 inch pieces or use a melon baller to get balls of melon. Place in a large bowl. (If using a melon baller, see note).

Add the arugula to the bowl with the cantaloupe.

Tear the prosciutto slices into smaller pieces (4-5 pieces per slice) and add to the bowl. Cut the mozzarella if needed into bite sized pieces and add to the bowl.

In a small bowl, prepare the dressing by combining all of the ingredients. Whisk together and salt or pepper to taste.

When the bread is done and cooled to room temperature, add the bread and toss to combine.

Pour the dressing over the salad and toss to coat. Let the dressing sit on the salad ideally for 30 minutes in the refrigerator before serving so that it starts to soak into the bread. It will not make the bread soggy.
Notes
Ideally you want to use a denser bread for this salad, something more rustic with less air. The weight of the bread will vary based on exactly which one you use, but you want to aim for 6 cups in volume regardless.
You can use any dressing that you like for this salad.  Anything citrus would be great!
I love using a melon baller to make the round balls of cantaloupe. You will need to use more than 1/2 of the cantaloupe to get enough pieces since not all of it will be used to get the shape. 
I love to use fresh mozzarella pearls because they are already in small pieces. But use any fresh mozzarella and cut as needed to be bite sized.
Nutrition
Calories:

458

kcal

|

Carbohydrates:

36

g

|

Protein:

17

g

|

Fat:

28

g

|

Saturated Fat:

9

g

|

Cholesterol:

39

mg

|

Sodium:

636

mg

|

Potassium:

331

mg

|

Fiber:

3

g

|

Sugar:

9

g

|

Vitamin A:

1969

IU

|

Vitamin C:

27

mg

|

Calcium:

288

mg

|

Iron:

3

mg

By