This recipe does not include instructions for the pizza dough or crust. Please see corresponding recipes to find instructions on how to make those parts.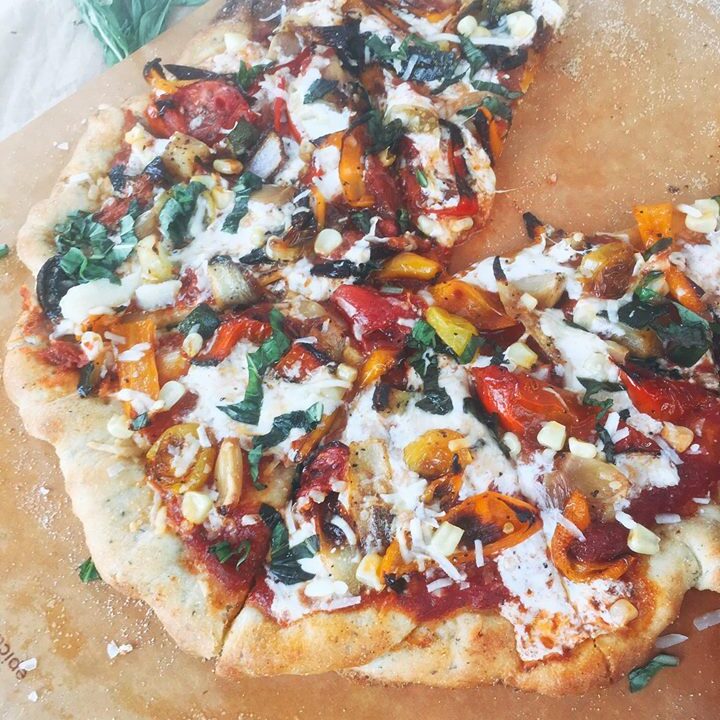 Homemade pizza is a very, very special thing.  One of my favorites is this Roasted Vegetable Pizza.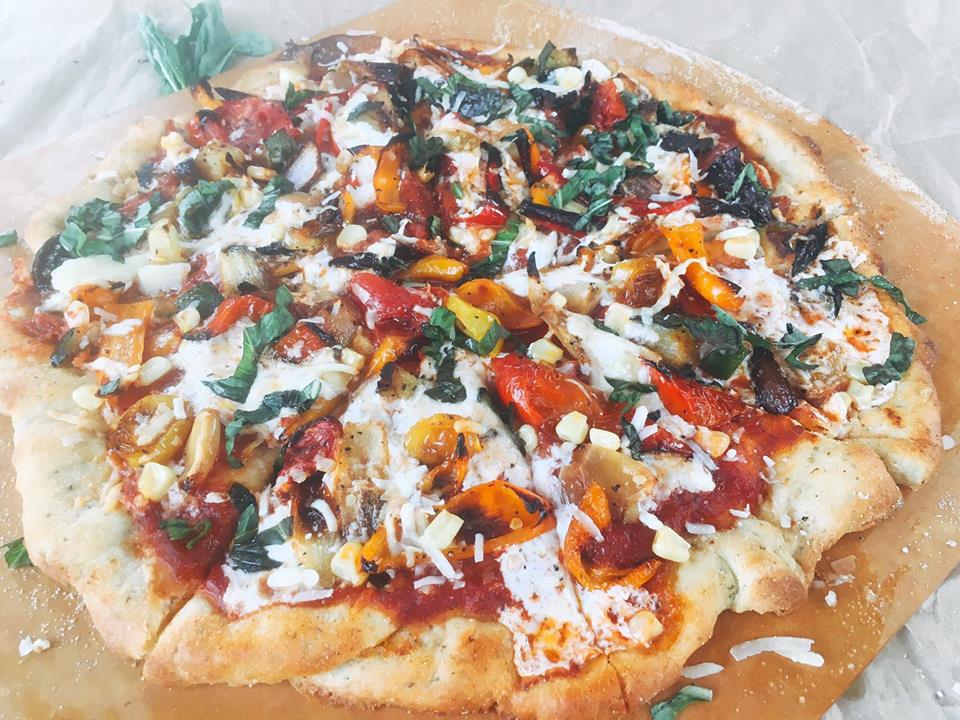 Now you might be thinking…veggie pizza? BORING!  Just throw veggies on, bam! Done!  But no no no, that is not the same thing as this spectacular Roasted Vegetable Pizza.  The key word here is ROASTED.  The veggies go in the oven with a little oil, salt, and pepper until they start to brown up with brings out a little caramelization of their natural flavors and transforms them into little nuggets of vegetable GOLD.  Completely different experience and well worth it!
This post contains affiliate links.
I am a pizza topping lover.  The more, the better, so I pile them on!!!  I am also a veggie lover.  Roasting vegetables brings out a depth of flavor with a hint of sweetness that lets the vegetables shine through in a truly magical way.  So.  Good.  My secret is adding roasted garlic cloves to the pizza which you seriously need to try.  Learn how to make roasted garlic here!
Any combination of your favorite vegetables will work, and I often use whatever I have on hand.  So there is a lot of flexibility here, but I ALWAYS will add that roasted garlic.  Roast a few extra heads of garlic at a time and keep them on hand in the refrigerator.  I promise they will not go to waste as you will use them on everything 🙂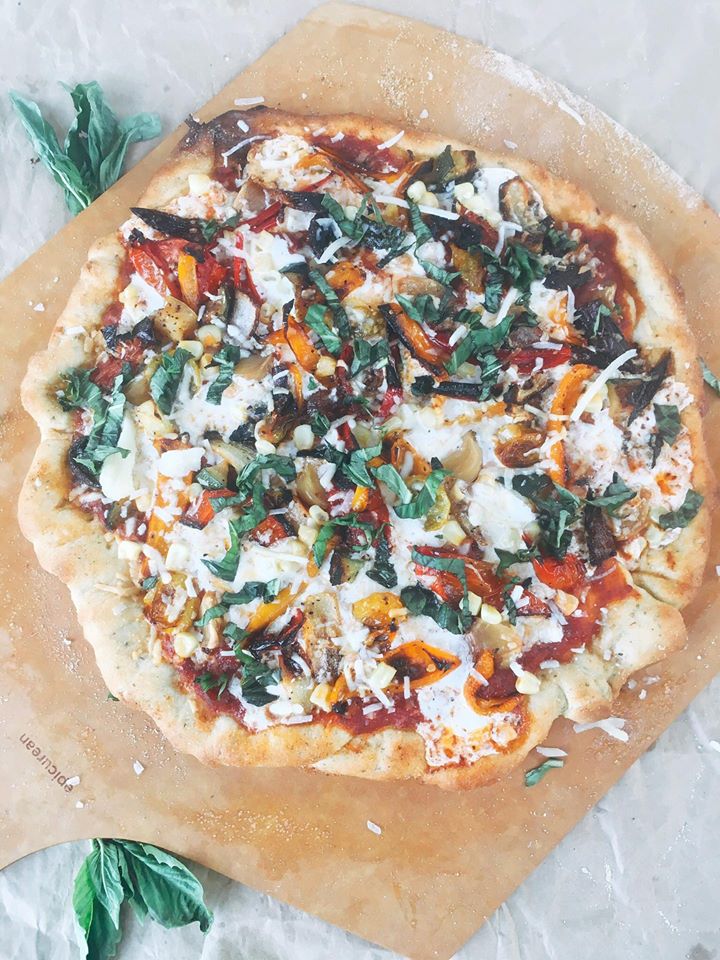 Making your own pizza elements is completely worth the time and effort!  And it is really rather simple to make your own dough and sauce.  Learn how to make this Oregano Garlic Pizza Dough here (no boring dough in this house!) which is enough for two thin crust 12″ pizzas like you see here, or one thick crust pizza.  And, my favorite part, the sauce!  Learn how to make this Red Wine and Oregano Pizza Sauce here because you will never want pizza sauce without wine in it ever again.  This sauce recipe makes enough for three 12″ pizzas (freeze the extras for a fast dinner!).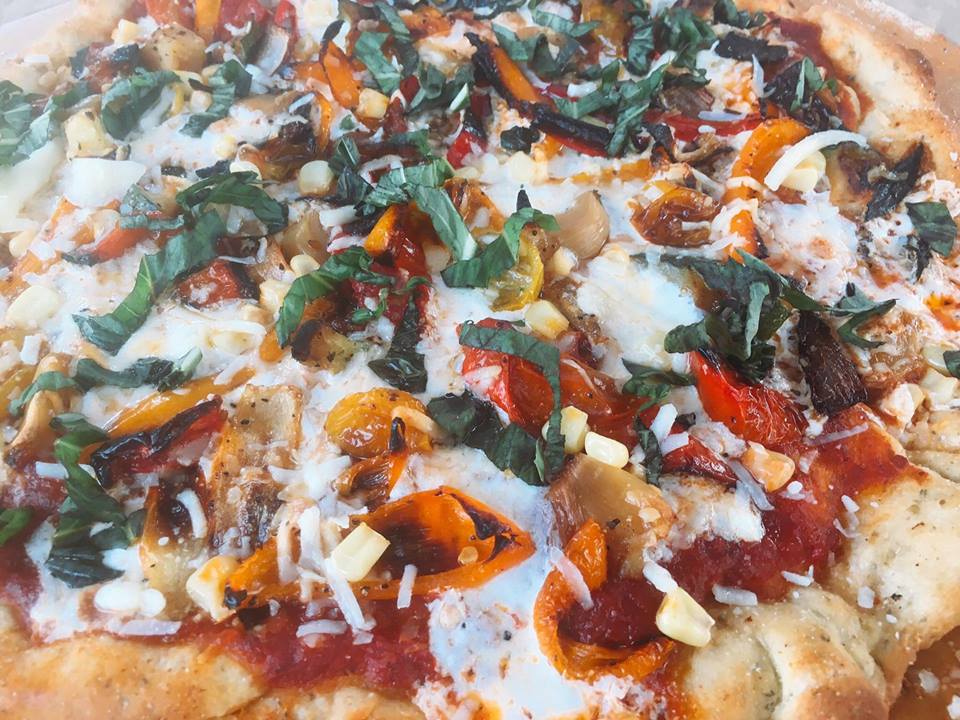 I make pizzas with a stone that goes in my oven and I use a handy pizza peel that you see in the pictures.  (This pizza peel is pretty close to what I have, and this pizza peel is just GORGEOUS).  I think it is worth it to have these gems because the stone makes my pizza crisp up beautifully and the peel makes it so easy to get the dough/pizza in and out of the oven.  But you can also use a plain cookie sheet if you want.
You can easily add some of your favorite meat toppings here as well, but Roasted Vegetable Pizza truly lets the veggies shine!  What are your favorite vegetable toppings?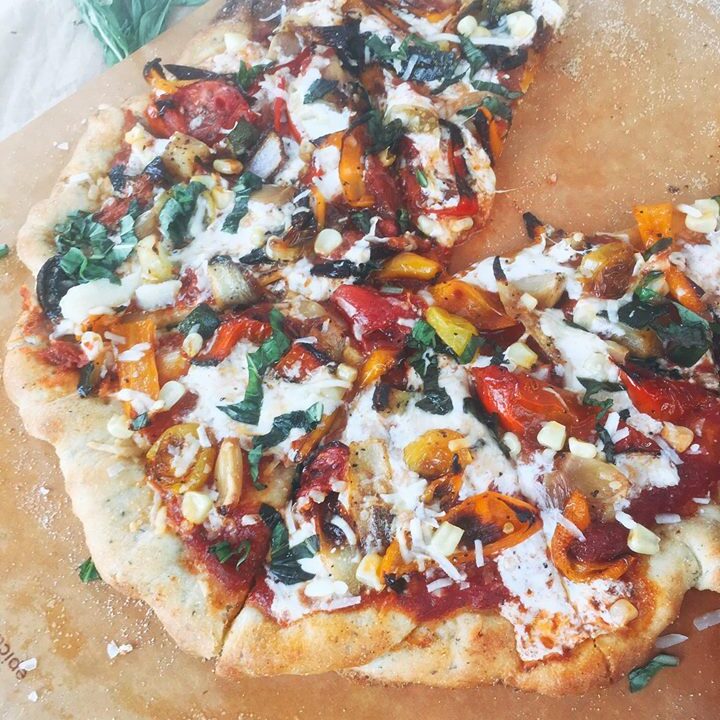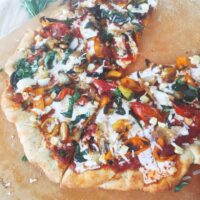 Roasted Vegetable Pizza
This recipe does not include instructions for the pizza dough or crust. Please see corresponding recipes to find instructions on how to make those parts.
Print
Pin
Rate
Instructions
Preparing the Dough
Place your pizza stone (or a large baking sheet) in the oven on the center rack. Preheat to 450F.

Place your chopped vegetables on a baking sheet. Leave out any that are small, such as corn, which will brown easily as well as the rosted garlic since it is already cooked. Drizzle with some olive oil and 1/2 tsp each of salt and pepper. Toss to coat. Bake in the oven at 450 which you complete the next few steps. Pull out the vegetables when they start to show some color (they will be cooked a second time on the pizza later so you do not want them to get to dark in this first roasting). It will take approximately 10 minutes to cook.

Dust your pizza peel with some cornmeal. The cornmeal will give the crust a great texture and bite while also preventing it from sticking to the surface you are working on. Cut the dough in half for two thin crust pizzas.

Roll out one piece of the dough to your desired size, approximately 12" is what I aim for, on the pizza peel and make sure that the size and shape will fit onto your stone or cooking sheet that is in the oven.

Using a fork or knife, poke holes in the dough everywhere except for the crust edge. This will allow air to escape and prevent the dough from bubbling up too much.

Make sure that the dough is loose on the pizza peel by shaking it gently. The dough should move around. If the dough is sticking anywhere, pull up that area and throw some more cornmeal under it until nothing is sticking.

When the oven is done preheating and you are at 450F, open the oven door and throw some cornmeal onto the stone or sheet. Use the pizza peel to shimmy the dough onto the stone/sheet. If you have the cornmeal under the dough, this should be rather easy to do.

Blind bake the dough (without toppings or sauce) for approximately 5 minutes. Pull out the crust using your pizza peel when the dough is not sticky or raw to the touch anymore and it is just starting to get some color on it.

Brush the crust edge with some olive oil and sprinkle with some garlic salt, parmesan, and/or oregano to give it some flavor.
Pizza Assembly
Spread out 1 cup of sauce over the pizza. Top with mozzarella cheese and Parmesan.

Add the roasted vegetables and 1/2 head of roasted garlic. Add any other smaller vegetables that were not roasted, such as corn.

Bake on the pizza stone (or baking sheet) at 450F until the cheese is melted and starting to bown, approximately 10-12 minutes.

Garnish pizza with fresh strips of basil.
By