Homemade Pizza Sauce is a fast and easy Italian sauce recipe! Versatile flavors that are perfect for any pizza night toppings! Flavored with oregano and red wine (optional) in crushed tomatoes for texture.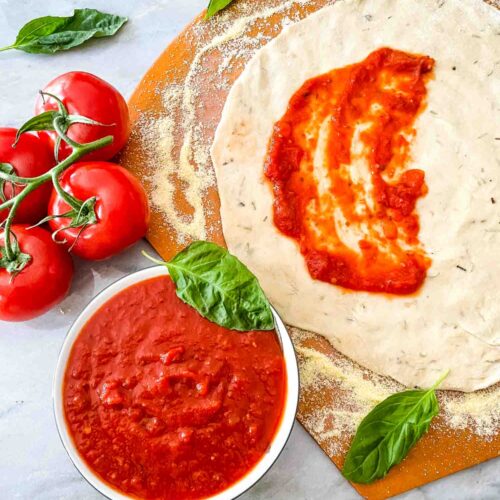 Sauce is one of the most important parts of a pizza for me (only behind the toppings themselves) and so it needs to be GOOD!  This Red Wine Oregano Homemade Pizza Sauce is packed full of flavor to amp up your pie.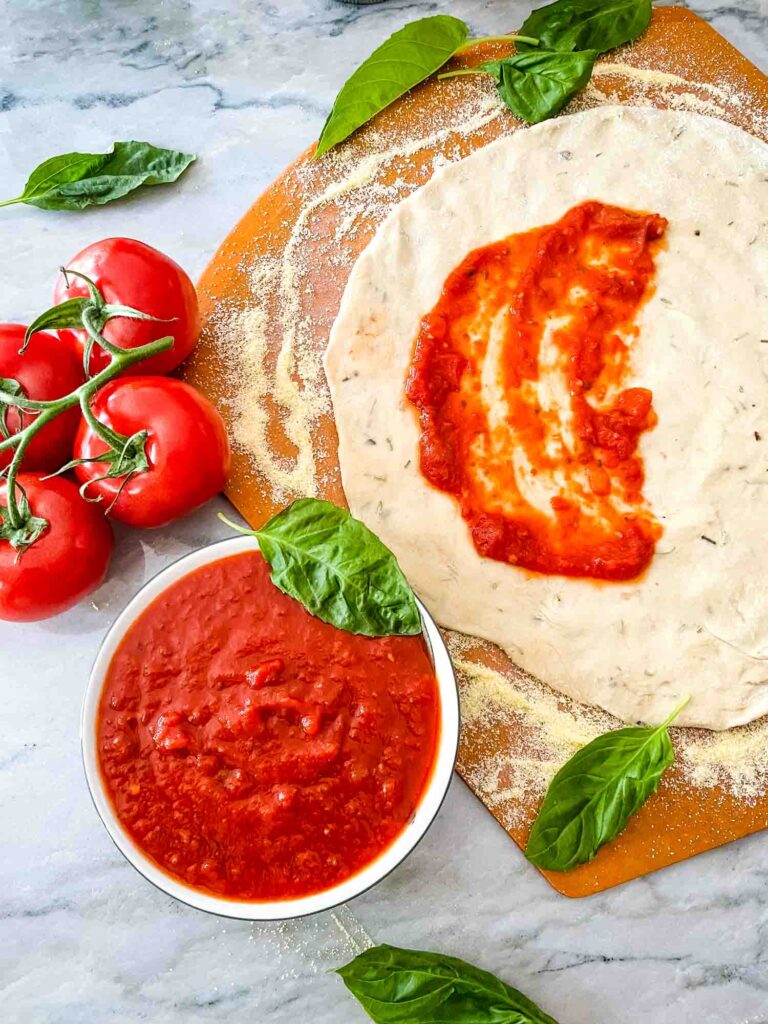 This post contains affiliate links.
Italian Pizza Sauce Recipe
Of COURSE I had to add some red wine to this.  You can skip it if you want, but I find that red wine adds a depth of flavor and complexity to pizza and pasta sauces.  
Make sure that you use a wine that you enjoy drinking because you are condensing the flavors when you cook it.  Bad wine = bad sauce.
Homemade Pizza Dough
If you have not made your own pizza dough before, you are missing out!  It is so easy to make and tastes MUCH better than anything you can get in the store.  
Learn how to make Oregano Garlic Pizza Dough here!  And this Red Wine and Oregano Pizza Sauce is the perfect sauce to go with it.
This sauce will pair well with any dough, any crust, and any pizza because it uses classic Italian flavors in a simple and easy pizza sauce.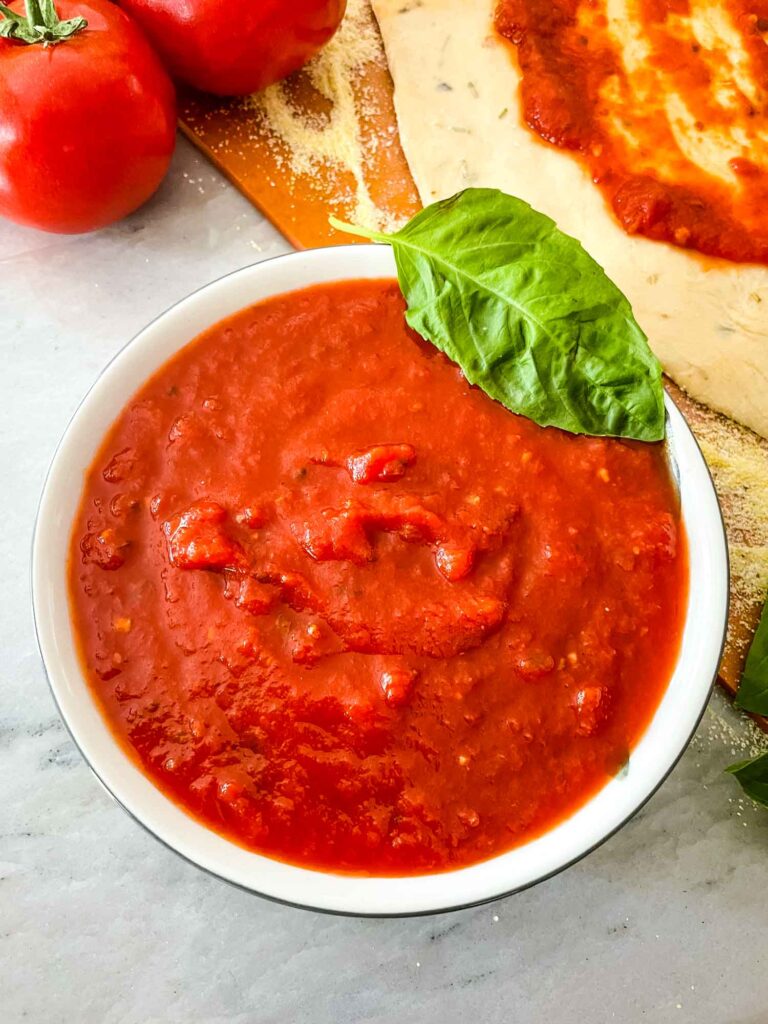 What is Italian Pizza Sauce Made Of?
Here is what you need to make this pizza sauce:
Crushed Tomatoes
Olive Oil
Yellow Onion
Garlic
Dried Oregano
Red Pepper Flakes
Red Wine
Salt
Oregano is a classic pizza sauce flavor and we amp it all up with the addition of a little red wine.
What Wine Do I Use in Pizza Sauce?
I recommend first and foremost using a wine that you like to drink. Since cooking it will concentrate the flavors, if you use a wine or varietal that you do not like, you are likely not going to like the sauce.
Generally I find the best red wines for pizza sauce are ones that are not overly sweet. Cabernets are perfect for us, or a Zinfandel.
Pinot Noirs are much fruitier but if you like to drink it, go for it! It will just make the sauce a little more fruity or subtly sweeter.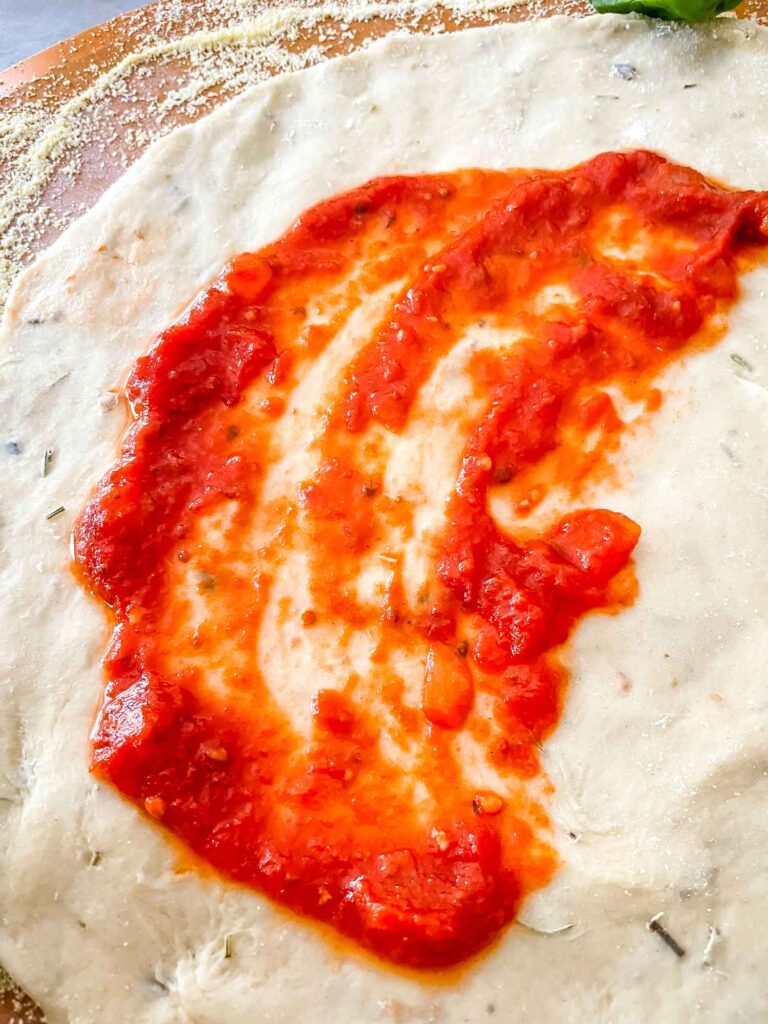 Homemade Pizza
Making our own pizzas is the perfect way to let everyone make their own pie that is exactly what they want.  The dough recipes on this site typically make two 12″ thin crusts.  
Check out the recipe for this Roasted Vegetable Pizza here as well as our Balsamic Caprese Pizza, the house favorite!
Use this sauce in any recipe and simply follow the pizza recipe directions for cooking.
And use as much or little sauce as you prefer, also depending on the size of the crust! This recipe tends to make enough sauce for about 3 12-inch pizzas but again, use more or less as desired.
Cooking Homemade Pizza
I make pizzas with a stone that goes in my oven and I use a handy pizza peel that you see in the picture.  (This pizza peel is pretty close to what I have, and this pizza peel is just GORGEOUS).  
I think it is worth it to have these gems because the stone makes my pizza crisp up beautifully and the peel makes it so easy to get the dough/pizza in and out of the oven.  But you can also use a plain cookie sheet if you want.
You will want to follow the recipe instructions for the pizza you are making, whether a pre-baked crust or raw. This sauce is versatile for any recipe!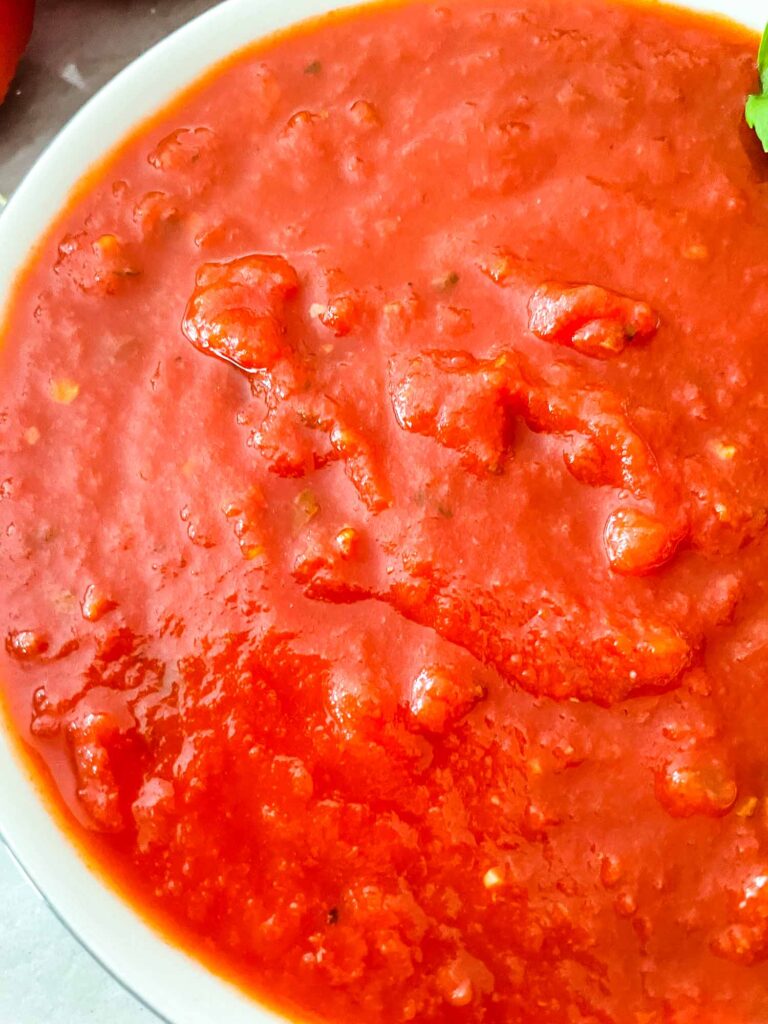 What's the Difference Between Marinara Sauce and Pizza Sauce?
Marinara sauce tends to be lighter and thinner compared to a pizza sauce.
You do not want to add too much water to the pizza sauce nor make it too thin because too much moisture will seep into the dough and make it difficult to cook.
It should not be overly thick either. You are more so looking for a thick salsa consistency.
How Do You Make Sauce for Pizza Dough?
To make the sauce, first sauté the onions until translucent (a little clear and not white).
Then add the garlic and herbs and cook until fragrant (you can smell them).
Next add the red wine and cook it until it reduces by half. This is going to strengthen the wine flavor and cook off most if not all of the alcohol.
Add the tomatoes and let it simmer for the flavors to develop.
I always let it cook for at least 15 minutes but longer is better!
What are your favorite pizza toppings?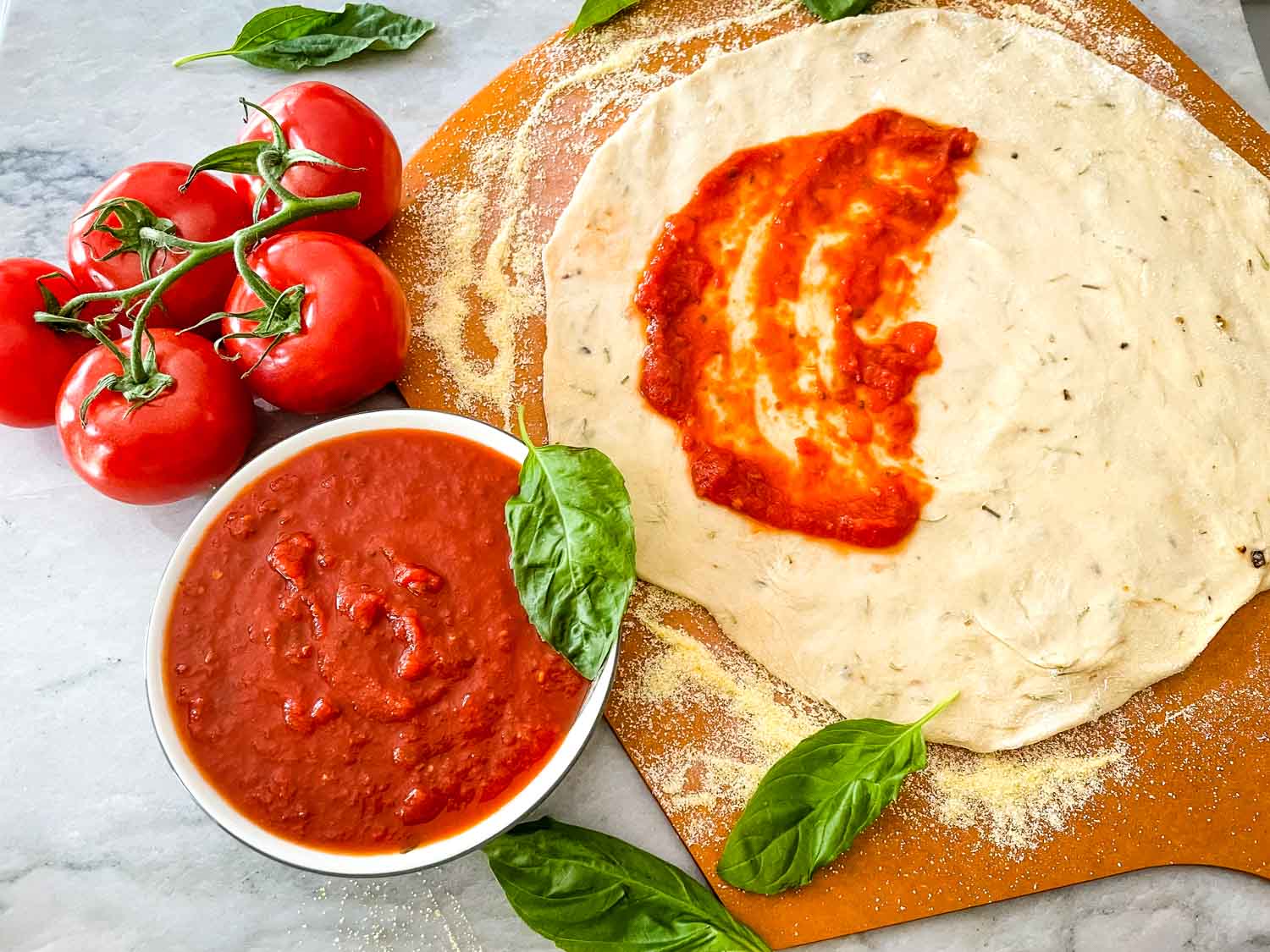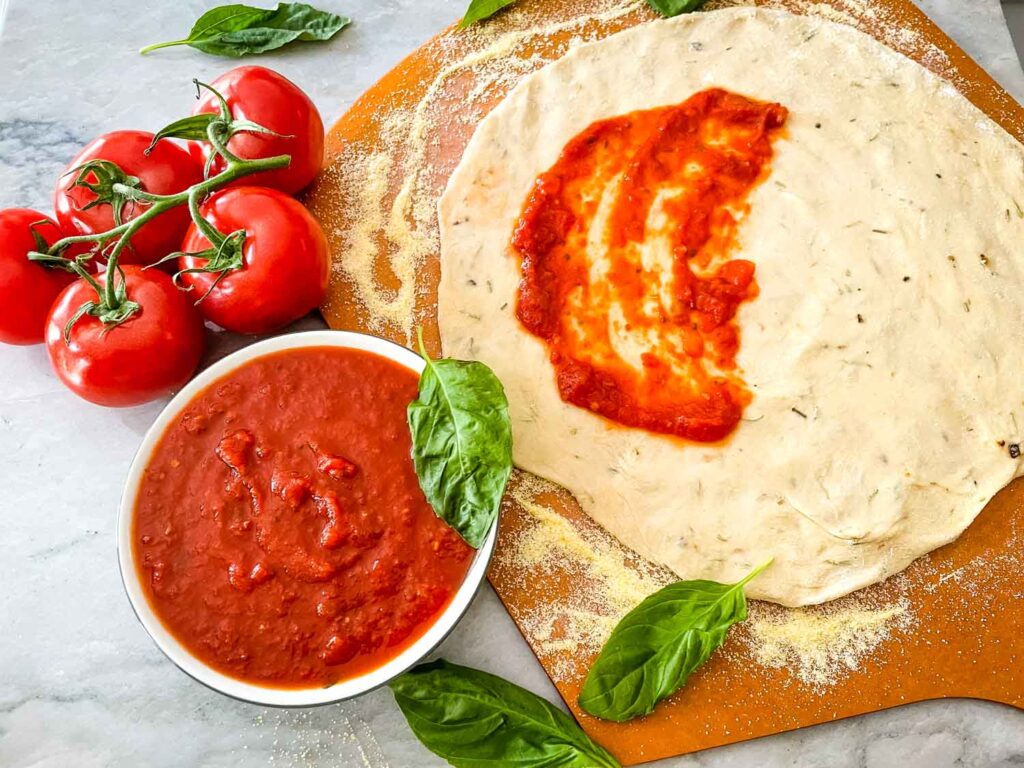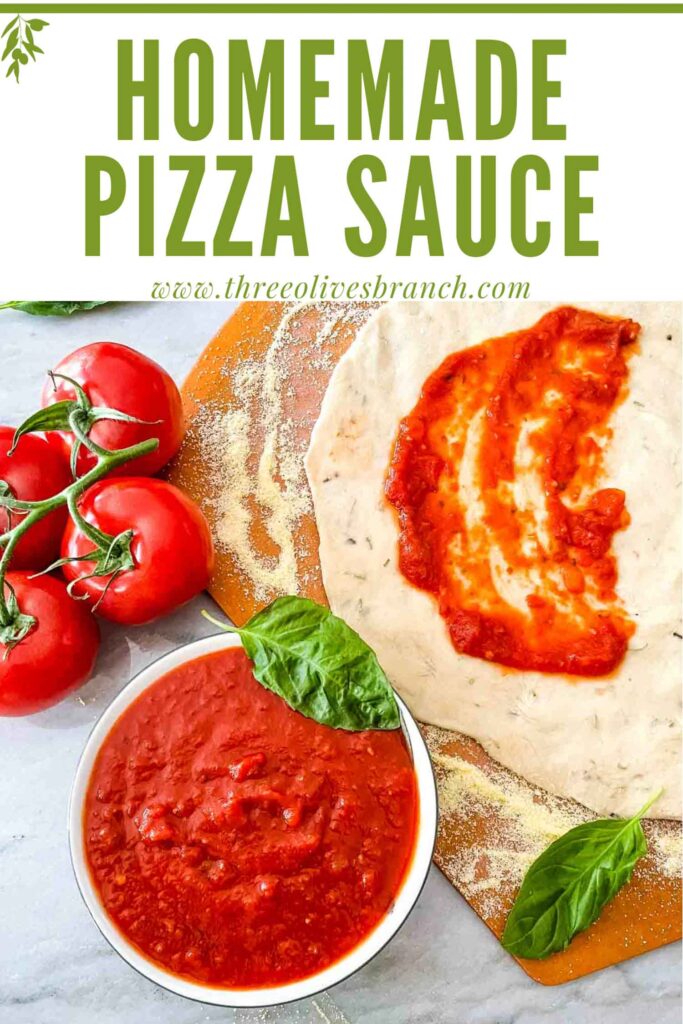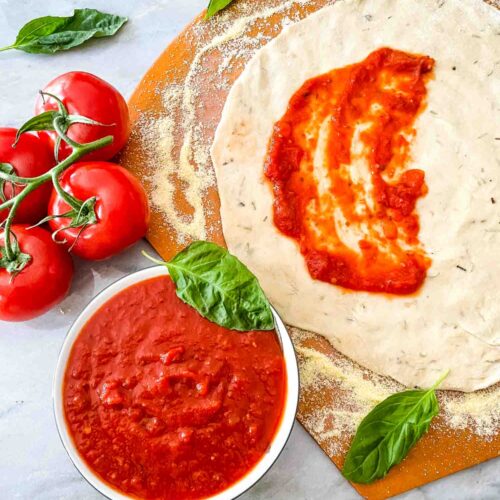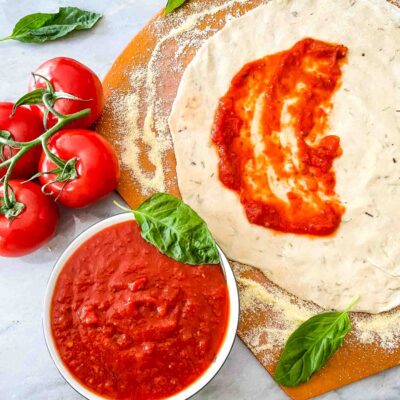 Red Wine Oregano Pizza Sauce
Homemade Pizza Sauce is a fast and easy Italian sauce recipe! Versatile flavors that are perfect for any pizza night toppings! Flavored with oregano and red wine (optional) in crushed tomatoes for texture.
Print
Pin
Rate
Servings:
3
cups (enough for 3 12″ pizzas)
Instructions
Heat the oil in a medium saucepan over medium heat.

Add the onions and saute until translucent, approximately 3-5 minutes.

Add the garlic, dried oregano, and red pepper flakes. Stir to combine and cook until fragrant, approximately 1 minute.

Add the red wine. Cook to reduce the wine by about half, approximately 5 minutes.

Add in the crushed tomatoes and water. Add a pinch of salt and stir to combine.

Reduce heat to low and simmer at least 15 minutes. The sauce flavors will continue to develop if you can cook it longer, ideally 90 minutes. If the sauce is getting too thick as it cooks, add a little water at a time.

Freeze extra sauce easily in a resealable bag or mason jar.
Notes
Any red wine will work here, just make sure you use something that you like to drink as the flavors will condense.
This sauce can be easily frozen in a mason jar or ziploc bag.
Approximately one cup of sauce will cover a 12″ pizza.  This recipe will make enough sauce for three pizzas this size with a moderate amount of sauce.
Get the Oregano Garlic Pizza Dough recipe here!
Nutrition
Serving:

1

pizza (1/3 recipe)

|

Calories:

199

kcal

|

Carbohydrates:

25

g

|

Protein:

5

g

|

Fat:

8

g

|

Saturated Fat:

1

g

|

Sodium:

360

mg

|

Potassium:

882

mg

|

Fiber:

6

g

|

Sugar:

13

g

|

Vitamin A:

690

IU

|

Vitamin C:

27

mg

|

Calcium:

121

mg

|

Iron:

4

mg

By