Delicious no bake Christmas cookies made from popcorn, marshmallow, white chocolate, and coconut.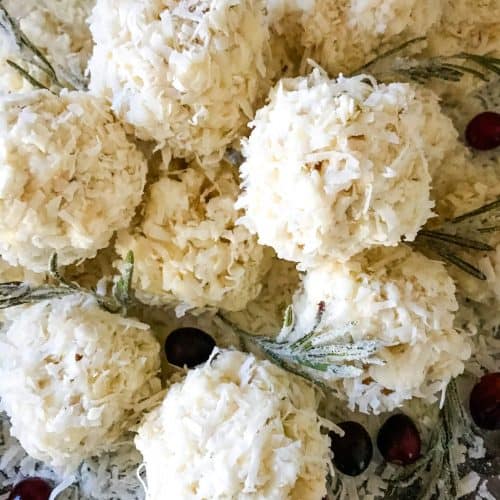 These Snowball Popcorn Balls are delicious and easy winter dessert treats!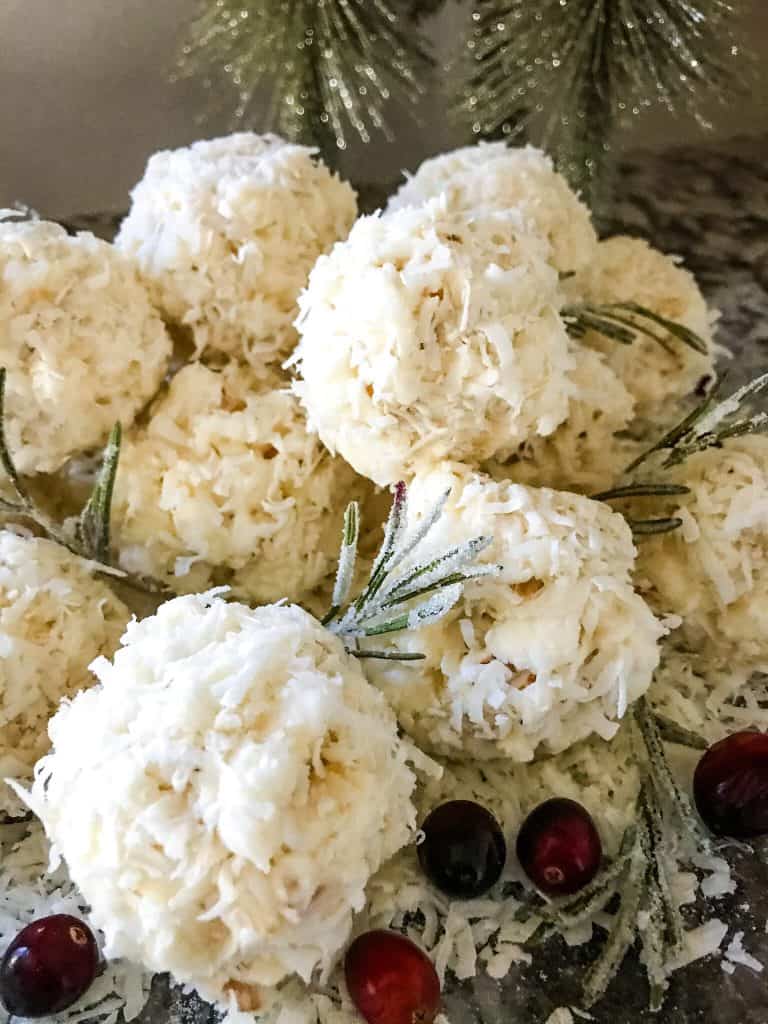 Looking for a fun Christmas cookie exchange option? Or a winter dessert recipe?
This no bake cookie recipe is a fun way to get the kids involved in the kitchen! After melting the marshmallows and mixing everything up, let them get to work making the coconut snowballs!
Gluten free, popcorn is mixed with marshmallows and white chocolate then rolled in shredded coconut for a fun and beautiful winter dessert.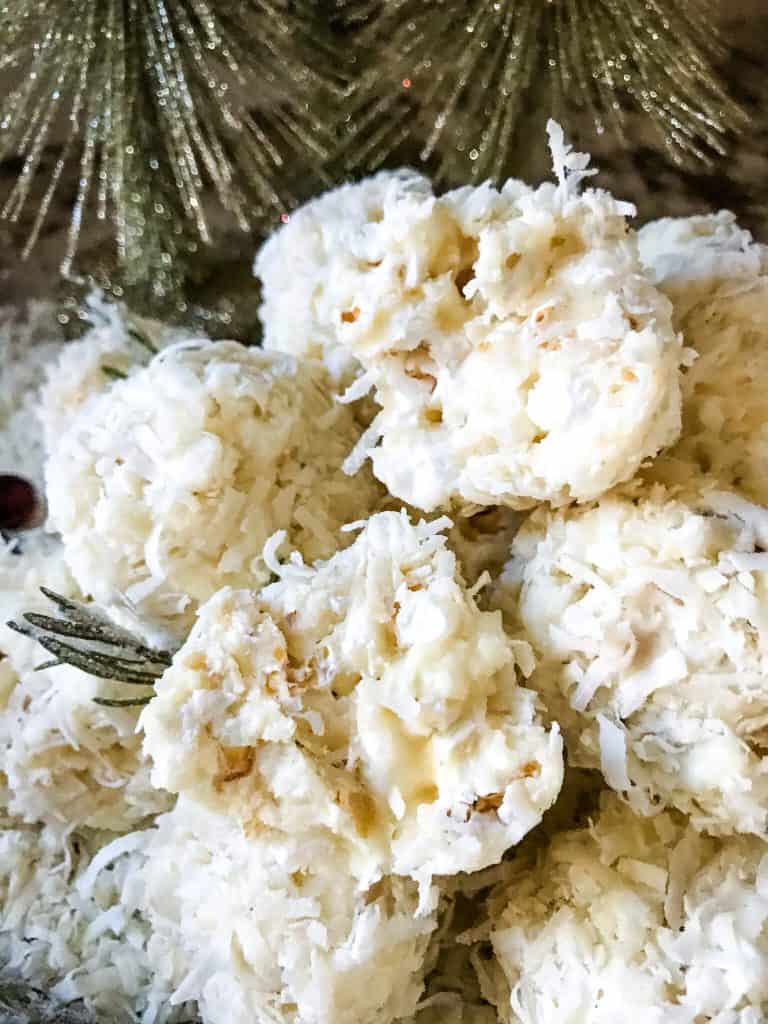 What popcorn can I use?
I prefer to use fresh, unflavored popcorn popped myself.
It is very easy to pop your own popcorn, and no fancy equipment is required!
Just heat the popcorn kernels with some oil in a large stock pot over medium heat. Cover it with the lid just ajar.
In just a couple minutes, you will start to hear popping! And just like the microwave version, the popcorn is ready when the popping has slowed down significantly.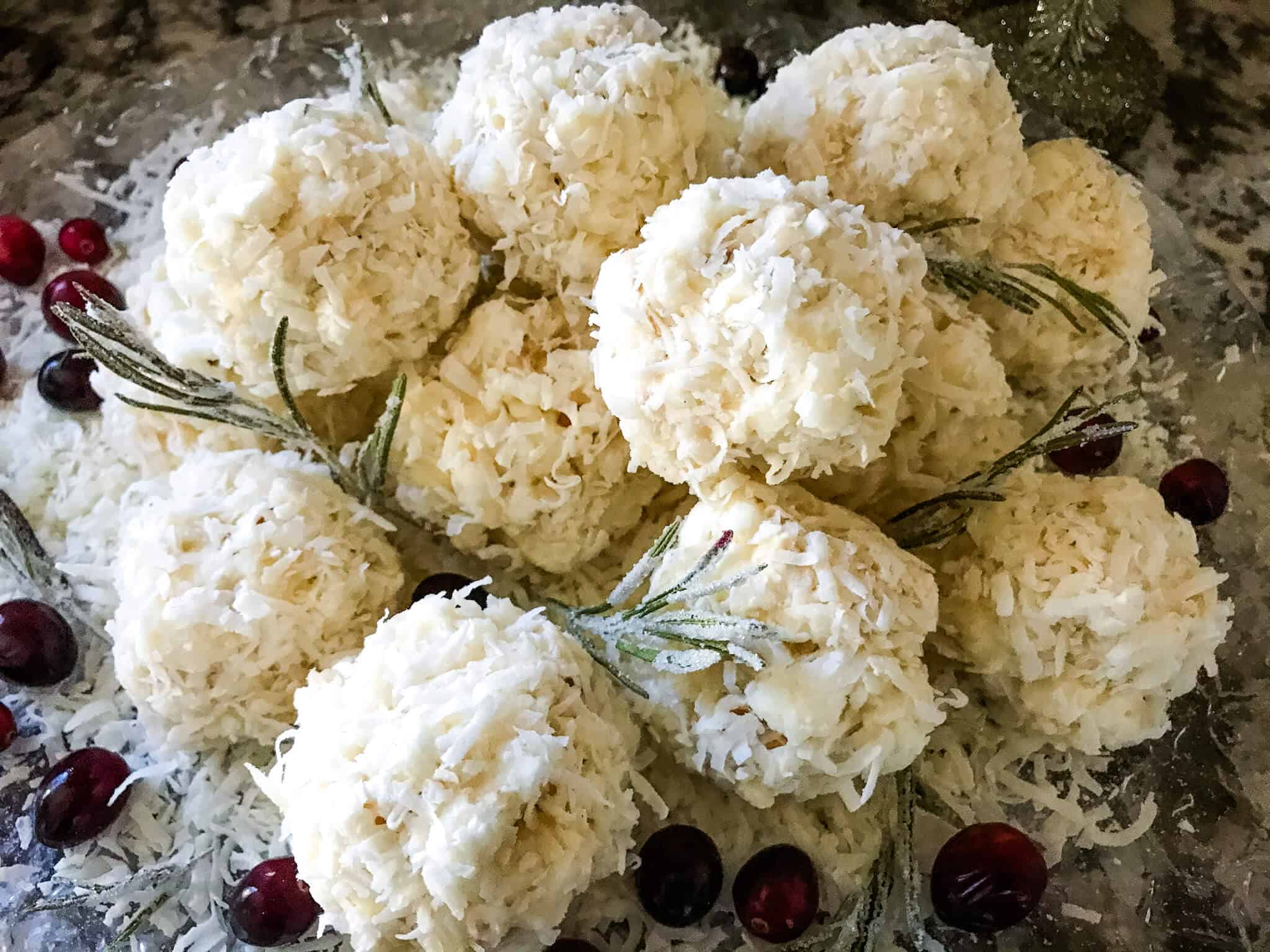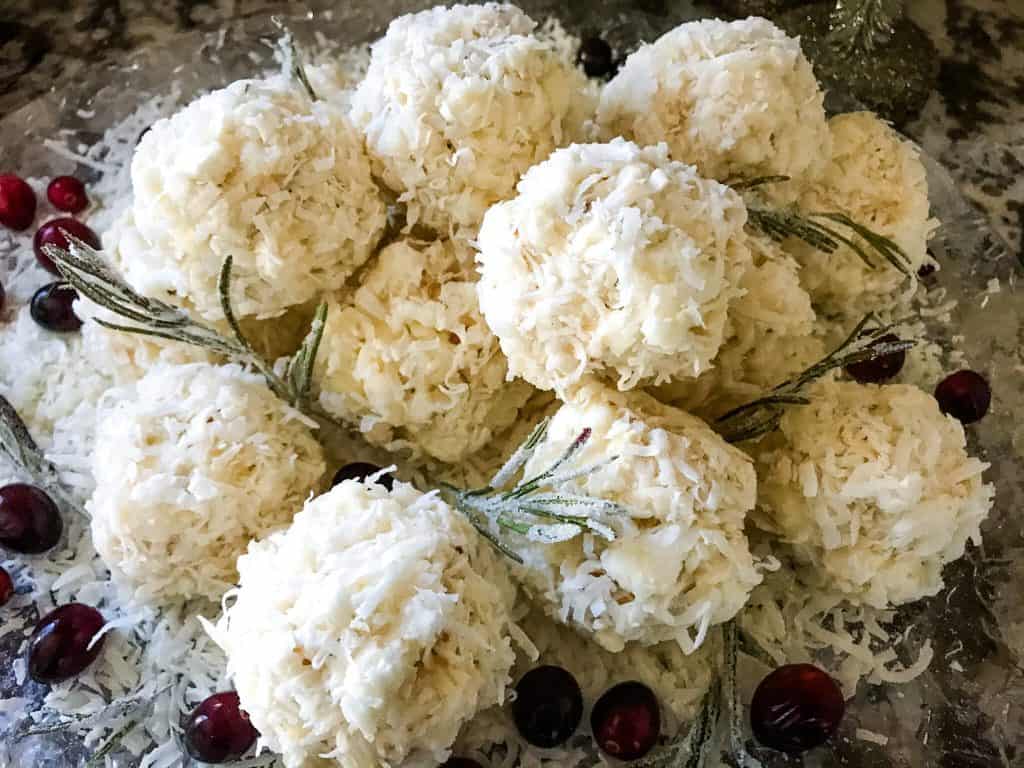 You can use bagged popcorn as well, however I would recommend using plain popcorn without any flavor.
The flavored popcorn will alter the taste of the final Coconut Snowball Popcorn Balls.
I use around 1/2 to 3/4 cup of popped popcorn for each popcorn ball. You can make them larger or smaller as desired.
I found that they looked more authentic to snowballs when they were a little smaller than a traditional popcorn ball which I would usually use around 1 cup of popcorn each.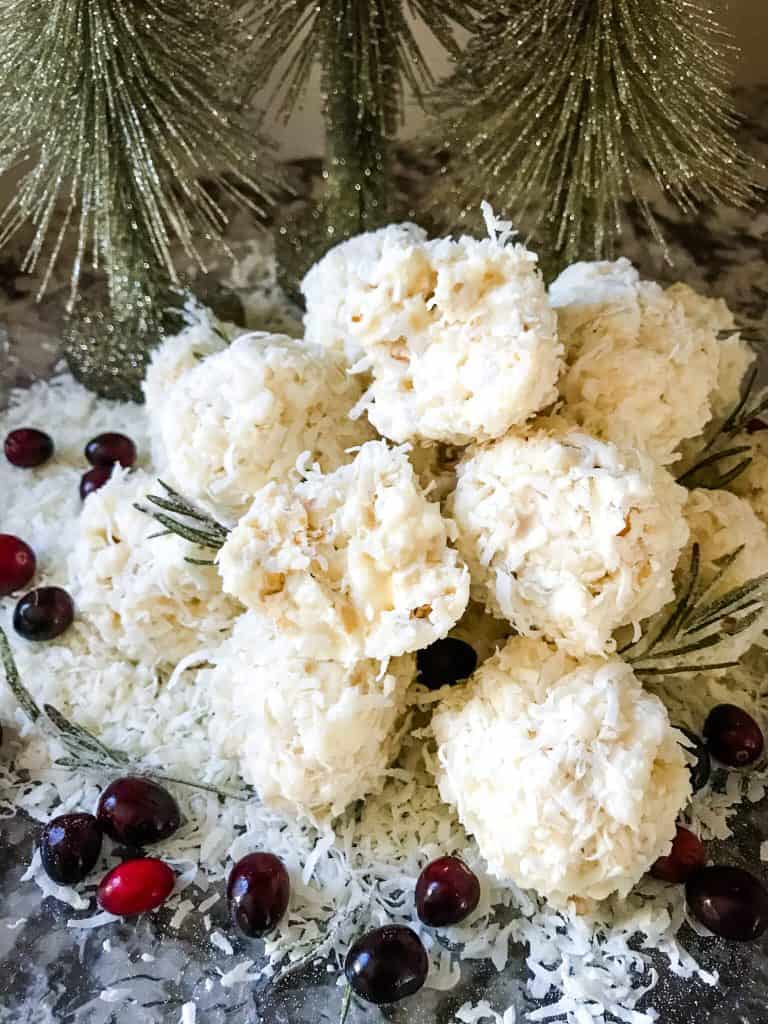 Does type of coconut matter?
In short, not really.
You will find various thicknesses of coconut shavings and shreds at the store.
I would suggest using either desiccated coconut (which is a very fine shred and what I used in the pictures) or a shredded coconut, which is a little thicker.
Coconut flakes are very thick strips and will be difficult to use for this recipe.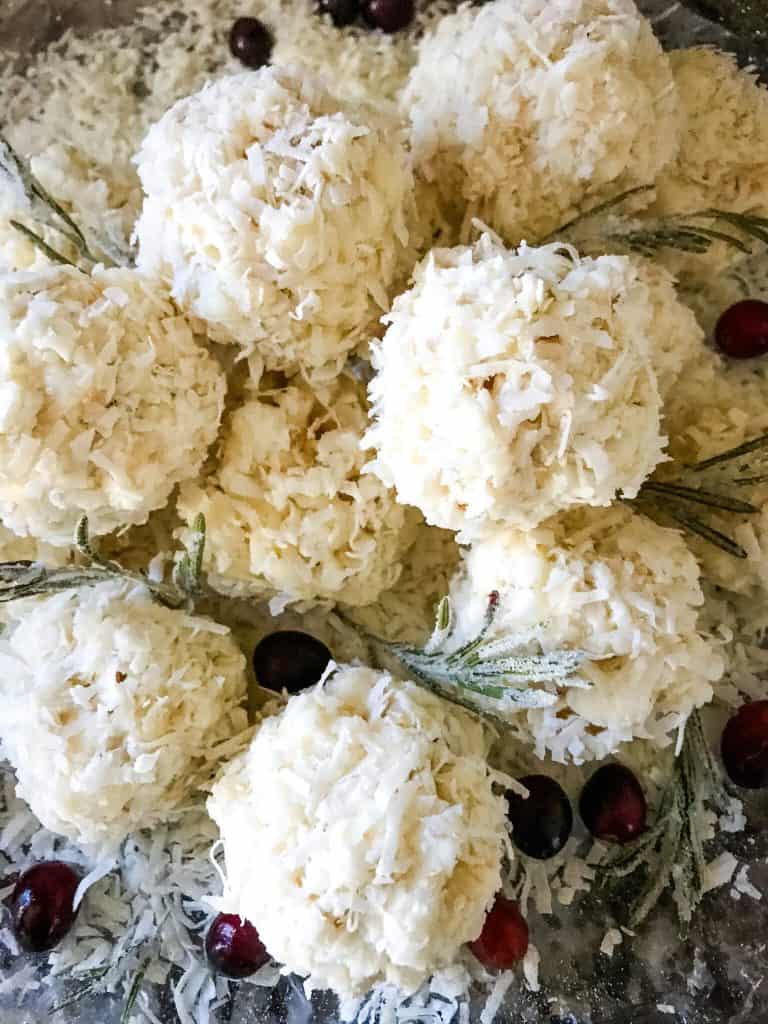 There is also sweetened versus unsweetened coconut. I prefer unsweetened, since you are getting sweetness from the rest of the ingredients. If you use sweetened, where sugar has been added to the coconut, expect a very sweet snowball dessert. But either is fine.
And typically I am a fan of toasting coconut, but skip it for this recipe.
Toasting the coconut will make your snowball cookies look a little brown or yellow, like dirty snow!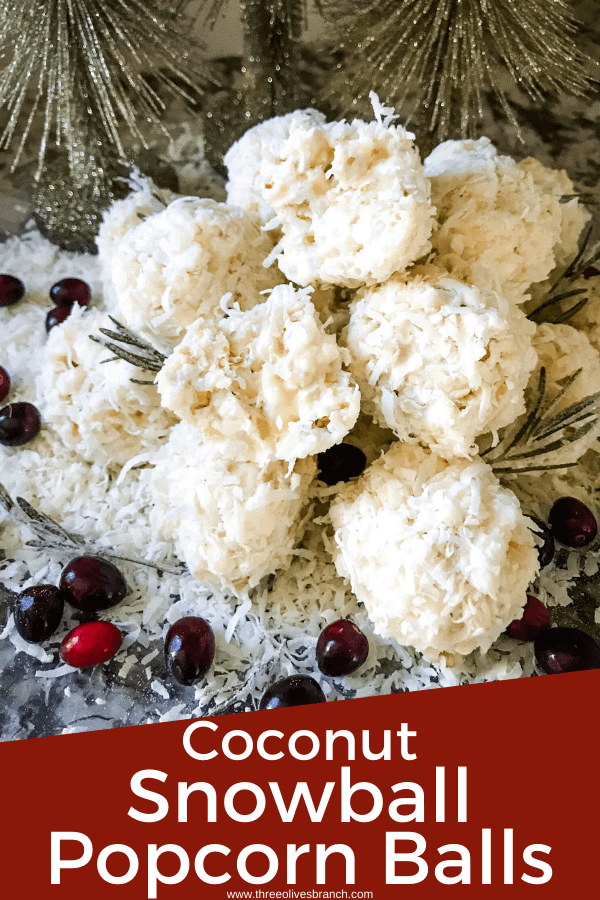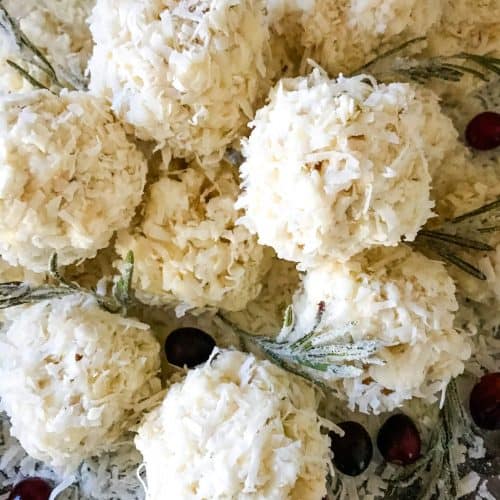 Snowball Popcorn Balls
Delicious no bake Christmas cookies made from popcorn, marshmallow, white chocolate, and coconut.
Print
Pin
Rate
Instructions
Heat the oil and popcorn kernels in a large stock pot over medium heat with a lid on the pot, partially adjar.

Cook until the popcorn kernels have popped and minimal popping is happening, approximately 7 minutes.

Remove the popcorn from the pot and set aside in a bowl.

In the same pot, add the butter and melt over medium heat.

Add the marshmallows, salt, and vanilla extra. Stir until the marshmallows are completely melted, approximately 2-3 minutes. Remove from heat.

Add the popcorn kernels and chocolate chips. The white chocolate will likely melt from the heat. Mix well into the marshmallow mixture until thoroughly incorporated.

Run your hands under water. Grab approximately 1/2 to 3/4 cup of the popcorn with your hands and press into a ball, like you are making a snowball.

When decently round, immediately roll in the shredded coconut in a small bowl, pressing the coconut onto the ball. Sprinkle lightly with the clear sugar sprinkles if using. Place the snowball on a piece of wax paper to set.

Repeat with the remaining popcorn. Re-wet your hands when it gets too sticky.

Let sit until no longer sticky, approximately 20-30 minutes, but still soft. Store in an air tight container to keep them from drying out completely.
Notes
You can use bagged popcorn instead of popping your own, however it is recommended to use plain popcorn without flavors or seasonings as they will interfere with the final taste.
You get approximately 2 cups of popped popcorn for each Tablespoon of kernels.
Nutrition
Serving:

1

ball

|

Calories:

244

kcal

|

Carbohydrates:

30

g

|

Protein:

2

g

|

Fat:

14

g

|

Saturated Fat:

9

g

|

Cholesterol:

18

mg

|

Sodium:

85

mg

|

Potassium:

79

mg

|

Fiber:

1

g

|

Sugar:

21

g

|

Vitamin A:

181

IU

|

Vitamin C:

1

mg

|

Calcium:

25

mg

|

Iron:

1

mg

By