Purple People Eater Halloween Popcorn Balls are a fun take on the popular movie! Perfect for a Halloween party treat, snack, or appetizer.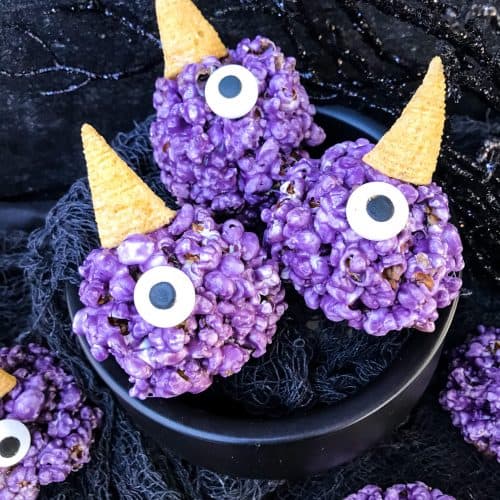 Purple People Eater Halloween Popcorn Balls are a fun Halloween dessert recipe inspired by the famous monster!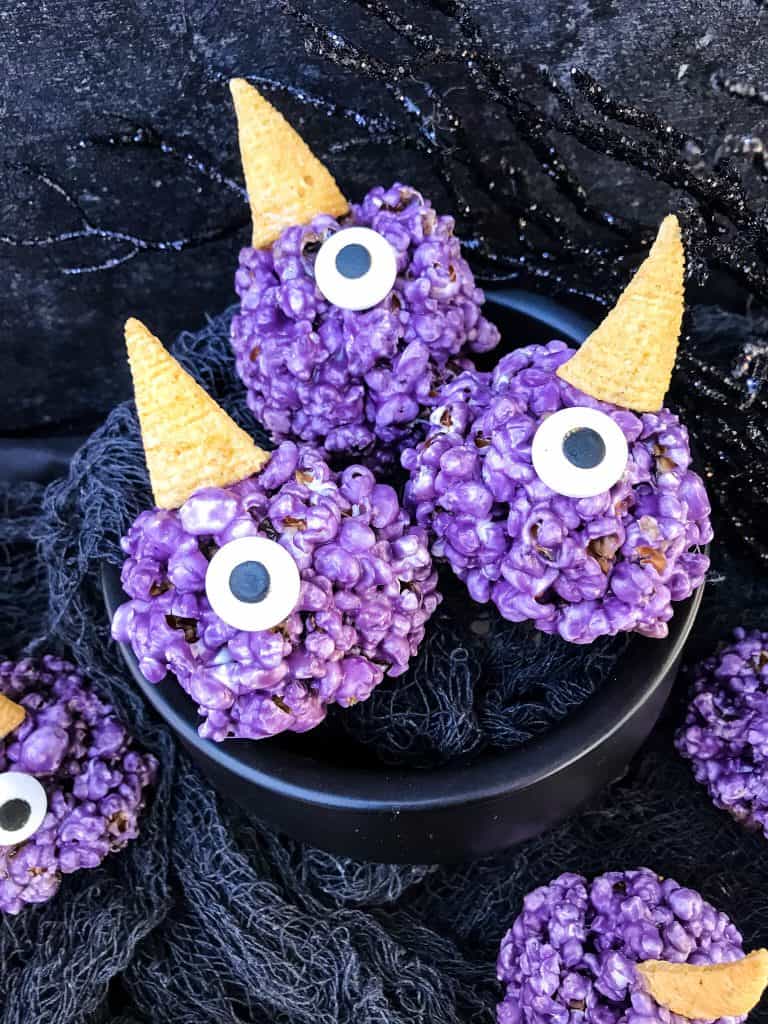 Why You Will Love This Recipe
I remember watching the Purple People Eater growing up, and I still distinctly remember the song!
It was definitely stuck in my head as I was making these Purple People Eater Halloween Popcorn Balls.
I love Halloween and how creative the holiday is! And I am always making fun Halloween recipes.
You can also easily switch these Halloween popcorn balls into monster popcorn balls. Use any colors for the popcorn, and add extra eyes and horns as desired.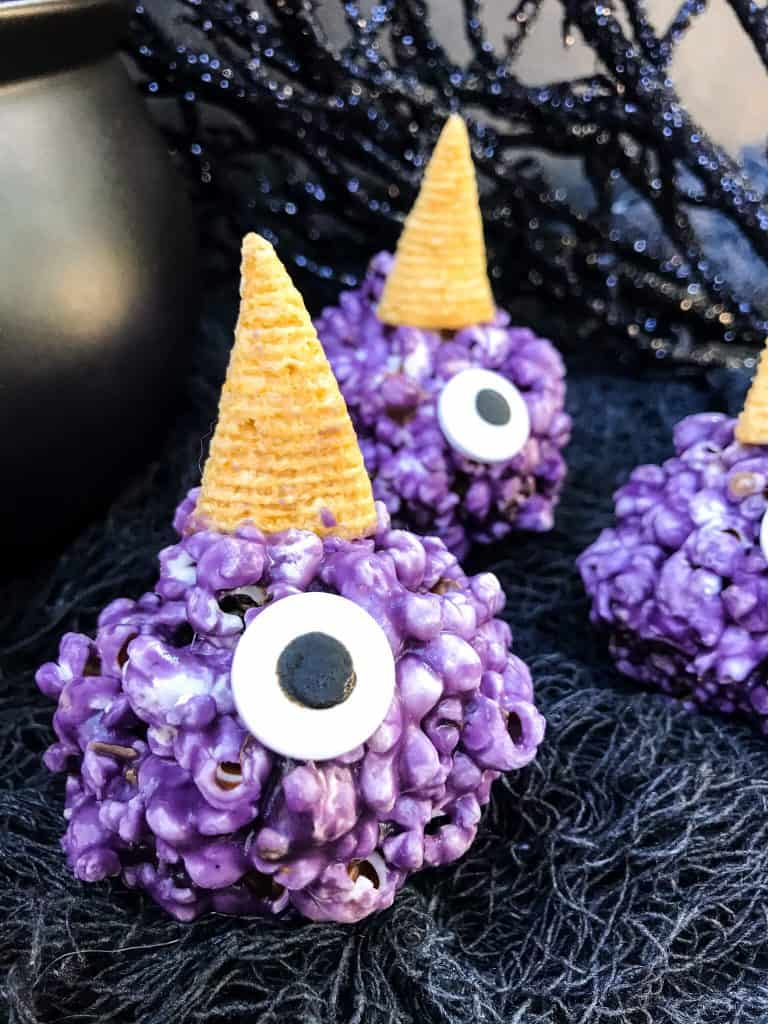 Ingredients
These are the ingredients you need to make monster popcorn balls. Find quantities and instruction details in the full recipe card below.
Popcorn Kernels – you can also make bagged popcorn, ideally unflavored. But I prefer to make homemade because it is so fast, easy, and affordable.
Purple Food Gel – or food coloring. I prefer food gel because you get stronger coloring with less moisture.
Bugles – These are perfect to make the horns! You could use anything horn shaped. This is the only gluten in the recipe, so make these gluten free by finding a GF substitute.
Mini Marshmallows
Butter
Vegetable Oil
Vanilla Extract
Salt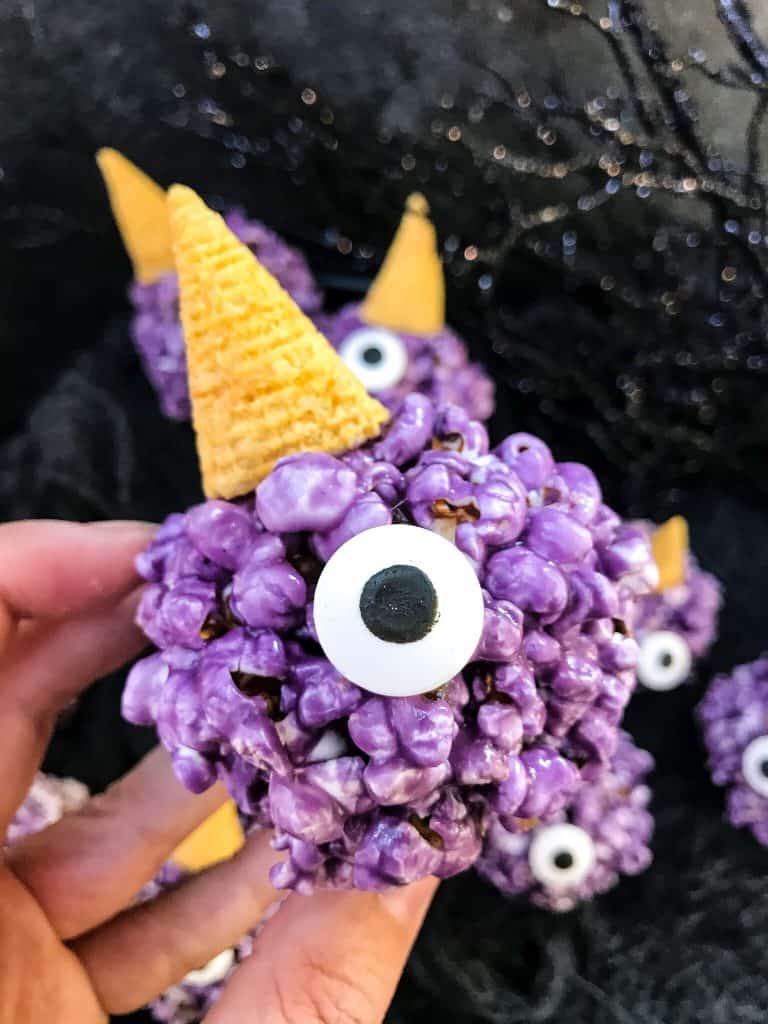 Instruction Overview
See our full quantities and instructions below.
I prefer to use fresh, unflavored popcorn popped myself.
It is very easy to pop your own popcorn, and no fancy equipment is required!
Just heat the popcorn kernels with some oil in a large stock pot over medium heat. Cover it with the lid just ajar.
In just a couple minutes, you will start to hear popping! And just like the microwave version, the popcorn is ready when the popping has slowed down significantly.
You can use bagged popcorn as well, however I would recommend using plain popcorn without any flavor.
The flavored popcorn will alter the taste of the final Purple People Eater Halloween Popcorn Balls.
I use around one cup of popped popcorn for each popcorn ball. Y9u can make them larger or smaller, but adjust the size of the eyes (there are different sizes sold). You might need to get creative with other options for the horn or try cutting some Bugles down.
Make these Halloween Popcorn Balls any shade of purple that you like.
When adding the purple to the marshmallow mixture, make it a touch darker than you really want because when added to the white popcorn, the color lightens a little.
I prefer to use Purple Food Gel, which is thicker and much more concentrated in color than food coloring.
Red and blue food coloring will also work here, as the moisture you are adding will not have a significant result on the final product as it could in other recipes.
Assembly
I tried a few ways of putting the popcorn balls together.
The best way to do this is simply run your hands under water before grabbing a handful (approximately 1 cup of popcorn) and pressing it into a ball shape. Then plop them onto wax or parchment paper to dry.
I also tried using disposable gloves which did NOT work. They just wanted to stick to the popcorn. Even when I covered them in water or non-stick spray.
So bare hands with water is the best way to go.
I was worried about my hands turning purple, and they did a little, but it came off very easily.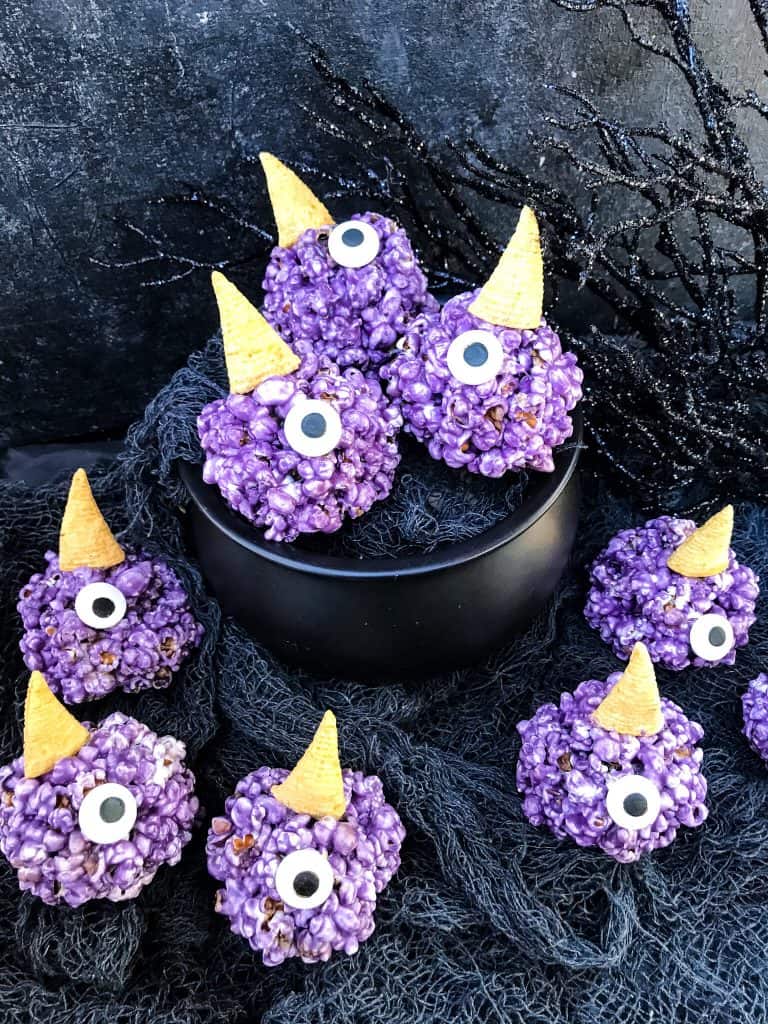 How do I decorate the popcorn balls?
I use Bugles for the horns and large candy eyes to decorate the Purple People Eater Halloween Popcorn Balls.
I found the Bugles were the perfect shape and texture for the balls. At first I was going to cover them in candy melts and sprinkles, but they looked perfect plain with the ribs and texture!
They also make colored eyes, or bloodshot eyes, so use whichever variation you like.
Attaching the horns and eyes can be tricky sometimes.
If your popcorn balls are still sticky, perfect! Try to get those horns and eyes to stick on their own.
You can also scrape up some of the leftover marshmallow mixture from the pot, if it is not dried, and apply it to the horns and eyes to help them stick.
If the marshmallow is hard or they are not sticking, there are alternative options!
Use honey or a similar thick syrup that will dry.
Melt some white or purple candy melts (just a few will do the trick) to dip and stick the horns and eyes.
Melt a few more marshmallows!
Shop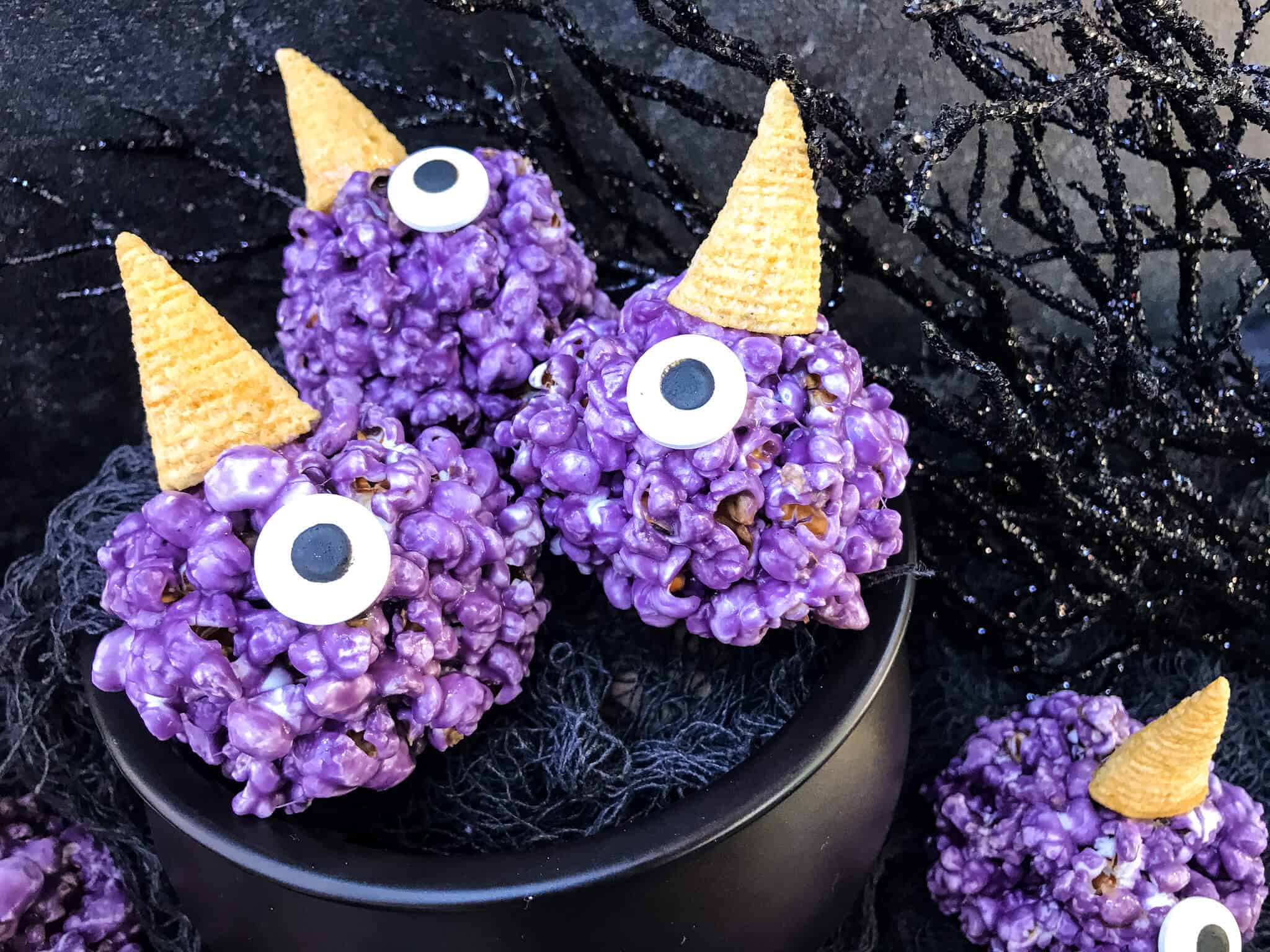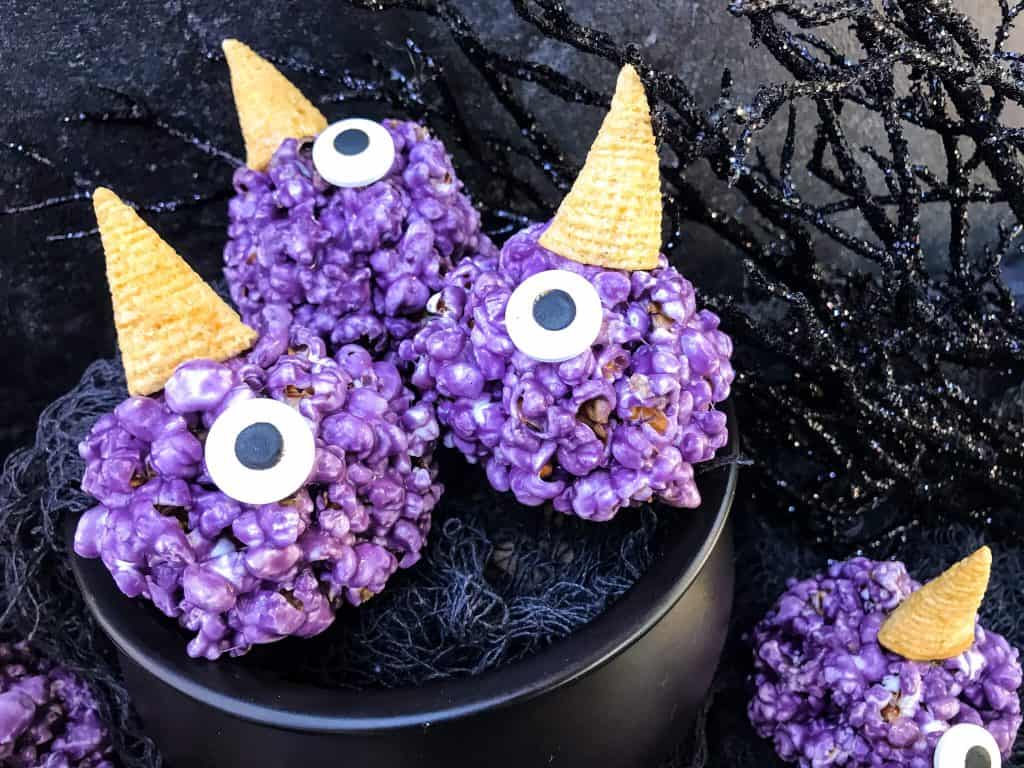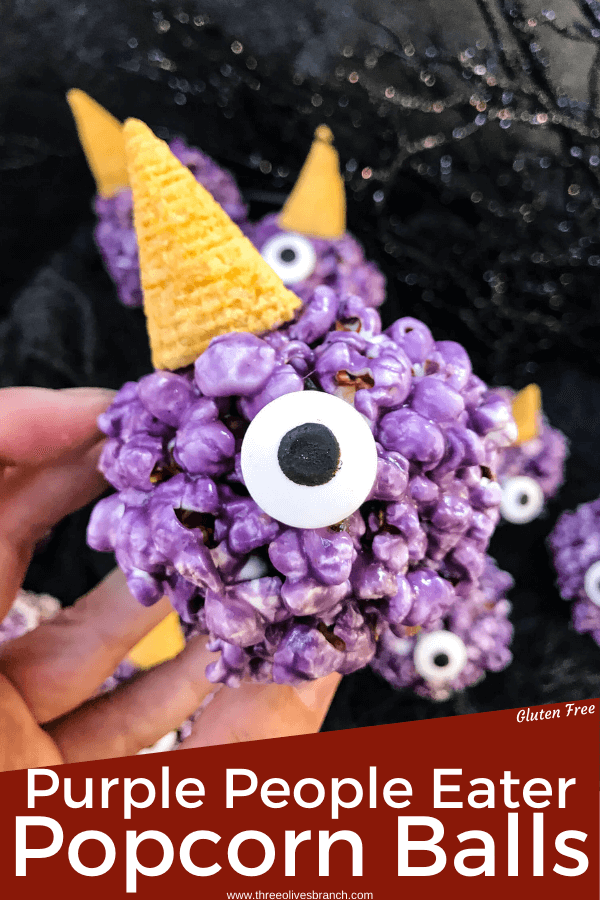 More Halloween Recipes
Halloween Recipes
Celebrate Halloween with these fun holiday recipes!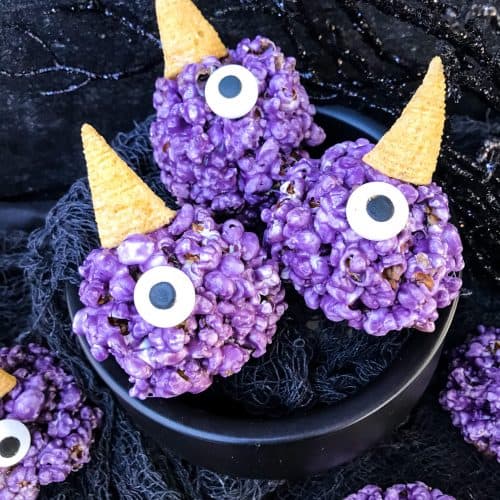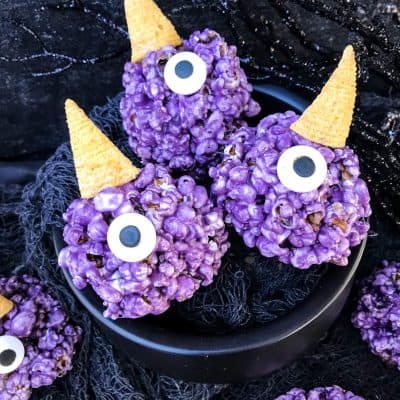 Purple People Eater Halloween Popcorn Balls
Purple People Eater Halloween Popcorn Balls are a fun take on the popular movie! Perfect for a Halloween party treat, snack, or appetizer.
Print
Pin
Rate
Instructions
Heat the oil and popcorn kernels in a large stock pot over medium heat with a lid on the pot, partially adjar.

5 Tablespoons popcorn kernels,

1 Tablespoon vegetable oil

Cook until the popcorn kernels have popped and minimal popping is happening, approximately 7 minutes.

Remove the popcorn from the pot and set aside in a bowl.

In the same pot, add the butter and melt over medium heat.

Add the marshmallows, salt, and vanilla extra. Stir until the marshmallows are completely melted, approximately 2-3 minutes. Remove from heat.

10 ounces mini marshmallows,

1/4 teaspoon salt,

1 teaspoon vanilla extract

Add purple food gel or food coloring to the marshmallows to make the shade of purple you prefer. Make it a little darker than you want as the white popcorn lightens the color a little.

Add the popcorn kernels and mix well into the marshmallow mixture until thoroughly incorporated.

Run your hands under water. Grab approximately 3/4 to 1 cup of the popcorn with your hands and press into a ball, like you are making a snowball. When decently round, place on parchment or wax paper to cool and set.

Repeat with the remaining popcorn.

While the popcorn ball is still tacky, take the Bugles and gently press them into the top of the popcorn balls to act as the horns. Place at a slight angle and slightly toward the front face (think unicorn placement) on all popcorn balls.

Press the large candy eyes on the front of the face, one eye on each ball.

Let sit until no longer sticky, approximately 30 minutes.
Notes
You can use bagged popcorn instead of popping your own, however it is recommended to use plain popcorn without flavors or seasonings as they will interfere with the final taste.
You get approximately 2 cups of popped popcorn for each Tablespoon of kernels.
Bugles are a corn snack shaped like a horn, and are the perfect size and color for this treat. Feel free to use any other horn shaped element in place of Bugles.
Nutrition
Serving:

1

ball

|

Calories:

193

kcal

|

Carbohydrates:

27

g

|

Protein:

1

g

|

Fat:

9

g

|

Saturated Fat:

6

g

|

Cholesterol:

20

mg

|

Sodium:

77

mg

|

Potassium:

23

mg

|

Fiber:

1

g

|

Sugar:

15

g

|

Vitamin A:

269

IU

|

Vitamin C:

1

mg

|

Calcium:

6

mg

|

Iron:

1

mg

By