Strawberry Sauce can be made with just 3 ingredients! An easy homemade dessert sauce recipe with lots of fresh fruit flavor. Fresh or frozen berries for dessert or brunch.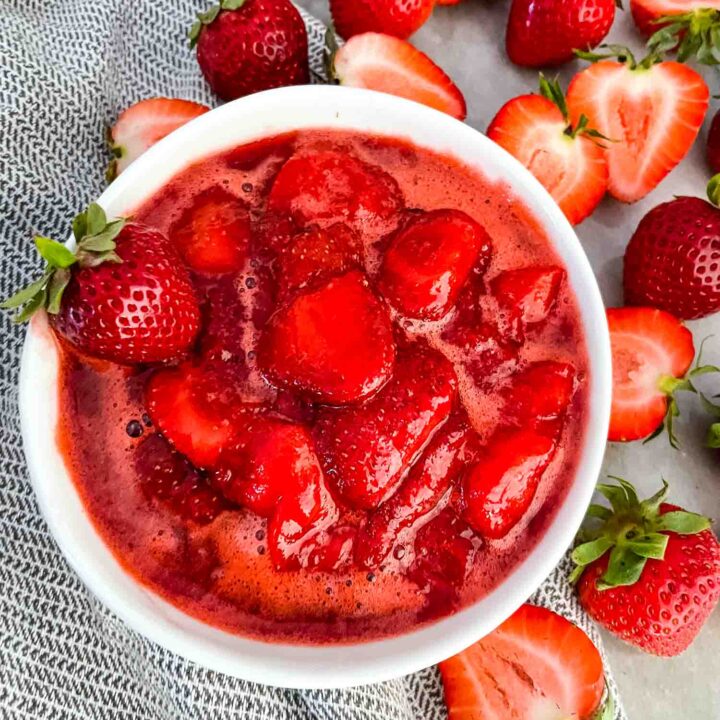 This easy Strawberry Sauce is perfect for your dessert and brunch recipes! Just 3 ingredients for a fresh fruit sauce.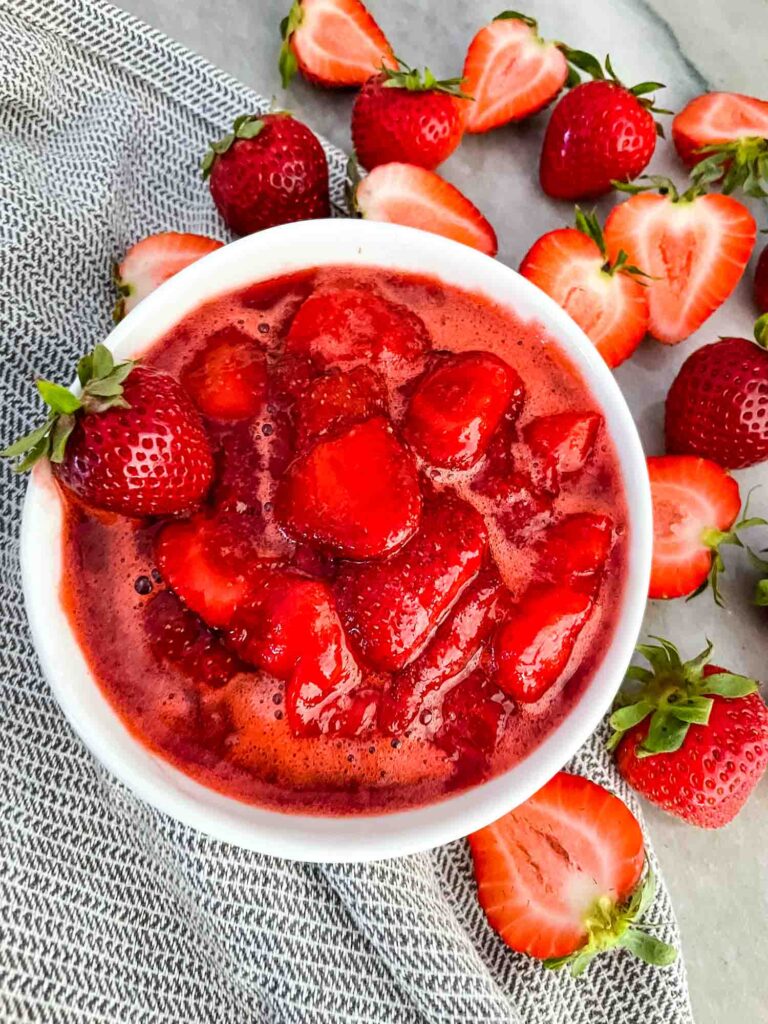 Homemade Dessert Sauce
Some of the best recipes are incredibly simple, and this sauce is sure to be a huge hit!
This Strawberry Sauce was the inspiration for our Strawberry French Toast and and be used in so many ways!
Is Strawberry Sauce the Same as Jam?
They are very similar! So what is the difference between a sauce and a jam?
The main difference is a jam is much thicker. You could continue cooking this sauce to make more of a strawberry jam.
But since we are not letting the liquid completely boil off, we get a delicious sauce instead!
The fruit is also less mashed. Leaving the strawberries in slices instead gives you the great large pieces of fruit.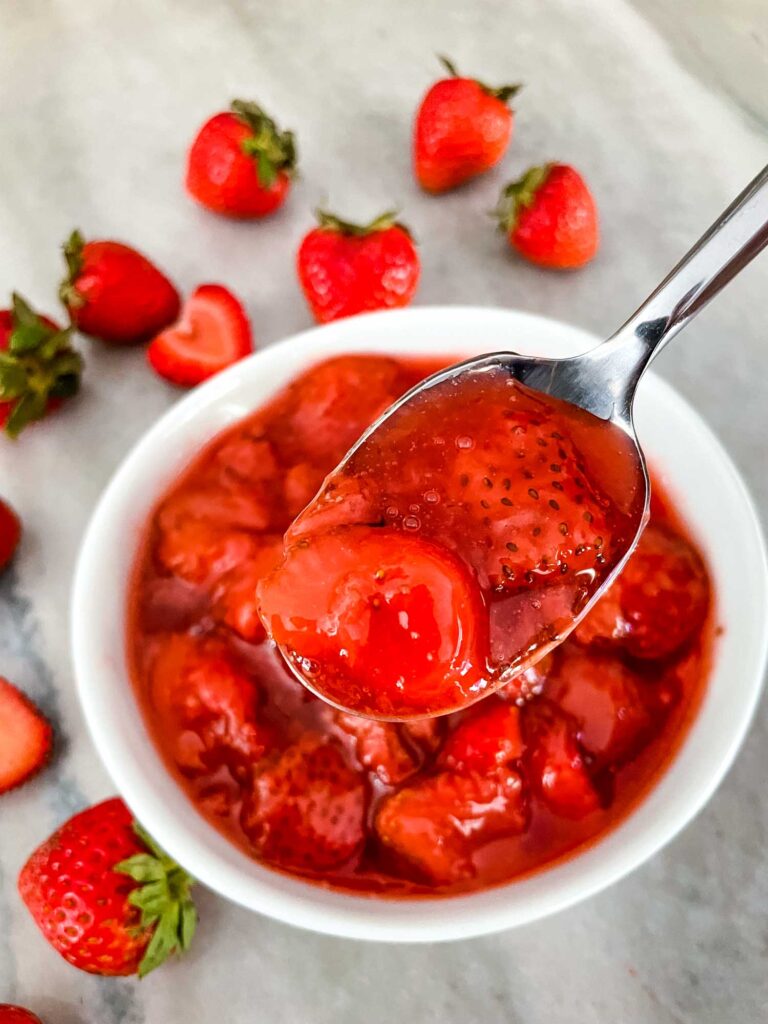 What Is Strawberry Sauce Made Of?
Here is what you need to make this sauce:
Strawberries
Sugar
Lemon Juice
Can I Use Frozen Strawberries in Strawberry Sauce?
Yes! Frozen strawberries are a great way to get fresh fruit especially out of season.
If using frozen strawberries, they will have a lot more moisture or water in them compared to fresh. You can thaw and drain them, proceeding with the recipe as written, or cook with them frozen.
If frozen, the sauce will be very thin at first and you will need to either cook it longer or use cornstarch as explained below.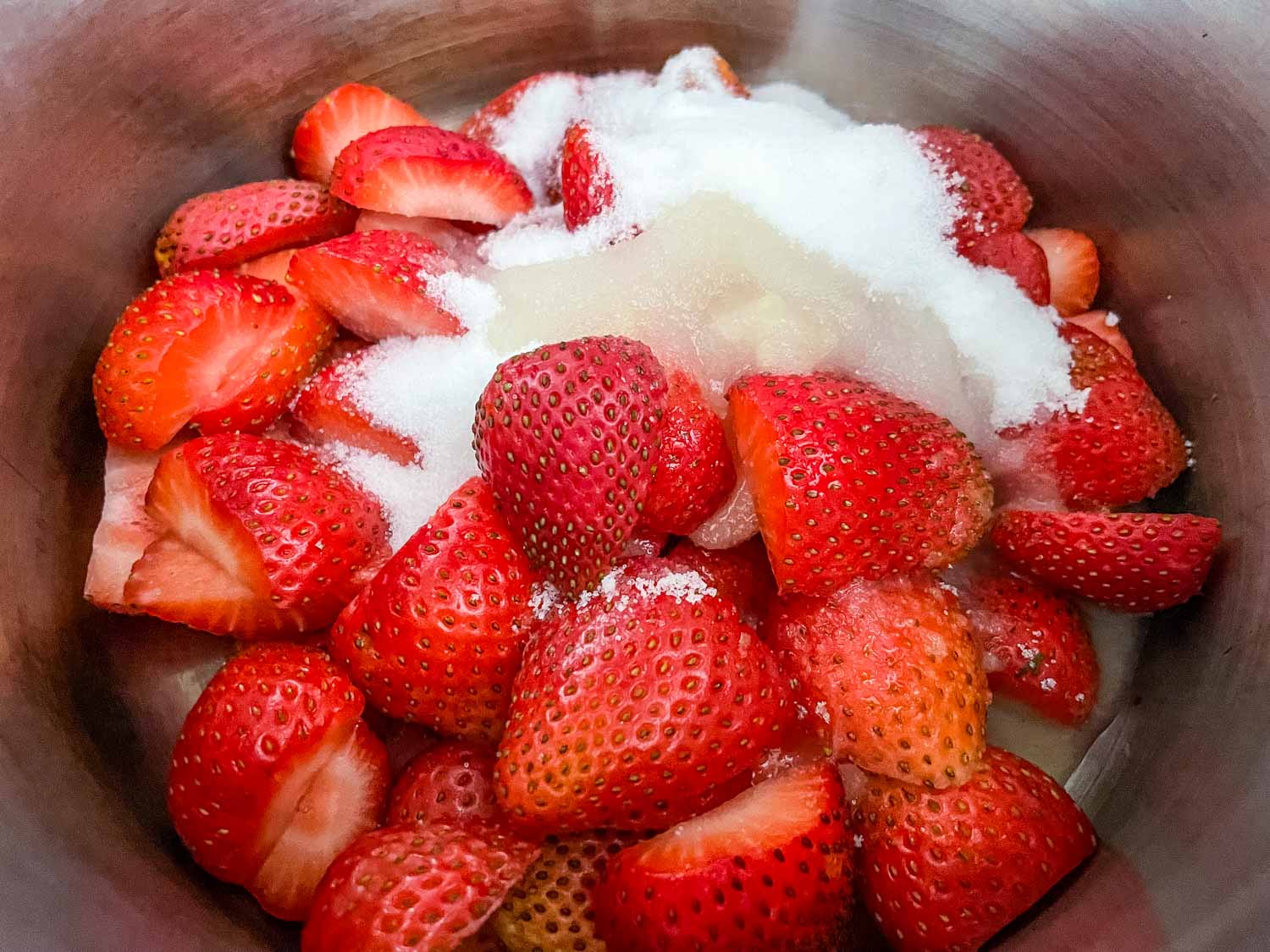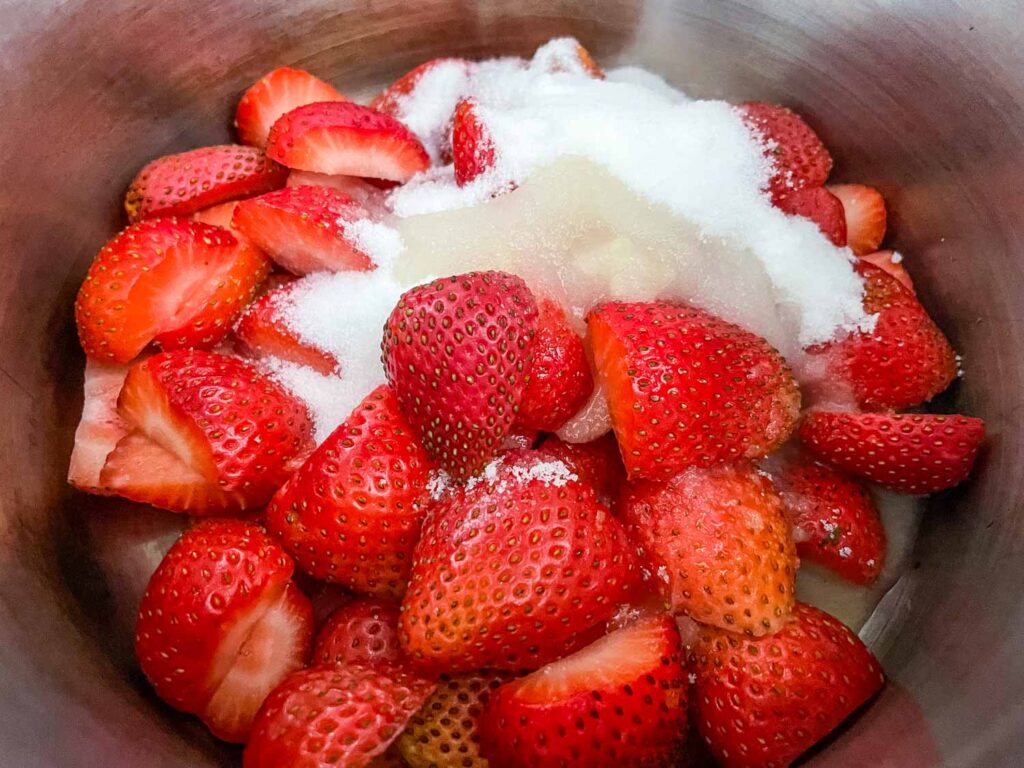 How Do I Make Strawberry Sauce?
Wash and trim the strawberries, removing the tops, and cut them into thicker slices. Place the fruit in a small or medium pot.
Add the sugar and lemon juice and heat the pot over medium high heat.
Bring to a boil (the sugars will melt and liquids will come out of the berries, giving you a liquid to boil). When it is boiling, reduce the heat to medium at a simmer.
Let the sauce cook, stirring occasionally, until the sauce thickens slightly and the berries are breaking down. Mash berries more or less as desired based on the sauce consistency you want. This takes about 10-15 minutes.
The sauce will thicken just a little as it cools, so keep this in mind!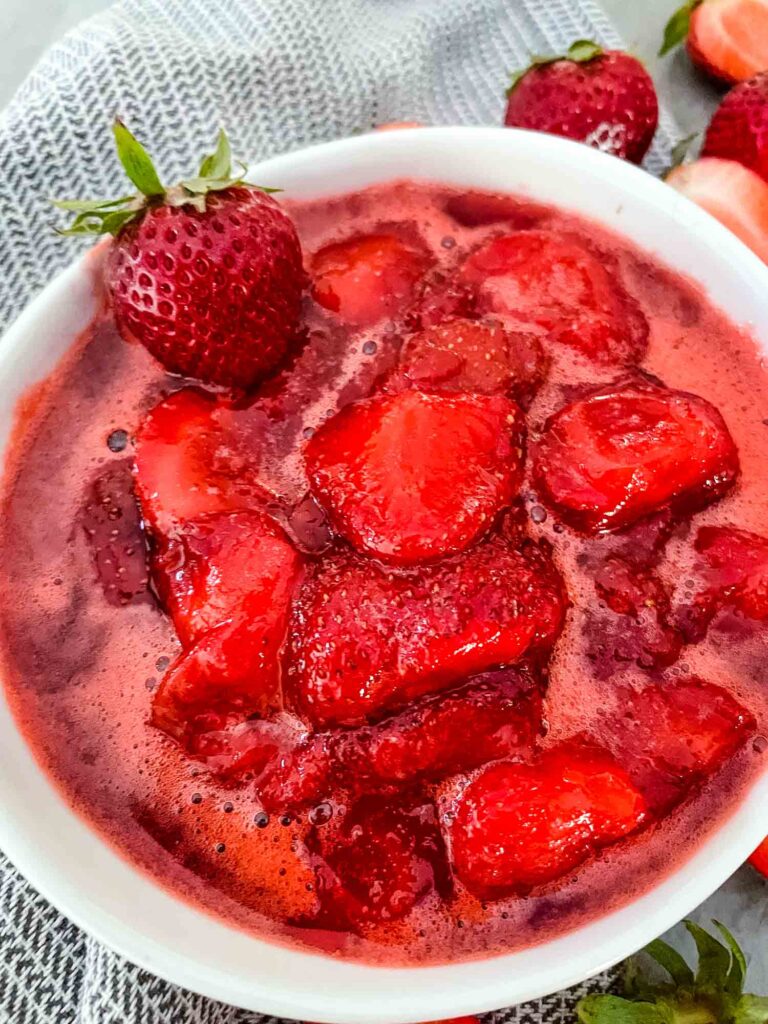 How Long Does Strawberry Sauce Last in the Refrigerator?
Store the sauce in a container in the fridge for about 4 days. I also like to freeze the sauce to have on hand when wanted, and it can last in the freezer for up to 6 months.
Why Isn't My Strawberry Sauce Thickening?
This could be from too much moisture in the fruit, which can be combatted by simply cooking it longer.
It could also be that your fruit's natural pectin, which helps thicken the sauce, is just not working or there is not enough!
You can make the sauce thicker without reducing how much you are making by adding a little cornstarch, first mixed with a little water to make a paste, and adding it to the pot. Then let it cook a few minutes as the heat will activate the thickening.
How to Use Strawberry Sauce
This dessert sauce recipe is so versatile!
Use this strawberry sauce for pancakes, waffles, ice cream, cheesecake, angel food cake, and so many more things!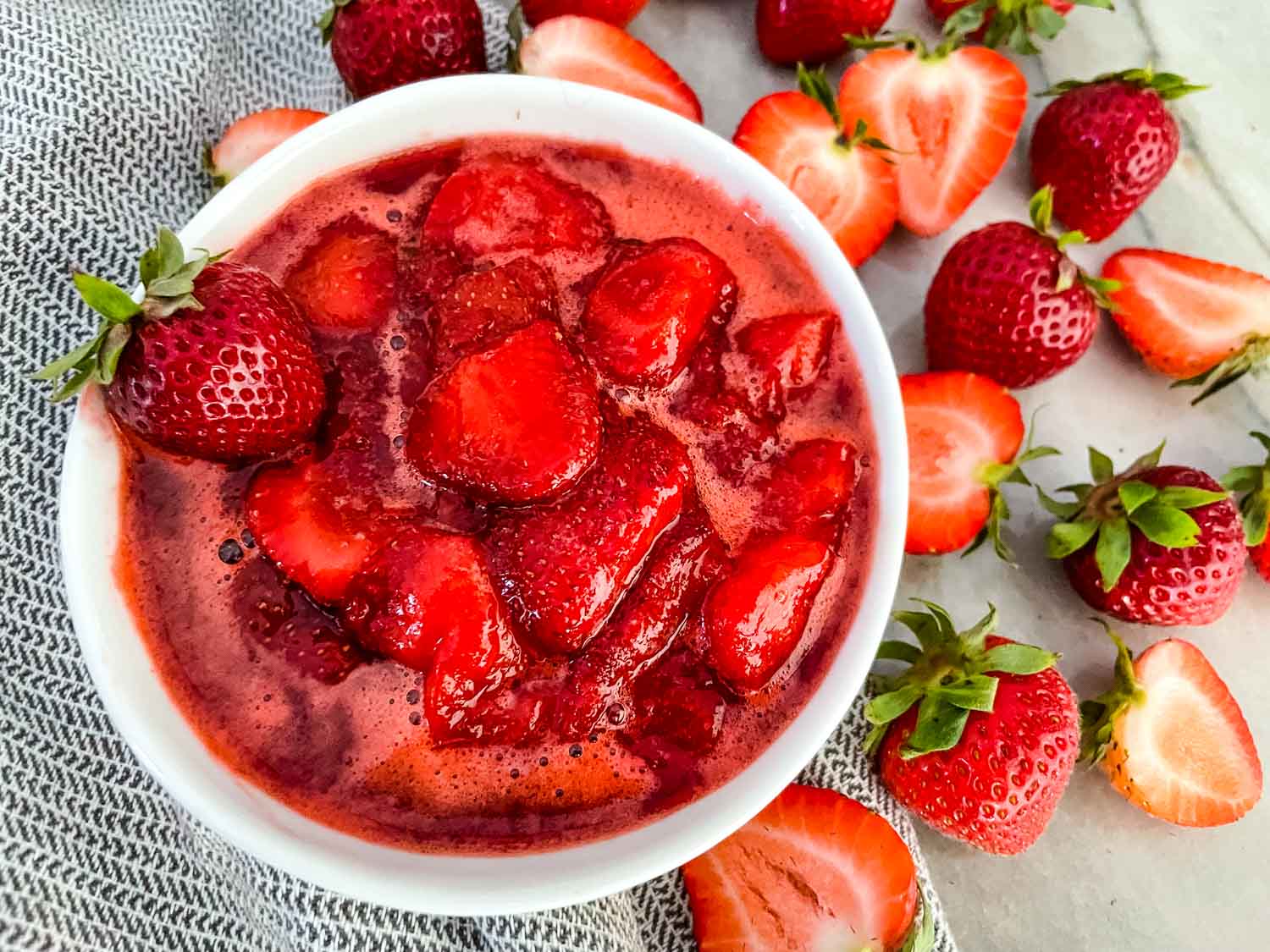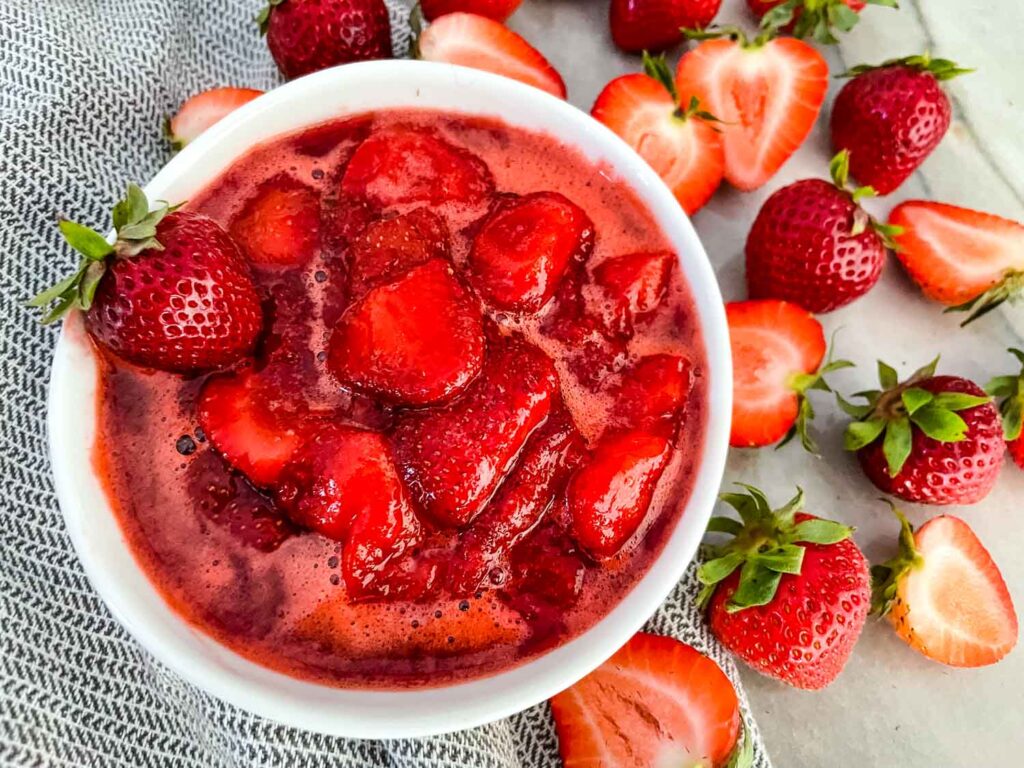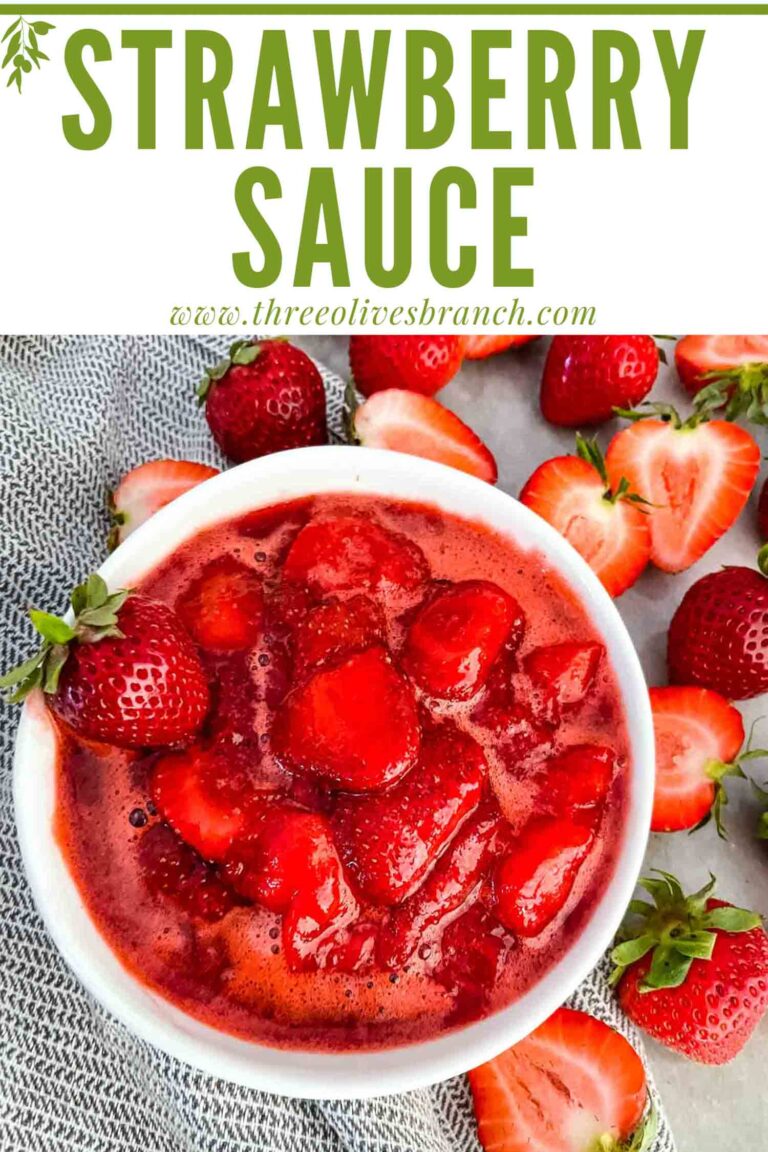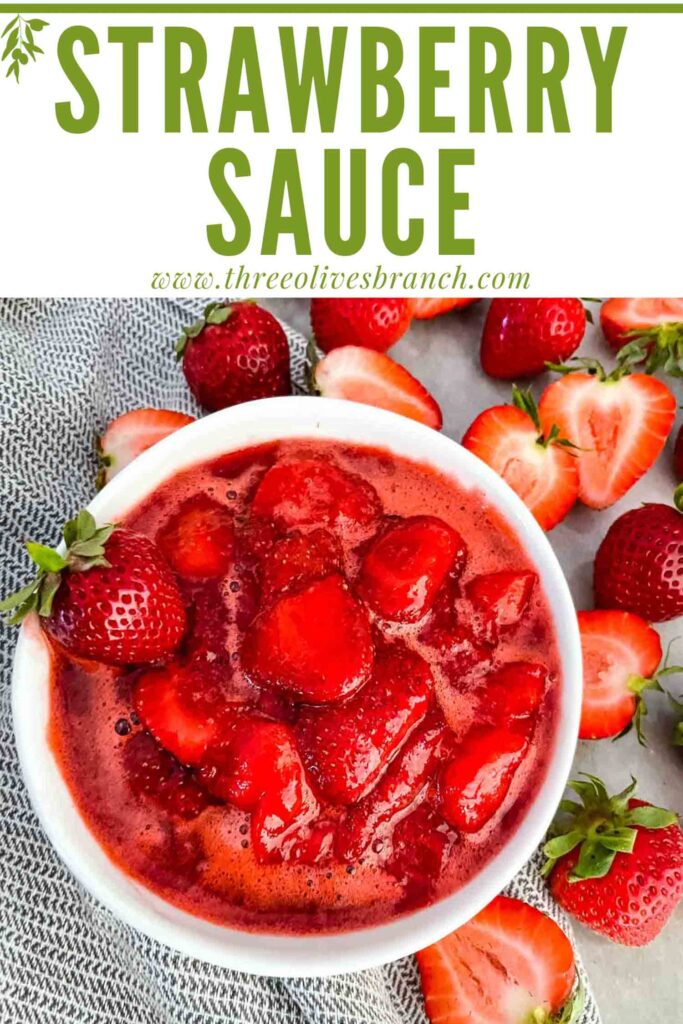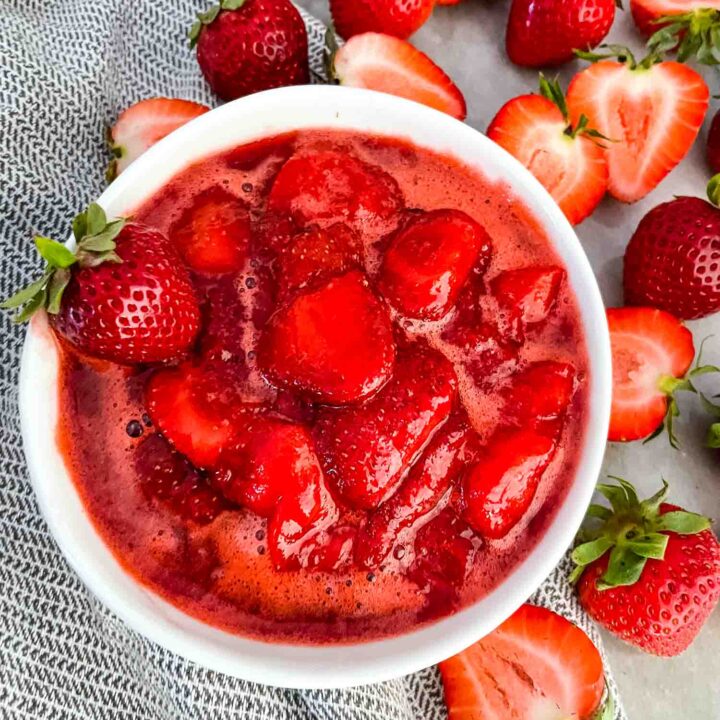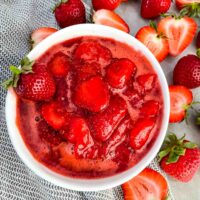 Strawberry Sauce Recipe
Strawberry Sauce can be made with just 3 ingredients! An easy homemade dessert sauce recipe with lots of fresh fruit flavor. Fresh or frozen berries for dessert or brunch.
Print
Pin
Rate
Instructions
Remove the tops from your strawberries, clean them, and cut them into thick slices.

Put the cut strawberries, sugar, and lemon juice in a small or medium pot on the stove.

Heat over medium high heat until the berries release moisture and they are boiling.

Reduce heat to medium and continue simmering to make the sauce, about 10-15 minutes.

Store in a container in the refrigerator for up to 4 days or in the freezer up to 6 months.
Notes
If using frozen fruit, either let thaw and drain or thicken as described in note 3 as frozen fruit has a lot more moisture.
Sauce too thick? Add water.
Sauce too thin? Continue cooking or keep the same quantity but thicken by mixing a small amount of cornstarch with a little water and then adding it to the pot to cook. The cornstarch needs heat to thicken. The exact amount you need will vary with how thin the sauce is. I would start with 1/2 teaspoon.
Nutrition
Serving:

1

cup

|

Calories:

270

kcal

|

Carbohydrates:

68

g

|

Protein:

2

g

|

Fat:

1

g

|

Saturated Fat:

0.1

g

|

Polyunsaturated Fat:

0.5

g

|

Monounsaturated Fat:

0.1

g

|

Sodium:

4

mg

|

Potassium:

474

mg

|

Fiber:

6

g

|

Sugar:

59

g

|

Vitamin A:

37

IU

|

Vitamin C:

182

mg

|

Calcium:

49

mg

|

Iron:

1

mg

By