Turkey Lentil Soup is a perfect way to use leftover Turkey from Thanksgiving or rotisserie chicken! A hearty stew perfect for fall and cold weather.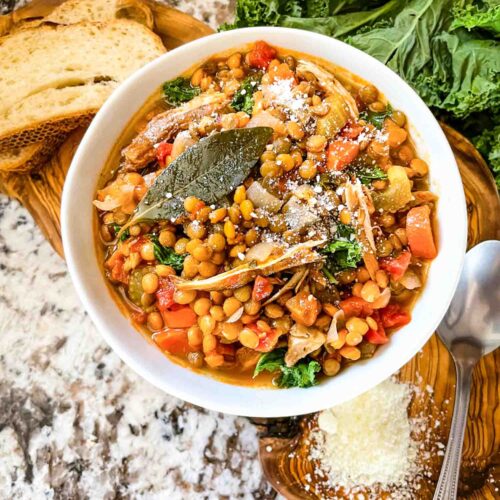 This Turkey Lentil Soup is a perfect way to use up that leftover Thanksgiving turkey, or even rotisserie chicken! A hearty stew with warm flavors that is perfect for fall.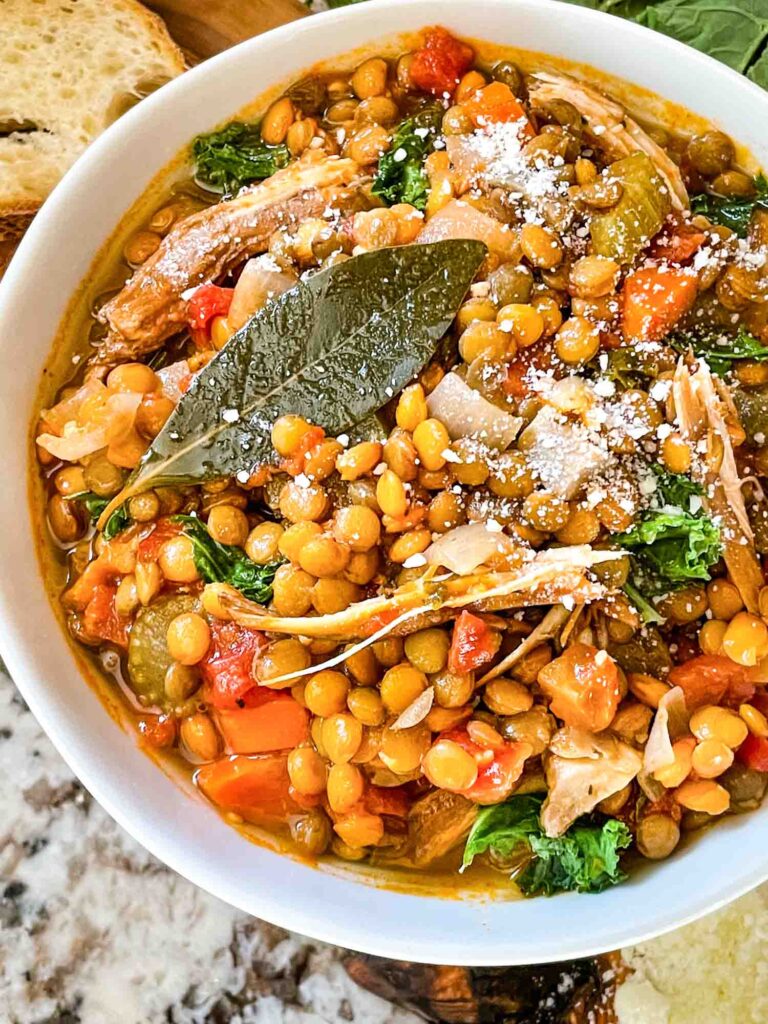 Leftover Turkey Recipe
I love new and delicious recipes to use up leftover Thanksgiving turkey, like my Thanksgiving Leftovers Risotto!
This soup is very versatile in ingredients with an amazing flavor base.
No holiday turkey? You can also use leftover or rotisserie chicken!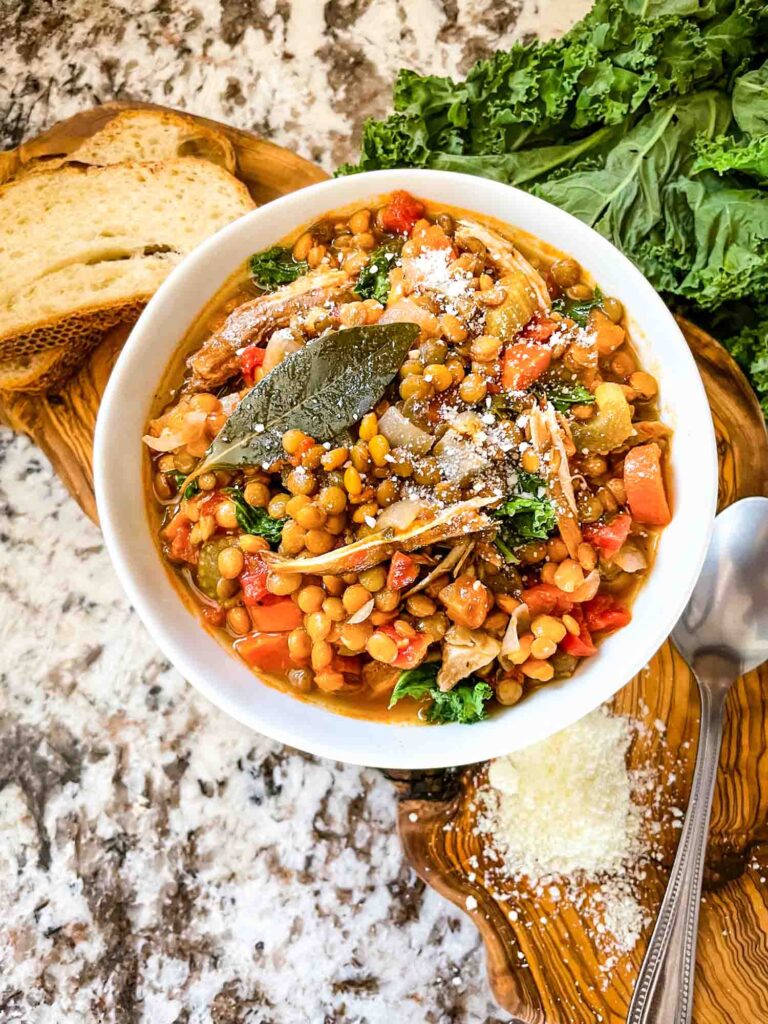 Ingredients
Here is what you need to make the Lentil Turkey Soup:
Turkey (or leftover/rotisserie chicken)

Lentils

(brown or green work best)
Chicken Stock
Carrots
Celery
Onion
Bay Leaves
Dried Thyme
Cumin
Ground Red Pepper
Salt
Kale
Diced Tomatoes
Mushrooms
I like to use green or brown lentils but red could work as well. They will likely take less time to cook.
And while leftover turkey is perfect for this, you can make the soup any time of year with chicken or rotisserie chicken.
There are also many substitutions you can make for the vegetables, which you can find below!
Instruction Overview
First sauté the onion, celery, and carrots. Then add the mushrooms and spices.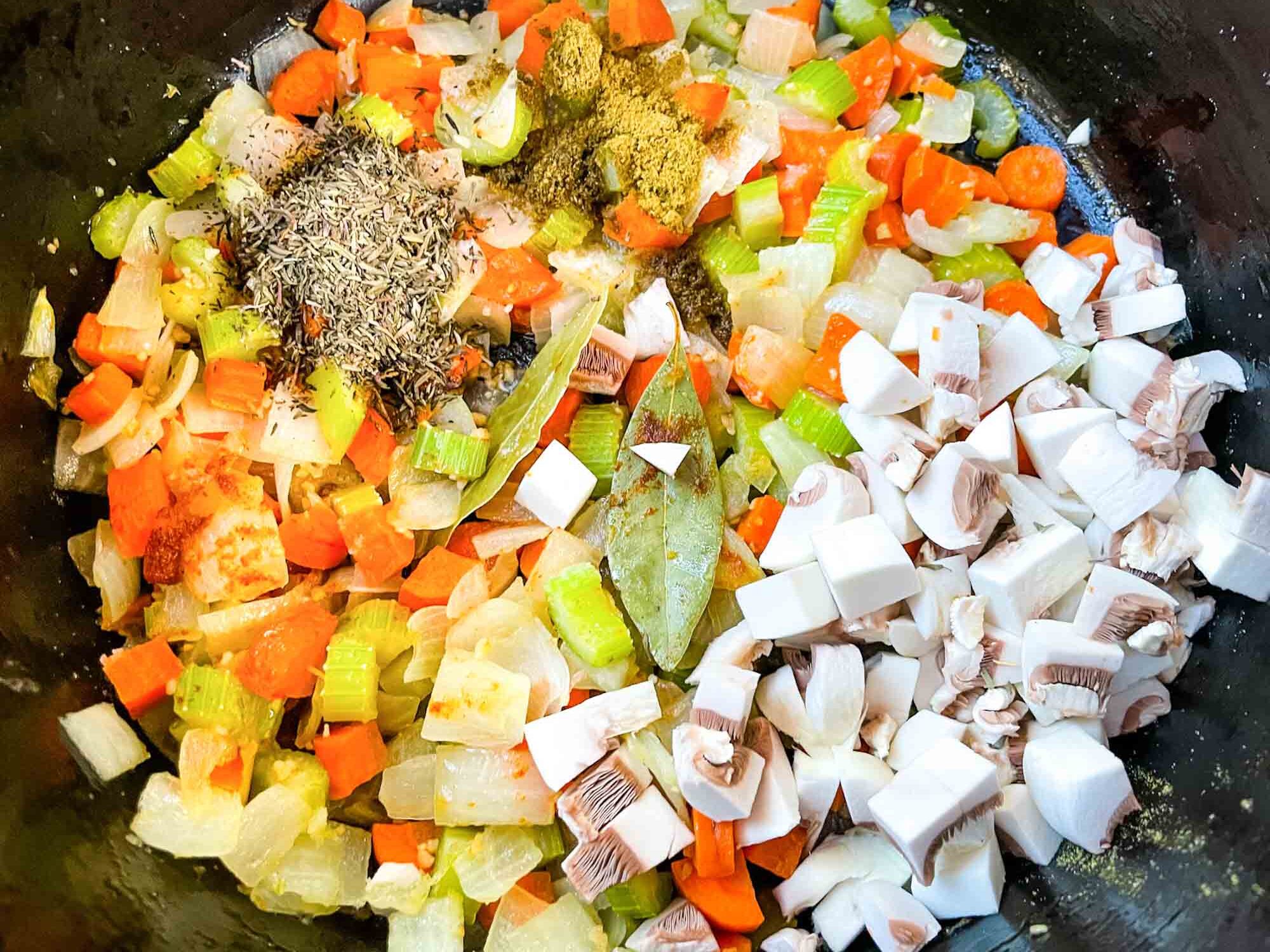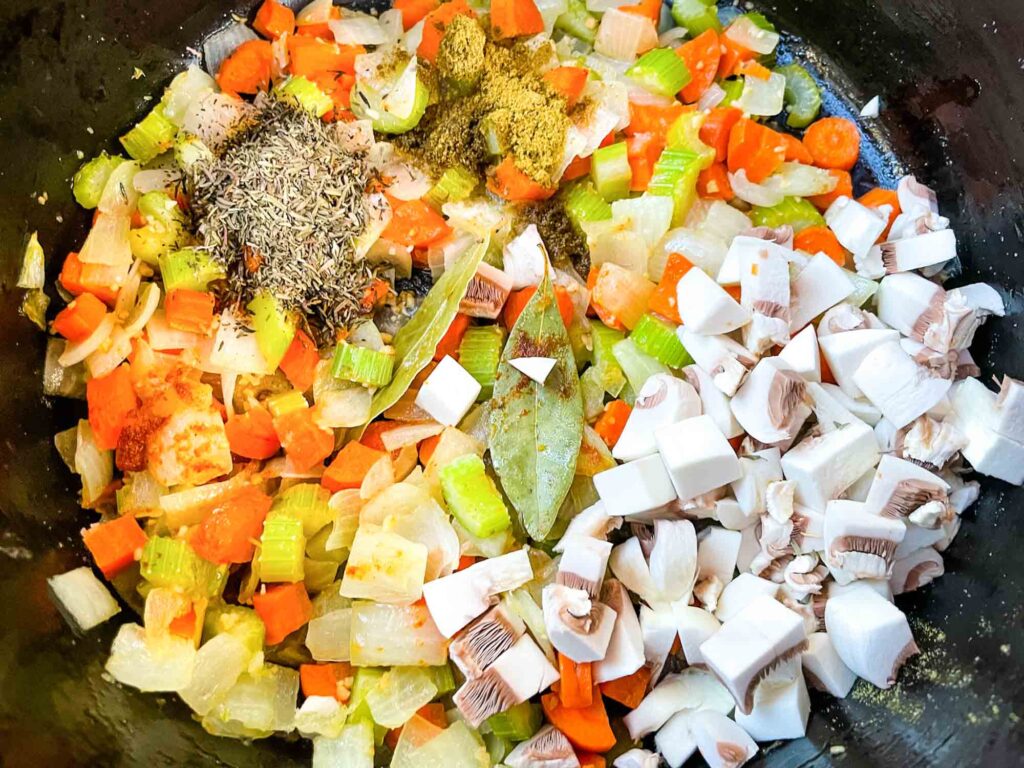 Next, add the kale, lentils, and tomatoes. And then get the rest of your ingredients in there!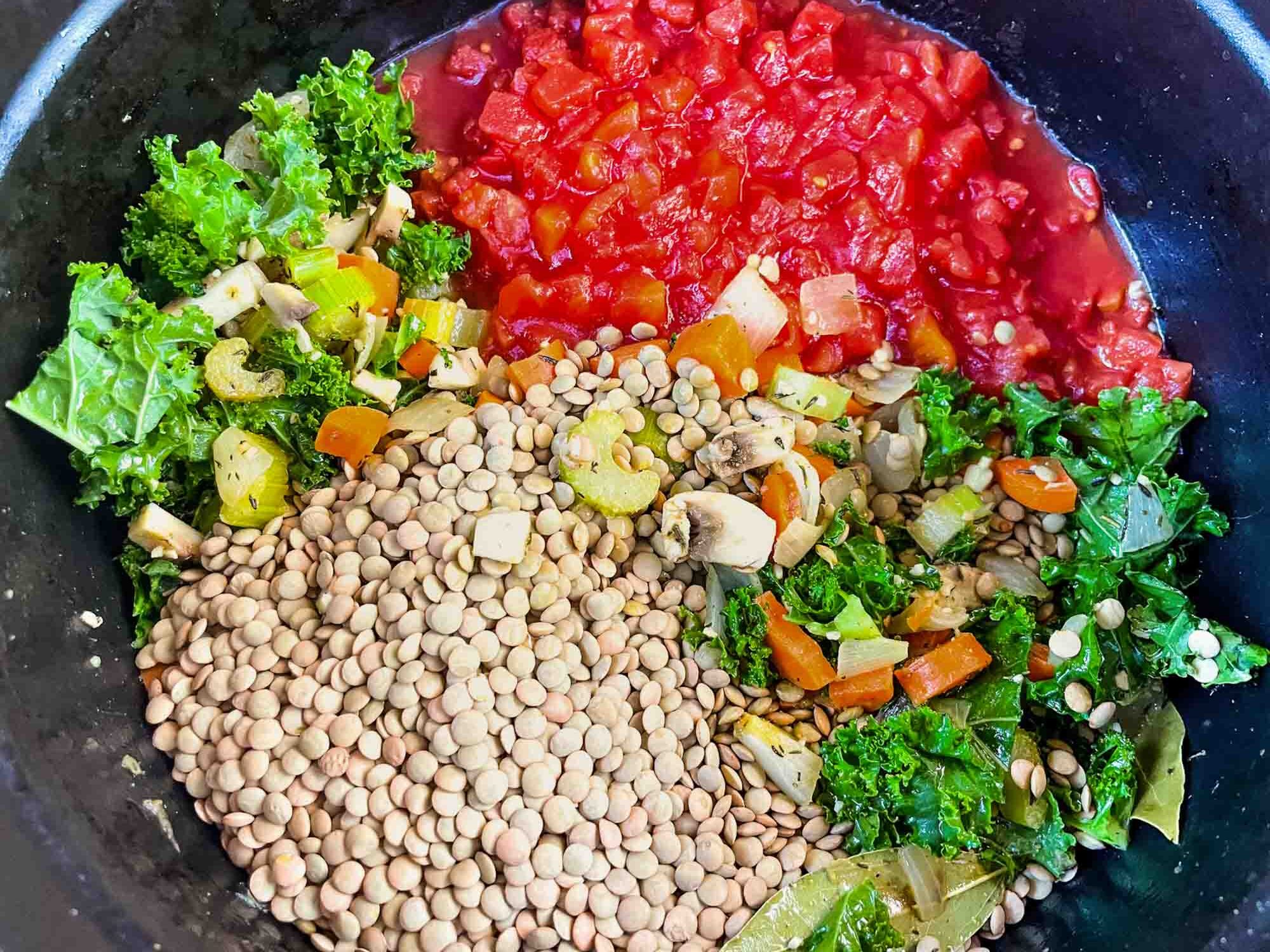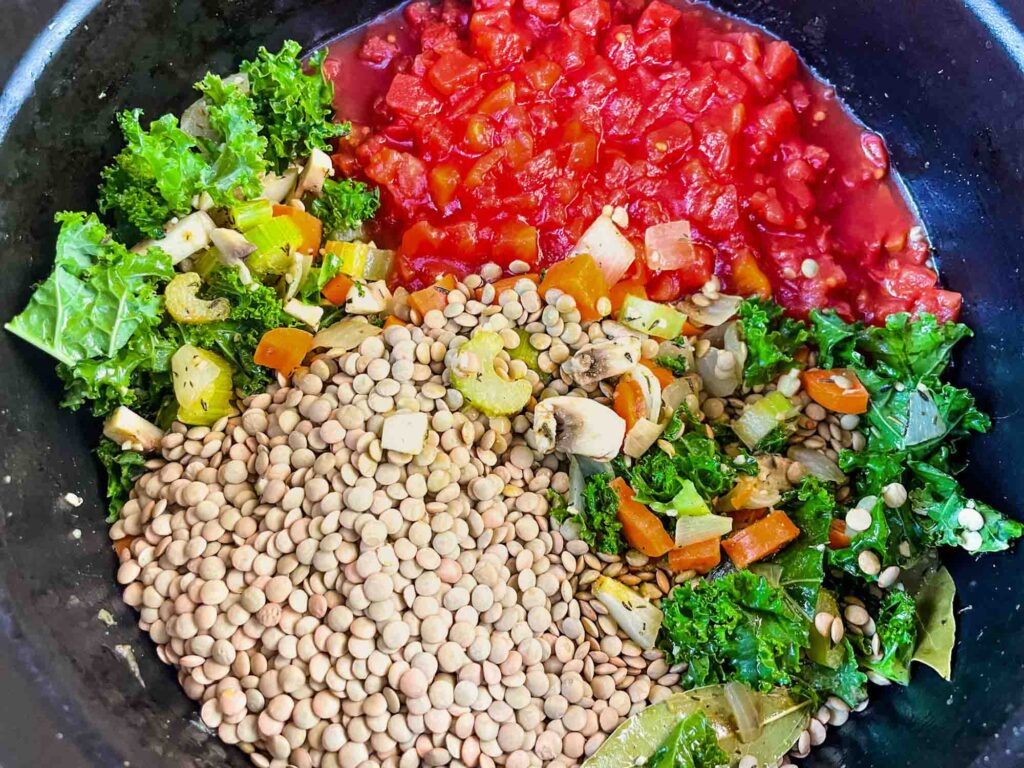 Bring to a boil and then simmer the soup until the lentils are tender but still have a bite to them, about one hour.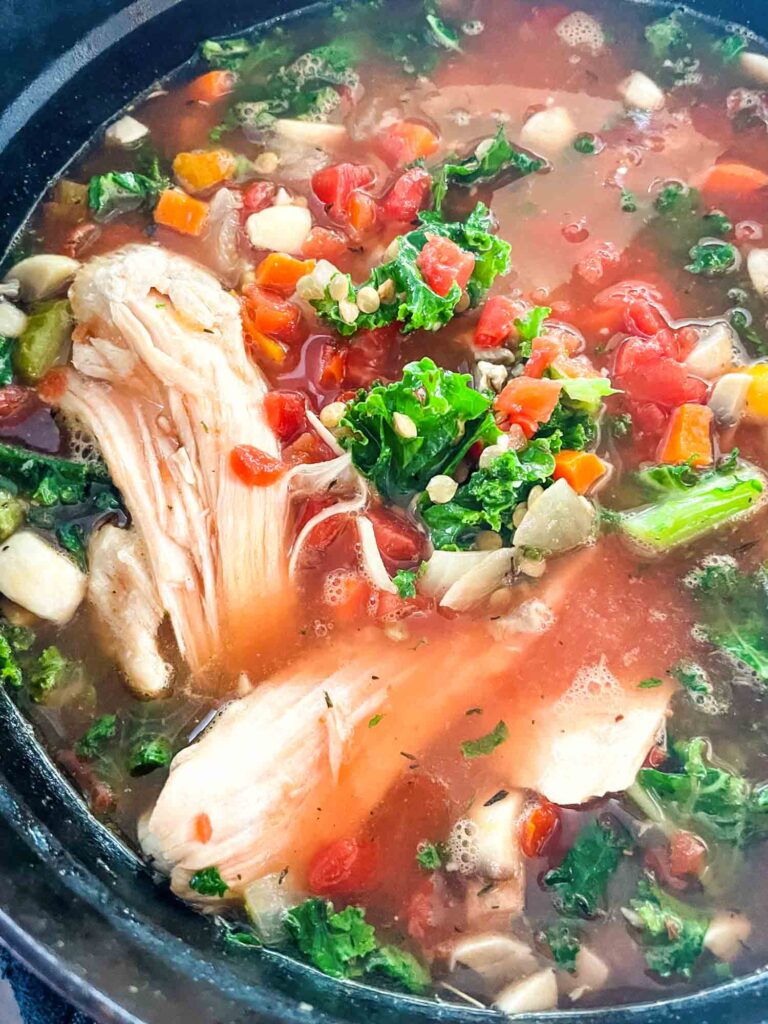 Adjust seasoning as desired. I like to serve this lentil soup with turkey with slices of hearty bread like my No Knead Rustic Rosemary Bread and Parmesan cheese!
Do you have to soak lentils?
No! Which makes them easy to use without planning in advance.
You can soak them if desired to shorten the cooking time.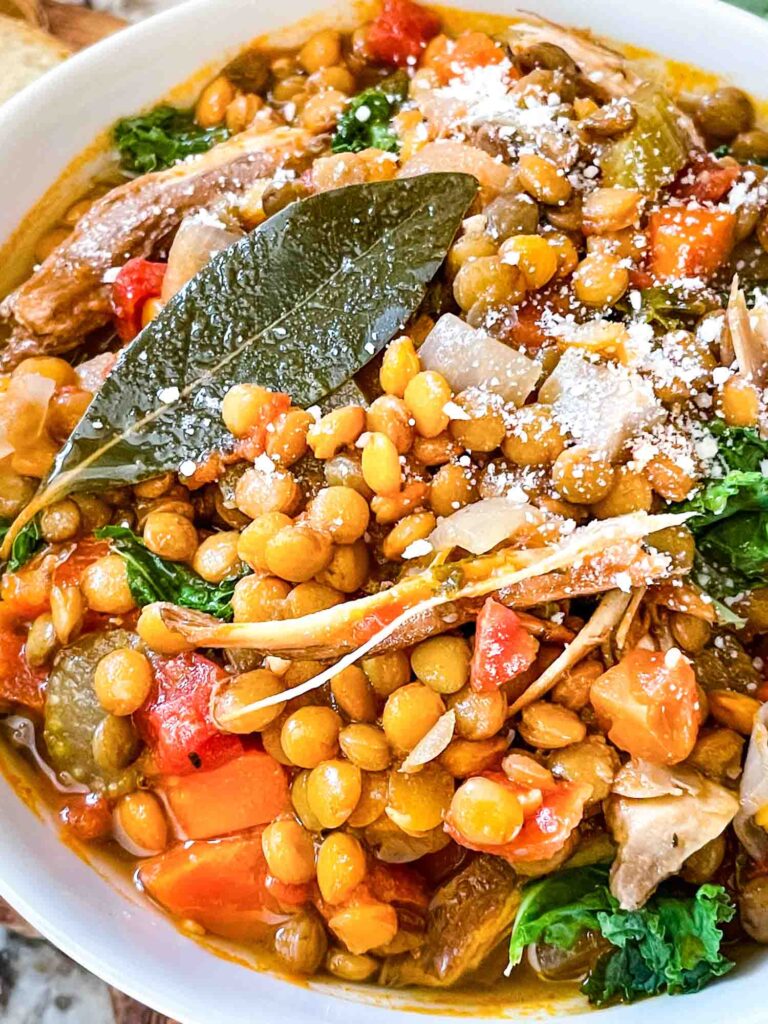 Can you overcook lentils in soup?
Yes. Eventually the lentils will become extra soft and mushy, losing their texture.
But this does not happen nearly as fast as foods such as pasta, so you do have some wiggle room and they will still retain their firmness as leftovers.
Modifications and Substitutions
I just love how versatile this soup is to accommodating changes that you want to make.
You can add or swap out any vegetables that you have and like. Some of my absolute favorites to use are potato chunks, cauliflower, zucchini, and corn.
It also tastes amazing with some barley in it! Use half lentils, half barley, or any other ratio that you prefer.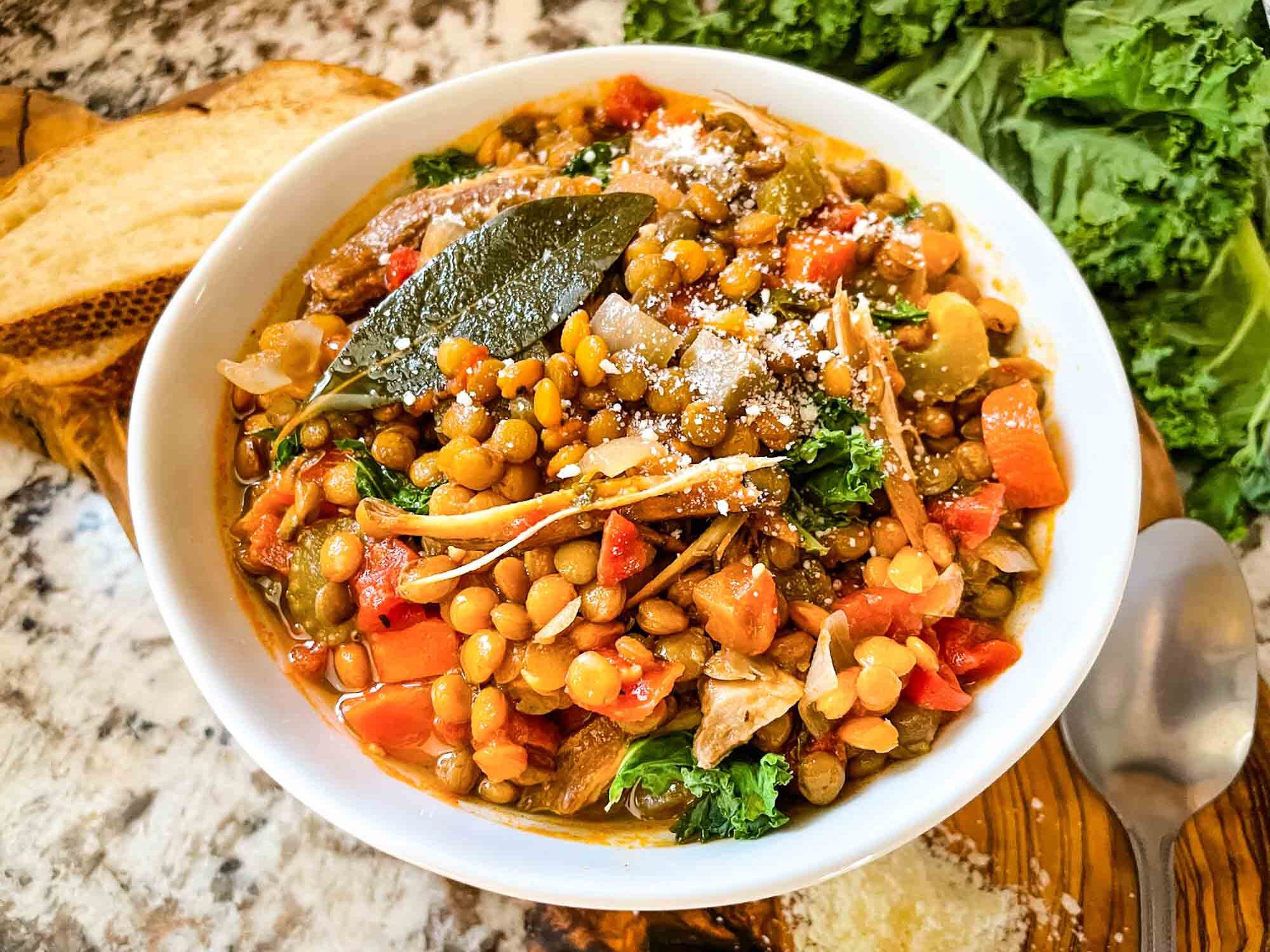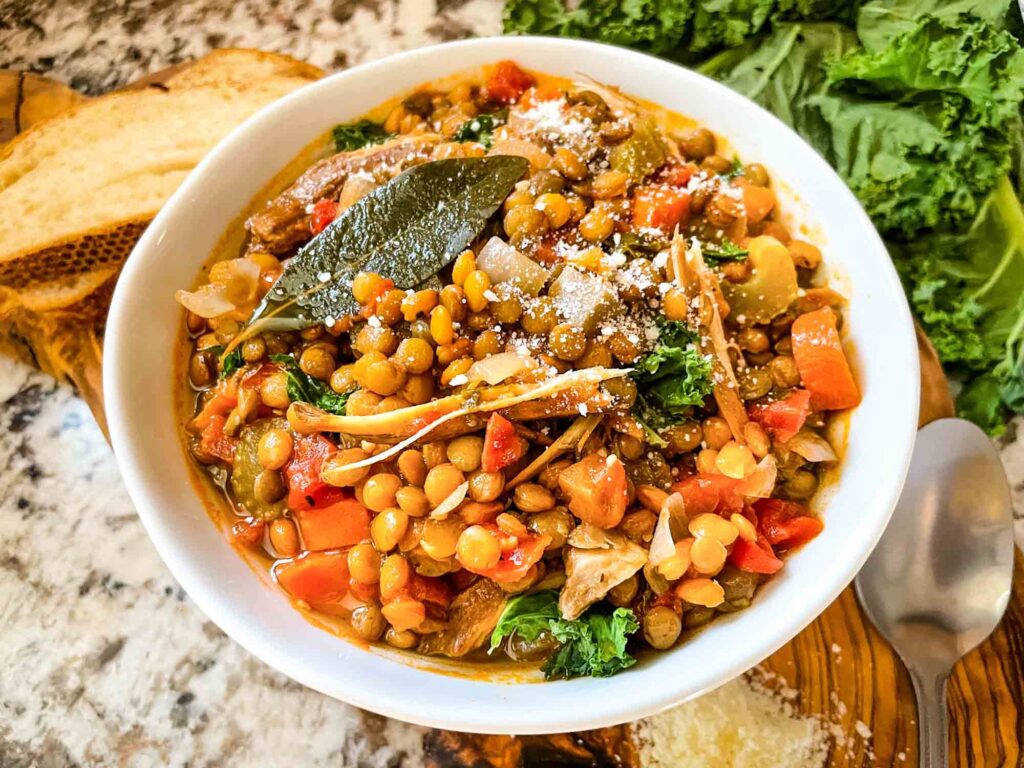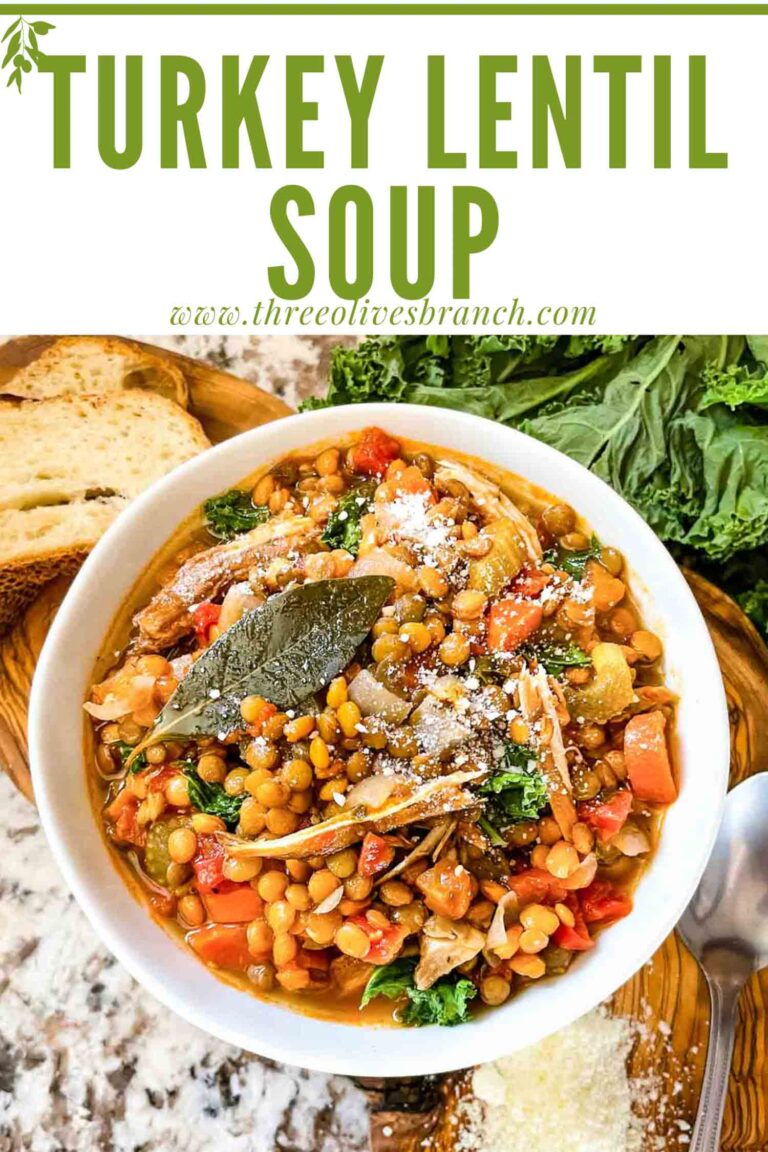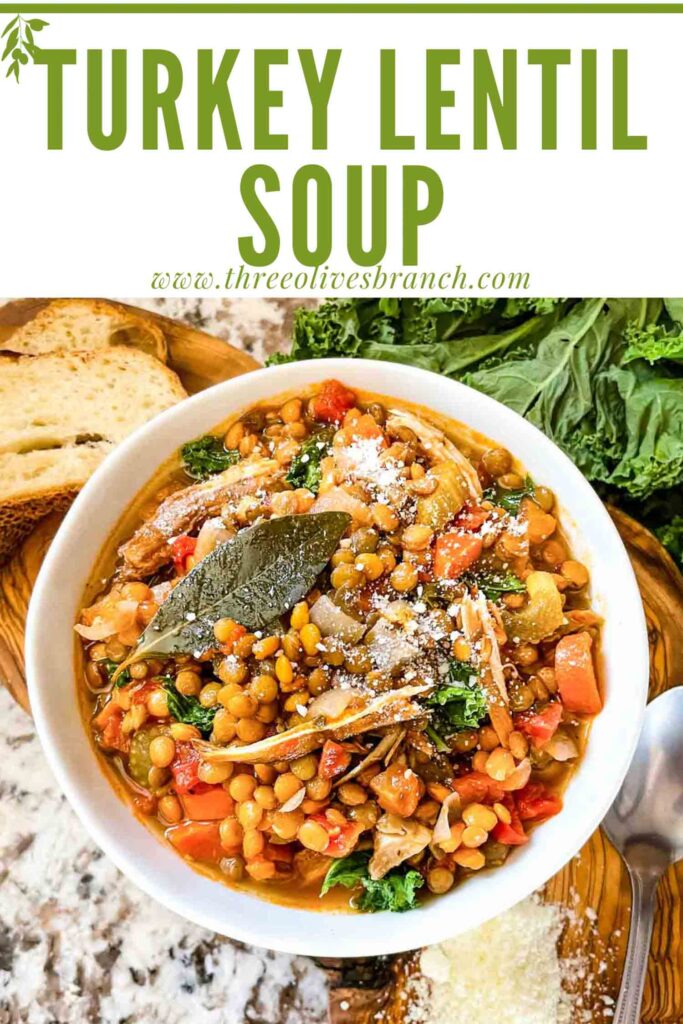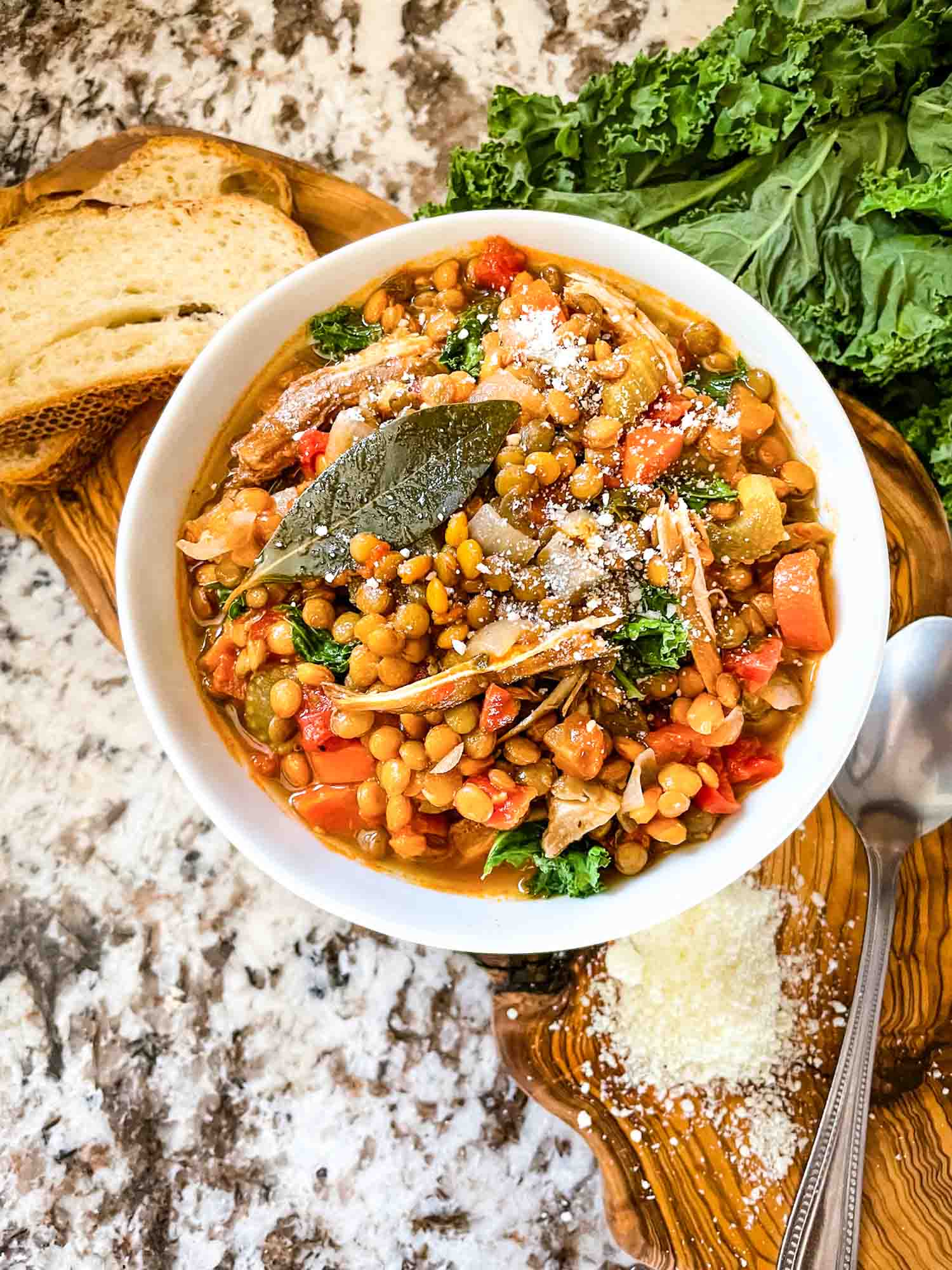 Instructions
Heat the oil in a large soup pot or Dutch oven over medium heat.

When hot, add the onions, celery, and carrots. Sautee until the onions are translucent but not browning, approximately 3-5 minutes.

Add the garlic, bay leaves, thyme, cumin, salt, and ground red pepper to the pot. Stir and cook until fragrant, approximate 30 seconds.

Add the turkey, mushrooms, lentils, diced tomatoes, kale, and chicken stock. Stir to combine and increase heat to medium high.

Bring to a boil and then reduce heat to low, cover, and let simmer to cook the lentils, approximately 45-60 minutes. Add additional stock or water if needed at any point to adjust soup consistency. Serve with freshly grated Parmesan cheese if desired.
Notes
The exact cook time of your lentils will vary with the variety (color) you use and how old they are. Add more water if needed at any point during cooking. The lentils should still have a bite to them and not be mushy.
Nutrition
Serving:
1
serving
|
Calories:
1031
kcal
|
Carbohydrates:
53
g
|
Protein:
24
g
|
Fat:
81
g
|
Saturated Fat:
24
g
|
Polyunsaturated Fat:
19
g
|
Monounsaturated Fat:
35
g
|
Cholesterol:
86
mg
|
Sodium:
969
mg
|
Potassium:
1260
mg
|
Fiber:
20
g
|
Sugar:
10
g
|
Vitamin A:
4448
IU
|
Vitamin C:
32
mg
|
Calcium:
137
mg
|
Iron:
7
mg
Thanksgiving Leftovers Recipes
By