Authentic Chicken and Smoked Sausage Gumbo is a delicious NOLA Cajun or Creole stew recipe. The soup is made with traditional gumbo flavors and a dark roux for lots of flavor. A perfect cold weather or football game day recipe, including Mardi Gras. Straight from New Orleans.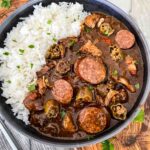 This Authentic Chicken and Smoked Sausage Gumbo is an amazing stew that tastes just like you are in New Orleans!
Why You Will Love This Recipe
One of my former coworkers used to live in Louisiana for several years. He is also into cooking and has some regional dishes from his adventures.
We worked with each other for two years and would both often make dishes for various pot lucks and parties at work.
But it was not until THIS gumbo recipe that I was determined to get a recipe from him. This is my favorite gumbo recipe!
Gumbo was something that was always slighting intimidating because it uses ingredients that I am not extremely familiar with (ever heard of gumbo file?…yeah, me neither).
But this recipe is amazing and something that you will want to make again and again! And it tastes great the next day!
It is perfect for game day and cold weather, or for celebrating Mardi Gras!
The recipe below is for the mild-spice version and I have added notes for adjustments of seasoning if you want to make it spicy.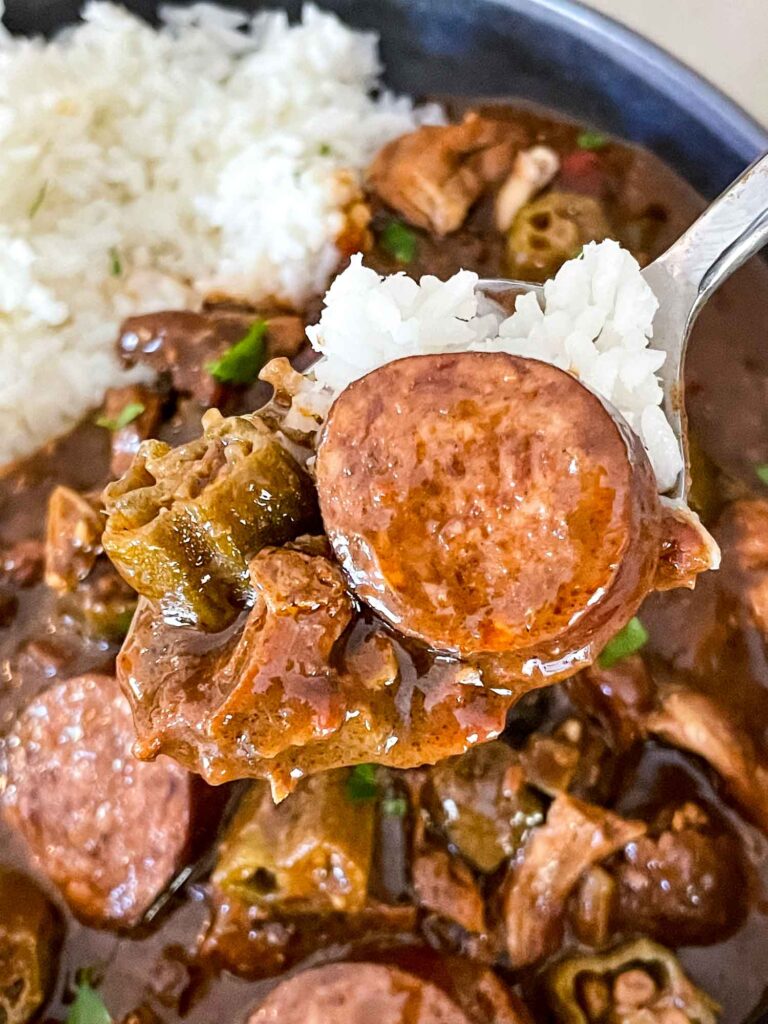 What is Traditionally in Gumbo?
Most gumbo recipes call for a stock, meats or shellfish, and the classic holy trinity combination of celery, onion, and bell pepper.
It is a stew-like dish that focuses on Cajun flavors from the south.
Ingredients
Here is what you need to make this gumbo:
Split Chicken Breasts or Chicken Thighs
Flour
Vegetable Oil
Smoked Sausage
Diced Tomatoes
Okra – Fresh Okra is great but hard to find. I like to use pre-cut frozen okra.
Chicken Broth – or stock

Gumbo Filé Powder

– A ground spice that adds flavor and acts as a thickening agent
Cajun Seasoning – or creole seasoning if preferred
Bay Leaves
Yellow Onion
Celery
Bell Peppers – any color will work. Green bell pepper is crisper and red, orange, or yellow bell pepper is a touch sweeter
Garlic
Cayenne Pepper
Hot Sauce for Serving
Olive Oil or more Vegetable Oil for cooking – only use olive oil when cooking at medium heat or lower, otherwise it burns
Gumbo file is ground up sassafras leaves. You can normally find it in the spice section of the grocery store on a lower shelf with other specialty spices.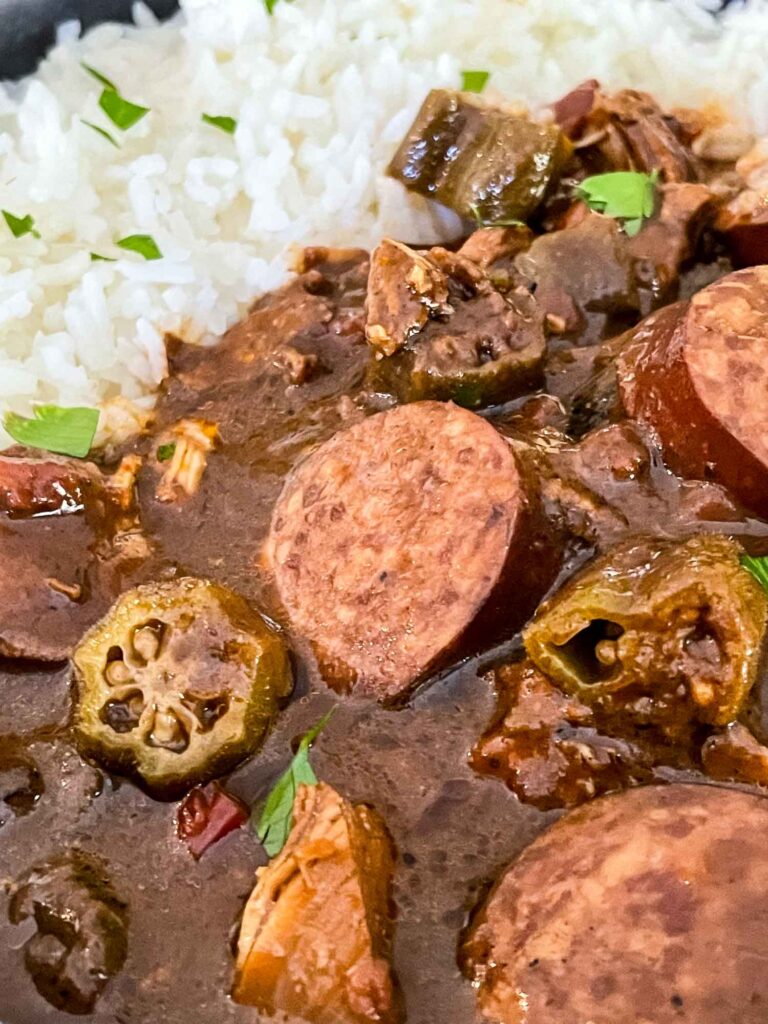 Instruction Overview – How to Make Authentic Gumbo
First and foremost, get that roux going with equal parts vegetable oil and all-purpose flour (see below for more on roux!). This is the most important part of the cooking process as the roux brings so much nutty flavor! You want your roux to be a milk chocolate color or even a touch darker as this is where the flavor comes from.
Then sear off the chicken in a large, heavy bottomed pot or large pot over medium heat until golden brown. I love to use my Dutch oven for this recipe!
Sauté your vegetables and then add the chicken back in plus the chicken stock. Let the chicken finish cooking in this liquid.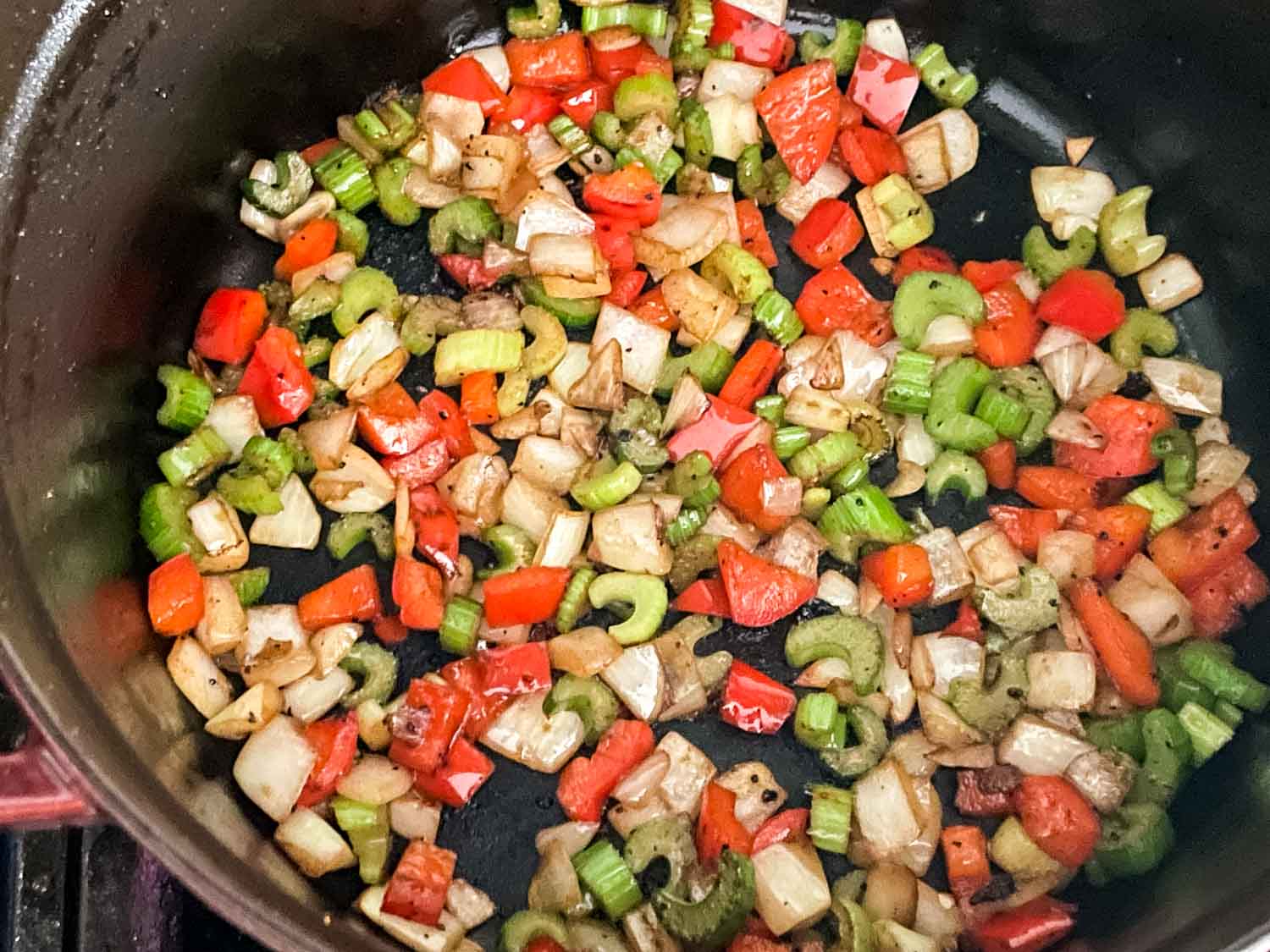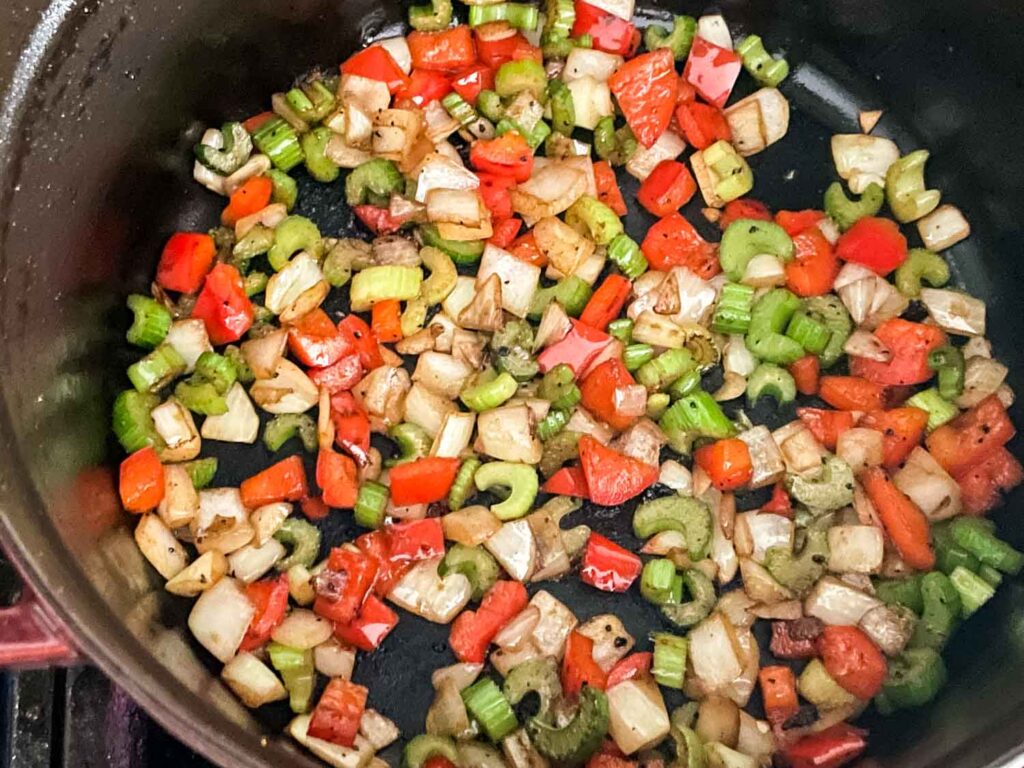 Then add your dark brown roux, seasoning, bay leaf, tomatoes, sliced sausage, and shred the chicken and add it back in.
Let it simmer on low heat and in the last 30 minutes, add the okra.
I love to serve this up with white rice and French bread.
Making Roux
Making the roux (flour and oil mixture) is probably the trickiest part of this easy recipe.
What makes it a little tricky is you want it to get super dark, like the color of dark chocolate, without burning the flour. The dark flavor is what will give you the most flavor and best results. But aim for at least a milk chocolate color.
I have found that sometimes it takes the roux extra long to get it to where I want it, so always start it first.
And then either be prepared to wait before adding it, or adding it when it is not quite as dark as you want it.
When I make gumbo with a lighter-than-ideal roux, it still tastes great, just not as deep of a flavor as when I can get it dark brown.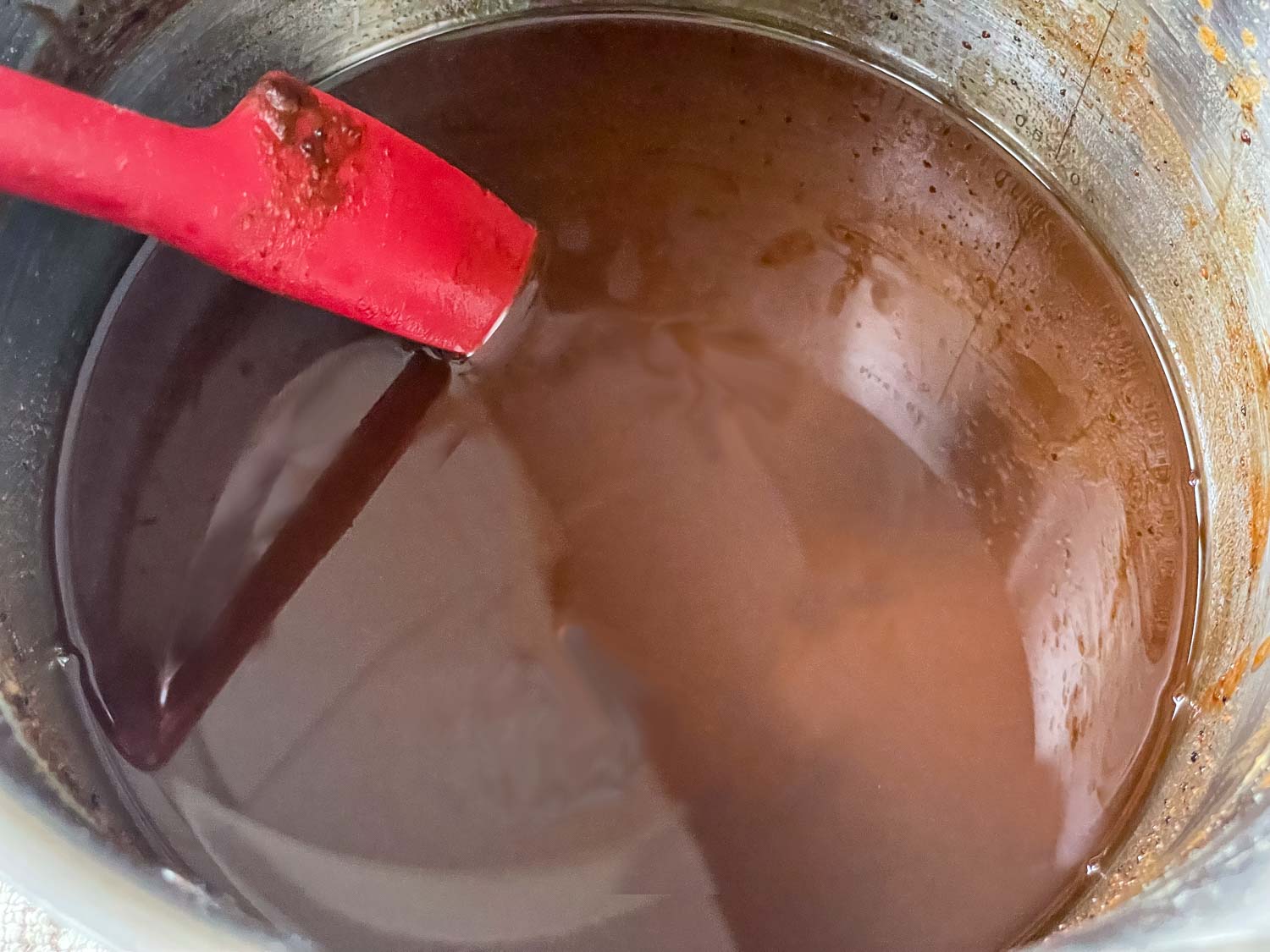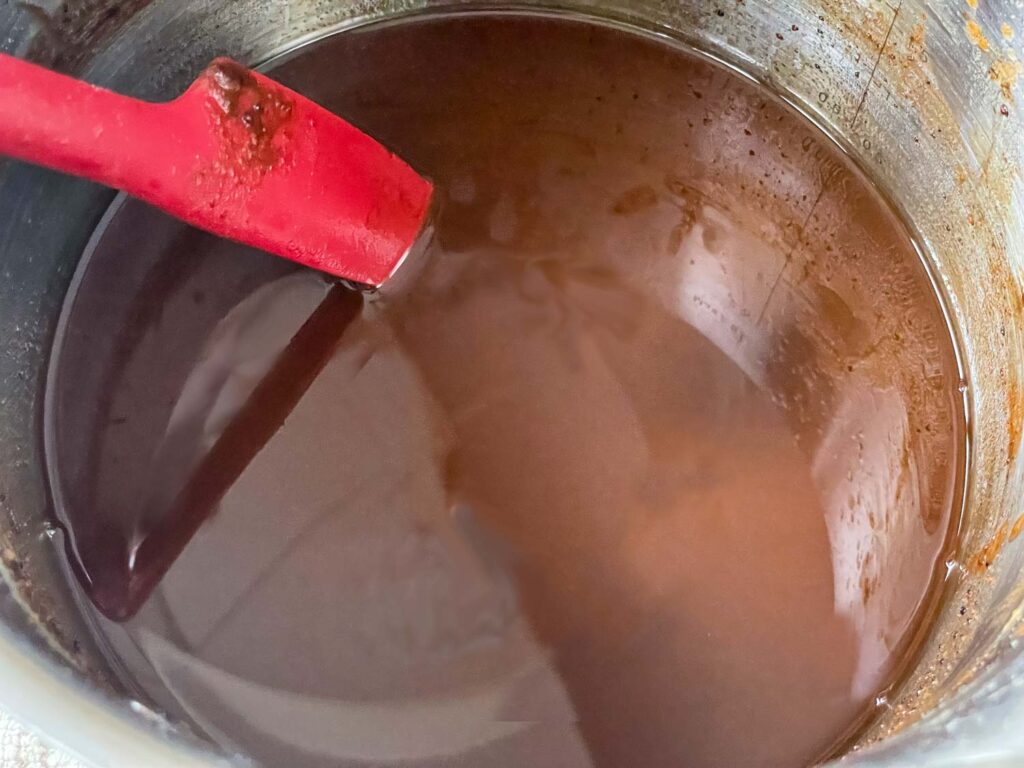 Kim's Tips
Get that roux as dark as you can! The darker it is, the better the end product will taste! But be careful as there is a fine line of really dark and burning. Aim for a dark chocolate color but not black.
Modifications and Substitutions
Are you team no tomatoes? Then don't use tomatoes. Indifferent? Go with the recipe 🙂 Wondering what this war is about? See the FAQs!
Using Different Meats
Easily switch up the meats with things like shrimp or other sausages. Just adjust the cooking time! (Frozen or fresh shrimp only need to be added the last few minutes to cook). Tail-on shrimp is more difficult to eat but adds great flavor.
You could also use leftover or rotisserie chicken if desired, just adding it at the end.
Or adjust the ratios of different meats with more or less of what you love!
This Authentic Chicken and Smoked Sausage Gumbo has become a staple in the house. It is especially popular in the colder months and during football season.
It is in regular rotation with my famous Hatch Green Chile!
My favorite way to eat this homemade gumbo is on a bed of white rice, but French bread is great as well!
FAQs
Can I Simmer Gumbo All Day?
Yes! The longer you can let it cook, the better it will taste.
Just make sure to stir frequently to avoid any sticking and burning on the bottom.
What Gives Gumbo its Flavor?
One of the keys to the flavor is the roux! A dark roux is going to bring an amazing depth of flavor.
What is the Secret Ingredient in Gumbo?
This answer might vary based on who you talk to, but most of the time, gumbo file is the secret!
And in my opinion, also the roux color 🙂
What is Gumbo File?
Gumbo file is ground up sassafras leaves. You can normally find it in the spice section of the grocery store on a lower shelf with other specialty spices.
What does gumbo file do? It is a thickener for the gumbo and also a key flavor!
Do you Need Okra in Gumbo?
It is not required, but I recommend it! You can find it whole or already cut up in the frozen vegetables section of a grocery store.
It brings great texture when you are eating, and it has never tasted slimy to me in this recipe.
Plus okra is incredibly good for you!
Does Real Gumbo have Tomatoes?
It depends on what variation you are thinking about. People have very strong opinions about this.
Creole gumbo does have tomatoes, and cajun gumbo does not.
If you do not want to use tomatoes, go ahead and skip them!
Shop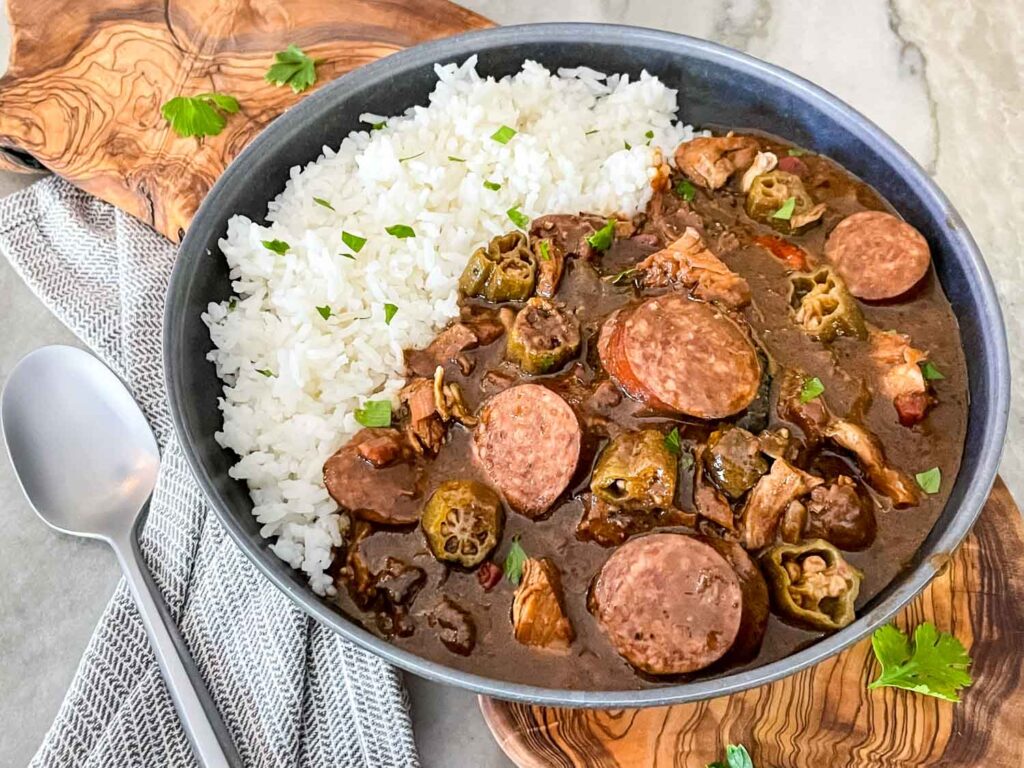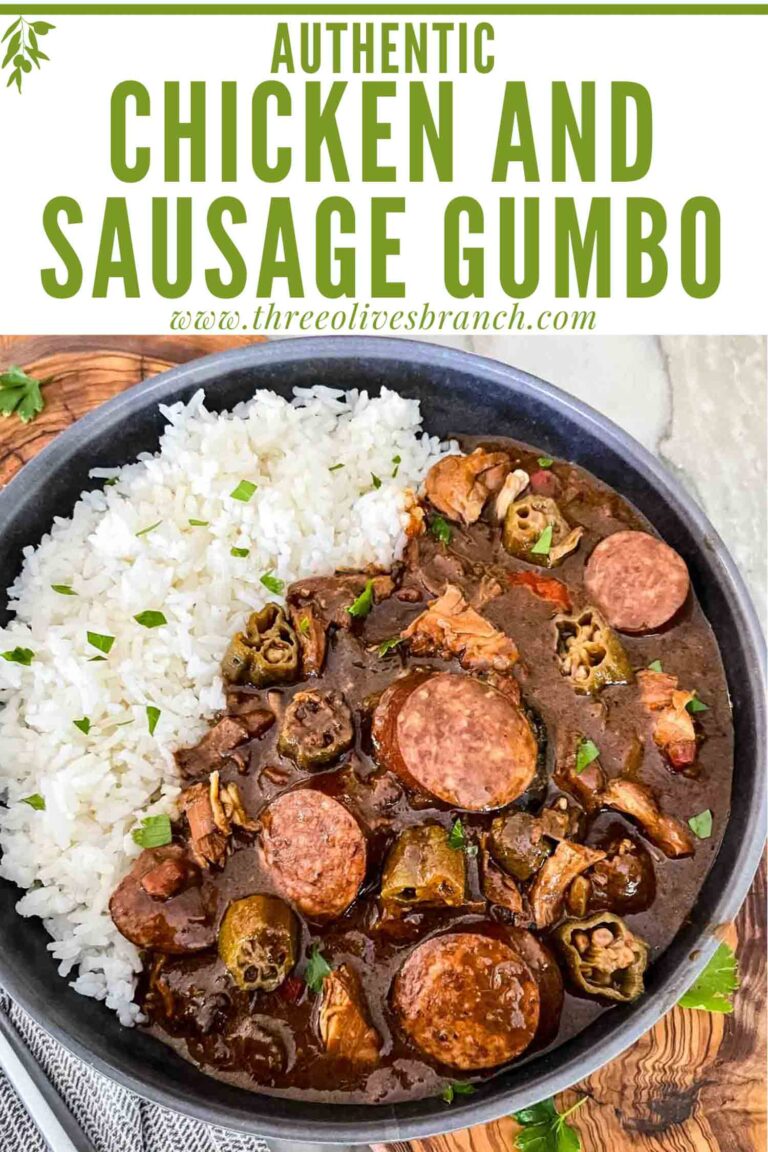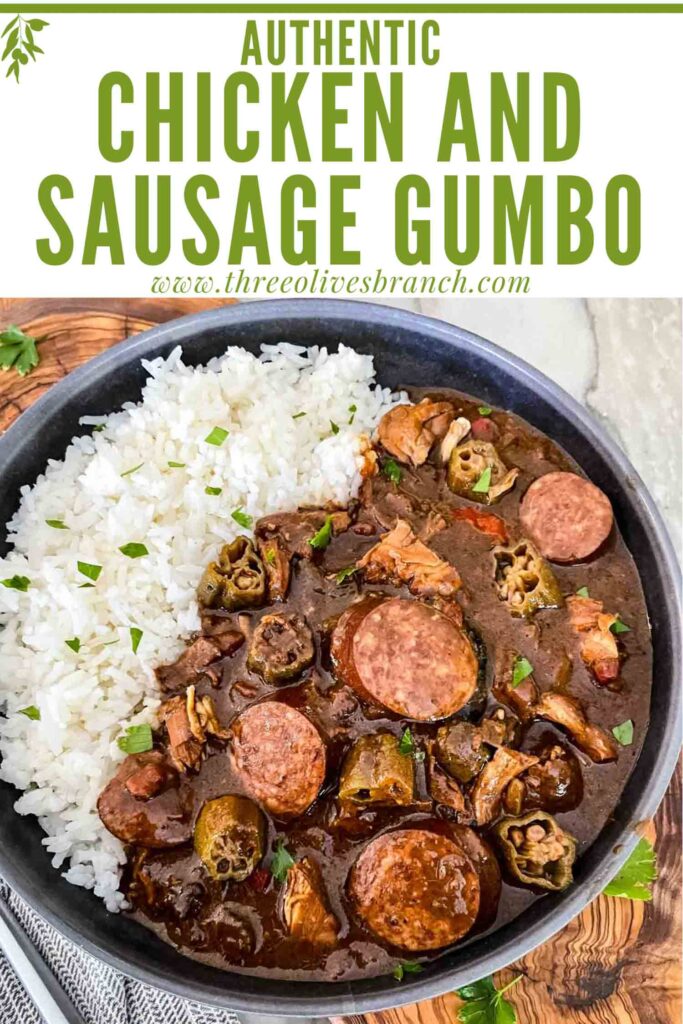 More Soup Recipes
Soups with Meat
Find some new soup night favorites!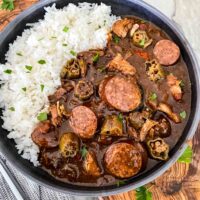 Authentic Chicken and Smoked Sausage Gumbo Recipe
Authentic Chicken and Smoked Sausage Gumbo is a delicious NOLA Cajun or Creole stew recipe. The soup is made with traditional gumbo flavors and a dark roux for lots of flavor. A perfect cold weather or football game day recipe, including Mardi Gras. Straight from New Orleans.
Print
Pin
Rate
Instructions
Make the roux: Combine the 1 cup of flour and 1 cup of vegetable oil in a small saucepan. Heat over medium heat, stirring occasionally, for approximately 30 minutes.

You want to turn it off when the mixture gets to the color of milk chocolate as it will continue to cook and darken. Ultimately you want it to be a dark chocolate brown color, but be careful that it does not burn and start turning black. (It helps to remove the roux from the pot and pour it into a bowl to get it away from the hot pot and help stop the cooking process).

Keep an eye on the roux and if it is starting to brown too quickly, turn the heat down to medium low.

1 cup all-purpose flour,

1 cup vegetable oil

Add 2 Tablespoons of vegetable or olive oil to a large pot. Heat over medium heat. Season both sides of the chicken with salt and pepper. Add the chicken to the oil in the pot and brown on both sides, approximately 5-7 minutes per side. Remove chicken and set aside.

To the same pot, add the bell pepper, onion, and celery. Cook vegetables for 5 minutes until they begin to soften.

Add the garlic and cook an additional 2 minutes.

1 bell pepper,,

1 large yellow onion,,

5 stalks celery,

5 cloves garlic

Add the chicken, still whole, back to the pot as well as the chicken stock. Turn up the heat to medium-high and cook until the chicken is cooked through.

3 split chicken breasts,

64 ounces chicken stock

Remove the chicken and add the roux, bay leaves, tomatoes, and seasonings (including the file). (Be careful when adding the roux as it may bubble or splatter if it is still hot).

3 bay leaves,

28 ounces diced tomatoes,

1/2 Tablespoon Cajun seasoning,

1 teaspoon cayenne pepper,

1 Tablespoon gumbo file,

1 teaspoon hot sauce

Pull the chicken off of the bones and shred. Discard the bones and add the chicken back to the pot.

Slice the sausage into coins and add to the pot. Reduce heat to low and cook for 1.5-2 hours.

In the last half hour, add the frozen okra.

Season to taste with salt, pepper, and hot sauce. Serve with rice and/or french bread.
Notes
To make the spicier version, use the following spice measurements instead of what is listed above for the same items:
1 Tablespoon Cajun seasoning
1 Tablespoon Cayenne pepper
1 Tablespoon hot sauce
I use skinless split chicken breasts. The bone-in gives it more flavor. You can also use boneless chicken breasts or any other cut of chicken that you prefer.
Worried about heat? Completely skip the hot sauce and cayenne pepper, and then add more heat if desired at the end or when serving.
Nutrition
Serving:

1

serving

|

Calories:

429

kcal

|

Carbohydrates:

29

g

|

Protein:

26

g

|

Fat:

23

g

|

Saturated Fat:

8

g

|

Cholesterol:

73

mg

|

Sodium:

445

mg

|

Potassium:

713

mg

|

Fiber:

4

g

|

Sugar:

6

g

|

Vitamin A:

1660

IU

|

Vitamin C:

44

mg

|

Calcium:

91

mg

|

Iron:

3

mg

By