Copycat Olive Garden Zuppa Toscana is a delicious copycat restaurant recipe! Sausage and bacon with potatoes and kale in an easy creamy soup. Glute free. A very popular hearty recipe perfect for fall, winter, and cold weather.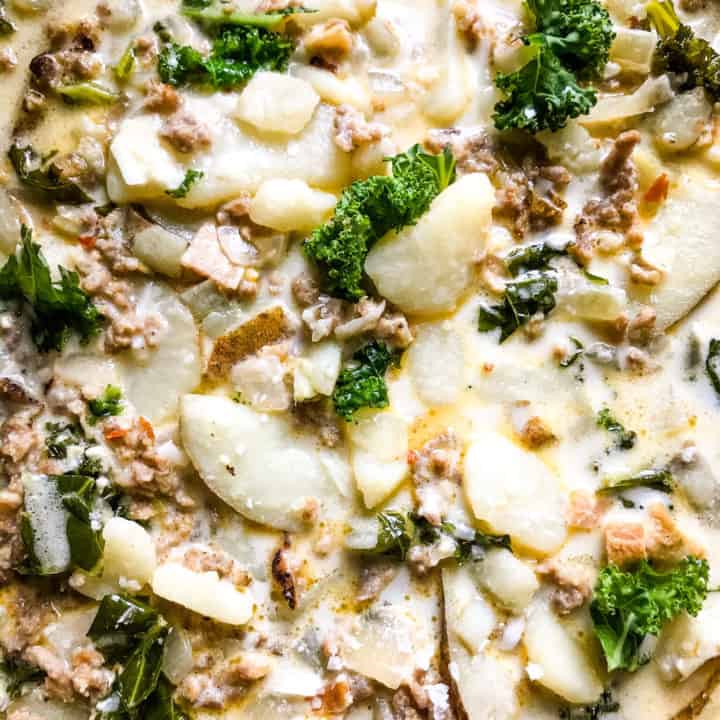 Copycat Olive Garden Zuppa Toscana tastes just like the restaurant original! A creamy soup filled with Italian sausage, potatoes, and kale.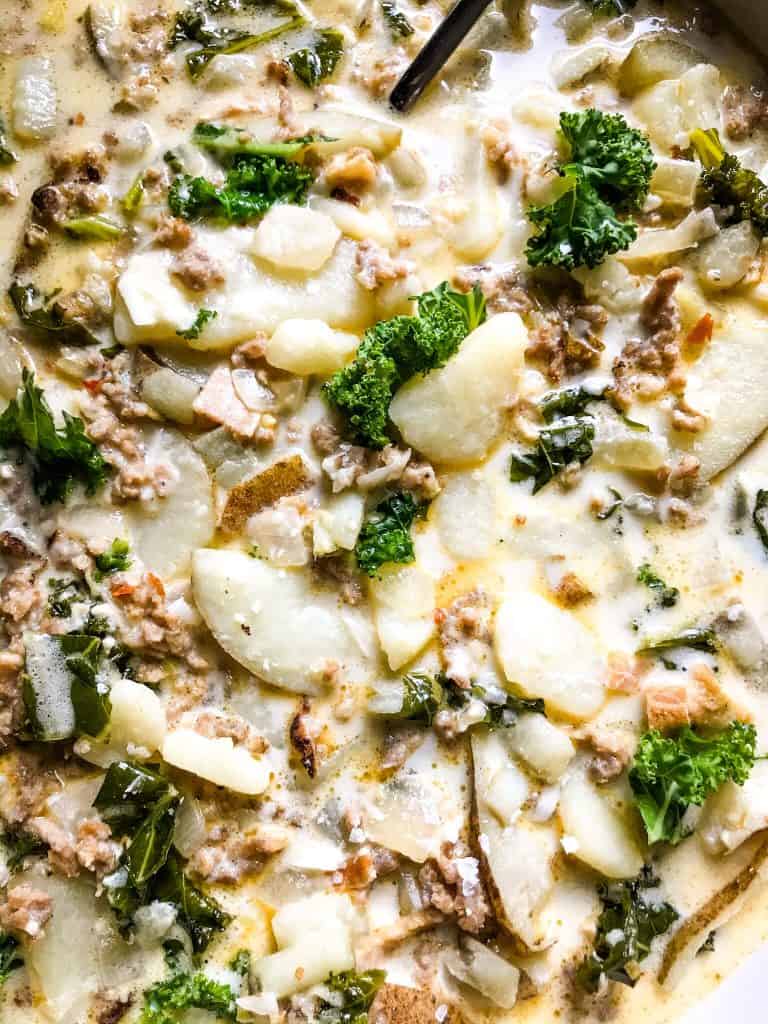 This post contains affiliate links.
Why You Will Love This Recipe
This Olive Garden Tuscan Soup copycat is so incredibly simple to make and tastes just like what you can get in the restaurant!
I made it a touch thicker (less broth) because I like thicker soups, but add more stock as desired to make it as thin or thick as you want!
I LOVE a good homemade copycat restaurant recipe to enjoy some of my favorite dishes without having to go out. Find more restaurant copycat recipes here and specifically copycat Olive Garden recipes here!
This sausage potato soup is one of the most popular on the Olive Garden menu. The base of the soup is a chicken stock with a little cream and packed with ground Italian sausage, potato slices, and kale.
It is hearty but not as hearty or heavy as a chowder or cheese soup, which makes it the perfect balance! 
Ingredients
Here is what you need to make this recipe:
Ground Italian Sausage
Potatoes
Kale
Bacon
Red Pepper Flakes
Onion (yellow or white)
Garlic
Chicken Stock
Heavy Cream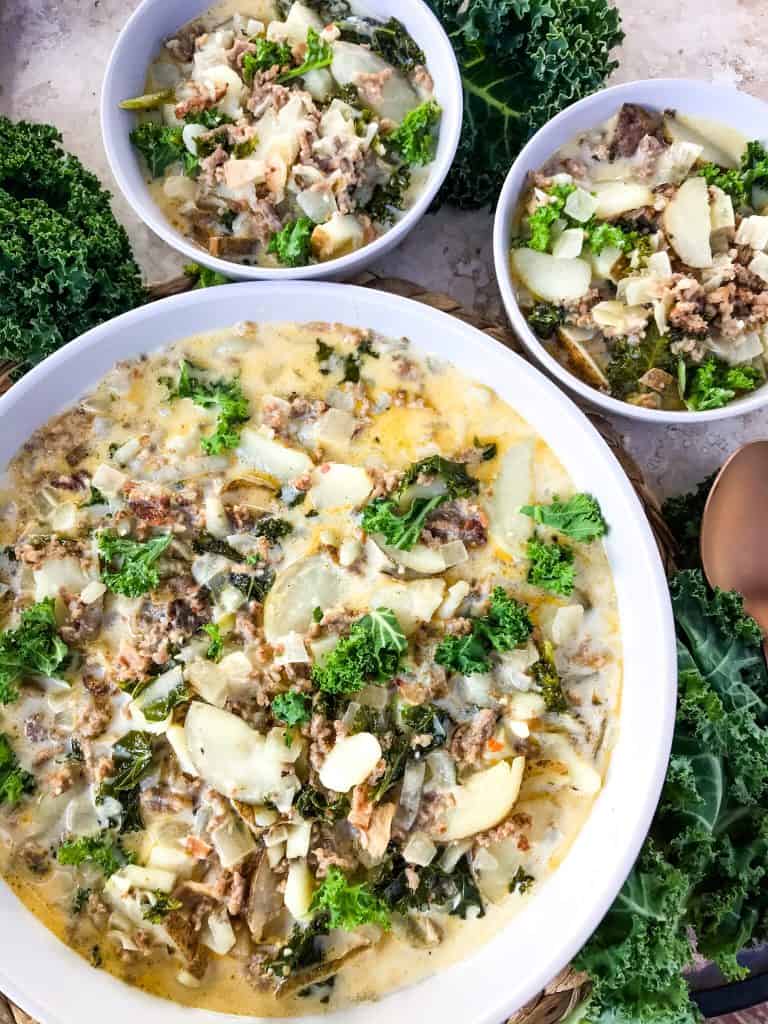 Instruction Overview
Making the Zuppa Toscana soup only takes 45 minutes and it holds over very well. First cook the sausage, then the bacon, garlic, and onion.
It seems like a lot of onion at first, but you really do not notice it being onion heavy when you eat it.
Then add the chicken stock, get it boiling, and add the potatoes to cook. Finish it off by adding the cream, cooked sausage, and kale. That is it! 
Now how soft or firm you should make the kale in this Copycat Olive Garden Zuppa Toscana is definitely a personal preference.
I am big on texture in food in general, and love the kale to be more on the firm or crispy side to contrast the soft potatoes and creamy soup.
For firm kale, only cook for a brief period of time or add to your bowl when serving. For softer kale, cook it longer in the soup until it wilts.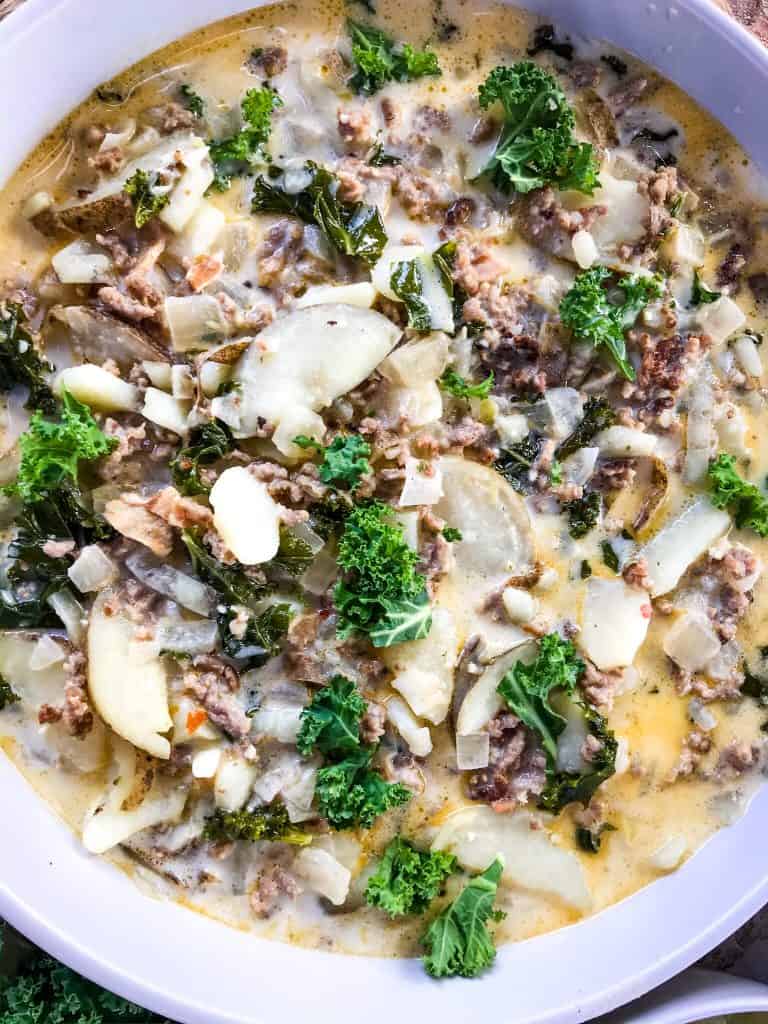 FAQs
What does Zuppa Toscana mean in Italian?
It means "Tuscan Soup"
Is Zuppa Toscana really Italian?
Yes and no.
It is based off of an Italian soup called Minestra di Pane (Bread Soup) but has some extra ingredients. It also includes bread, beans, tomato, celery, and carrot.
Does Zuppa Toscana have meat?
Yes. It uses sausage and bacon.
What kind of wine goes with Zuppa Toscana?
I like to pair it with something acidic like a Sauvignon Blanc (my fave!) as the crispness cuts through the richness of the soup.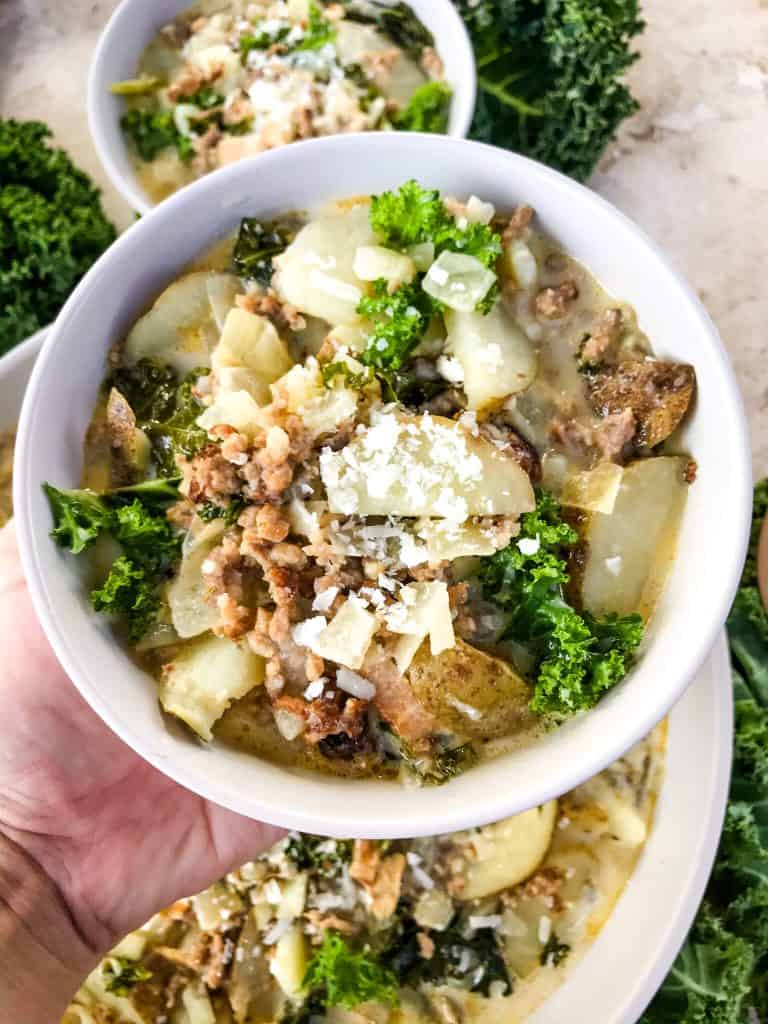 Modifications and Substitutions
Sausage – Use any heat preference. Italian is best as it has added flavors, and is what the restaurant uses, but plain ground sausage is fine too. Want a different option? Try ground turkey or even ground beef!
Potatoes – Russet is the standard here, but gold would also be fine. Red potatoes tend to have more of a different flavor, but would still work.
Heavy Cream – Whole milk would work as well, but I would add a couple tablespoons of butter with it to help keep some of the richness you are missing. If you use a lighter milk like 2%, it is going to feel watery. Need to use a light milk? Add butter or cream cheese to balance it.
Onion – It might seem like a lot of onion, but you will not notice it as it cooks down. You can also substitute some chopped onion for onion powder if desired (1 Tablespoon of onion powder for 1 cup of chopped onions).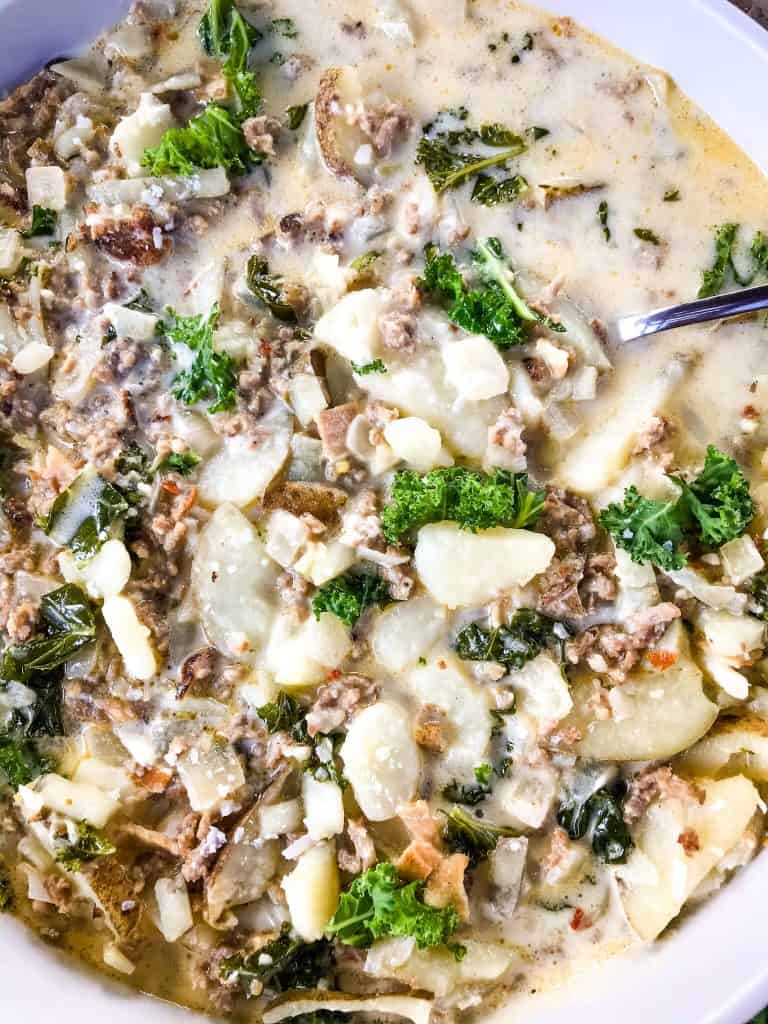 Kim's Tips
This soup freezes really well! Up to you if you add the kale before freezing or add it fresh, based on how soft or firm you want it. The potatoes might break down more if freezing, so I would cut them a little thicker.
Leave the skins on the potatoes to help them stay intact when cooking. If you do want to peel them, cut them larger or thicker so they are less likely to fall apart and disintegrate.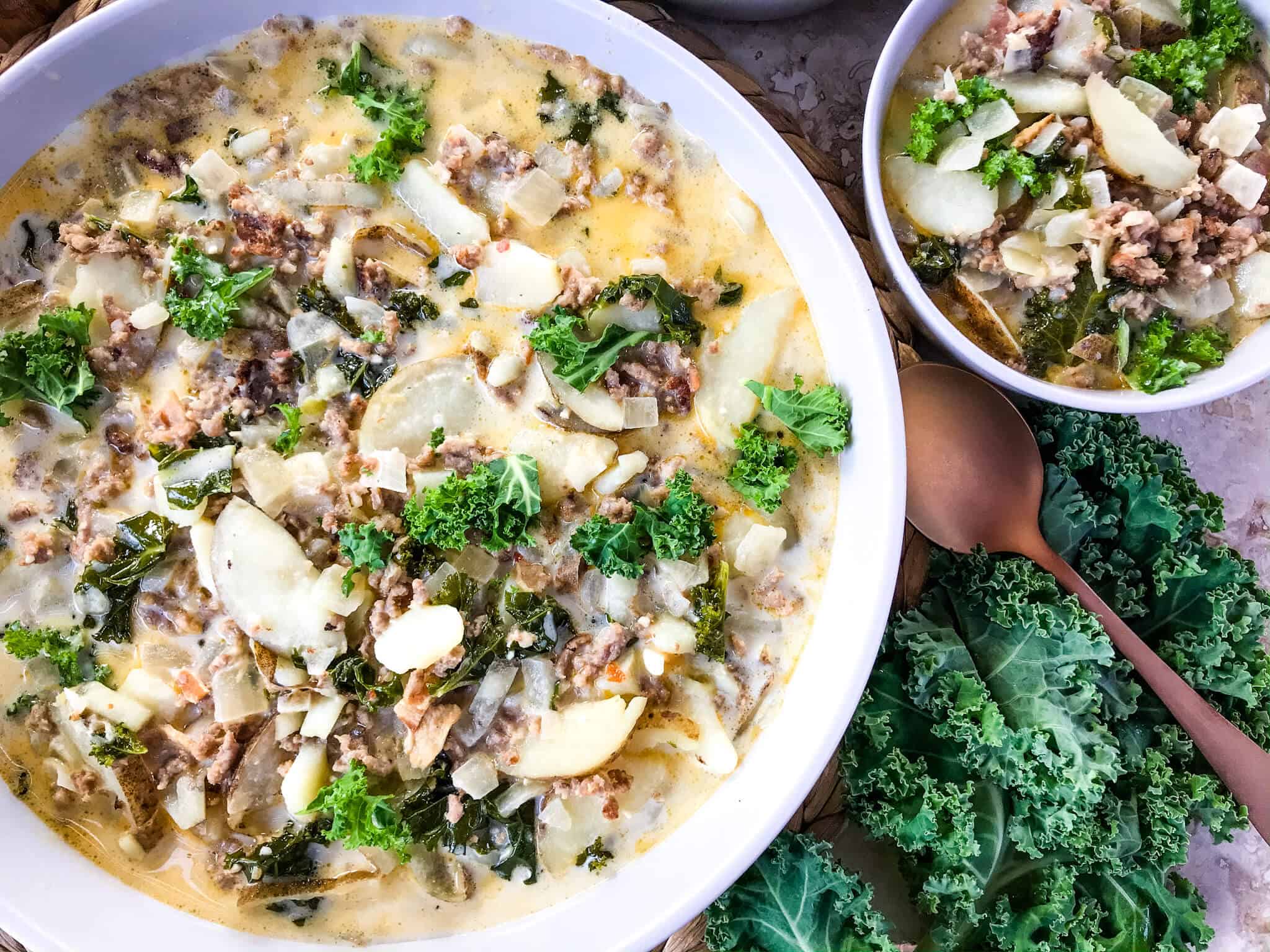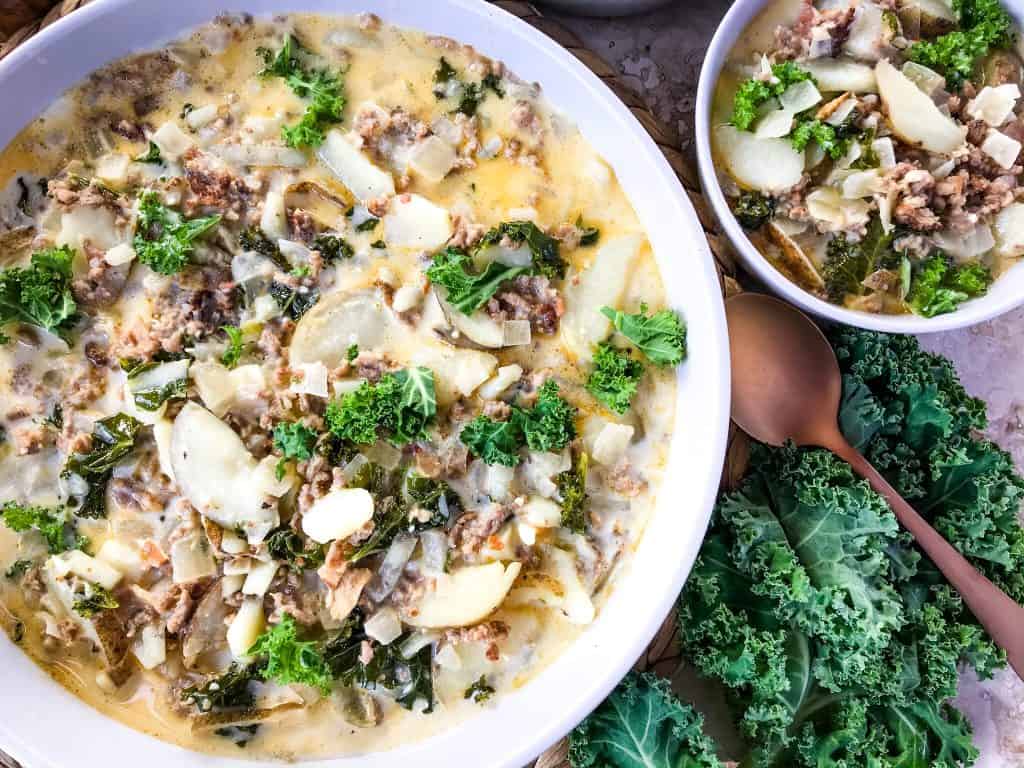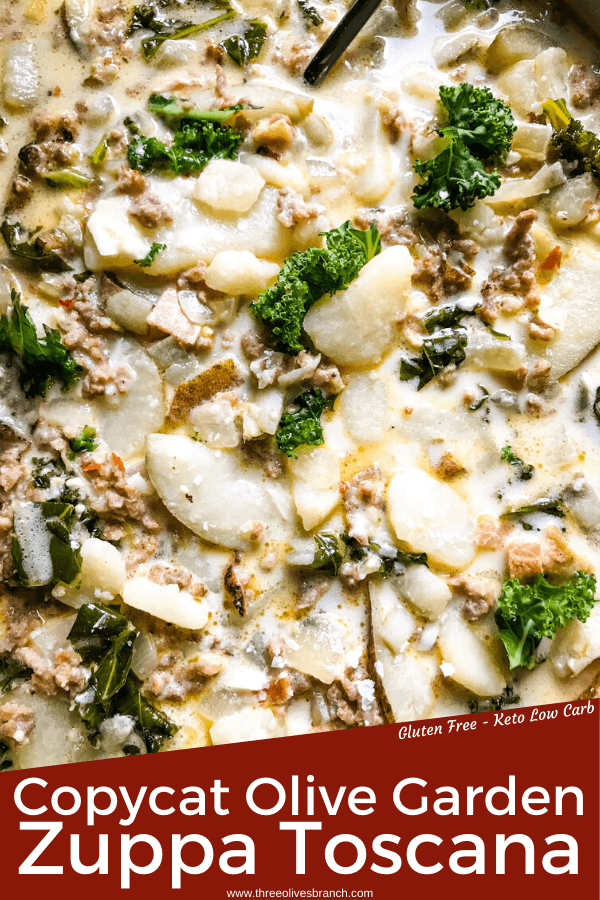 Instructions
Heat a large soup pot over medium heat.

Add the sausage and cook until cooked through, approximately 5 minutes.

Remove sausage from pot and set aside.

Put the pot back on medium heat. Add the bacon, onion, red pepper flakes, and garlic. Cook until the onions are translucent, approximately 5 minutes.

2 pieces bacon,

2 cups diced yellow onion,

3 cloves garlic,

1/2 teaspoon red pepper flakes

Add the chicken stock and bring to a boil over high heat.

When boiling, add the potato slices. Reduce heat to medium.

1.5 pounds russet potatoes

Cook on a simmer over medium heat until the potatoes are just tender, approximately 20 minutes.

Add the cream, cooked sausage, and kale to the soup. Stir and simmer 5 minutes. Season to taste with salt or pepper as needed.

1 cup heavy cream,

1 cup kale,

salt
Notes
Cook the soup with the kale for as long as you desire based on how soft or firm you want the kale. When reheated, the kale wilts more, so you can always add kale to each serving as desired to keep it crunchy.
Make this soup spicier by using a spicier Italian sausage or using more red pepper flakes.
Nutrition
Serving:
1
serving
|
Calories:
497
kcal
|
Carbohydrates:
30
g
|
Protein:
18
g
|
Fat:
34
g
|
Saturated Fat:
15
g
|
Cholesterol:
95
mg
|
Sodium:
817
mg
|
Potassium:
887
mg
|
Fiber:
2
g
|
Sugar:
6
g
|
Vitamin A:
1318
IU
|
Vitamin C:
20
mg
|
Calcium:
72
mg
|
Iron:
2
mg
More Olive Garden Copycat Recipes
Copycat Olive Garden
Copycat recipes from Olive Garden to enjoy at home!

By