This copycat soup is just like the restaurant! Filled with ground beef, beens, and vegetables in a tomato base. Makes 1 gallon of soup.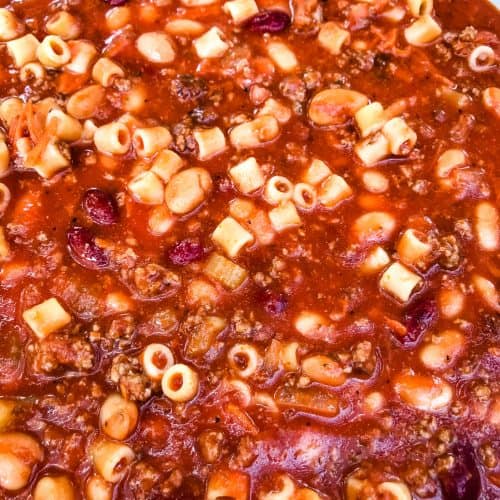 Make the classic Copycat Olive Garden Pasta Fagioli Soup at home! It tastes just like the restaurant version!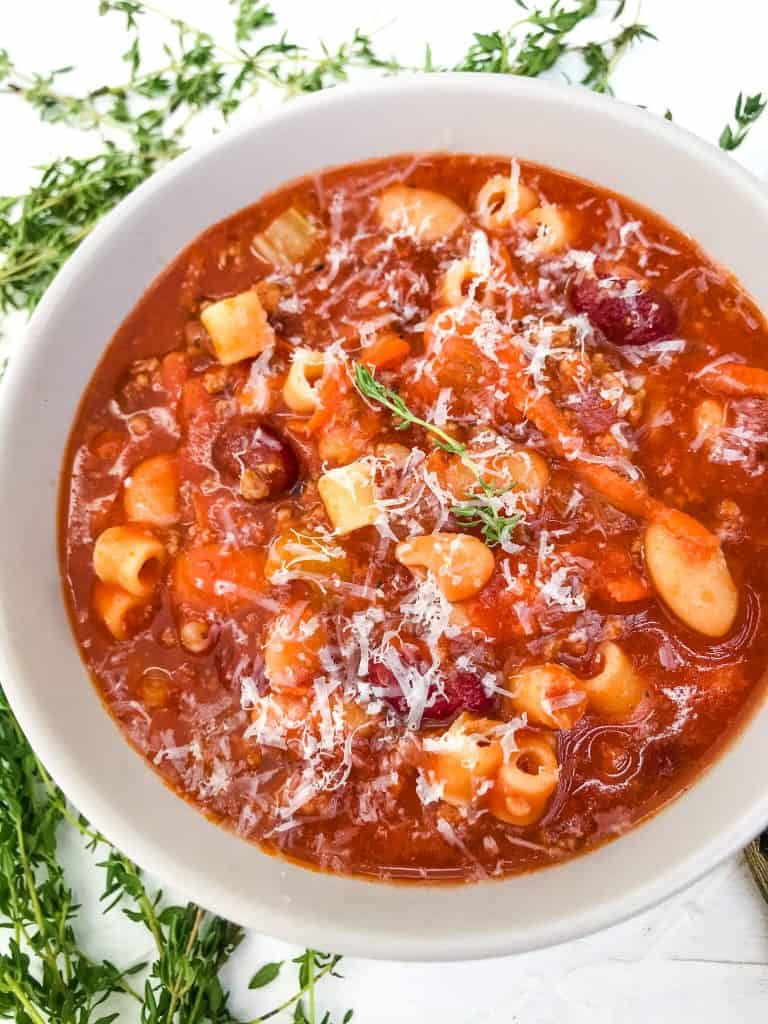 Why You Will Love This Recipe
Olive Garden is known for a few items, and one of those is the soups they make.
And I love soups, especially in the fall and winter, because they are the ultimate perfect comfort food.
The Pasta e Fagioli soup is a very American twist on an Italian classic.
The name translates to "pasta and beans" which is exactly the focus of this soup!
I am a big fan of trying to recreate restaurant dishes that you love at home.
Not only is it cheaper, but much more convenient and comfortable.
We have a lot of Copycat Olive Garden recipes that you can try, including another one of their very popular soups, the Zuppa Toascana!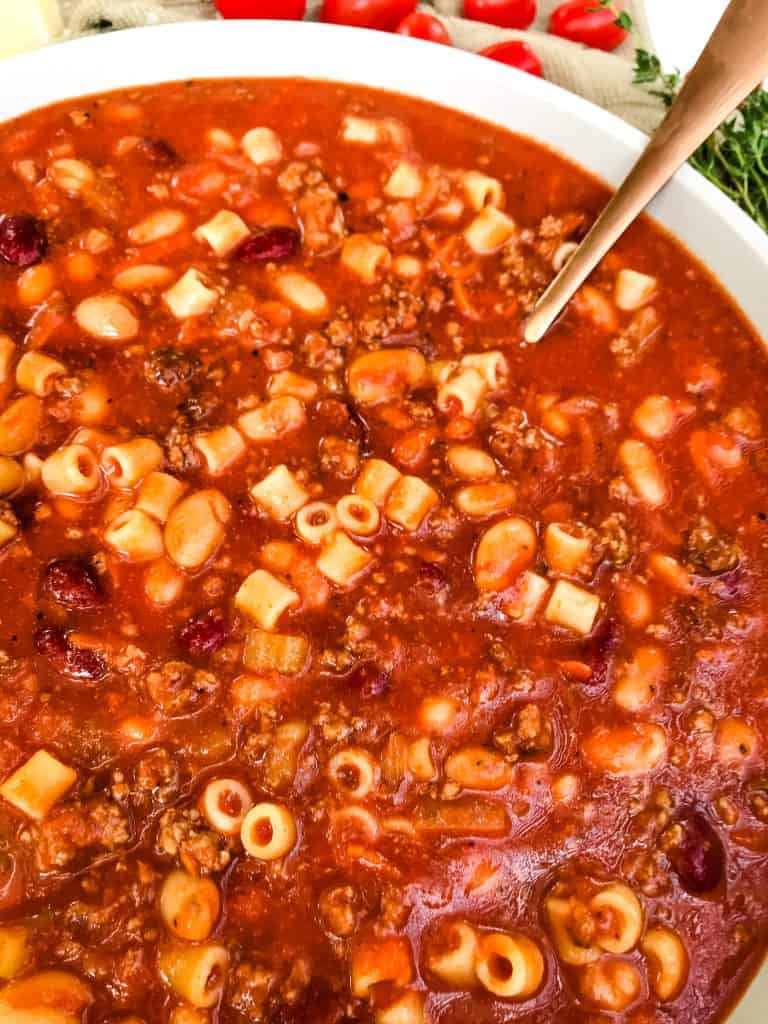 This Copycat Olive Garden Pasta Fagioli Soup has ground beef in it, but it is not the primary focus.
I personally think there is just enough beef in it to keep a focus on the beans, pasta, and vegetables.
The classic restaurant version of this soup is quite thinner than this recipe.
If you want it thin, like the restaurant, then add an additional 2 cups (or more) of stock or water to the soup.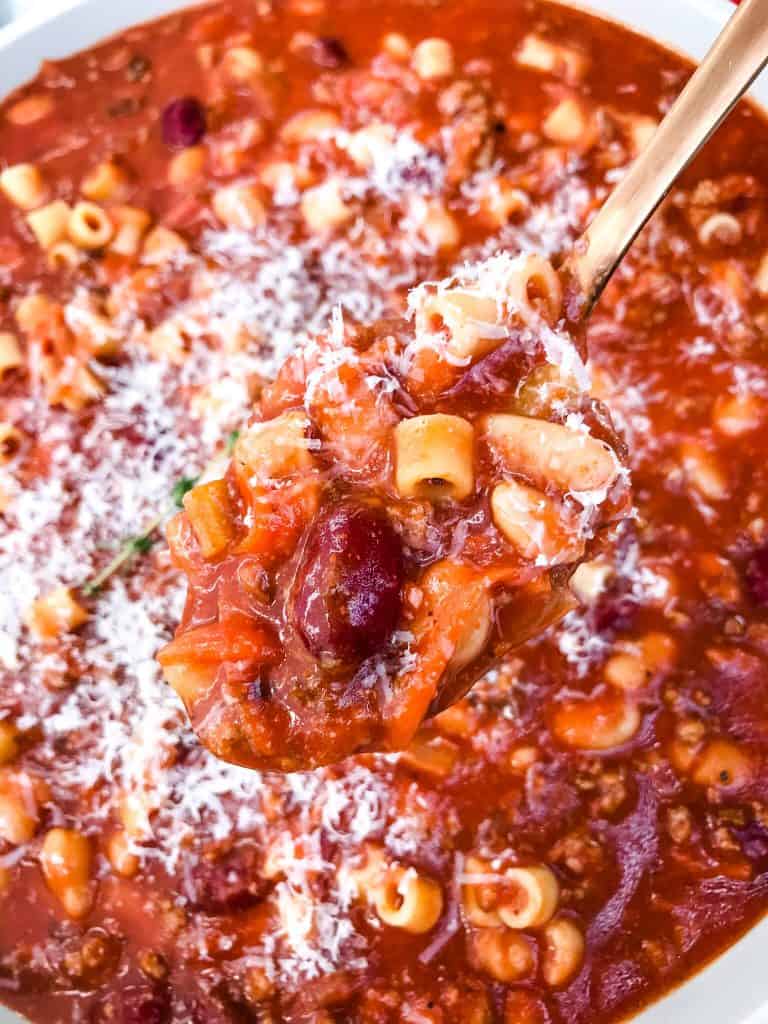 Ingredients
Here are the ingredients you need to make this Olive Garden Soup:
Ground Beef
Onion
Carrots
Celery
Dried Oregano
Black Pepper
Beef Broth or Stock
Tomato Sauce
Kidney Beans
Great Northern Beans
Ditalini Pasta
Equipment
This is the list of equipment you need for the recipe:
Knife
Cutting Board
Measuring Spoons
Measuring Cups
Large Pot
Large Spoon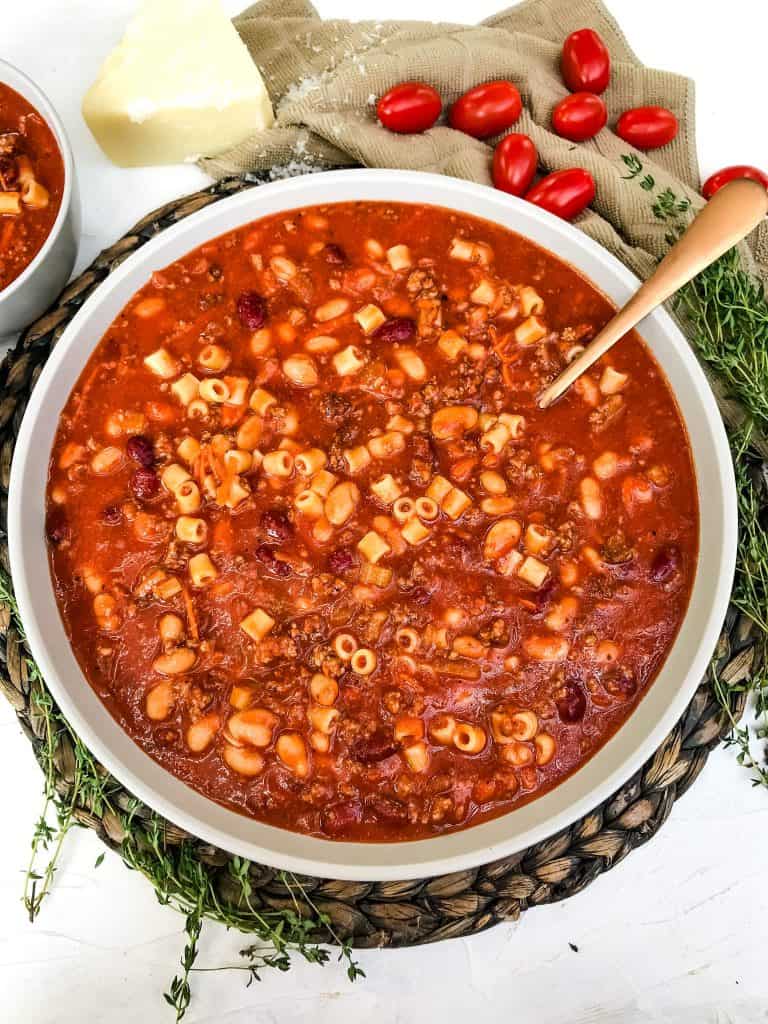 Instruction Overview
Cook the ground beef in a large pot until cooked through.
Add the vegetables and spices and cook until they soften.
Add the beef stock, tomato sauce, and beans and simmer for at least 30 minutes for the flavors to develop.
Meanwhile, cook the pasta in a separate pot until al dente.
Add the pasta to the soup when ready to serve!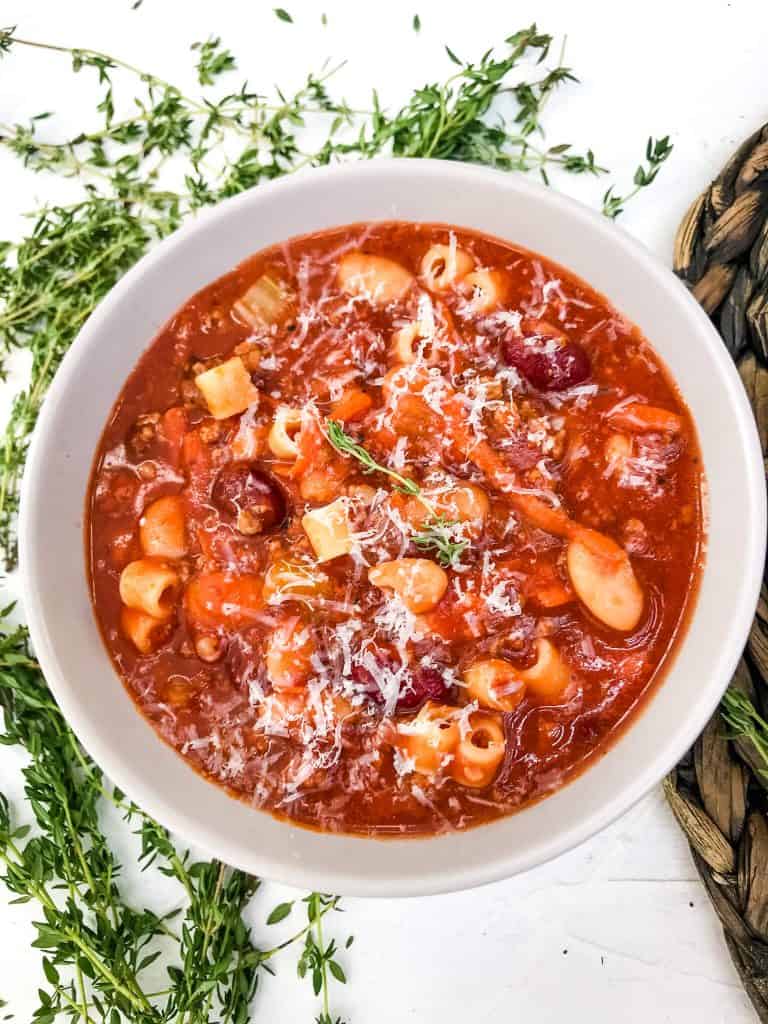 Modifications and Substitutions
You can shake up this copycat recipe with what you have on hand, like different beans or even sausage.
But this version here is JUST like the restaurant, and a great way to dine in at home!
One of my other favorite things to add to this pasta fagioli soup may sound strange, but someone I know got me hooked on it.
Add croutons to the soup, before cheese so they can soak up some broth, and if you are feeling adventurous, just a little bit of steak sauce.
Weird, but yummy.
Swap out ground turkey or sausage if desired for the beef!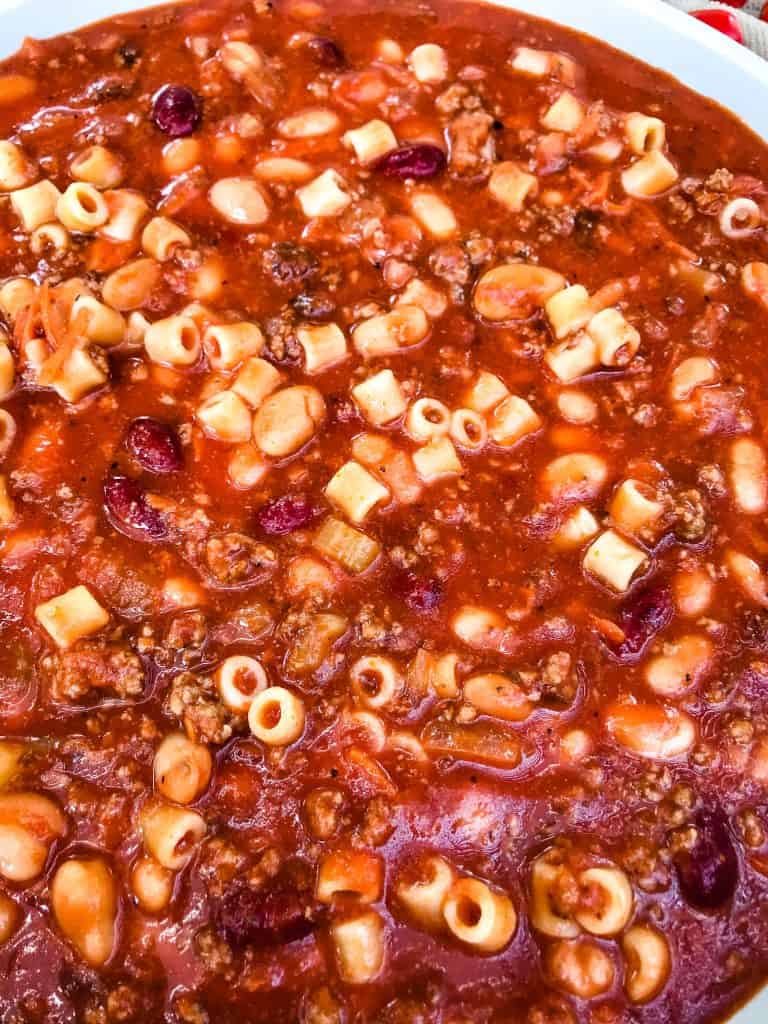 Kim's Tips
Olive Garden is known for the freshly ground Parmesan cheese, so you KNOW I am loading that on this soup! It brings some extra salt and flavor.
This Copycat Olive Garden Pasta Fagioli Soup recipe makes around a gallon of soup.
This equates to around 12 servings of what you would get in the restaurant, or 6 larger servings.
It freezes incredibly well, too! I love making big batches of food and freezing some for those nights that you just can't cook. Pint mason jars are my friend.
The pasta gets a little soggy in leftovers and frozen, but still very good. You could also just cook fresh pasta and add it each time you eat it instead of having it stored in the soup itself.
If your leftover soup is a little thick, which is very normal, just add a little splash of water when reheating. And it will loosen right back up!
FAQs
What's the difference between minestrone and pasta fagioli?
Minestrone is typically vegetarian and has more types of vegetables.
Pasta Fagioli has ground beef and fewer vegetables with more focus on beans. The soup is also a little heartier and thicker.
Does pasta fagioli contain meat?
Yes, this soup contains ground beef.
Why is pasta cooked separately for soup?
The pasta is best cooked in a separate pot so that the extra starches that come off of the pasta do not affect the quality and consistency of the soup itself.
How long is pasta fagioli good for in the fridge?
This soup can be kept for up to 5 days.
I like to freeze some leftovers in empty mason jars for an easy meal, especially when you are not feeling well!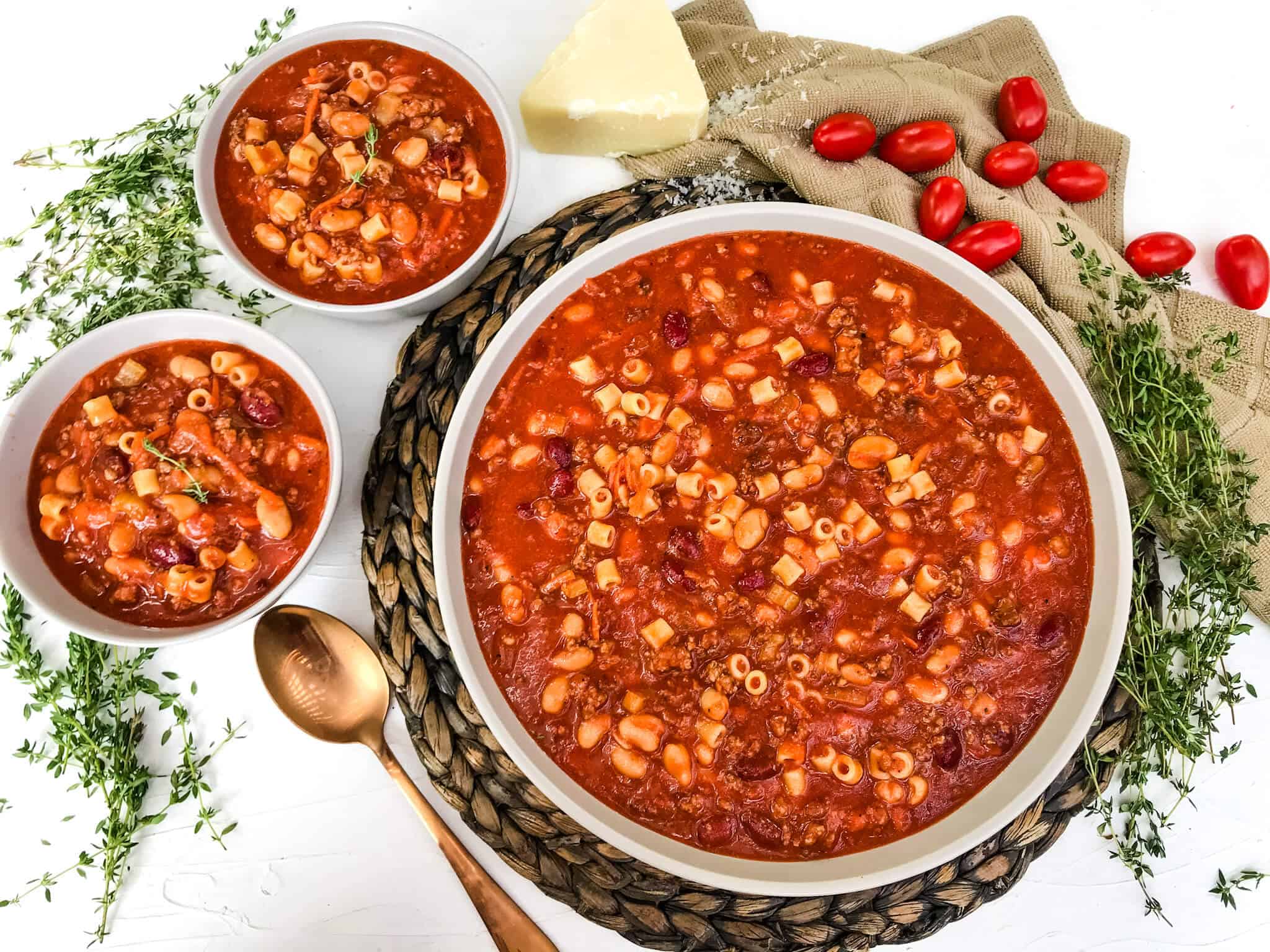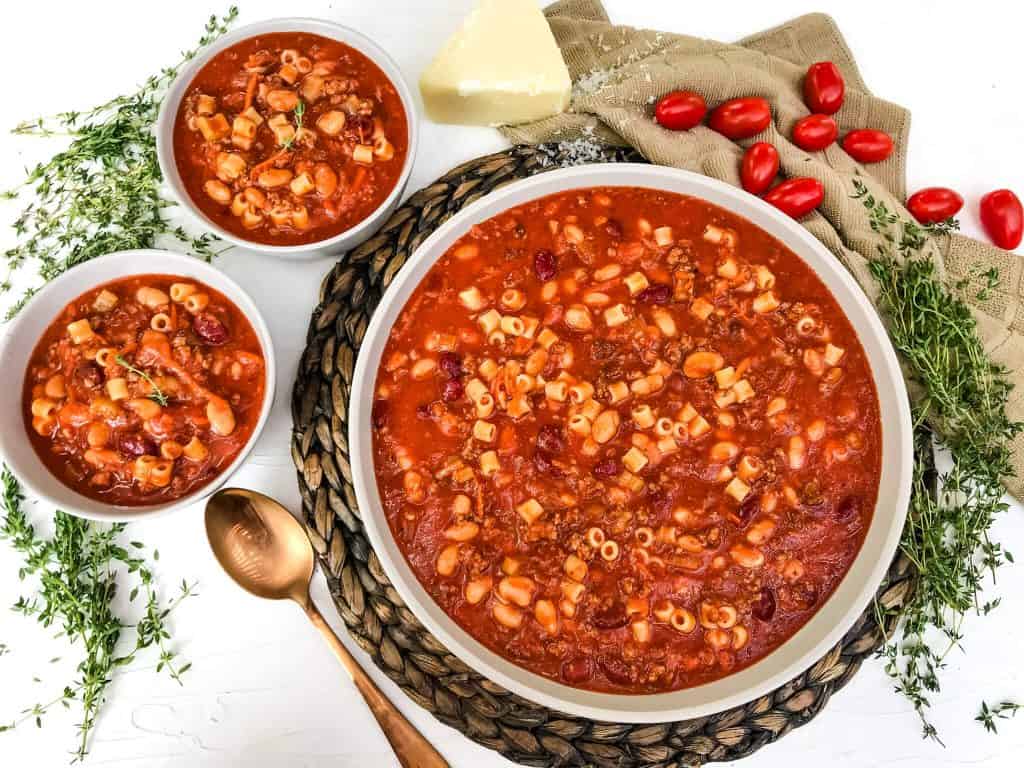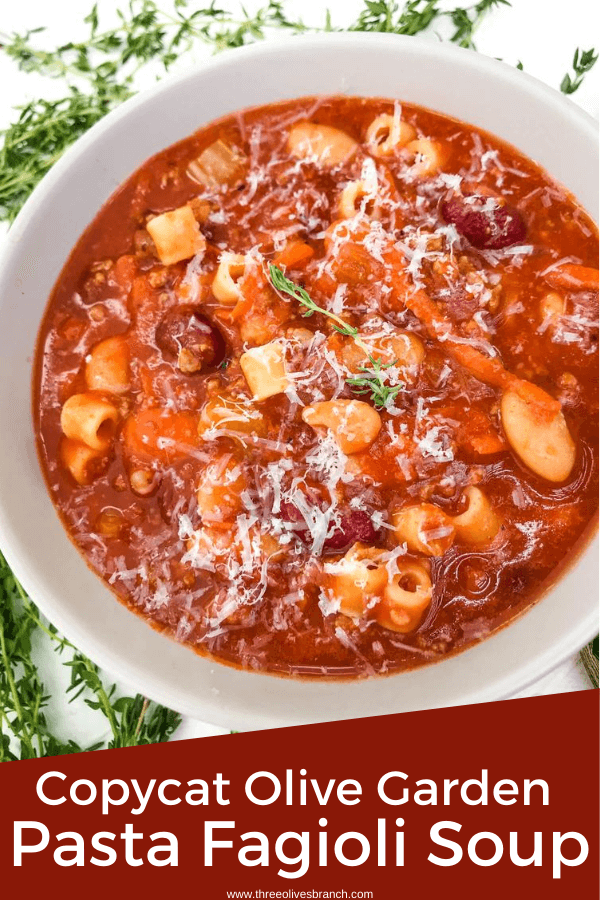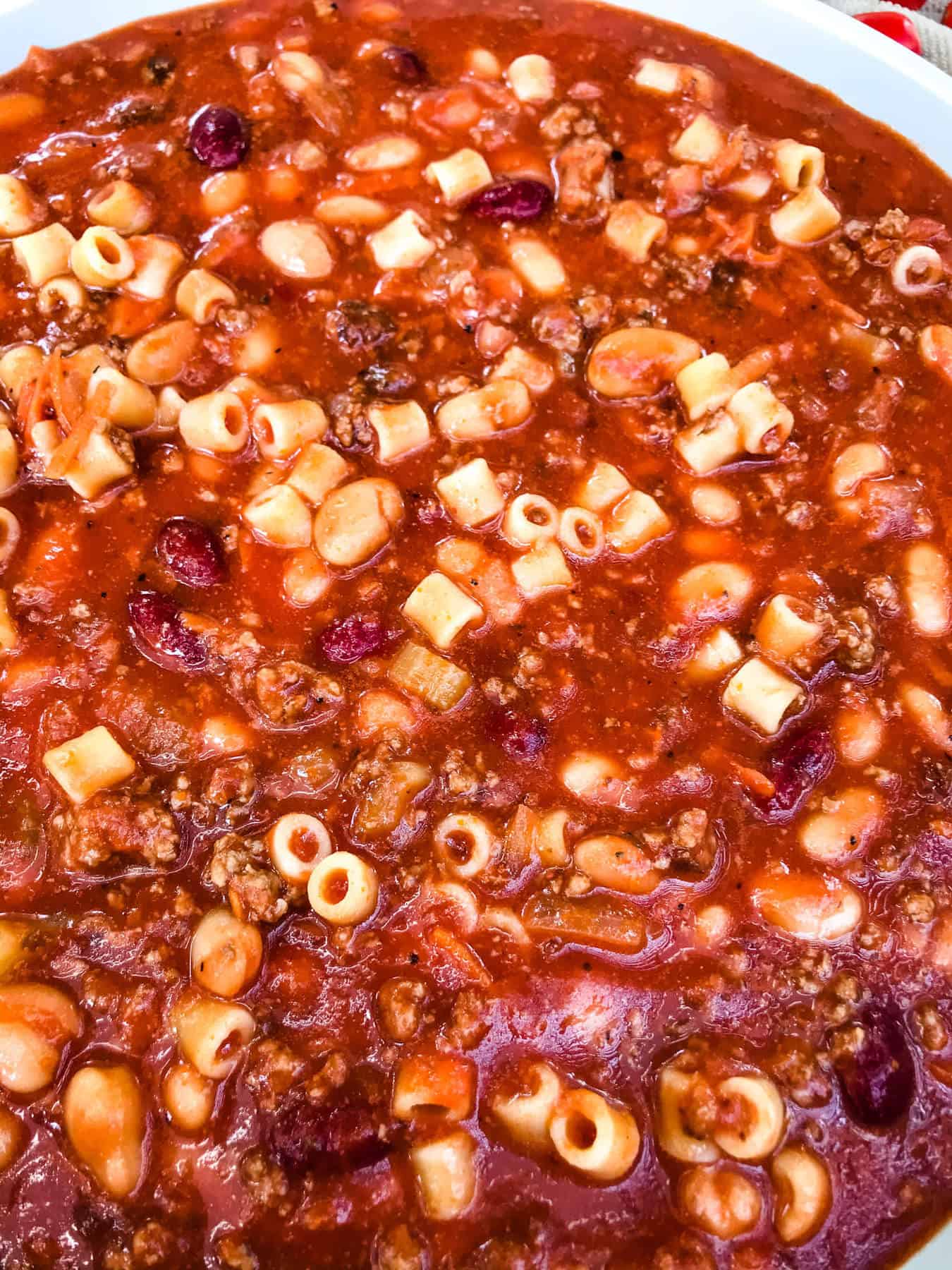 Ingredients
1

pound

ground beef

1 1/2

cups

diced yellow onion

(approximately 6 ounces)

1 1/2

cups

shredded carrots

(approximately 2 large carrots)

3

stalks

celery

diced (approximately 1 1/2 cups)

2

teaspoons

dried oregano

1 1/2

teaspoons

black pepper

4

cups

beef stock

(or broth)

56

ounces

tomato sauce

(two 28 ounce cans)

1

can

kidney beans

drained and rinsed

2

cans

great northern beans

drained and rinsed

1

cup

ditalini pasta

(measured uncooked) (or another small shape)
Instructions
Heat a large stock pot or dutch oven over medium heat.

Add the ground beef and cook, breaking it up, until no longer pink, approximately 5 minutes.

Add the onions, carrots, celery, oregano, and black pepper to the beef. Stir and cook until the onions are soft and translucent, approximately 5 minutes.

Add the beef stock, tomato sauce, and beans to the pot.

Simmer for 30 minutes over low heat.

While simmering, cook the pasta to al dente per package directions in a separate pot of boiling water.

When ready to serve, drain the pasta and add to the soup. Stir to combine and season to taste with salt and pepper. Serve with freshly grated Parmesan cheese if desired.
Notes
This soup makes approximately 1 gallon, which is 12 small servings or 6 larger servings.
Olive Garden serves their soup thinner so if you want the same thinner consistency, add an additional 2 cups of stock, give or take, as desired.
Nutrition
Serving:
1
serving
|
Calories:
522
kcal
|
Carbohydrates:
62
g
|
Protein:
32
g
|
Fat:
16
g
|
Saturated Fat:
6
g
|
Cholesterol:
54
mg
|
Sodium:
415
mg
|
Potassium:
1313
mg
|
Fiber:
11
g
|
Sugar:
5
g
|
Vitamin A:
5447
IU
|
Vitamin C:
7
mg
|
Calcium:
152
mg
|
Iron:
5
mg
More Copycat Olive Garden Recipes
Copycat Olive Garden
Copycat recipes from Olive Garden to enjoy at home!

By