These fun Bacon and Egg Rolls are great for breakfast, as a snack, or an appetizer. #eggrolls #baconandeggs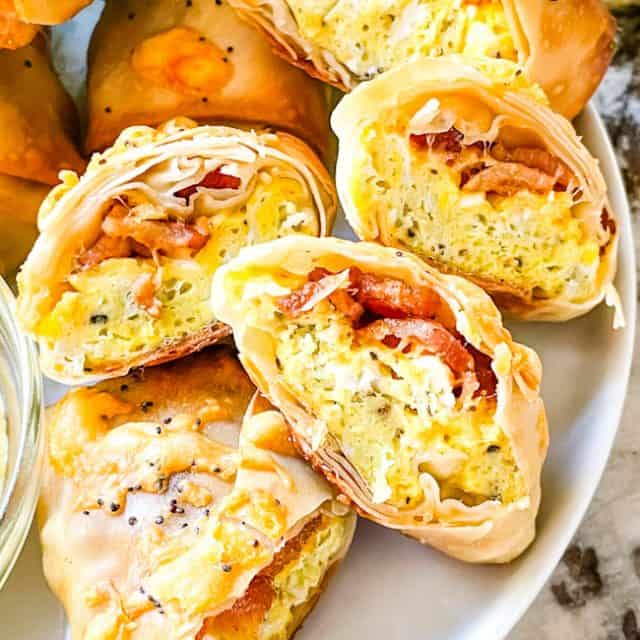 Bacon and Egg Rolls are a fun way to eat breakfast, a snack, or appetizer!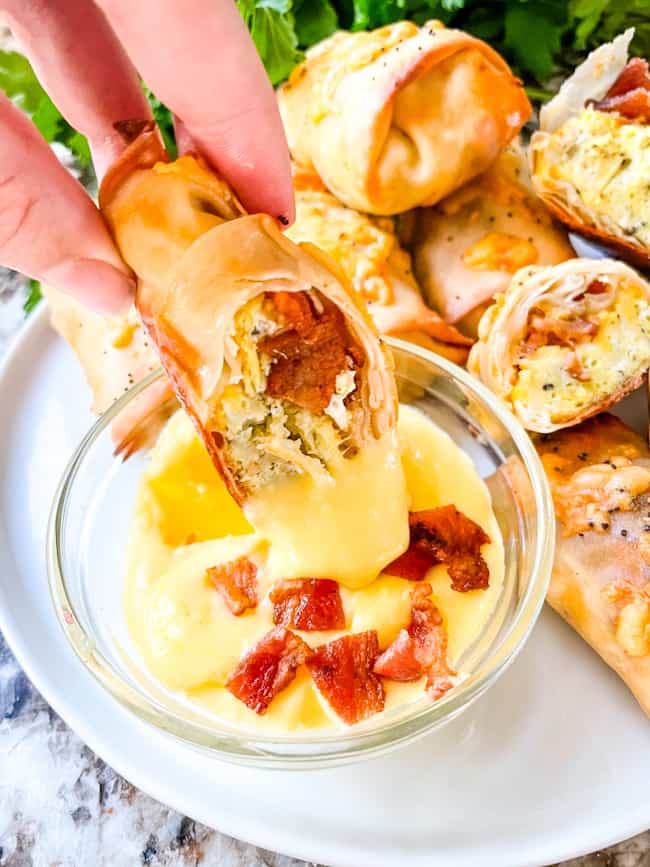 We often think of breakfast sandwiches as a great to-go breakfast option.
I love these Bacon and Egg Rolls for how portable they are, plus they are fun to eat!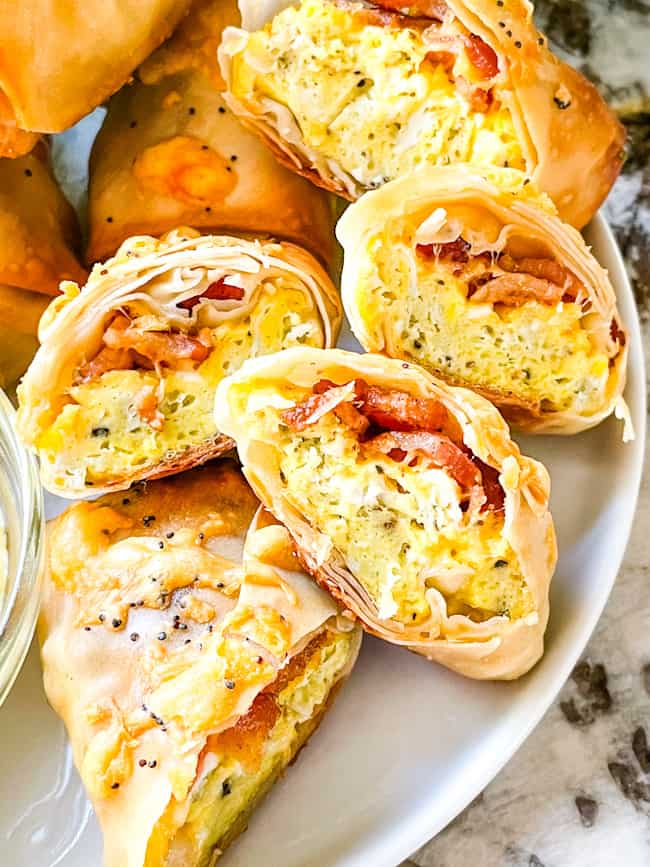 These rolls are made with all the same ingredients of a great breakfast sandwich: eggs, bacon, and cheese with a little carb.
You can find egg roll wrappers in the refrigerated section of your grocery store, typically near the fresh herbs and bagged vegetables. The brand I find has 20 wrappers in one package.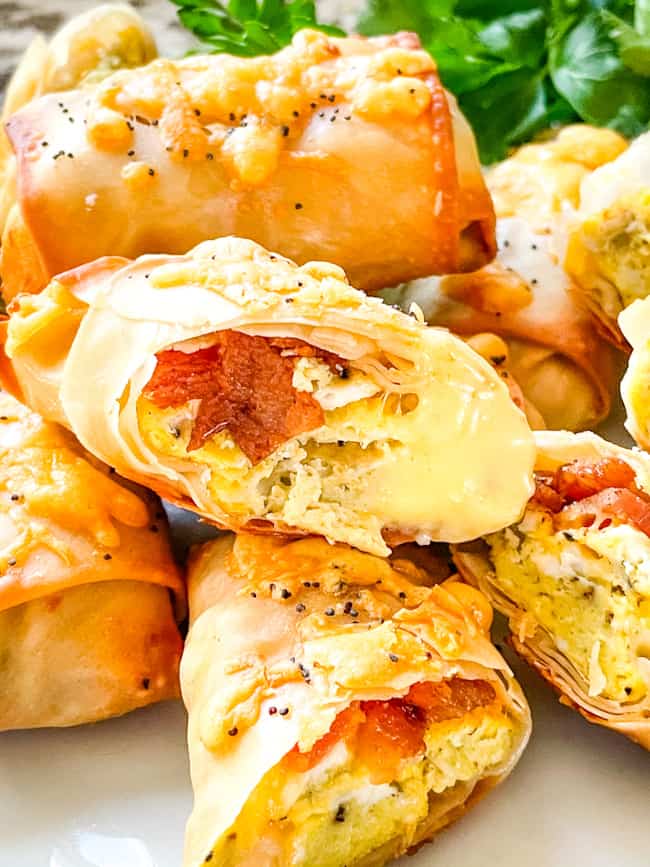 Seasoning
I like to keep the seasoning in these breakfast egg rolls simple by using just garlic powder, salt, and black pepper in the eggs.
But you can easily season up the eggs however you like!
Add some heat with hot sauce, cayenne, or red pepper flakes.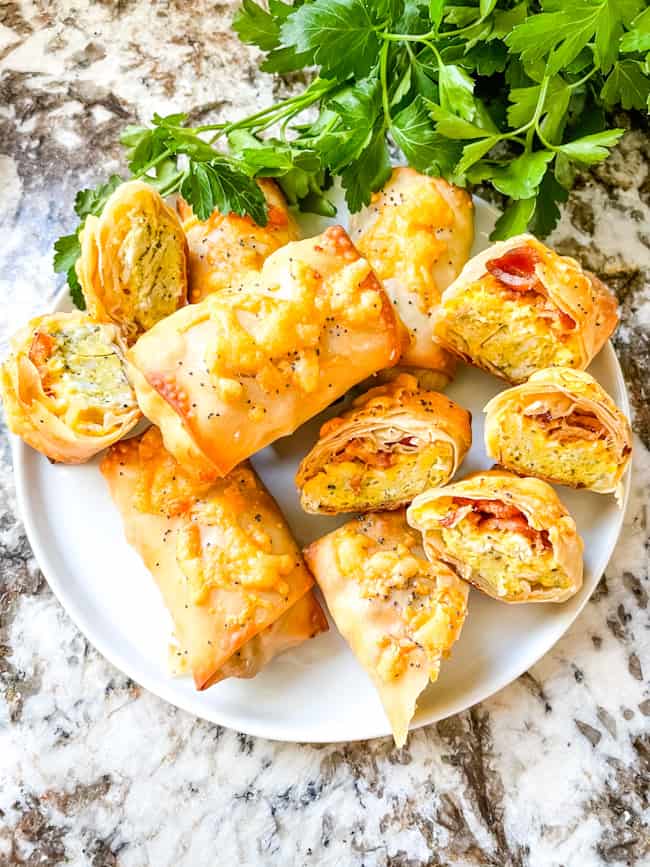 Dipping Sauces
I am a sauce person and love all things saucy.
Having a breakfast compatible sauce for these Bacon and Egg Rolls is a great way to add some more flavor and moisture.
My absolute favorite sauce to use is my Blender Parmesan Cheese Hollandaise Sauce. It is SO easy to make and tastes great with these egg rolls!
Other options include a breakfast gravy, salsa, or ketchup. Pretty much anything that you would typically put on or in your eggs would taste great here, too.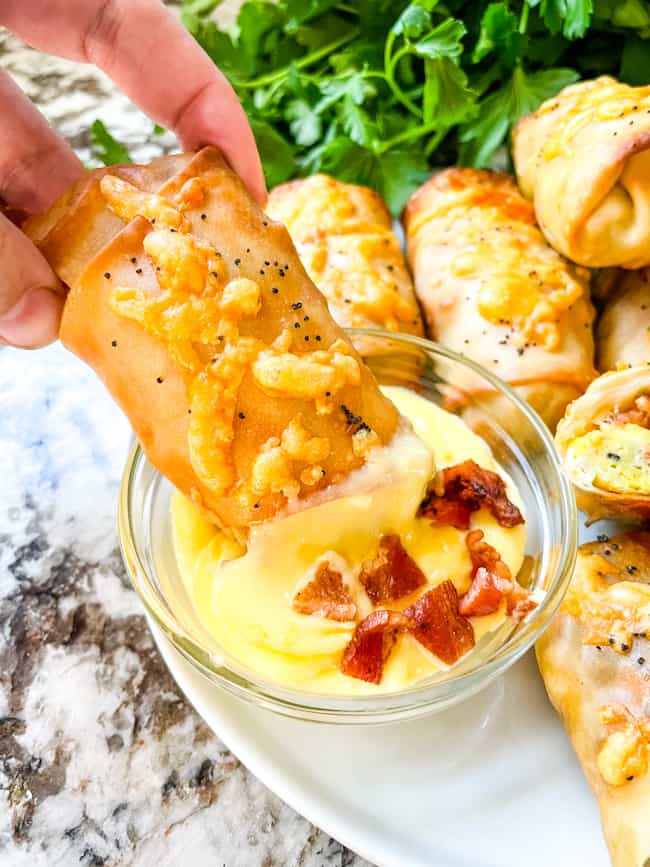 Variations
I am a big fan of variation options in recipes, so here are a few ideas!
Make these Bacon and Egg Rolls with your bacon as crispy or soft as you like it.
Or even use some sausage instead!
Cook the eggs just a touch softer/runnier than you actually want them since they are going back in the oven for a few minutes.
Want just egg whites? Go for it!
Add some chopped vegetables into the mix!
Switch up the cheese with anything you like. Swiss would also be great!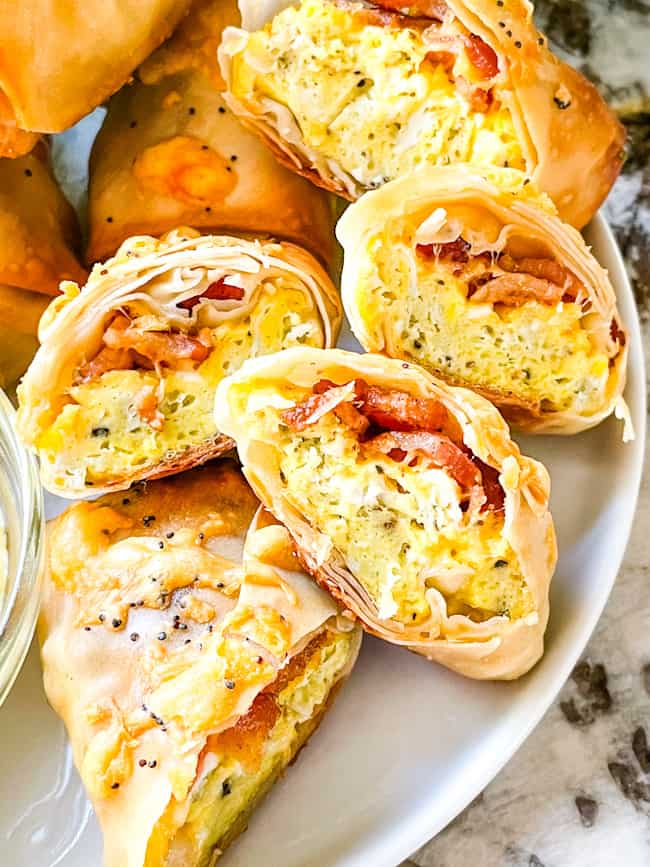 If you make these breakfast egg rolls, be sure to send us your picture or tag us on social media! I would love to see all the variations you come up with!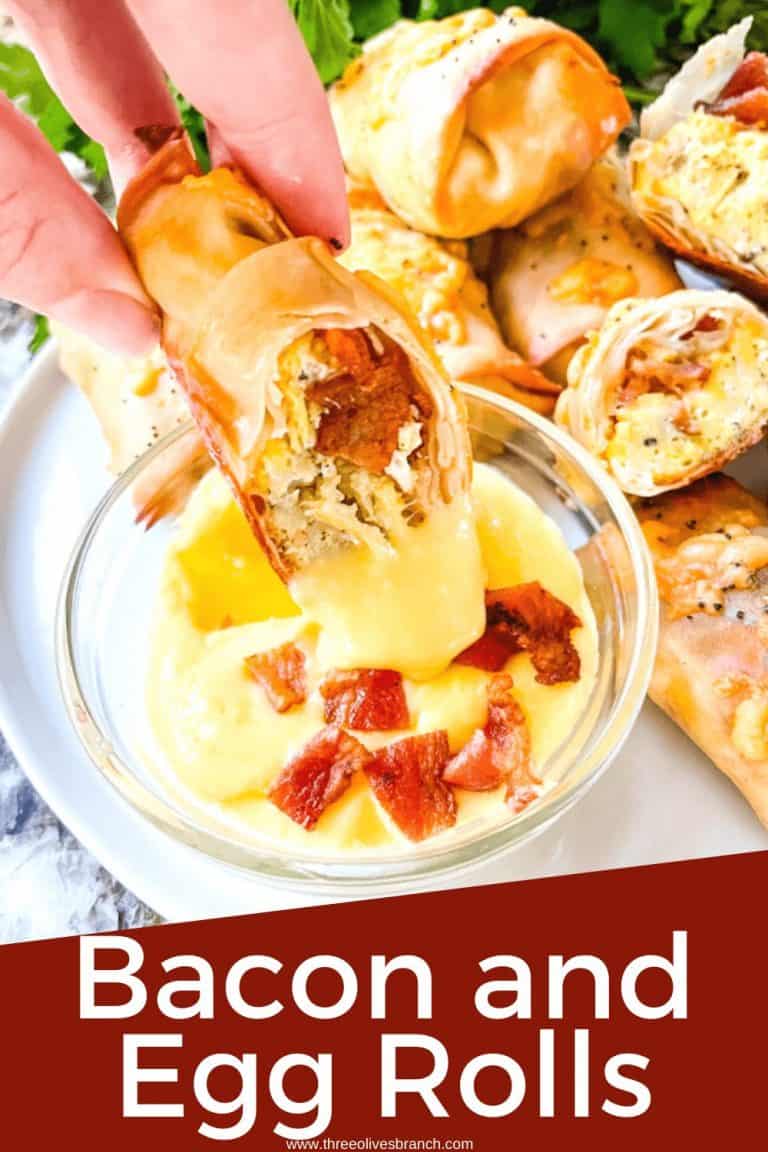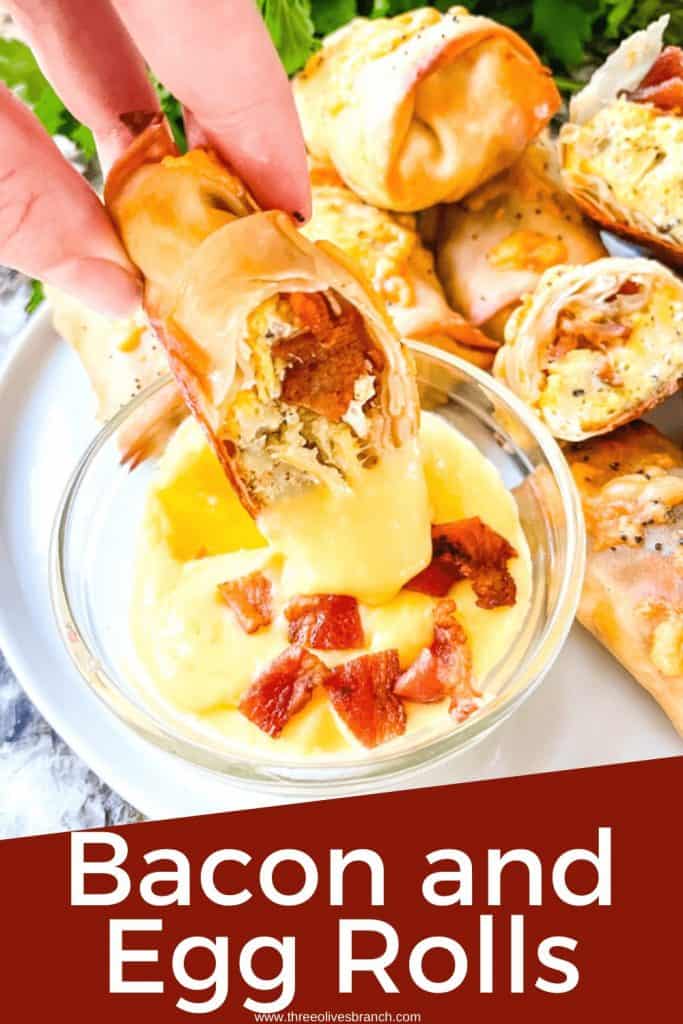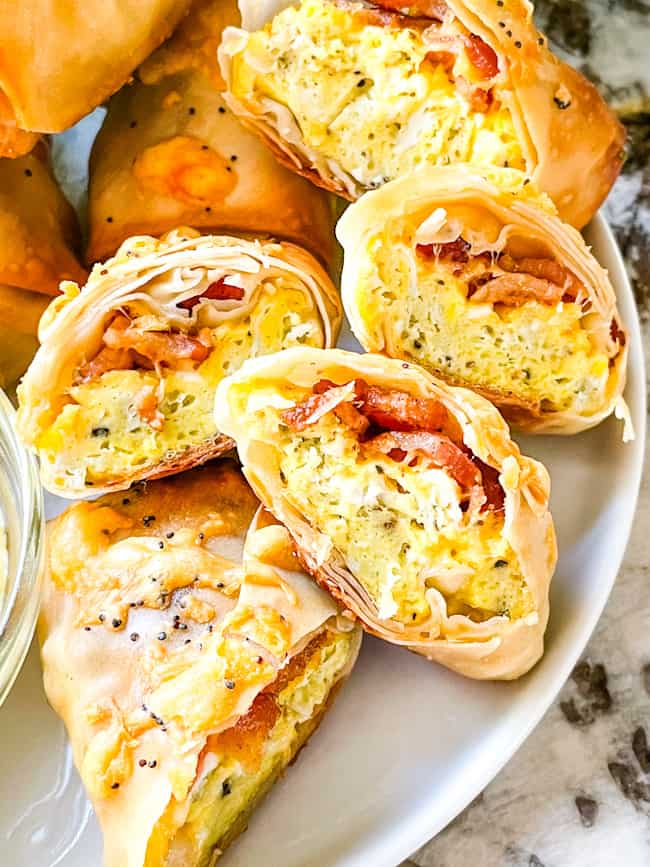 Instructions
Cook the bacon as per package directions in a large skillet until as crisp or soft as desired. Set aside.

Scramble the eggs in the same skillet over medium heat and season with the garlic powder, salt, and pepper. Season to taste. (Or season as per your preference). Make them just a touch softer/runnier than you want them in the end since they are going in the oven. Set aside.

Lay out one of the egg roll wrappers like a diamond with points at the top, bottom, and sides.

Sprinkle approximately 2 Tablespoons of the cheese about 2/3 of the way down the wrapper, approximately one inch tall and three inches wide.

Add some shredded corned beef on top of the cheese, approximately 2/3 of an ounce or 1.5 Tablespoons.

Add about one slice of bacon worth on top of the cheese.

Add approximately one egg worth (1/8 of the scrambled eggs) on top of the bacon and cheese.

Fold up the bottom point over the filling so it is snug against the bottom of the filling.

Snugly fold in the two corners on the sides, over the filling.

Roll the filling up toward the top point. Stop just shy of the point.

Wet the top point with a little water to help it stick and seal. Finish rolling the roll and place on a silicone mat lined baking sheet.

Repeat steps 5-13 for each roll.

Once all rolls are assembled and on the baking sheet, spray with a cooking spray. (The spray will help them brown and crisp up).

Sprinkle a little more cheese on top of each roll if desired.

Bake the rolls at 425F for approximately 20 minutes, or until the wrappers are a golden brown.

If desired, serve these with a gravy or hollandaise sauce. Get your sauce ready while the rolls are baking.

Serve the rolls warm with the sauce.
Notes
If you do not have cooking spray, you can also lightly coat the rolls with some oil using a basting brush.
You can typically find egg roll wrappers in the refrigerated section of your grocery store near herbs or other Asian items.
I like to use my Blender Parmesan Cheese Hollandaise Sauce for these rolls. You can use any hollandaise, gravy, or breakfast sauce that you like.
You could also top the rolls with poppy seeds, dried onion, everything bagel seasoning, or sesame seeds.
Nutrition
Serving:

1

roll

|

Calories:

173

kcal

|

Carbohydrates:

6

g

|

Protein:

9

g

|

Fat:

12

g

|

Saturated Fat:

5

g

|

Trans Fat:

1

g

|

Cholesterol:

144

mg

|

Sodium:

349

mg

|

Potassium:

94

mg

|

Fiber:

1

g

|

Sugar:

1

g

|

Vitamin A:

281

IU

|

Vitamin C:

1

mg

|

Calcium:

92

mg

|

Iron:

1

mg

By