Egg rolls stuffed with corned beef, sauerkraut, and cheese with a Thousand Island dipping sauce.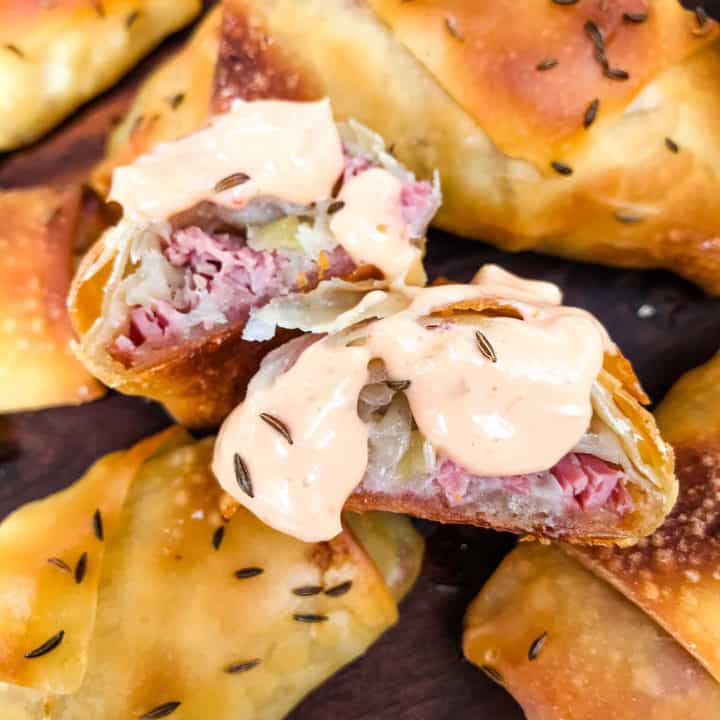 Baked Reuben Egg Rolls with Thousand Island Sauce are filled with corned beef, sauerkraut, and Swiss cheese.
They are baked and dunked in a Reuben sandwich sauce: a Thousand Island sauce.
All the great flavors of the classic Reuben sandwich recipe in a fun finger food appetizer!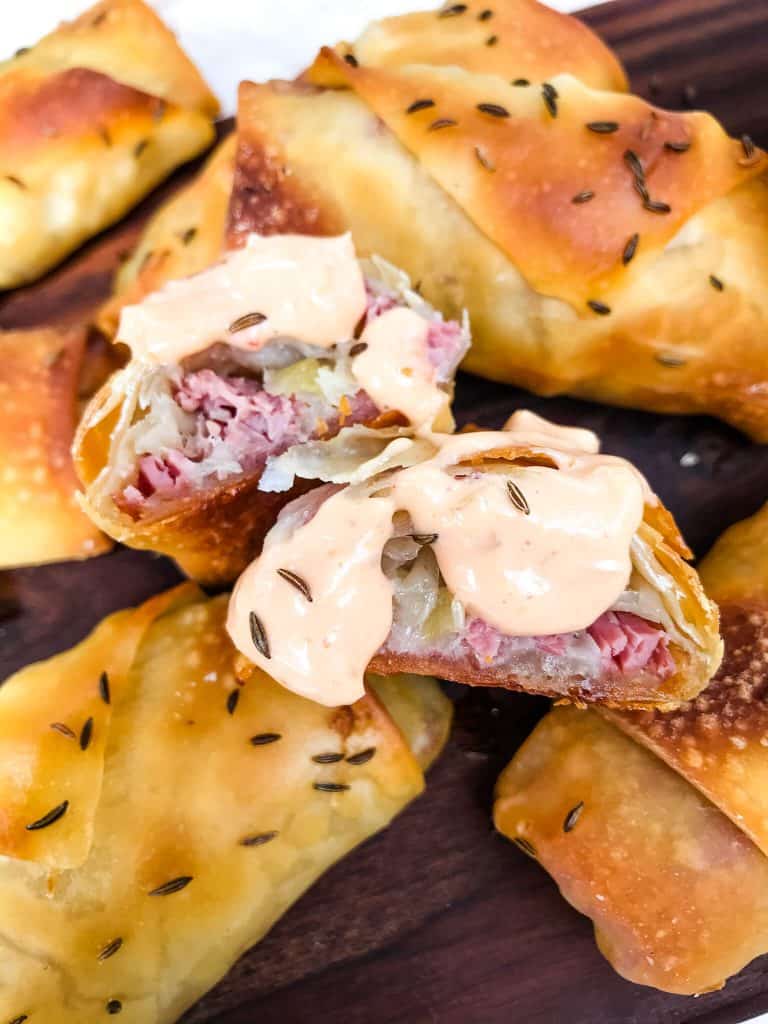 This post contains affiliate links.
Reuben Egg Rolls
St Patrick's Day always means corned beef, and making something fun with the leftovers!
These corn beef egg rolls are SO easy and full of the same sandwich flavors.
Shake up your leftovers by making something fun! Get more corned beef recipes here!
What is an Irish spring roll?
Irish Spring Rolls are egg rolls wrapped up with cabbage and corned beef inside. The sauce used is typically creamy and with parsley.
These Reuben Rolls are very similar!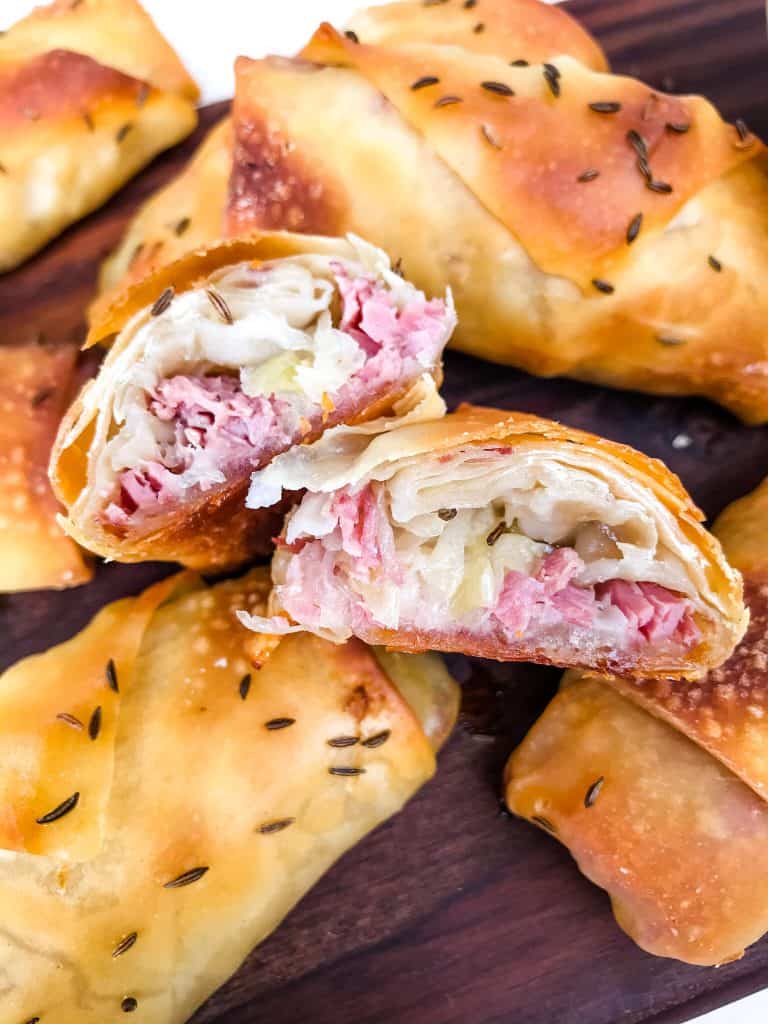 Ingredients in Reuben Egg Rolls
Here is what you need to make these rolls:
Egg Roll Wrappers
Swiss Cheese
Corned Beef
Sauerkraut
Caraway Seeds
Cooking Spray
Thousand Island Dressing
Garlic Powder
Are wonton and egg roll wrappers the same?
They are typically the same base dough, but wonton wrappers are much smaller.
If you can only find wonton wrappers, you can just make mini rolls and reduce the cooking time slightly.
How to Get the Rye Flavor
The biggest trick I needed to solve when making these Baked Reuben Egg Rolls with Thousand Island Sauce was how to replicate the flavor of the rye bread.
Because there are no rye egg roll wrappers, and I sure was not going to stick bread inside the rolls.
The solution? Use caraway seeds sprinkled on top of the egg rolls.
The flavor of caraway is what we associate to rye bread (it is not the rye flour itself) and they also provide a little extra crunch.
How to Make Reuben Egg Rolls
Baked egg rolls are incredibly simple to make and cook.
I don't know how many times things have exploded on me in a fryer, and there were none of those problems here!
Plus, baking makes them healthier and easier to make.
To make these rolls, lay an egg roll wrapper down as a diamond. Place half a slice of Swiss just below the middle.
Add the corned beef and sauerkraut.
Roll up from the bottom, tucking in the sides, and seal the end with some water to stick together.
Repeat for all of the rolls and then spray them with nonstick cooking spray and sprinkle with caraway seeds.
Bake in the oven at 425F for about 20 minutes until golden brown.
Make the sauce by combining the dressing with garlic powder and some sauerkraut and chill until serving.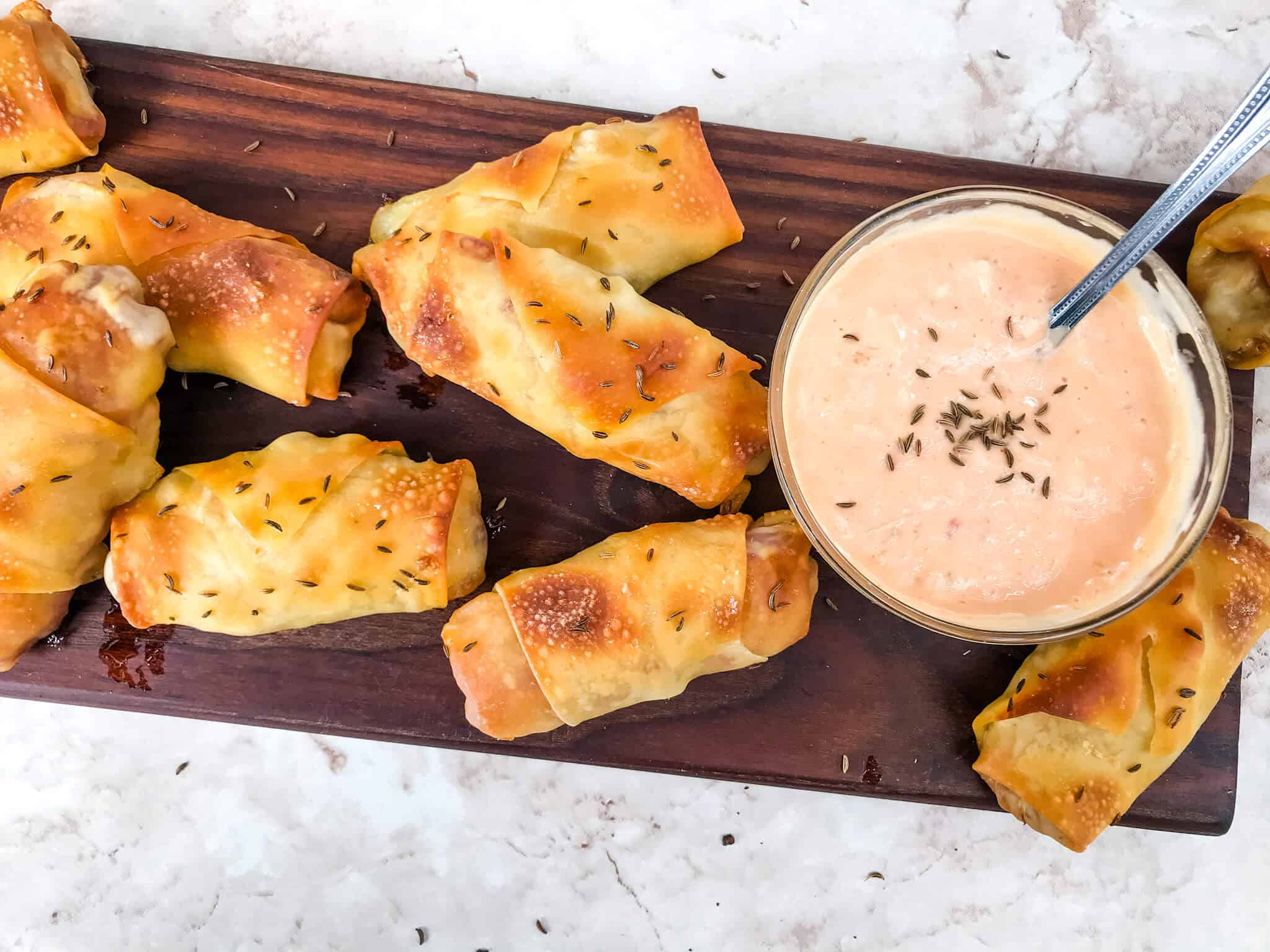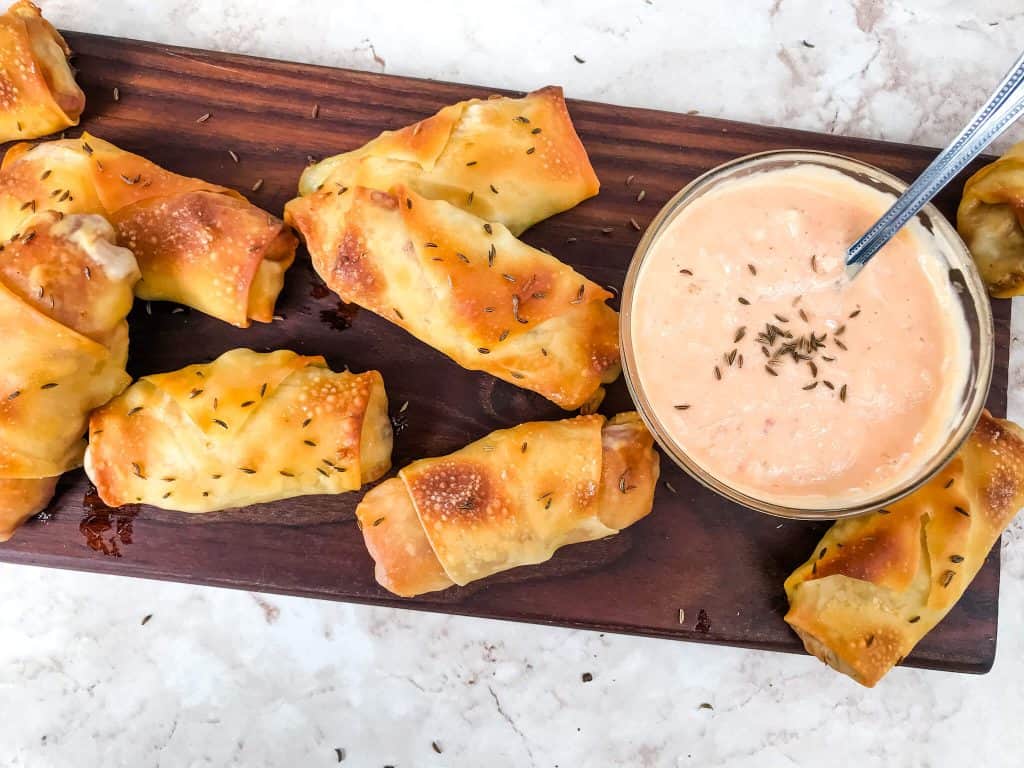 These beef egg rolls would also be great dunked in our Copycat Bennigan's Guinness Glaze.
You can also find more of our Irish and St Patrick's Day recipes here!
But even though these flavors are associated with the holiday, this recipe would also be great as a game day appetizer! It is SO easy to make and is sure to be a hit!
What do you seal egg rolls with?
I just use a little water! This makes them sticky enough to hold together.
Can Reuben egg rolls be frozen?
Yes! Assemble and then freeze before baking.
When ready to cook, simply follow the same instructions. It might take a couple minutes longer for them to get golden brown.
Do eggrolls have egg?
No! The name comes from the original wrapper recipe which was made with egg.
How do you make egg rolls stay crispy?
After cooking, to keep them crispy, keep them in the oven at a low temperature like 200-250F.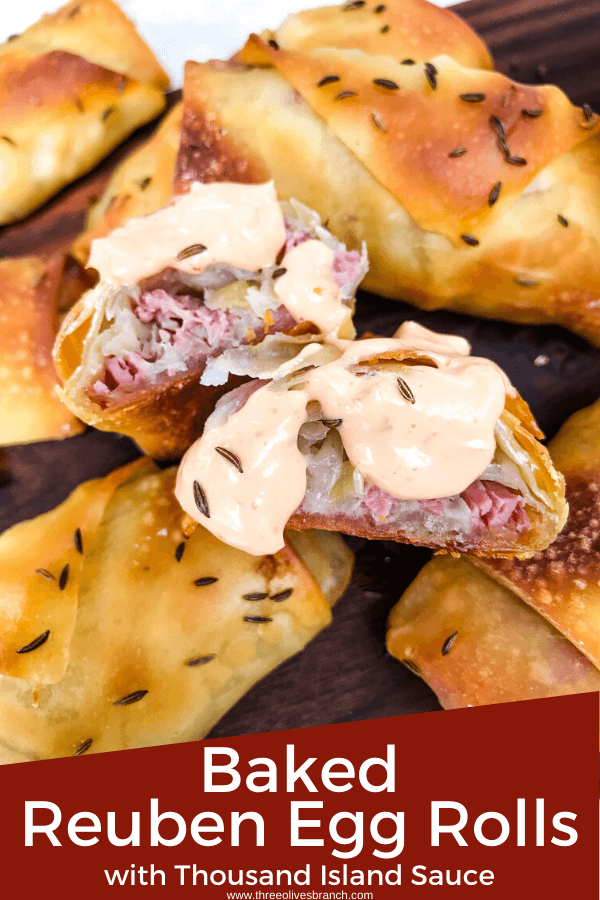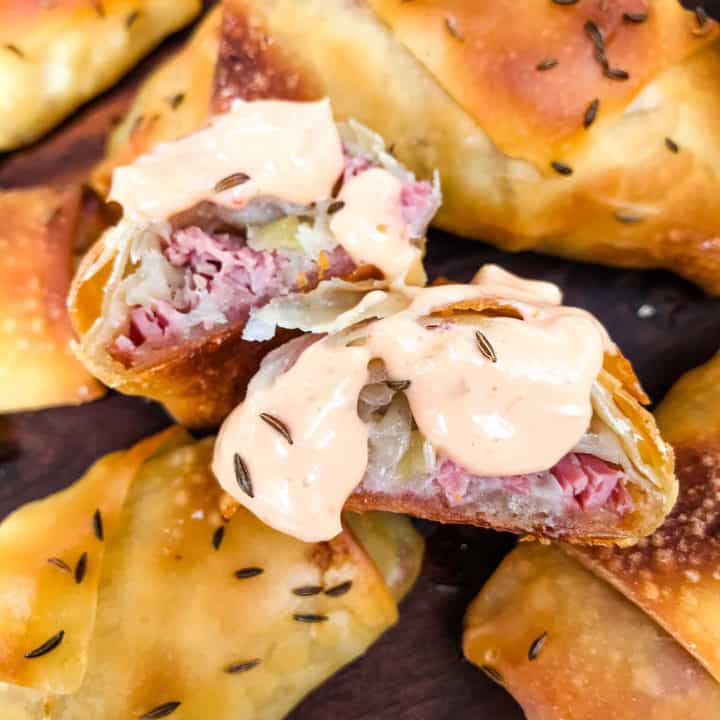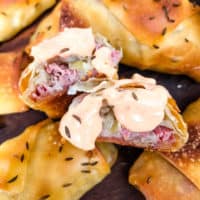 Reuben Egg Rolls with Thousand Island Sauce Recipe
Egg rolls stuffed with corned beef, sauerkraut, and cheese with a Thousand Island dipping sauce.
Print
Pin
Rate
Instructions
Lay out one of the egg roll wrappers like a diamond with points at the top, bottom, and sides.

Take one slice of Swiss cheese and cut in half. Place the cheese just below the middle point of the wrapper, horizontally.

Add some shredded corned beef on top of the cheese, approximately 2/3 of an ounce or 1.5 Tablespoons.

Add approximately 1/2 Tablespoon of sauerkraut on top.

Fold up the bottom point over the filling so it is snug against the bottom of the filling.

Snugly fold in the two corners on the sides, over the filling.

Roll the filling up toward the top point. Stop just shy of the point.

Wet the top point with a little water to help it stick and seal. Finish rolling the roll and place on a silicone mat lined baking sheet.

Repeat steps 2-9 for each roll.

Once all rolls are assembled and on the baking sheet, spray with a cooking spray.

Sprinkle the caraway seeds on top of the rolls (the spray will help them stick and also help brown the rolls).

Bake the rolls at 425F for approximately 20 minutes, or until the wrappers are a golden brown.

While the rolls are baking, make the sauce by combining the Thousand Island dressing, sauerkraut, and garlic powder in a small bowl. Season to taste with salt and adjust ratios as desired.

Serve the rolls warm with the sauce.
Notes
The caraway seeds are optional, but this is what will give you the rye flavor. 
If you do not have cooking spray, you can also lightly coat the rolls with some oil using a basting brush.
You can typically find egg roll wrappers in the refrigerated section of your grocery store near herbs or other Asian items.
Nutrition
Serving:
1
roll
|
Calories:
136
kcal
|
Carbohydrates:
10
g
|
Protein:
7
g
|
Fat:
8
g
|
Saturated Fat:
3
g
|
Cholesterol:
21
mg
|
Sodium:
446
mg
|
Potassium:
101
mg
|
Fiber:
1
g
|
Sugar:
1
g
|
Vitamin A:
85
IU
|
Vitamin C:
7
mg
|
Calcium:
80
mg
|
Iron:
1
mg
St Patrick's Day Irish Recipes
By