Smoked Chicken Wings are a delicious appetizer recipe idea for your BBQ summer or game day! A quick smoking time with lots of flavor will be a hit tailgate food. Includes tips for how to best smoke chicken wings.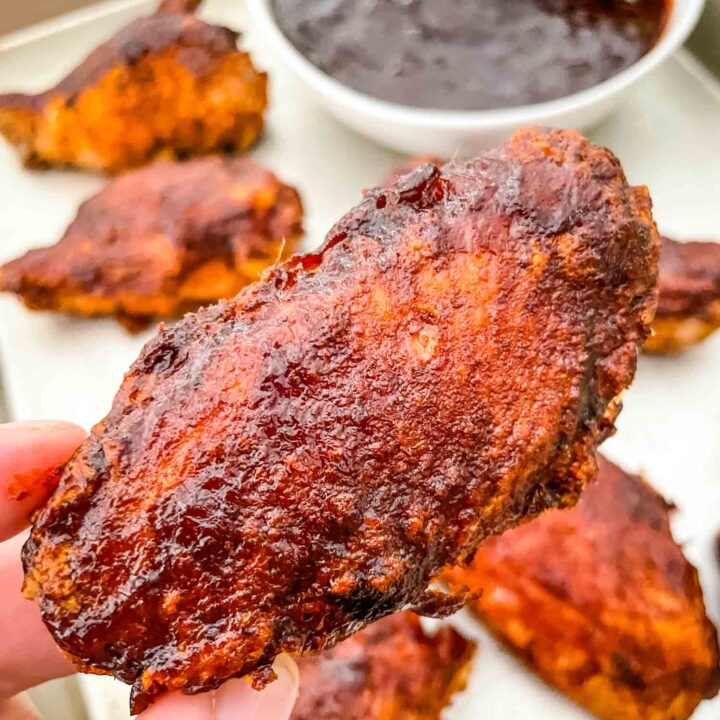 These Smoked Chicken Wings are a game day tailgate favorite! A perfect summer BBQ recipe with tons of flavor that everyone will love.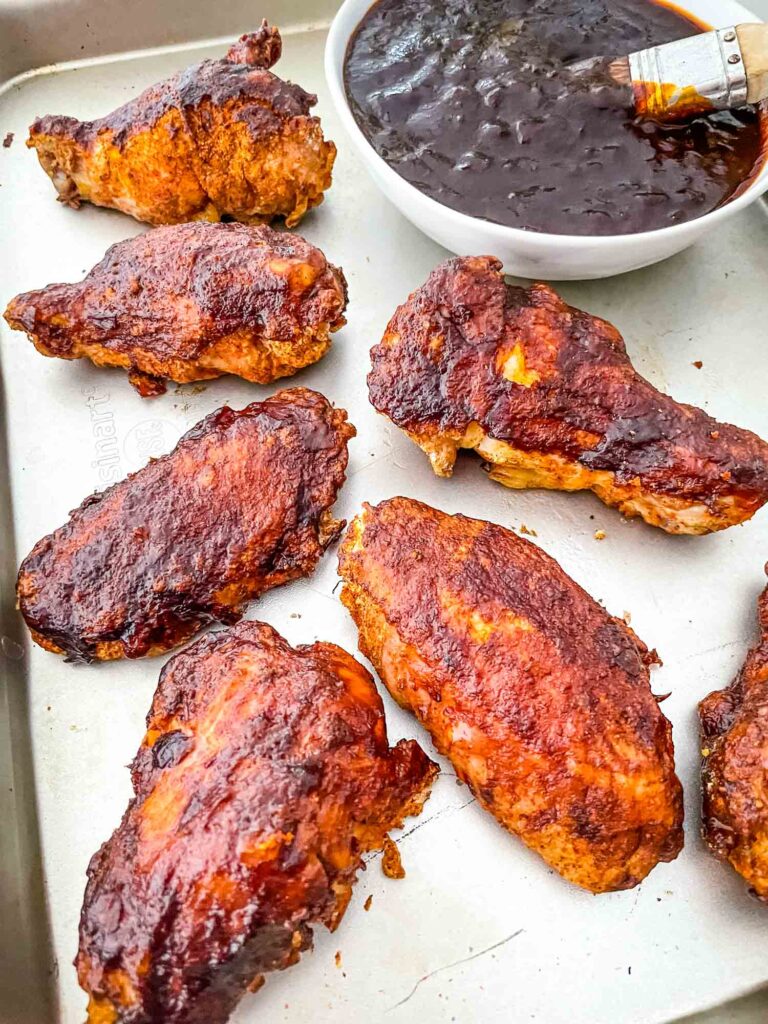 Why You Will Love This Recipe
These Smoked Chicken Wings are just perfect for your summer BBQ cookout or game day!
I love making them for a tailgate and they are always so popular!
The smaller size means lots of smoked flavor. I love to use my popular and versatile BBQ rub for this recipe, as well as my BBQ sauce to either baste with or serve on the side!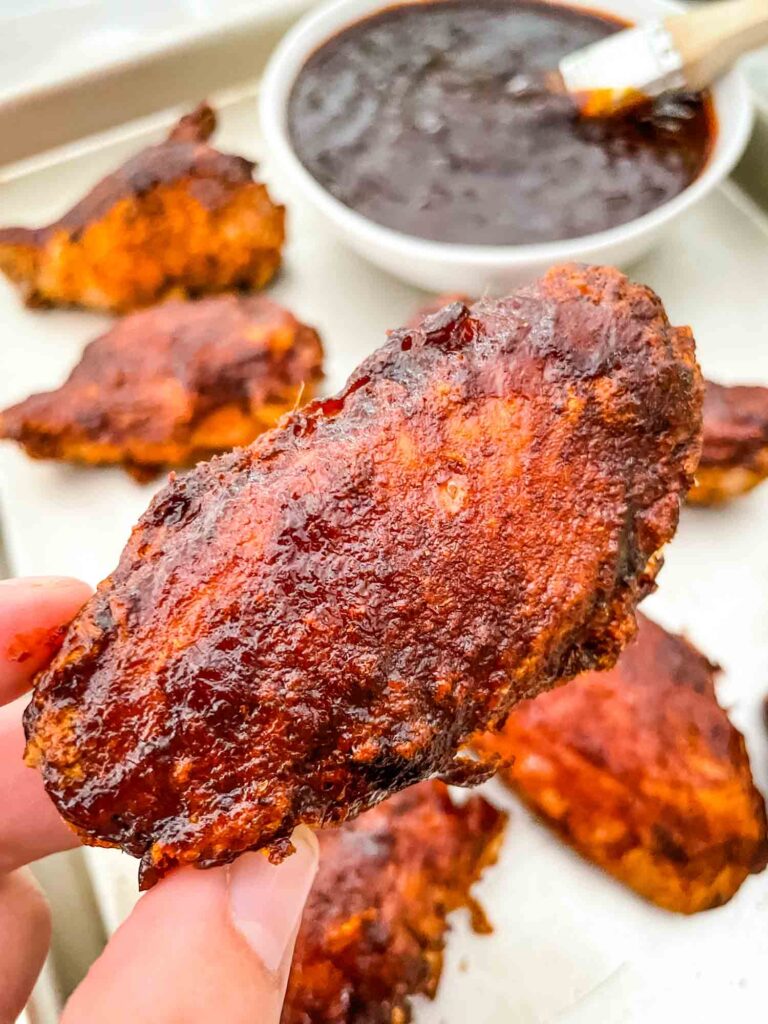 Ingredients
Here is what you need to make these wings:
I love to use my versatile BBR Rub for this recipe, and always have a batch on hand.
My BBQ Sauce is also really versatile and a great balance of smoky, sweet, and tangy!
Equipment Needed
Smoker
Tongs
Basting Brush (if basting)
Large Bowl (for applying rub)
Smoking Chips/Pellets – Luckily you can use just about any flavor wood that you may be using for other recipes.

Hickory pellets are our favorite go to since it has a strong and slightly sweet flavor.
Oak pellets are another great option as it is a lighter flavor.
Mesquite pellets are a popular choice that has a strong flavor like hickory but is also sweeter.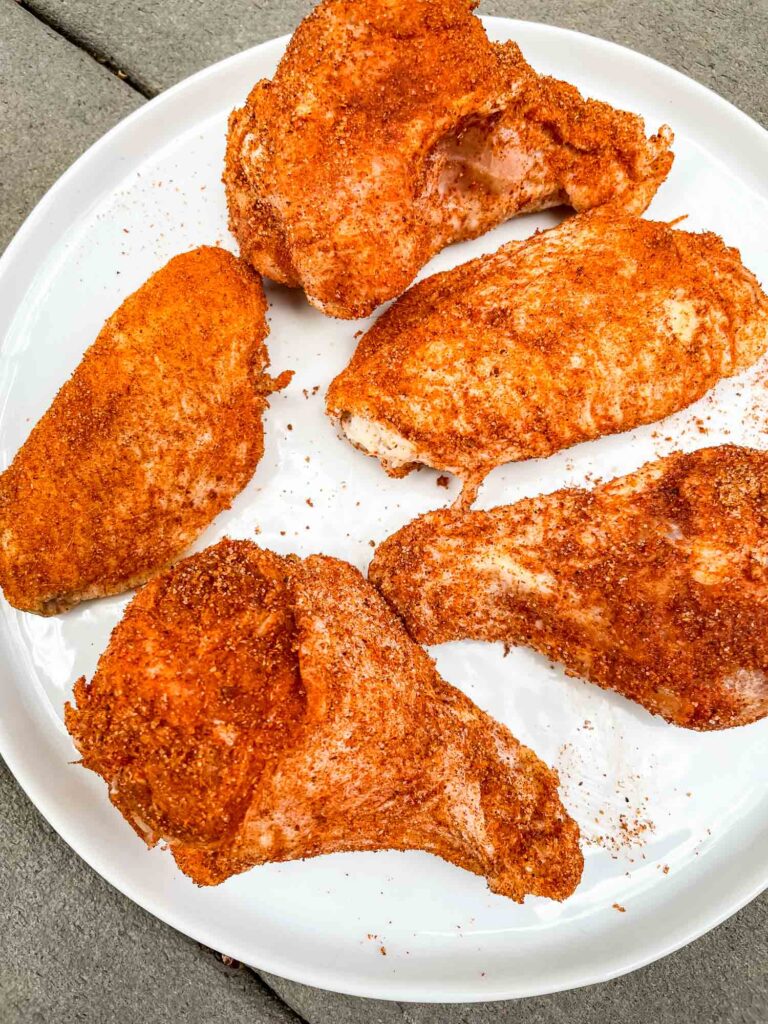 Instruction Overview
How do I make Smoked Chicken Wings? First preheat your smoker.
Pat your wings dry to eliminate extra moisture.
Apply the BBQ rub to all sides.
Insert your meat thermometer, if using, and get the wings on the smoker.
Smoke until they are 165F inside, about 2 hours.
Rest 10 minutes before serving.
Kim's Tips
Give yourself some extra buffer time for cooking, just in case it stalls. Stalling is when the temperature does not continue to increase inside the meat and delays the finished time to cook.
Use a meat thermometer that can be left in the chicken so you know when it is done and can check on it. We use the Meater digital wireless meat thermometer which is amazing because it has preset options, timers, and alarms.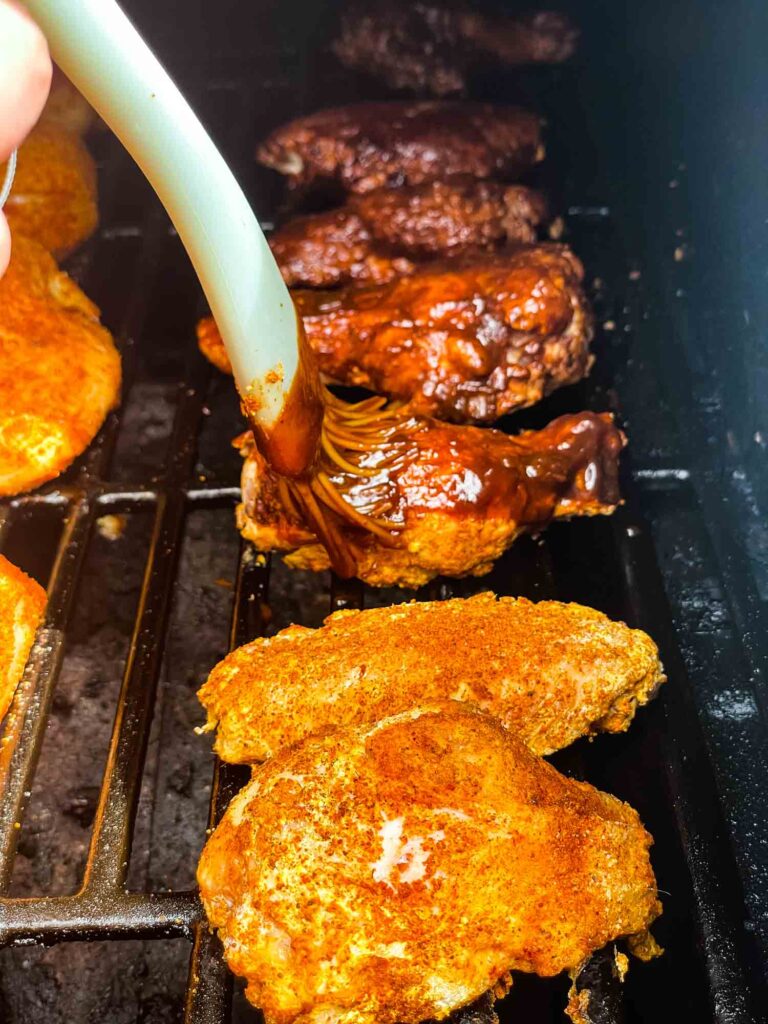 Smoking with a Pellet Smoker versus a Grill
A pellet smoker is specifically designed for smoking, typically just called a smoker. You would use pellets which are small pill-like pieces of wood that have been pressed together.
You can also smoke in a grill by using wood chips that are soaked in water.
What is preferred?
We have a combo grill/pellet smoker that has both options side by side. The pellet smoker makes it super easy as things are "automated" where the temperature stays constant and you have to do little maintenance during cooking.
A grill requires more work with reloading new chips with water once they run out of steam. It is more effort but a great option if you do not want a literal smoker.
If you plan to do a lot of smoking, I recommend getting a smoker or the combo grill/smoker!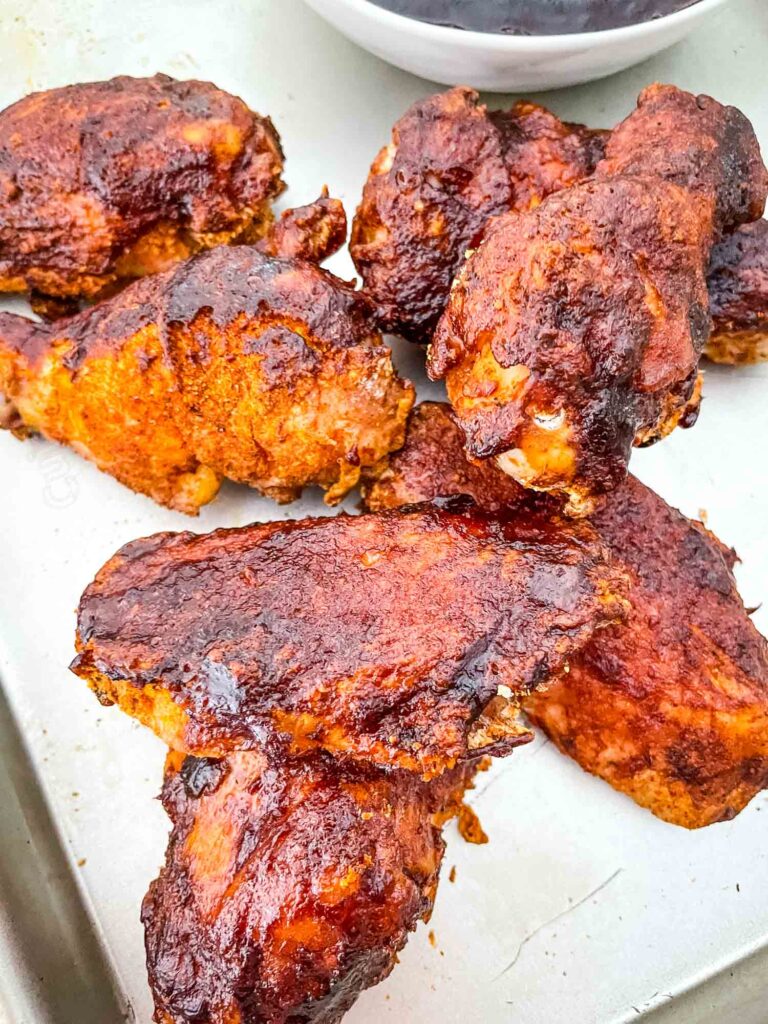 FAQs
How Long does it Take to Smoke Chicken Wings at 225?
Should you Flip Wings when Smoking?
It is not necessary, but you can if you feel like there are hot or cold spots inside the smoker. The rotating and turning will help the wings cook at the same speed if they all take turns in the hot or cold spots, which include flipping.
How Do I Get the Skin Crispy on Smoked Chicken?
You can crank up the smoker the last 5 or so minutes of cooking to 500F, or as high as it will go if lower.
The high heat should help crisp up the wings and skin.
You also might want to skip any BBQ sauce or basting of the wings since the moisture will undo any crisp effect.
Does Baking Soda Make Wings Crispy?
Some people swear by this and says it helps amp up the browning, and therefore crisping, process.
I tried this, and it did not make a difference for me. But there is no harm in trying if you are looking for a crisp wing!
Are Smoked Wings Supposed to be Pink?
When any meats are smoked, they can obtain a pink ring around the edges from the smoking process.
This type of pink is completely safe to eat as long as the chicken is cooked through to 165F.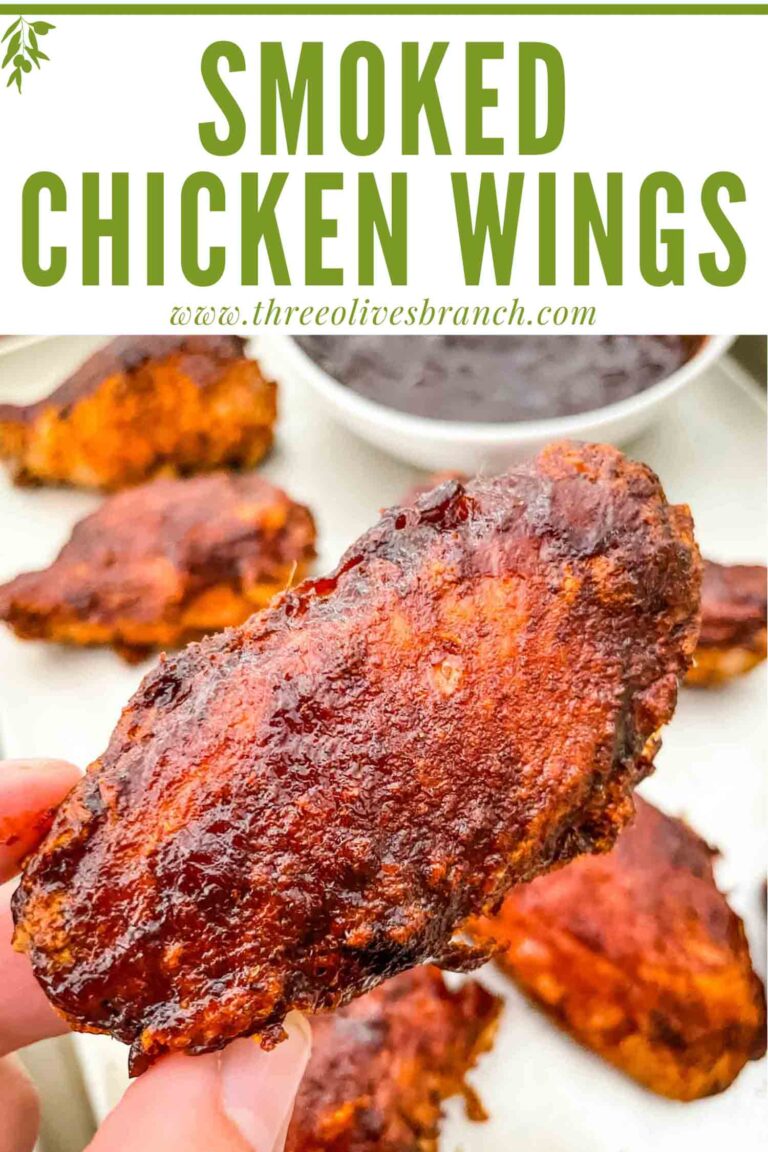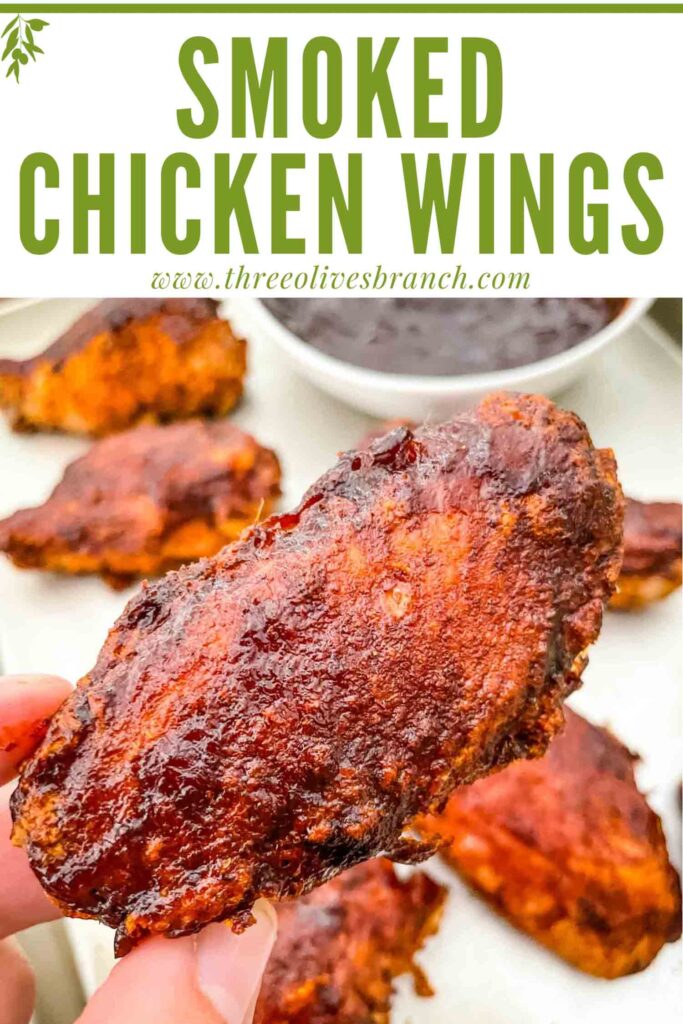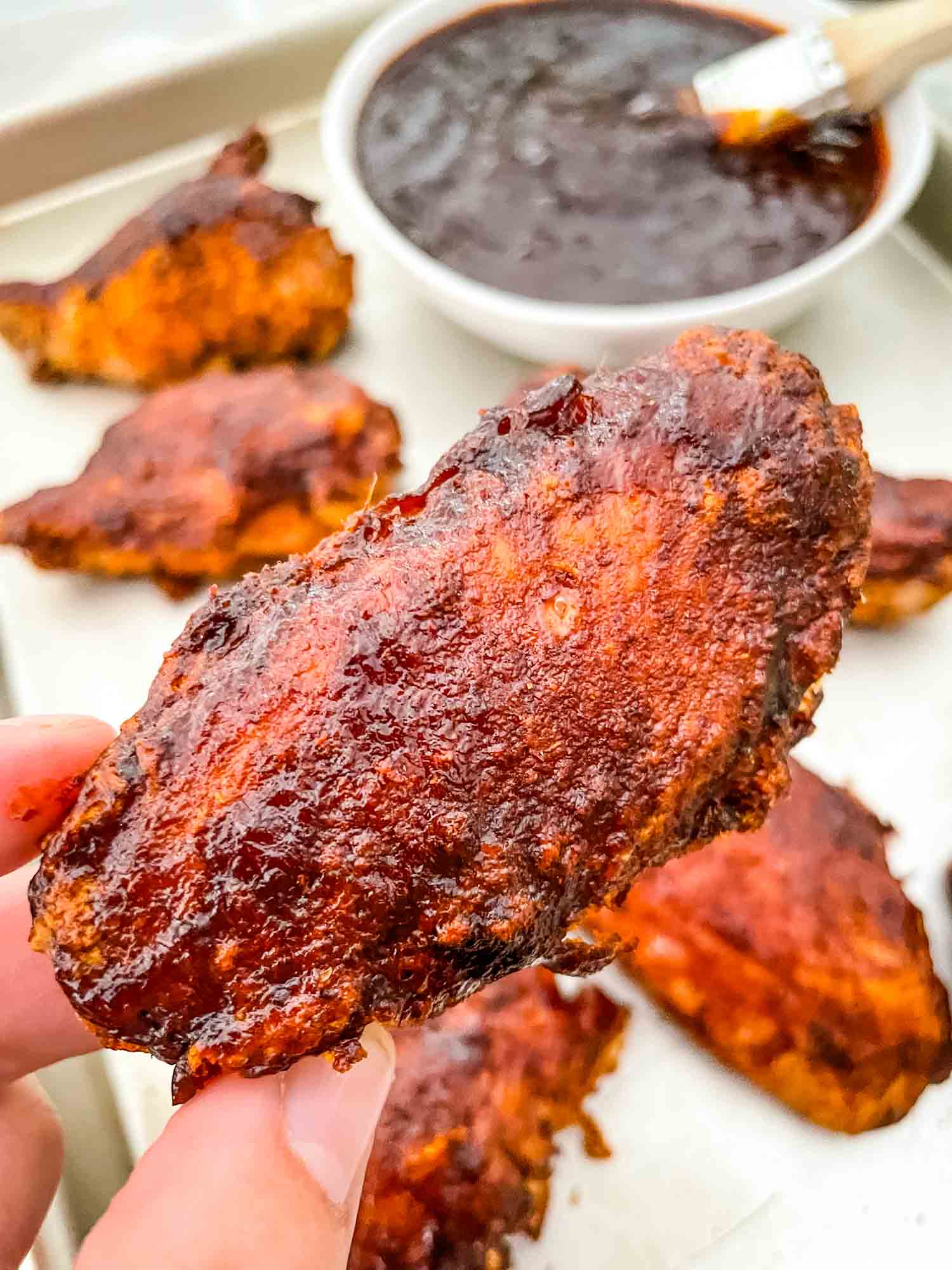 Instructions
Preheat your smoker to 225°F.

Pat the wings dry with a paper towel to remove excess moisture.

If wings are really dry, use a very small amount of oil instead for the rub to stick to.

Apply the rub and rub into the wings on all sides.

Insert a grilling meat thermometer inside a wing at the widest part, away from bones as much as possible.

Put the wings on the smoker and cook until theu reach an internal temperature of 165°F, approximately 2 hours.

If basting, apply BBQ sauce to the wings the last 15 or so minutes (when the temperature is close, around 155°F).

If you want to crisp them up, I suggest skipping the BBQ sauce (serve on the side) and crank up the heat to 500°F (or as high as possible if lower) for 5 minutes at the end.

Rest for 10 minutes before serving.
Notes
Don't have a smoker? You can put your wood chips or pellets of choice in a metal pan with venting holes inside of a grill instead.
Easily multiply this recipe for as many wings as you need!
Nutrition
Serving:

1

wing

|

Calories:

119

kcal

|

Carbohydrates:

7

g

|

Protein:

8

g

|

Fat:

7

g

|

Saturated Fat:

2

g

|

Polyunsaturated Fat:

2

g

|

Monounsaturated Fat:

3

g

|

Trans Fat:

0.1

g

|

Cholesterol:

31

mg

|

Sodium:

572

mg

|

Potassium:

193

mg

|

Fiber:

1

g

|

Sugar:

5

g

|

Vitamin A:

706

IU

|

Vitamin C:

1

mg

|

Calcium:

24

mg

|

Iron:

1

mg

By