Cherry Tart is a simple fresh fruit dessert recipe with an almond crust. Use fresh or frozen cherries.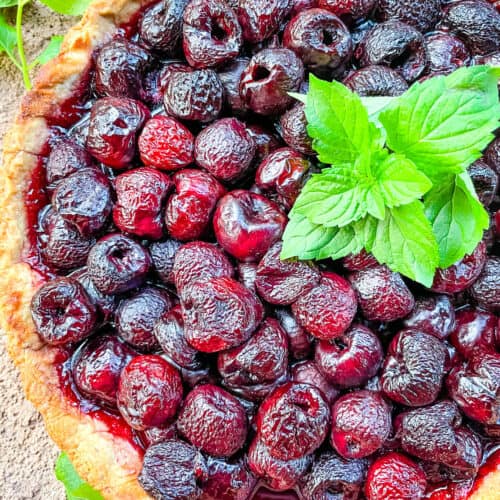 This Cherry Tart is made with just a few ingredients for an amazing fruit dessert recipe! Serve it up with ice cream, whipped cream, or plain!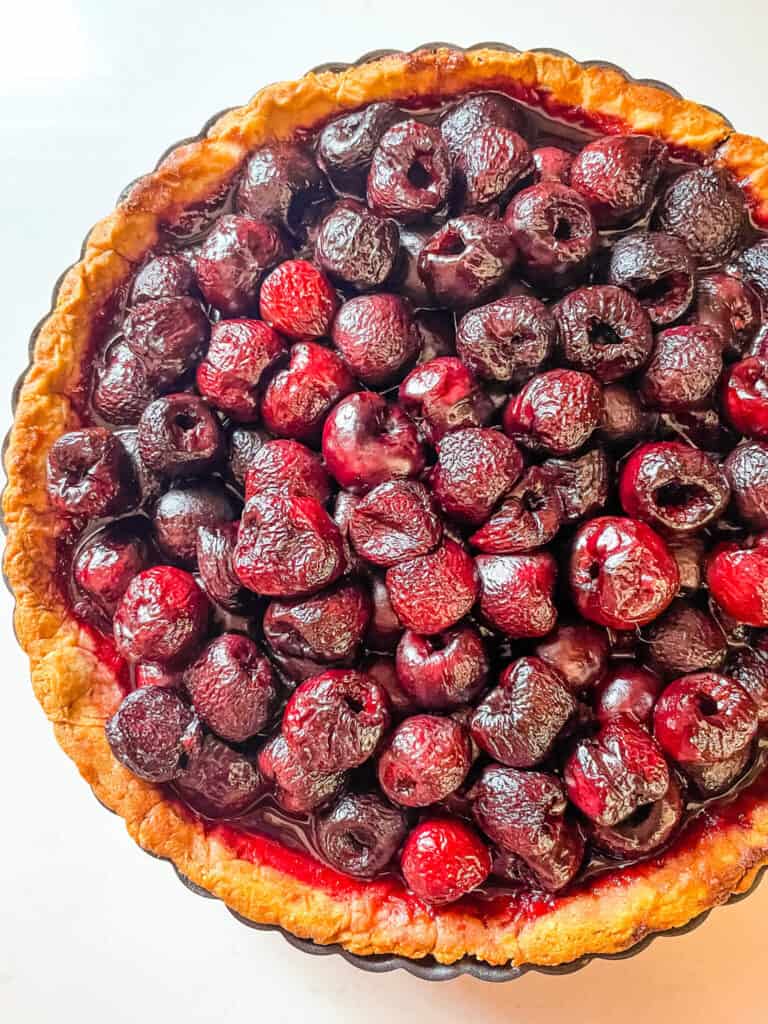 Why You Will Love This Recipe
Making fruit dessert recipes in the summer is one of my favorite things!
And even if it is not the summer, I still get around to making them using frozen fruits.
Whether it is a Peach Pie or Apple and Blueberry Crumble, I love them all.
Cherry tarts are a delicious dessert made with a pastry crust that is filled with a sweet cherry filling.
We skip the pastry cream for this recipe and stick with a straight rustic cherry filling.
Tarts may take a little longer than some other desserts, but they are amazing and worth it!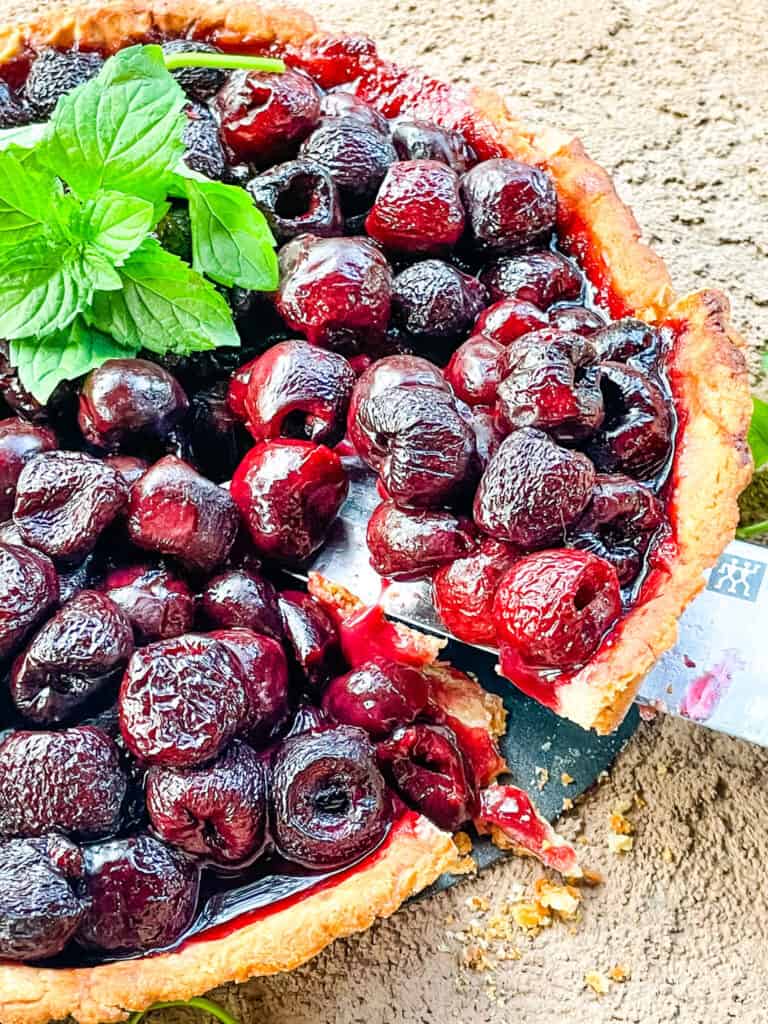 Which cherry is the best?
Bing cherries are the most common to come by. They have the classic heart shape and are very versatile, perfect for all sorts of baking and fresh eating.
Rainier cherries are beautiful with their pink and yellow color. They are actually sweeter than dark cherries and have an even shorter growing season.
Not sure if you are looking at a sweet or tart cherry variety?
Sweet cherries tend to be more of a heart shape and sour cherries tend to be more round. Most of the cherries you find in the produce section are sweet, and most that are frozen or used for juice are tart.
Ultimately, deciding between sweet and tart cherries comes down to preference. Most recipes assume you are using tart cherries paired up with a sugar for sweetness.
Fresh vs Frozen Cherries
I love to make a fresh cherry filling whenever possible.
But frozen cherries will work perfectly as well! Just make sure you thaw and drain them first as they will have extra moisture in them.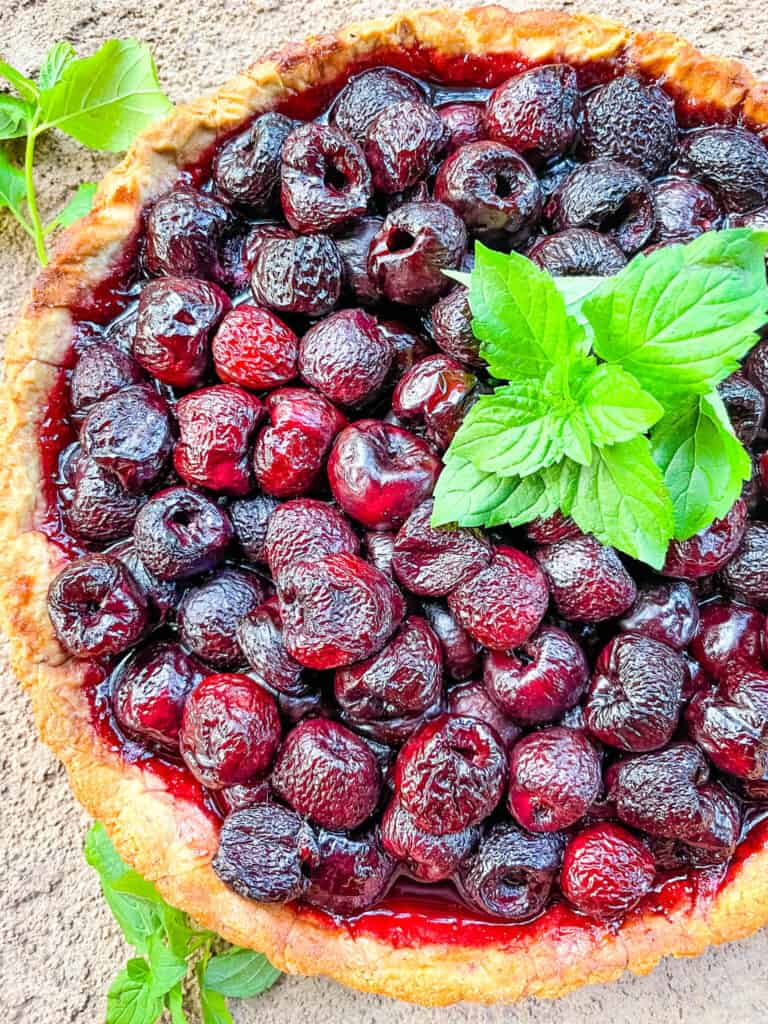 Sweet or Sour Cherries
It is difficult to find a sour cherry sold fresh or frozen. They are typically sold in cans or jars.
They are great for baking such as this cherry tart, however since they are difficult to find fresh, they will be difficult to use in this recipe. Being packed with sugars and other flavorings will change the flavors of this tart.
This tart recipe is designed for sweet cherries, which is most likely what you can find and buy, just like you would a cherry pie.
A cherry tart is similar to a cherry pie, but without a top crust.
Preparing the Cherries
I love using fresh cherries when they are in season. You can also use frozen cherries.
For fresh cherries, wash the fruit and then remove the pits and stems. This is one of those rare circumstances where I believe in a single-use kitchen tool, as a cherry pitter is SO much faster and easier than removing pits by hand.
If using frozen cherries, odds are the stems and seeds have been removed already. So simply let them thaw and drain off the excess moisture in a strainer so that your tart is not soggy.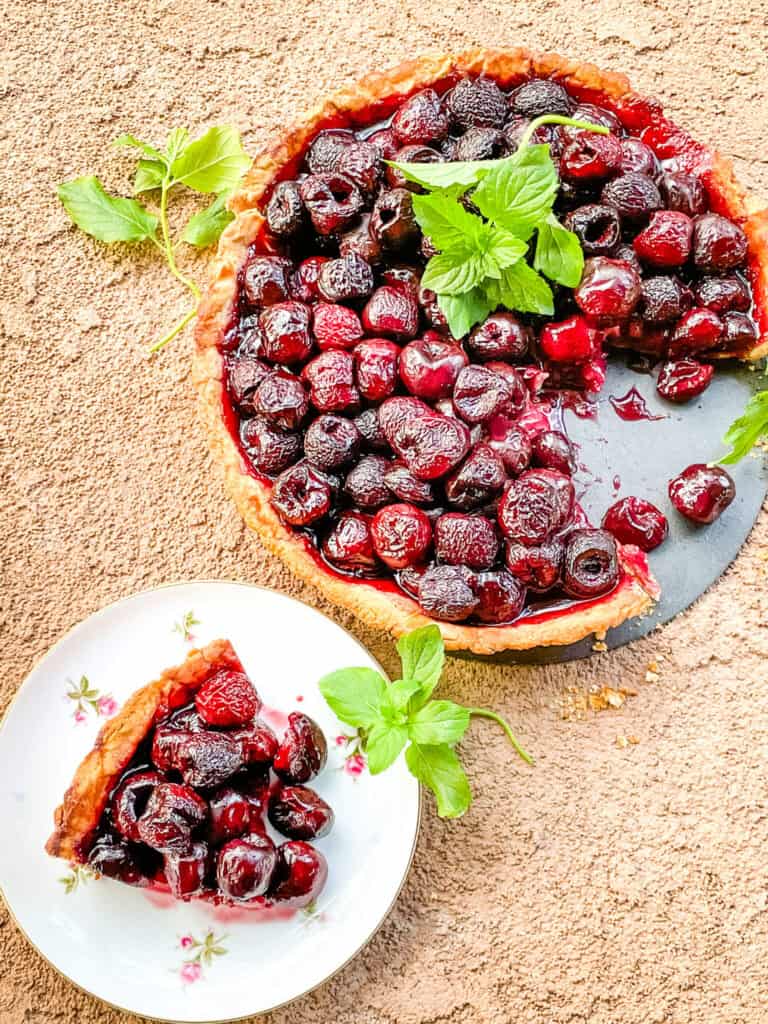 Instruction Summary
Have your almond tart crust ready to go, or whichever tart crust you are using.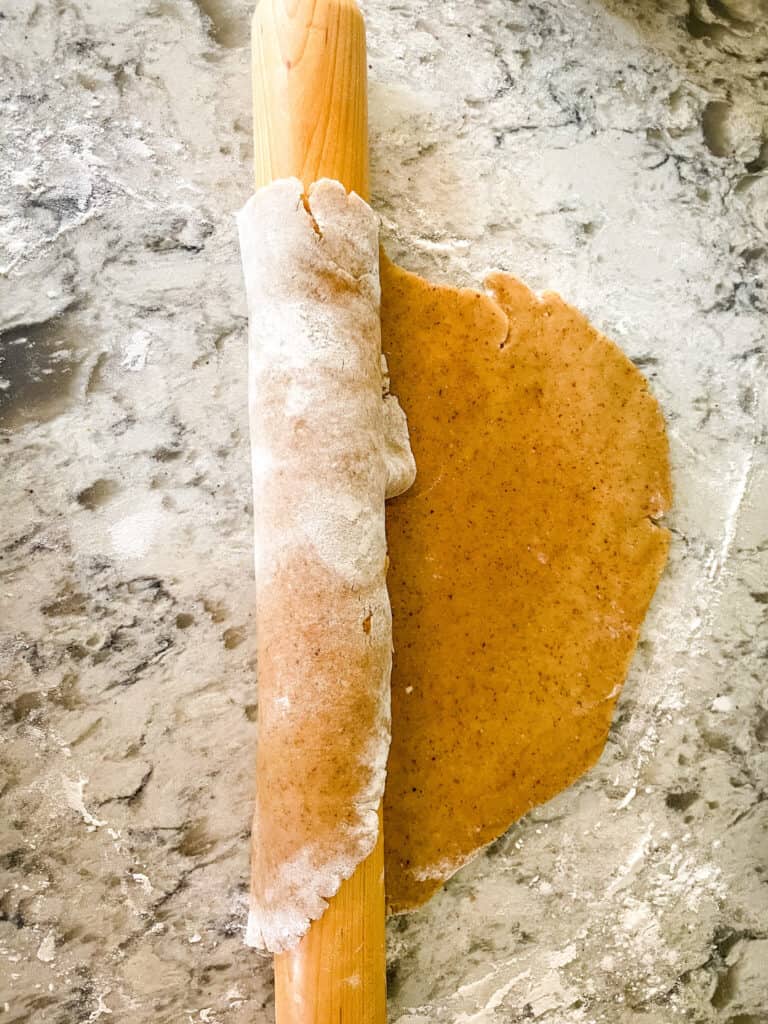 For this fresh cherry tart recipe, I blind bake the tart shell in the tart pan (baking without the filling) for a couple minutes to help prevent the dough from being soggy.
Don't bake too long or else the tart crust will be overdone at the end! I cook it for approximately 20 minutes or until it is just setting and starting to turn a very light brown on the edges.
Meanwhile, get your filling ready to go with the cherries and filling ingredients. The cornstarch is what will thicken the sauce of the cherries.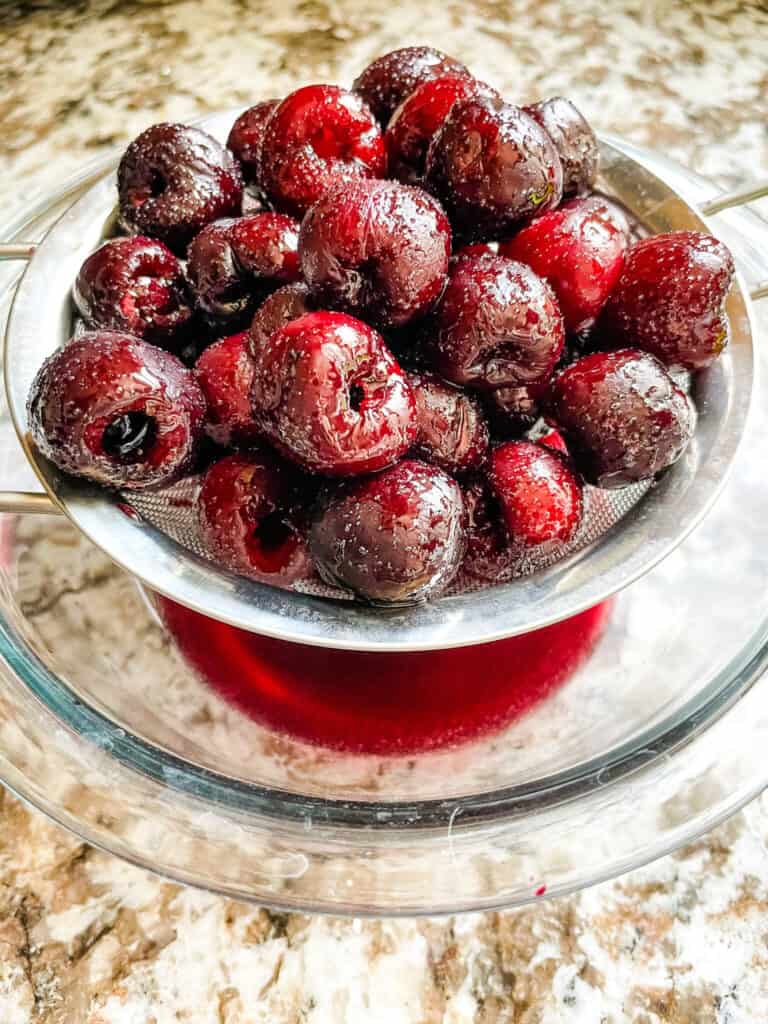 When the tart crust is blind baked and ready, pour in the cherry mixture.
Then bake it again until the tart is set. Remove from the oven.
Add the cherries into the tart shell and bake again. Then let the tart set for two hours for the sauce to thicken up. You will also have a beautiful golden brown crust!
This cherry tart recipe would be great served with ice cream, whipped cream, or plain!
FAQs
What makes a dessert a tart?
A tart is shallow with a pastry crust and no top crust.
Traditionally a pie has a top crust or at least a lattice or decoration. A pie is also typically taller (deeper) than a tart.
Is tart cherry a type of cherry?
Yes. Cherries can be either tart or sweet. You can use either one for the recipe, with a sweet cherry resulting in an extra sweet tart.
What is the difference between a tart cherry and a cherry?
Tart cherries tend to be a brighter red with a crisper, tarter taste. Sweet cherries tend to be a darker color and a less tart, more sweet, flavor.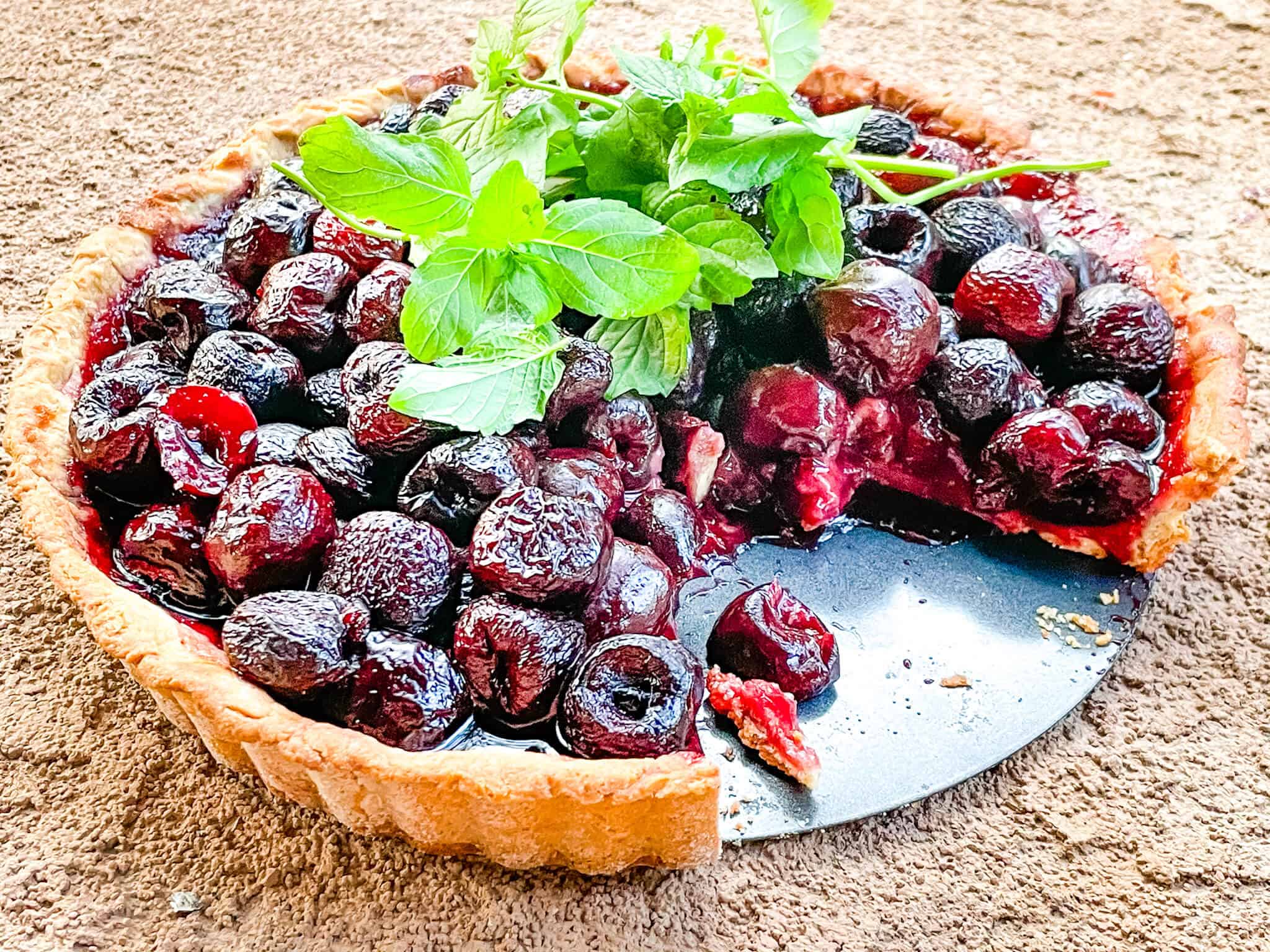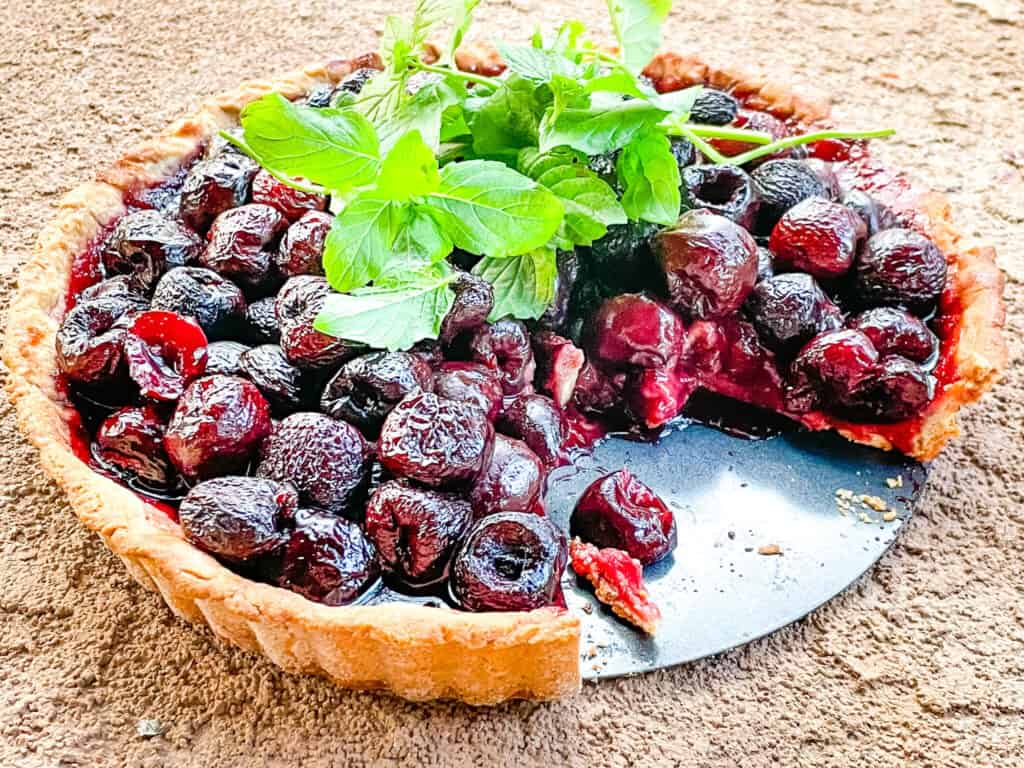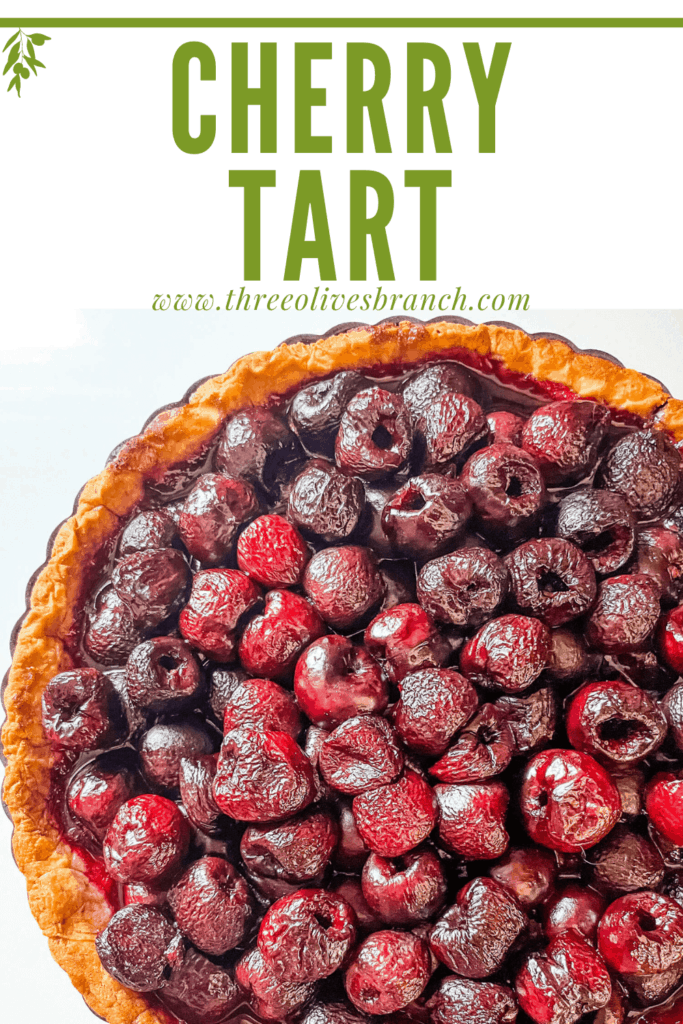 Shop
More Cherry Recipes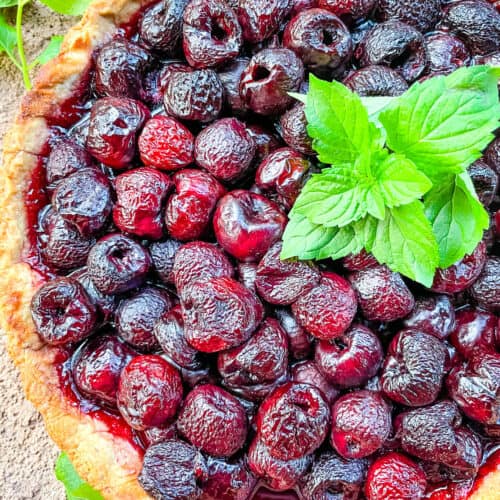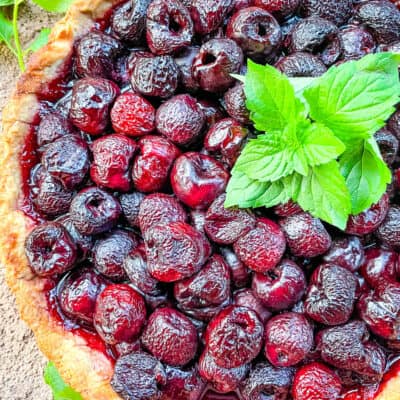 Cherry Tart Recipe
Cherry Tart is a simple fresh fruit dessert recipe with an almond crust. Use fresh or frozen cherries.
Print
Pin
Rate
Instructions
Remove the pits and stems from the cherries, or thaw frozen cherries and drain. Put cherries in a large bowl with 1 cup sugar and mix. Let sit for 1 hour until the cherries start releasing their juices.

Have your tart dough prepared and pressed into the tart pan, ready to go. Roll it out wide enough to fit your tart pan. Roll it back onto the rolling pin to help place in the tart pan. Press dough into the pan and patch and holes or cracks as needed.

Freeze the tart pan with the dough in it for 30 minutes.

Remove the dough from the freezer. Place foil over the tart dough and pour pie weights or dry beans on top. (I have used garden rocks in a pinch!)

Blind bake (baking without the filling) like this for 20 minutes.

While the crust is cooking, when cherries have set for an hour, strain the juice from the cherries and put the cherries back in the large bowl. Add ¼ cup of the juice you strained off of the cherries back to the bowl. Discard the rest or use for drinks and cocktails.

To the cherries, add the lemon juice, cornstarch, cinnamon, and almond extract. Add a pinch of salt. Stir together until combined.

Remove the tart shell from the oven and remove the pie weights and foil from the pan.

Pour the cherries into the tart crust.

Place the tart back in the oven and continue cooking until the juice are bubbling, approximately 25 minutes. If the crust edges are getting too dark, you can place tin foil along the edges or use a pie crust guard.

Let the tart cool and the juices thicken for 2 hours before serving.
Nutrition
Serving:

1

slice

|

Calories:

383

kcal

|

Carbohydrates:

73

g

|

Protein:

6

g

|

Fat:

13

g

|

Saturated Fat:

5

g

|

Polyunsaturated Fat:

2

g

|

Monounsaturated Fat:

5

g

|

Trans Fat:

1

g

|

Cholesterol:

42

mg

|

Sodium:

109

mg

|

Potassium:

409

mg

|

Fiber:

5

g

|

Sugar:

44

g

|

Vitamin A:

344

IU

|

Vitamin C:

11

mg

|

Calcium:

51

mg

|

Iron:

2

mg

By