This homemade Peach Pie Filling is a delicious and simple flavor for a stone fruit dessert. Fresh or frozen peaches plus pie baking tips.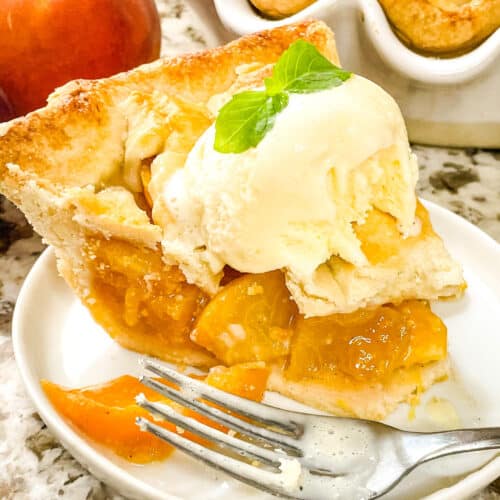 This Peach Pie Filling is full of simple and delicious flavors! Enjoy the sweetness of peaches in a flaky homemade pie recipe.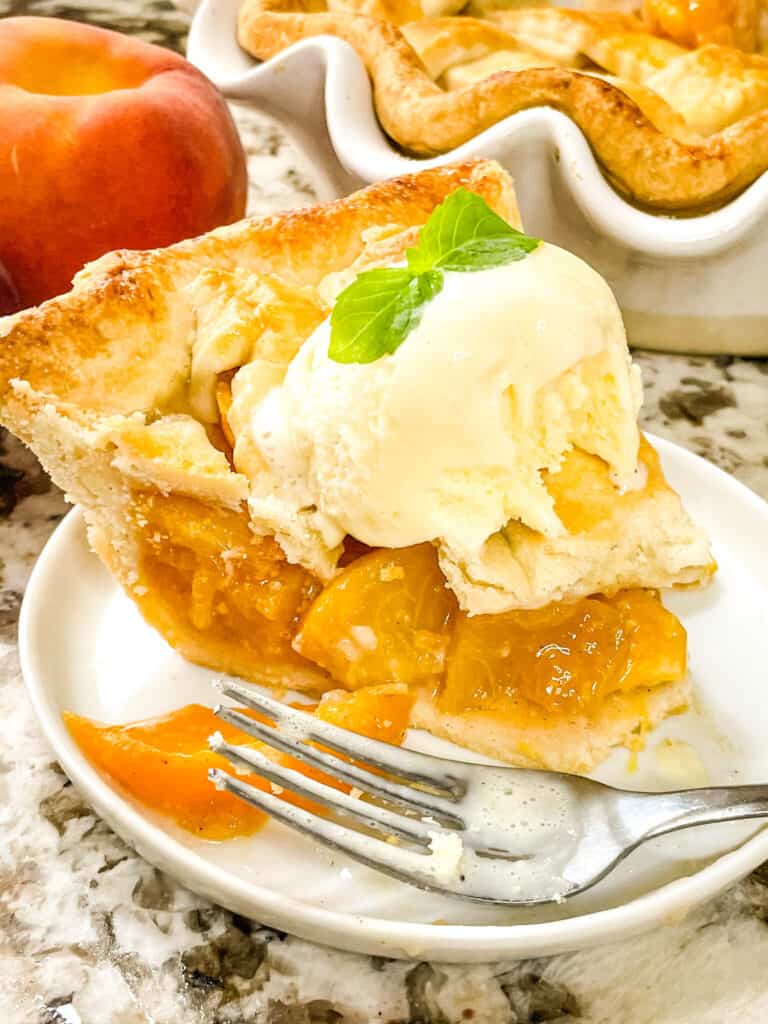 Peach Pie Filling
I love the abundance of peaches that comes every summer and make as many different recipes as I can with them!
Of course, a homemade peach pie is a staple.
This filling recipe highlights the flavors of the peach and can be used in your favorite pie crust.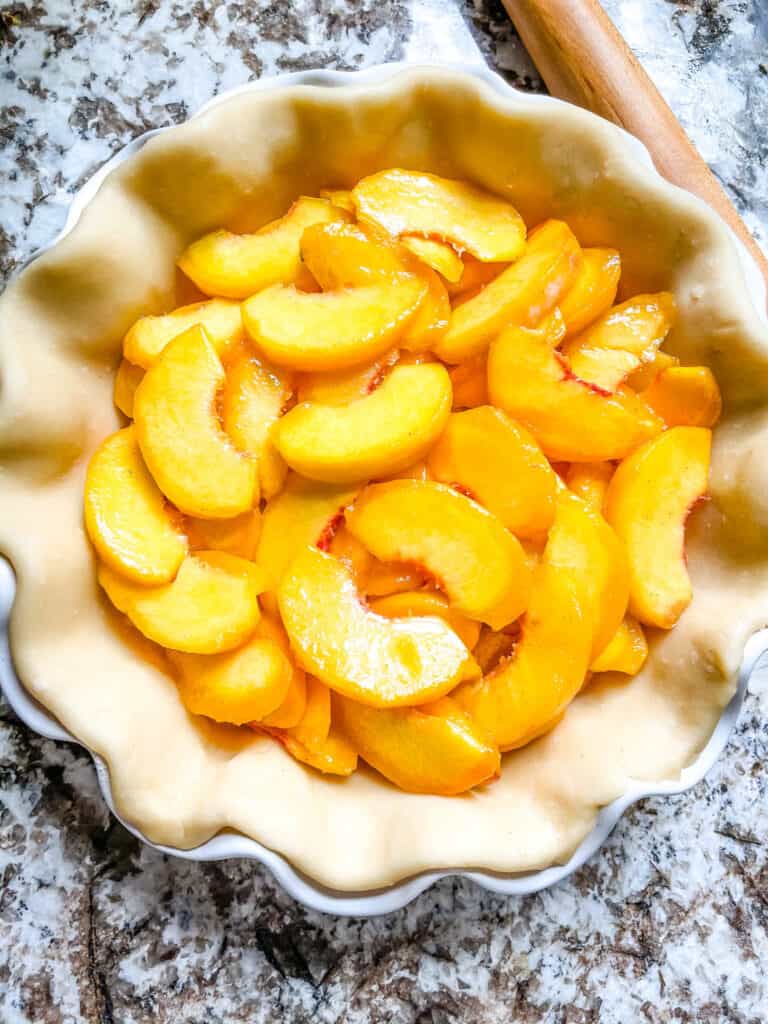 Can I use canned peaches instead of fresh?
Yes. Keep in mind that canned peaches have flavorings and juices that may alter the final flavor of the pie as well.
You will want to use the same weight of canned peaches to fresh peaches.
Can I substitute frozen peaches for fresh in a pie?
Yes! Frozen peaches are the best alternative to fresh as they are not sitting in a sugar liquid, so the flavor will not be as altered as a canned peach.
But do make sure that you fully thaw the peaches and drain them well to remove excess moisture before starting the recipe.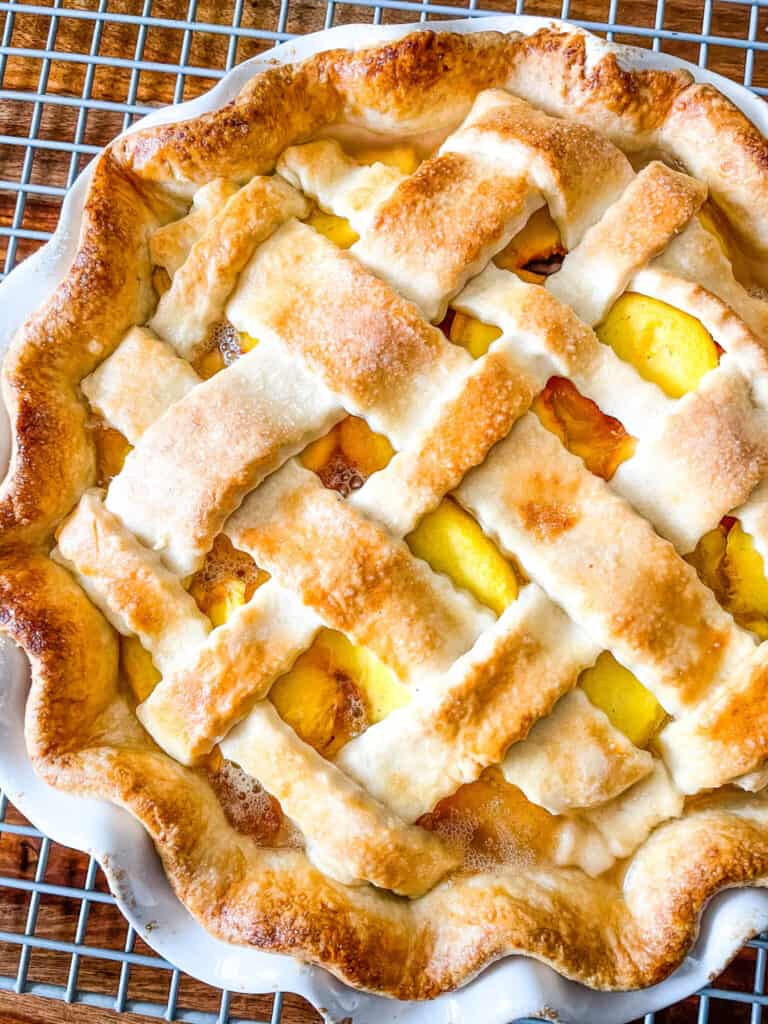 How do you thicken peach pie filling?
I like to use cornstarch for the pie filling.
You can also use other thickeners such as flour, arrowroot powder, or tapioca powder. But note that the amount you need might be different (search for conversion ratios).
The pie filling will look thin until it is cooked where the heat activates the thickening agent. And it might still look thin until it fully sets and cools.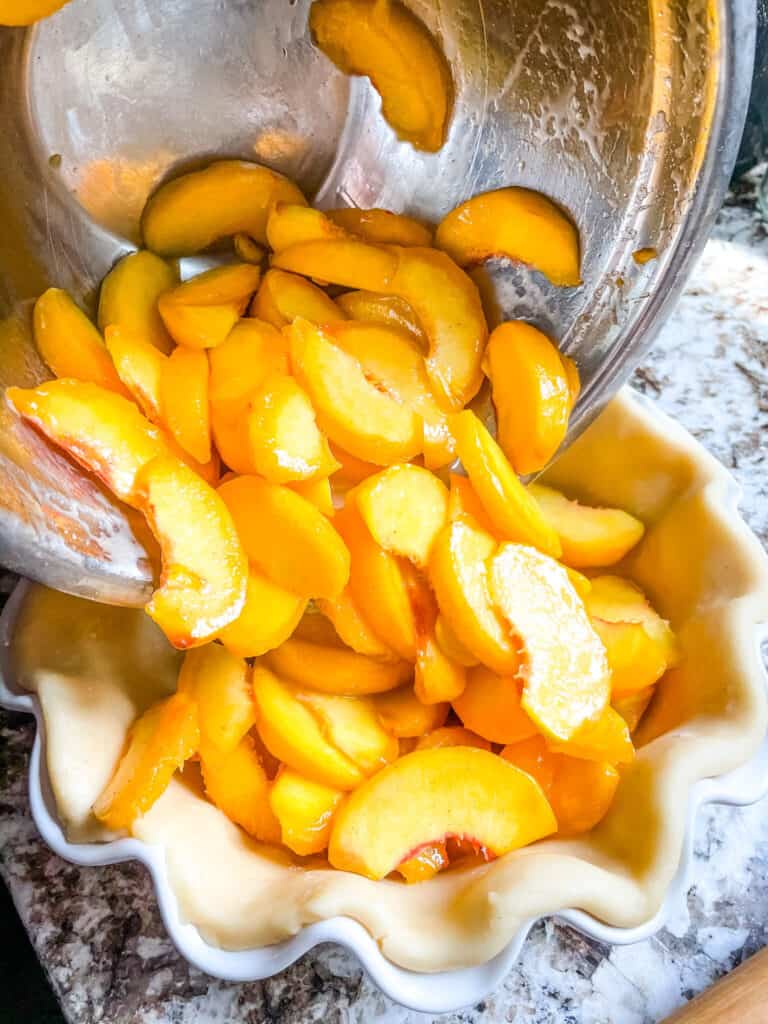 How do you fix a runny pie filling?
If your pie is already cooked and it is still runny, there are two things you can try.
First, you can cook a little longer if your crust is not verging on too dark for your preference.
The second option is to drain some of the juices. Using a turkey baster is perfect for this.
I would not recommend trying to fix a runny pie until it has cooled since it will still thicken in the cooling process.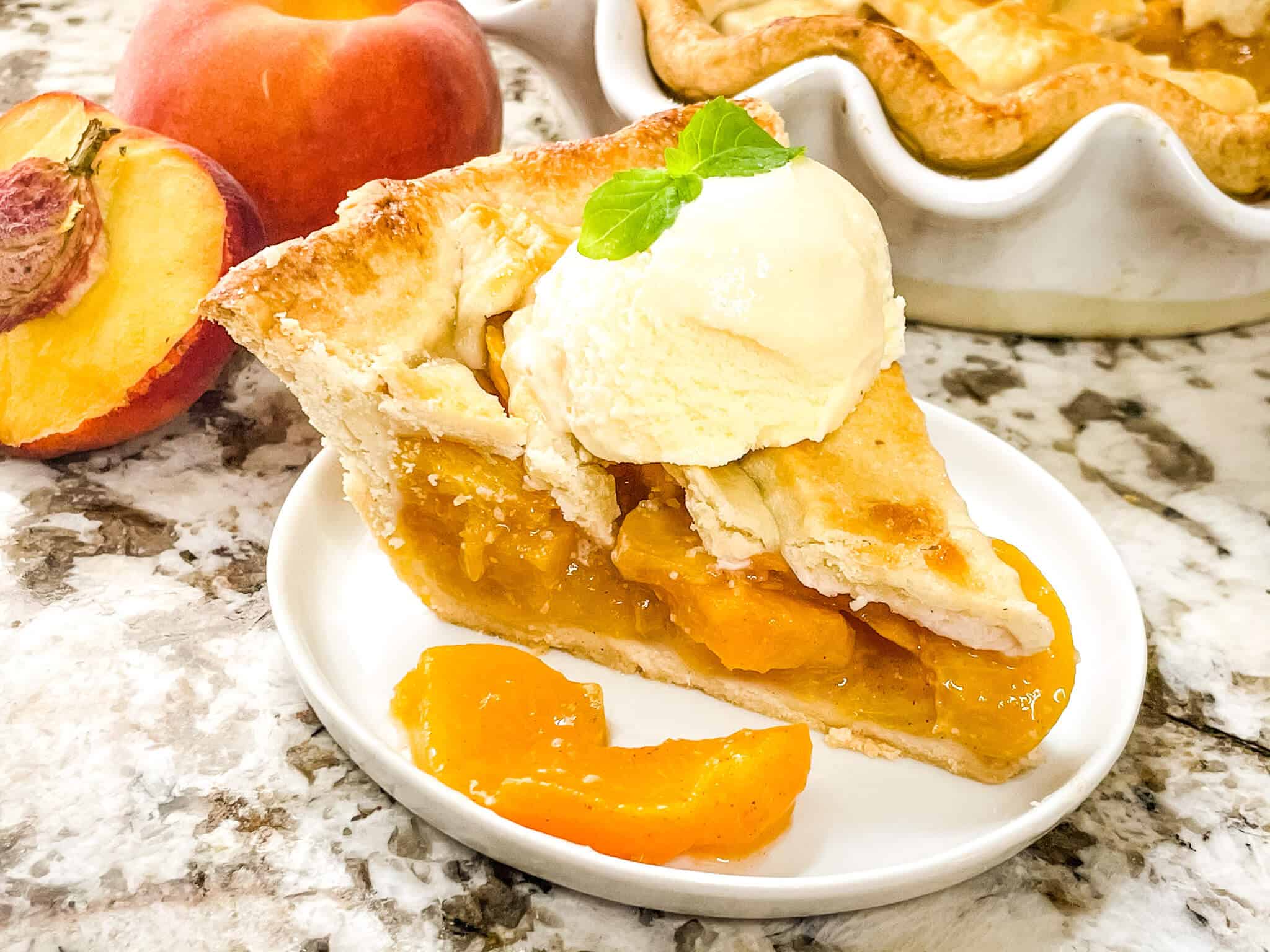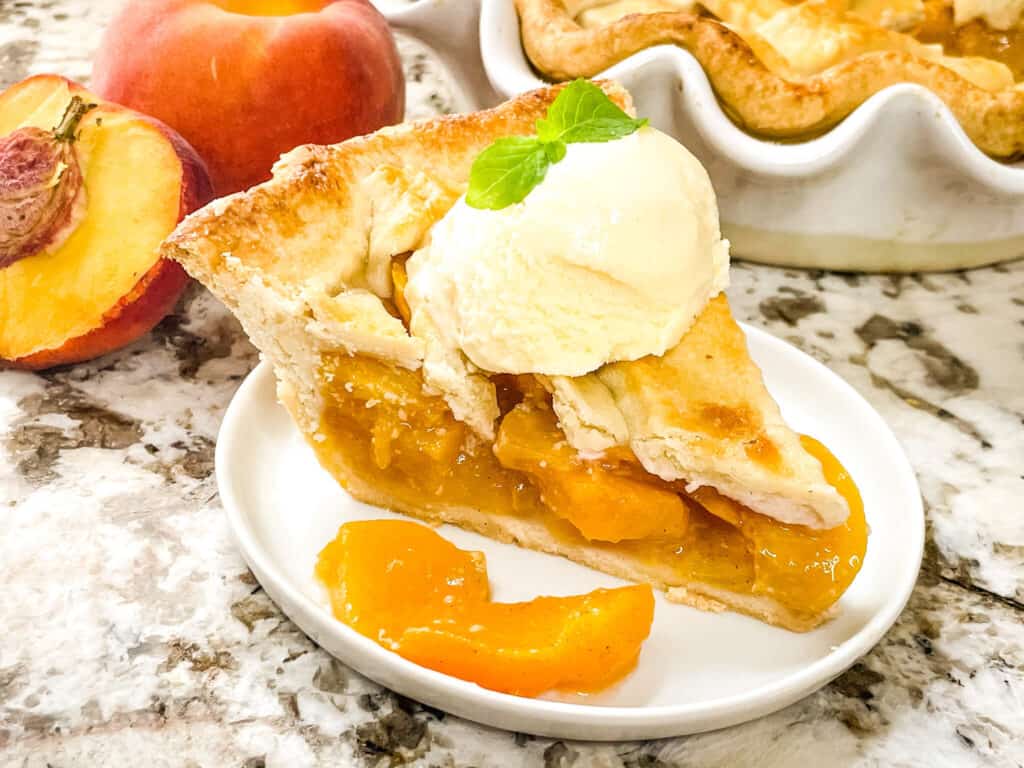 Making the Peach Pie (Instructions)
First you need to peel the peaches and remove the pits. Then get them sliced up, 1/4 to 1/2 inch thick depending on preference.
Let them sit with some sugar to release their juices. You will have leftover juice in this step which I love to use in drinks!
Then mix the peaches with the rest of the filling ingredients like cornstarch, cinnamon, and lemon juice.
Your peach pie filling is ready to go! Get it into the pie, add your pie crust top, and bake.
I have included instructions for baking using my favorite Easy Food Processor Pie Crust but you can use other crusts as well.
Let the pie cool and set before serving so that the liquids do not all run out of the pie.
It might look like the pie filling is still runny when you take it out of the oven, but it will set up as it cools.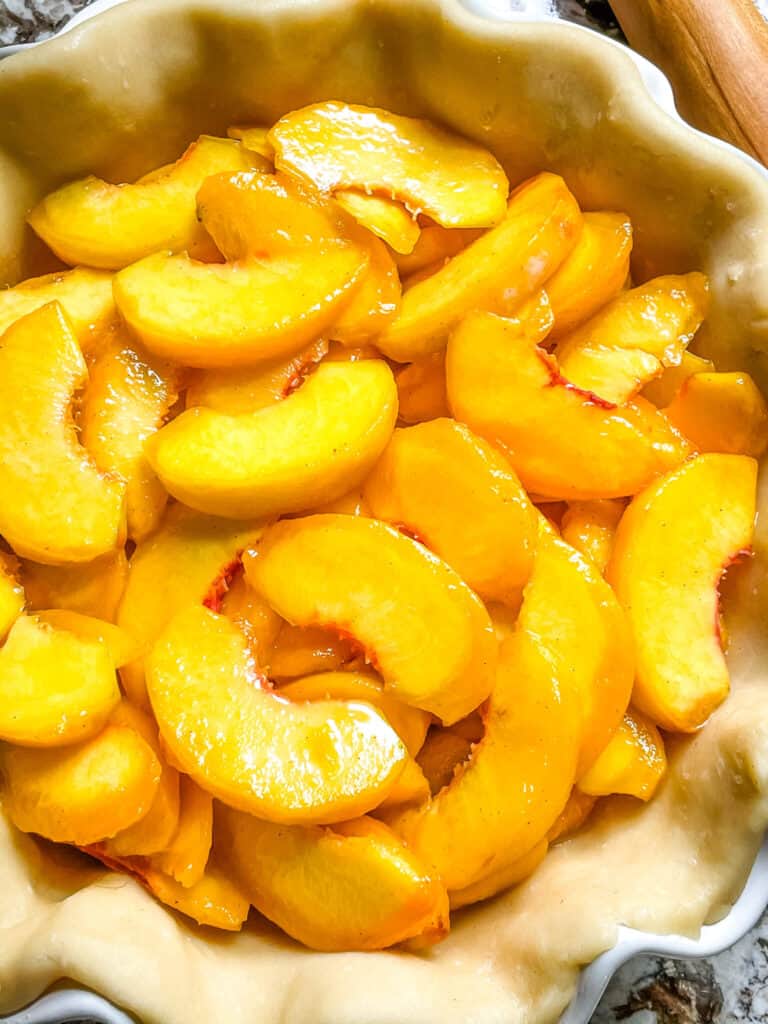 Pie Crust Options
I love to use my Easy Food Processor Pie Crust recipe for this pie. It makes two crusts which is perfect for this peach pie.
You can use any of your favorite pie crust recipes or even store bought pie. But you might need to adjust the cooking instructions based on the crust.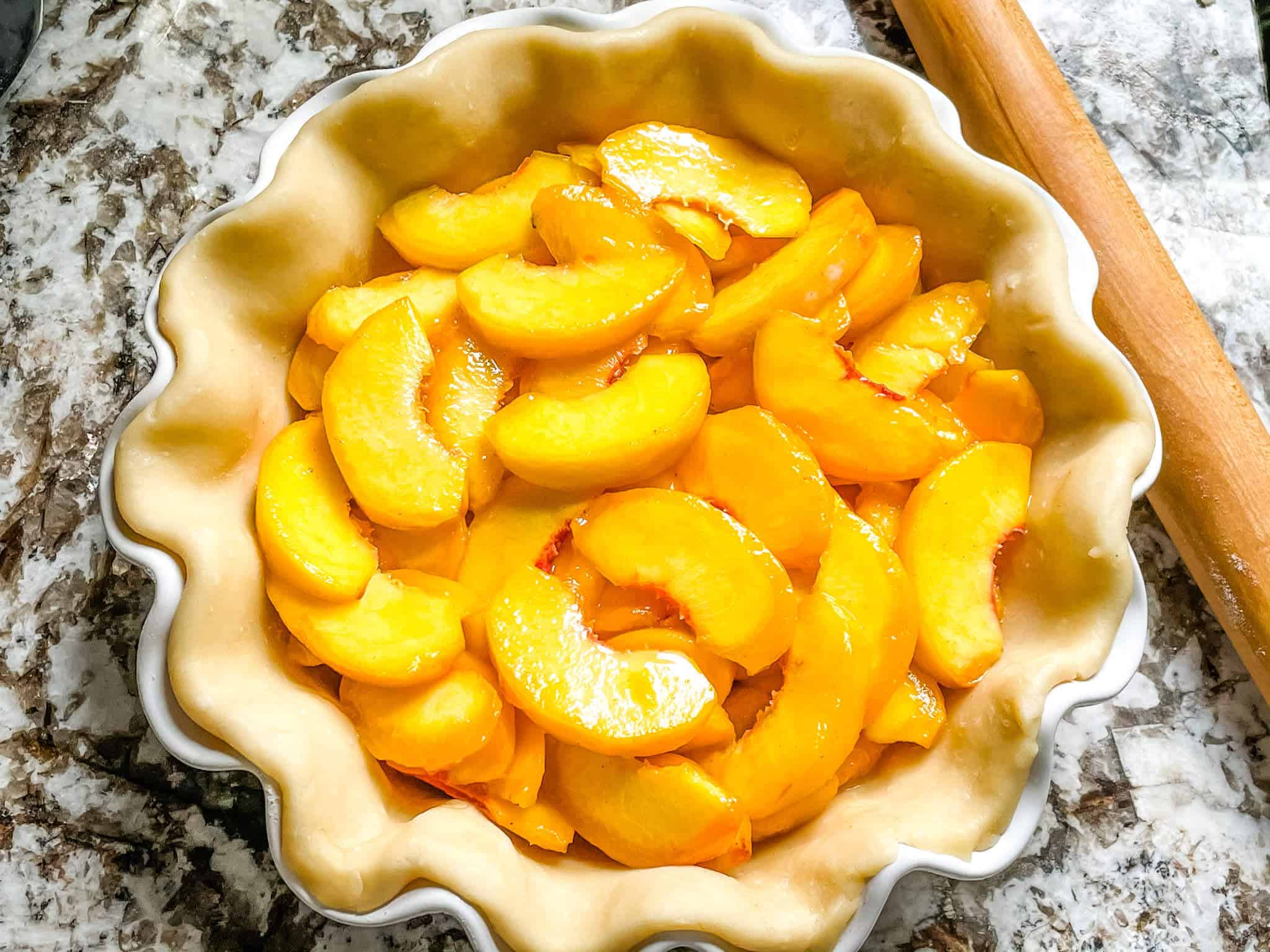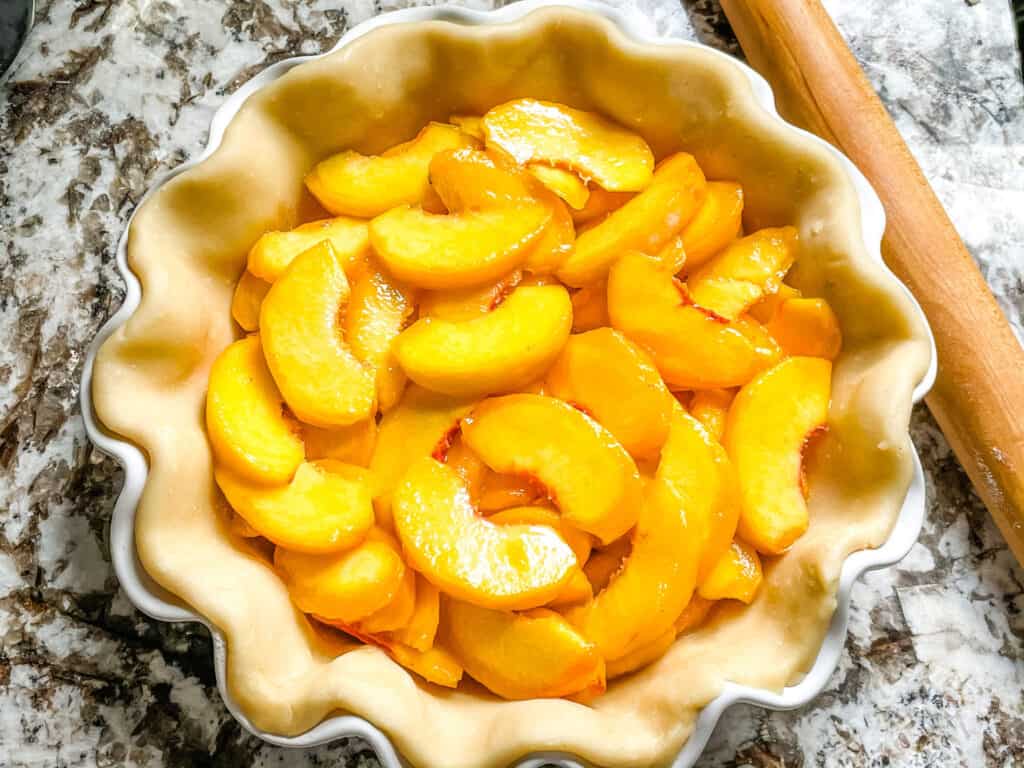 Lattice Crust
Looking to make a lattice crust?
You will need to cut your top crust into strips. I like to make mine different thicknesses, as seen in the pictures.
Lay all of the vertical strips on the pie.
Then gently fold every other one over half way, and place a horizontal strip across the pie. Then flip the vertical pieces back up.
Continue this process for each horizontal piece, alternating the vertical pieces that are flipped down, and this will give you the lattice look.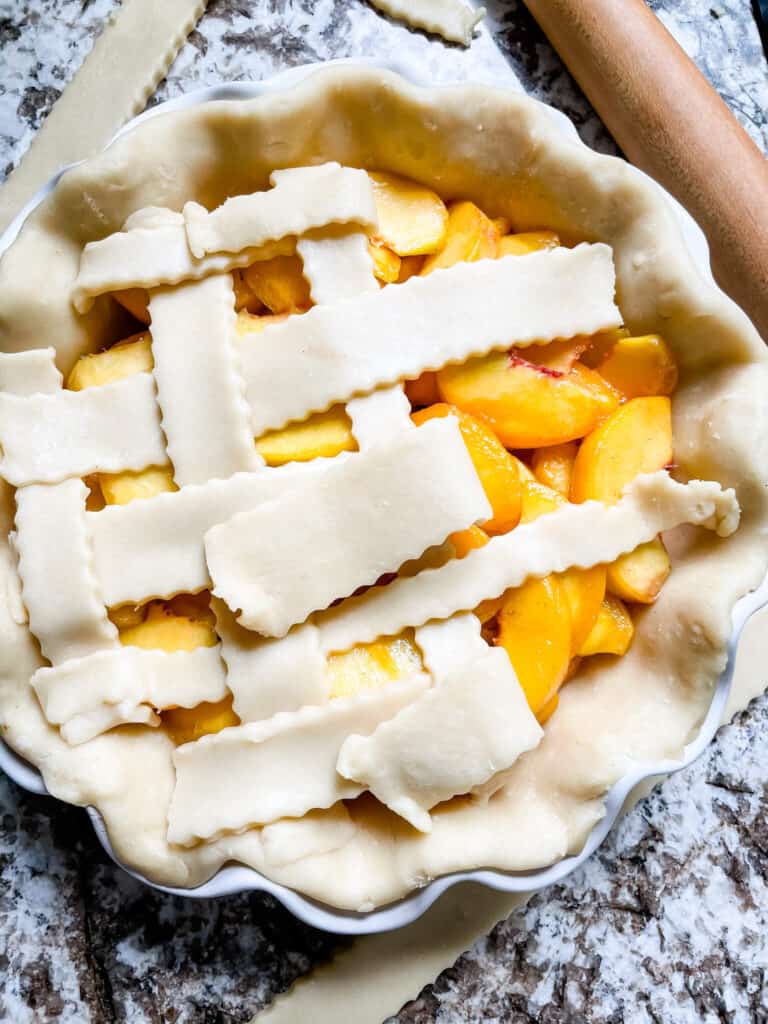 Pie Recipes
Everything related to pie including crust recipes, tips, and pie fillings!
Get tips for making the perfect pie crust!
Peach Recipes
Recipes highlighting delicious peaches!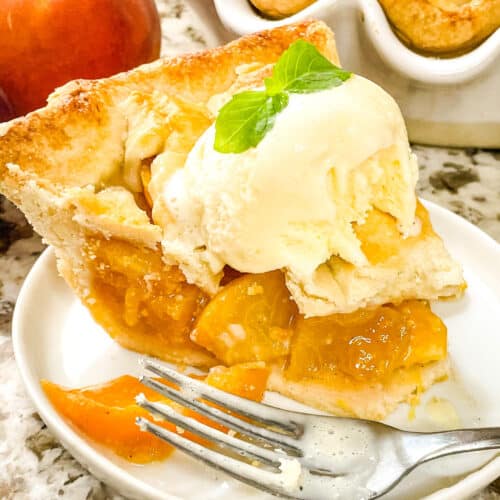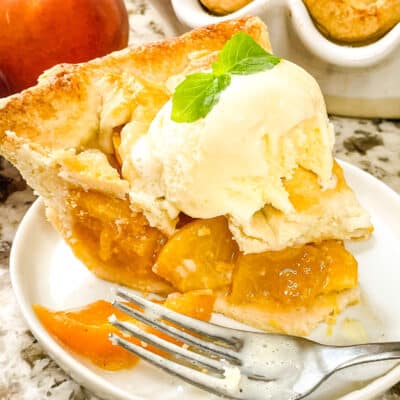 Peach Pie Filling
This homemade Peach Pie Filling is a delicious and simple flavor for a stone fruit dessert. Fresh or frozen peaches plus pie baking tips.
Print
Pin
Rate
Instructions
Toss the peaches with 1 cup of sugar and stir to combine. Let sit, tossing occasionally, until peaches are releasing juices, about 1 hour.

Prepare your pie crust as per instructions for the recipe you are using. If using our food processor pie crust (link below and in ingredients), roll out one crust (half batch) to a 12 inch circle on a lightly floured surface to fit a 9 inch pie plate. Roll or lift it into the pie dish and fit as needed to edges. Refrigerate the crust in the dish for 30 minutes.

Roll out the second pie crust (second half of the dough) to another circle or rectangle shape at least 12 inches in diameter. If making a lattice pie top, cut into strips and slightly separate. Chill the strips (or top whole piece) in the freezer for 30 minutes. (See note).

Peel the peaches and remove the pits. Cut into slices about 1/4 to 1/2 inch thick as desired.

Preheat oven to 425°F (218°C) and put a baking sheet lined with foil on the middle rack.

Drain the peaches, saving ¼ cup of the peach liquid. In a large bowl, combine the peaches, ¼ cup liquid, cornstarch, lemon juice, cinnamon, and salt. Toss until well combined.

Remove the two crusts from the refrigerator/freezer. Pour the peach mixture into the bottom crust pie dish and spread across.

After the frozen strips or top have sat out for about 5-10 minutes, they will be somewhat softer and easier to move. Cover the top of the pie with the top piece or make the lattice top. Trim, fold, and crimp the edges as desired to seal.

Lightly beat the egg white. Brush the top crust piece(s) with the egg white. Sprinkle with 1 Tablespoon sugar.

Place on the foil lined baking sheet and bake for 20-25 minutes until the crust is a golden brown.

Reduce heat to 375°F (190°C), rotate the baking sheet, and cook until the juices are bubbling and crust is a deep golden brown, approximately 25-30 minutes more.

Let the pie cool on a cooling rack until set, approximately 2 hours. Serve either warm or at room temperature.
Notes
Pie can be made fully in advance up to one day ahead, or make the crust, cover, and refrigerate before rolling out up to 2 days in advance.
Learn how to peel peaches for this recipe.
I like to use my Easy Food Processor Pie Crust for this recipe. One recipe makes two crusts, perfect for this pie.
Get perfect pie crust tips that you can incorporate into your baking.
If using a full top crust instead of lattice or strips, cut venting slits into the top to allow steam to escape. You might also end up with a thinner filling (more liquid) since it cannot evaporate as easily.
Nutrition
Serving:

1

slice (including crusts)

|

Calories:

359

kcal

|

Carbohydrates:

62

g

|

Protein:

4

g

|

Fat:

11

g

|

Saturated Fat:

3

g

|

Polyunsaturated Fat:

1

g

|

Monounsaturated Fat:

5

g

|

Sodium:

180

mg

|

Potassium:

320

mg

|

Fiber:

3

g

|

Sugar:

38

g

|

Vitamin A:

463

IU

|

Vitamin C:

10

mg

|

Calcium:

18

mg

|

Iron:

1

mg

By