Chicken Bacon Ranch Quesadillas are a delicious Mexican recipe for a snack, lunch, game day, or a quick dinner. Fast and easy to make.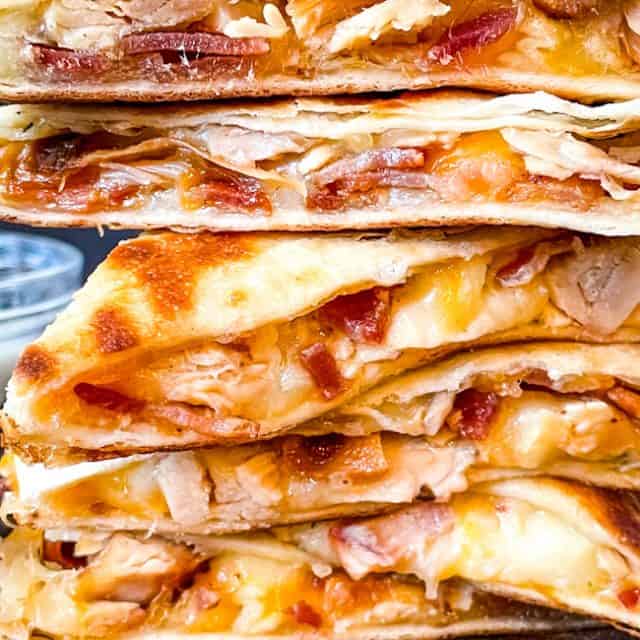 These Chicken Bacon Ranch Quesadillas are packed with lots of filling and cheese in a toasted flour tortilla! Fast and easy to make recipe that is perfect for game day, a snack, lunch, or even dinner.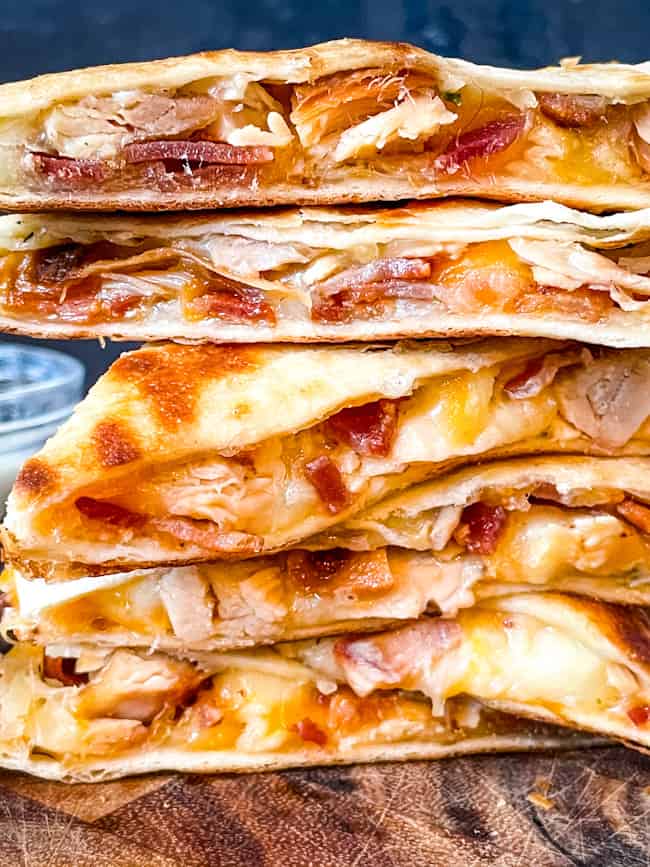 Why You Will Love This Recipe
I made these Chicken Bacon Ranch Quesadillas for a small friend gathering and they were SO popular!
These quesadillas are packed with lots of chicken and bacon, with just enough cheese to hold everything together and be present without being too much.
And with the use of ranch seasoning mix, no need to dunk the quesadilla into ranch dressing unless you want to!
Ingredients
These are the ingredients you need for this recipe:
Large Flour Tortillas
Bacon
Chicken
Shredded Cheese
Ranch Seasoning Mix
Butter
Cheese!
Each quesadilla uses 3/4 cup of shredded cheese.
I like to use a mixture of cheddar and a white cheese, like Monterey Jack, Pepperjack, or mozzarella.
Anything that you love that melts well should work here.
Ranch Options
I like to use ranch seasoning mix because it brings a strong ranch flavor without a lot of moisture.
If you do not have the seasoning mix, I would either spread a very thin layer of ranch dressing on the tortilla, or just rely on dunking the quesadilla into ranch.
Chicken Options
This recipe is just perfect for leftover chicken.
My favorite is to use rotisserie chicken, all diced up.
Any leftover chicken with a somewhat neutral flavor will work well here.
Think garlic, onion, herbs, and softer flavors.
Anything stronger like lemon or cumin will be noticeable and might clash with the other flavors.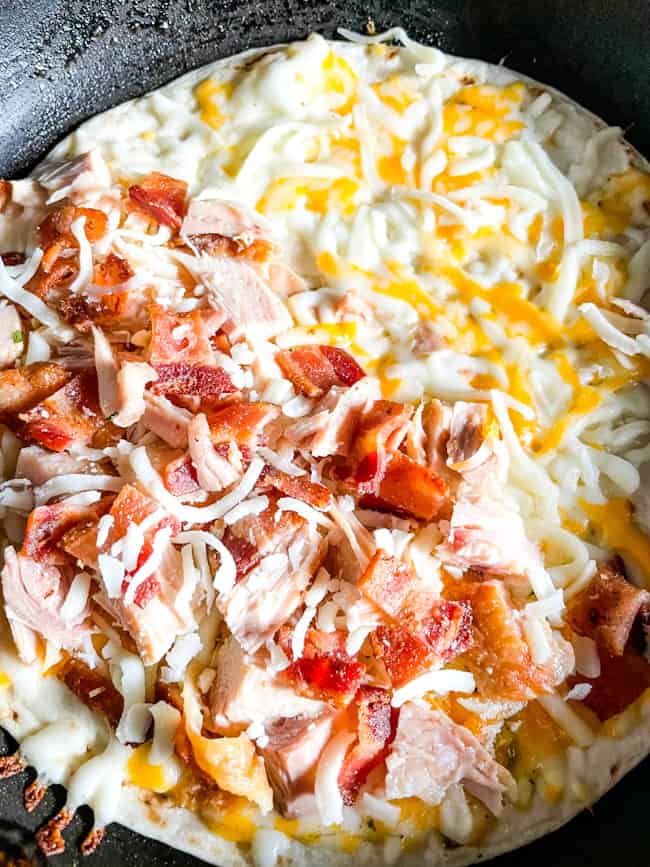 Kim's Tips
My favorite way to make Chicken Bacon Ranch Quesadillas is in the skillet.
You want a little bit of butter, or even the bacon fat, under the tortilla to help it brown a little.
And my number one tip is to put cheese on both sides of the tortilla so that it helps the filling stick!
Without cheese on both sides, the tortilla that comes in contact with the chicken might not have anything to stick to, and it could start to fall apart.
Covering the skillet with a lid will help trap heat in and assist the cheese in melting before the tortilla is cooked too much.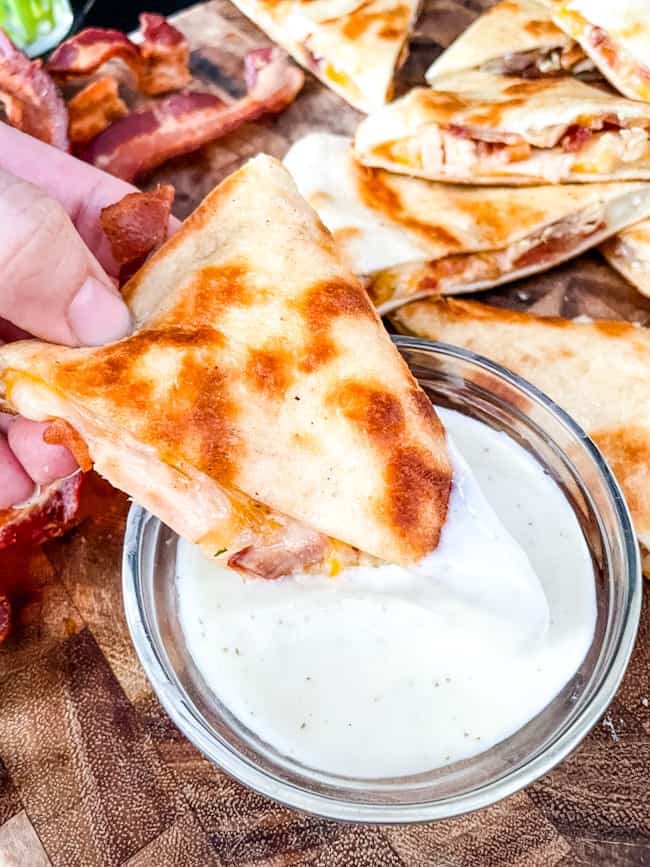 Reheating Quesadillas
These Bacon Ranch Chicken Quesadillas are definitely best fresh right out of the pan. They have a slightly crisp tortilla and gooey, melted cheese.
If you do need to reheat them, there are a few options better than a microwave.
Microwaving is fast and easy, but the tortilla will be soft.
You could put the quesadilla in an oven at a high temperature (around 400) for just a couple minutes.
You could also put it back in a skillet, higher heat, for a moment.
Or if you have an air fryer, slide it in there for a few minutes around 350.
Just keep an eye on the quesadilla no matter how you make it to ensure it does not get too dark.
And reheating the quesadilla whole before slicing is best if possible so that the cheese does not leak out. Or at least put the pieces right up against each other to help hold the cheese in.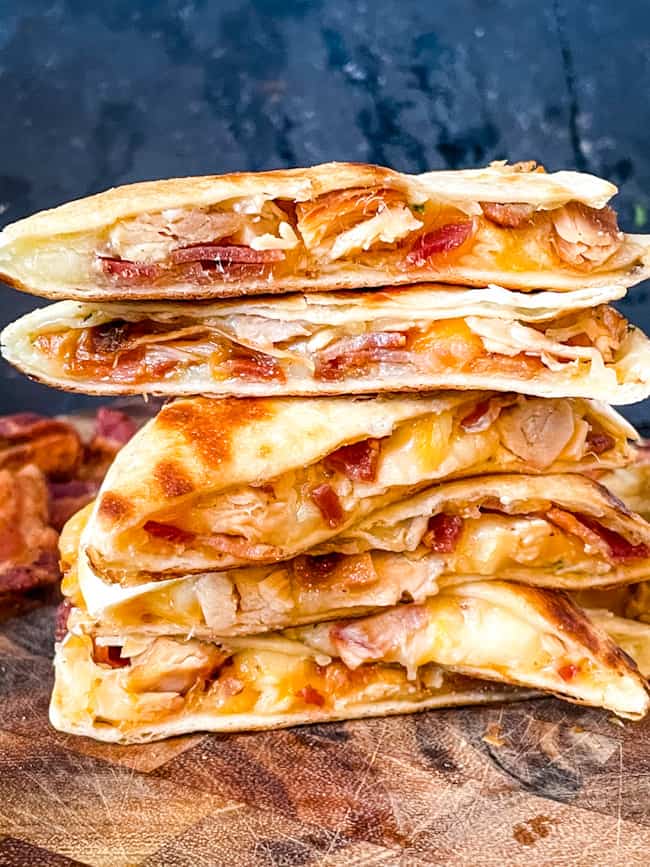 FAQs
What kind of cheese is best for quesadillas?
You want cheeses that melt well.
For these quesadillas, I recommend a combination of cheddar and Monterey Jack. The cheddar brings a sharp flavor with the jack being light and creamy.
Do I grease the pan for quesadilla?
Yes, this is recommended to assist in browning the tortilla.
I use butter for its flavor plus great browning. A little oil could work too!
What tortilla is best for quesadilla?
I like to use flour tortillas.
Corn tortillas are more traditional. Use what you like!
How do you know when a quesadilla is done?
Pull up an edge of the tortilla to check for the cheeses being melted.
If the tortillas are browning too fast, turn the heat down.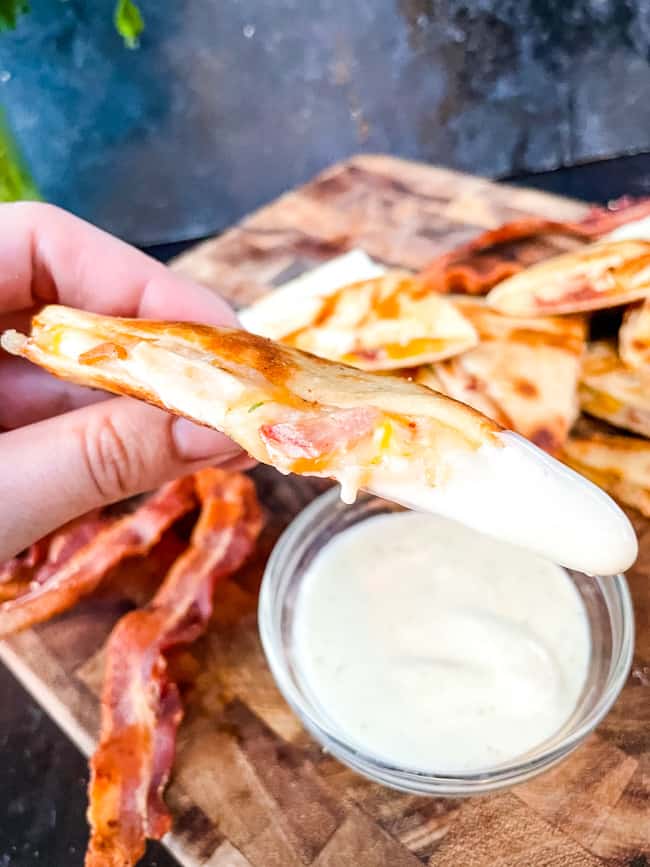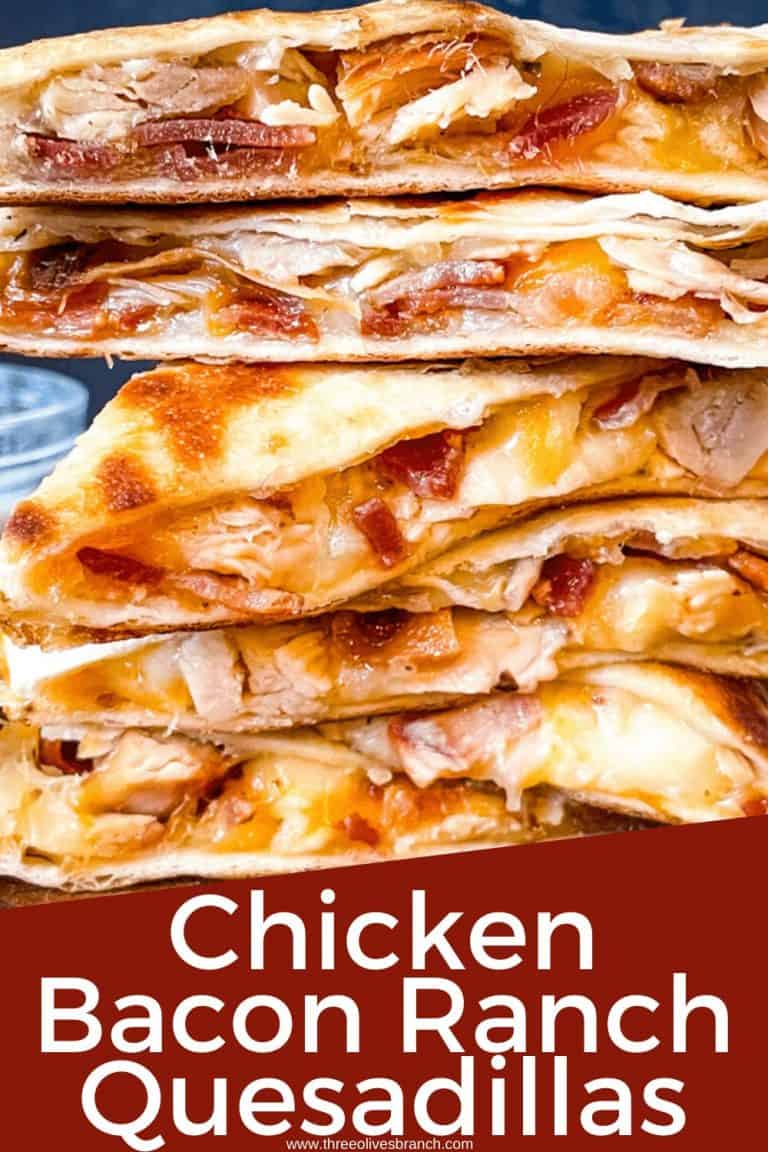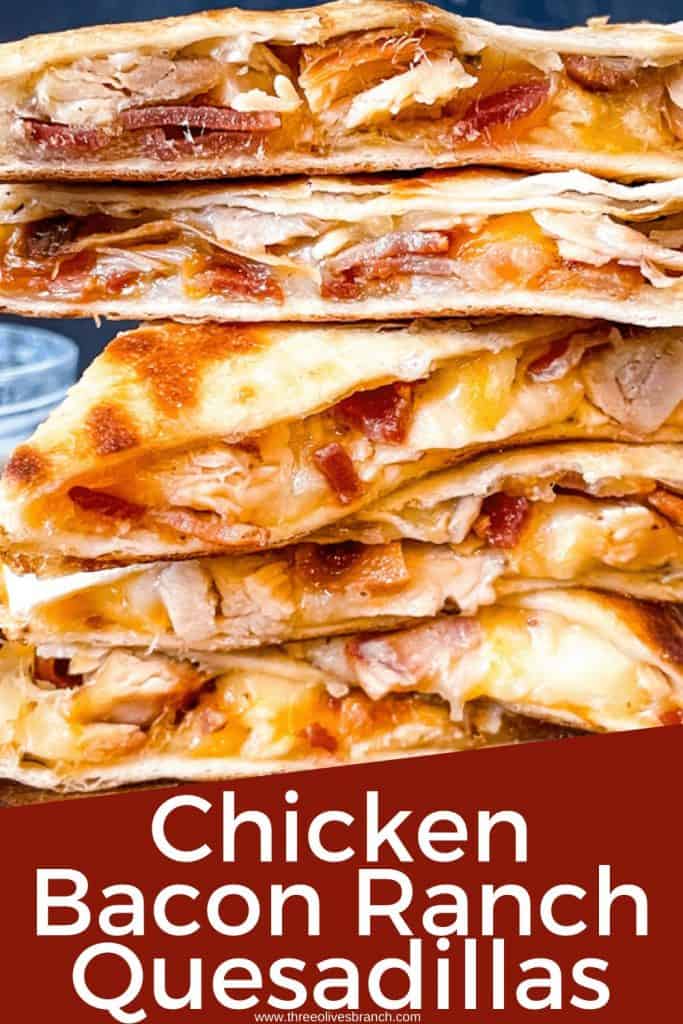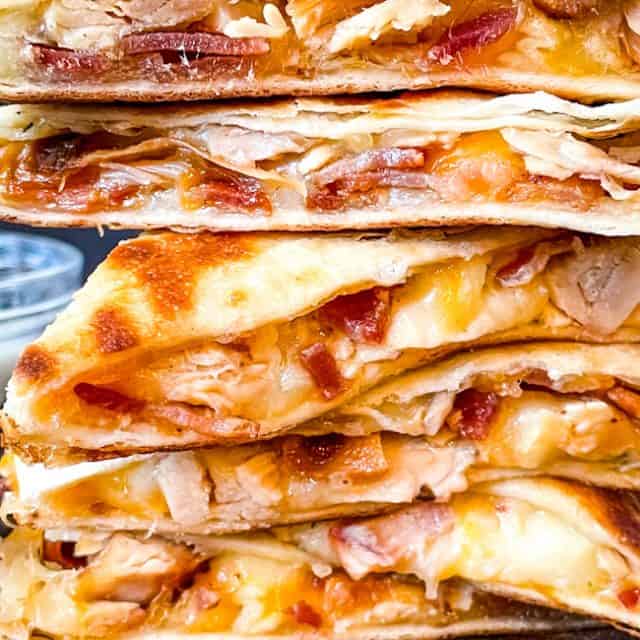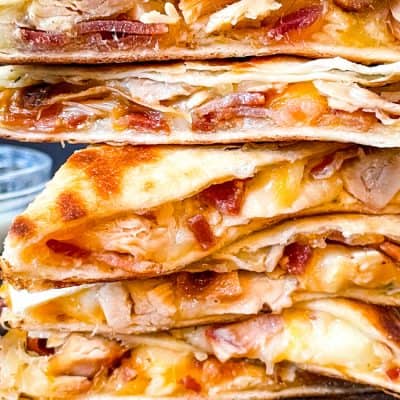 Chicken Bacon Ranch Quesadillas
Chicken Bacon Ranch Quesadillas are a delicious Mexican recipe for a snack, lunch, game day, or a quick dinner. Fast and easy to make.
Print
Pin
Rate
Instructions
Have all of your ingredients ready to go. Cook and chop the bacon if not done already.

Heat a large nonstick skillet over medium heat.

After the skillet is hot, add the butter.

1 teaspoon unsalted butter

As soon as the butter melts, swirl it around, and place the tortilla in the pan.

Sprinkle the cheese across the entire tortilla.

Sprinkle the chopped chicken, bacon, and ranch seasoning over one half of the tortilla.

1/2 cup chopped chicken,

2 slices bacon,

1/2 teaspoon ranch seasoning mix

Once the cheese is melting, use a spatula to flip the cheese-only side of the tortilla up onto the chicken and bacon side of the tortilla. Press down.

Cook a minute or two longer until the bottom side of the tortilla is a light golden brown.

Flip the quesadilla over and cook another minute or so to brown the other side.

Remove from the skillet, cut into wedges, and serve warm.
Notes
If you are cooking the bacon fresh for this recipe, you could use 1 teaspoon of bacon fat instead of butter.
Any leftover chicken that has neutral flavors, or rotisserie chicken, is perfect for this recipe.
Nutrition
Serving:
1
quesadilla
|
Calories:
691
kcal
|
Carbohydrates:
19
g
|
Protein:
37
g
|
Fat:
51
g
|
Saturated Fat:
22
g
|
Trans Fat:
1
g
|
Cholesterol:
149
mg
|
Sodium:
1324
mg
|
Potassium:
305
mg
|
Fiber:
1
g
|
Sugar:
2
g
|
Vitamin A:
788
IU
|
Vitamin C:
1
mg
|
Calcium:
466
mg
|
Iron:
2
mg
More Quesadilla Recipes
More Game Day Recipes
By