Chicken Poblano Quesadillas are a fast and easy Mexican recipe! Roasted mild peppers pair perfectly with leftover or rotisserie chicken and Monterey Jack cheese in a flour tortilla. A great appetizer, lunch, snack, or dinner recipe great for Cinco de Mayo.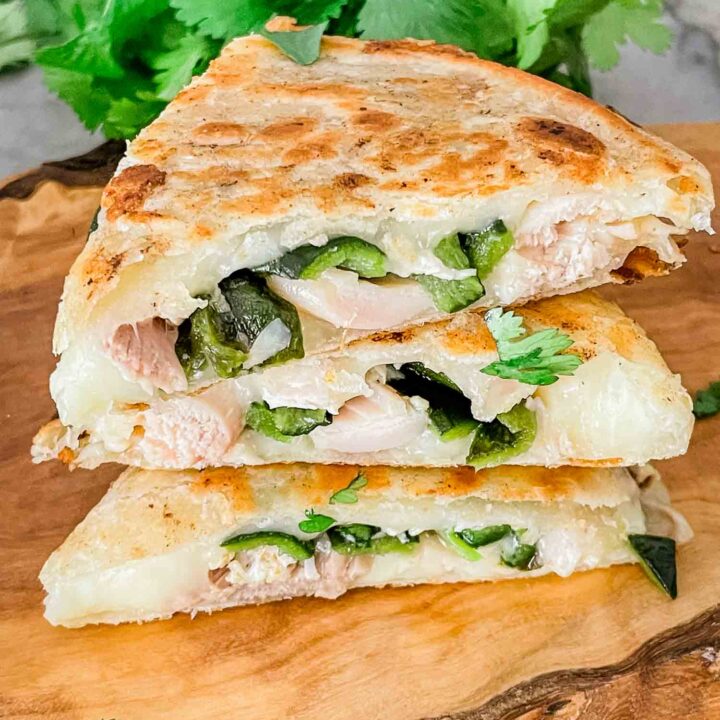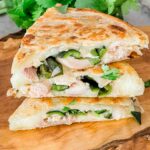 Mexican food is one of my favorite things to make and also some of the most requested food that I get! This Chicken Poblano Quesadilla is a great party food for doing something different.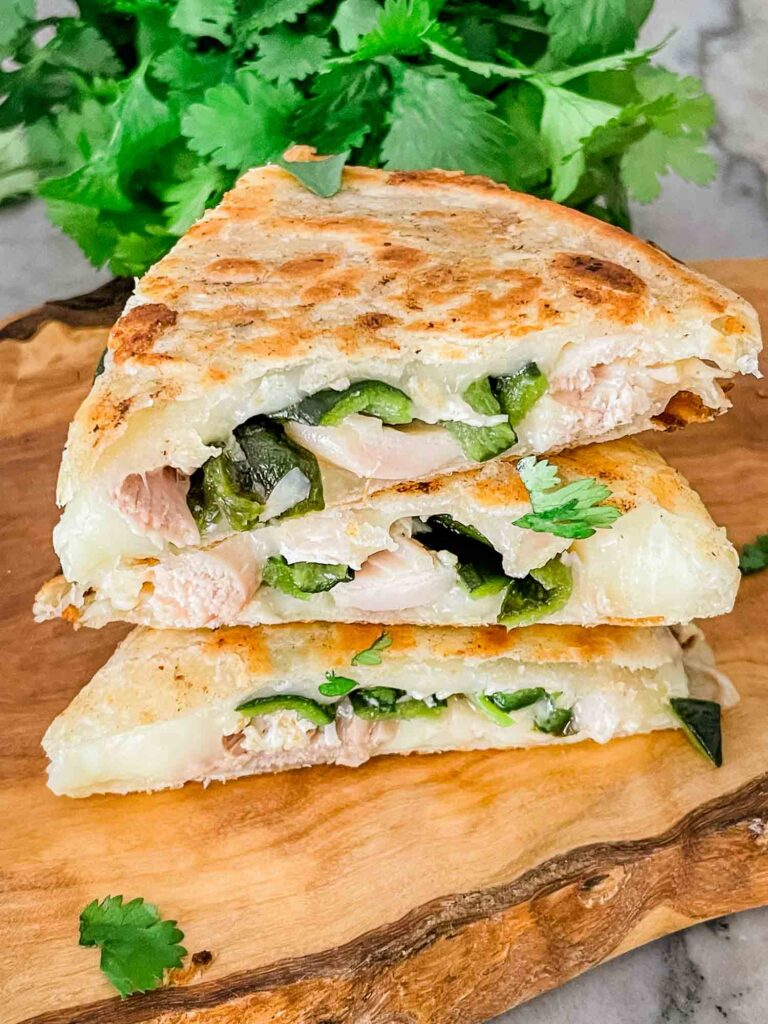 Why You Will Love This Recipe
This Chicken Poblano Quesadilla is inspired by the popular Mexican recipe of chile rellenos.
Chicken is paired up with a mild roasted pepper and creamy cheese for tons of flavor inside a flour tortilla.
It takes just a few minutes to make these homemade quesadillas and they are perfect for a party appetizer or even lunch and dinner main course.
The Chicken Chile Relleno Quesadilla has become a new favorite lately with our friends and it makes a great party food. 
Ingredients
These are the ingredients you need to make the chicken quesadilla:
Chicken
Poblano Pepper
Monterey Jack Cheese
Flour Tortilla
Butter
Garlic Powder
There are a lot of variations and options for this recipe. Find some notes and ideas below in the Modifications and Substitutions section.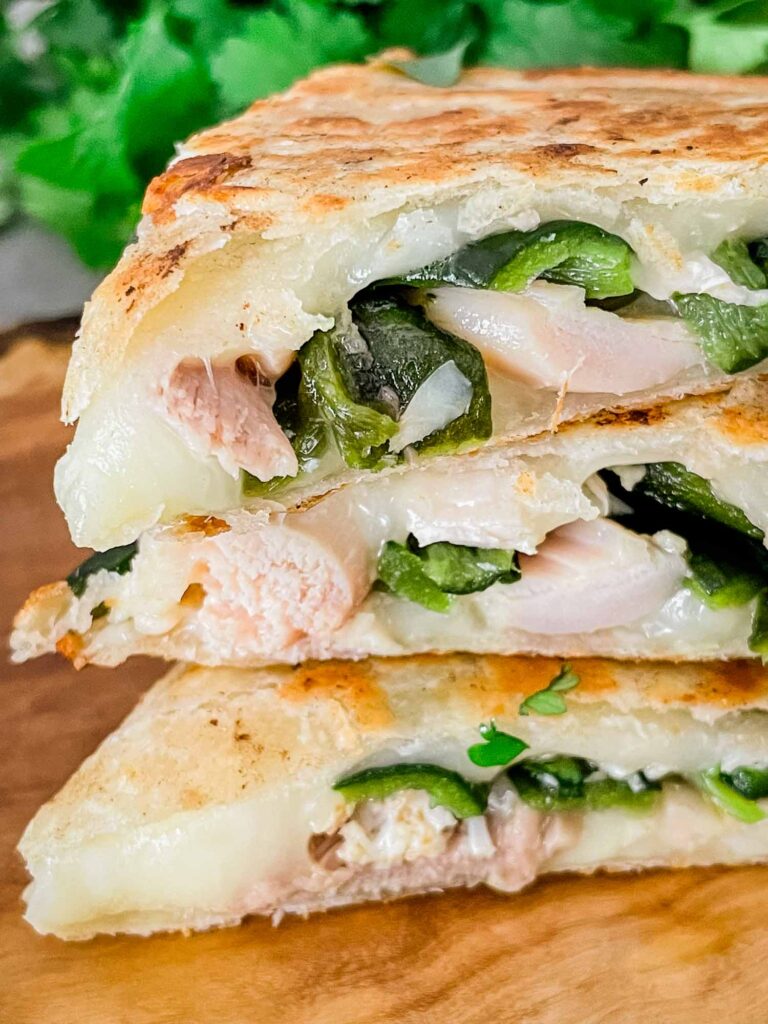 Equipment
To make these quesadillas, you will need:
Large Skillet
Spatula
Measuring Cups
Knife
Cutting Board
Instruction Overview
To make the Chicken Chile Relleno Quesadilla, first roast the peppers and make sure all of your ingredients are ready. 
Get a skillet heated over medium heat.  When hot, add some butter, one tortilla, and start getting everything layered on! 
I put cheese on the very bottom and very top so that it sticks to the tortillas and keeps everything together.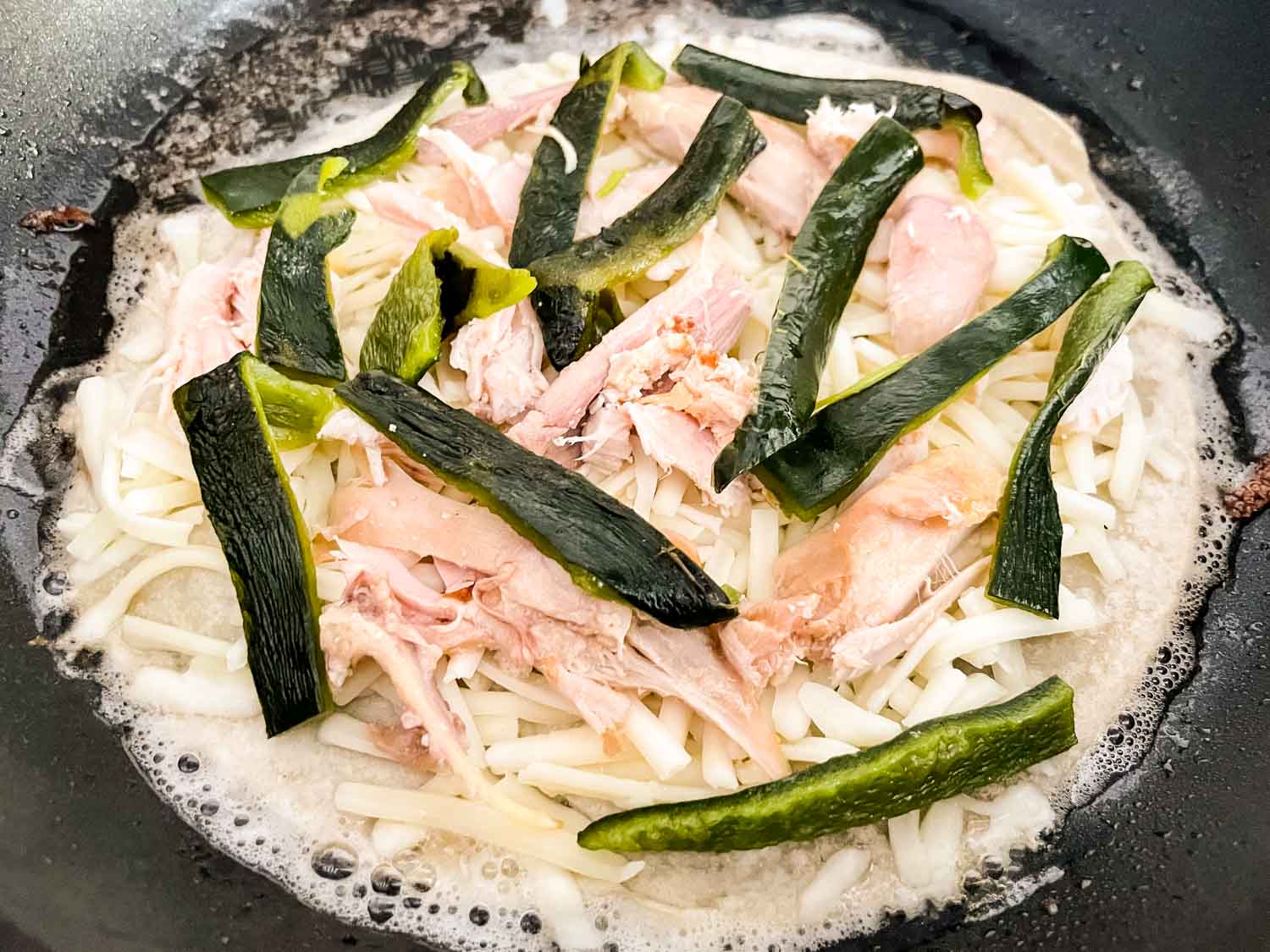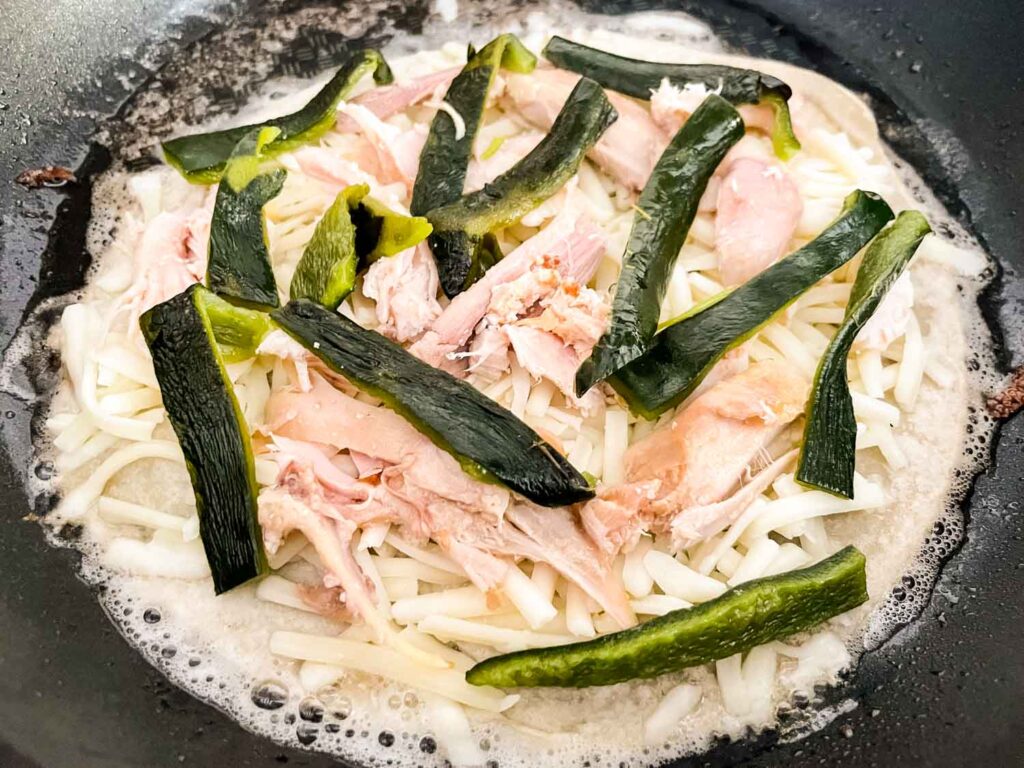 Layer up the fillings and when the cheese is melting, fold it in half.
Cook a couple minutes more per side to brown.
Cut and serve with your favorite toppings and condiments!
Modifications and Substitutions
You can change up the vegetables and meat inside to whatever you prefer. Some of my favorite things to add are onion, corn, cilantro, and tomatoes.
Leftover chicken and rotisserie chicken is perfect for this recipe!
Cheese – You can also use pepperjack, cheddar, or any combination or cheese that you like.
FAQs
Do you make a quesadilla with one or two tortillas?
You can do it either way.
I find that it is easier to use one tortilla that you fold in half. When using two tortillas, it is more difficult to flip as fillings fall out.
What's the best cheese for quesadillas?
You want to use a cheese that melts well.
I prefer to use Monterey Jack because it is creamy with subtle flavor.
Other cheese options includes cheddar, pepperjack, colby jack, and oaxaca. Mozzarella can also work.
Should I oil pan for quesadilla?
I suggest using butter because it will help brown the tortilla plus add a little flavor.
What do you put in a quesadilla?
Quesadillas are very versatile! You can add anything you like.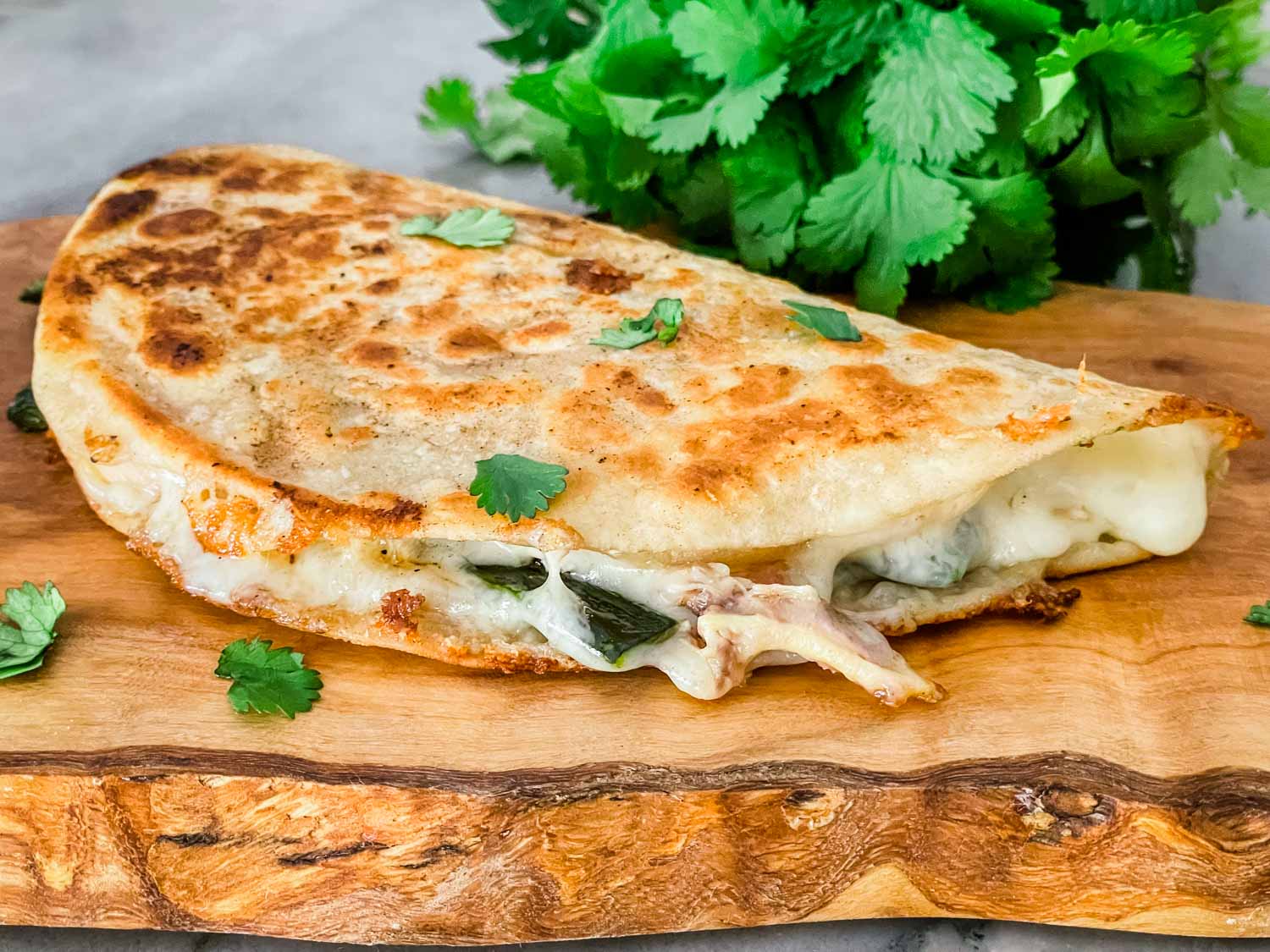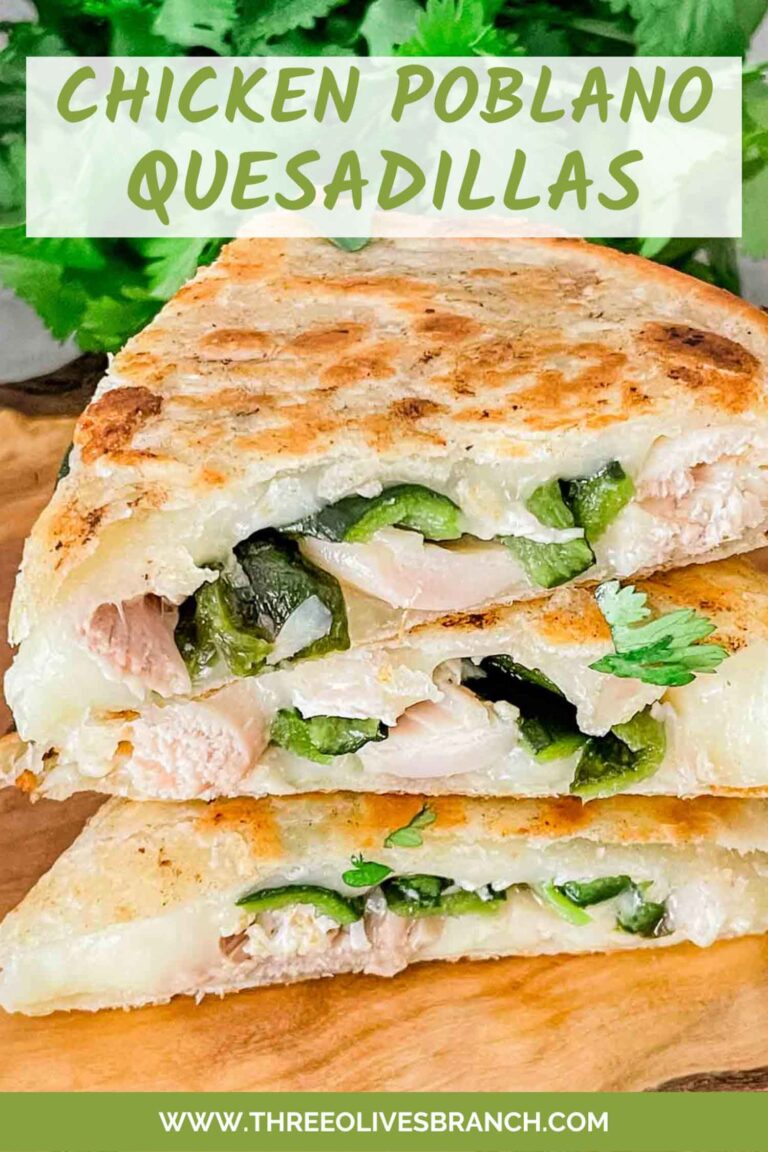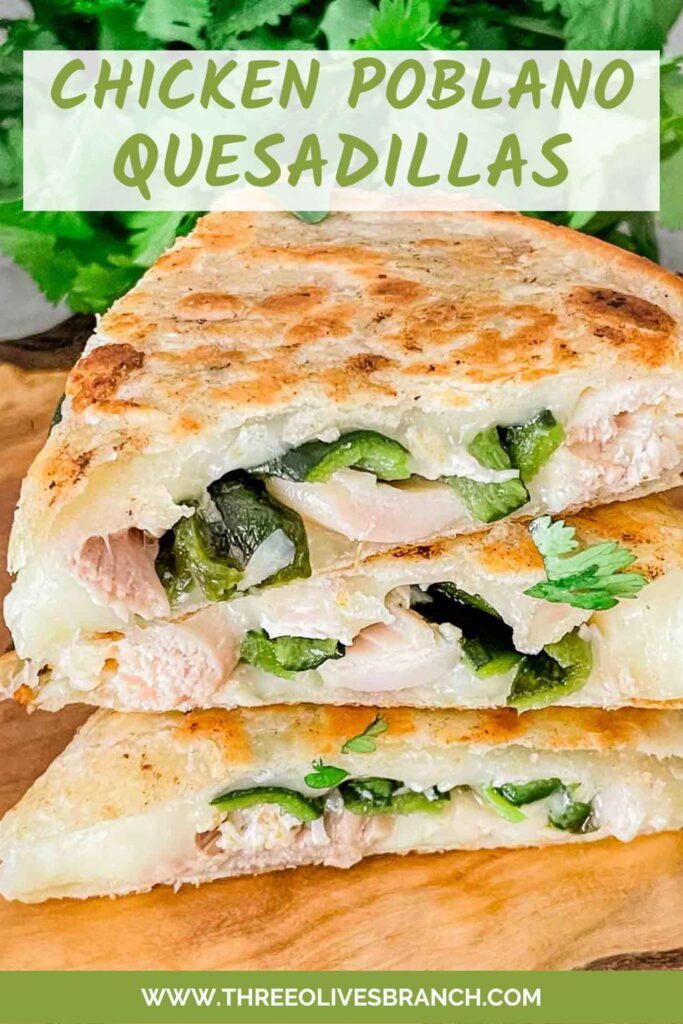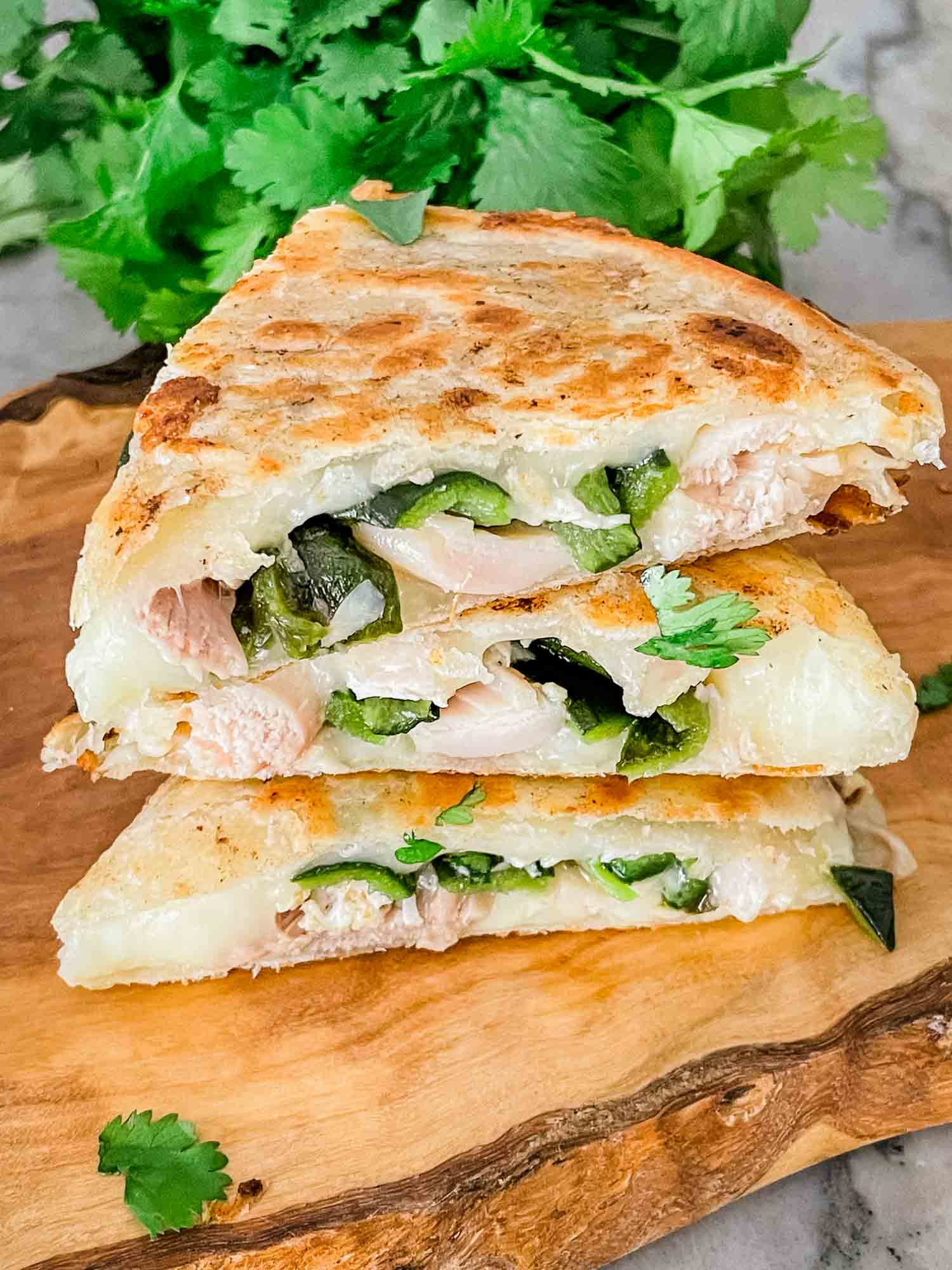 Instructions
Pre cook your tortillas if they are not cooked already.

Make sure your chicken and peppers are ready to go. Use any leftover chicken, or bake some, and shred.

To Roast Peppers: Roast the peppers by placing them on the top shelf of the oven on the broil setting. Leave the oven door open just a crack.

Roast on the heat until the peppers start to turn black and the skin is blistered. Rotate and repeat until all sides are roasted.

Remove the peppers from the oven and place in a sealed bag or tupperware to sweat (this makes them easier to peel).

When cool enough to handle, scrape off the blistered skins and discard. Remove the stem and seeds from the peppers (they may tear and break, this is fine).

Cut the peppers into strips. Set aside.
Assembly
Heat a nonstick skillet over medium heat. Make sure all of your ingredients are ready to go as you will be building quickly in the skillet.

When everything is diced and ready, put the butter into the skillet. As soon as the butter is melted, placed a tortilla in the skillet.

½ Tablespoon unsalted butter,

1 large flour tortilla

Add the monterey jack cheese spread out across the tortilla in the skillet.

¾ cup shredded Monterey Jack cheese

Spread the chicken across the cheese.

Lay slices of the roasted peppers across the entire tortilla in a single layer.

Sprinkle a small amount of garlic powder across the fillings.

When the cheese is starting to melt, use a spatula to fold the tortilla in half.

Cook for approximately 2 minutes per side until the tortilla is lightly browned.

Remove the quesadilla and place on a cutting board to rest for 1-2 minutes. The resting will let the cheese start to settle so that it does not all leak out when cut.

Cut the quesadilla into triangles and serve with condiments and toppings of choice (sour cream, guacamole, salsa, etc).
Notes
Use any vegetables you wish in these quesadillas! Onions, cilantro, and corn are all great additions.
Meat lover? Increase chicken to 3/4 cup.
Nutrition
Serving:
1
quesadilla
|
Calories:
528
kcal
|
Carbohydrates:
18
g
|
Protein:
29
g
|
Fat:
38
g
|
Saturated Fat:
22
g
|
Polyunsaturated Fat:
3
g
|
Monounsaturated Fat:
11
g
|
Trans Fat:
0.3
g
|
Cholesterol:
111
mg
|
Sodium:
751
mg
|
Potassium:
263
mg
|
Fiber:
2
g
|
Sugar:
3
g
|
Vitamin A:
1085
IU
|
Vitamin C:
48
mg
|
Calcium:
687
mg
|
Iron:
2
mg
More Quesadilla Recipes
By