Cinnamon Apple Baked Brie in Puff Pastry makes a perfect Thanksgiving appetizer recipe idea! Soft Brie cheese layered with apples and fall flavors, wrapped in pastry dough and baked. A warm and easy holiday recipe perfect for your party.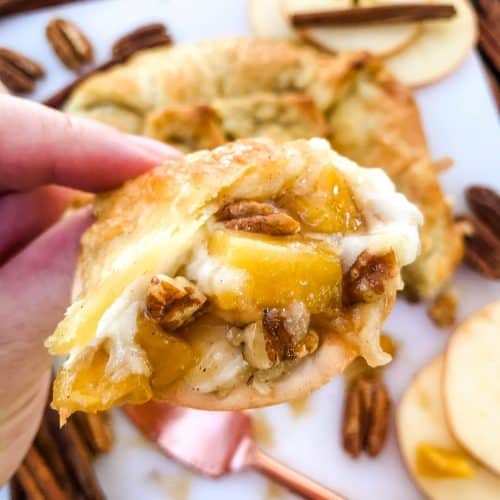 Cinnamon Apple Baked Brie in Puff Pastry is an easy fall appetizer recipe full of cinnamon apple flavors.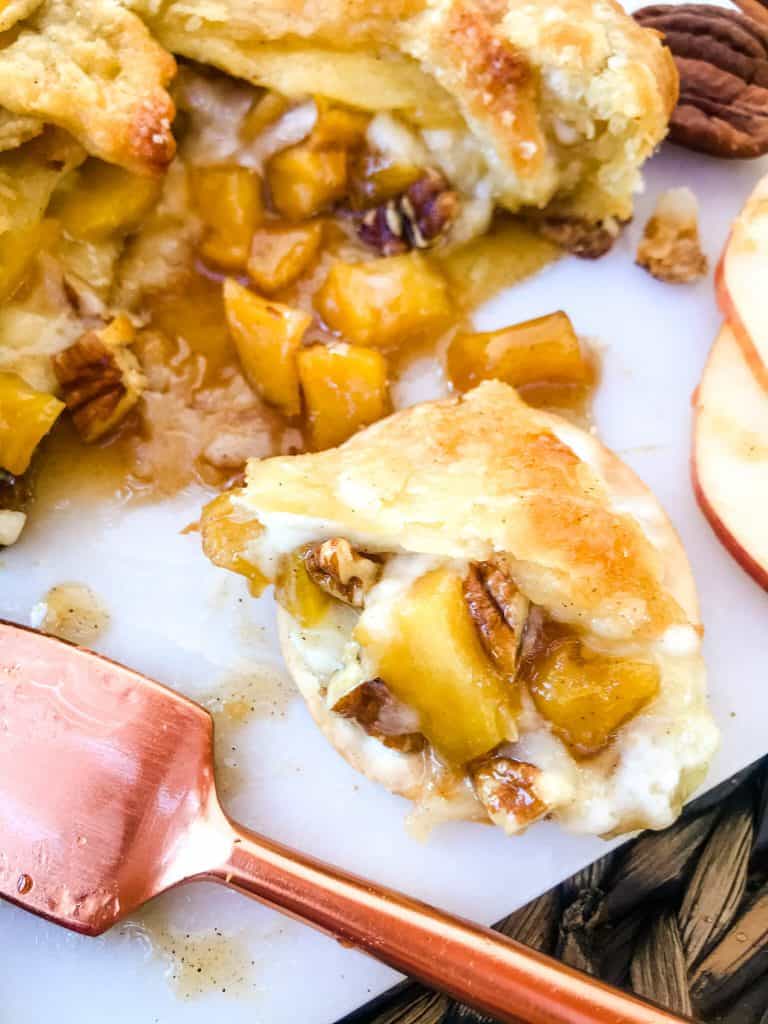 Why You Will Love This Recipe
This Cinnamon Apple Baked Brie in Puff Pastry would make an amazing Thanksgiving appetizer recipe!
I made this Cinnamon Apple Baked Brie in Puff Pastry for a cheese and wine girl's night and it was LOVED! 
Soft, creamy, melted cheese inside a flaky pastry with a sweet and savory flavor. I just LOOOOOOVE brie cheese and how soft and perfect it is!
This holiday appetizer recipe idea is easy to make and elegant for your dinner party.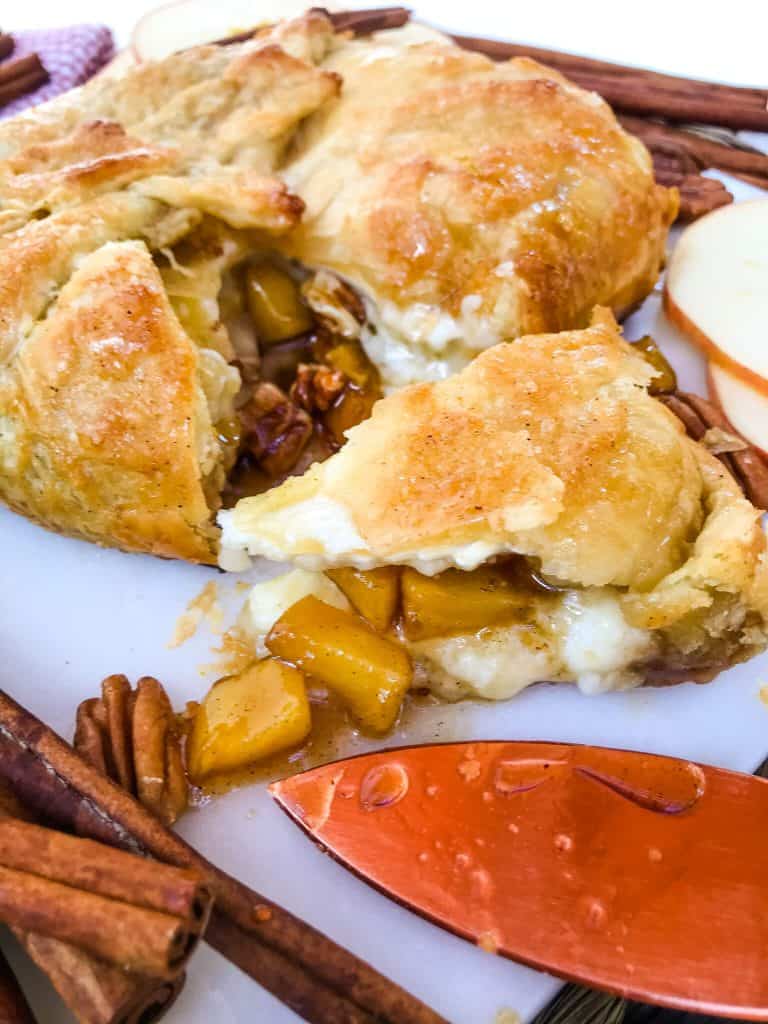 Ingredients
These are the ingredients you need for this recipe:
Pecans
Ground Cinnamon
Apples
Puff Pastry
Butter
Brown Sugar
Salt
Maple Syrup
Apples – You can use any type of apple that you like. Crisper apples will retain their texture more than softer apples. I personally love to use Gala, Honeycrisp, or even Granny Smith.
Equipment
This is the equipment you need for the recipe:
Knife
Measuring Spoons
Silicone Baking Mat
Spatula
Baking Sheet
Basting Brush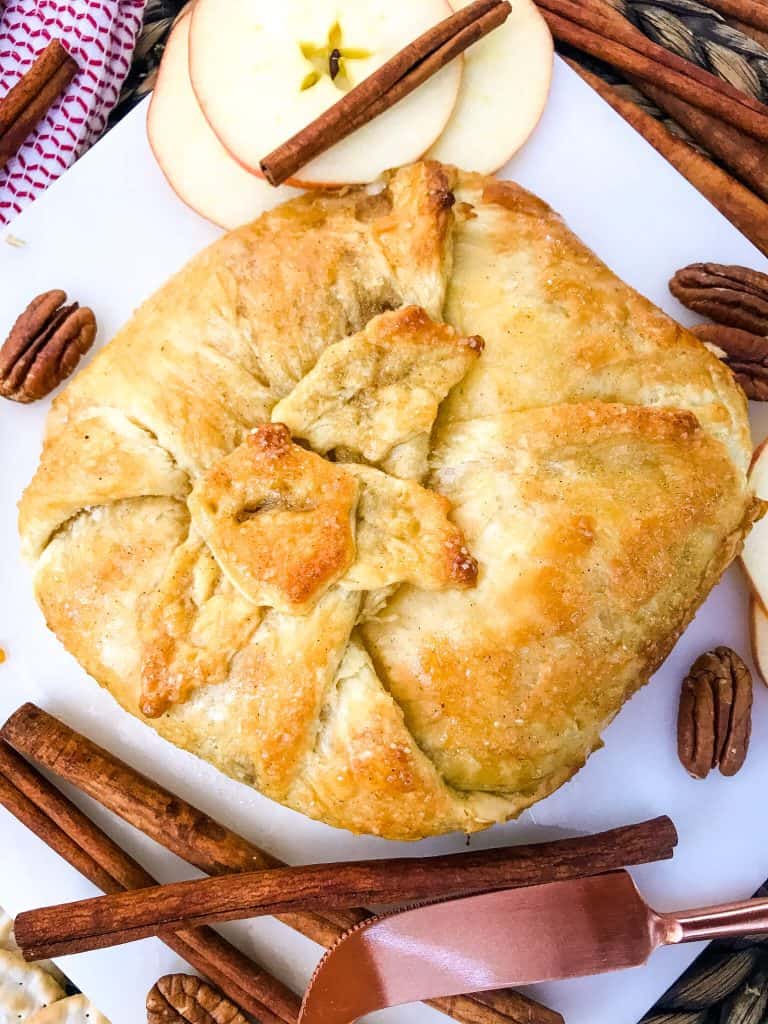 Instruction Overview
After you get your cinnamon apple sauce on one half of the brie, put the other half of the brie on top of it, cut side down.
Then fold up a corner over the brie wheel, and use the liquid sauce to brush over the pastry, helping it to stick and adding more flavor!
Keep working your way around the brie wheel, folding the pastry up, and brushing it with the liquid.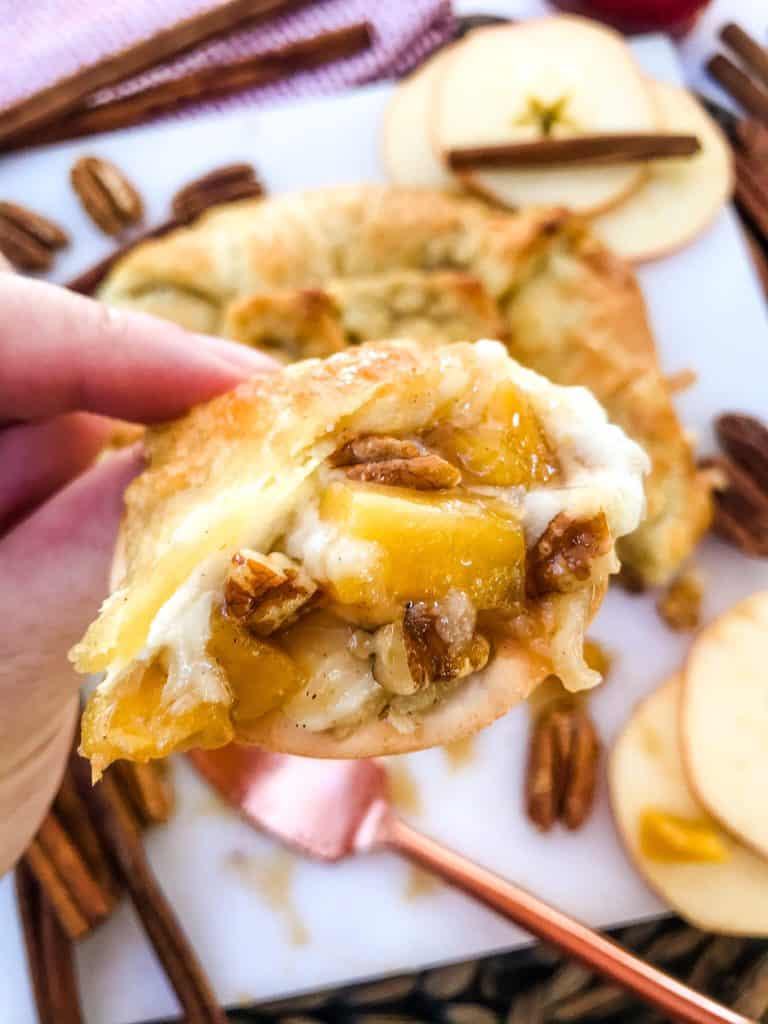 Once wrapped, remove any excess puff pastry so you do not have a huge ball of pastry at the top.
I love to take this extra pastry and cut some cute shapes out of it with pie crust cutters or cookie cutters for decoration! I used some oak leaves and an acorn in these pictures.
Just cut them out, place them on top of the pastry, and gently brush the top of them with more sauce.
The sauce that is already on the puff will help them adhere!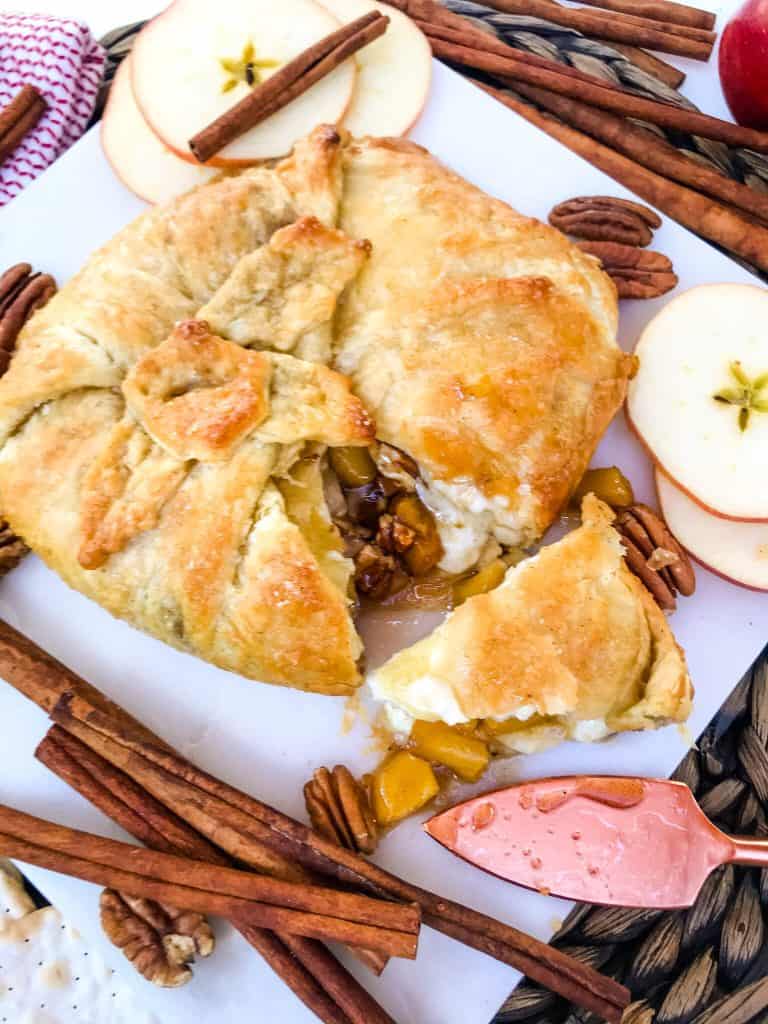 For a little extra flavor, brush a Tablespoon of maple syrup across the dough.
And I love to sprinkle it with some raw sugar to give it some texture and extra color! Regular, granulated sugar would work as well, it is just less noticeable to the eye since it is smaller.
Then bake away!
Let the Cinnamon Apple Baked Brie in Puff Pastry bake until the pastry is a golden brown, approximately 20 minutes.
Gently transfer it to your serving dish or cutting board with a spatula and serve it right away so it is warm and gooey!
My favorite things to serve alongside the brie in puff pastry are crackers and bread slices. Wedges of apple would also be amazing!
Modifications and Substitutions
This would also taste amazing with pears instead of apples!
Walnuts are a good swap for the pecans, or leave them out altogether if desired.
You can use crescent dough instead of puff pastry. But pastry dough will be heavier and richer.
Kim's Tips
When you make the Cinnamon Apple Dessert Sauce to go inside the brie cheese wheel, you will not need much liquid. 
So when you scoop the sauce into the middle of the brie, only use a little of the sauce.
It will escape from the cheese wheel and can make your pastry very soggy if there is too much of it.
Some sauce will end up in the puff pastry which is fine, you just want to minimize it.
And top it with some chopped pecans or walnuts for some texture!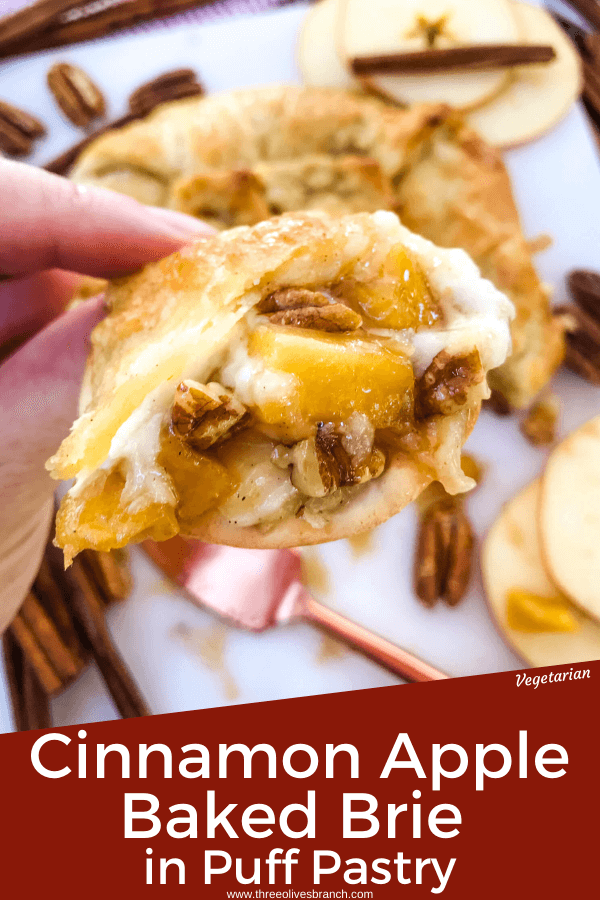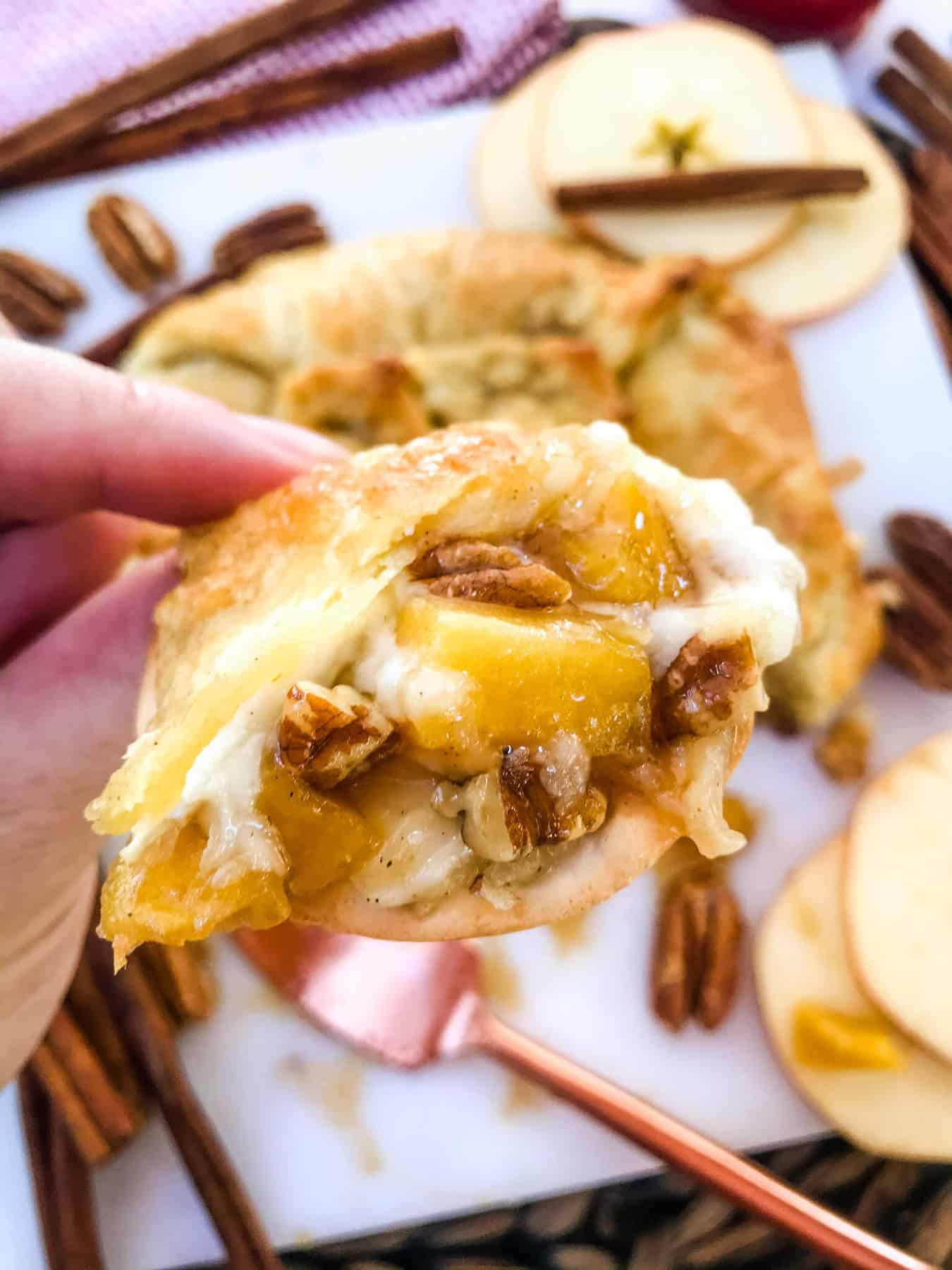 Equipment
Cookie cutters or pie cutters (optional)

Basting brush
Ingredients
Cinnamon Apple Sauce Filling
Instructions
Make the Cinnamon Apple Sauce Filling
Melt the butter in a large skillet over medium heat.

2 Tablespoons unsalted butter

Add the sugar, cinnamon, and a pinch of salt to the butter. Stir to dissolve.

1/2 cup packed brown sugar,

1/2 teaspoon ground cinnamon,

pinch salt

While the liquid is heating, prep the apples. Peel them, core them, and dice them into approximately 1/2 inch chunks.

Bring the mixture to a simmer and add the chopped apples.

Cover the apples, reduce heat to medium low, and simmer 10 minutes.

Remove the lid and continue cooking until the apples are tender and the sauce is somewhat thicker, approximately 10 minutes. Set aside.
Assemble and Bake Brie in Puff Pastry
Preheat oven to 350°F for a lighter bake, or 400°F for a darker bake (I prefer 350°F).

Cut the brie wheel in half lengthwise to make a top and bottom round. Leave the rind on (it is edible and will help hold everything together).

8 ounces brie cheese wheel

Roll out the puff pastry, with a silicone baking mat or parchment paper on top to prevent sticking, until it is 11 by 11 inches. Place the puff pastry on a piece of parchment or silicone baking mat that is on a baking sheet.

Place one half of the brie wheel in the center of the puff pastry, rind side down and cut side up.

Scoop the apple filling onto the cut side of the brie wheel. Add minimal sauce to prevent too much moisture oozing out.

Sprinkle the chopped pecans, if using, on top of the apple mixture.

Place the remaining brie wheel half on top of the apple mixture, cut side down and rind side up.

Pull one corned of the puff pastry up and over the brie, snuggly against the cheese.

Using a basting brush, brush the apple sauce from the apple mixture onto the puff pastry that is folded up onto the brie. This will help the following pieces stick together.

Repeat pulling edges of the puff pastry up onto the brie, brushing each section, all the way around the brie.

Remove excess puff pastry dough that has collected at the top of the brie wheel.

If desired, use small cookie cutters or pie dough cutters to cut shapes out of the excess dough. Apply the shapes with extra apple sauce under and on top of the shapes.

Brush the maple syrup across the top of the puff pastry.

Sprinkle the raw sugar on the wet puff pastry. Larger crystal sugar like raw sugar is best as it will bring more texture and color to the puff pastry, but regular granulated sugar will work just fine.

Bake the brie for 25-30 minutes until the puff pastry is cooked and golden.

Remove and serve immediately with crostini bread slices, apple wedges, or crackers.
Notes
I like to use apples that are crisp but not tart (Fuji, Honeycrisp, Gala), but you can use any apples you prefer, it just may change the taste or texture.
This appetizer goes much further than 6 if you are serving other foods.
Keep a close eye on the pastry as it is baking to ensure it is not getting too dark, especially if you are baking at 400F.
Nutrition
Serving:
1
serving
|
Calories:
398
kcal
|
Carbohydrates:
37
g
|
Protein:
9
g
|
Fat:
25
g
|
Saturated Fat:
10
g
|
Polyunsaturated Fat:
3
g
|
Monounsaturated Fat:
11
g
|
Trans Fat:
0.1
g
|
Cholesterol:
36
mg
|
Sodium:
260
mg
|
Potassium:
150
mg
|
Fiber:
2
g
|
Sugar:
21
g
|
Vitamin A:
282
IU
|
Vitamin C:
2
mg
|
Calcium:
77
mg
|
Iron:
1
mg
More Cinnamon Apple Recipes
Cinnamon Apple Recipes
Get your Cinnamon Apple fix with this collection of recipes!

By