These Earl Grey Shortbread Cookies are a soft and buttery dessert! Made with earl gray tea and a little lemon for an earthy, floral, and citrus biscuit. Make soft or crisp.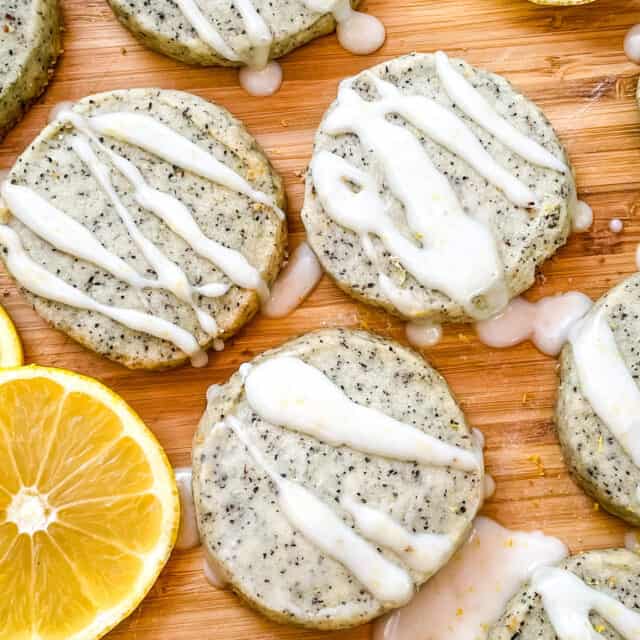 This Earl Grey Shortbread Cookie recipe brings the floral, citrus tea to your baked goods! Soft and buttery cookies are flavored with tea leaves and lemon.
Earl Grey Shortbread Cookie
This is one of my new favorite cookies to make! I love the addition of Earl Grey tea to the shortbread base.
I have fallen in love with the earthy, citrus, floral flavors of these biscuits. Enjoy them with a cup of tea or just on their own! They are addicting!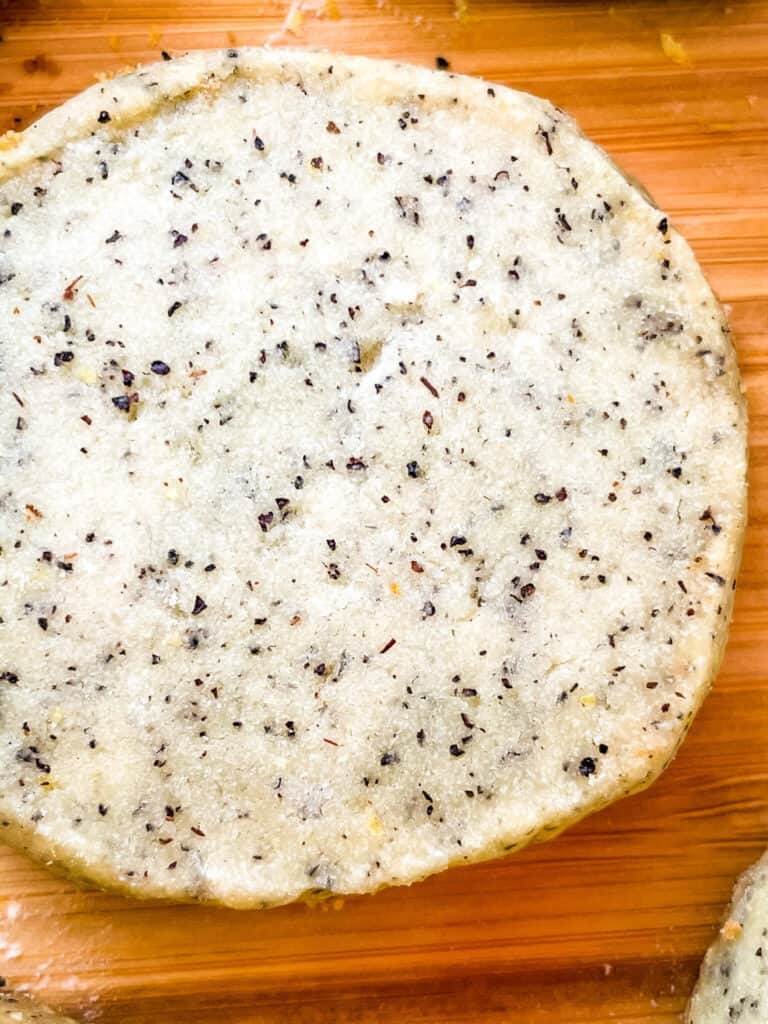 What is Earl Grey flavor?
Earl grey is a very floral variety of black tea with hints of citrus, such as lemon or grapefruit.
When I smell it, I get a distinct hint of lavender.
Bergamot is the primary ingredient in earl gray tea, which is a type of citrus. But you will also see and taste some variation based on the specific brand you are using.
In the cookie, it adds a subtle earthy and floral taste. If you want to amp up the tea flavor, increase the quantity of leaves to 2 Tablespoons.
What flavors go well with Early Grey?
Because Earl Grey has so many different flavors in its profile, it goes well with many things!
Here are some ideas of flavors that pair with the tea, whether you use it to flavor your glaze or in another treat or drink.
Citrus flavors
Lavender
Honey
Maple
Why did my shortbread cookies go flat?
The cookies could flatten from the butter melting too fast. This occurs if your oven is too hot.
If you know your oven runs hot, use a temperature slightly lower.
It is also important to make sure the dough is chilled and not too warm when you bake it which will help prevent the butter from melting and spreading too fast.
Also, do not put the cookies in the oven until it is done preheating. The heating process is a higher heat blast that will affect your cookies.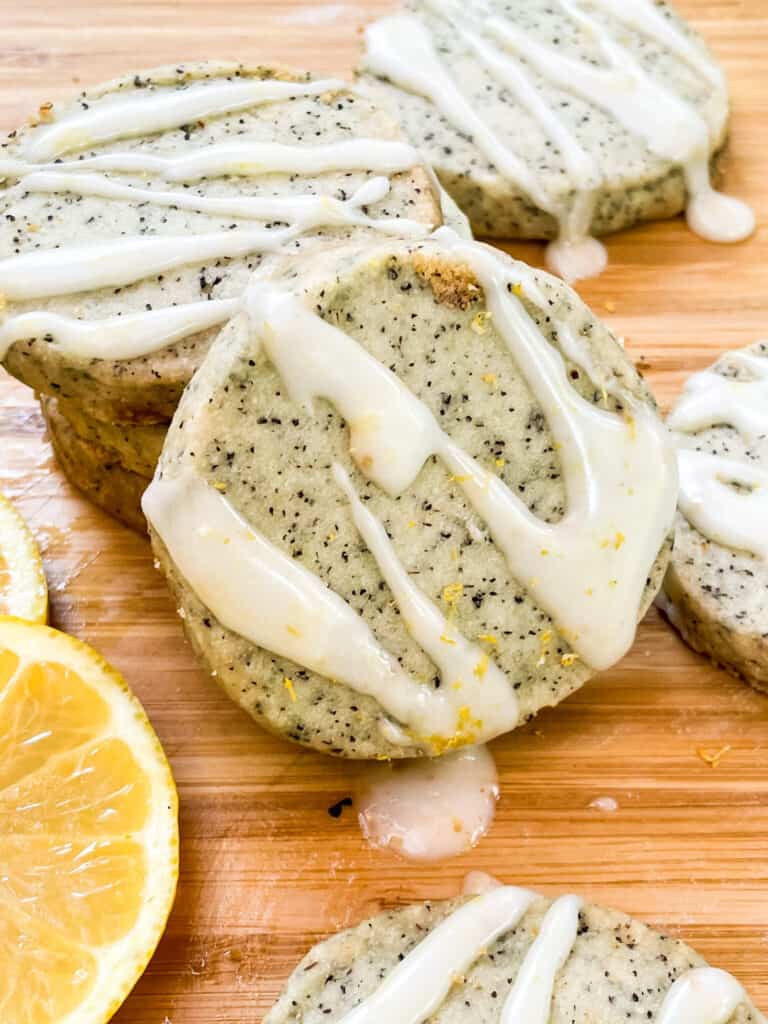 Cooking Tips for the Shortbread
Unlike most cookies, you are not trying to get a golden brown shortbread.
The shortbread should still be rather pale. Look for the very bottom edge of the cookie to just start turning a light golden brown. This is when you want to pull them out of the oven!
Try to not make the cookies too thick, because trying to get them cooked through without over cooking the outside is a little tricky.
If you do want them thicker, I recommend cooking them in one large piece in a baking dish. Use the same ingredients but instead of rolling into a log, follow the instructions for my Coffee Shortbread Recipe at step 5.
Soft or Crisp Cookies
I learned the magic of different sugars by accident one time when I was making my Cherry Limeade Tart.
If you want a crisp, firm cookie, use granulated sugar.
If you want a soft cookie, which is what this recipe makes, use powdered sugar.
They are a 1 for 1 substitution (same quantity regardless of sugar type), so simply use whichever sugar you want based on how crisp or soft you want the shortbread to be.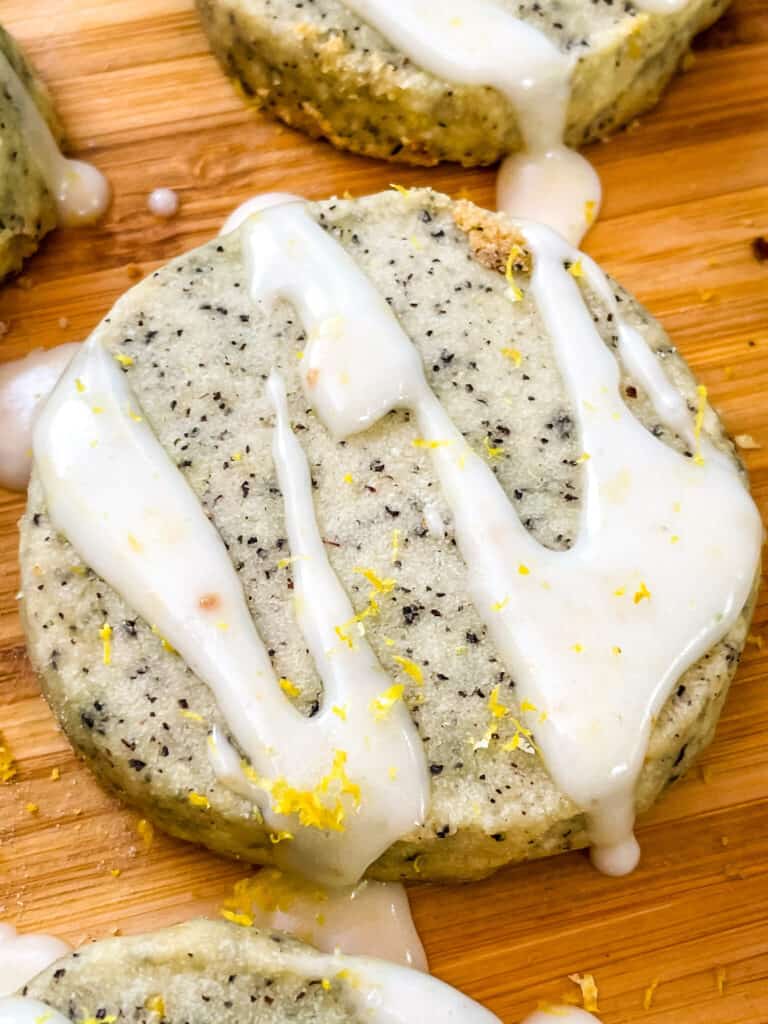 Glaze for Cookies
I just love to make my lemon glaze for these tea cookies.
The lemon is a perfect pairing to the Earl Grey flavor, enhancing that hint of citrus, and reminding you of having a cup of tea in front of you.
When you add the glaze, you can either dunk the cookies or drizzle it on top. But regardless of how you use it, make sure the cookies are cool first! If the cookies are warm, the glaze will slide off.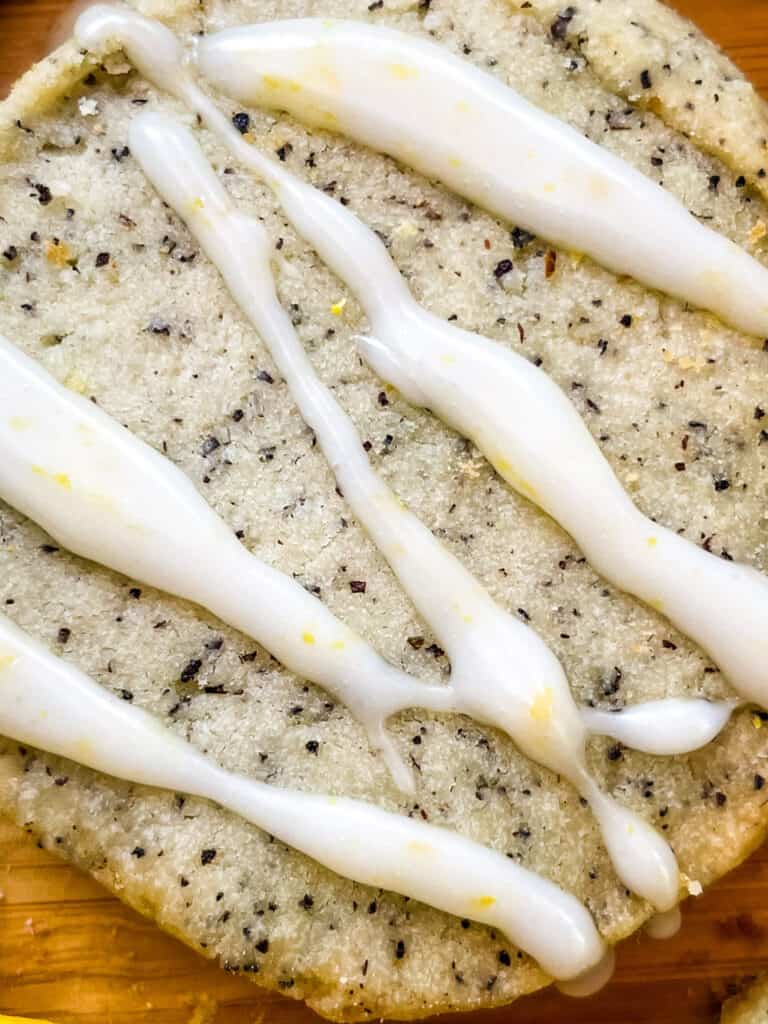 Shortbread Cookies
A collection of delicious shortbread cookies!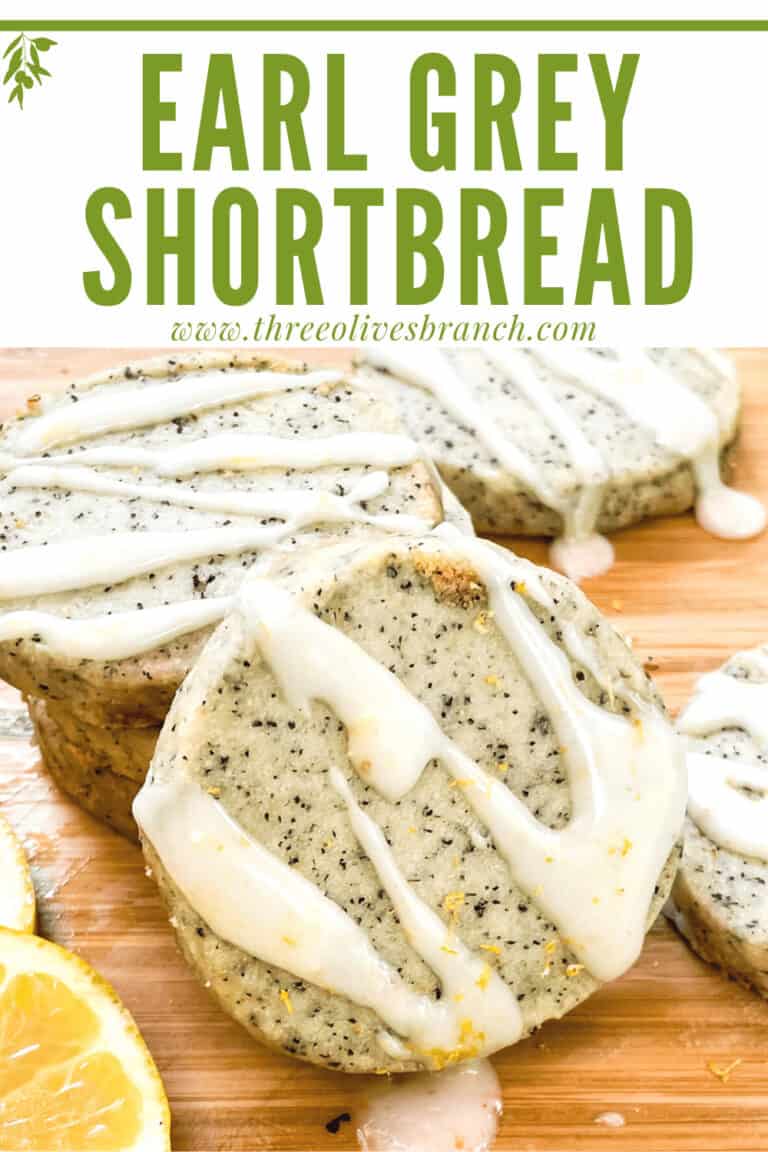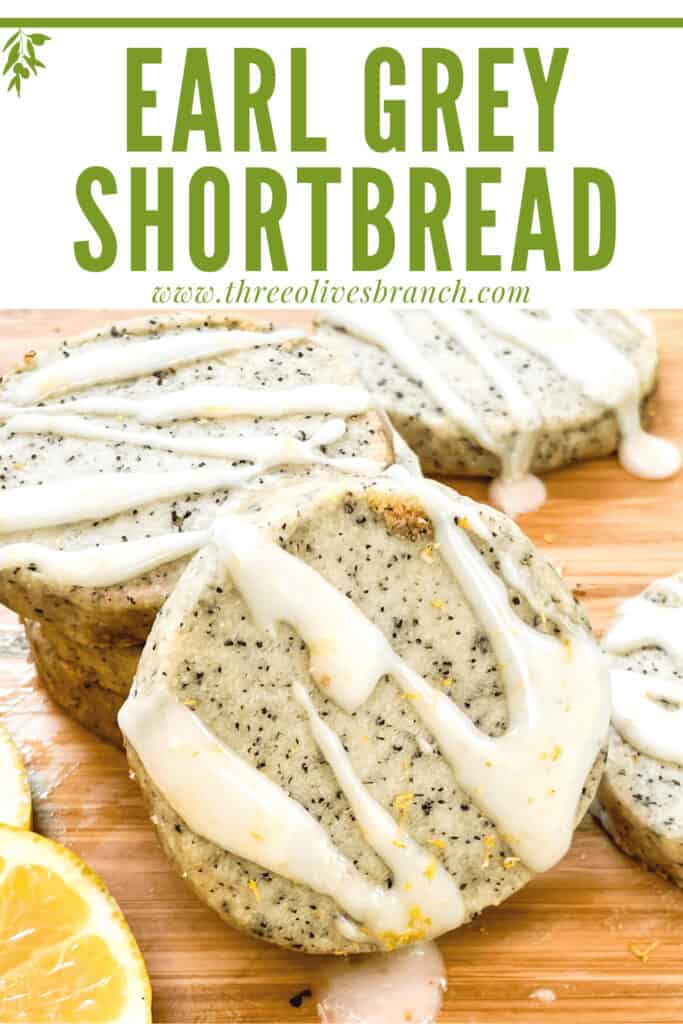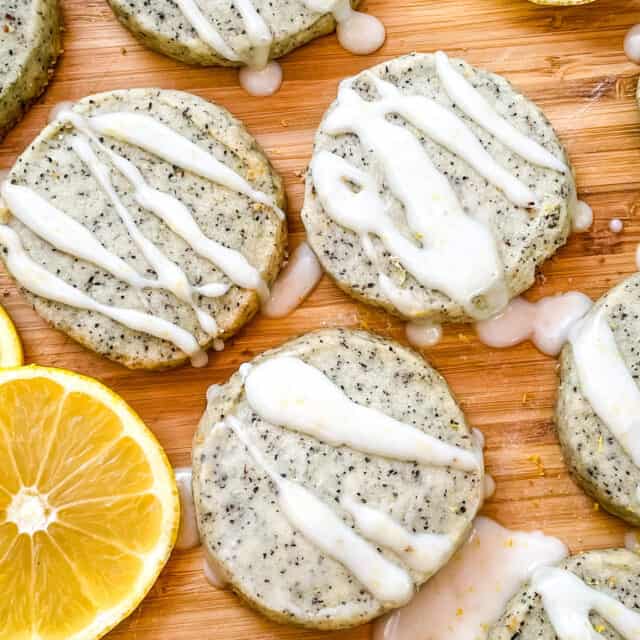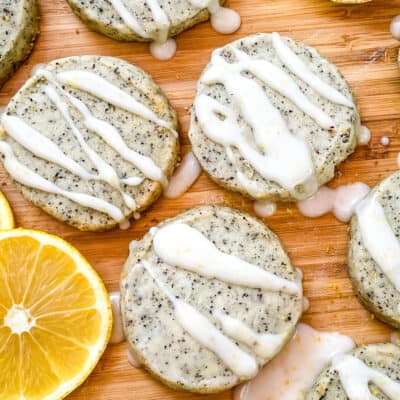 Earl Grey Shortbread Cookie
These Earl Grey Shortbread Cookies are a soft and buttery dessert! Made with earl gray tea and a little lemon for an earthy, floral, and citrus biscuit. Make soft or crisp.
Print
Pin
Rate
Instructions
Preheat oven to 325℉ with the rack in the middle position.

In a food processor, add the flour, sugar, Earl Gray leaves, lemon zest, and salt. Pulse together a few times to mix.

2 cups all-purpose flour,

⅔ cup powdered sugar,

¾ teaspoon salt,

1 ½ Tablespoons Earl Grey tea leaves,

1 Tablespoon lemon zest

Add the butter chunks around the flour along with the lemon juice and pulse again until the dough starts to come together. Do not over process. It should still look crumbly. Press the dough together and it should stick. If it falls apart, add a little more water or lemon juice and quickly blend again.

1 cup unsalted butter,

1 Tablespoon lemon juice

Dump the dough onto a large piece of parchment or plastic wrap. Press the dough into a log shape, using the parchment to help. Wrap the dough up in the parchment, twist the ends, and chill for 30 minutes.

Once the dough has stiffened in its log shape, remove from the refrigerator, peel off the paper, and cut into ½ inch (or thinner) slices using a serated knife.

Place the cookies on a parchment or silicone mat lined baking sheet. (They do not spread too much, so they can be rather close together).

Bake until the cookies are just golden brown on the bottom where they touch the pan, approximately 20 minutes.

Remove the cookies from the sheet and let cool. Once cool, drizzle with or dunk into the lemon glaze.
Notes
You can also make this by hand by pinching the butter into the flour mixture, or using a pastry cutter or fork. If it gets too warm from your hands, chill for a few minutes before continuing.
The powdered sugar makes a soft cookie. To make a crisp shortbread, use the same amount of granulated sugar instead.
For a stronger tea flavor, increase quantity of leaves to 2 Tablespoons. Using 1.5 Tablespoons brings a subtle earthy, floral flavor but not too strong.
Nutrition
Serving:

1

cookie

|

Calories:

182

kcal

|

Carbohydrates:

21

g

|

Protein:

2

g

|

Fat:

10

g

|

Saturated Fat:

7

g

|

Polyunsaturated Fat:

1

g

|

Monounsaturated Fat:

3

g

|

Trans Fat:

1

g

|

Cholesterol:

27

mg

|

Sodium:

100

mg

|

Potassium:

22

mg

|

Fiber:

1

g

|

Sugar:

10

g

|

Vitamin A:

315

IU

|

Vitamin C:

1

mg

|

Calcium:

6

mg

|

Iron:

1

mg

By