This Lemon Glaze is an easy and delicious homemade icing recipe! Use on baked goods like cake, cookies, shortbread, scones, and more. Strong lemon citrus flavor great for spring and summer.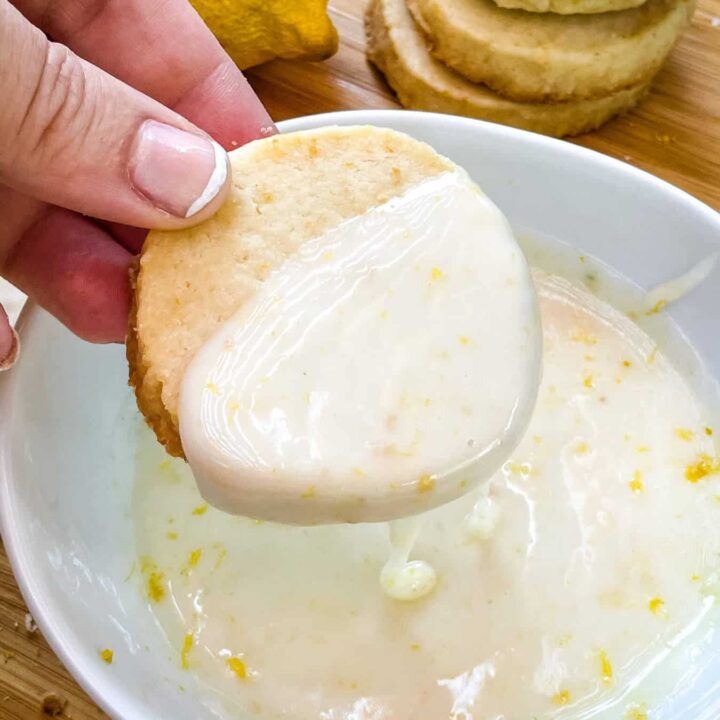 This Lemon Glaze is super easy to make and a perfect sweet addition to your baked goods!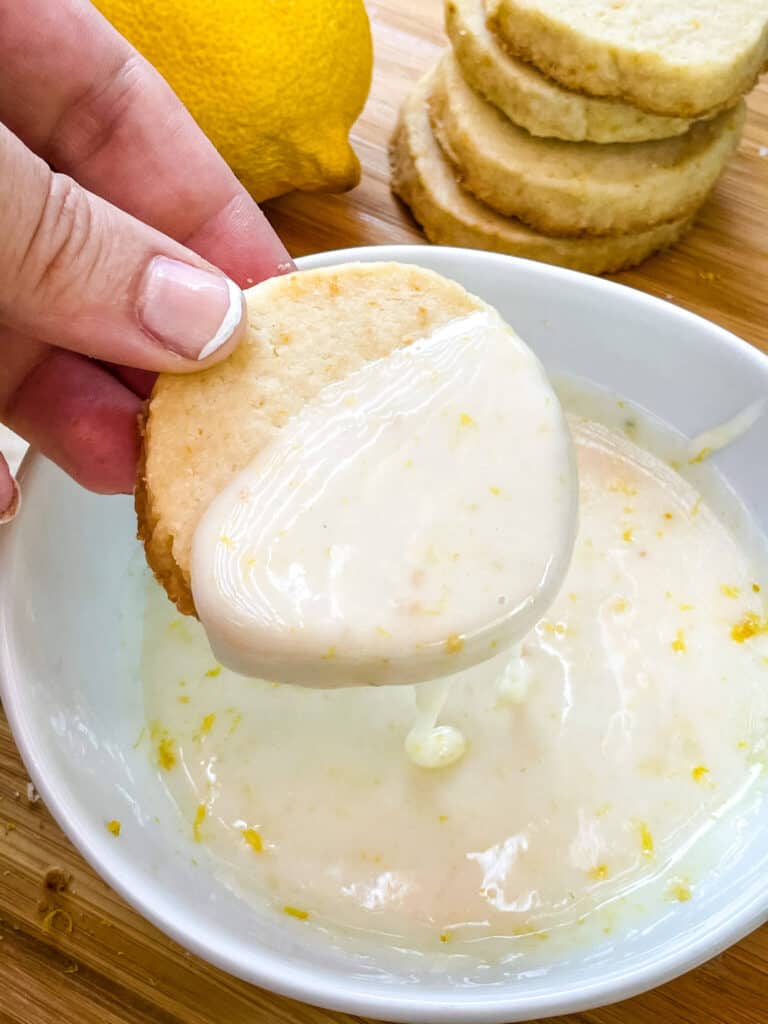 This lemon glaze is soooooo good!
I am in love with lemon and adding a lemon icing to cake, cookies, scones, etc, makes them all that much better.
Lemon Glaze Uses
There are SO many ways you can use a lemon glaze recipe!
My favorite is to drizzle or dunk cookies with it. Some of my favorite recipes are my Earl Grey Shortbread Cookies and many other shortbread recipes.
It is also a great lemon glaze for cake, bundt cake, or pound cakes. Plus cinnamon rolls and scones. Anything with a sweet note that pairs well with lemon will taste delicious!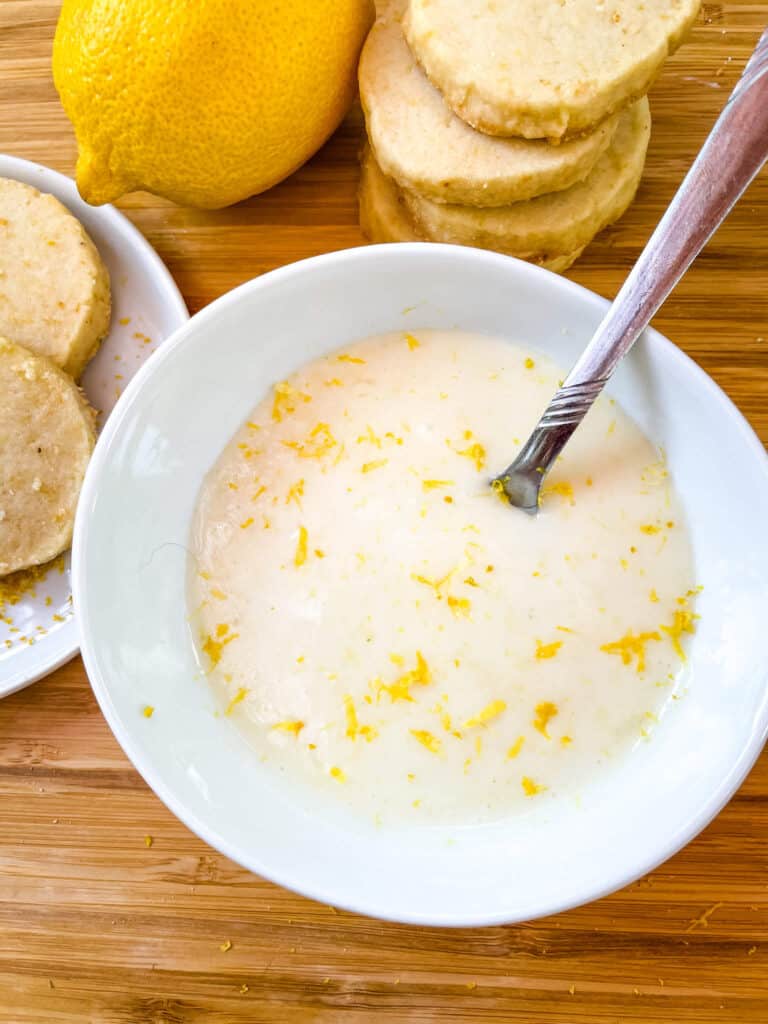 How do you make lemon glaze from scratch?
It is incredibly simple!
You only need a few ingredients: powdered sugar, moisture (we use lemon juice here), lemon zest for some added flavor, and a pinch of salt to balance it out.
Mix them all together, and if it is super thick, add just a touch more liquid until it is similar in consistency to honey. Too thin? You will need to add more sugar.
The balance of sugar to moisture is important in order for the glaze to set up!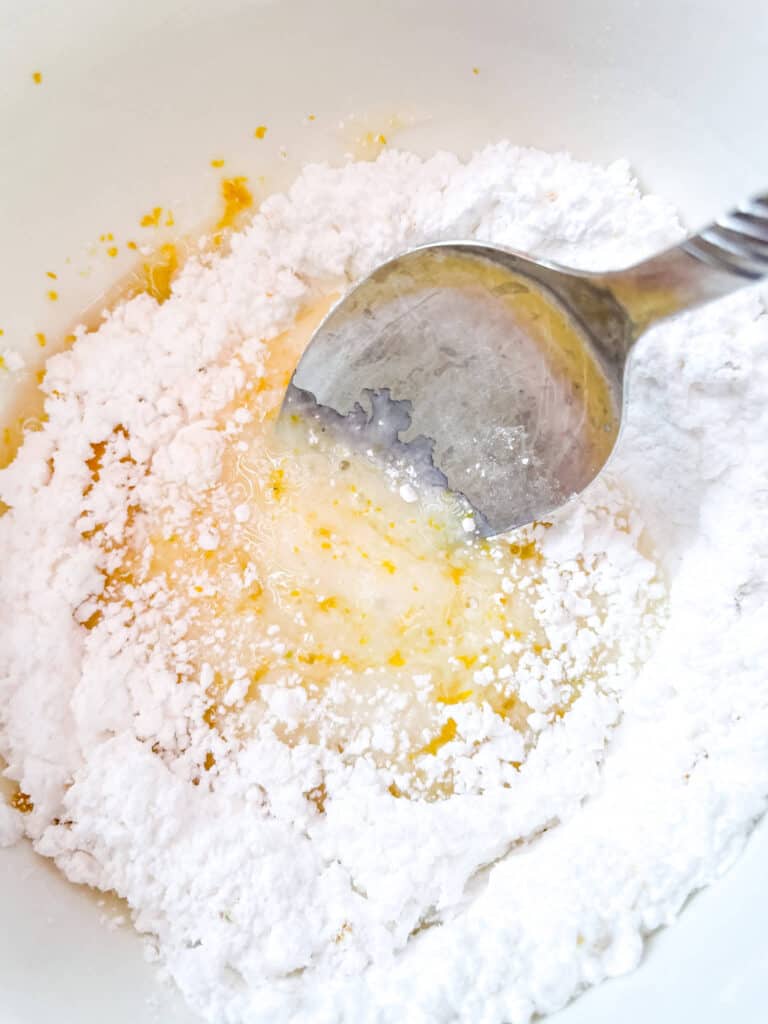 Do you put glaze on warm cake?
No! And the same goes for warm cookies, warm scones, or anything else being warm.
Why?
Because the warmth from the cake or food will heat up the glaze and it will continue to run and get thinner instead of clinging to the food and solidifying. This means you will end up with glaze all over the plate or counter, and not the cake.
Only add the lemon glaze icing when the item is cool, unless you are talking about something you want messy like a cinnamon roll.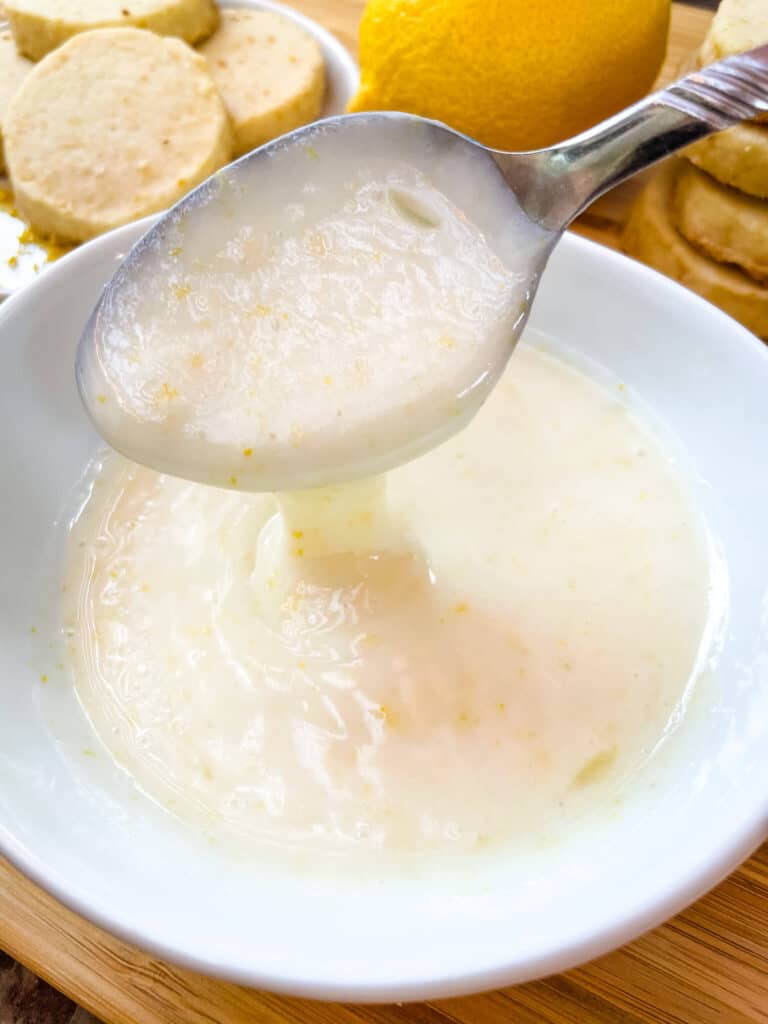 How can you make icing sugar?
Do you not have powdered sugar (icing sugar) on hand?
No probem, you can actual make some!
Just put regular granulated sugar (caster sugar) in a food processor or blender and blend until it is a fine powder, just like powdered sugar. Run your fingers through it and if you still feel some grit and large crystals, keep blending! It can take a few minutes.
Since the blended sugar will reduce in volume, you will want to blend slightly more than the quantity that you need.
Shortbread Cookies
A collection of delicious shortbread cookies!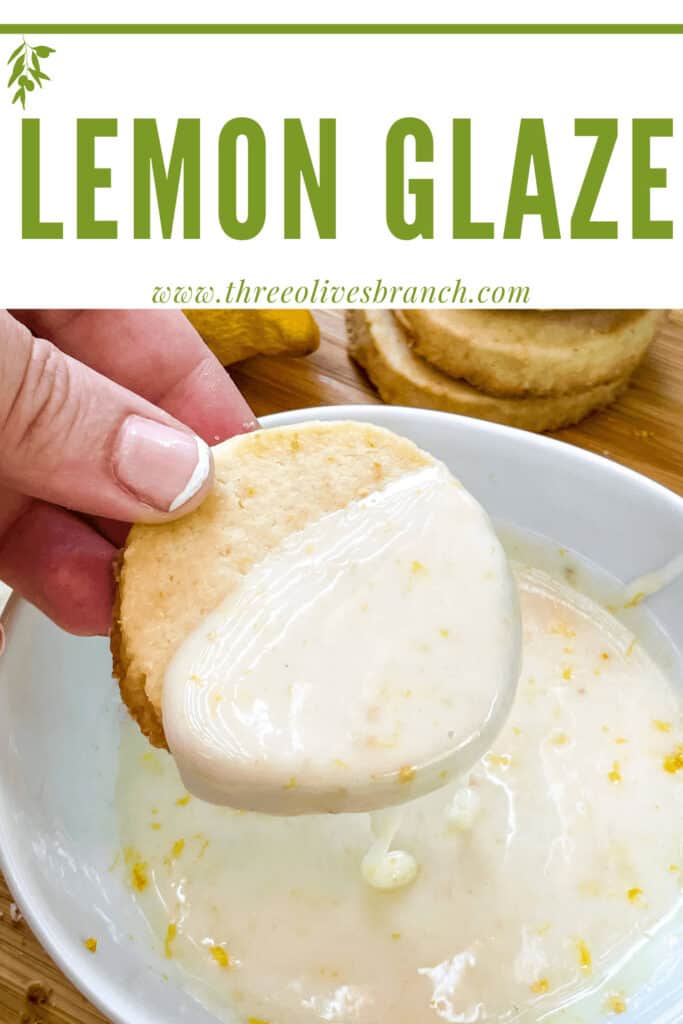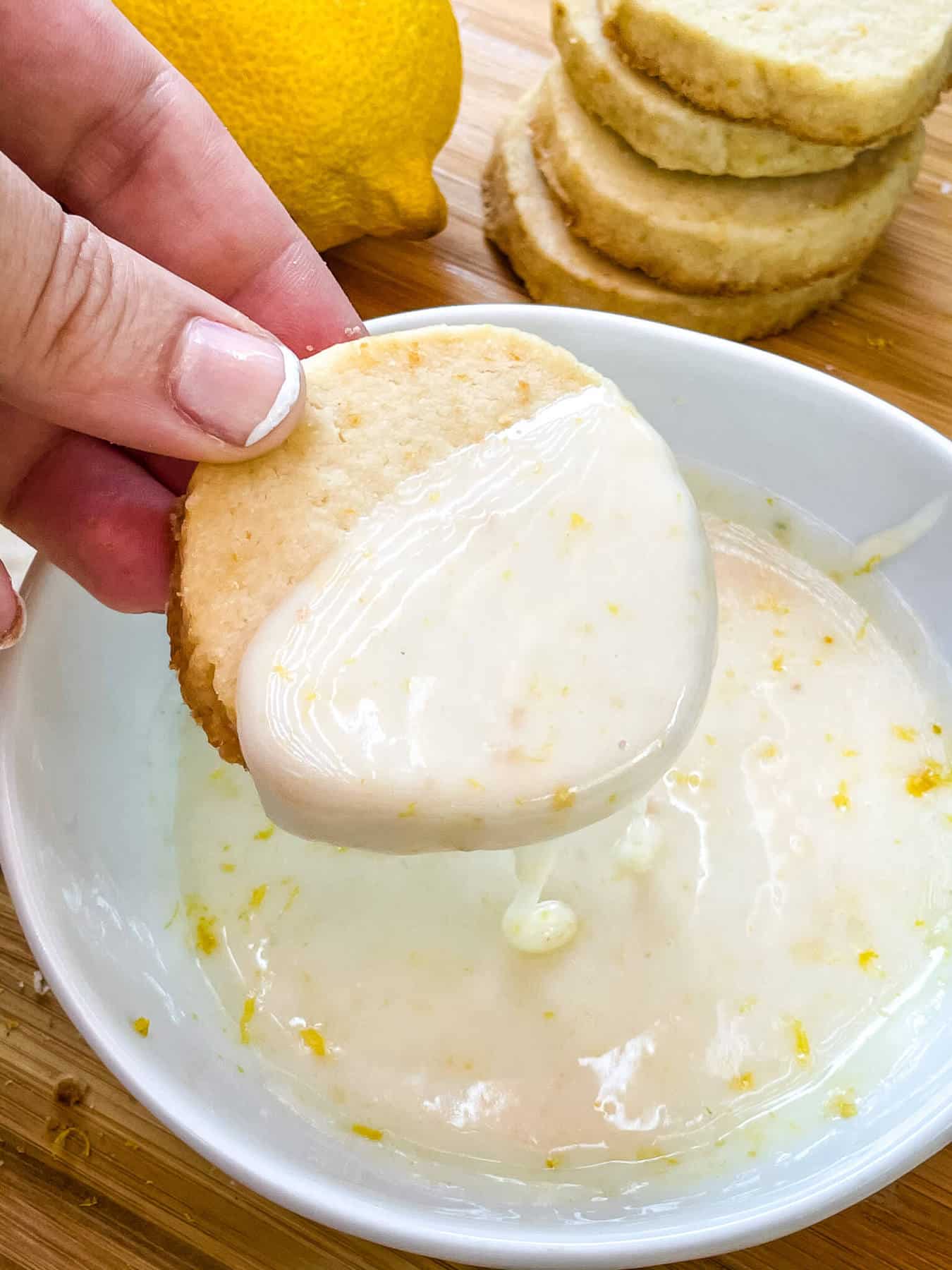 Instructions
Add all of the ingredients together in a small bowl. Mix.

Adjust thickness as needed with more sugar or lemon juice so that it is the thickness of a warm honey. Drizzle, pour, or dunk with cooled baked goods.
Notes
If the glaze is too thick, add a little more lemon juice or water. You want it to be similar to honey in consistency and not too thin either.
Nutrition
Serving:

1

cup

|

Calories:

416

kcal

|

Carbohydrates:

107

g

|

Protein:

1

g

|

Fat:

1

g

|

Saturated Fat:

1

g

|

Polyunsaturated Fat:

1

g

|

Sodium:

22

mg

|

Potassium:

35

mg

|

Fiber:

1

g

|

Sugar:

104

g

|

Vitamin A:

2

IU

|

Vitamin C:

13

mg

|

Calcium:

4

mg

|

Iron:

1

mg

By