A tender Olive Oil Rosemary Shortbread that melts in your mouth with a sweet and savory flavor.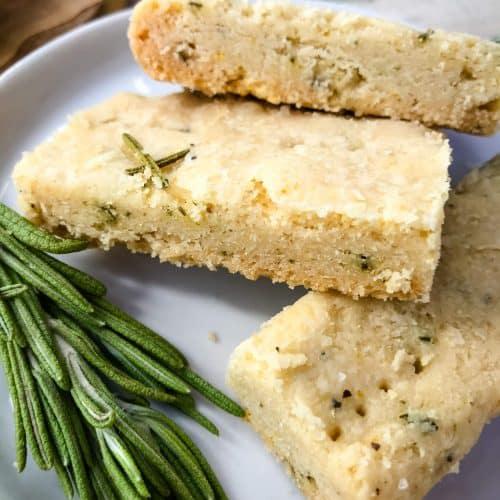 Soft and tender Olive Oil Rosemary Shortbread are a sweet and savory combo!
This post contains affiliate links.
Oh my LORD these shortbread cookies are ridiculously good!
I appreciate good desserts but typically have no problem putting them down. And I also tend to prefer chocolate and berry desserts.
But these Olive Oil Rosemary Shortbread are amazingly addicting!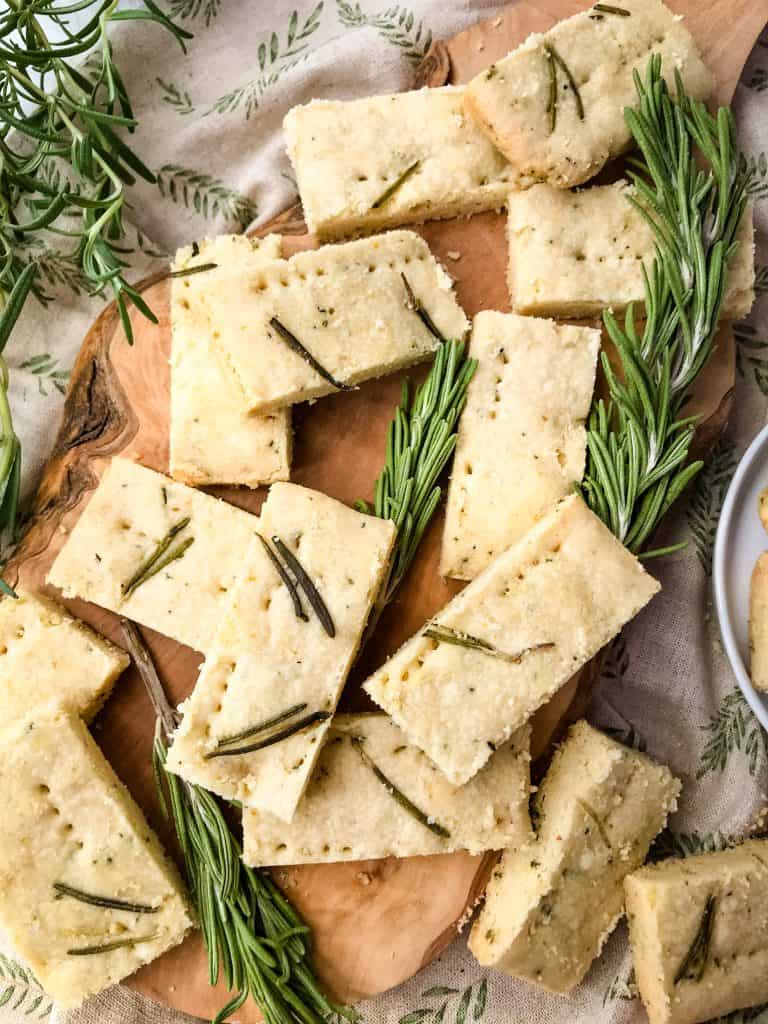 I must admit, when I was working on this recipe, I thought something went seriously wrong.
When making shortbread with butter like our Coffee Shortbread cookies, the dough is rather dry and crumbly.
This dough, because of the oil, was pretty wet. But it WORKS.
The oil brings a delicious, savory richness to the dough but is not too strong.
I prefer shortbread to be soft, so I use powdered sugar.
I am a strong fan of Team Soft Cookies!
If you want the cookies crisper or firmer, substitute the same amount of granulated sugar for the powdered sugar.
The addition of lemon zest brings just a hint of brightness without an obvious lemon flavor.
If you do want the lemon to be noticeable, use the zest of two lemons (or even three) instead of one.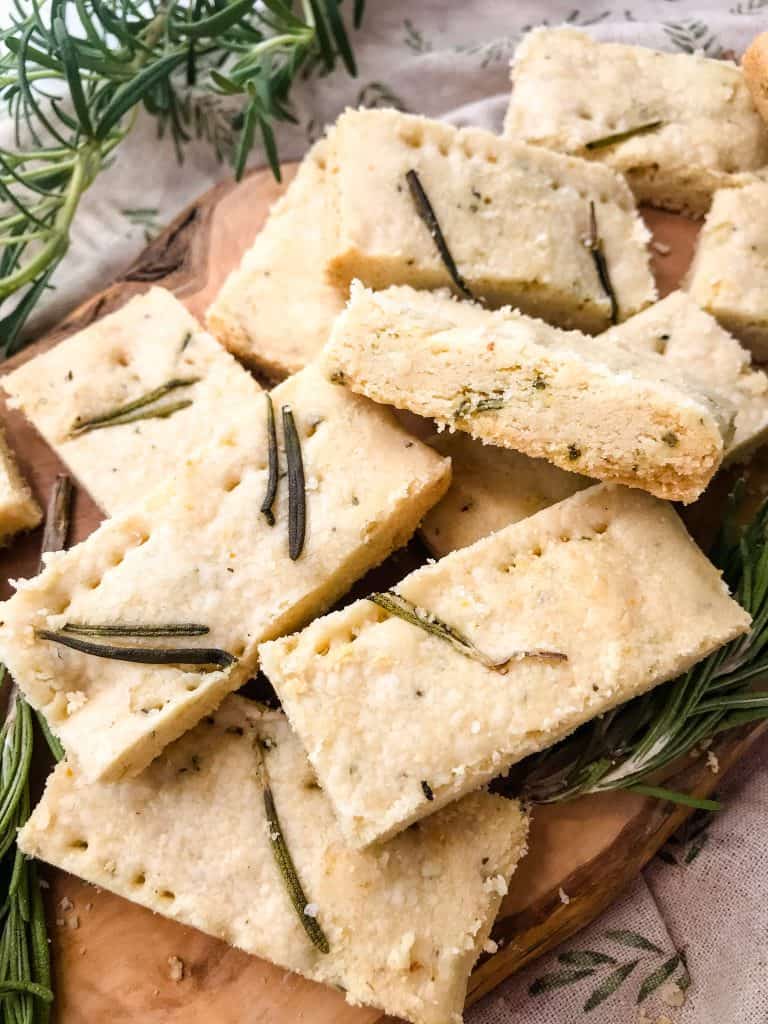 Olive Oil Rosemary Shortbread are sweet and savory, so don't expect them to be traditional sweet cookies.
The use of olive oil, rosemary, and salt balanced with the sugar brings a chocolate-pretzel-vibe to the cookies.
And I just love it.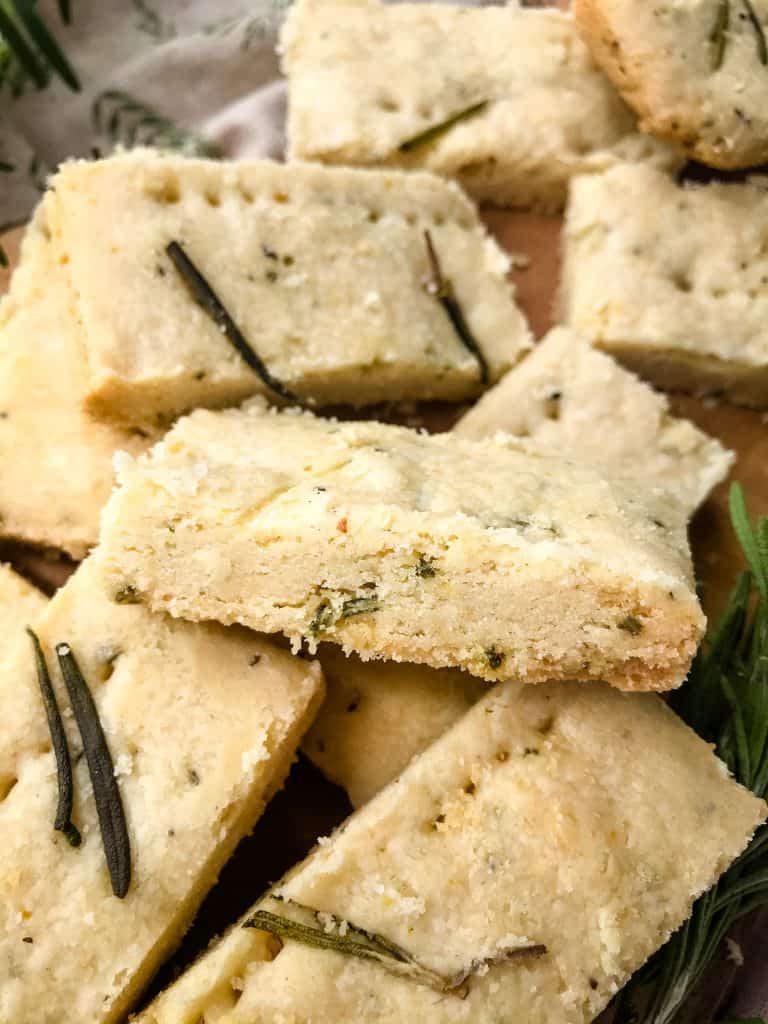 The olive oil shortbread dough looks very wet compared to traditional shortbread dough. And I was skeptical about it.
But it worked beautifully and still has an amazing and light texture.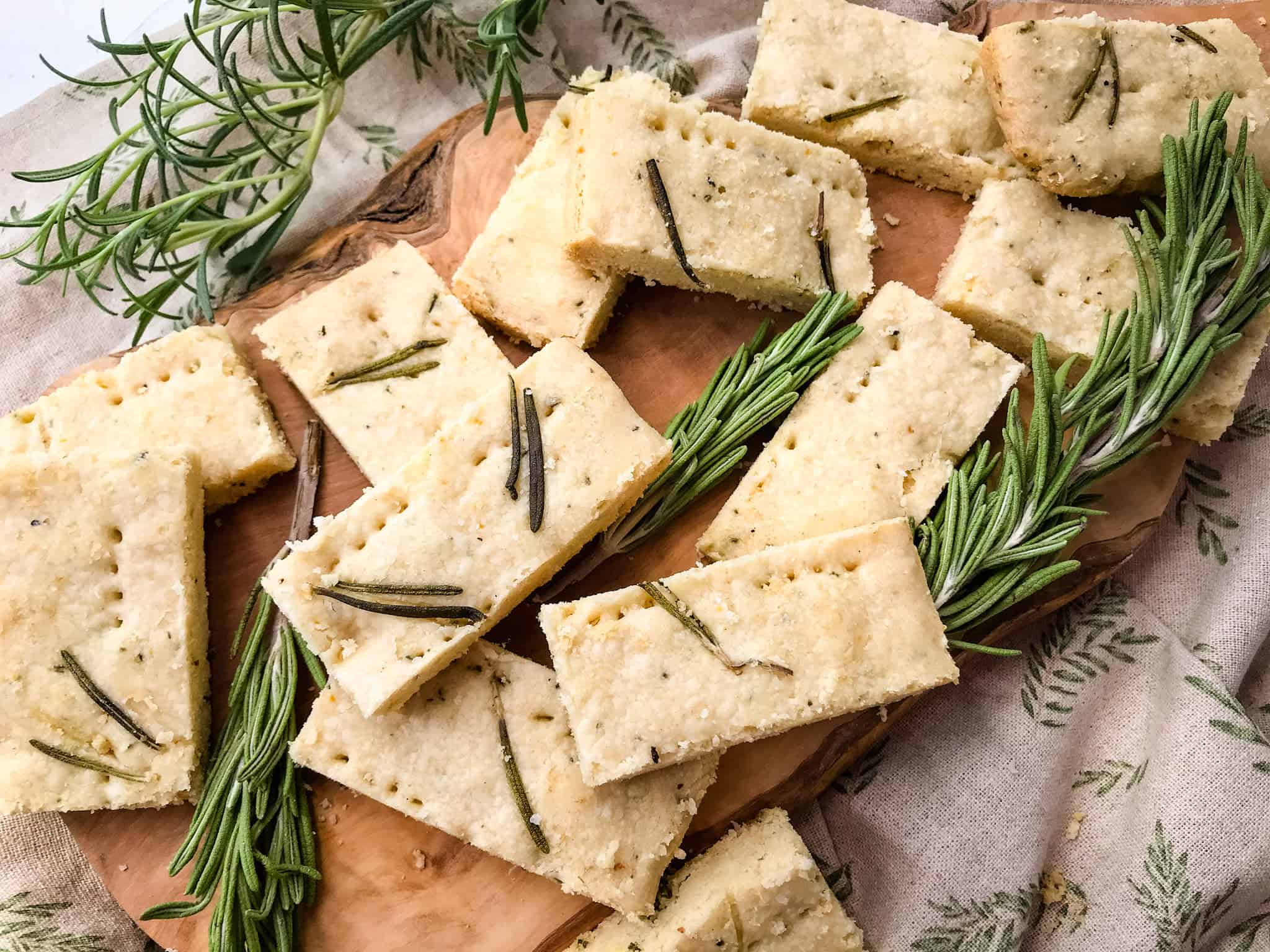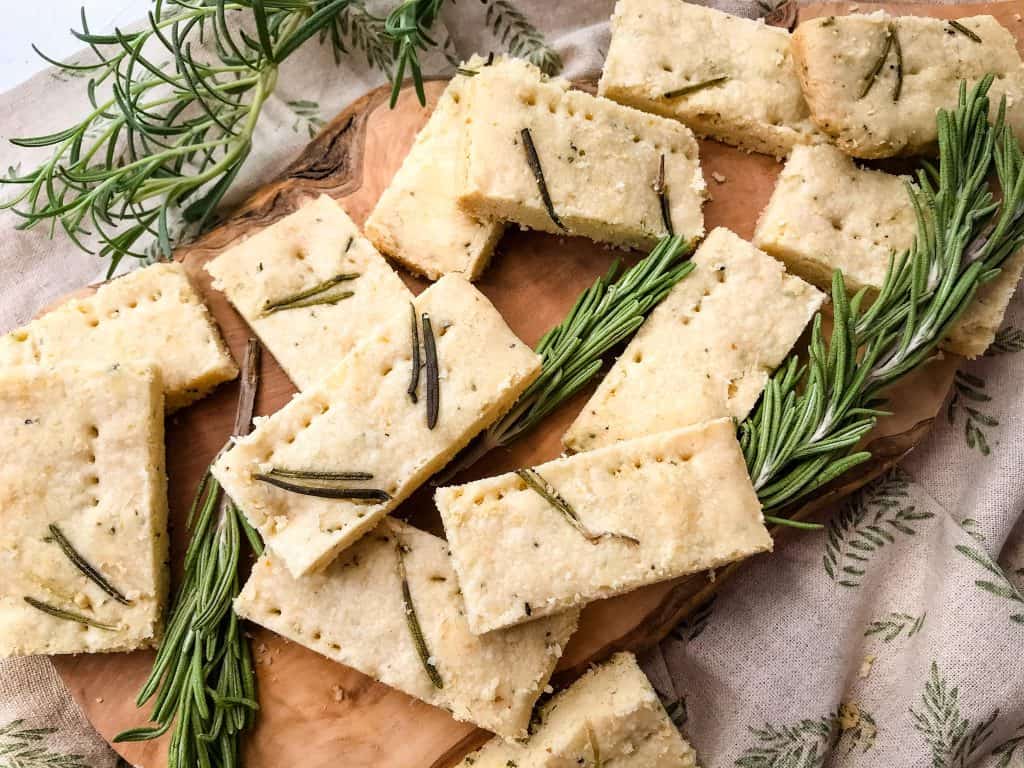 The savory shortbread are very, very fragile. Be sure to cut them when warm while they still cooperate with being cut.
And if worried about their appearance, such as for an event or a gift, use gentle touch.
Even trying to brush off crumbs with your fingers can damage the cookies! Try blowing on them or fanning them instead of clean them of crumbs.
Cookie Recipes
Delicious cookie recipes that you can enjoy all year long!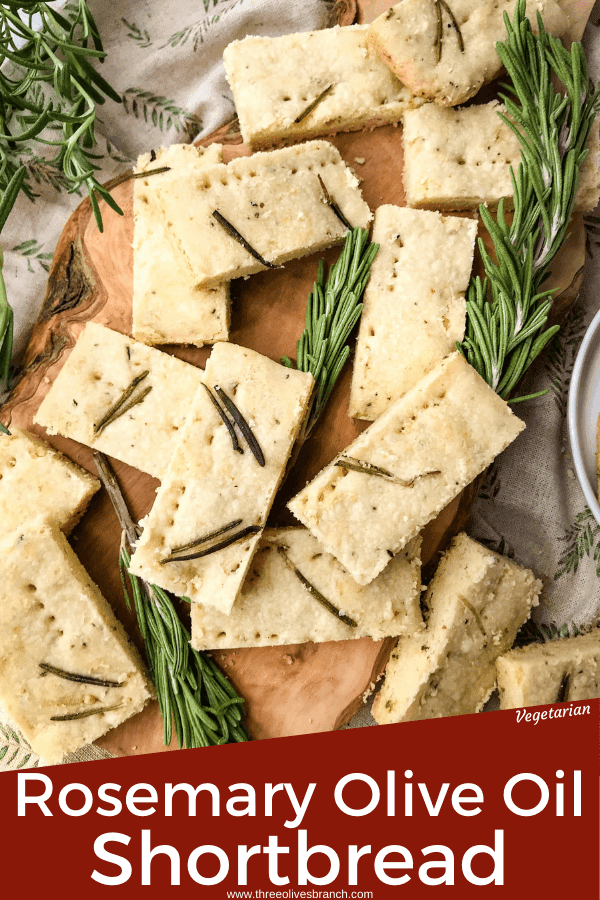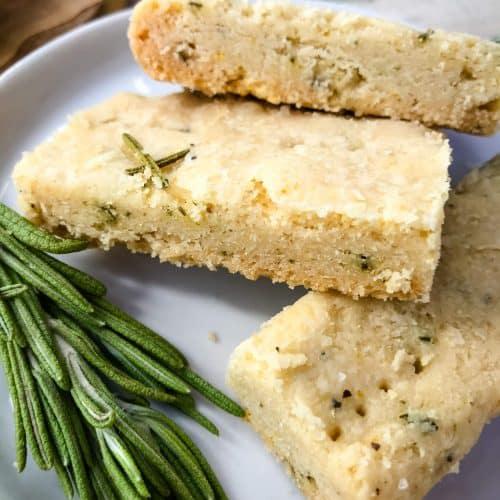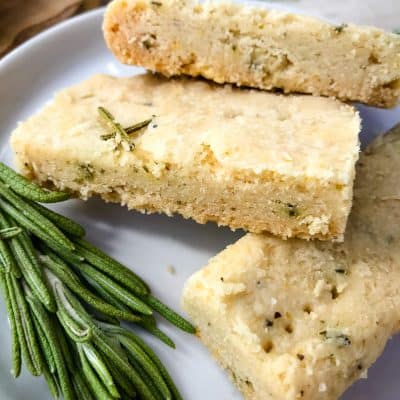 Olive Oil Rosemary Shortbread
A tender Olive Oil Rosemary Shortbread that melts in your mouth with a sweet and savory flavor.
Print
Pin
Rate
Instructions
Preheat oven to 325F with the rack in the middle position.

Line an 8 or 9 inch square baking dish with parchment paper, with at least two edges hanging over the dish (this will make it much easier to remove the cookies later).

In a food processor, add the flour, sugar, salt, zest of one lemon, and rosemary. Pulse together a few times to mix.

Slowly drizzle the olive oil into the dough and pulse until just combined and incorporated. The dough will look wet.

Press the dough across the bottom of the baking dish inn an even layer. Prick the dough all over with a fork. If desired, press some additional rosemary leaves into the top of the dough. Sprinkle with a little additional salt across the dough.

Bake until the cookies are just golden brown, approximately 35-40 minutes. (An 8 inch pan may take 5-10 minutes longer as the dough is thicker).

Place the baking dish on a wire rack to cool. While still warm but not hot, remove the bars from the dish using the edges of the parchment paper. Cut into squares, triangles, or rectangles as desired.
Notes
To get a firmer, crisper shortbread, use granulated sugar instead of powdered sugar.
The lemon is n not obvious in this recipe. If you want to taste the lemon, increase to zest from 2 or 3 lemons.
It is important to cut while still warm to minimize breaking and crumbling as the dough is very tender.
Nutrition
Serving:

1

cookie (1/18)

|

Calories:

149

kcal

|

Carbohydrates:

16

g

|

Protein:

2

g

|

Fat:

9

g

|

Saturated Fat:

1

g

|

Sodium:

130

mg

|

Potassium:

23

mg

|

Fiber:

1

g

|

Sugar:

5

g

|

Vitamin A:

3

IU

|

Vitamin C:

3

mg

|

Calcium:

4

mg

|

Iron:

1

mg

By