These Lemon Shortbread cookies are soft and buttery. Perfect for spring, tea parties, and light baking. Lots of citrus flavor and topped with a lemon glaze.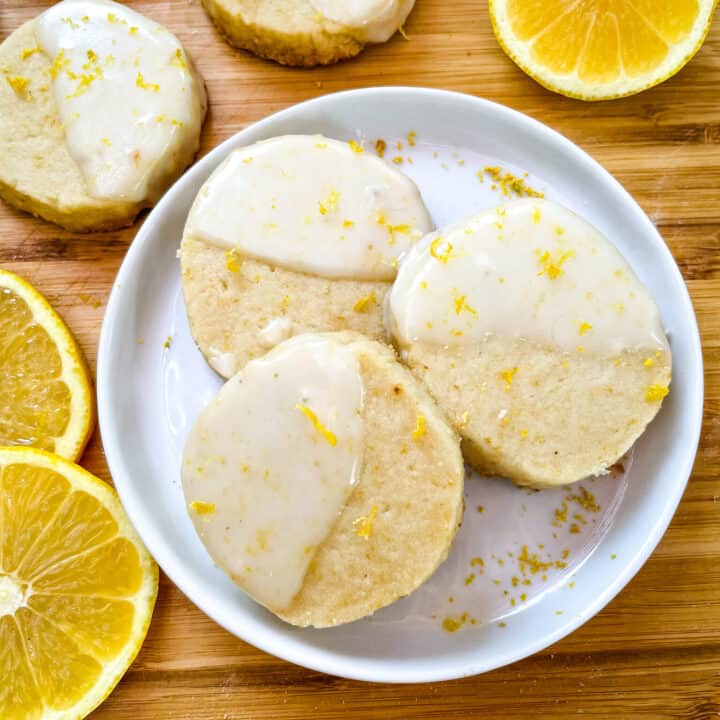 Soft and buttery Lemon Shortbread cookies are a perfect treat! Packed with lots of lemon flavor in a simple biscuit.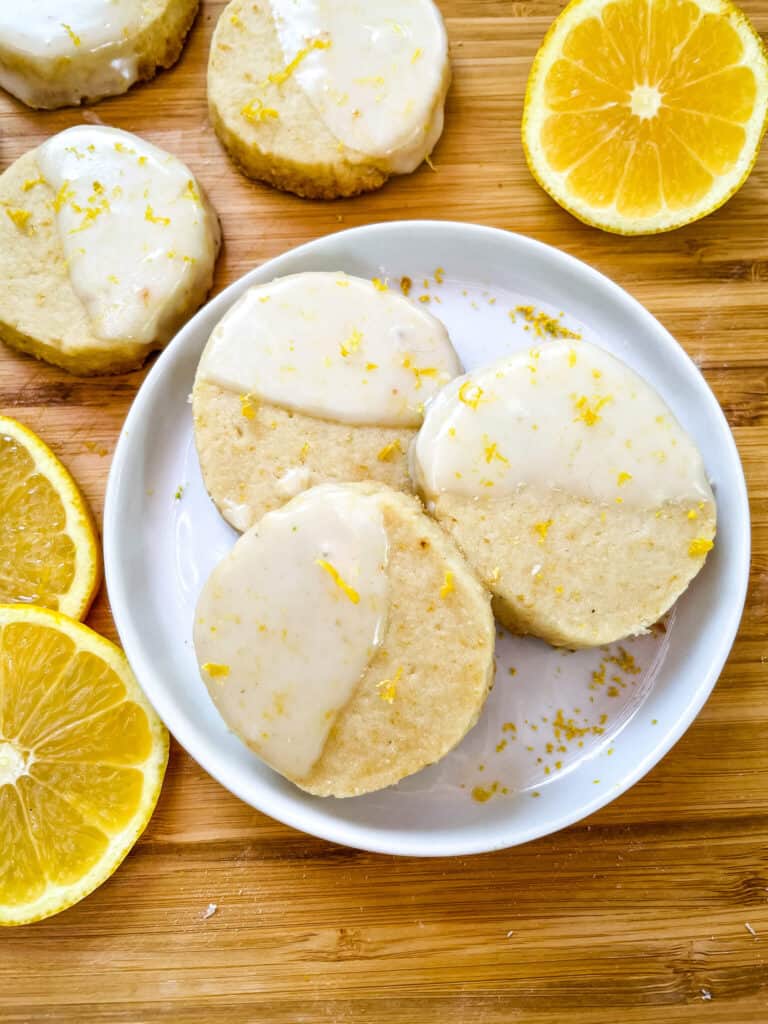 Lemon Shortbread
Oh my WORD these lemon shortbread cookies are one of the best things I have made in a long time.
I am an absolute lover of lemon anything, and if I am eating something that claims to be lemon, I want to KNOW it is there and have it hit me over the head with lemon flavor.
These lemon cookies are best when topped with a quick homemade lemon glaze!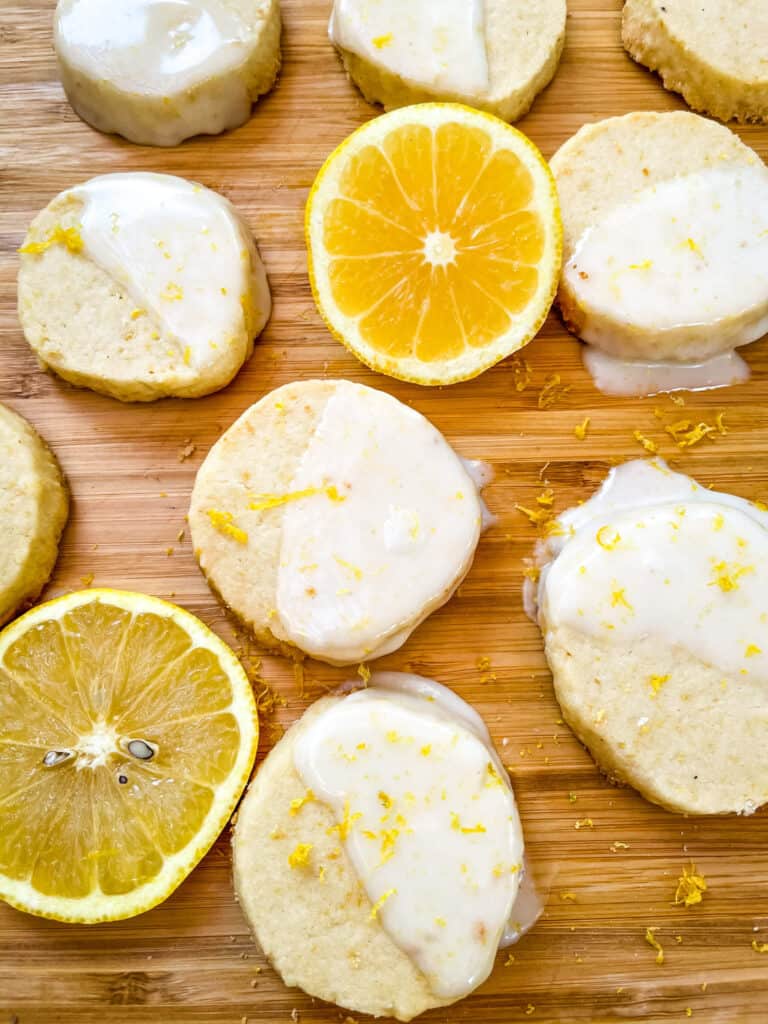 What is the difference between cookies and shortbread?
Ratios and ingredients are what make cookies and shortbread different.
Cookies typically have eggs, and shortbread does not.
Shortbread also uses more butter for the same amount of flour, which makes the shortbread more crumbly and soft.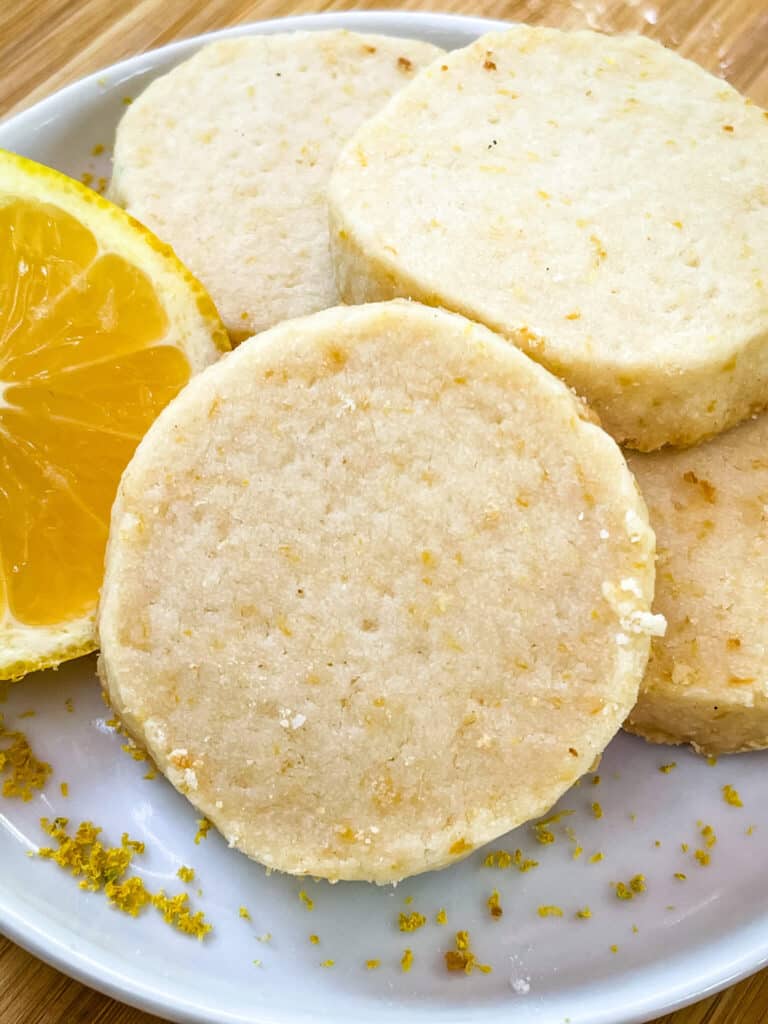 Why do you put shortbread in the fridge before baking?
See more about this in the question below, but having the log chilled will make it much easier to cut and will also help prevent the cookies from spreading and the butter leaking out of the cookies because it is too warm.
If the butter leaks out, you are going to lose flavor and texture of the cookies.
If you are baking the cookies in a baking dish, as written in the instructions, then there is no need to chill first since everything is trapped together in one place with nowhere to leak to. To make them this way, follow the instructions after making the dough for our Olive Oil Rosemary Shortbread.
Why did my shortbread cookies go flat?
The cookies could flatten from the butter melting too fast. This occurs if your oven is too hot.
If you know your oven runs hot, use a temperature slightly lower.
It is also important to make sure the dough is chilled and not too warm when you bake it which will help prevent the butter from melting and spreading too fast.
Also, do not put the cookies in the oven until it is done preheating. The heating process is a higher heat blast that will affect your cookies.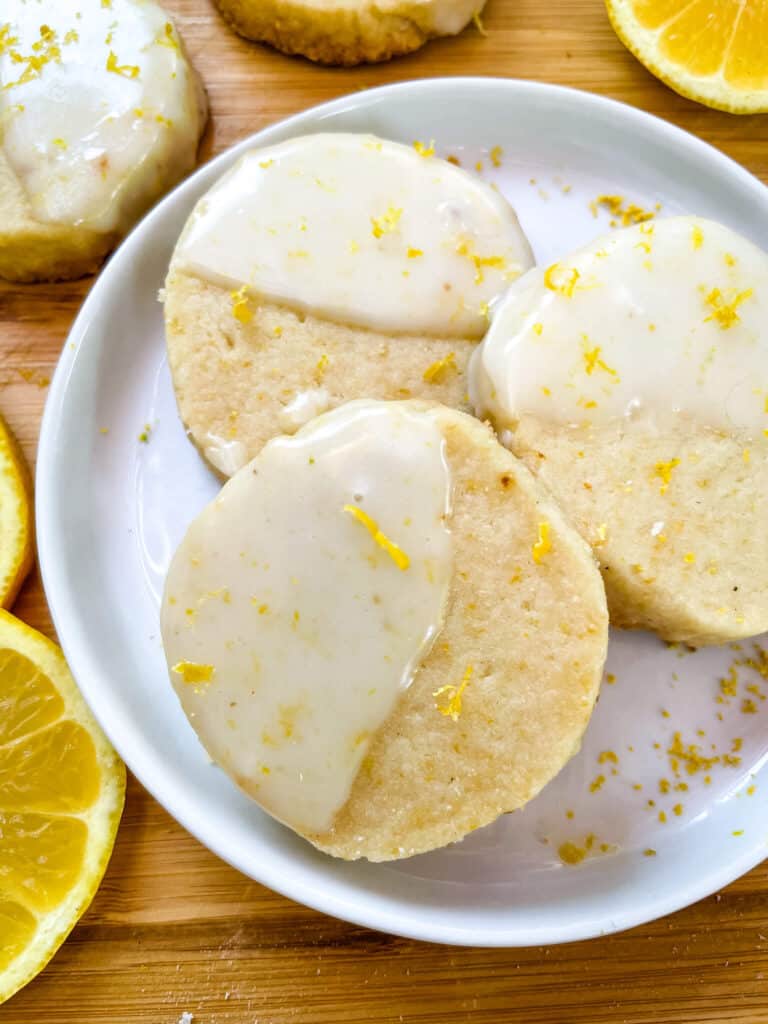 Cooking Tips for the Shortbread
Unlike most cookies, you are not trying to get a golden brown shortbread.
The shortbread should still be rather pale. Look for the very bottom edge of the cookie to just start turning a light golden brown. This is when you want to pull them out of the oven!
Try to not make the cookies too thick, because trying to get them cooked through without over cooking the outside is a little tricky.
If you do want them thicker, I recommend cooking them in one large piece in a baking dish. Use the same ingredients but instead of rolling into a log, follow the instructions for my Coffee Shortbread Recipe at step 5.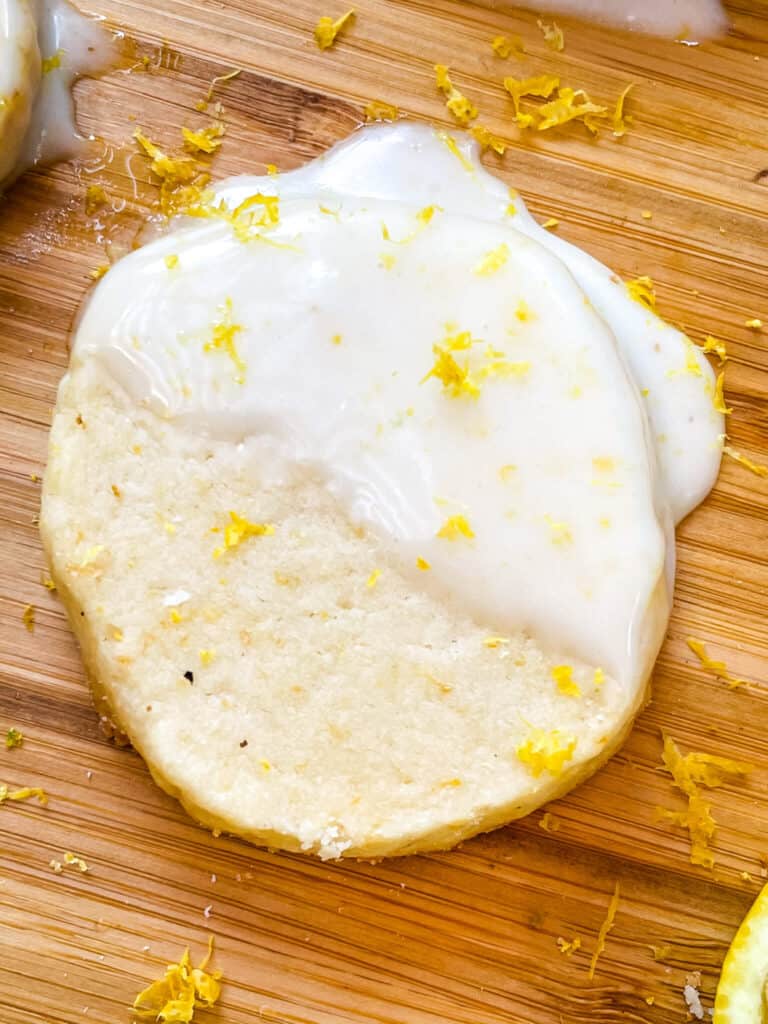 Soft or Crisp Cookies
I learned the magic of different sugars by accident one time when I was making my Cherry Limeade Tart.
If you want a crisp, firm cookie, use granulated sugar.
If you want a soft cookie, which is what this recipe makes, use powdered sugar.
They are a 1 for 1 substitution (same quantity regardless of sugar type), so simply use whichever sugar you want based on how crisp or soft you want the shortbread to be.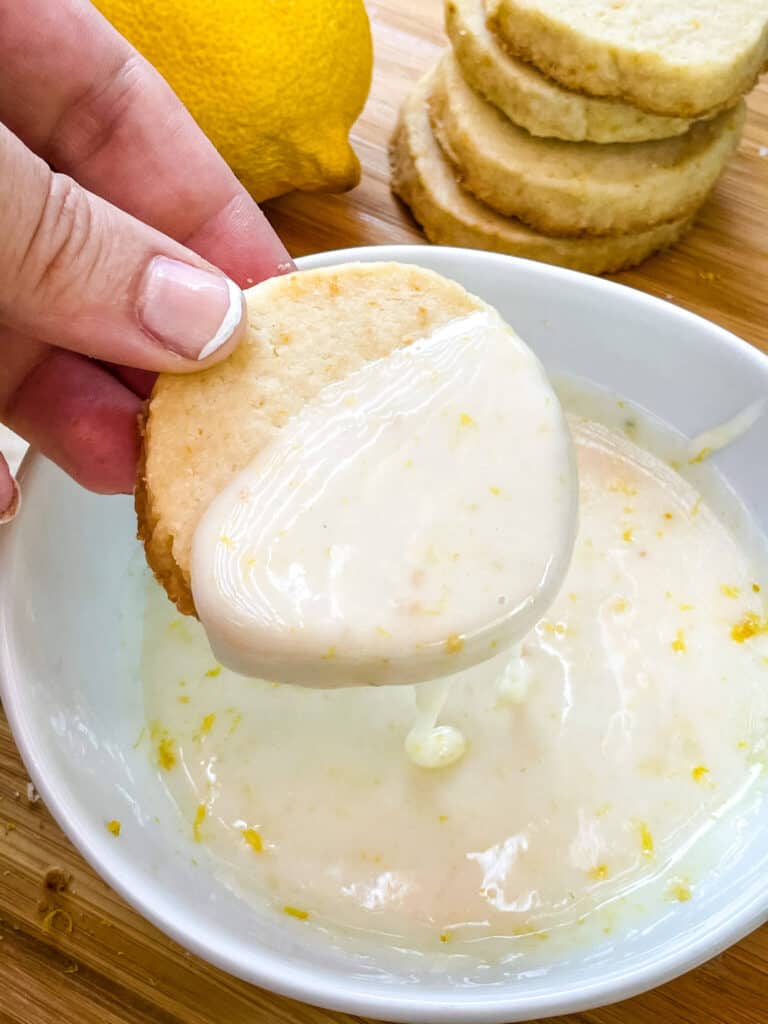 Glaze for Cookies
I just love to make my lemon glaze for these tea cookies.
The lemon is a perfect pairing to the lavender flavor, enhancing that hint of citrus, and reminding you of having a cup of tea in front of you.
When you add the glaze, you can either dunk the cookies or drizzle it on top. But regardless of how you use it, make sure the cookies are cool first! If the cookies are warm, the glaze will slide off.
Shortbread Cookies
A collection of delicious shortbread cookies!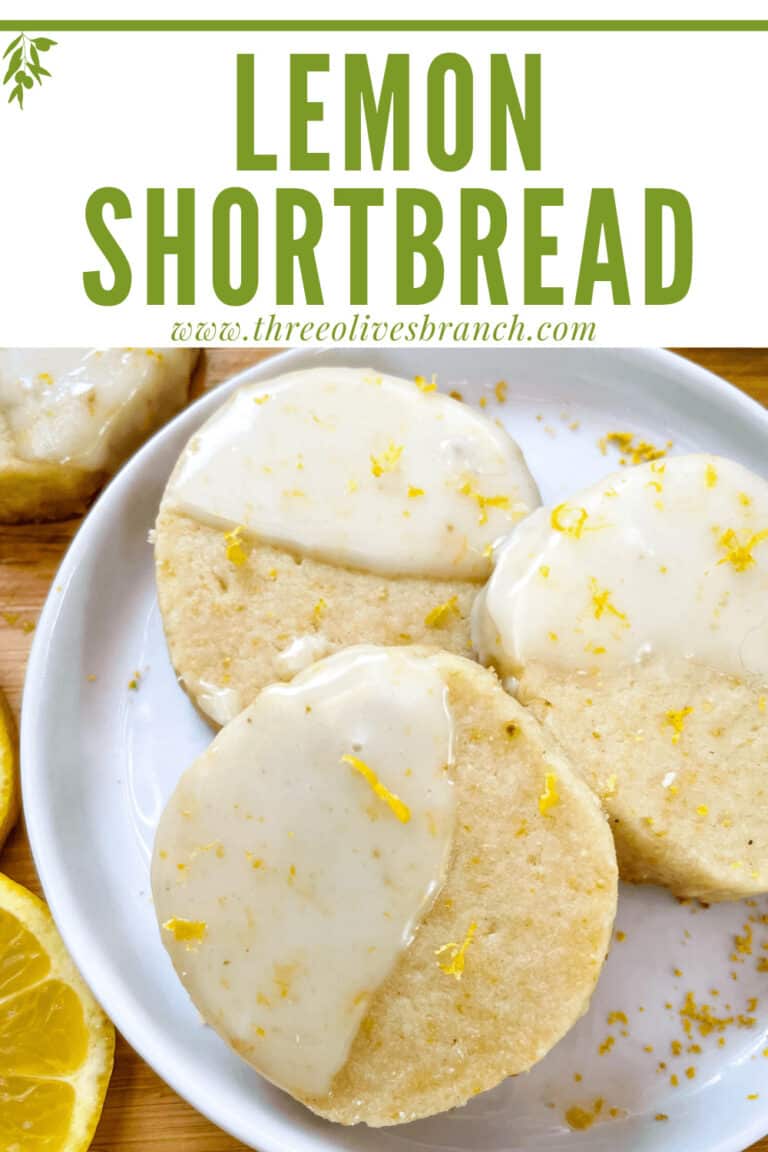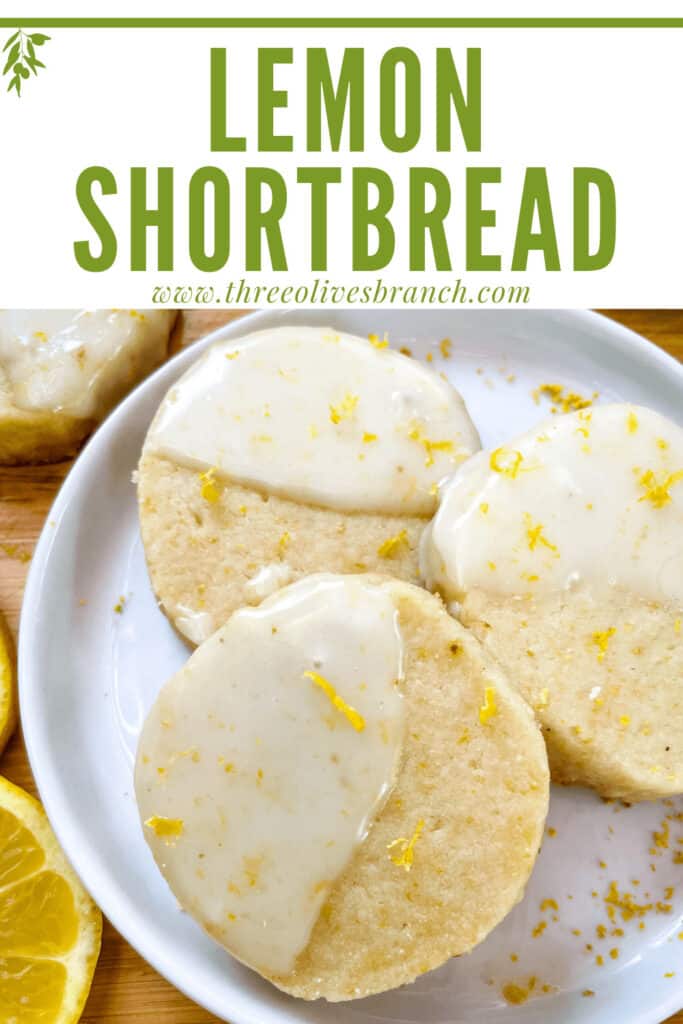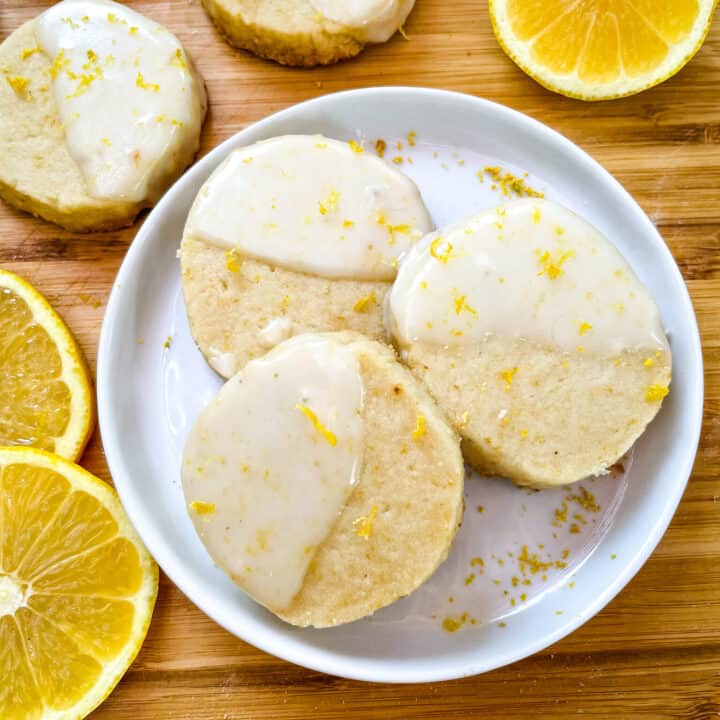 Lemon Shortbread
These Lemon Shortbread cookies are soft and buttery. Perfect for spring, tea parties, and light baking. Lots of citrus flavor and topped with a lemon glaze.
Print
Pin
Rate
Instructions
Preheat oven to 325°F with the rack in the middle position.

In a food processor, add the flour, sugar, salt, and lemon zest. Pulse together a few times to mix.

Add the butter chunks around the flour along with the lemon juice. Pulse again until the dough starts to come together. Do not over process. It should still look crumbly. The dough should stick together when squeezed. If too dry, add a little more water or lemon juice and briefly incorporate.

Dump the dough onto a large sheet of parchment paper. Start pressing it together into a log shape, and roll up the paper around it to help make it into a log. Twist the ends and place in the refrigerator to chill for 30 minutes.

Remove the dough log from the paper and using a serrated knife, slice the dough into ½ inch (or thinner) pieces.

Place the cookies on a silicone mat or parchment lined baking sheet. Bake approximately 20 minutes, until the bottom edges that touch the baking sheet are just starting to turn a golden brown.

Remove the cookies from the oven. Place the cookies on a wire rack to cool.

If desired, dunk or drizzle with the lemon glaze when the cookies are cool. Sprinkle with more lemon zest on top of the wet glaze to set. Store in an airtight container for up to two weeks.
Notes
You can also make this by hand by pinching the butter into the flour mixture, or using a pastry cutter or fork. If it gets too warm from your hands, chill for a few minutes before continuing.
If you want to make these in a square pan and cut them into triangles or rectangles, follow instructions for Lemon Lavender Shortbread Cookies after making the dough.
Nutrition
Serving:

1

cookie (1/18)

|

Calories:

182

kcal

|

Carbohydrates:

21

g

|

Protein:

2

g

|

Fat:

10

g

|

Saturated Fat:

7

g

|

Polyunsaturated Fat:

1

g

|

Monounsaturated Fat:

3

g

|

Trans Fat:

1

g

|

Cholesterol:

27

mg

|

Sodium:

100

mg

|

Potassium:

23

mg

|

Fiber:

1

g

|

Sugar:

10

g

|

Vitamin A:

316

IU

|

Vitamin C:

2

mg

|

Calcium:

7

mg

|

Iron:

1

mg

By