These homemade dog treats are a perfect way to spoil your puppy for fall!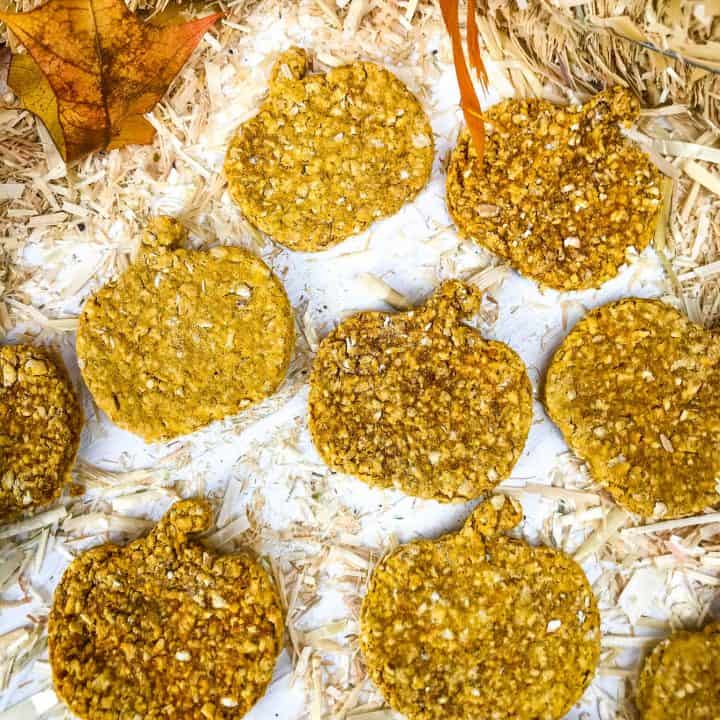 These Gluten Free Oatmeal Pumpkin Dog Treats are a perfect way to spoil your puppy for fall!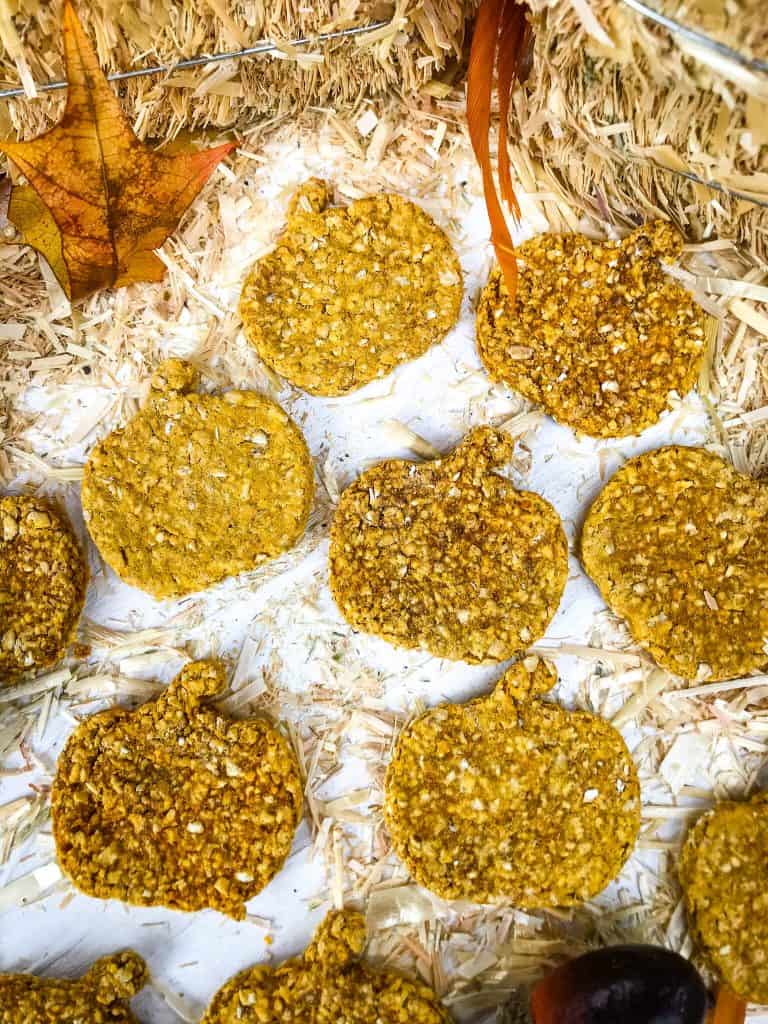 This post contains affiliate links.
Homemade Dog Treats
I love making homemade dog treats for my puppy!
And while they can be healthy, please note I am not a vet or any other trained professional. Please contact your vet for more information about what is safe and appropriate for your pet.
Find more of our homemade dog treats here!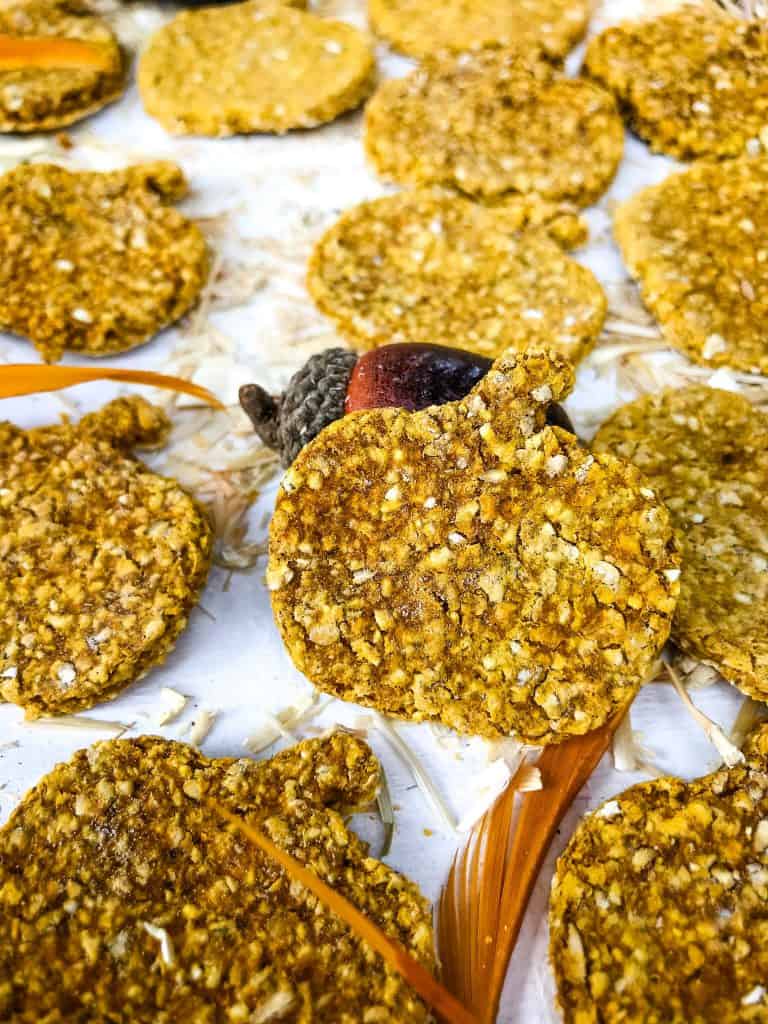 Ingredients Needed
This is what you need to make the treats:
Oats
Pumpkin puree
Flax seeds (optional)
Honey
Cinnamon
The ground flax seeds are completely optional however I like to add them for the health benefits.
I have also found that any type of oat turns out great. Because the base of the dog cookies is ground oats, it results in gluten free dog treats.
And since these treats are perfect for fall, I like to keep them festive by using a pumpkin cookie cutter!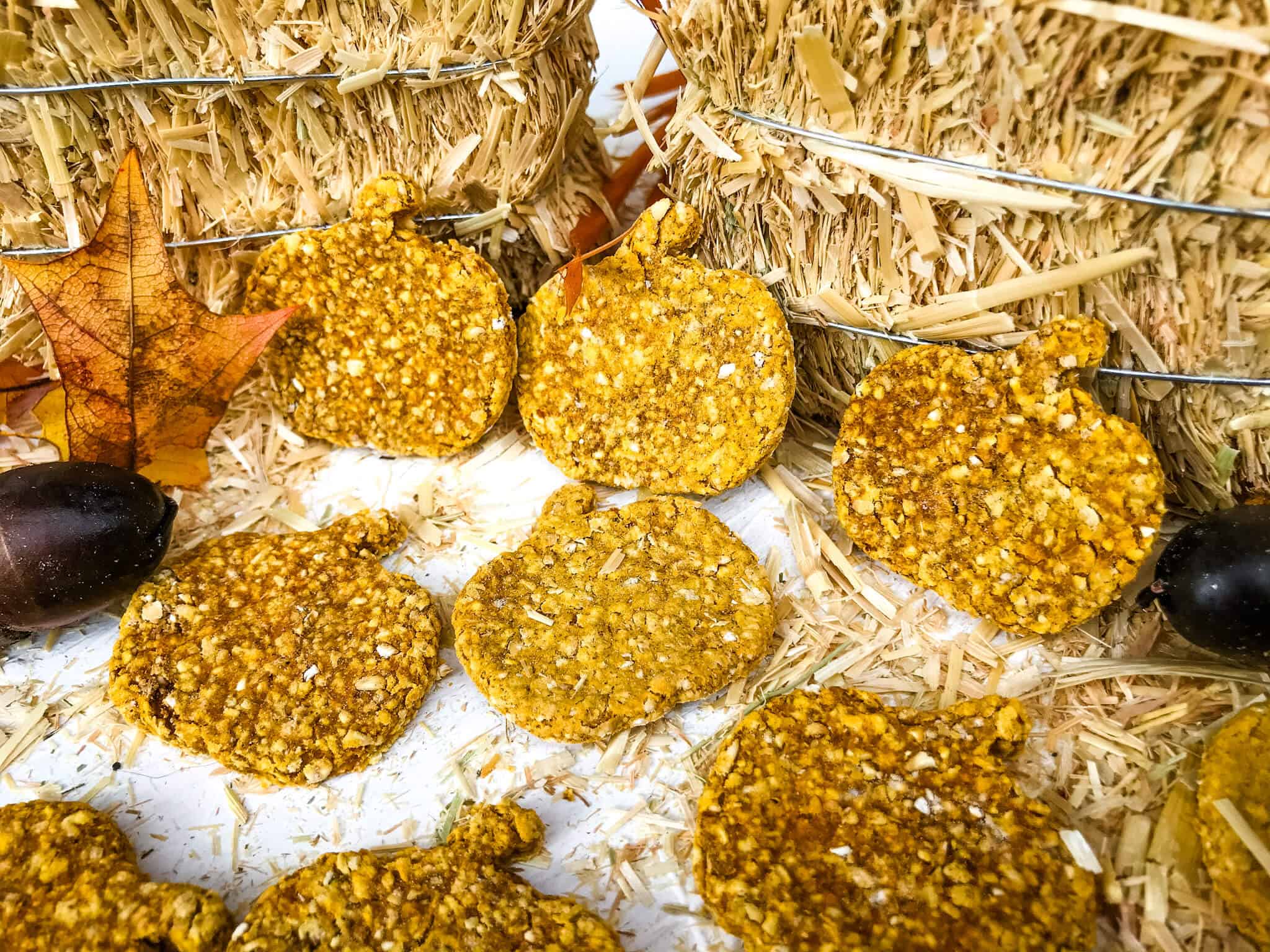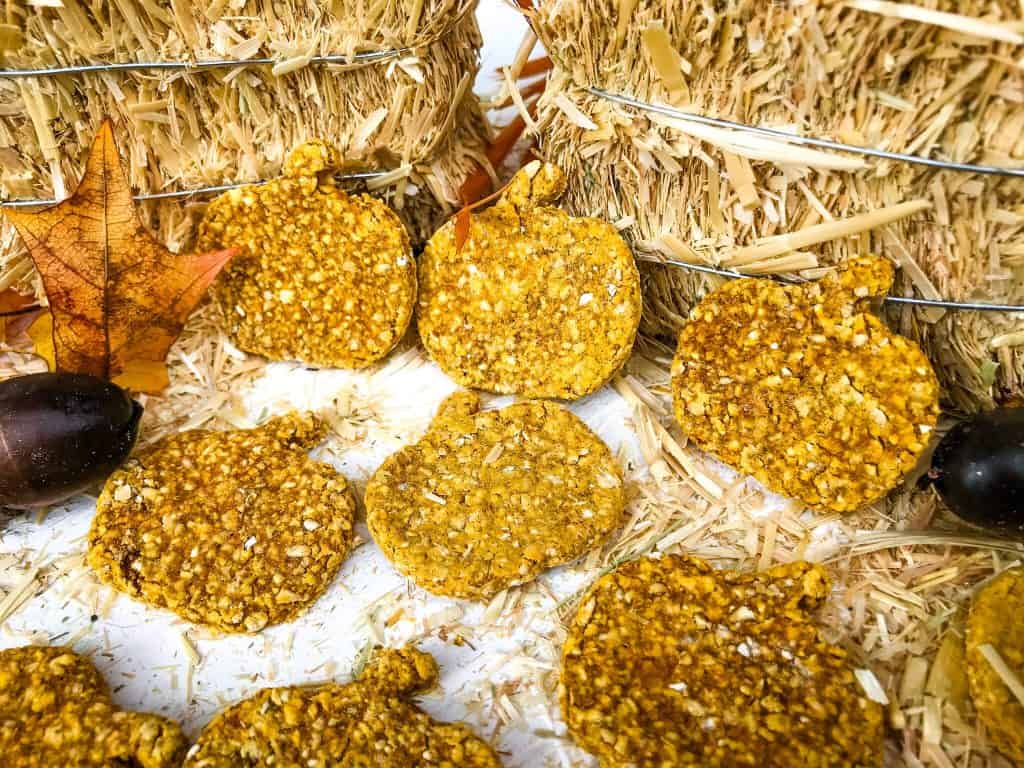 I must admit that my puppy is spoiled and gets a fair share of treats.
But when I am making homemade dog treats that are healthy with real ingredients, I feel a little less guilty about it!
Are pumpkin treats good for dogs?
Pumpkin is full of nutrition for dogs and a great ingredient for regulating the digestive system.
They key is to use pumpkin that is not full of sugars and spices, so you want to find pure pumpkin and not pumpkin pie mix.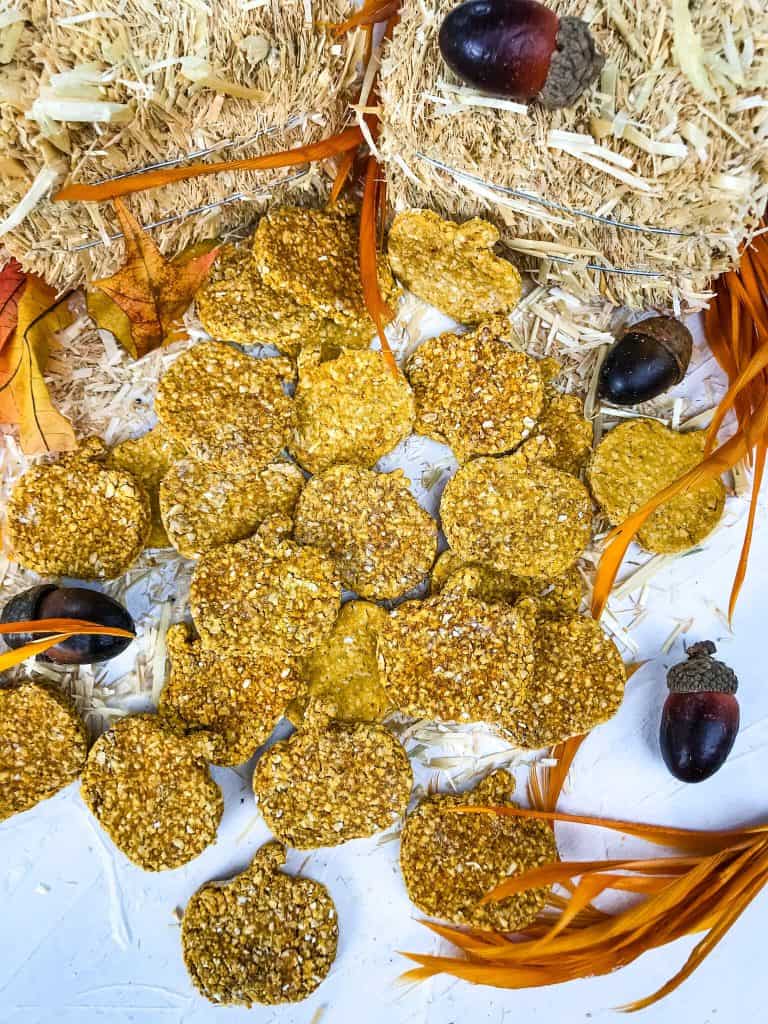 Instruction Overview
First, oats are ground to make a flour like consistency.
Then mix the flour with more oats, pumpkin puree, and the remaining ingredients.
Roll them out just like you would cookies and bake them to your desired doneness.
Oatmeal Pumpkin Dog Treats can be either soft or crunchy.
For crunchy treats, make them thin and leave them in the warm oven to dry out.
For soft treats, make them a little thicker and do not leave them in the warm oven.
Soft treats will go bad quickly, so make sure you keep them in the refrigerator.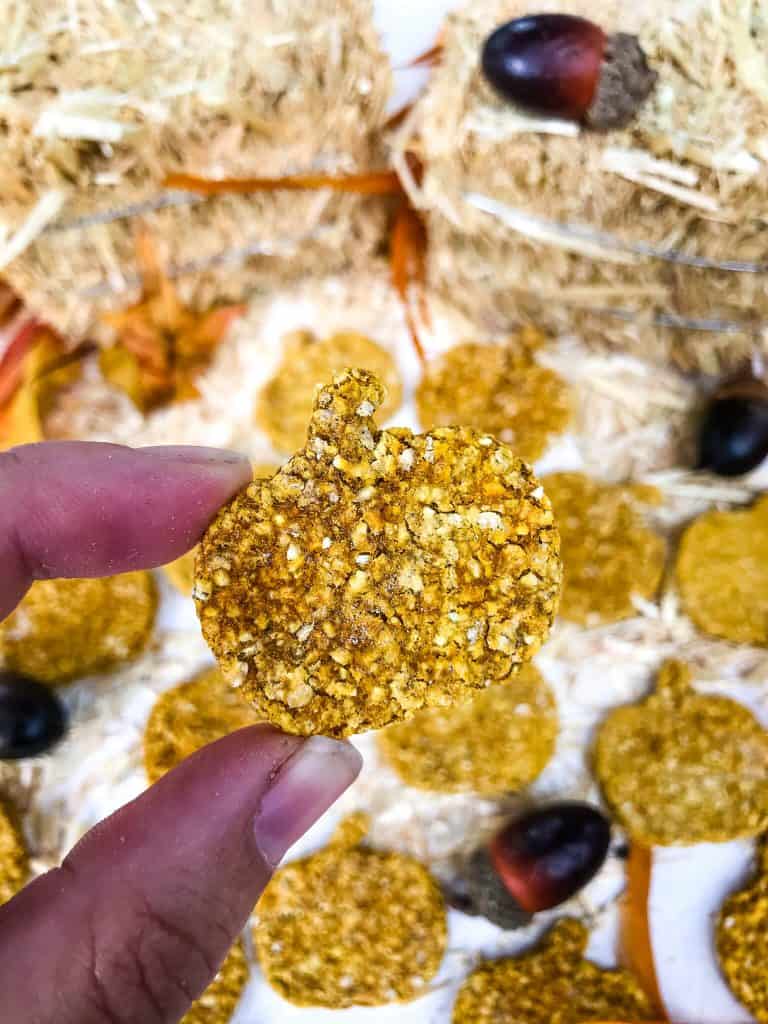 Are oatmeal treats good for dogs?
The oats have more nutritional value and are lower in carbs which makes it easier to watch the puppy's weight.
And this use of oats makes them perfect for dogs with dietary restrictions around gluten.
An earlier version of this post indicated that these were grain free, which is not the case since oats are a grain. The treats are gluten free as they do not contain flour products.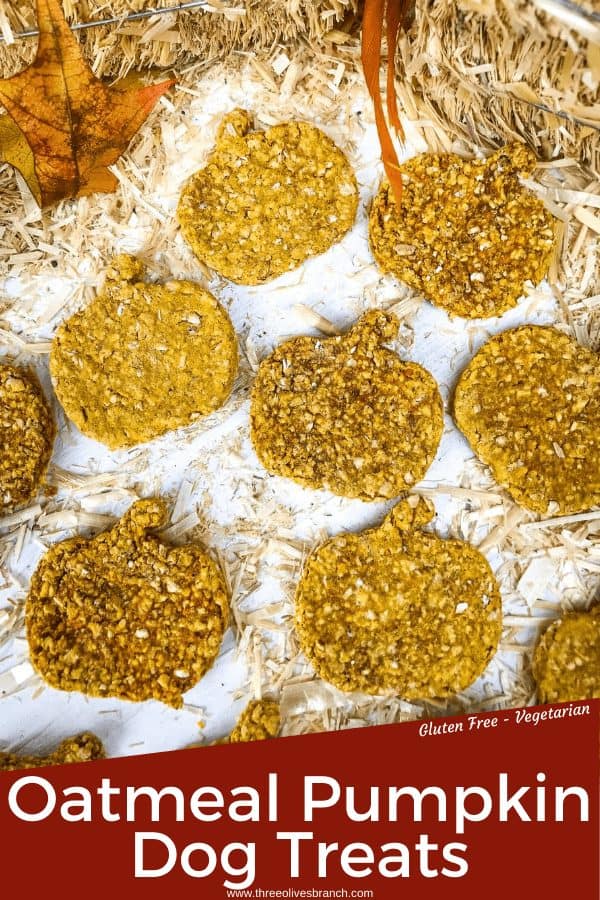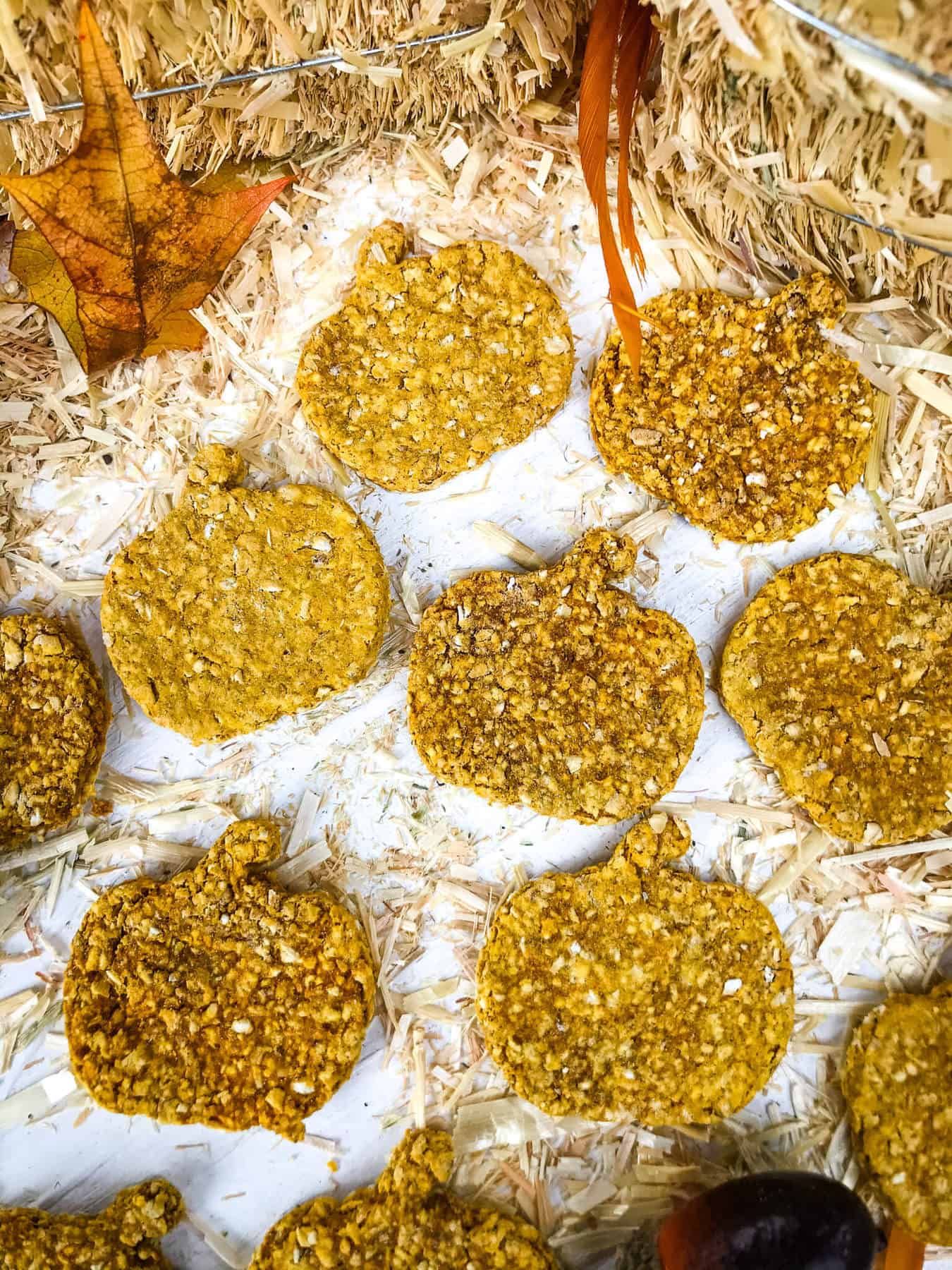 Instructions
Place 2 cups of the oats in a food processor and grind until it has a flour-like consistency. Place the ground oats in a large mixing bowl.

To the mixing bowl, add the remaining 1 cup of whole oats, pumpkin puree, cinnamon, flax seed if using, and honey. Mix to combine. Add additional oats if the mixture is too wet, and honey or water if it is too dry. It should be very stiff, not sticky, but come together.

Preheat oven to 350F. If the mixture is tacky, lightly dust the surface with flour or additional ground oats. Roll out the dough to approximately 1/4" thick.

Using your desired cookie cutter, cut out the treat shapes and place them on a silicone baking mat or parchment paper lined baking sheet. Repeat until all dough is used. The treats can be placed close together as they do not spread.

Bake treats at 350F for 15 minutes. Turn off the oven, leaving the cookies inside, and let them sit for two hours. This will make the cookies crunchier. For soft cookies, remove them after the 15 minutes to cool at room temperature.

Store soft treats in an airtight container, kept in the refrigerator, for up to 2 weeks. Hard treats can be kept at room temperature up to 3 weeks.
Notes
The number of treats will vary with the thickness of the dough and size of the cookie cutter.
Ground flax seeds are completely optional but a great healthy ingredient to add as they provide fiber and are anti-inflammatory. Talk to your vet for more information.
Any type of oats that you have should work well.
Use any shaped cookie cutter but I love to use a festive pumpkin cookie cutter!
Nutrition
Serving:
1
treat
|
Calories:
30
kcal
|
Carbohydrates:
6
g
|
Protein:
1
g
|
Fat:
1
g
|
Saturated Fat:
1
g
|
Sodium:
1
mg
|
Potassium:
37
mg
|
Fiber:
1
g
|
Sugar:
1
g
|
Vitamin A:
953
IU
|
Vitamin C:
1
mg
|
Calcium:
6
mg
|
Iron:
1
mg
Dog Treats
Homemade baked dog treats to spoil your puppy!

By