An easy, creamy homemade almond butter flavored with cinnamon.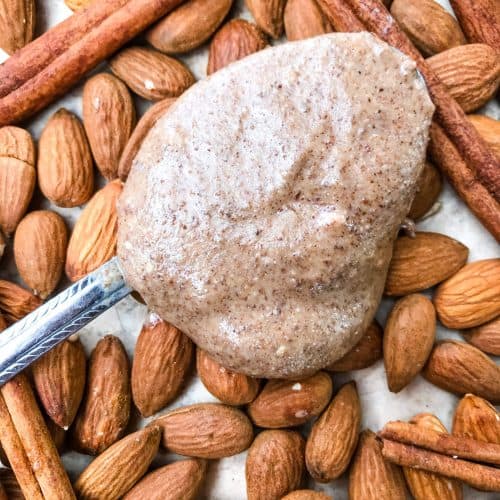 This Homemade Cinnamon Almond Butter is made with just three ingredients! An easy homemade nut butter.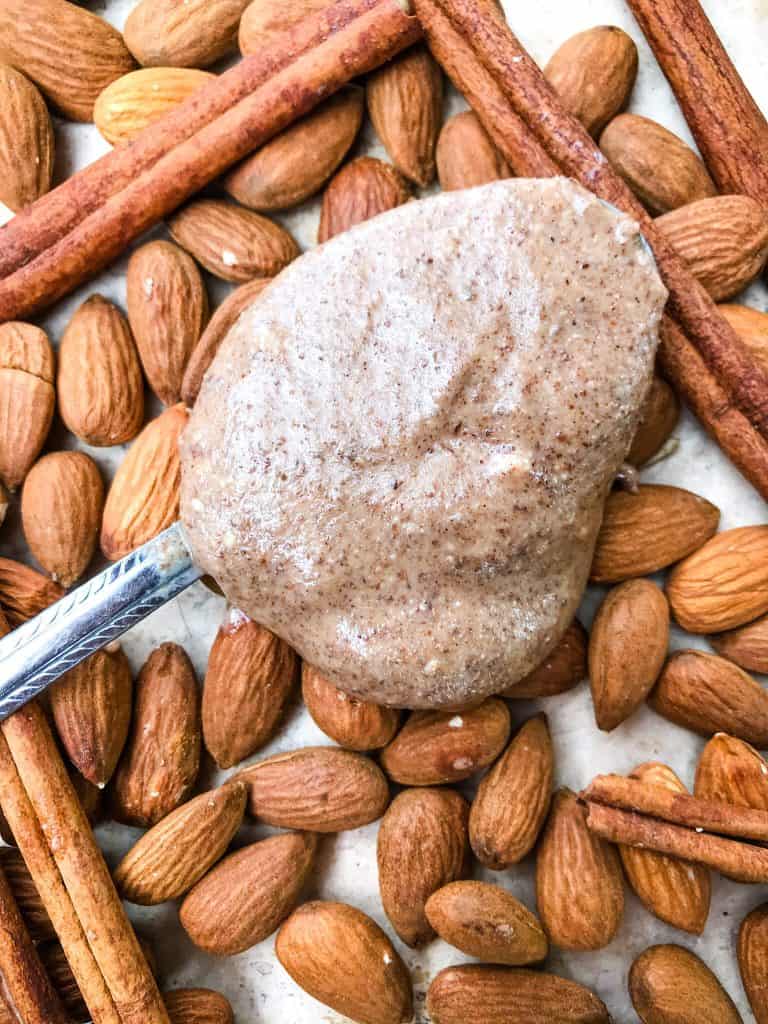 This post contains affiliate links.
I always liked peanut butter but I would not say I was ever obsessed with it like most people are. I rarely crave it or seek it out.
But when I started making homemade almond butter, that changed.
The flavors are fresher, simpler, and just delicious! Plus I love being able to make it as smooth or thick as I want, and add in different flavors like cinnamon.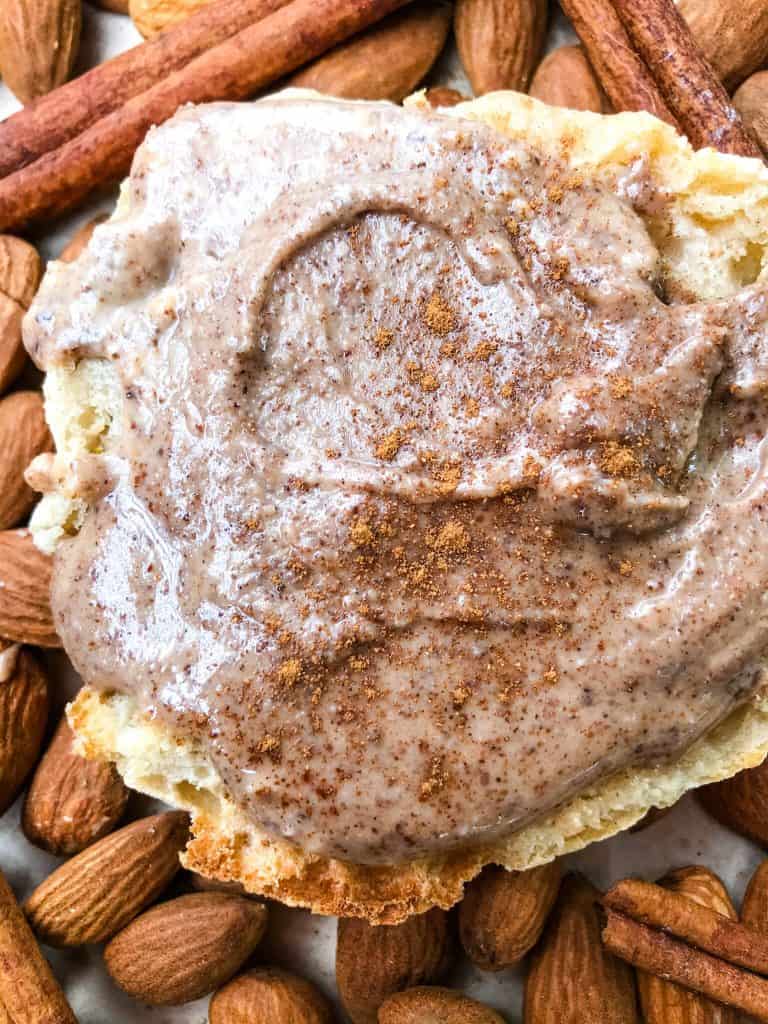 Making homemade almond butter somewhat goes against your culinary instincts. Watching the thick, dense mixture makes me want to stop the food processor like it is over-mixing, such as with cream.
But let it keep going. The more it blends, the closer you are to oils releasing from the almonds which is what turns it into a butter.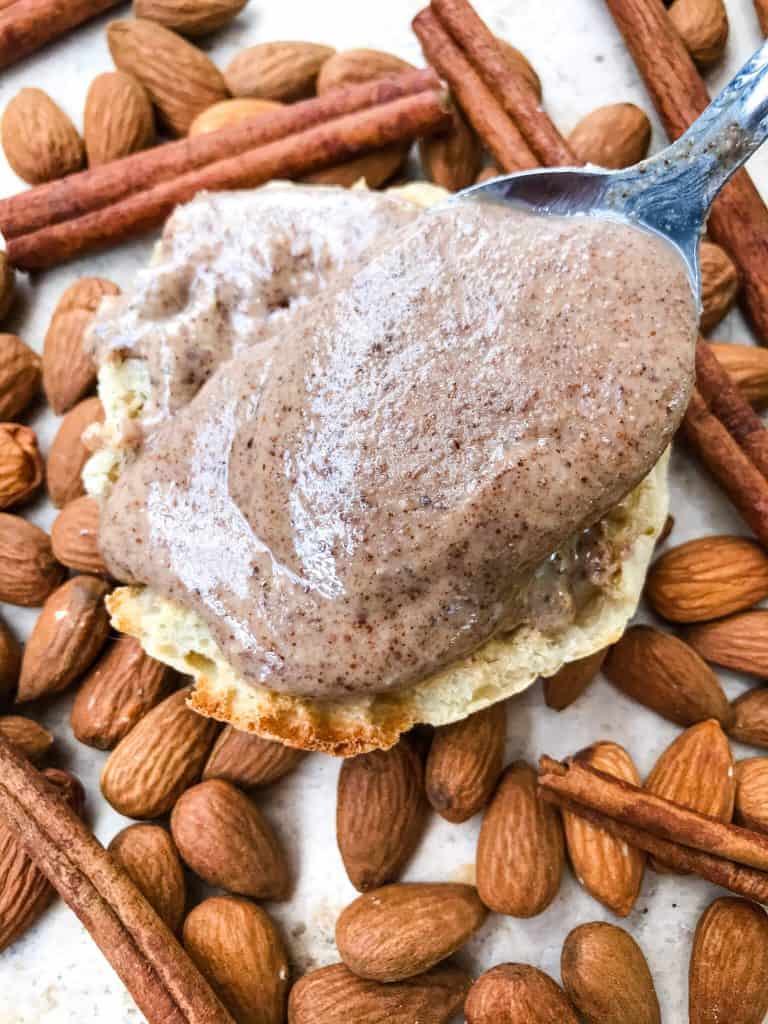 The key to making a great homemade nut butter is toasting the nuts.
This process will not only make a deeper flavor, but also pull out the oils from the nuts as they are warm when they are blended.
Keep a very close eye on the almonds while toasting as if they start to burn, the almond butter will also taste burned. It is best to under toast than over toast the almonds.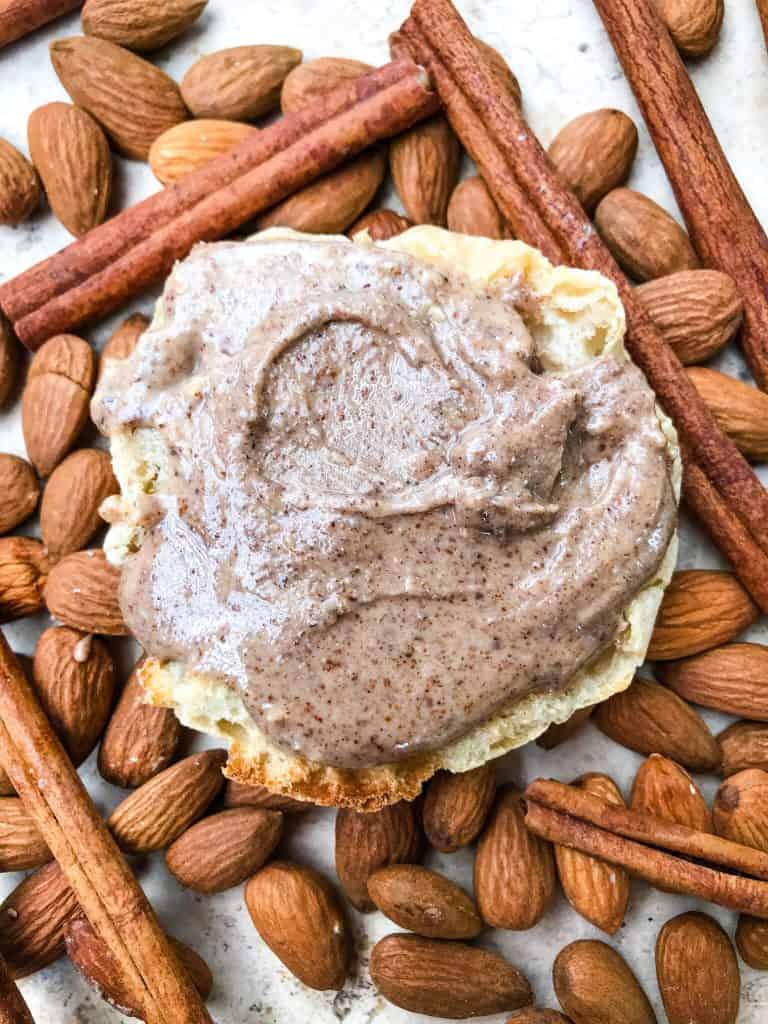 You can use Homemade Cinnamon Almond Butter just like you would with any peanut butter or nut butter. It is great in sandwiches, on breakfast items, or as a snack with celery or a spoon!
Make an elevated peanut butter and jelly sandwich by pairing the almond butter with a homemade jam (my personal favorite is homemade Cherry jam).
Homemade Jam
Make your own homemade jams! They are easy and use just a few ingredients, with no pectin.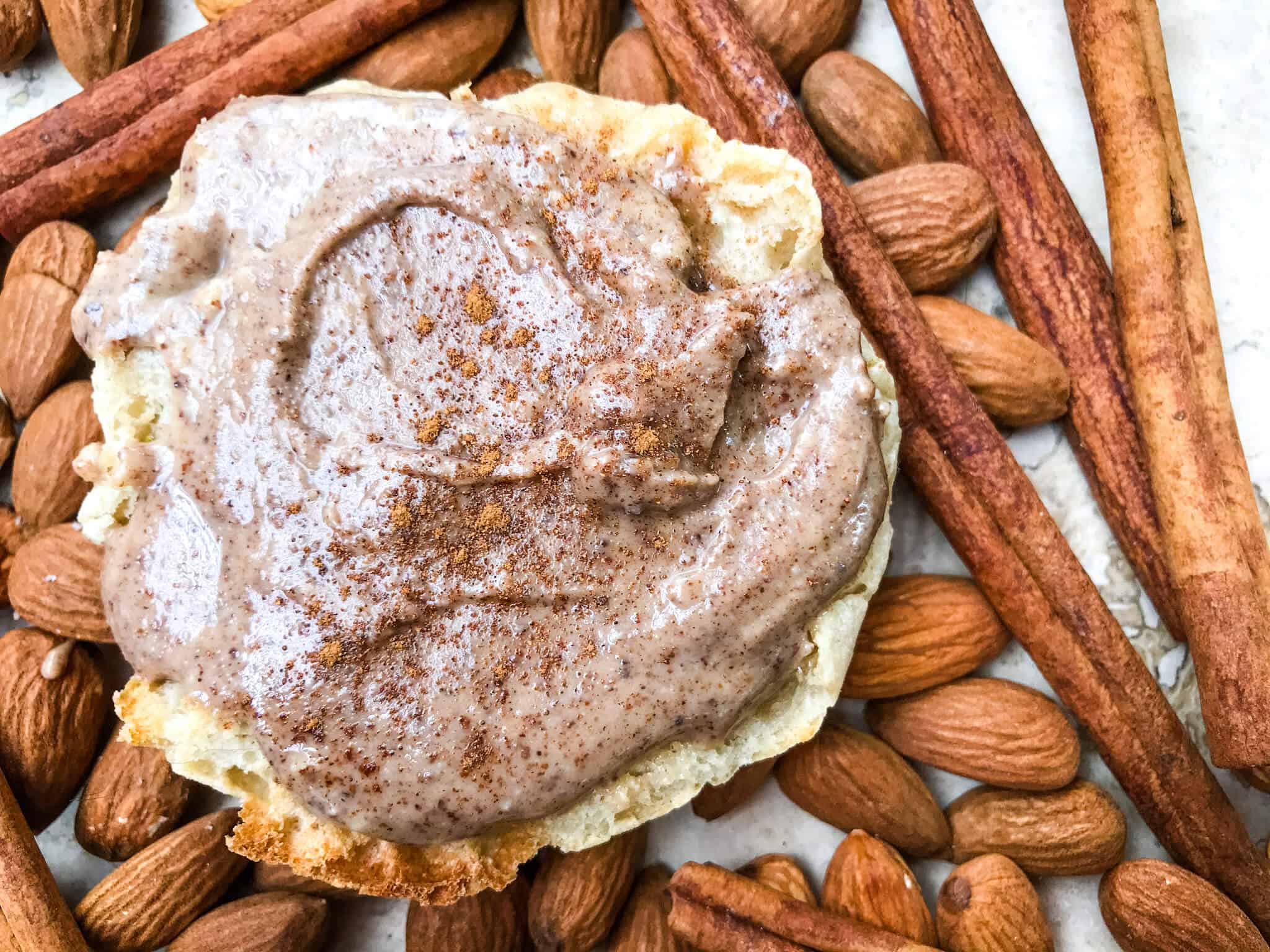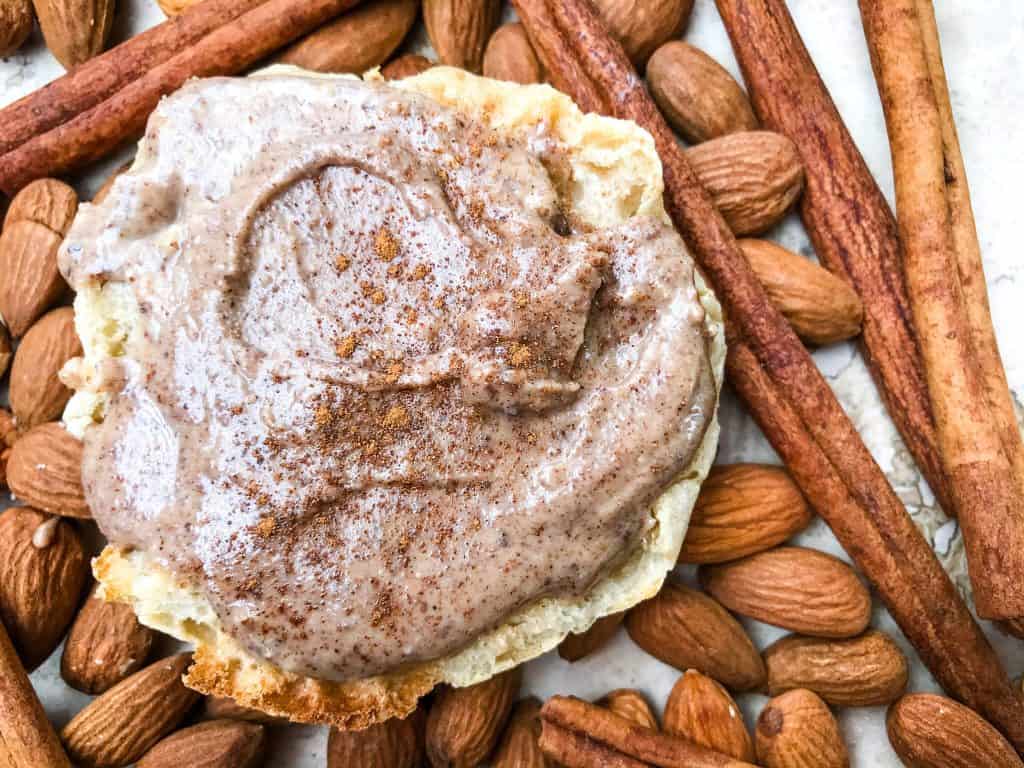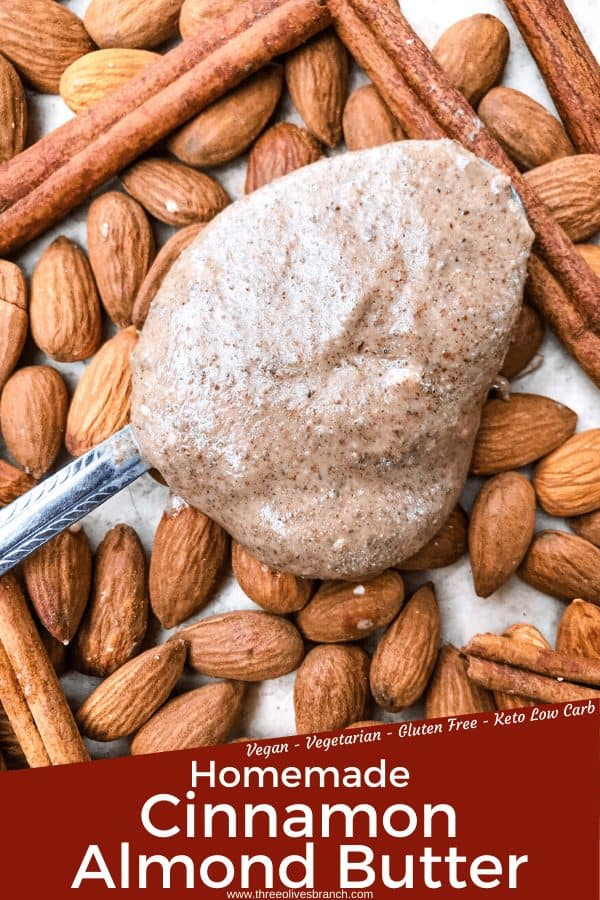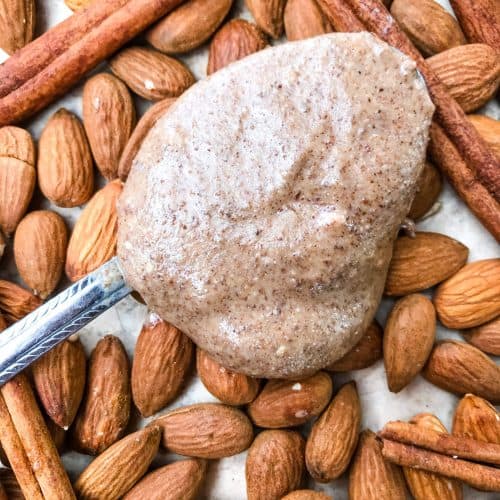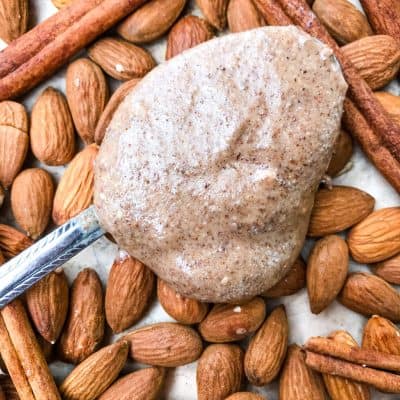 Homemade Cinnamon Almond Butter
An easy, creamy homemade almond butter flavored with cinnamon.
Print
Pin
Rate
Instructions
Lay out the almonds on a baking sheet in a single layer. Roast the almonds in the oven until they are just starting to darken and you can smell them, approximately 10-15 minutes. Do NOT overcook. If anything, err on the side of under toasted so they do not burn. Let them cool slightly for 10 minutes.

While the almonds are still warm, place the almonds in a food processor. Blend until in forms a paste, then turns into the consistency of almond butter. You will need to stop the processor and scrape down the sides every few minutes.

Once you get the consistency you want, add the cinnamon and salt. Process just to combine, a couple seconds. Taste and add more cinnamon or salt as desired.
Notes
It might look like the almond butter will never form for a while, but keep processing. It takes time for the oil to be released from the almonds. 
It is important to process the almonds when they are still warm because it will help the oils release and make the butter.
Nutrition
Calories:

1649

kcal

|

Carbohydrates:

64

g

|

Protein:

61

g

|

Fat:

141

g

|

Saturated Fat:

11

g

|

Sodium:

1747

mg

|

Potassium:

2016

mg

|

Fiber:

36

g

|

Sugar:

11

g

|

Calcium:

775

mg

|

Iron:

11

mg

By