Delicious homemade dill pickles with a hint of black peppercorns!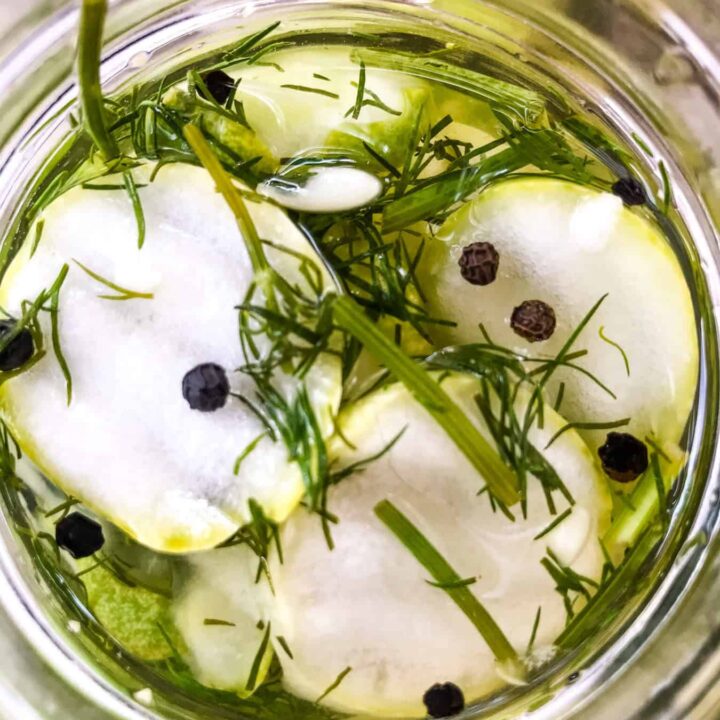 These Homemade Peppercorn Dill Pickles are a delicious twist on a classic condiment! Gluten free and easy to make.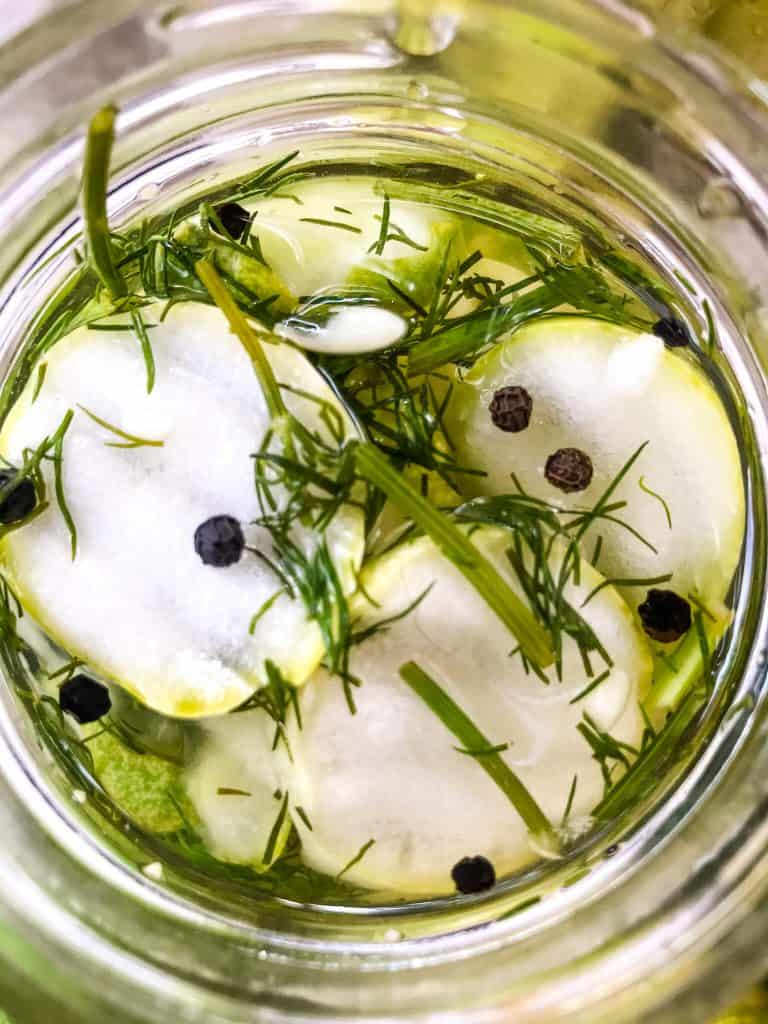 This post contains affiliate links.
I have a vegetable garden that I fill up every year and for the last few years, I have always included cucumber plants.
They are incredibly easy to grow and I get a kick out of seeing so many cucumbers pop up!
And while I love cucumber recipes like Greek Tzatziki Yogurt Sauce and Greek salad inspired recipes, I choose to grow pickling cucumbers.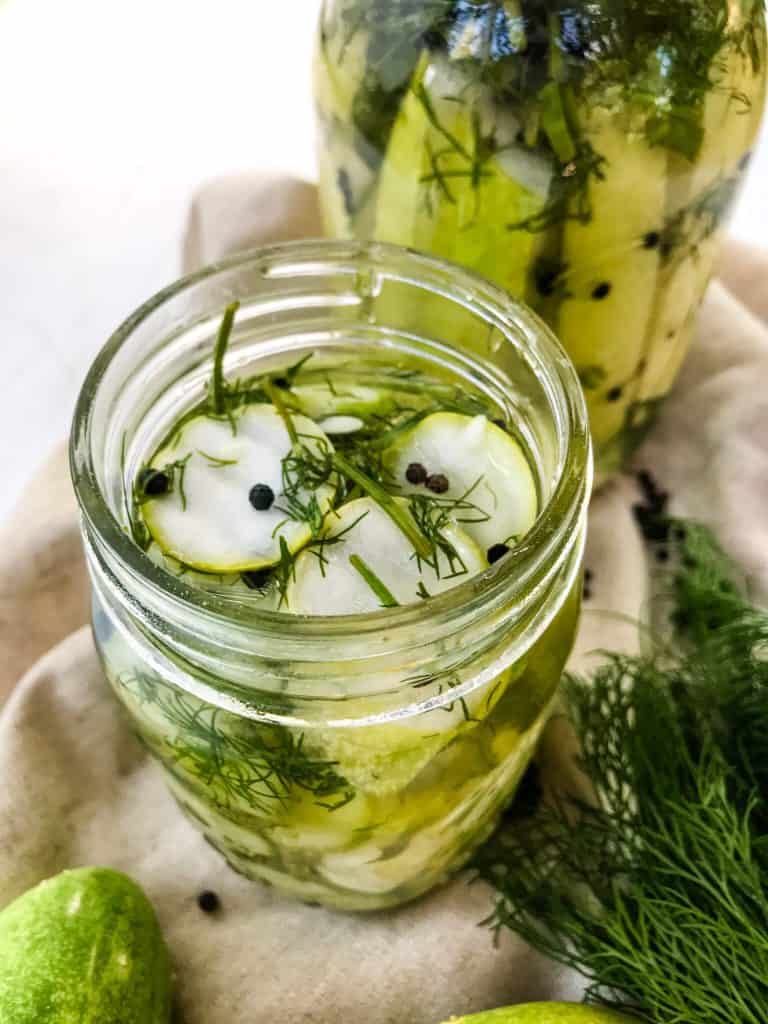 So every year, when my garden is pumping out zucchini and cucumbers left and right, I go into homemade pickles mode and experiment with some new pickle flavors.
This year, we got snow in the first week of September (WAY earlier than normal) and so I went and picked all of the cucumbers I had and got to work with making pickles.
And that is how these Homemade Peppercorn Dill Pickles were born.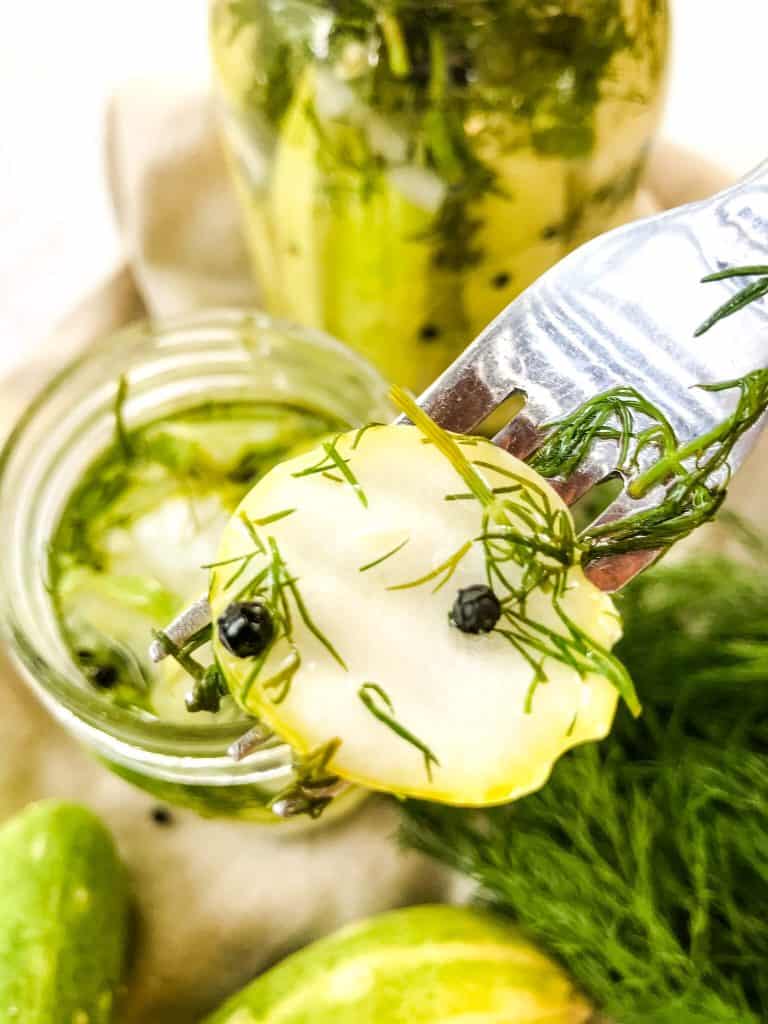 What cucumbers do I use to make homemade pickles?
There are surprisingly a lot of pickle varieties out there even if you typically see the standard green and maybe English cucumbers at the grocery store.
Look for cucumbers that are marketed specifically for pickling (it will typically say so in the name/label). Common pickling cucumbers are Kirby or Boston Pickling cucumbers.
I tend to see these different varieties pop up more in the summer. You also might need to check specialty food stores or farmer's markets.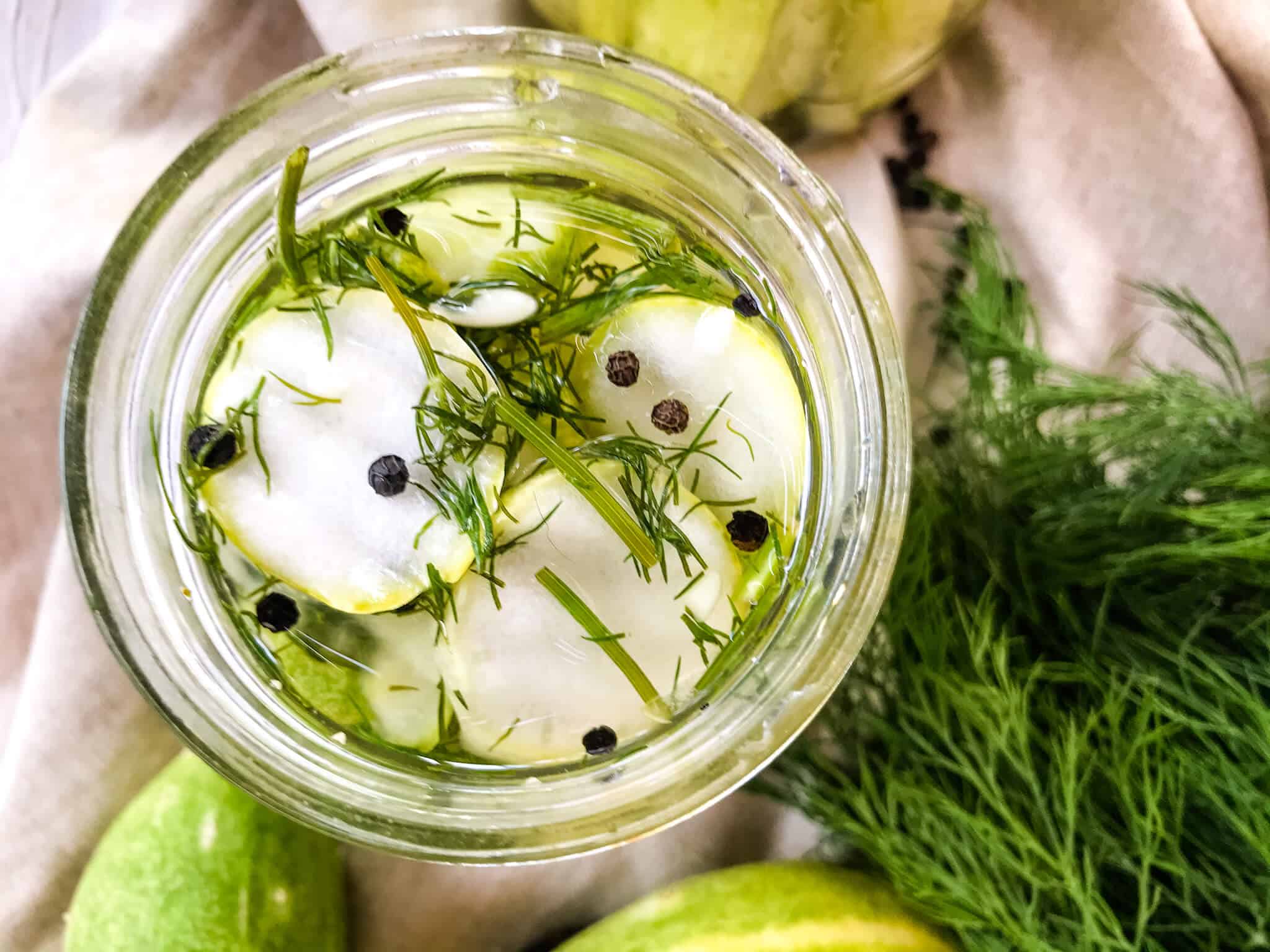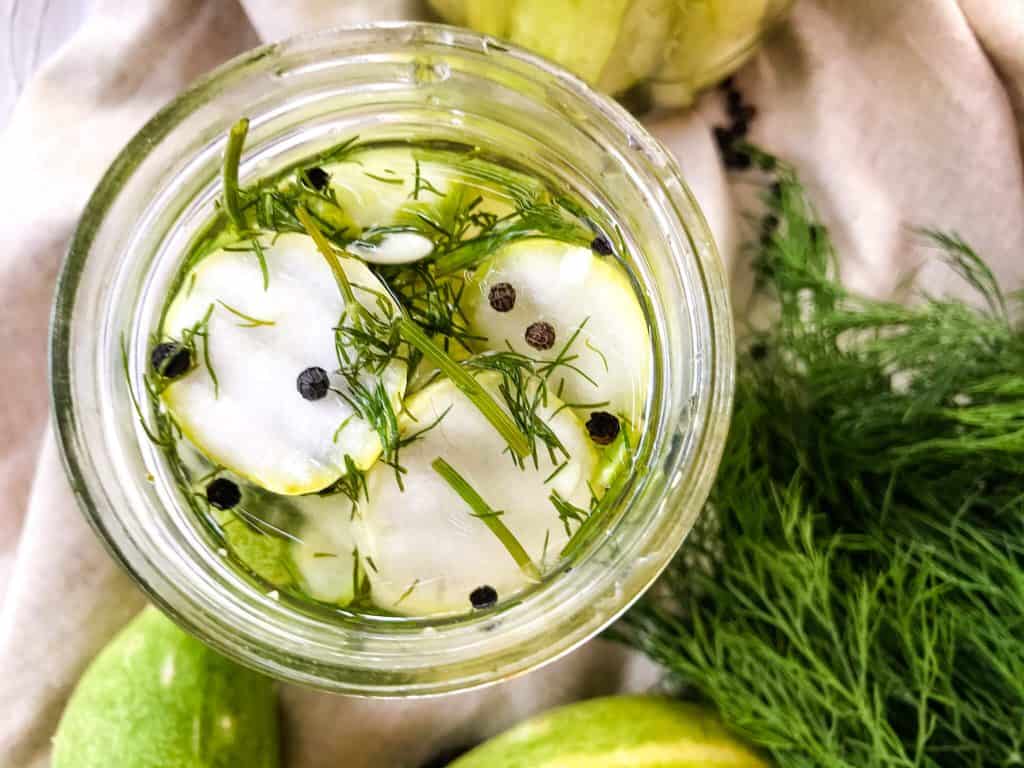 Pickle making is incredibly easy!
These pickles are considered quick pickles, or refrigerator pickles, because they do not require any fermentation or canning. Just make the brine, pop in the cucumbers, and you are done!
Cut up your cucumbers in any shape and thickness that you like.
I personally am a huge fan of wavy rounds or ovals so I use a mandoline to cut them not only into uniform thickness, but to get the wavy texture.
I have had rough luck with mandolines in the past not working the way I wanted them to, but I finally found one that I am in love with! This mandoline has different blades so you can do things like cut wavy pickles and also has an adjustable thickness for the unit.
Keep your Homemade Peppercorn Dill Pickles in the refrigerator for up to a month.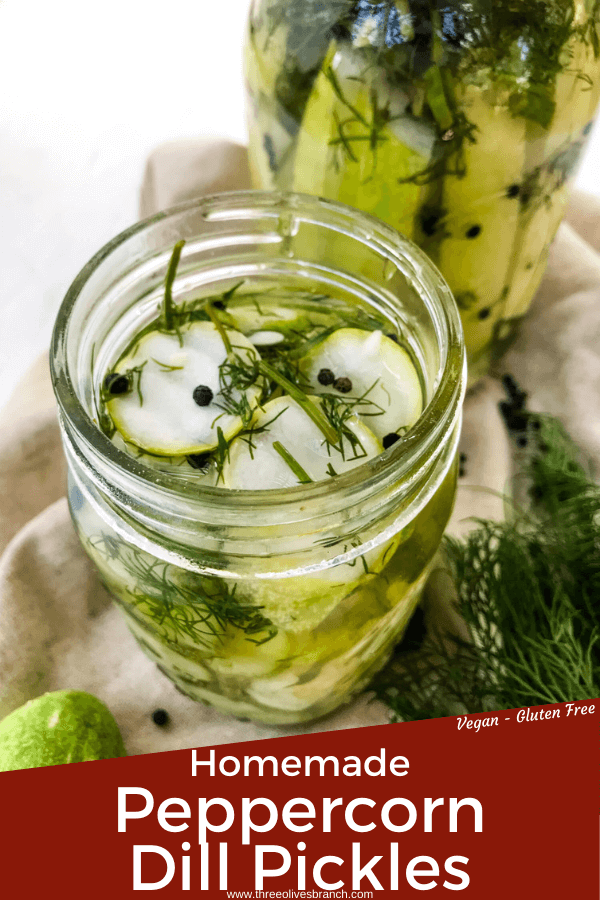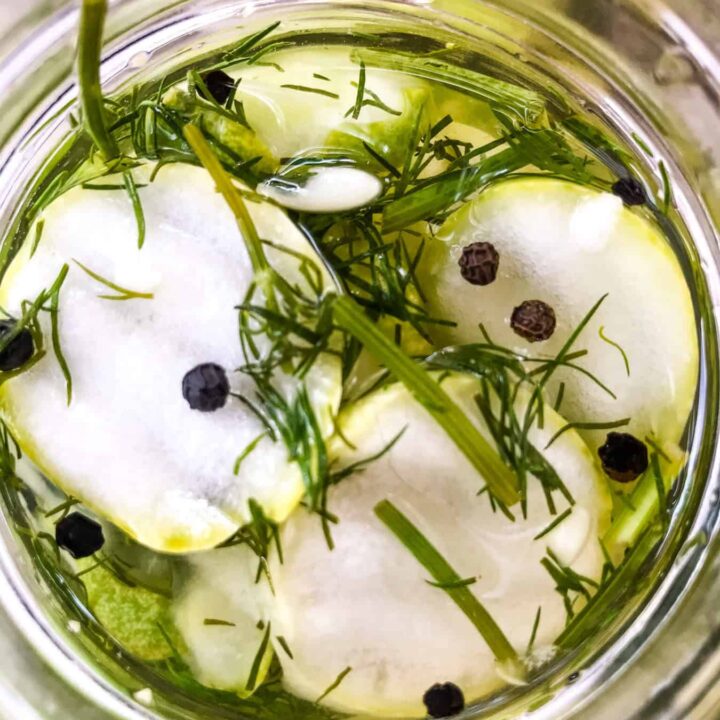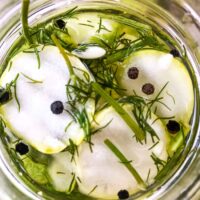 Homemade Peppercorn Dill Pickles
Delicious homemade dill pickles with a hint of black peppercorns!
Print
Pin
Rate
Ingredients
1

teaspoon

yellow mustard seeds

1

Tablespoon

black peppercorns

whole

2 1/4

cups

water

1 3/4

cups

white vinegar

1/4

cup

sugar

1

Tablespoon

salt

1

cup

fresh dill

chopped (approximately 1 bunch)

4

kirby cucumbers

(approximately 6 ounces each)
Instructions
Over medium heat, toast the mustard seeds and peppercorns in a large saucepan. Cook until fragrant, about 2 minutes.

Add the water, vinegar, sugar, and salt to the pot. Simmer for 10 minutes.

While simmering, cut your cucumbers in your desired shape. Make sure spears fit inside the jar (cut off an end if not). Put the pickles and brine in mason jars or another seal-able container.

Remove from the heat. Add the dill to the liquid and pour the liquid into the mason jars, covering the cucumbers. (If you want crunchier pickles, let the liquid cool BEFORE adding the pickles so the heat does not cook them).

Keep chilled, ideally for at least 10 hours before eating. Pickles can be kept up to a month.
Notes
This made enough to fill three pint sized mason jars.
Try to find cucumbers that are just long enough to fit in the jar.  But if they are too long, you can chop off one of the ends for them to fit as spears.
Kirby cucumbers are best for pickling, but you can experiment with different types.
I love wavy pickle coins, so I use a mandoline with a wavy blade. (I have struggled finding a good mandoline in the past and have found my favorite mandoline with many blades and adjustable thickness).
The volume of pickles you get will vary greatly with how you cut them. If you cut each cucumber into 8 spears, you will have 32 final spears.
Nutrition
Serving:

1

spear

|

Calories:

15

kcal

|

Carbohydrates:

3

g

|

Protein:

1

g

|

Fat:

1

g

|

Saturated Fat:

1

g

|

Sodium:

221

mg

|

Potassium:

66

mg

|

Fiber:

1

g

|

Sugar:

2

g

|

Vitamin A:

142

IU

|

Vitamin C:

2

mg

|

Calcium:

11

mg

|

Iron:

1

mg

By