Homemade Escabeche (Mexican Pickled Vegetables) is a quick pickle recipe made with jalapeno peppers, carrot, and red onion.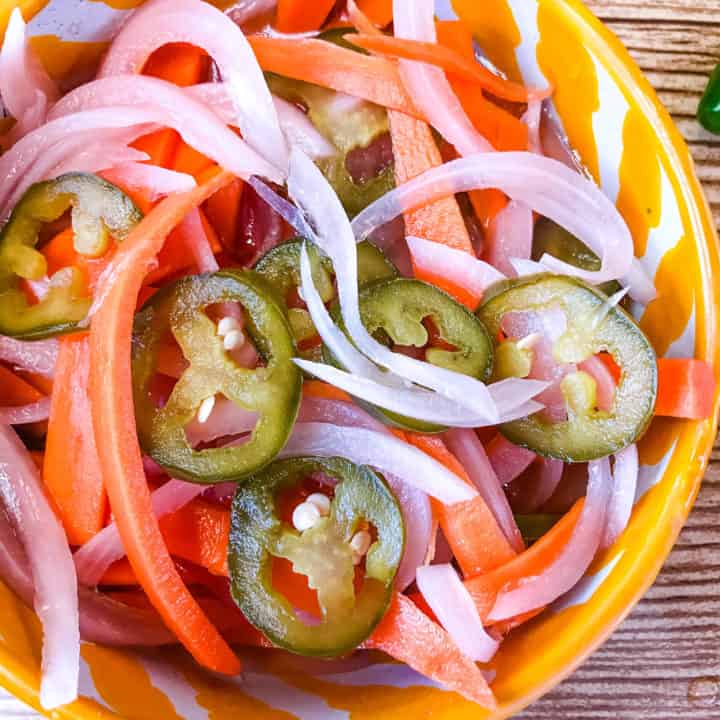 Homemade Escabeche (Mexican Pickled Vegetables) are a perfect quick pickle condiment for your Mexican food! Great on tacos, burritos, and more!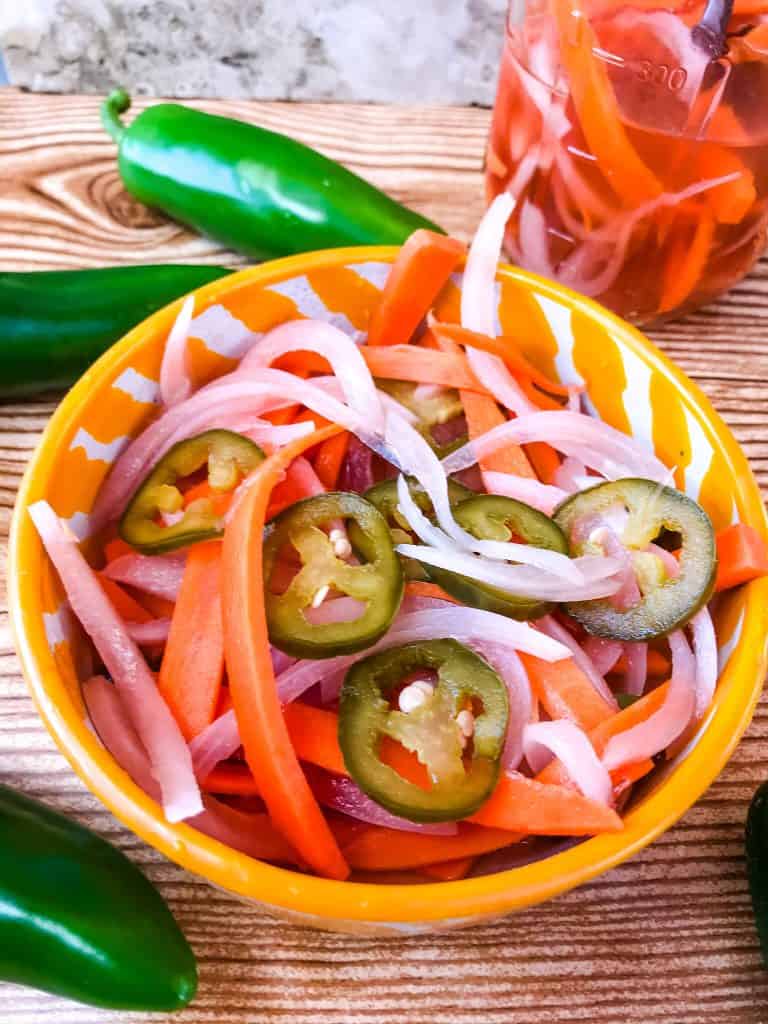 I am a huge lover of Mexican recipes, only second to Italian, and this Homemade Escabeche is a great Mexican condiment to have on hand!
Typically, escabeche salad is made with red onion, carrot, and jalapeno peppers in a quick pickle. But you can add any other favorite vegetables, such as cauliflower (which I have seen a good amount of!).
If you want it super spicy, add either more jalapeno or a spicier pepper like serrano or even habanero to this escabeche recipe.
Also use more or less of any ingredient as you prefer. I personally love LOTS of onion and less carrot, so go with what you love! And we also have a traditional quick pickled red onion if you prefer that.
Why You Will Love This Recipe
These pickled vegetables bring a ton of flavor with a tang to any recipe.
The acidity of the pickling liquid is a great balance to anything that is heavy or rich.
It is incredibly easy to make and a great condiment to share with anything Mexican or Latin!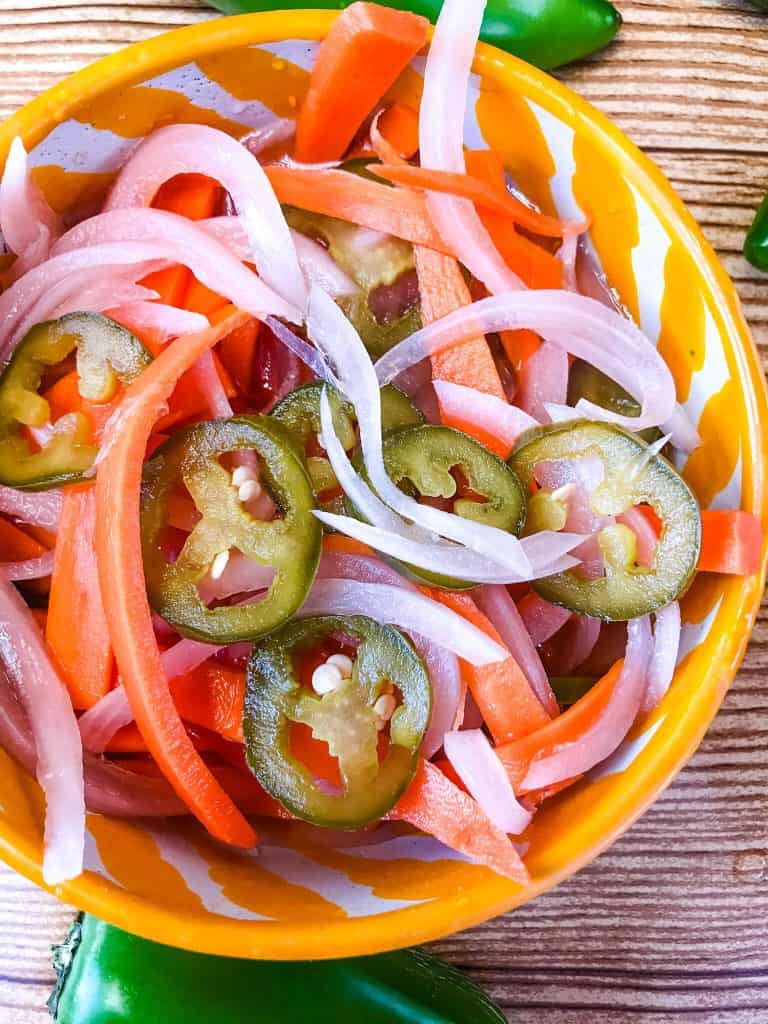 What is Escabeche
Escabeche recipes originated when preserving food was highly necessary, blending Mediterranean food with Arabic methods.
Traditionally, escabeche refers to a method of preserving fish or meat by marinating it in a flavorful blend of vinegar, aromatic herbs, spices, and vegetables.
Modern adaptations have expanded the horizons of escabeche, making it suitable for a wide range of ingredients.
Ingredients Needed
Here is what you need to make this Mexican pickled vegetable salad:
Red Onion – you could also use white or yellow onion if preferred
Carrots
Jalapeno – or spicier peppers if you want it hot!
Coriander (seed or ground)
Cumin (seed or ground)
Apple Cider Vinegar
Sugar
Salt
Spices
The pickling is very similar to Vietnamese Banh Mi pickles or classic cucumber pickles, but with Mexican spices of cumin and coriander.
Coriander is the seed of the cilantro plant but tastes rather different, so if you are one of the people that things cilantro tastes like soap (which is hereditary, and fortunately not a problem I have), you might still like coriander!
The coriander seed and cumin seed are technically better options for a pickle, but if you are like me and do not want to buy an entire spice for one recipe, ground coriander and ground cumin are great as well.
The recipe includes amounts for both. Just know the ground spices might make the brine a little cloudy but otherwise the flavor should still be the same.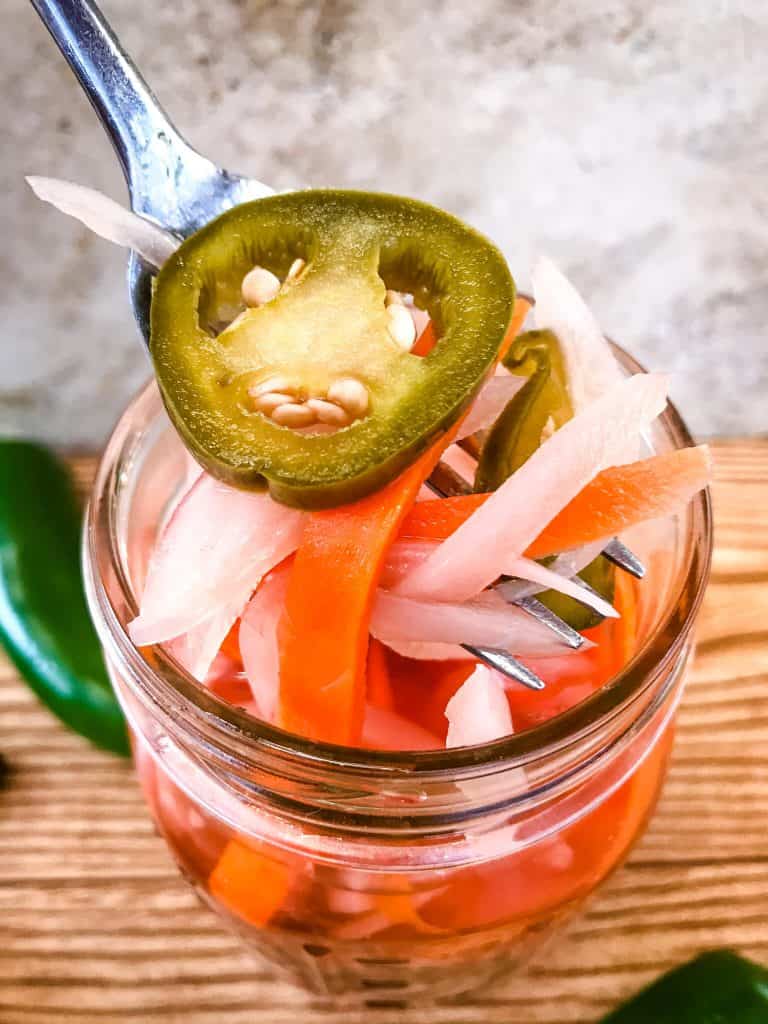 Instruction Overview
Want to know how to make escabeche? It literally takes just a few minutes to make Mexican Pickled Vegetables with a apple cider vinegar base.
And I recommend storing the escabeche in a mason jar so you can see the contents.
Cut up your vegetables and place them in two mason jars. Heat your brine ingredients and then pour them over the vegetables.
Let the pickles soak for at least 30 minutes and they are ready! Just pop them in the refrigerator once the jars are cool enough to handle.
FAQs
What does escabeche mean in cooking?
It means pickled vegetables. Sometimes it refers to pickled meats, such as shrimp escabeche. It is typically served cold.
What is the difference between escabeche and ceviche?
Escabeche is a pickled vegetable condiment that is fully pickled in a warm liquid.
Ceviche is made with raw fish or shrimp in a mixture that involves an acid, such as lime, lemon, or vinegar. The acid very gently and lightly "cooks" the meat.
You could say it is somewhat pickled for this reason but is cooked and made in a very different way.
What does escabeche taste like?
How is escabeche eaten?
You can eat the pickled vegetables just as is. They make a great side!
But my favorite way to use them is as a topping or condiment for other tasty Mexican foods. It is perfect on tacos! See a list of our tacos below the recipe card.
Does escabeche need to be refrigerated?
Yes. These pickled vegetables are considered fresh and have not gone through fermentation, so they should be refrigerated.
Uses for Escabeche
This Mexican escabeche recipe is a perfect condiment for your favorite Mexican food.
My favorite way to eat escabeche is on top of tacos! The acidity, crunch, and flavors are just perfect for pretty much any taco. You can find some of our favorite taco recipes to try it with below!
It also makes a great snack or side dish, and can be used on top of any other recipe that you want to bring some crunch and acidity to.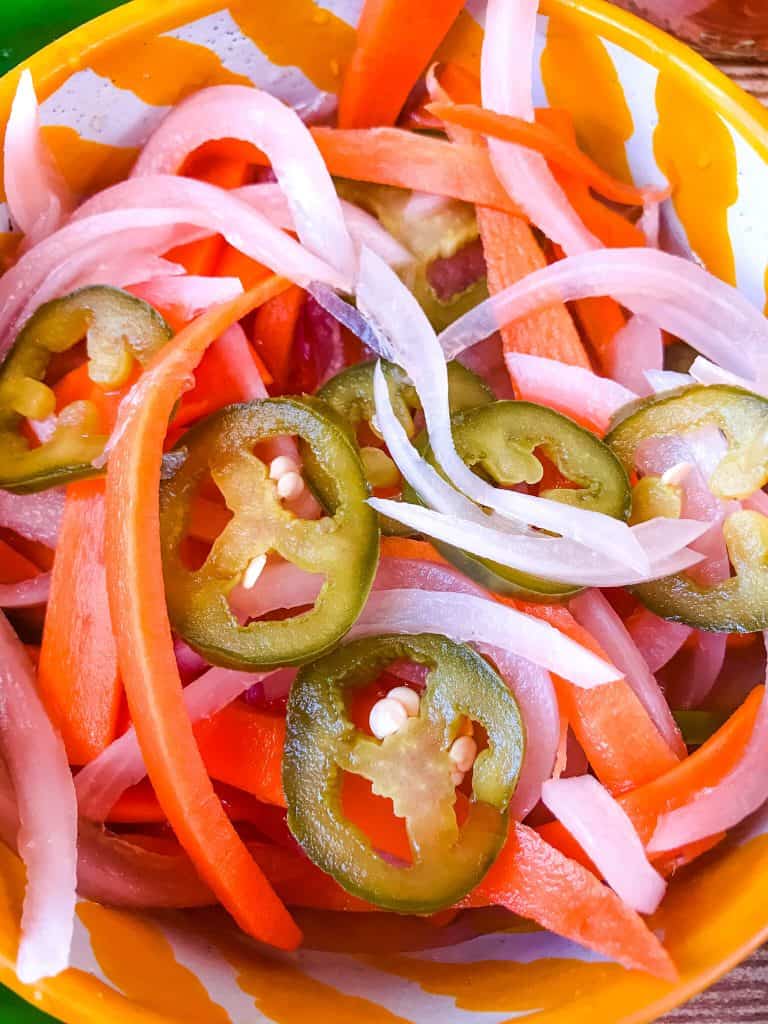 Modifications and Changes
Use any vegetable you want such as cauliflower, radishes, or garlic cloves!
Want it spicy? Use hotter peppers like a serrano, and/or more of them!
Kim's Tips
The thicker the vegetables are cut, the crunchier or firmer they are likely to be. Take this into consideration when thinking about what texture you want for how you are using them.
Change up the ratios to what you love. I am personally a fan of more onion, less carrot.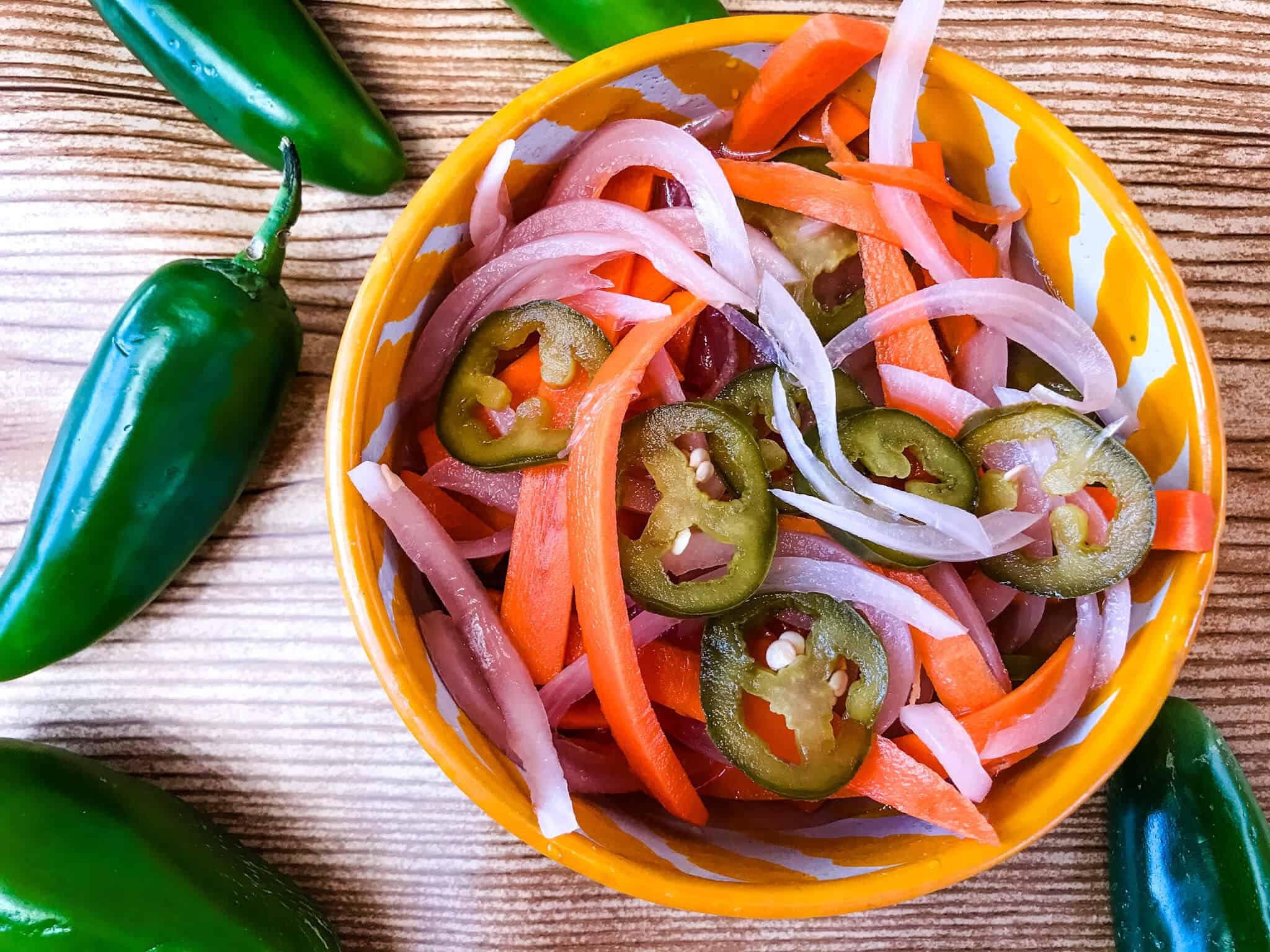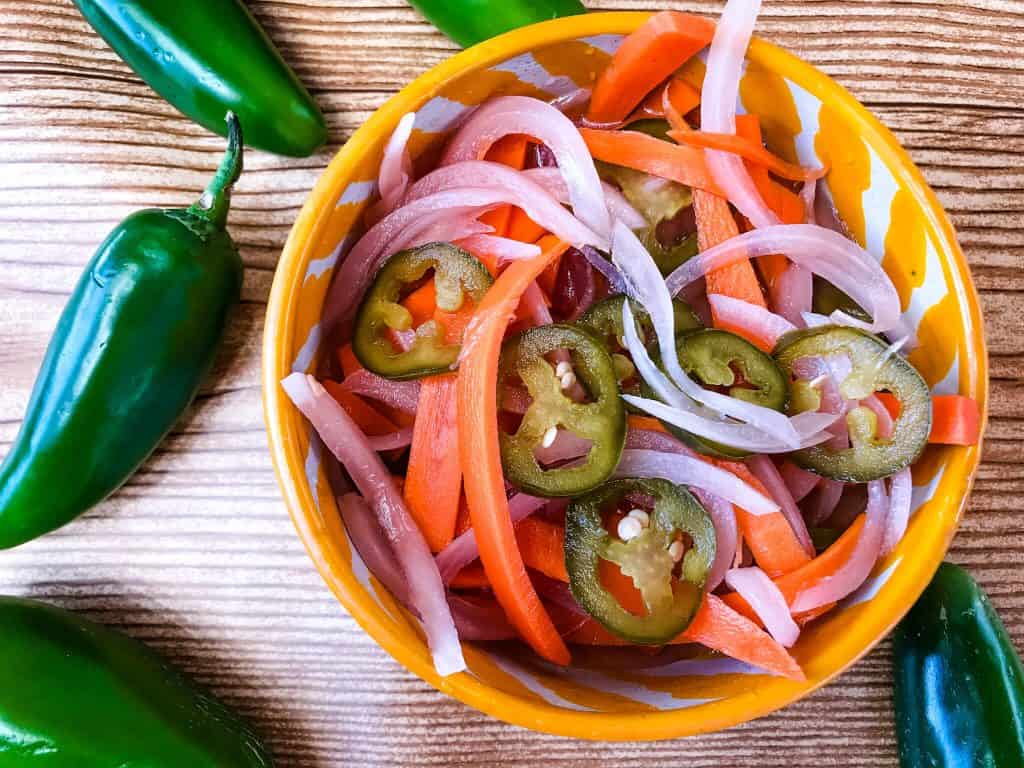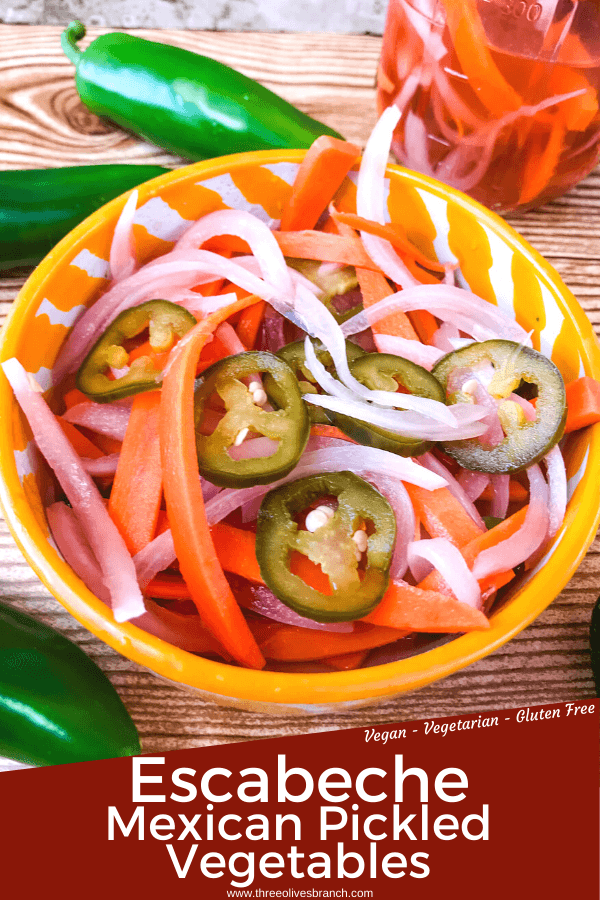 Taco Recipes Perfect for Escabeche
Taco Recipes
Whether Taco Tuesday or any day of the week, these taco recipes will bring excitement to dinner!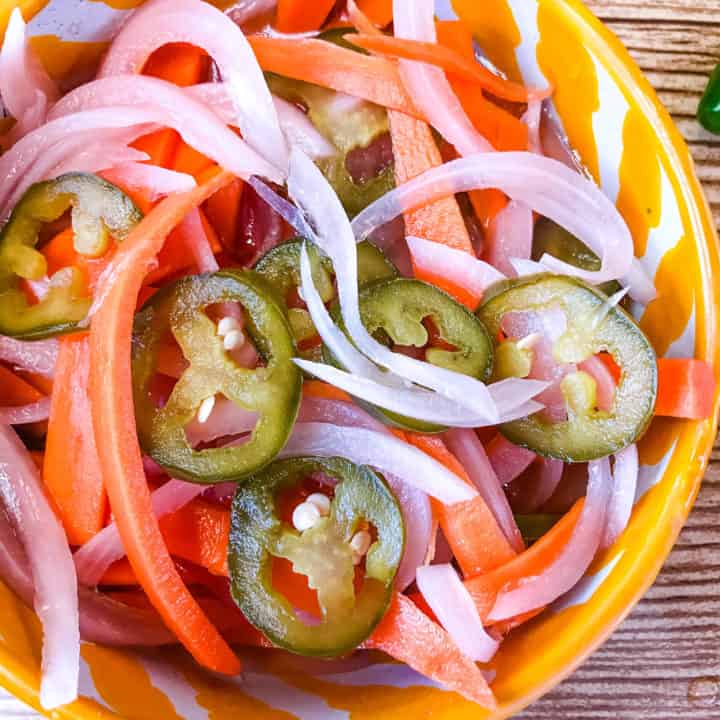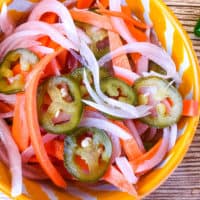 Escabeche Recipe (Mexican Pickled Vegetables)
Homemade Escabeche (Mexican Pickled Vegetables) is a quick pickle recipe made with jalapeno peppers, carrot, and red onion.
Print
Pin
Rate
Instructions
Cut the vegetables and place them in a pint sized mason jar (or two). Use more or less of any vegetable as desired.

1 small red onion,

2 medium carrots,

1 large jalapeno

If using whole seeds, toast them in a small pot over medium heat until fragrant, approximately 2 minutes.

1/2 teaspoon ground coriander,

1/4 heaping teaspoon ground cumin

Add the vinegar, water, sugar, and salt to the pot (and add the ground spices here if using ground instead) and bring to a boil.

1/2 teaspoon ground coriander,

1 1/2 cups apple cider vinegar,

3/4 cup water,

2 teaspoons sugar,

1/2 teaspoon salt,

1/4 heaping teaspoon ground cumin

Remove the pot from the heat and pour the vinegar mixture into the jars over the vegetables. Let cool and refrigerate at least 30 minutes.
Nutrition
Serving:

1

cup (1/2 recipe)

|

Calories:

104

kcal

|

Carbohydrates:

17

g

|

Protein:

1

g

|

Fat:

1

g

|

Saturated Fat:

1

g

|

Sodium:

640

mg

|

Potassium:

406

mg

|

Fiber:

3

g

|

Sugar:

10

g

|

Vitamin A:

10266

IU

|

Vitamin C:

16

mg

|

Calcium:

45

mg

|

Iron:

1

mg

By