Jalapeno Simple Syrup is an easy sugar condiment with peppers that is perfect for making a spicy cocktail or mocktail. Ready in just minutes and perfect to have on hand for margaritas, lemonade, and more! #spicycocktail #jalapenos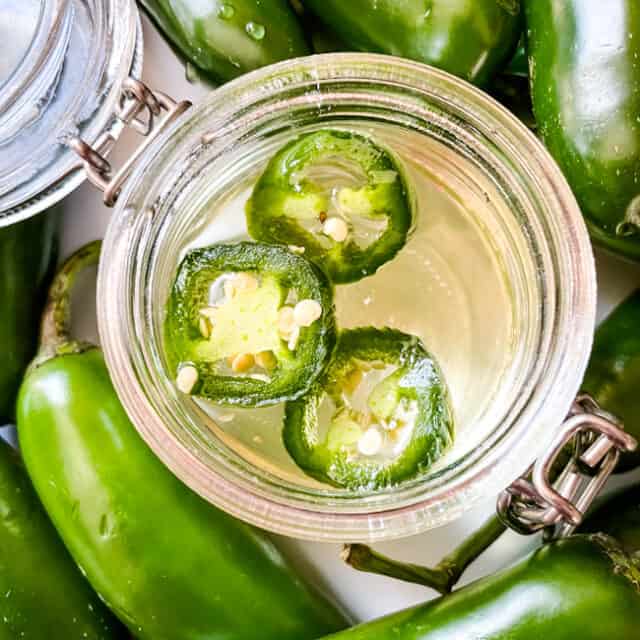 Jalapeno Simple Syrup is a sweet and spicy condiment perfect for cocktail and mocktail recipes!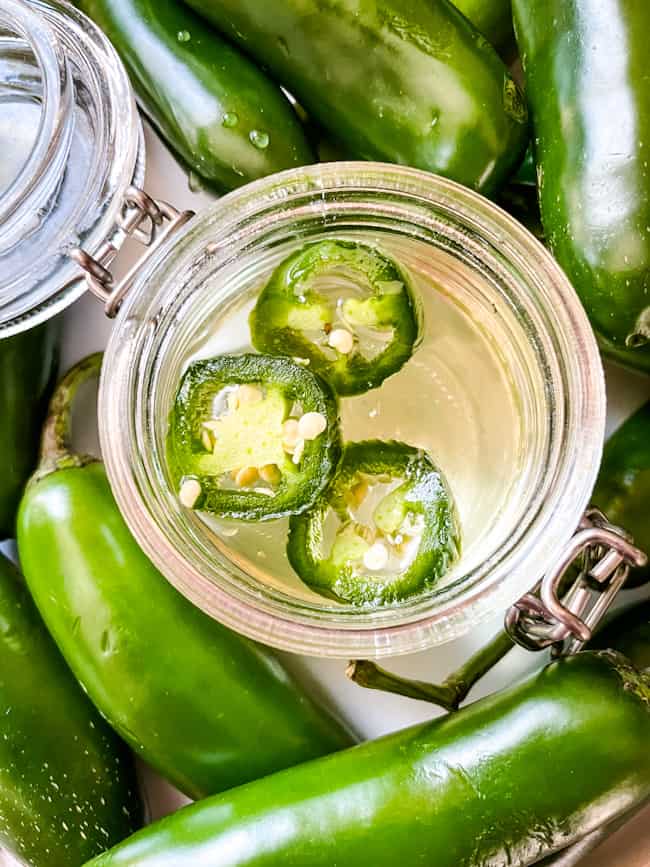 There is something special about taking a sip from a spicy cocktail that just makes it extra delicious!
Using a Jalapeno Syrup is a great way to add that little kick of heat to balance out the other flavors in a drink with a sweet and spicy profile.
I like to keep my homemade syrup in a mason jar in the refrigerator.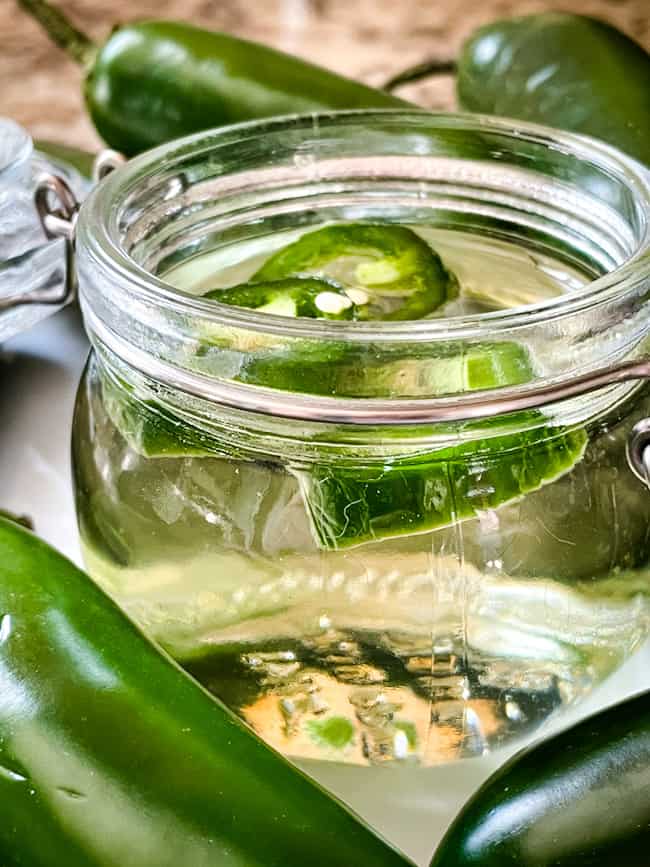 What is Simple Syrup?
Simple syrup is a basic and easy to make sweet syrup. Make simple syrup by combining sugar and water over heat until the sugar dissolves.
It is important to not let the sugar boil as it will start to crystalize and give you something much thicker or harder than a simple syrup.
Simple syrup can be used in various baked goods, such as to soak into cakes to keep moisture, but is most commonly known for its use in cocktails and drinks.
For cocktails, simple syrup brings sweetness to the drink and sometimes additional flavor if you are using an infused simple syrup, such as this Jalapeno Simple Syrup.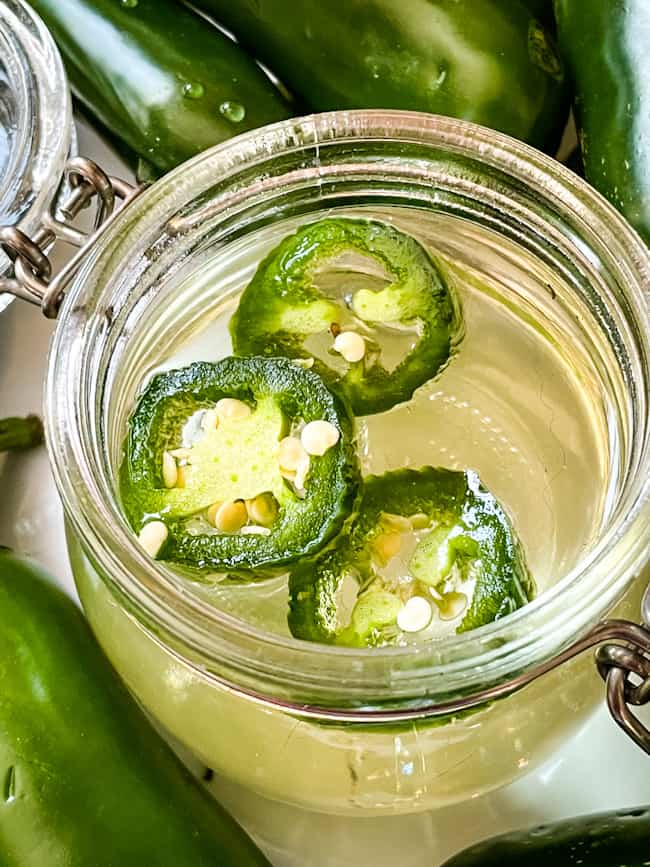 How to Use Spicy Simple Syrup
My favorite way to use this Jalapeno Simple Syrup is in drinks and cocktails!
It is a great way to bring a kick of heat balanced with sweetness.
It is perfect for Mexican drinks like margaritas, or even lemonade!
Even if it is a classic cocktail, like a gin and tonic or vodka soda, you can give it a twist with this syrup!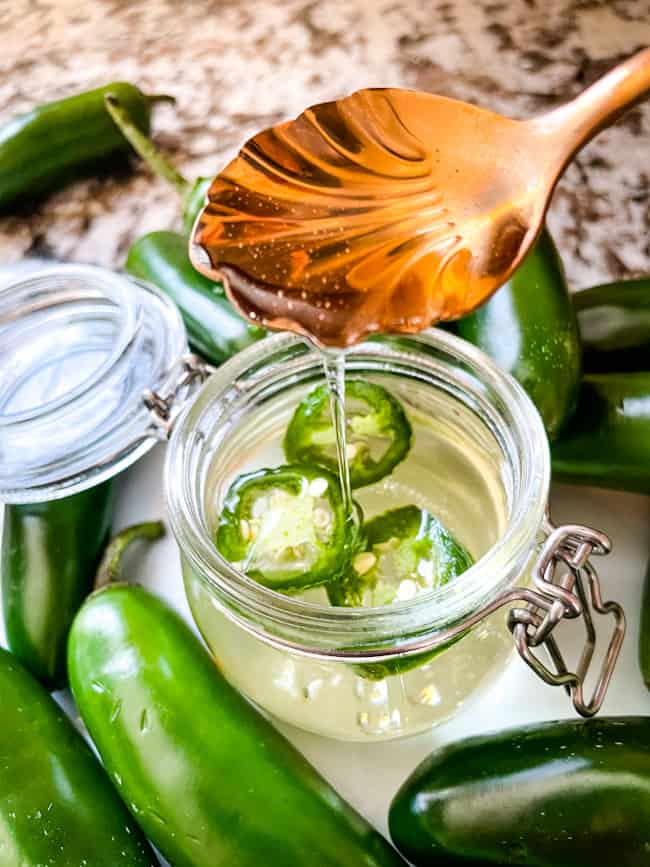 How to Adjust Heat Level
The heat of three jalapeno peppers balances out with the sweet sugar syrup.
The spicy flavor comes on the back end of the syrup.
Every pepper is different and the heat levels will vary naturally, but there are ways you can adjust the heat of the syrup.
To make it hotter, there are several options. You can add more jalapenos, use serrano peppers instead (as they are slightly hotter), or go extra hot with habanero.
While there is a spicy kick, I would not recommend making it milder as when used in a drink, you will likely lose the flavor of the jalapeno altogether. It will balance out even more when in a drink with other ingredients.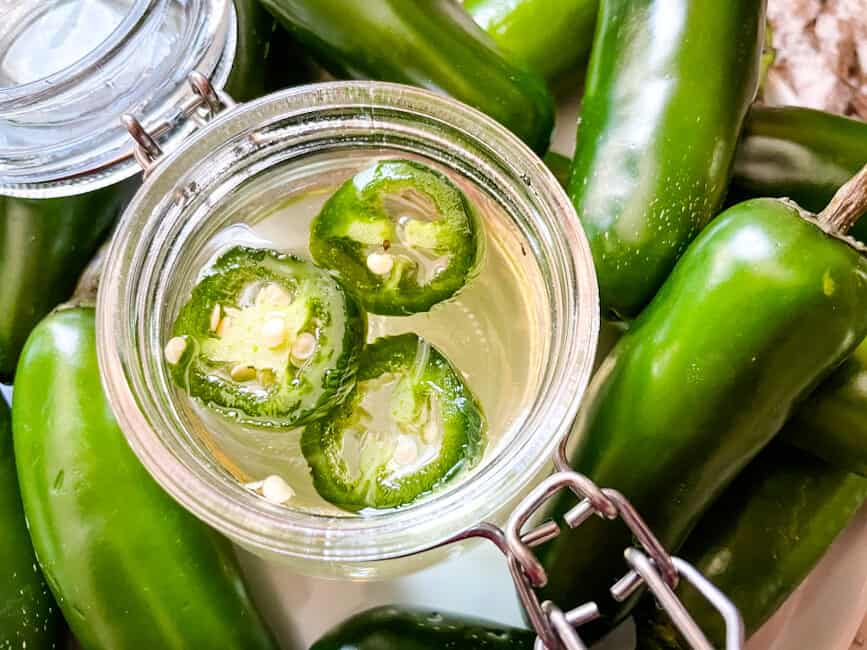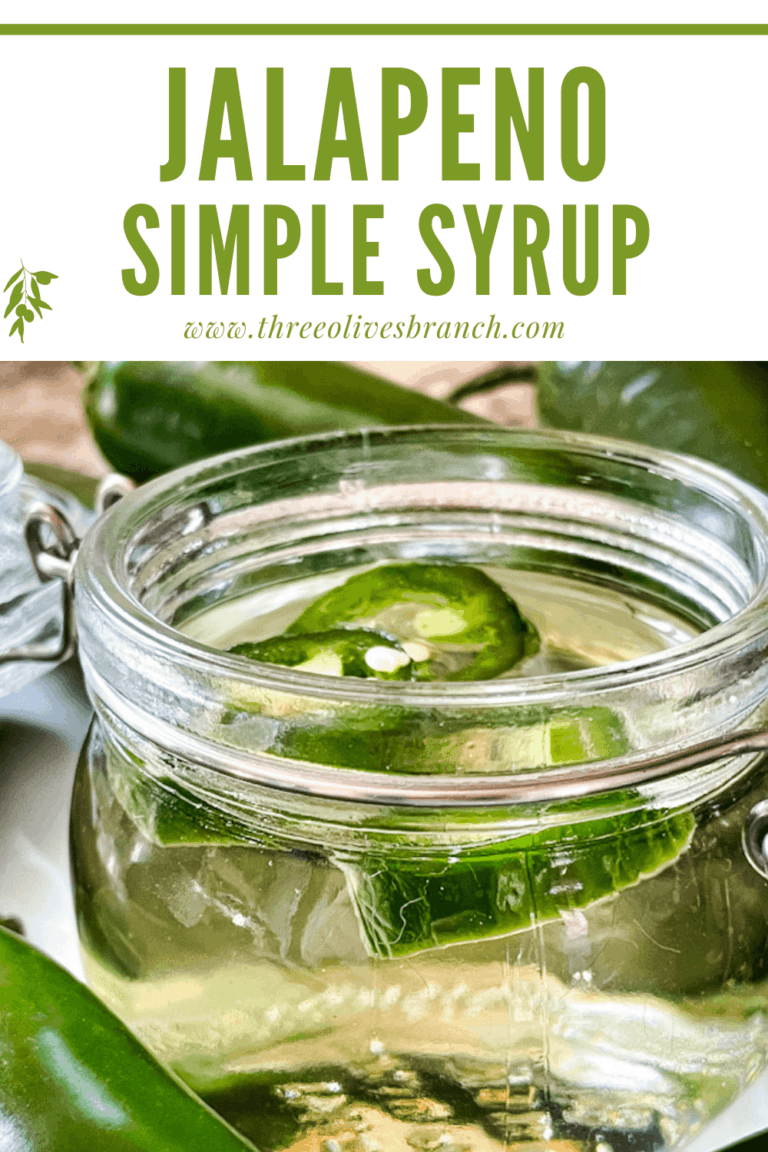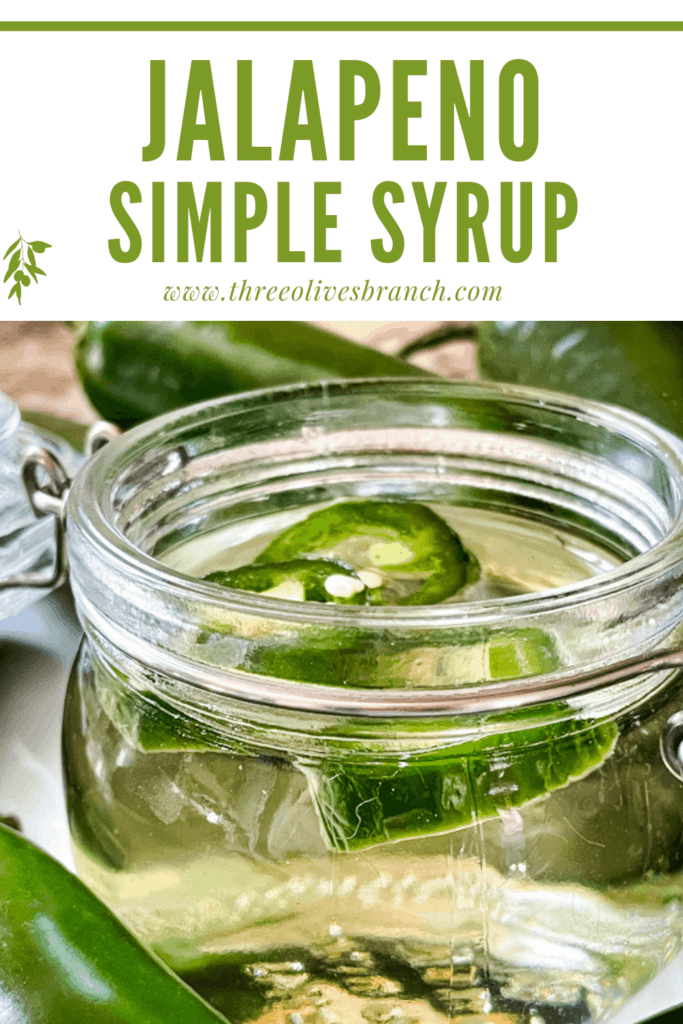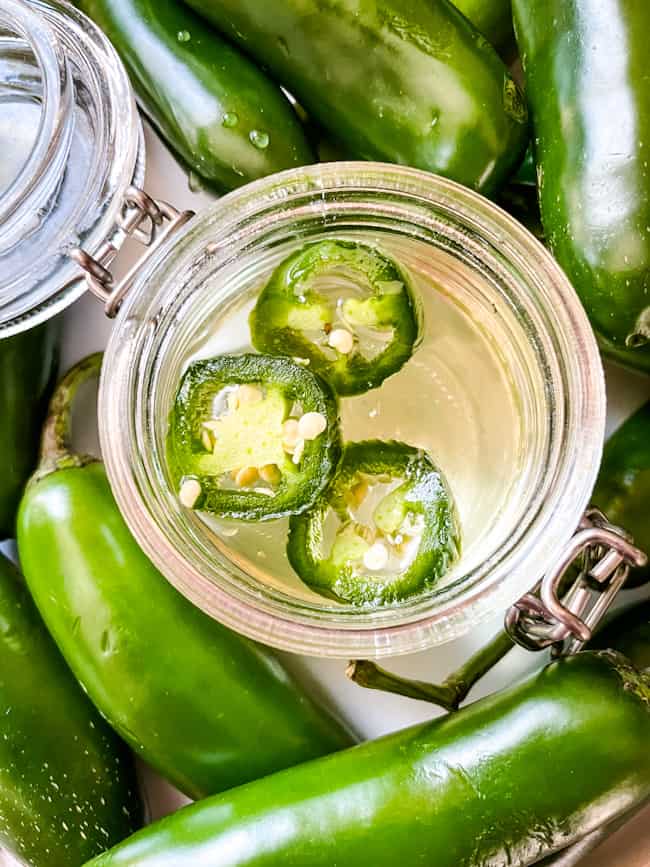 Ingredients
1 1/3

cups

water

1

cup

sugar
Instructions
Heat a small pot over medium high heat.

Cut the jalapenos into coins, leaving the seeds.

Combine the jalapeno, sugar, and water in the pot.

Bring to a boil then reduce heat to medium low and simmer for 15 minutes.

Remove from heat and let the peppers sit in the syrup to infuse, at least one hour.

Strain the jalapenos and seeds out of the syrup if desired using a fine mesh strainer. Store the syrup in a container. Keep the syrup refrigerated up to two weeks.
Notes
This makes between 1 to 1 1/4 cups of simple syrup per batch. 
Nutrition
Serving:

1

batch

|

Calories:

774

kcal

|

Carbohydrates:

200

g

|

Protein:

1

g

|

Fat:

1

g

|

Saturated Fat:

1

g

|

Sodium:

18

mg

|

Potassium:

6

mg

|

Fiber:

1

g

|

Sugar:

200

g

|

Vitamin A:

9

IU

|

Vitamin C:

1

mg

|

Calcium:

12

mg

|

Iron:

1

mg

By