This Peach Syrup is an easy homemade simple syrup recipe. Perfect for adding sweet flavor to drinks, cocktails, coffee, mocktails, desserts, and more. A fresh stone fruit take on a sugar condiment.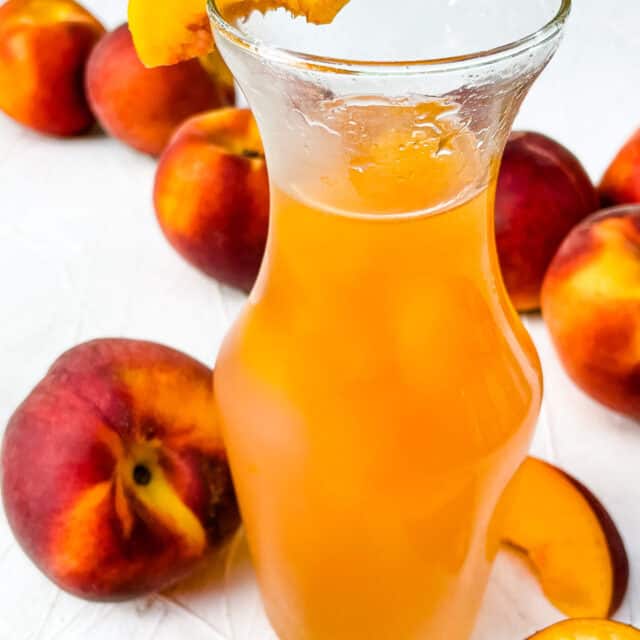 This Peach Syrup is a perfect sweet condiment to use for cocktails, mocktail drinks, and desserts.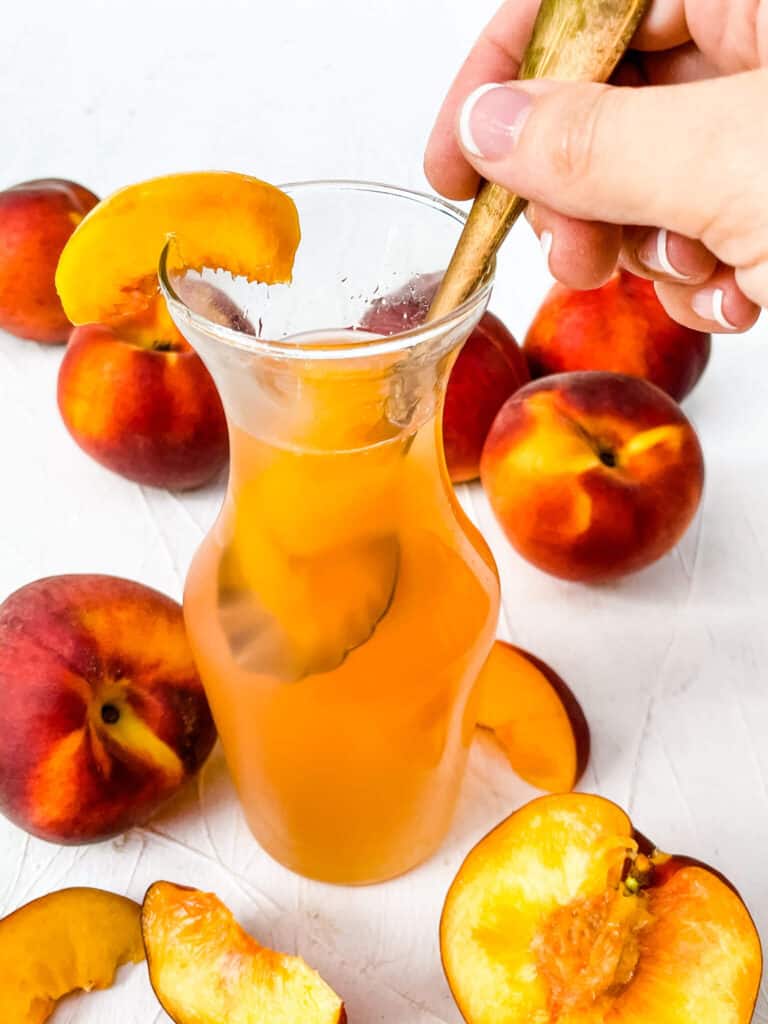 Peach Syrup
This peach syrup is a versatile condiment that you can use in so many ways!
A sweet sugar syrup is flavored with fresh peaches to bring extra flavor to your recipes.
My favorite uses for a peach syrup is in cocktails and drinks (or even coffee!). But it is also great on desserts or anything where a simple syrup is called for.
If you want the syrup to be on the strong sweet side and very thick, use up to 2 cups of sugar with the same amount of the rest of the ingredients.
This high sugar content can also cause it to crystalize when it is kept, but will bring more sweetness if needed.
I like to store my homemade simple syrups in small 8 ounce glass jars in the refrigerator. They do not take up too much space and are easy to see.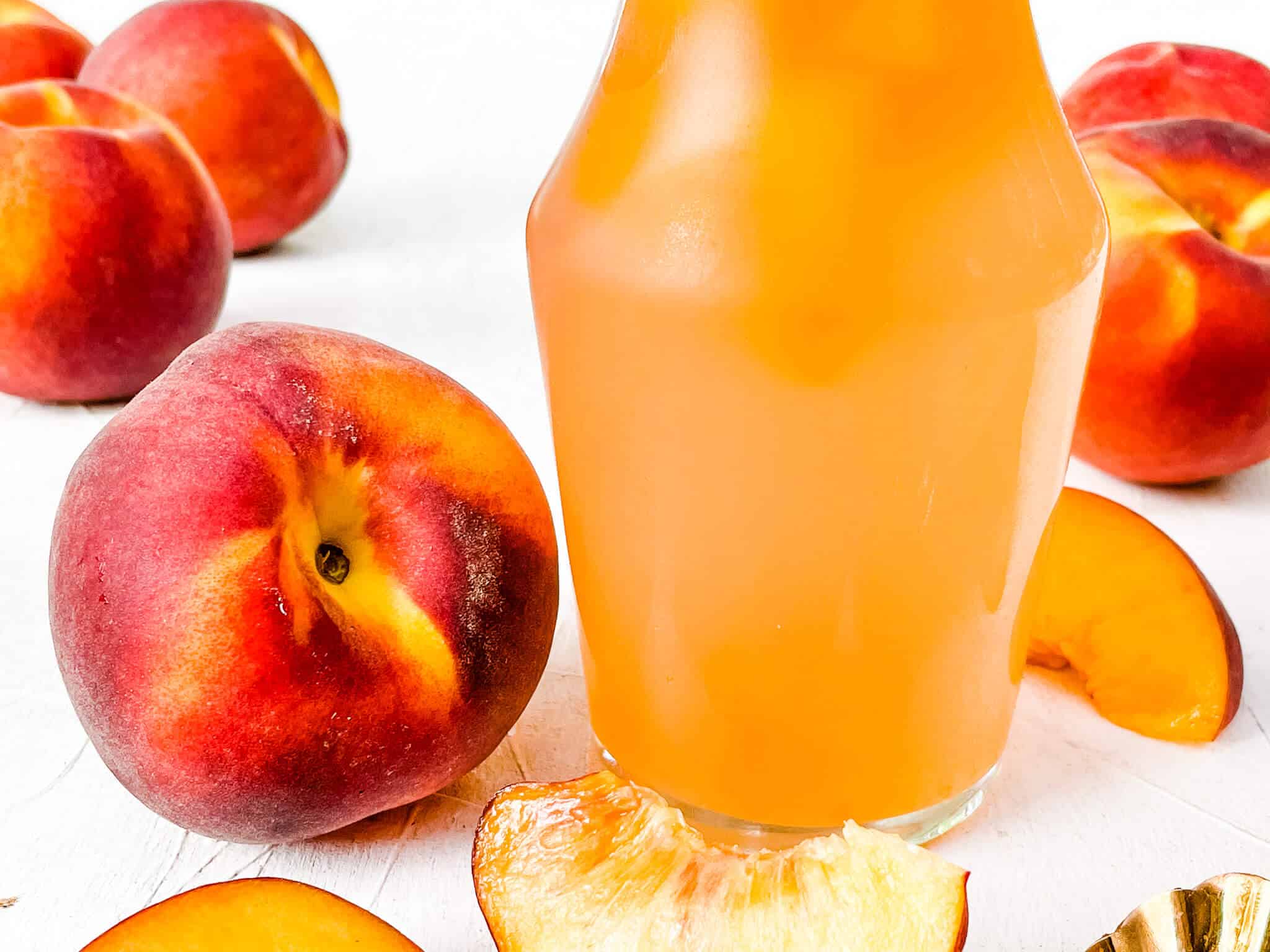 What is peach syrup made of?
Homemade peach syrup is just three ingredients: sugar, water, and peaches!
I prefer a homemade syrup over store bought as the flavor is much fresher. And with how easy and fast it is to make, you can have multiple simple syrup recipes on hand at all times!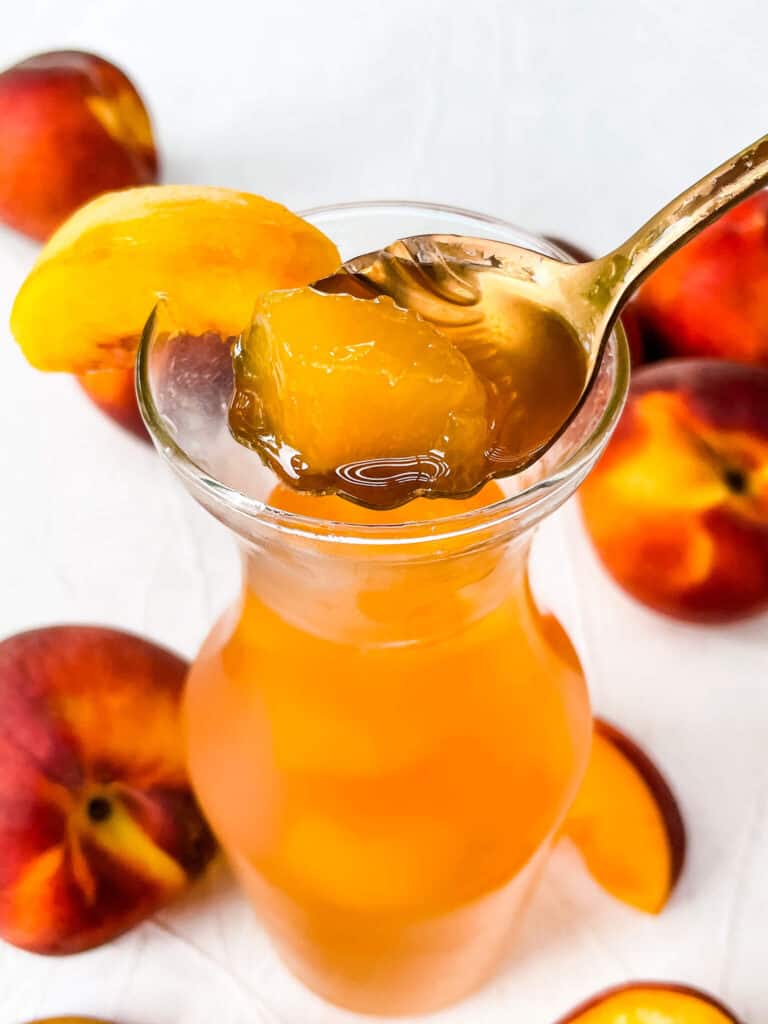 Do the peaches need to be peeled?
No! But if you make the syrup with the skins on the fruit, it will change the color.
The first batch I made was very pink due to the very red peach skins.
So if you do not mind what color the syrup is, no need to peel. Just clean.
I have a quick way for how to peel peaches if you want the peach color!
Can I use frozen peaches?
Absolutely. Frozen fruit and vegetables are typically frozen very soon after picking, meaning they have locked in freshness.
You might have a little more moisture in the frozen peaches than you would fresh, but just cook according to the directions and you will still have a delicious peach syrup.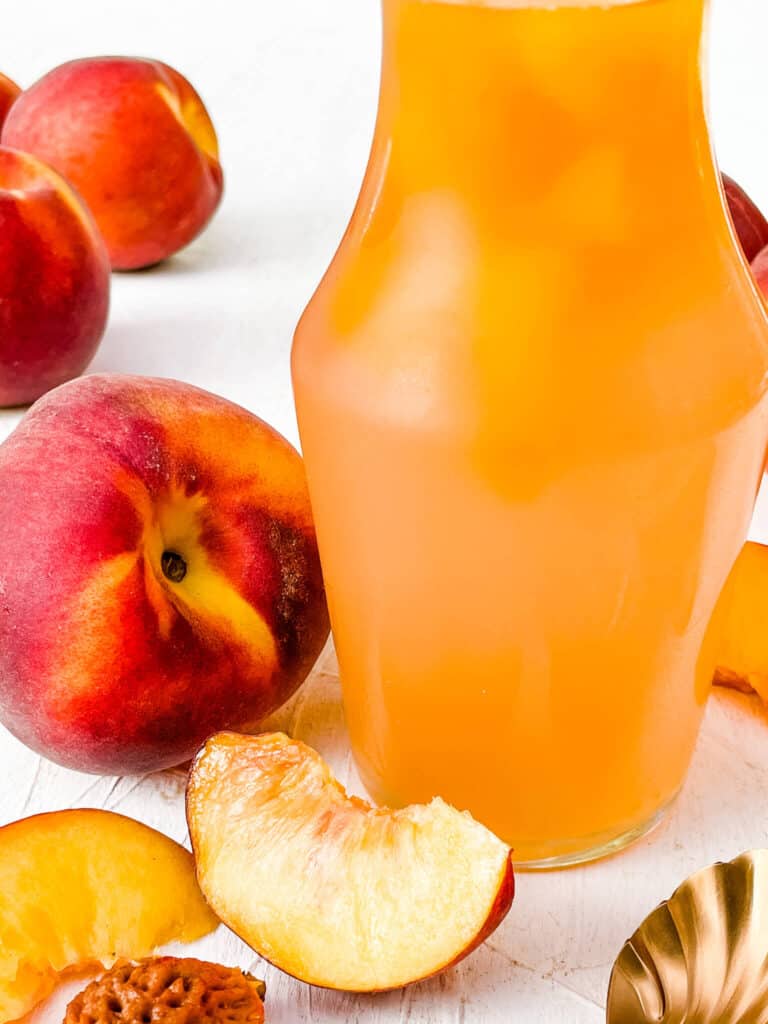 What is the best peach syrup for tea?
In my opinion, homemade! This Peach Simple Syrup is just perfect for a Peach Tea as you will find in our recipe for the summer drink.
Otherwise, your best bet is to look at reviews for what you prefer. Such as something on the sweeter side, something with a strong peach flavor, etc.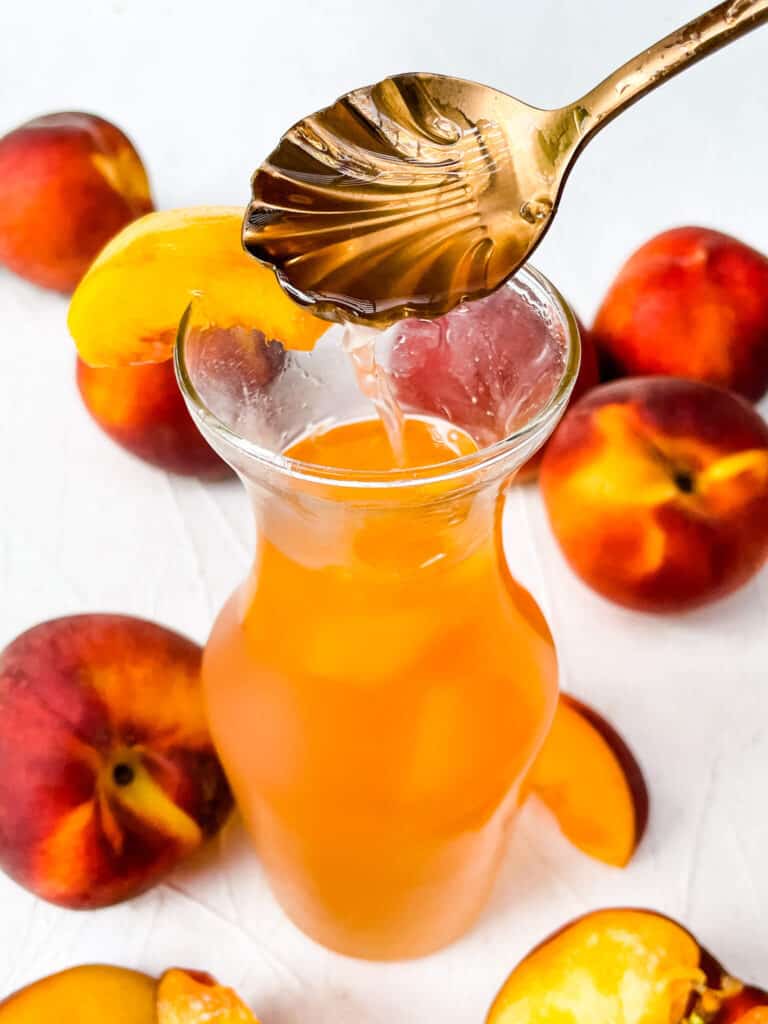 Peach Recipes
Recipes highlighting delicious peaches!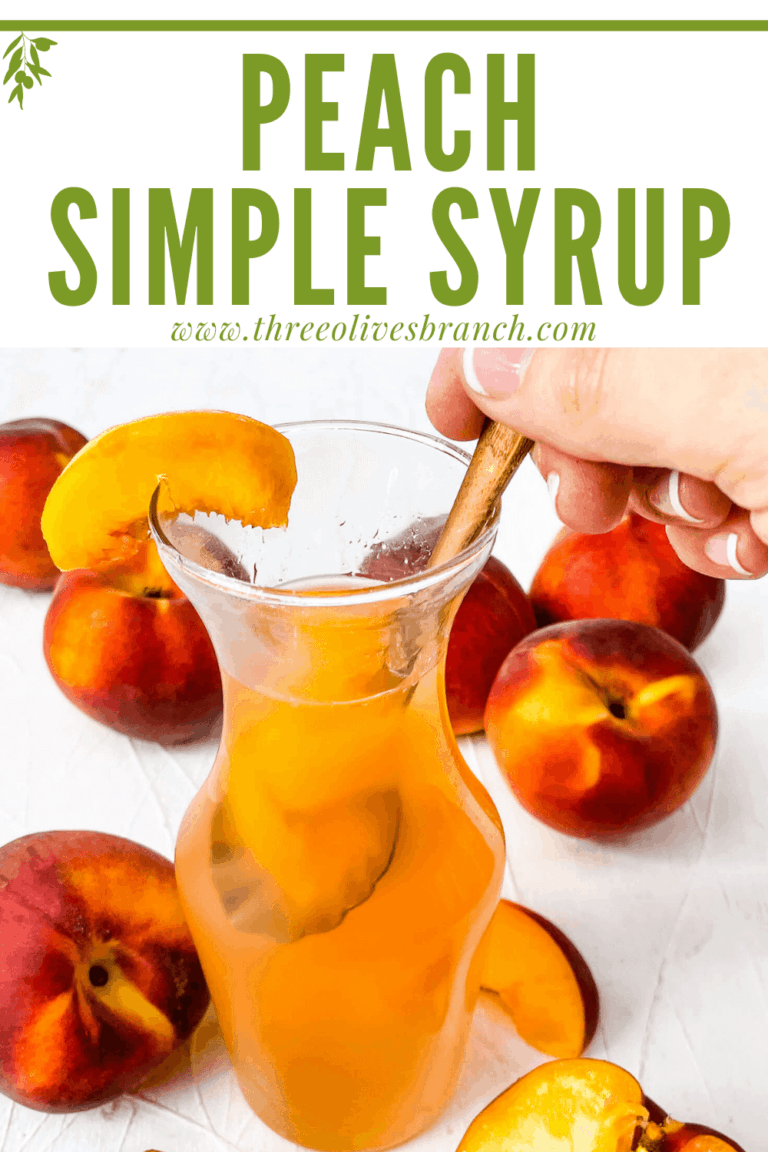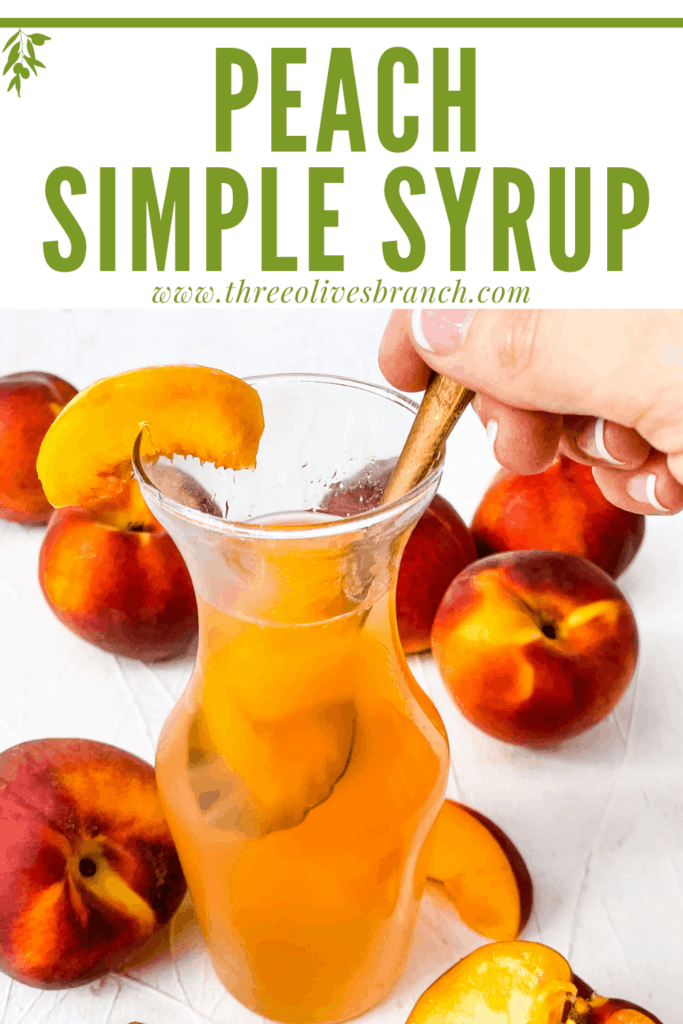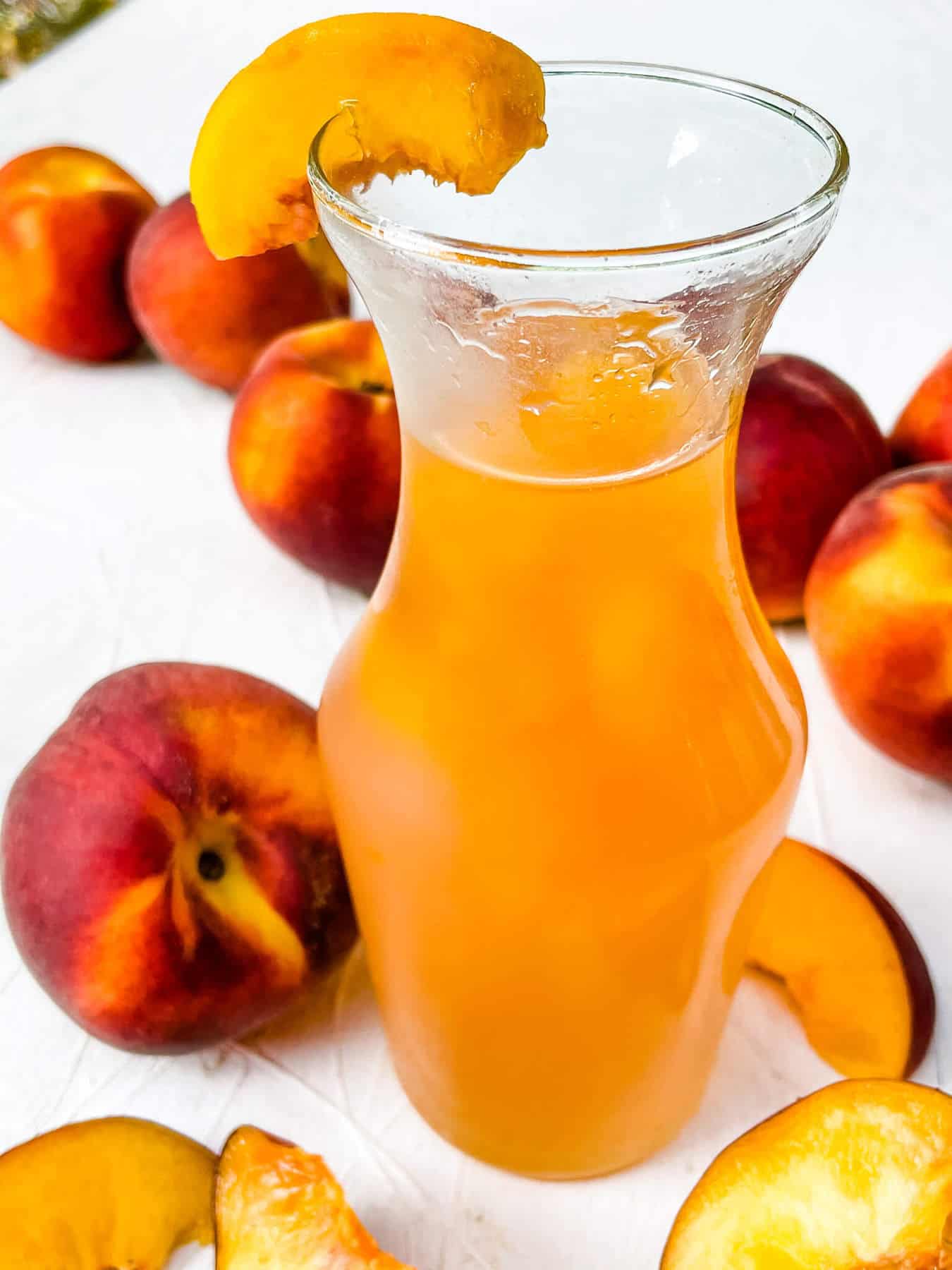 Ingredients
Instructions
Once your peaches are prepared, place all ingredients in a medium pot. Heat over medium high heat until boiling.

Let the mixture boil for 2 minutes. Remove from the heat and let the peaches sit in the syrup for 1.5-2 hours.

Strain the syrup if desired and store in a jar or container in the refrigerator for up to a month.
Notes
You can leave the skin on the peaches, however it will change the color of your syrup. Mine turned a bright pink when I left the skin on. Removing the skin will give you a traditional peach color.
You might end up with a slightly larger yield, around 1 1/4 cups, based on how much juice is released into the syrup and how much you cook it down.
Nutrition
Serving:

1

cup

|

Calories:

894

kcal

|

Carbohydrates:

229

g

|

Protein:

3

g

|

Fat:

1

g

|

Saturated Fat:

1

g

|

Polyunsaturated Fat:

1

g

|

Monounsaturated Fat:

1

g

|

Sodium:

14

mg

|

Potassium:

589

mg

|

Fiber:

5

g

|

Sugar:

225

g

|

Vitamin A:

1004

IU

|

Vitamin C:

20

mg

|

Calcium:

28

mg

|

Iron:

1

mg

By