An easy homemade simple syrup flavored with lavender flower buds for a light and floral taste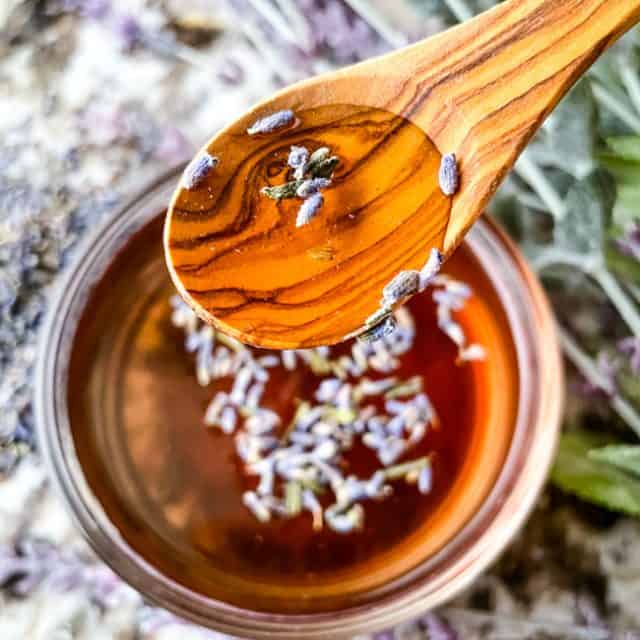 This Lavender Syrup Recipe is a floral and light syrup that is perfect to use in desserts, cocktails, and coffee!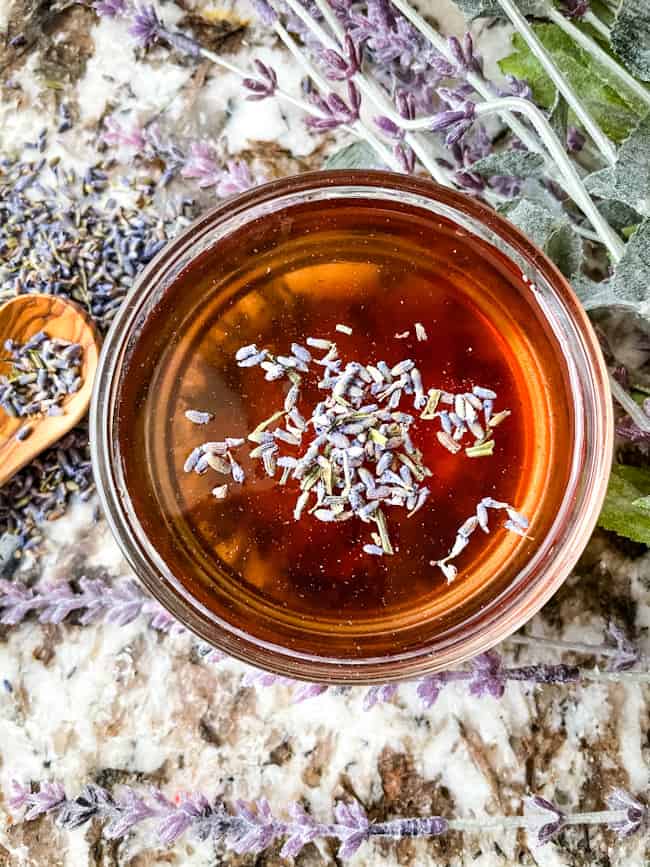 I have been venturing into fun cocktails lately and with that has come a love of making flavored simple syrup recipes.
These flavored syrups bring some extra flavor, sometimes a little color, while keeping a drink balanced.
I love this lavender syrup recipe for its light, floral flavors.
It is perfect to use in earthy cocktails or desserts!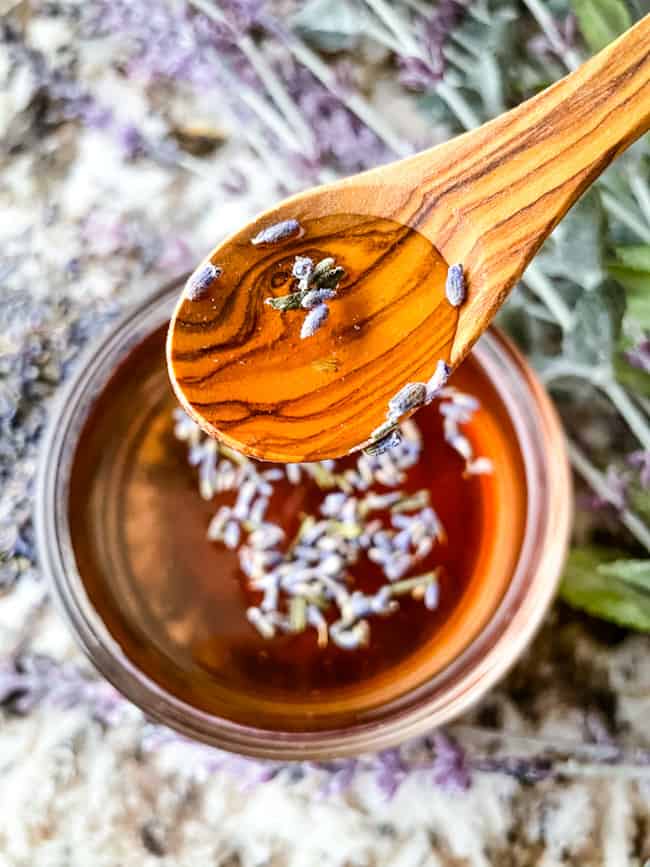 Using Lavender in Foods
It is perfectly safe to use lavender in food such as this lavender syrup recipe.
The most important part is ensuring that the lavender you use is culinary grade. This means it is safe to eat and not grown with chemicals and pollutants that would make it unsafe to eat.
You can easily find this information on the lavender you are purchasing.
What does Lavender Taste Like?
Lavender has a very strong scent, as you have probably noticed!
And when used straight in foods like a cookie, it is very noticeable.
But this lavender simple syrup extracts the scent and flavor into the syrup, leaving a light and subtle floral taste behind.
It is not nearly as strong as rose (if you have ever tried that). Lavender tastes a little earthy and fresh. Which makes it great for drinks!
What is Simple Syrup?
Simple syrup is a basic and easy to make sweet syrup. Make simple syrup by combining sugar and water over heat until the sugar dissolves.
Simple syrup can be used in various baked goods, such as to soak into cakes to keep moisture, but is most commonly known for its use in cocktails and drinks.
For cocktails, simple syrup brings sweetness to the drink and sometimes additional flavor if you are using an infused simple syrup, such as this lavender syrup recipe.
You could also use this lavender syrup for coffee to make your own flavored coffee drinks just like the popular chains.
What Can I Use this Syrup For?
I would use this lavender syrup with the following types of flavors:
Lemon and Citrus
Honey
Herbs (like sage, thyme, mint, or rosemary)
Berries
Pears
Chocolate
The lavender syrup is perfect for adding some subtle flavors to cocktails, such as our Lavender Bees Knees.
It can also be used in baked goods or breakfast items where you need some sweetness or moisture (like soaking cakes!).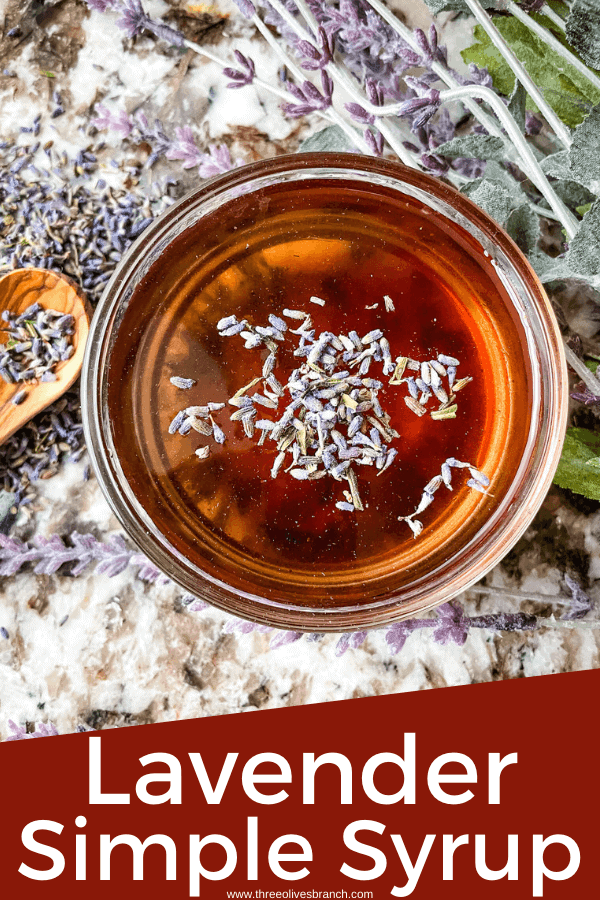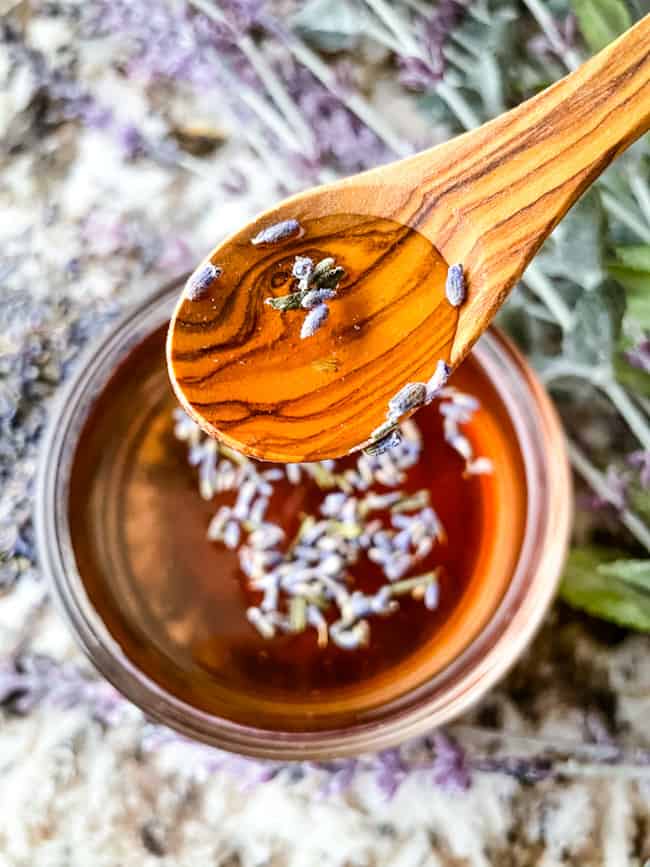 Instructions
Heat the lavender buds, water, and sugar in a small pot over medium high heat.

Bring to a boil then reduce heat to medium low and simmer for 15 minutes.

Remove from heat and let the lavender sit in the syrup to infuse, at least one hour.

Strain the flower buds out of the syrup if desired using a fine mesh strainer (they will look brown at this point). Store the syrup in a container. Keep the syrup refrigerated up to two weeks.
Notes
This makes between 1 to 1 1/4 cups of simple syrup per batch. 
Make sure you are using edible lavender that is made for culinary uses.
Nutrition
Serving:

1

batch

|

Calories:

796

kcal

|

Carbohydrates:

205

g

|

Protein:

1

g

|

Fat:

1

g

|

Sodium:

18

mg

|

Sugar:

200

g

|

Vitamin A:

135

IU

|

Vitamin C:

5

mg

|

Calcium:

99

mg

|

Iron:

1

mg

By