An easy homemade simple syrup flavored with fresh rosemary for an earthy, herb flavor.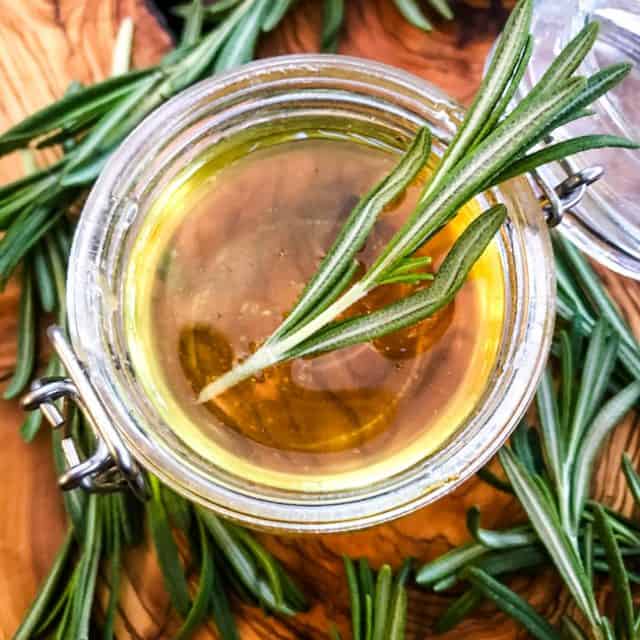 Rosemary Simple Syrup is a delicious flavored simple syrup recipe! A great way to kick up your cocktails, mocktails, and desserts.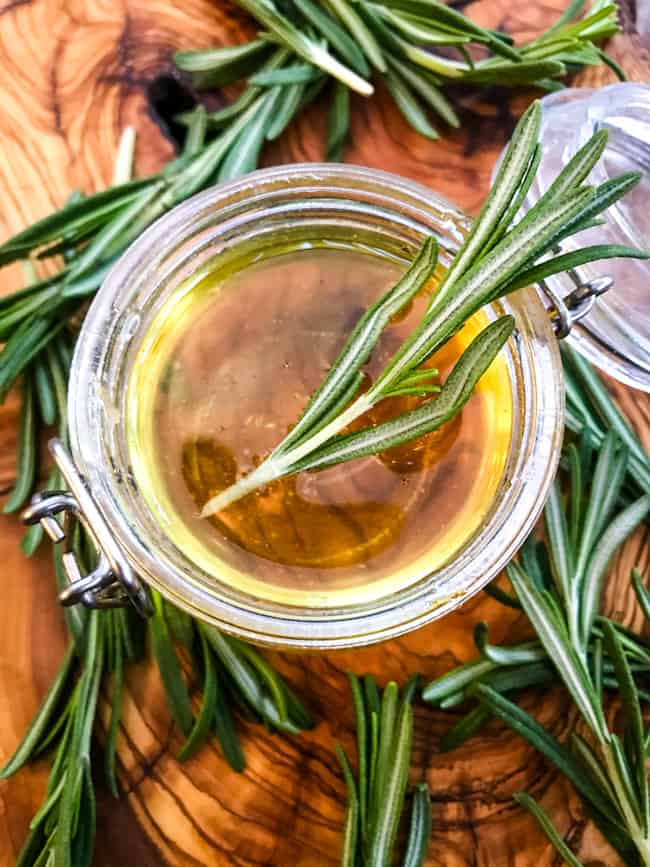 I am a huge fan of earthy and citrus flavors in my cocktails and drinks.
This rosemary syrup is a perfect way to bring some extra flavor and herb notes to your beverage.
Making simple syrup is fast and easy, plus it holds well so you always have some on hand.
I like to keep my homemade syrup in a mason jar in the refrigerator.
What is simple syrup?
Simple syrup is a basic and easy to make sweet syrup. Make simple syrup by combining sugar and water over heat until the sugar dissolves.
It is important to not let the sugar boil as it will start to crystalize and give you something much thicker or harder than a simple syrup.
Simple syrup can be used in various baked goods, such as to soak into cakes to keep moisture, but is most commonly known for its use in cocktails and drinks.
For cocktails, simple syrup brings sweetness to the drink and sometimes additional flavor if you are using an infused simple syrup, such as this Rosemary Simple Syrup.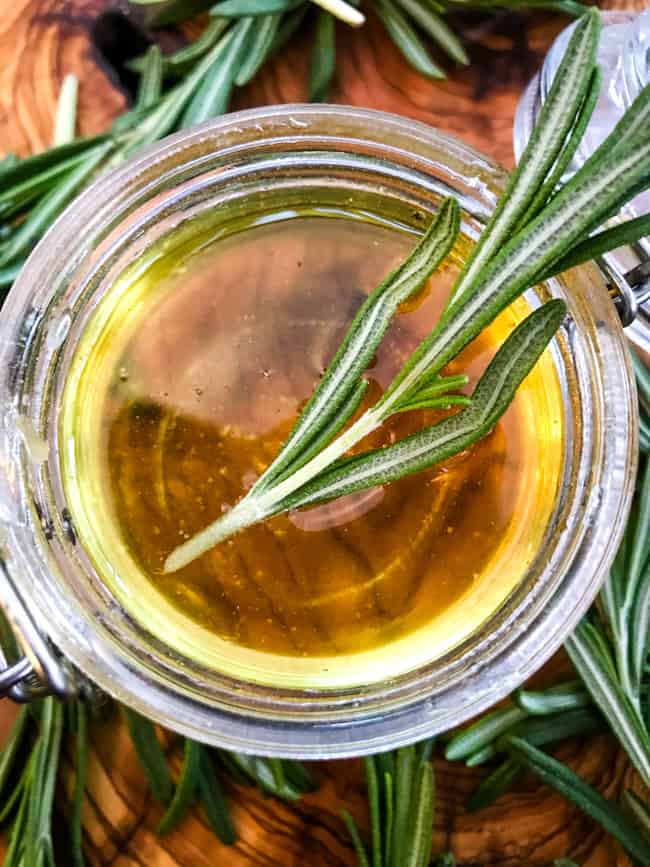 How do I use Rosemary Simple Syrup?
My favorite way to use this earthy syrup is in cocktails, drinks, and mocktail recipes.
This would be amazing as the sweetener in a homemade lemonade or any drink that highlights citrus, floral, or earthy flavors.
Flavored simple syrup is also a great addition to desserts and a great way to keep cakes moist with a little extra flavor.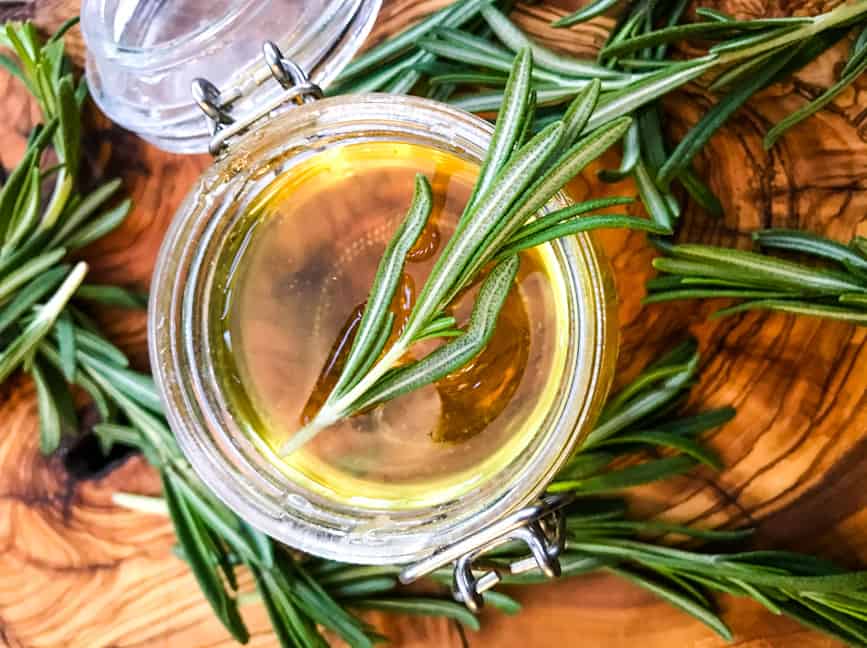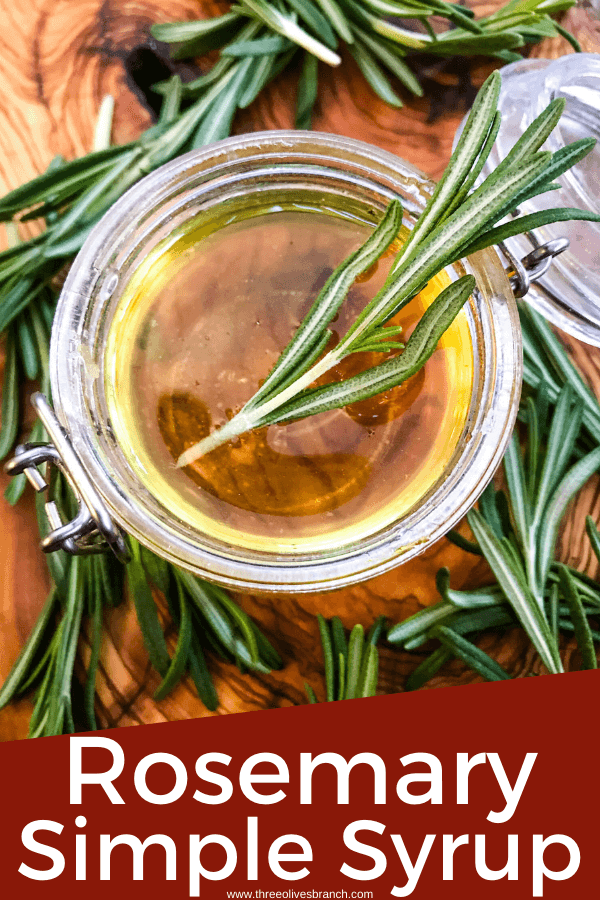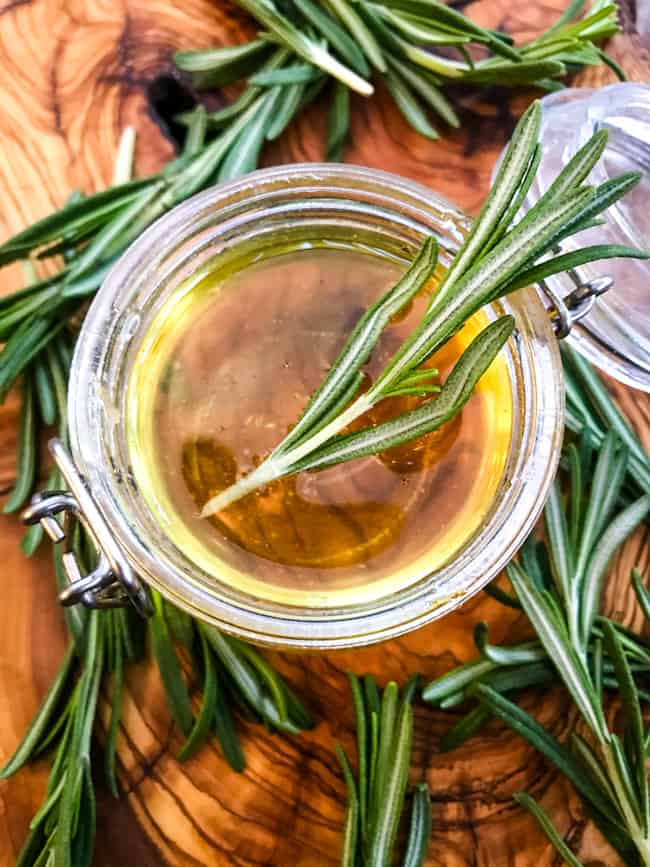 Instructions
Heat the water and sugar in a small pot over medium high heat.

Bring to a boil then reduce heat to medium low and simmer for 15 minutes.

Remove from heat, add the rosemary, and let the rosemary sit in the syrup to infuse, at least one hour.

Remove the rosemary from the syrup, if desired. Store the syrup in a container. Keep the syrup refrigerated up to two weeks.
Notes
This makes between 1 to 1 1/4 cups of simple syrup per batch. 
Nutrition
Serving:

1

batch

|

Calories:

774

kcal

|

Carbohydrates:

200

g

|

Protein:

1

g

|

Fat:

1

g

|

Saturated Fat:

1

g

|

Sodium:

18

mg

|

Potassium:

6

mg

|

Fiber:

1

g

|

Sugar:

200

g

|

Vitamin A:

9

IU

|

Vitamin C:

1

mg

|

Calcium:

12

mg

|

Iron:

1

mg

By