Keto Low Carb Cheesy Chicken Pesto Spaghetti Squash is a simple healthy dinner recipe. Basil pesto is mixed with chicken and cheese in a squash shell.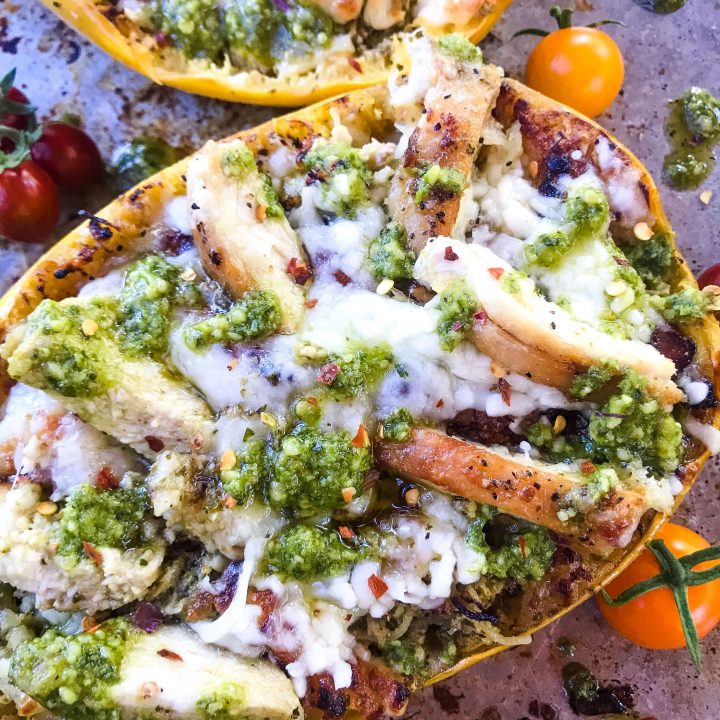 Keto Low Carb Cheesy Chicken Pesto Spaghetti Squash is a delicious Italian recipe when you want a healthier spin on pesto pasta.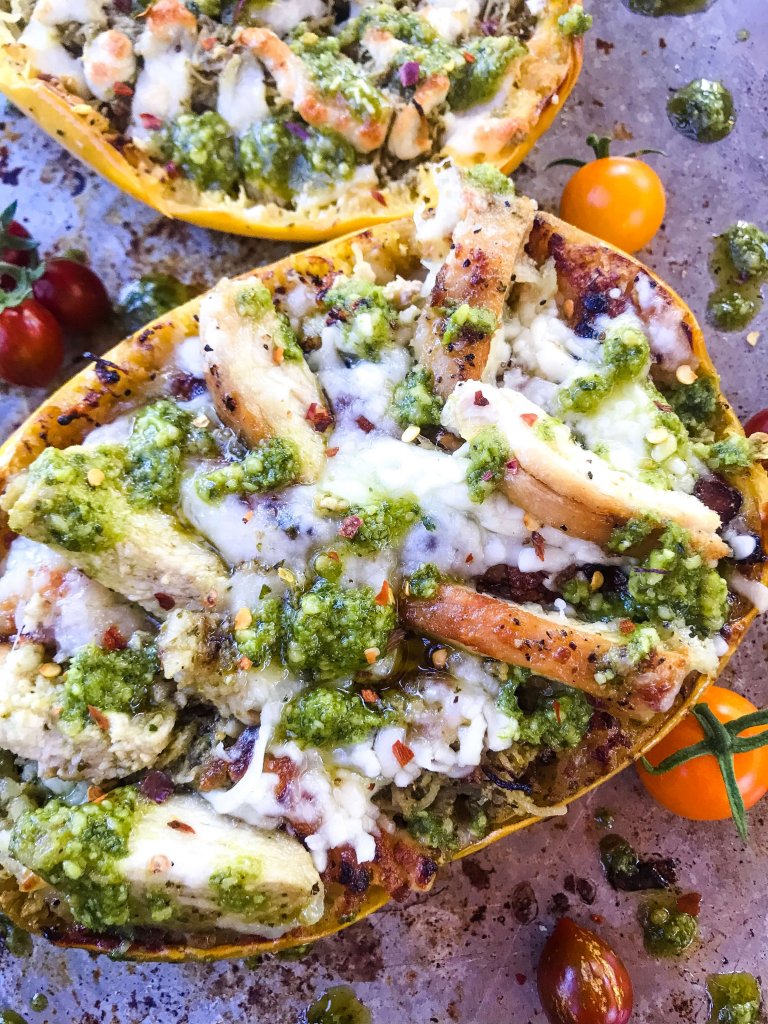 This post contains affiliate links.
Spaghetti Squash with Pesto
Have you jumped on the stuffed spaghetti squash craze?
I, myself, took a while to try it out and truthfully I was skeptical.
But I found that the spaghetti squash really does work!
So now I am converting some of my classic, popular recipes into low carb, keto recipes using spaghetti squash as the base.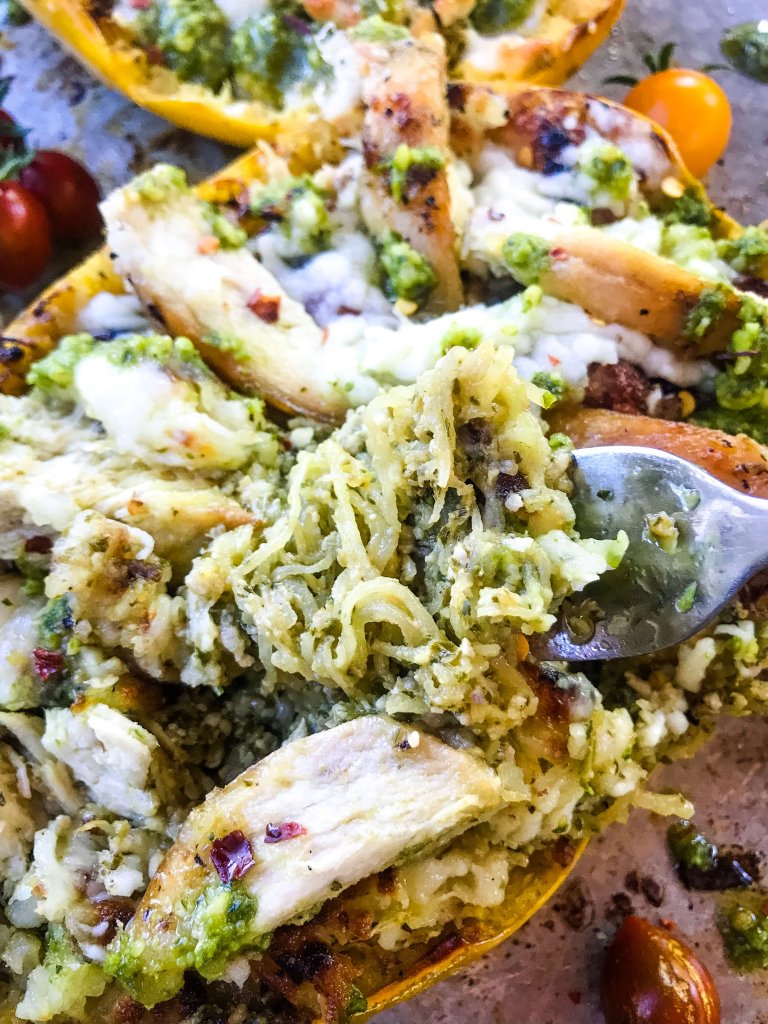 Is Eating Spaghetti Squash Good for You?
Yes! They are full of vitamins and minerals.
And when used in place of pasta, it is a great low carb alternative.
Do You Put Sauce on Spaghetti Squash?
Yes!
I am a huge fan of pesto pasta recipes, such as this Pesto Caprese Penne Pasta which is one of the most popular recipes on the site.
You can find all of the pesto recipes here!
Finding a way to make a healthier spin with spaghetti squash was mandatory in my mind.
I like to use homemade fresh basil pesto but you can use any jarred or store bought kind.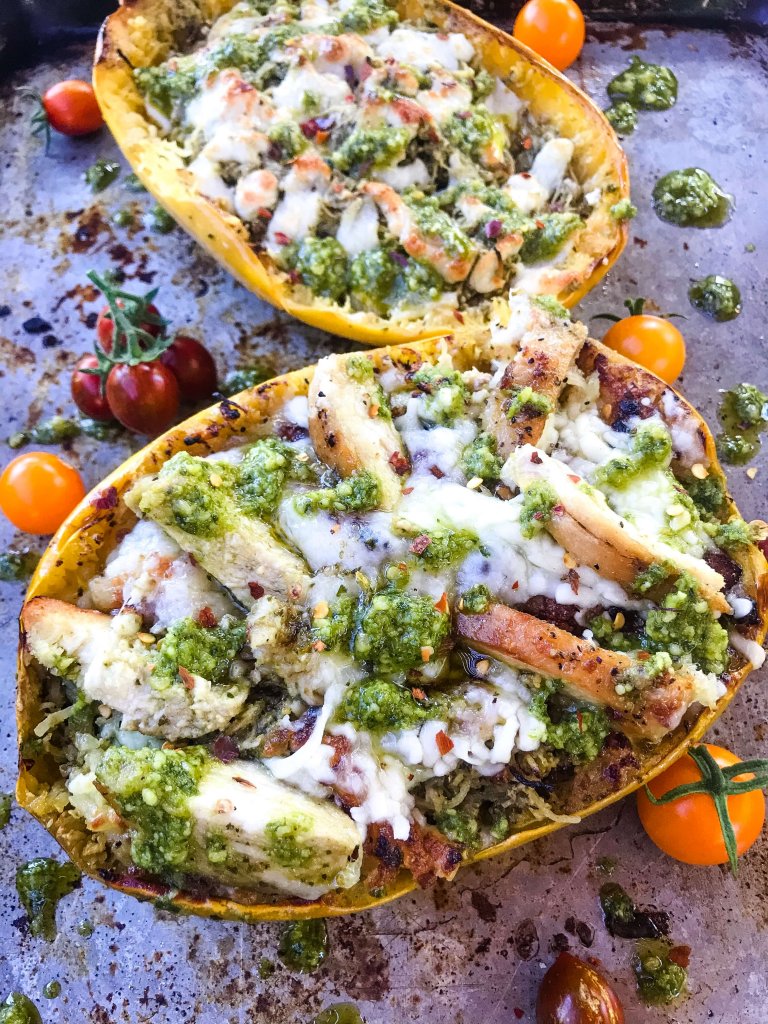 What does Spaghetti Squash taste like?
I love spaghetti squash recipes because they are a great way to feel like you are eating pasta but in a healthier way.
While it is not exactly the same, I was pleasantly surprised the first time I had spaghetti squash.
Think of it as a crispier angel hair pasta. The texture and little crunch made me a fan!
If you are trying to work your way toward squash noodles, you can always cook a little of a regular noodle and mix it in.
What Do I Need for Spaghetti Squash with Pesto and Chicken?
Here is what you need to make this recipe:
Spaghetti Squash
Chicken
Basil Pesto
Mozzarella Cheese
Olive Oil
Salt
Black Pepper
This is a great recipe to use any neutral or Italian flavored leftover chicken for, and even a rotisserie chicken!
This stuffed spaghetti squash is full of basil pesto, chicken, and cheese.
You can add any mix ins you like, which I am a huge fan of! Tomatoes, corn, zucchini, onion, and pine nuts are just a few ideas.
Stuffed spaghetti squash is also pretty filling!
I find that one squash just 2-3 pounds is enough to feed four people.
The fiber and nutrients, plus the mix ins, seem to fill me up pretty quickly.
You can either leave the Keto Low Carb Cheesy Chicken Pesto Spaghetti Squash in the shell, and cut into sections, or scoop everything out and serve like you would pasta.
How to Make Cheesy Chicken Pesto Spaghetti Squash
First cut your spaghetti squash in half, rub the insides with oil, salt, and black pepper, and cook in the oven at 400F for about 30-40 minutes. It should shred easily with a fork and still have a little bit of a crisp texture to it (see below regarding texture).
Meanwhile, cook the chicken with oil, salt, and pepper until cooked through. Or use leftover chicken or rotisserie!
Also make your basil pesto if making from scratch.
When the squash is ready, shred the squash strands with a fork so they look like noodles.
Add the pesto to the squash, stir to combine, and top with cut up chicken and cheese.
Cook again until the cheese is melted and serve!
You can do all of this either in the squash shells themselves or in a casserole dish.
Is Spaghetti Squash Supposed to be Crunchy?
Somewhat, yes, it can be. It has a very light crunchy texture.
If you do not want it with this crispness, you can cook it longer until it is softer.
But do not cook it too long! It can get mushy. Just taste it as it cooks until it is as soft as you prefer.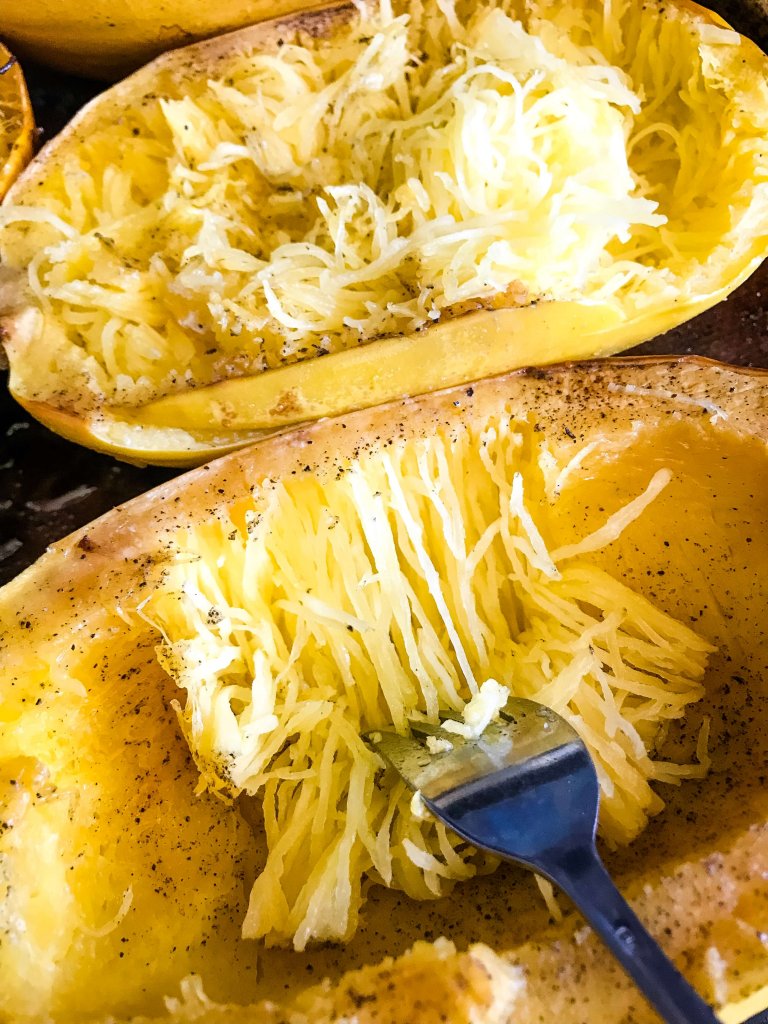 How Do I Cut a Spaghetti Squash?
If you want it length wise, like what you see in the pictures, to make boats, you want to use a large and sharp knife.
Put the squash down on a cutting board and very carefully, stab the squash with the knife in the middle lengthwise, and then rock the knife in a cutting motion down the squash. Repeat around the entire way until you can pull them apart.
What's the easiest way to cut a spaghetti squash in half? If you do not have a preference for the long boat shape, you can cut it the same way but sideways, across the equator of the squash. Since it is skinnier than it is tall, it is faster and easier to cut this way.
The halves will wobble more since they will be sitting on the rounded end when cooking, but this is just fine.
You can choose to serve the squash not in the shell at all, and therefore the shape of the squash will not matter.
Can You Eat the Skin of Spaghetti Squash?
It will not hurt you at all, but it is not very pleasant.
After cooking, the skin gets almost leathery or paper like.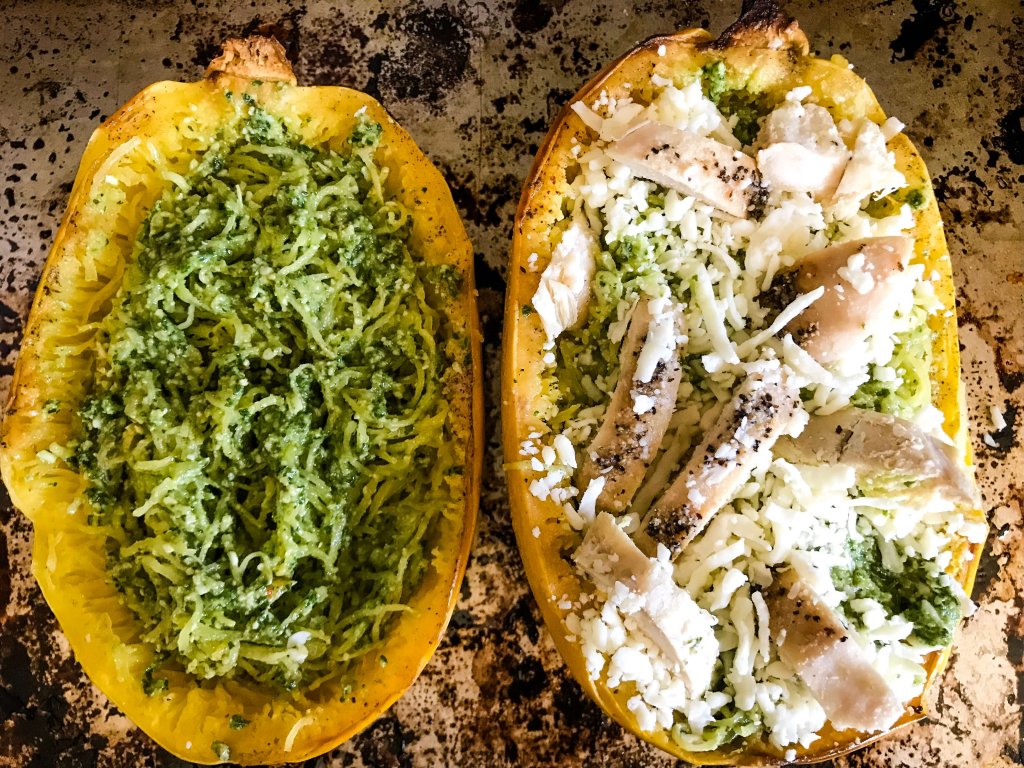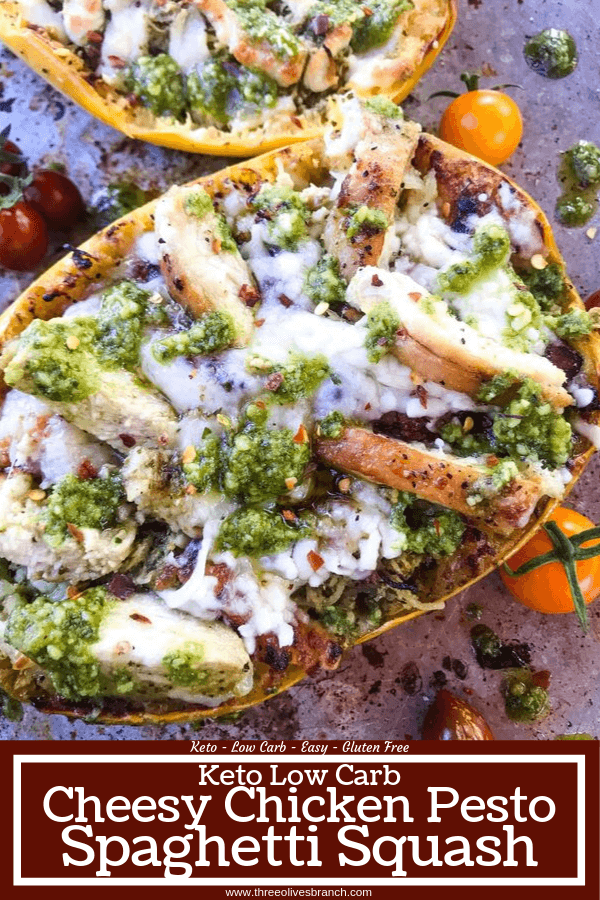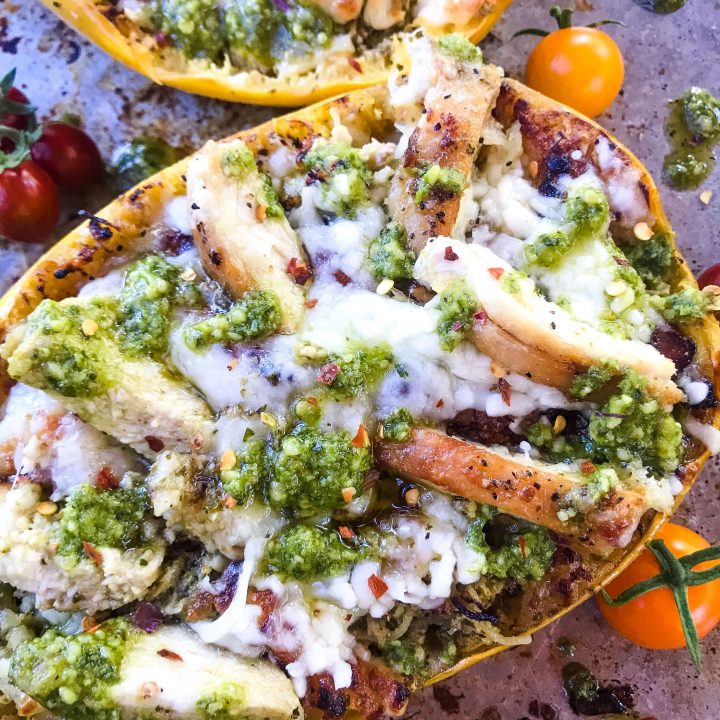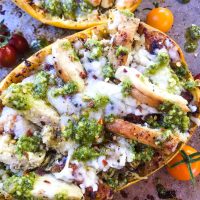 Keto Low Carb Cheesy Chicken Pesto Spaghetti Squash
Keto Low Carb Cheesy Chicken Pesto Spaghetti Squash is a simple healthy dinner recipe. Basil pesto is mixed with chicken and cheese in a squash shell.
Print
Pin
Rate
Instructions
Preheat oven to 400F.

Cut the spaghetti squash in half lengthwise. Be careful as it is tough to cut through. Place the squash on towels if necessary to keep it in place.

Remove the seeds by scraping the inside of each half with a spoon.

Drizzle the inside of each half with the vegetable oil and sprinkle with salt and pepper.

Place the squash cut side down on a baking sheet. Roast in the oven until tender when pierced with a knife, approximately 30-40 minutes. Remove from oven and let cool slightly to handle.

While the squash is cooking, cook the chicken (if not cooked already) as preferred. I just drizzle with oil, salt, pepper, and garlic powder and cook in the oven while the squash is cooking. Leftover chicken is perfect for this as well. Remove the chicken when done and cut into strips.

Fluff up the interior of each squash by using a fork and shredding at the squash flesh. This will make the "noodles"!

Add 1/2 cup of the pesto to each squash boat and mix to combine with the squash.

Top each squash boat with the chicken (or toss it throughout the squash with the pesto in the step above).

Sprinkle the cheese across the top of each squash boat, over the squash and chicken. Bake for approximately 15 minutes until the cheese is melted. If you want browned cheese, you can pop the squash under the broiler once the cheese is melted (just make sure it is no longer on parchment or silicone or anything else that would burn!).

Drizzle with some additional pesto if desired. Serve immediately.
Nutrition
Serving:

1

serving

|

Calories:

528

kcal

|

Carbohydrates:

22

g

|

Protein:

35

g

|

Fat:

34

g

|

Saturated Fat:

9

g

|

Cholesterol:

99

mg

|

Sodium:

927

mg

|

Potassium:

700

mg

|

Fiber:

5

g

|

Sugar:

9

g

|

Vitamin A:

1763

IU

|

Vitamin C:

6

mg

|

Calcium:

302

mg

|

Iron:

2

mg

By