Key Lime Pie Madeleines are a delicious mini dessert recipe! With French and Italian roots, these mini cakes, also thought of as cookies, are soft and full of lime citrus flavor plus graham cracker flavor just like the pie! A delicious holiday dessert recipe, for spring, and summer.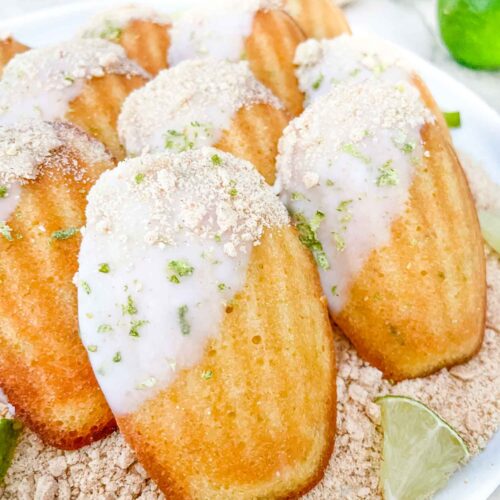 These Key Lime Pie Madeleines are a bright and citrus flavored twist on the French dessert classic. A great recipe for the spring, summer, and holidays.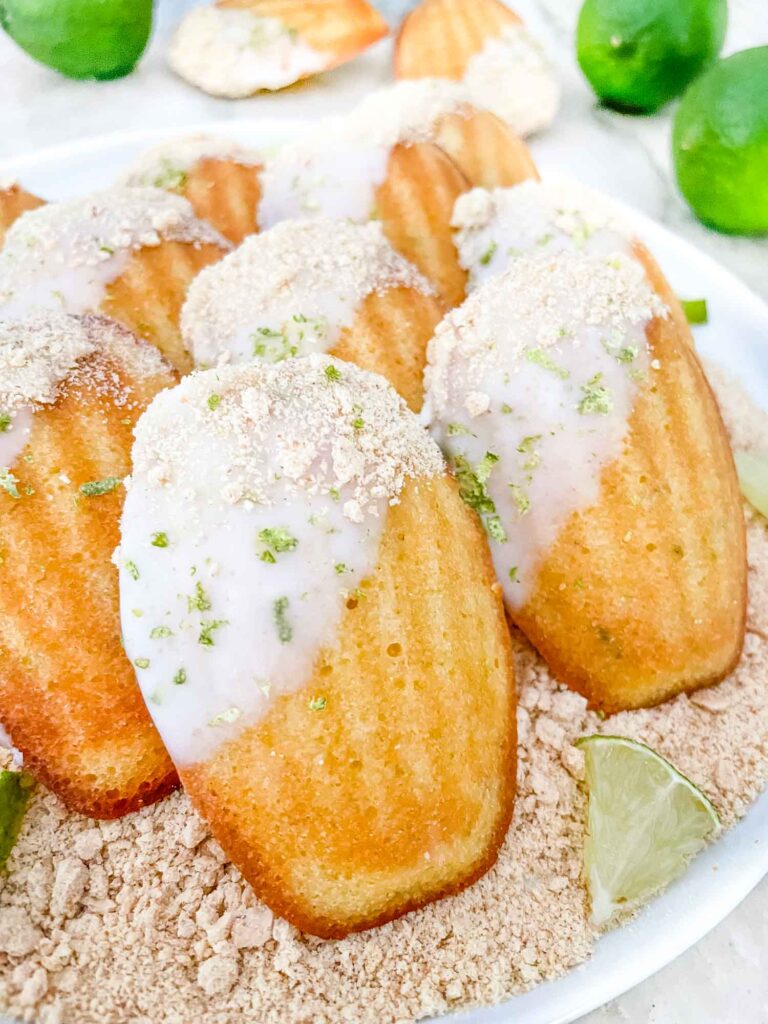 French Mini Cakes
I made these for a family dinner and wanted to use a Key Lime Pie as inspiration since it is my dad's favorite!
When I ate the first one, I said "It tastes like a lime just punched me in the face. It is amazing!"
Just like the pie, these homemade madeleines are packed with tons of tart, citrus flavor in a sweet and soft dessert.
Why Are Madeleines Called Madeleines?
The belief is that Louis XV named them after the woman that made them, Madeleine Paulmier.
He and his wife then started serving them in Versailles and they became well known and popular!
What Do Madeleines Taste Like?
They are like buttery little cakes, and in this recipe, flavored with lime!
How Are Madeleines Different from Cakes?
Madeleines are pretty much little sponge cakes!
They are specifically made in a madeleine pan where one side has ridges similar to a shell, and the have a bump on the other smooth side.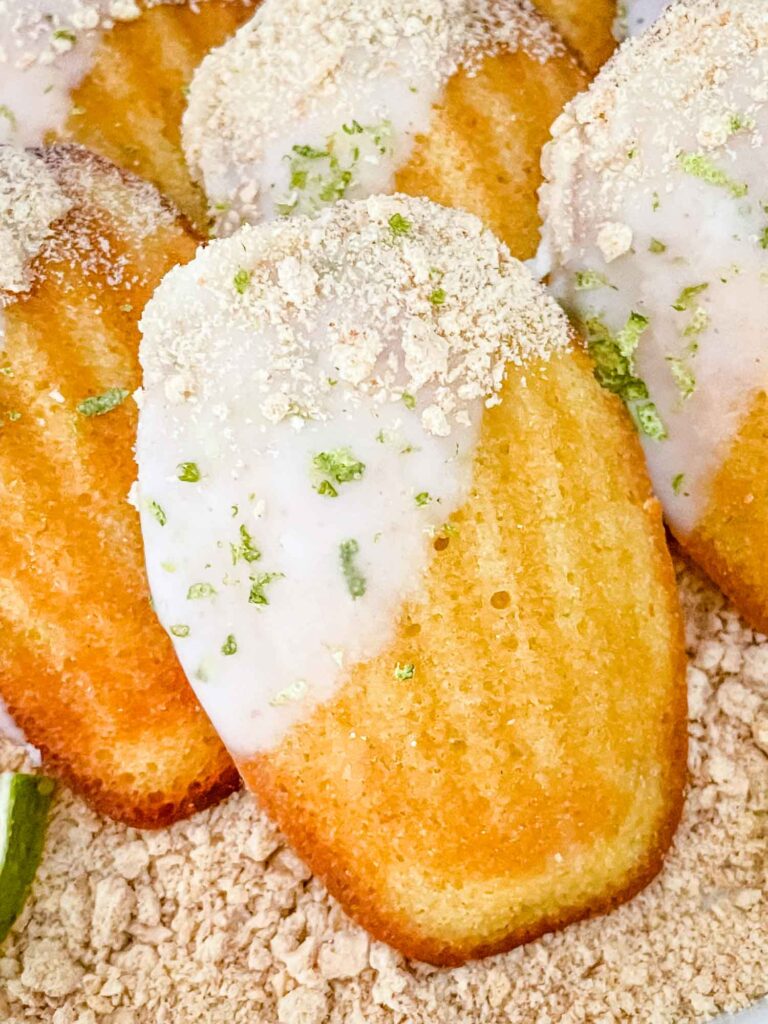 Are Madeleines Hard or Soft?
They are soft but a firmer texture.
What is the Difference Between Financiers and Madeleines?
They are both small tea cakes. Financiers use only egg whites and no leavening agent. Madeleines use whole eggs.
How Do the French Eat Madeleines?
These little cakes are traditionally eaten for tea times.
What Is In Madeleines?
Here are the ingredients you need for this dessert recipe:
All Purpose Flour
Cornstarch
Eggs
Butter
Sugar
Vanilla Extract
Lime Zest and Juice
Graham Cracker Crumbs
Powdered Sugar
Salt
What is the Best Flour for Madeleines?
Cake flour is a great option to help make the madeleines soft and tender.
But since always having cake flour on hand is not always feasible, I have adjusted the recipe to use a combination of all purpose flour with cornstarch to mimic a cake flour and still get the same light and airy results.
How Do I Make Graham Cracker Crumbs?
You can buy graham cracker crumbs already broken up.
Alternatively, you can make your own!
I prefer to pulse them in a small food processor until a fine crumb. You can also put them in a resealable bag and hit/roll with a rolling pin to break them up.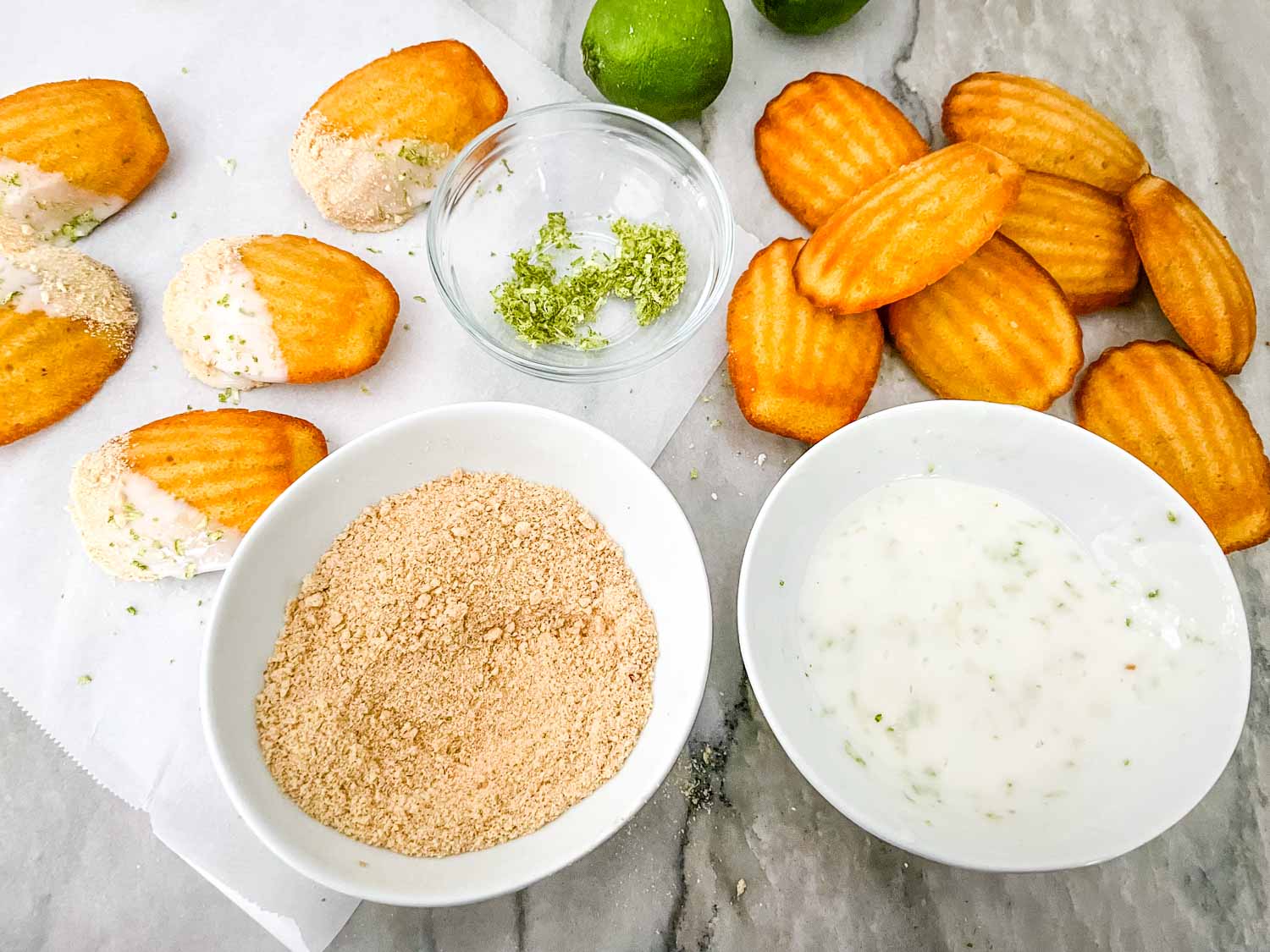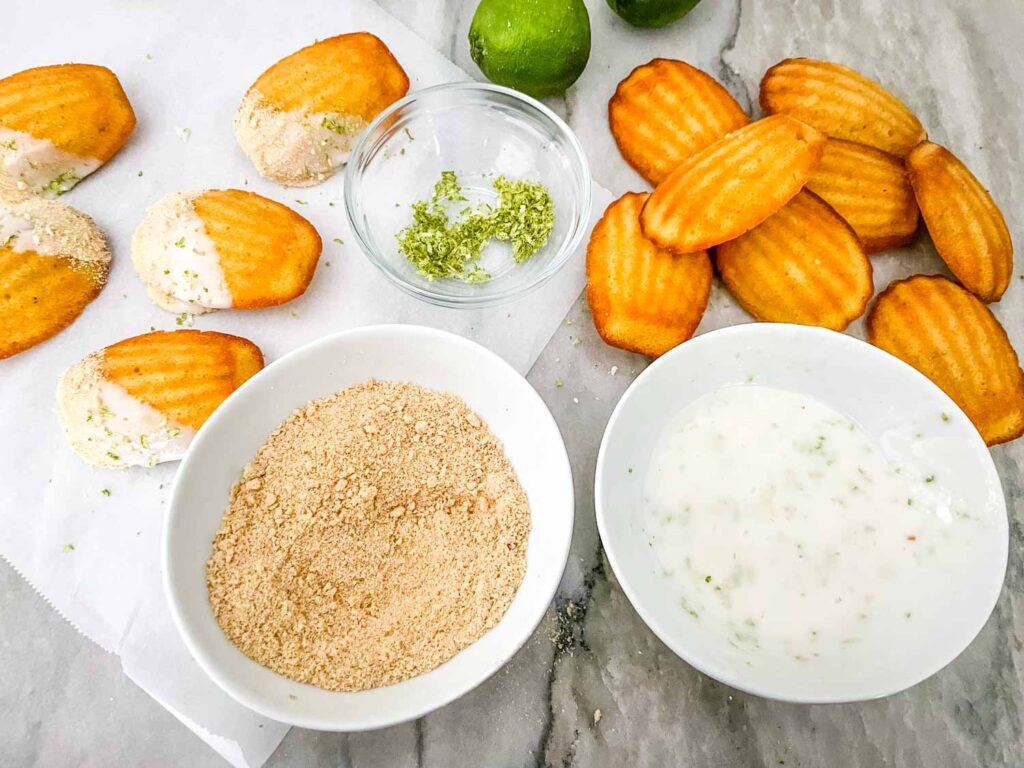 How to Make Madeleines
First mix the flour, cornstarch, and graham cracker crumbs together and set aside.
Whisk the eggs until foamy, and then whisk in the sugar, lime zest, and vanilla extract.
Once combined, gently fold in the flour mixture followed by the butter.
Have your madeleine pan lightly greased and ready, with your oven preheated.
Fill each cavity with the batter, almost to the top.
Bake 10 minutes, flipping half way through, until the edges are a very light golden brown.
Let them rest in the pan a few minutes before removing and letting cool completely on a wire rack.
Let the pan cool before filling with the remaining batter and repeating.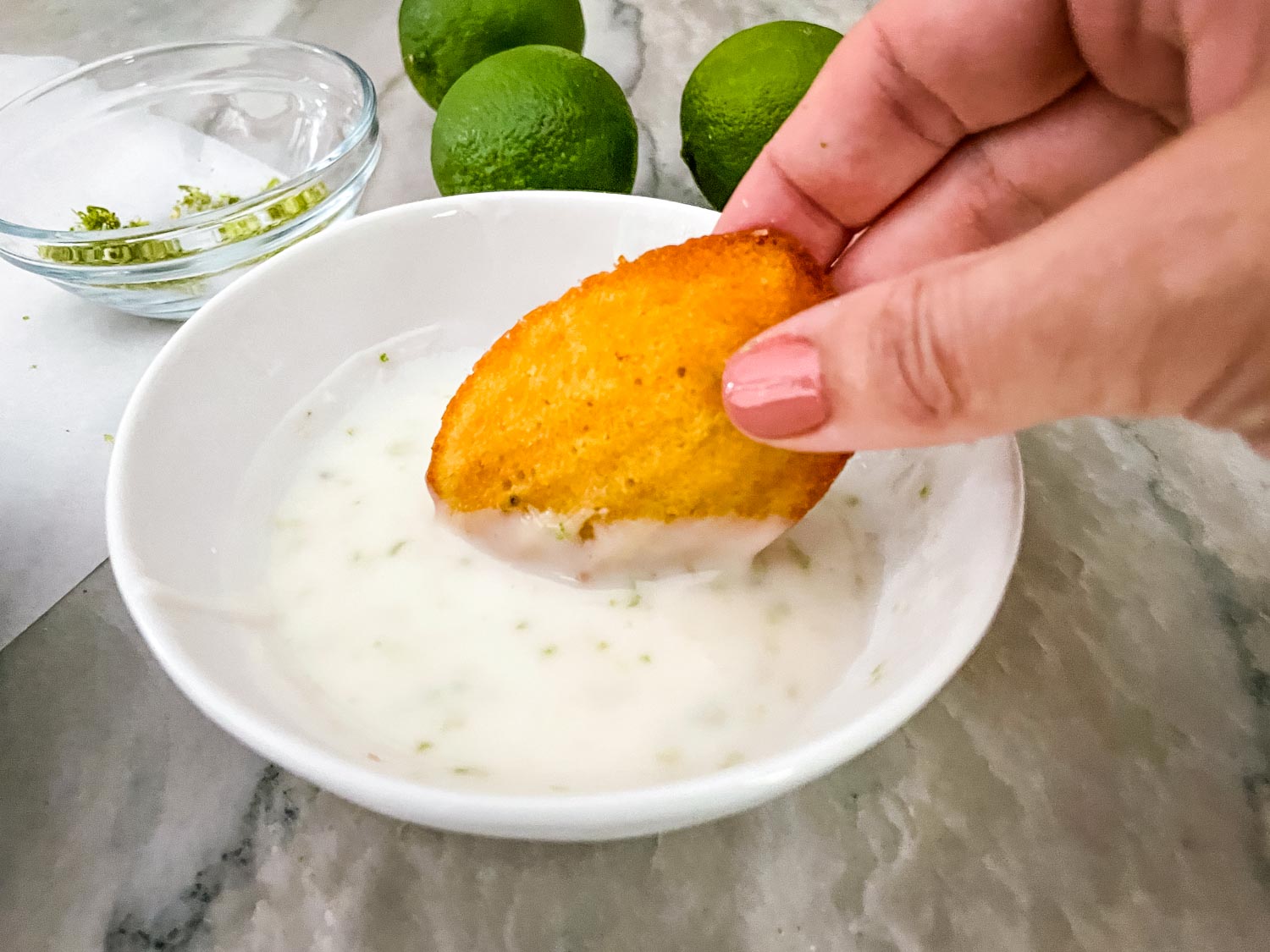 When the mini cakes are completely cool, they can be decorated.
If you try to decorate when they are still warm, the glaze will just run right off.
Dip the cookies into the glaze, at an angle, and drag back and forth for both sides to be covered. Let the excess glaze drip off.
Then immediately dip into the remaining graham cracker crumbs, vertically, overlapping the glaze part way.
Let them dry on parchment paper until the glaze is set.
Store in an air tight container.
Are Madeleines Supposed to be Crispy?
The will be slightly crispy on the edges, but otherwise soft like a cake.
What Gives Madeleines Their Hump?
This bump is a good thing!
With the unique pan shape, the bump comes from steam inside the little cakes that expands upwards when cooking as the edges and bottom are setting.
I find that this mostly happens just past the halfway point of cooking when you can physically see the cooked edges and the raw-ish center.
Why Don't My Madeleines Have a Bump?
Refrigerating the batter will help give you the bump because of the sharp difference in temperature between the batter and the oven.
I have successfully made madeleines with bumps without refrigerating, so this step is optional.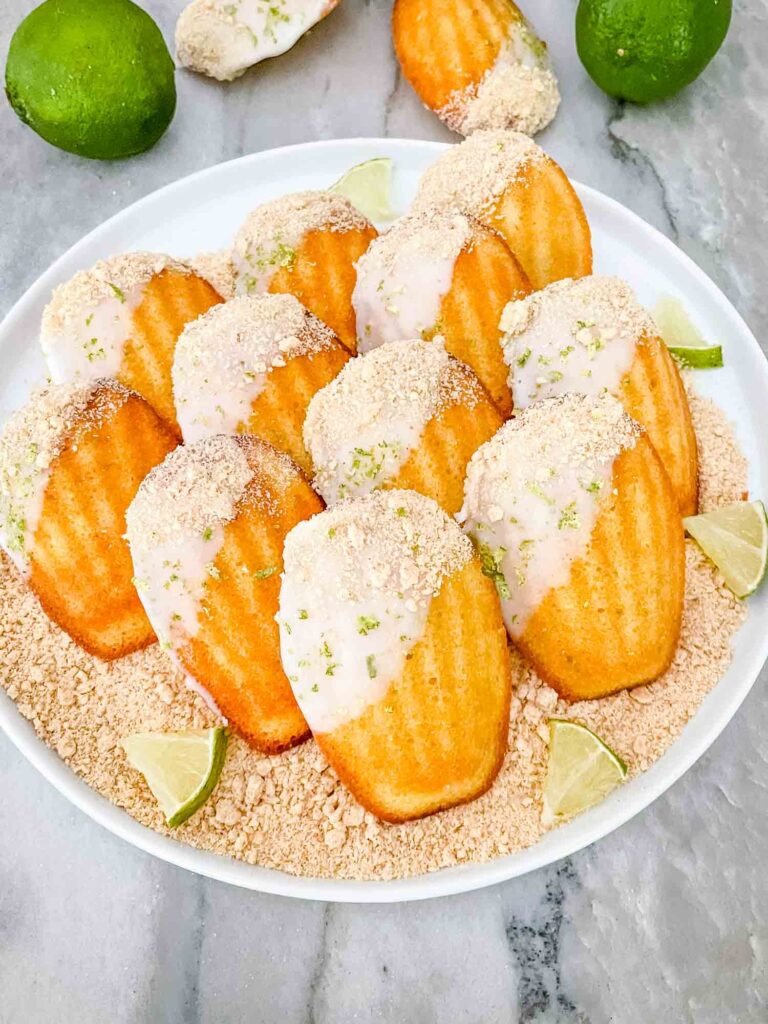 Do You Have to Use a Madeleine Pan?
No, you can use other small cavity pans.
What can I use instead of a madeleine pan? You can use mini muffin tins or something similar with smaller cavities to fill, but you may need to adjust cooking time for their exact shape. Keep an eye on them and pull out of the oven when getting a light golden brown around the edges.
Why Are My Madeleines Tough?
Most likely the batter was mixed too much, creating too much gluten which leads to a tough texture.
It is also possible that they were cooked too long.
How Long Do Madeleines Stay Fresh?
They are best eaten within 3 days.
Should I Keep Madeleines in the Fridge?
Cooked madeleines can be kept in an air tight container at room temperature.
Can I Freeze Madeleines?
Yes! Allow them to cool completely. Freeze individually and store in an air tight container in the freezer for up to a month.
Keep them as moist as possible in the freezer by wrapping them in wax paper, sealed with tape or foil.
Then let them thaw at room temperature when ready to eat!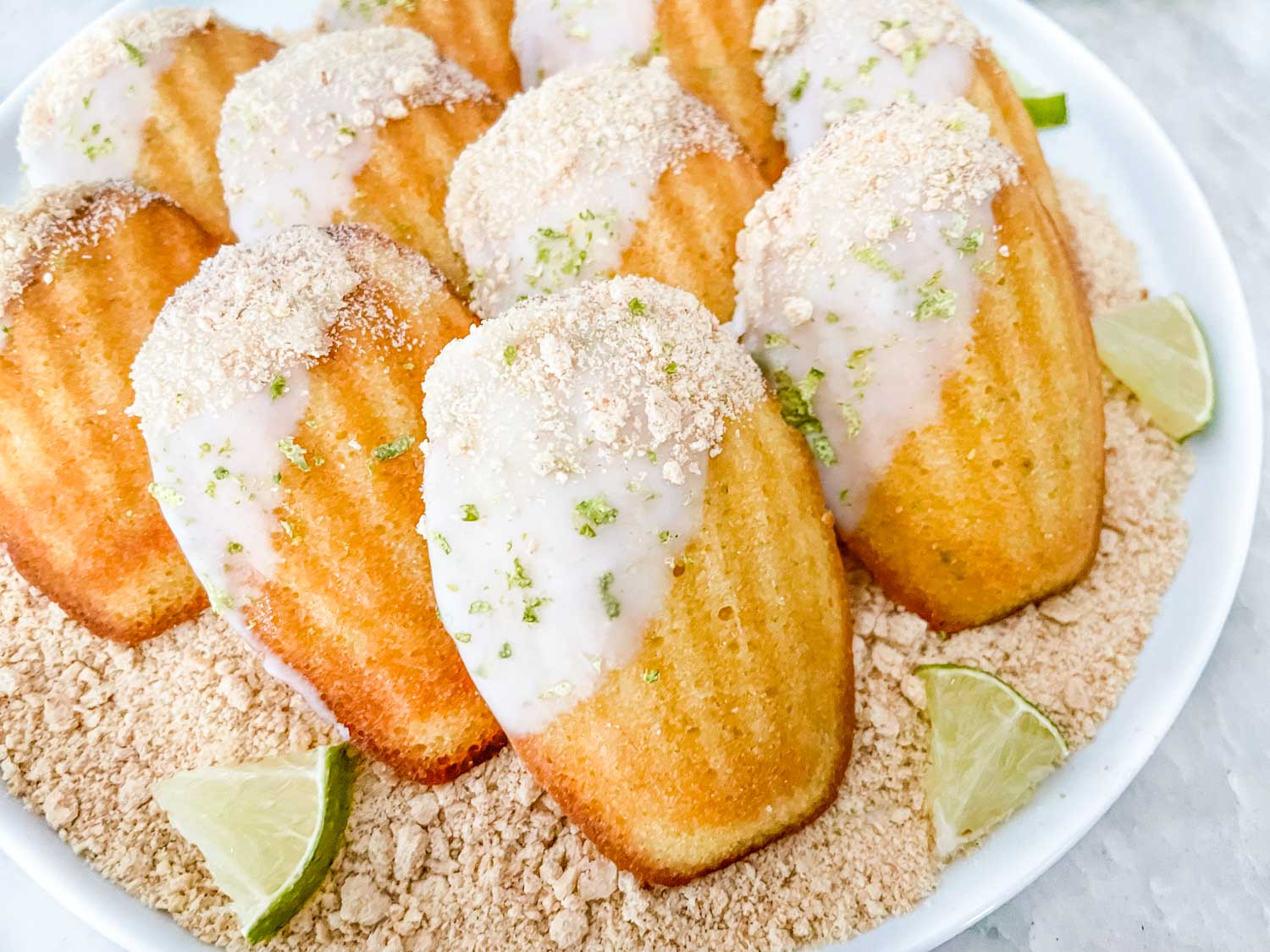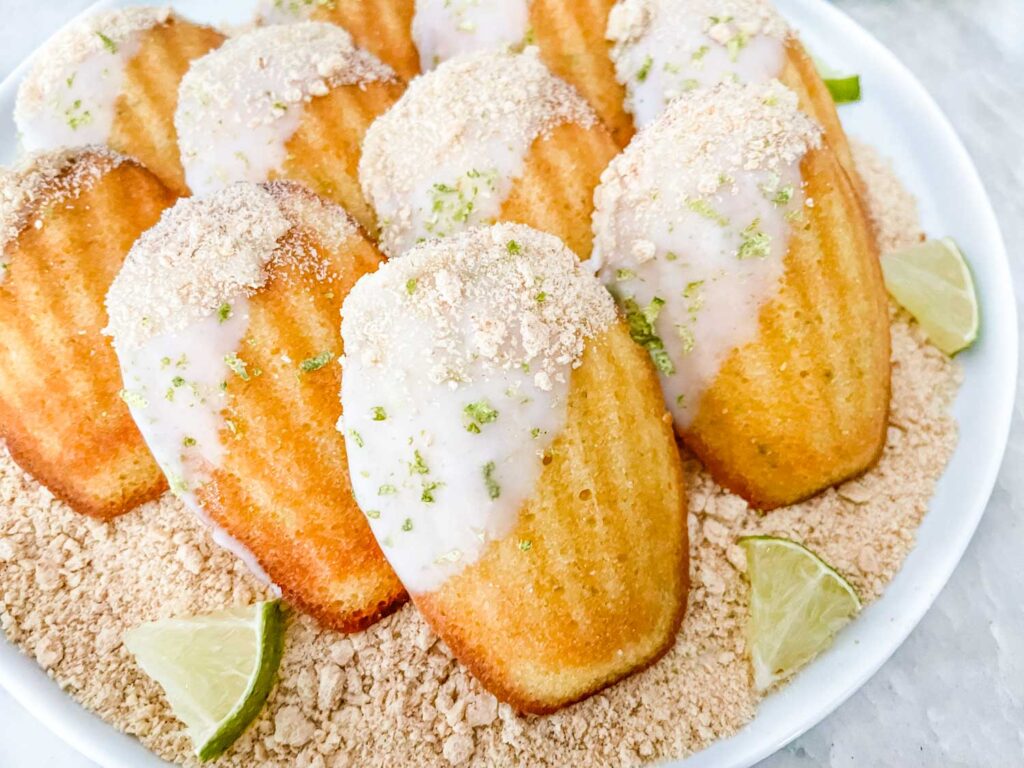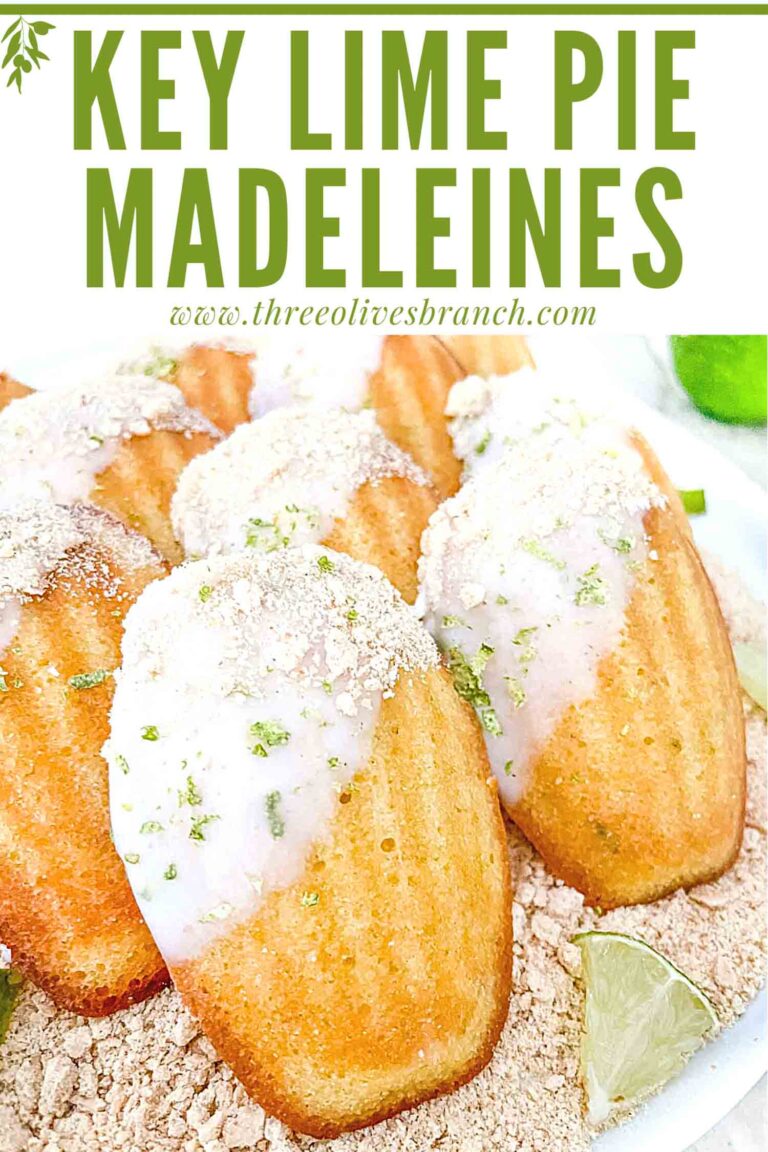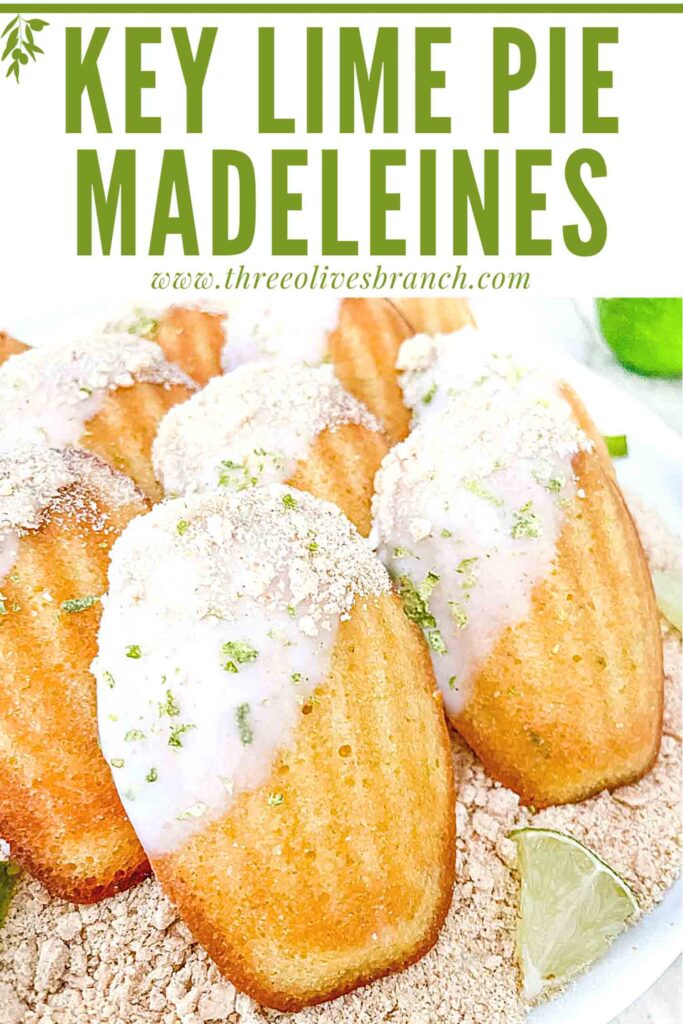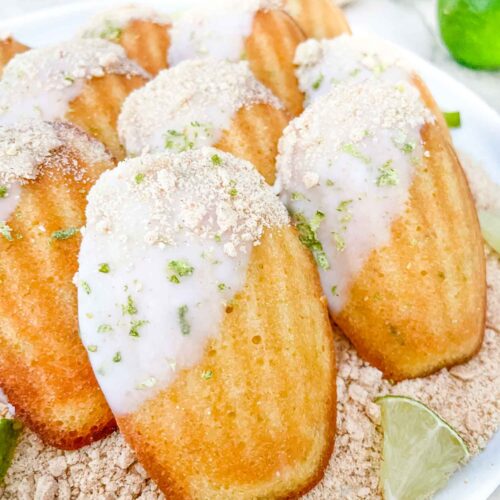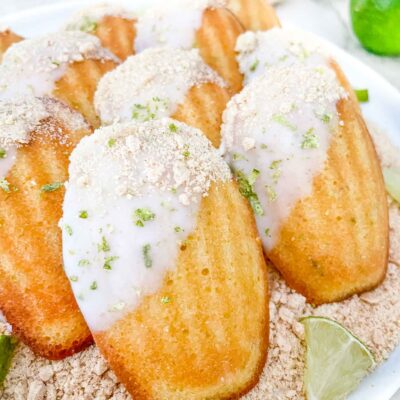 Key Lime Pie Madeleines Recipe
Key Lime Pie Madeleines are a delicious mini dessert recipe! With French and Italian roots, these mini cakes, also thought of as cookies, are soft and full of lime citrus flavor plus graham cracker flavor just like the pie! A delicious holiday dessert recipe, for spring, and summer.
Print
Pin
Rate
Instructions
Measure the flour and cornstarch by first putting the cornstarch into the measuring cup, and then filling the rest of the way with the flour. This will give you the 2 Tablespoons cornstarch and 1 cup minus 2 Tablespoons flour.

Whisk the flour, cornstarch, 1/4 cup graham cracker crumbs, and salt together in a small bowl. Set aside.

In a stand mixer or with a hand mixer in a large bowl, whisk the eggs and egg yolk together at high speed until frothy, about 3 minutes.

Add the sugar, vanilla, and lime zest and continue whisking until the mixture is thick, about 3 minutes more.

Using a spoon or spatula, fold in the flour mixture until just combined.

Add the cooled melted butter and fold until just incorporated.

Refrigerate the batter for 30 minutes.

(Optional, but will help give you the classic bump)

Spray your madeleine pan lightly with a nonstick spray.

Fill each mold with the batter, about to the top of the mold.

Bake 5 minutes and rotate the pan.

Bake an additional 3-5 minutes and remove when the edges are a very slight golden brown and the centers are set and no longer liquid.

Let the madeleines sit in the pan 5-10 minutes before removing and setting on a cooling rack to finish cooling.

Let the pan cool so it is no longer hot. Refill with the remaining batter and repeat cooking time.

(The batter is much thicker the second time around but it will flatten out very quickly in the oven).
Decorating
If choosing to decorate, let the madeleines cool completely first.

Dunk each madeleine into lime glaze at an angle, about 1/3 to 1/2 way up. Let excess glaze drip off.

Immediately dunk into a small bowl of graham cracker crumbs.

Let dry on parchment paper.

Madeleines can be stored in an air tight container for up to 3 days but are best when eaten fresh.
Nutrition
Serving:

1

madeleine

|

Calories:

102

kcal

|

Carbohydrates:

10

g

|

Protein:

1

g

|

Fat:

6

g

|

Saturated Fat:

4

g

|

Polyunsaturated Fat:

0.3

g

|

Monounsaturated Fat:

2

g

|

Trans Fat:

0.2

g

|

Cholesterol:

39

mg

|

Sodium:

49

mg

|

Potassium:

18

mg

|

Fiber:

0.2

g

|

Sugar:

5

g

|

Vitamin A:

195

IU

|

Vitamin C:

0.1

mg

|

Calcium:

8

mg

|

Iron:

0.4

mg

By