This Lemon Blueberry Bread Pudding is a delicious dessert casserole packed with fruit flavors. A great bread and custard dessert that can be made ahead.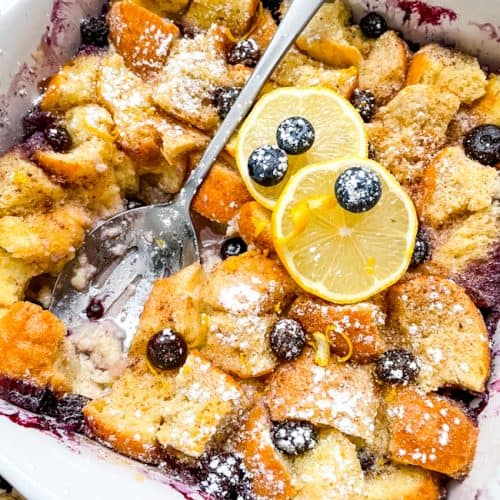 This Lemon Blueberry Bread Pudding is a fun and delicious new way to enjoy a classic dessert!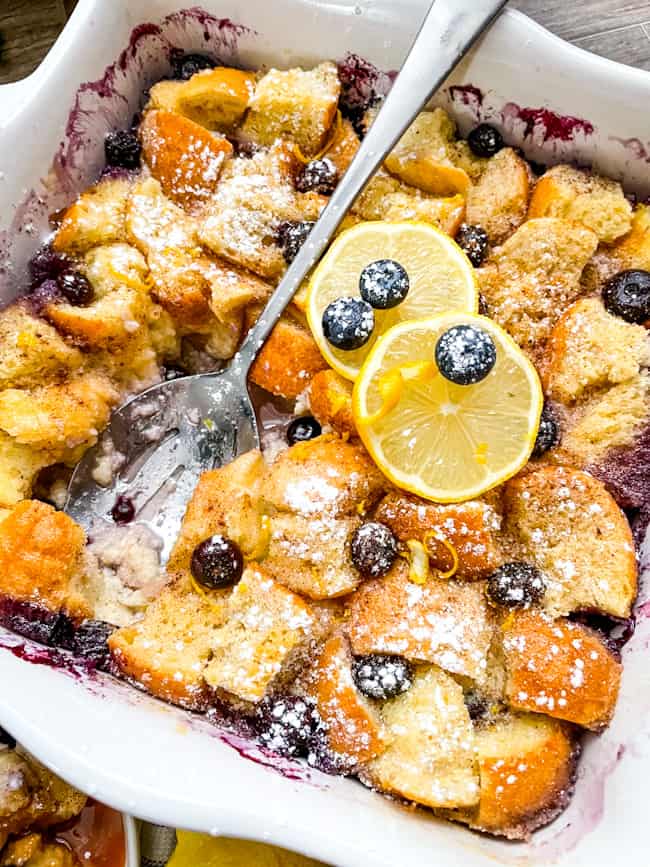 I love a bread pudding with blueberries!
The berries bring pops of moisture and flavor amid the custard soaked bread cubes.
And I like to make it berry heavy! Add as many or few as you wish.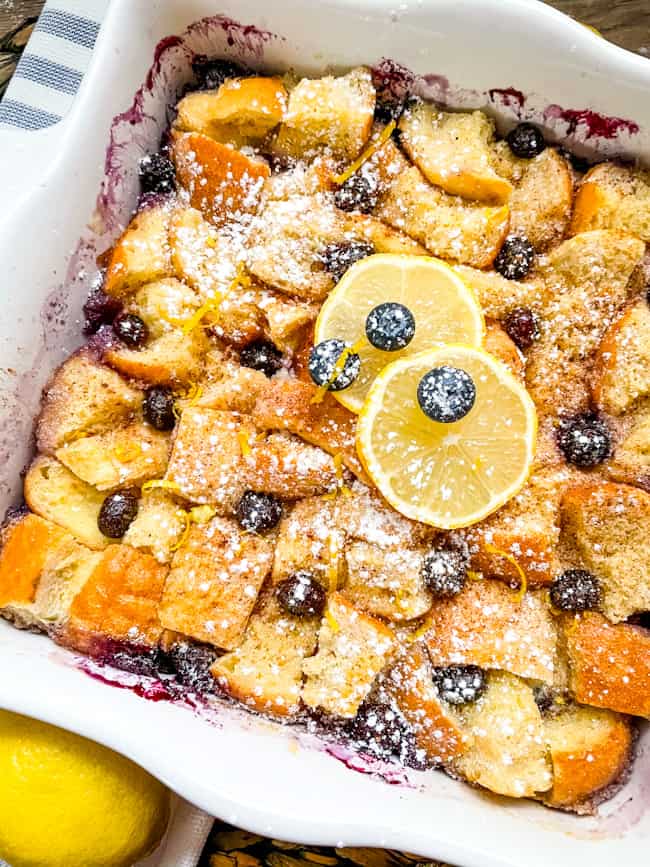 I see a lot of bread pudding recipes served with a cream sauce or custard.
My favorite toppings are either ice cream or my Salted Whiskey Caramel Sauce!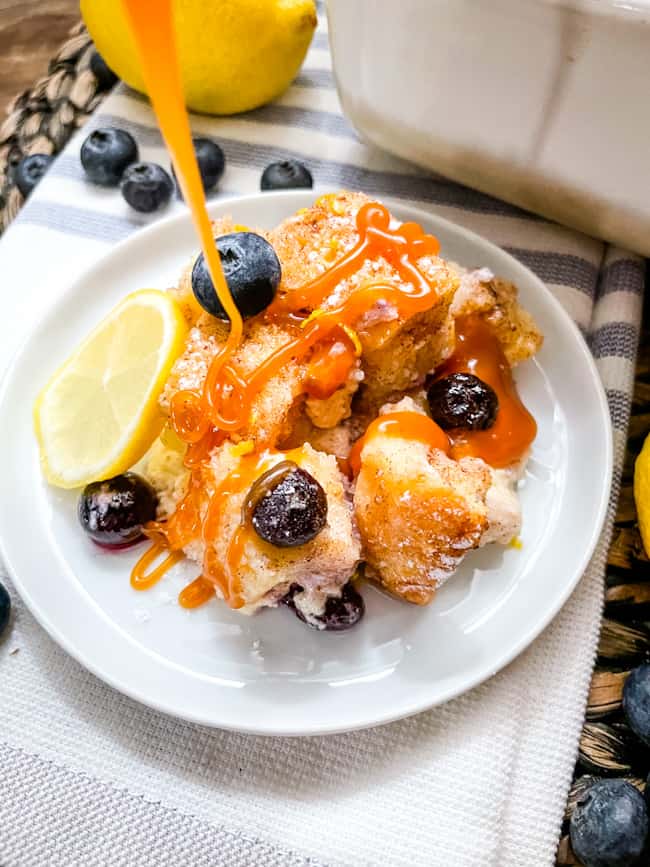 Lemon Adjustments
You can choose to have the lemon pack a punch and be very noticeable, or a very subtle hint in the background.
The lemon in the recipe as written is strong enough to notice it but does not overpower the dish.
If you wish to make this more blueberry forward, or even just a blueberry bread pudding, cut the lemon back to 1 Tablespoon of zest and 1-2 Tablespoons of juice.
Get lemon zest by using a microplane. The zest really brings amazing flavor!
Want a Smaller Batch?
This Lemon Blueberry Bread Pudding makes a pretty large batch of dessert depending on how much people eat.
I halve my bread pudding recipes all the time – the photos here are actually just half a batch!
To make half a batch, simply cut the measurements in half.
Skip the extra egg yolk altogether (you won't miss it) and just roughly estimate if needed.
Pro tip: 1/4 cup equals 4 Tablespoons for certain halving such as the sugar.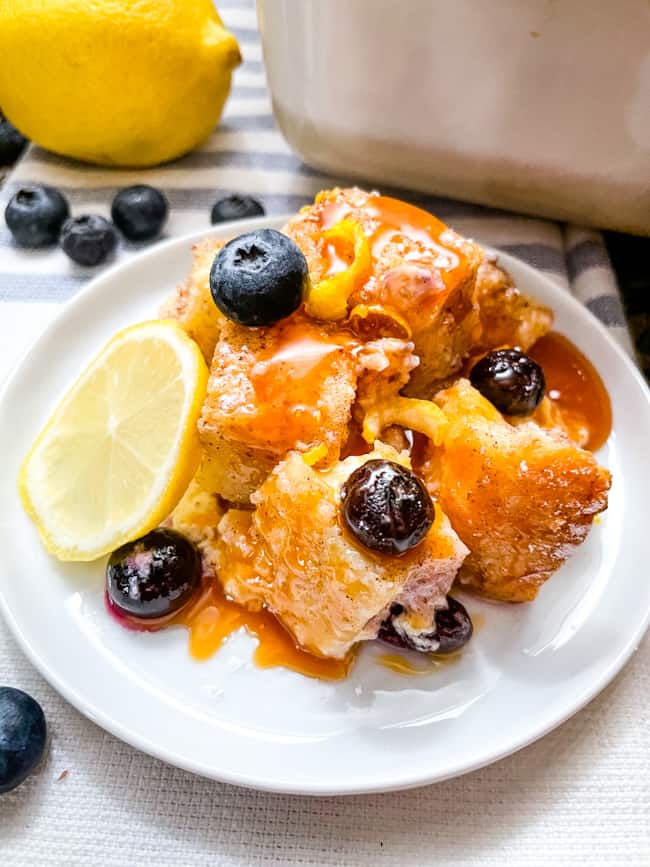 Best Breads to Use
I have made homemade bread pudding with a few different bread options and densities.
A rustic, dense bread is the best bread for bread pudding because it holds it shape.
A light, airy bread like French bread or Italian bread work just fine, but I recommend some tweaks.
Since a light bread has so much air in it, if you use it fresh, it tends to puff up a LOT when cooking and then collapse quite drastically.
To combat this, I have found a trick.
You have two options to get the light breads to work best. Option one is to cut it into the cubes and leave it out, uncovered, overnight so it dries out.
The second option is to cut it into the cubes, spread them out on a baking sheet, and put them in a warm or low oven until they start to dry out.
I have done both of these, and it results in bread that does not collapse and holds its volume.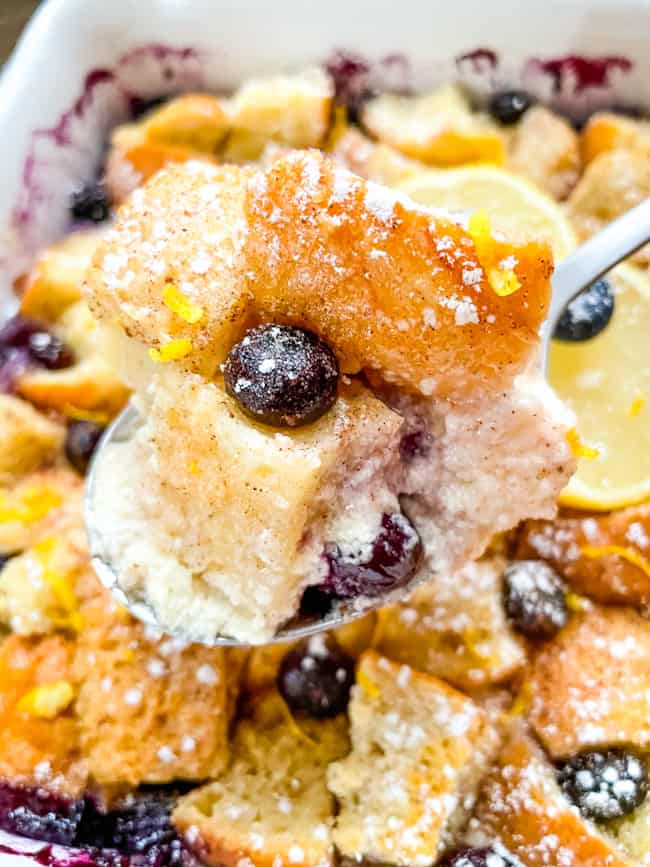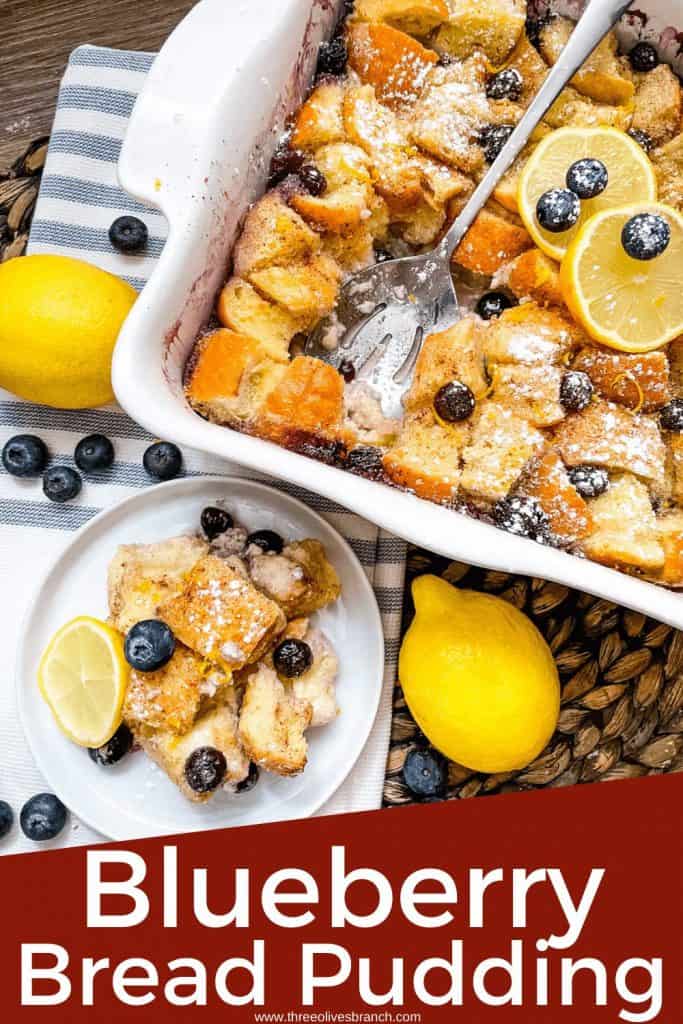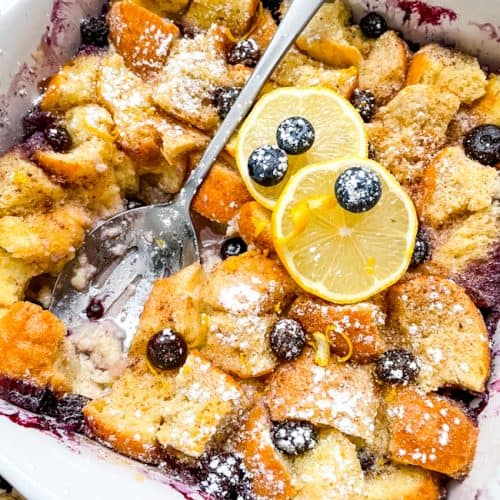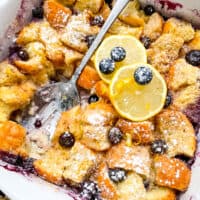 Lemon Blueberry Bread Pudding
This Lemon Blueberry Bread Pudding is a delicious dessert casserole packed with fruit flavors. A great bread and custard dessert that can be made ahead.
Print
Pin
Rate
Instructions
Cut the bread into 1.5 inch cubes. Set aside.

Whisk together the remaining ingredients in a large bowl. Add the bread and toss to coat.

4 large eggs,

1 large egg yolk,

3/4 cup granulated sugar,

2 1/2 cups heavy cream,

2 1/2 cups whole milk,

1/4 cup bourbon,

1 Tablespoon vanilla extract,

1/2 teaspoon cinnamon,

2 Tablespoons lemon zest,

1/4 cup lemon juice,

1/2 teaspoon salt,

1 1/2 cups blueberries

Coat a 9 by 13 inch baking dish with cooking spray. Pour the bread pudding mixture into the dish. Cover and let sit at room temperature for 20 minutes.

Bake the pudding on the lower middle rack until it is golden brown and puffing up around the edges, with a slight jiggle in the middle, approximately 45-50 minutes.

Let cool for 30-45 minutes before serving warm. This pudding is great served with whipped cream or ice cream.
Notes
If using a very light and airy bread like French or Italian bread, it is best to dry it out before using as it will hold its shape and volume better. Either cut and leave out, uncovered, overnight or dry out in a warm or low oven.
You can let the bread soak in the refrigerator for up to 24 hours if needed.
The lemon is noticeable but not overpowering in this recipe. For a subtle lemon, or straightforward blueberry bread pudding, reduce lemon zest to 1 Tablespoon and lemon juice to 2 Tablespoons.
Easily halve the recipe for a smaller crowd! Just cut everything in half and skip the extra egg yolk completely.
Nutrition
Serving:

1

serving

|

Calories:

581

kcal

|

Carbohydrates:

43

g

|

Protein:

12

g

|

Fat:

39

g

|

Saturated Fat:

20

g

|

Cholesterol:

238

mg

|

Sodium:

394

mg

|

Potassium:

315

mg

|

Fiber:

3

g

|

Sugar:

27

g

|

Vitamin A:

1445

IU

|

Vitamin C:

11

mg

|

Calcium:

203

mg

|

Iron:

2

mg

By