This homemade Peach Mango Pie is full of fresh fruit with a buttery, flaky crust. A homemade pie recipe inspired by Jollibee using fresh or frozen fruit. A delicious summer dessert!

A delicious homemade fruit pie with peaches and mango in a flaky, buttery crust!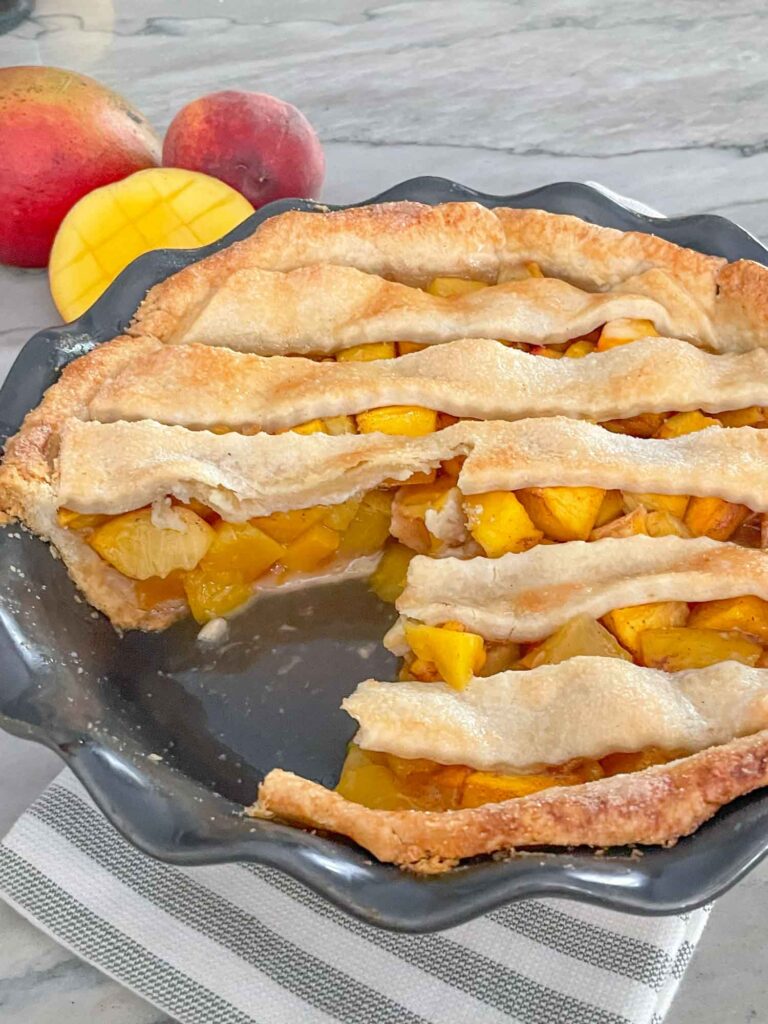 Fresh Fruit Pie
This tropical flavored pie is a delicious combination of peaches and mango!
You can adjust the ratio of mango and peach if desired, but I found this to be a great balance between the two where you can appreciate and taste both flavors!
What are Jollibee Peach Mango Pies?
Jollibee is a Filipino fast food chain that created their peach mango hand pies in response to McDonald's apple pies.
They became very popular!
This recipe is inspired by that flavor combination. The recipe is for a large pie, but you could also cut the pie dough into hand pie portions and fill them instead. I recommend finding a hand pie recipe and using their instructions with this filling and pie crust.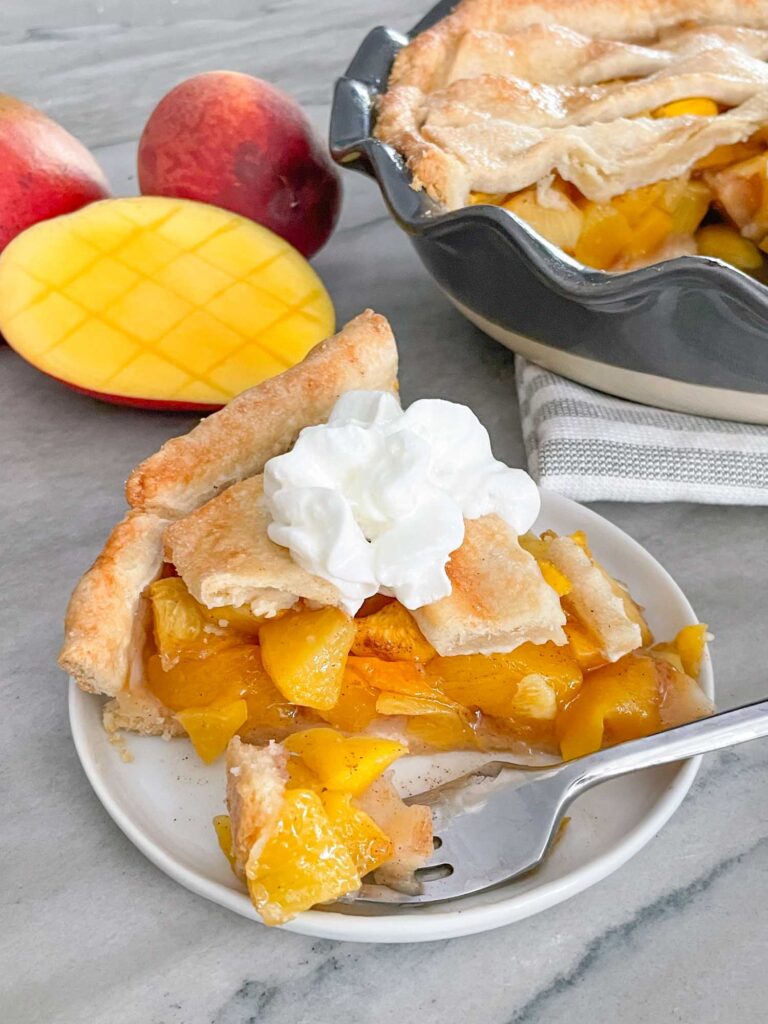 What is Peach Mango Pie Made Of?
Here is what you need to make this homemade fruit pie:
Pie Crusts (2)
Peaches
Mangos
Cinnamon
Lemon Juice
Cornstarch
Sugar
Egg White
Should you Peel Peaches when Making a Pie?
It is not required but I recommend it.
The peach peels are completely edible but will have a slightly firmer texture than the peach flesh itself.
What's the Easiest Way to Peel Peaches?
I prefer to use a peeler if they are not too soft or ripe. Otherwise, I use the boiling method. You can read our post about How to Peel Peaches for more specifics, details, and tips on peach peeling.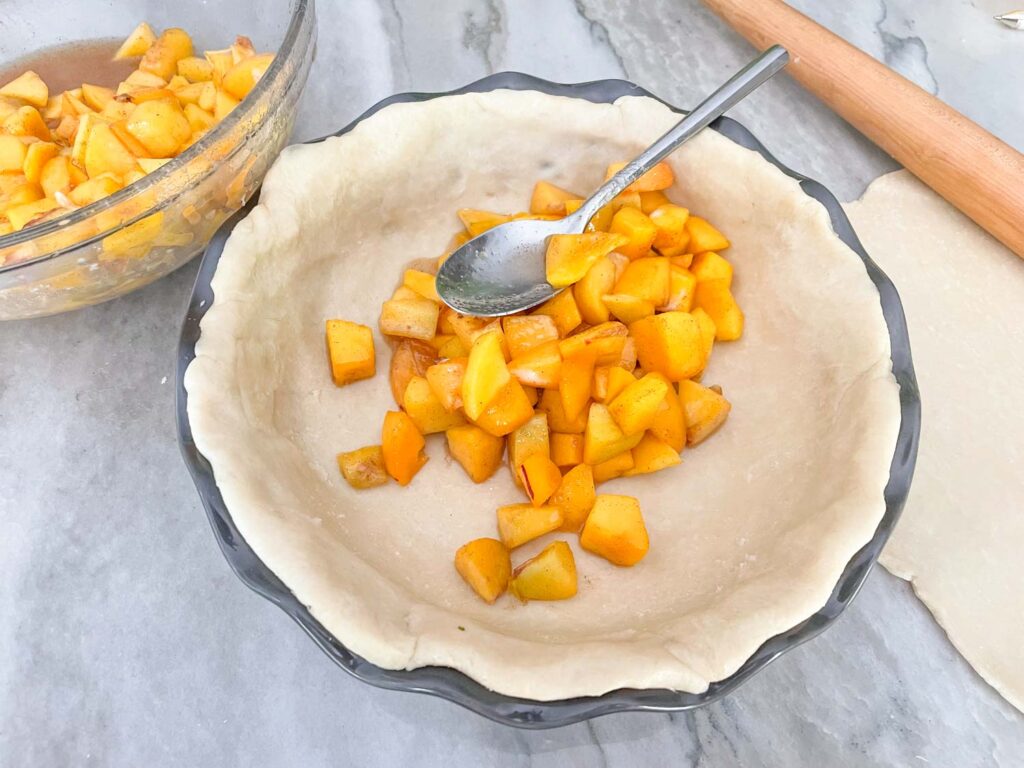 How Do You Cut Peaches for Pie?
After peeling, cut around the pit all the way around the peach like you would an avocado.
Try twisting the two halves apart. This might not work if they are a little under ripe or if they are cling-stone and being difficult.
If not separating, you can dig your fingers into the cuts to try and pull them apart, or leave it intact and cut down the sides around the pit like a mango all the way around.
After you have your halves or segments, cut them into wedges about 3/4 inch wide. Then cut the wedges into chunks.
Can I Use Frozen Fruit in Pies?
Yes, you can use frozen peaches and/or mango for this recipe.
First thaw the fruit and let the excess moisture drain. I would also add an extra 1/2 Tablespoon of cornstarch since they have more liquid just in case so that the pie does not get too soggy.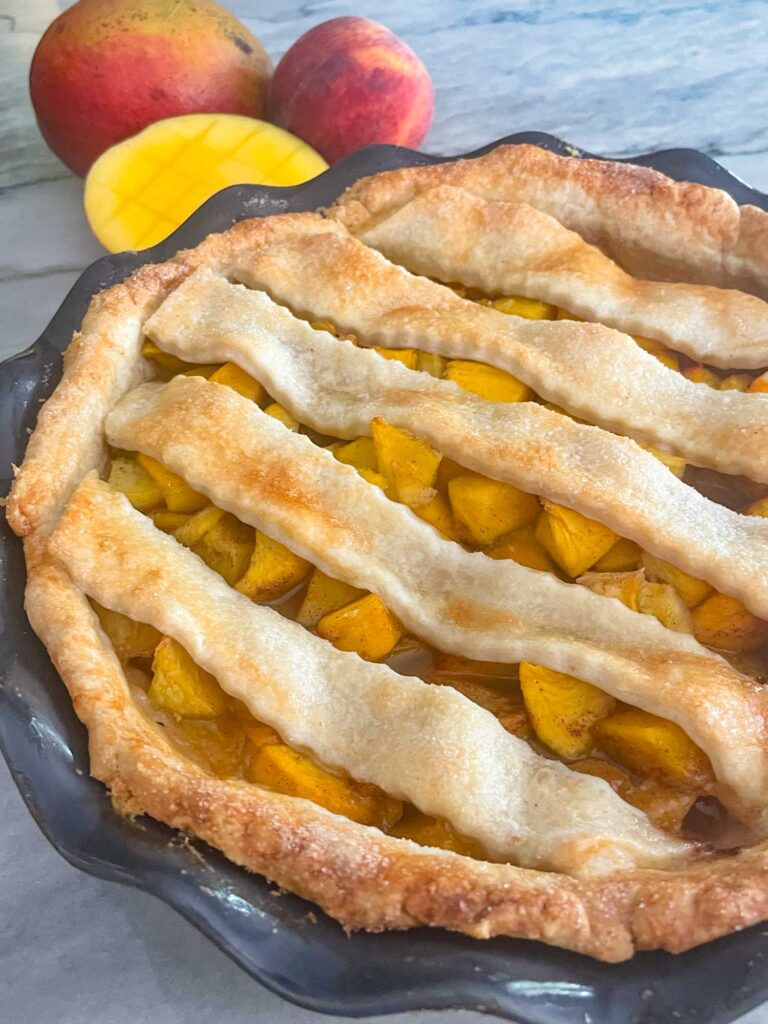 How to Make Homemade Pie Crust
I use my super easy and delicious Food Processor Pie Crust for this recipe.
It is a great versatile pie crust that you can use for so many things!
You can also use any other pie crust that you love.
How to Make Peach Mango Pie
First make your pie crust as needed for the recipe you are using. For my Food Processor Pie Crust, you will need to chill it for at least 30 minutes before rolling out.
Then peel and cut up your peaches and mangos and place the chunks in a large bowl.
Toss the fruit with sugar and let sit for an hour for them to start releasing juices.
Meanwhile, roll out your pie crusts and chill again according to the pie crust instructions (if using my crust recipe) or as needed to have everything ready to go!
Drain the fruit and mix with a little bit of the reserved juices, cornstarch, lemon juice, and cinnamon.
When ready to assemble, put a crust in the dish, and pour the fruit mixture into it.
Assemble the top crust however you are doing it (lattice, full crust top, or another design).
Brush the crust with a beaten egg white and sprinkle with a little sugar. Both of these will help with getting a golden color!
Bake until the crust is a light golden brown, about 20 minutes, and then lower the temperature, rotate the pie, and keep cooking until a darker golden brown.
If at any point the outside edge of the crust is getting too dark, you can cover the edges with foil to slow browning. Just run some foil around the edges and leave the top uncovered!
Let the pie cool completely before serving.
Why Should Pies Cool Before Serving?
I know it is SO hard to wait for a pie to cool! It is just torture smelling the pie and not being able to eat it!
Letting the pie cool completely is important for the juices to settle and solidify somewhat. Otherwise, they would completely run out of the pie.
Similar to cutting meats!
You can always gently heat the pie in an oven or microwave if you want a warm piece again later!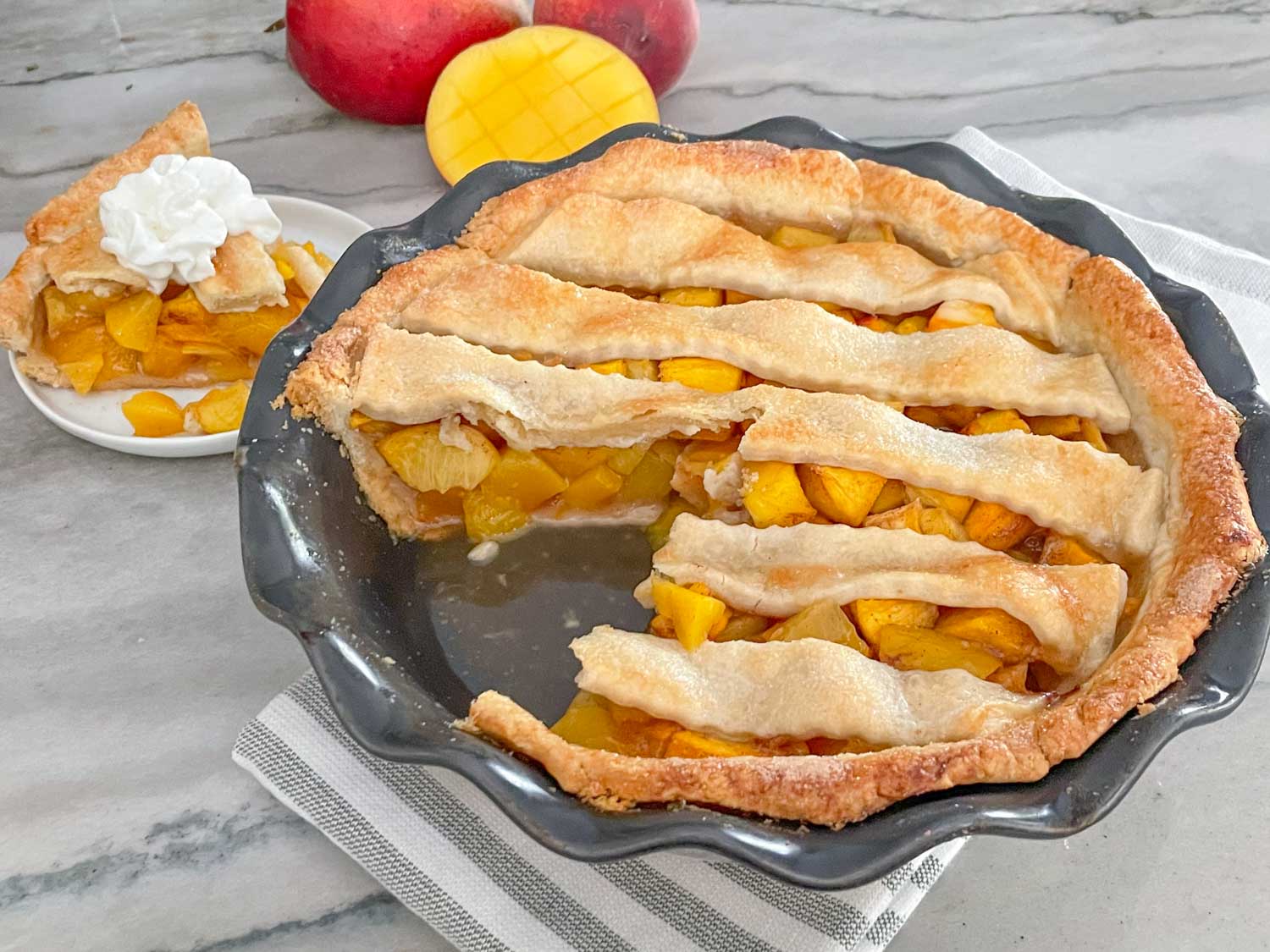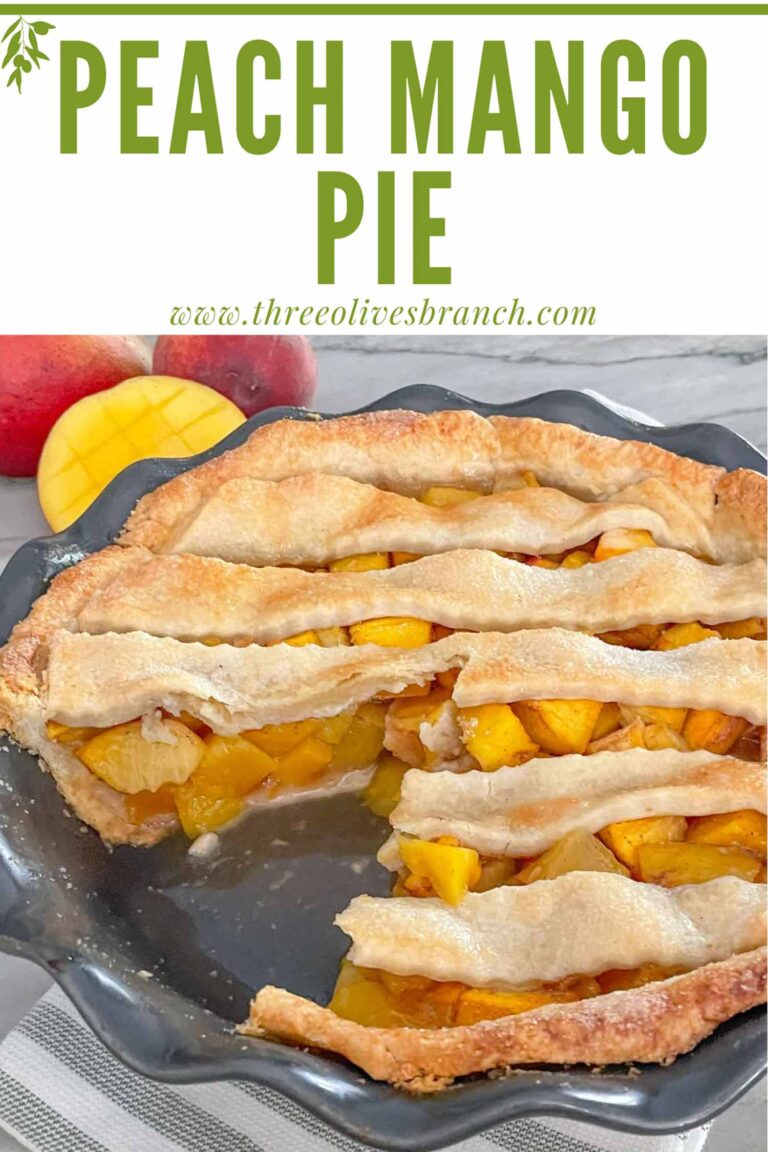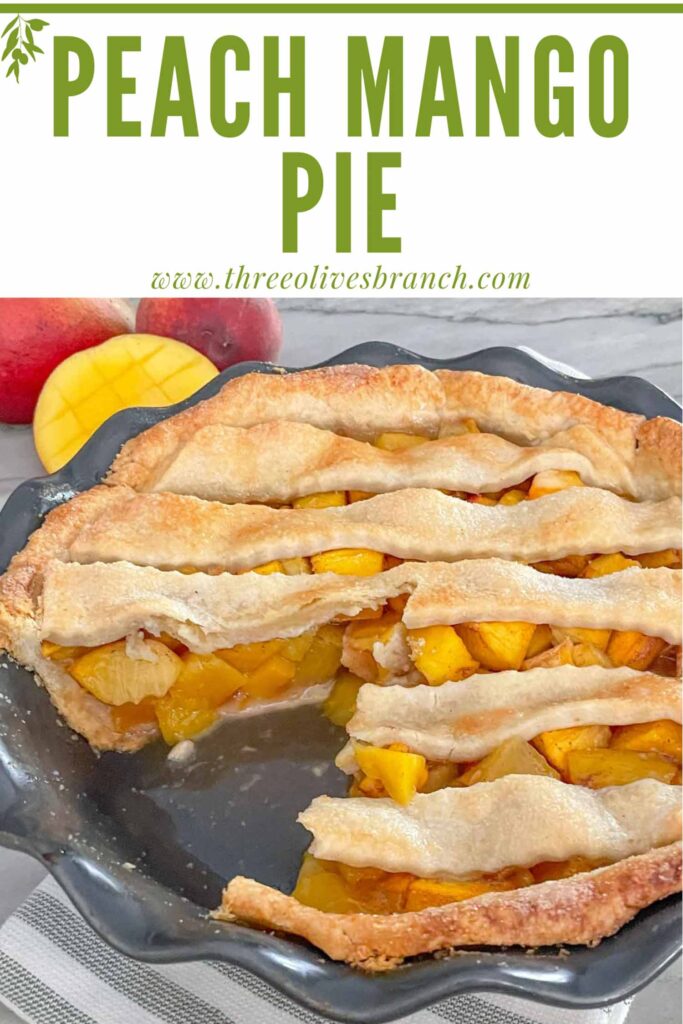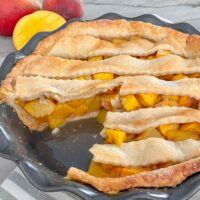 Peach Mango Pie Recipe
This homemade Peach Mango Pie is full of fresh fruit with a buttery, flaky crust. A homemade pie recipe inspired by Jollibee using fresh or frozen fruit. A delicious summer dessert!
Print
Pin
Rate
Instructions
Peel and cut your peaches and mangos into chunks approximately 3/4 inches big. Place in a large bowl.

Toss the peaches with 1 cup of sugar and stir to combine. Let sit, tossing occasionally, until fruit is releasing juices, about 1 hour.

Prepare your pie crust as per instructions for the recipe you are using. If using our food processor pie crust (link below and in ingredients), roll out one crust (half batch) to a 12 inch circle on a lightly floured surface to fit a 9 inch pie plate.

Roll or lift it into the pie dish and fit as needed to edges. Refrigerate the crust in the dish for 30 minutes.

Roll out the second pie crust (second half of the dough) to another circle or rectangle shape at least 12 inches in diameter. If making a lattice pie top, cut into strips and slightly separate.

Chill the strips (or top whole piece) in the freezer for 30 minutes. (See note).

Peel the peaches and remove the pits. Cut into slices about 1/4 to 1/2 inch thick as desired.

Preheat oven to 425°F (218°C) and put a baking sheet lined with foil on the middle rack.

Drain the fruit, saving ¼ cup of the fruit liquid. In a large bowl, combine the fruit, ¼ cup liquid, cornstarch, lemon juice, cinnamon, and salt. Toss until well combined.

Remove the two crusts from the refrigerator/freezer. Pour the peach mixture into the bottom crust pie dish and spread across.

After the frozen strips or top have sat out for about 5-10 minutes, they will be somewhat softer and easier to move. Cover the top of the pie with the top piece or make the lattice top. Trim, fold, and crimp the edges as desired to seal.

Lightly beat the egg white. Brush the top crust piece(s) with the egg white. Sprinkle with 1 Tablespoon sugar.

Place on the foil lined baking sheet and bake for 20-25 minutes until the crust is a golden brown.

Reduce heat to 375°F (190°C), rotate the baking sheet, and cook until the juices are bubbling and crust is a deep golden brown, approximately 25-30 minutes more.

Let the pie cool on a cooling rack until set, approximately 2 hours. Serve either warm or at room temperature.
Notes
Pie can be made fully in advance up to one day ahead, or make the crust, cover, and refrigerate before rolling out up to 2 days in advance.
Learn how to peel peaches for this recipe.
I like to use my Easy Food Processor Pie Crust for this recipe. One recipe makes two crusts, perfect for this pie.
Get perfect pie crust tips that you can incorporate into your baking.
If using a full top crust instead of lattice or strips for the top, cut venting slits into the top to allow steam to escape. You might also end up with a thinner filling (more liquid) since it cannot evaporate as easily.
Nutrition
Serving:
1
slice (including crusts)
|
Calories:
381
kcal
|
Carbohydrates:
67
g
|
Protein:
4
g
|
Fat:
12
g
|
Saturated Fat:
4
g
|
Polyunsaturated Fat:
1
g
|
Monounsaturated Fat:
5
g
|
Sodium:
196
mg
|
Potassium:
276
mg
|
Fiber:
4
g
|
Sugar:
43
g
|
Vitamin A:
931
IU
|
Vitamin C:
24
mg
|
Calcium:
20
mg
|
Iron:
2
mg
Pie Recipes
Everything related to pie including crust recipes, tips, and pie fillings!

By