This homemade Pear Jam recipe is an easy fruit condiment spread! Just 3 ingredients and perfect for breakfast, brunch, and a fall or winter charcuterie board.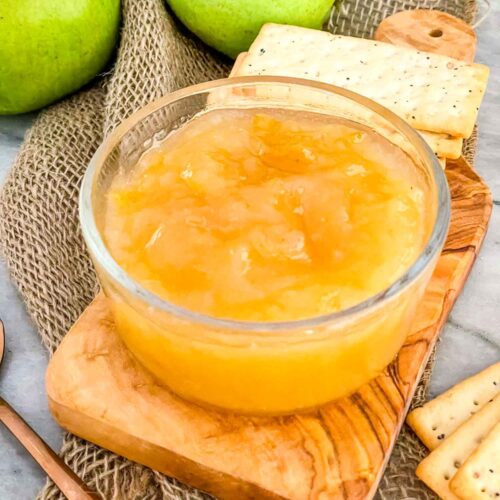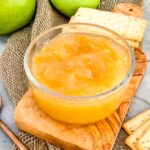 Homemade Pear Jam is a delicious condiment spread for your baked goods, dessert, and charcuterie board! Just three ingredients gives you a great way to celebrate the classic fall and winter fruit.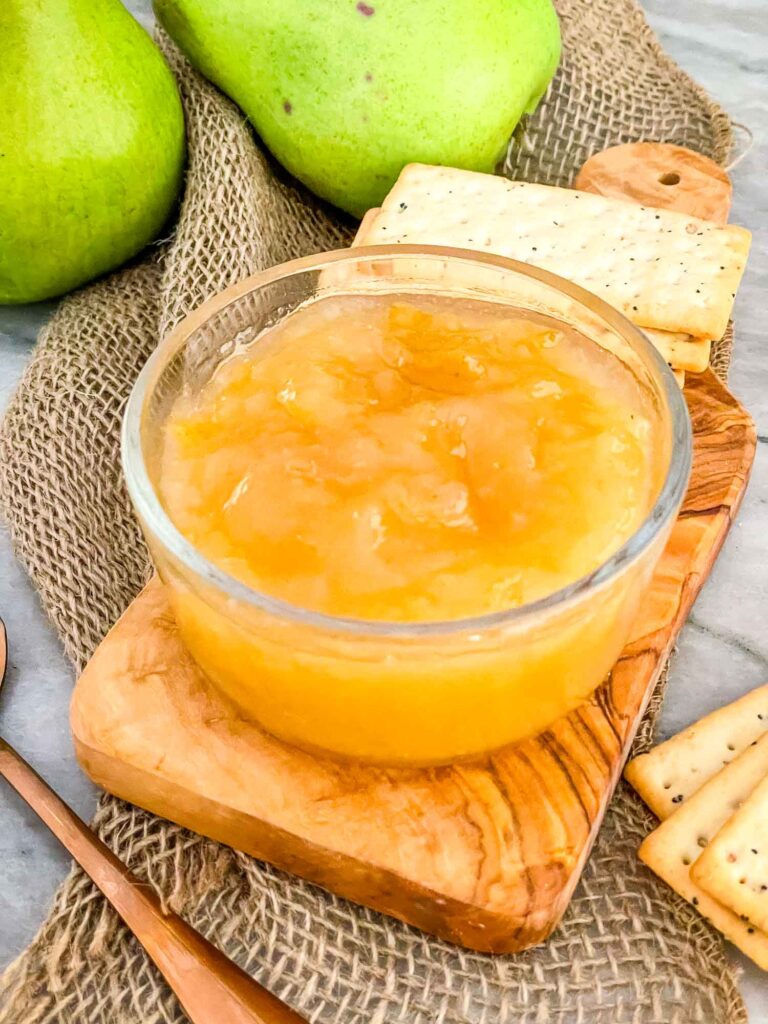 Why You Will Love This Recipe
Homemade jam is so special and so easy to make!
All you needs is three ingredients and you can make jam that lasts all year.
Use it on everything from breakfast and brunch items like toast or English muffins, to a spread for your charcuterie boards.
Ingredients
You only need a few ingredients for this recipe:
Equipment
To make the jam, you will need:
Small Pot
Knife
Cutting Board
Masher
Mason Jar (or container for storing)
Instruction Overview
Peel the pears if desired and remove the stems and cores. Cut them up into large chunks.
Put the pears, sugar, and lemon juice in a small pot and heat over medium high heat.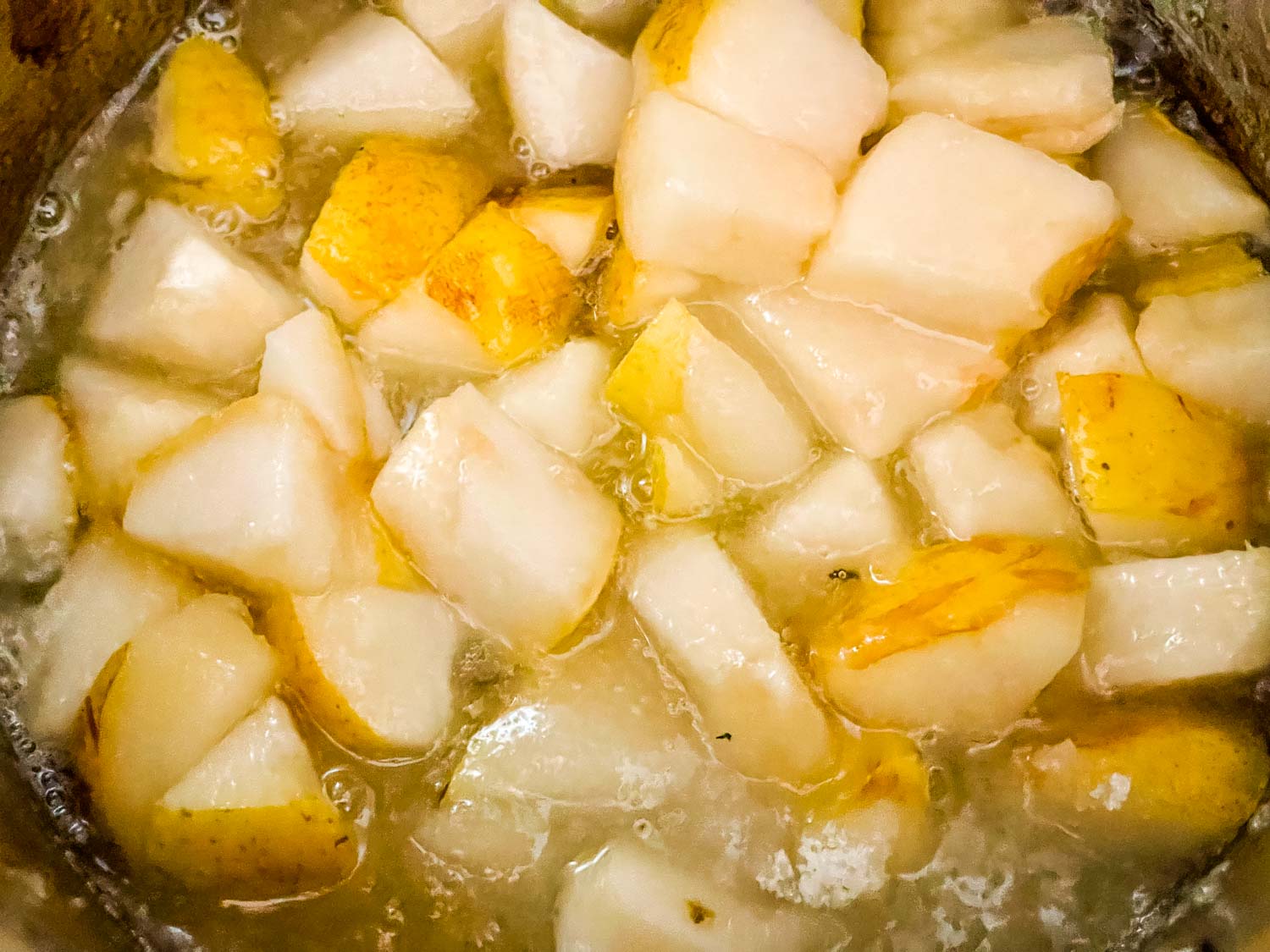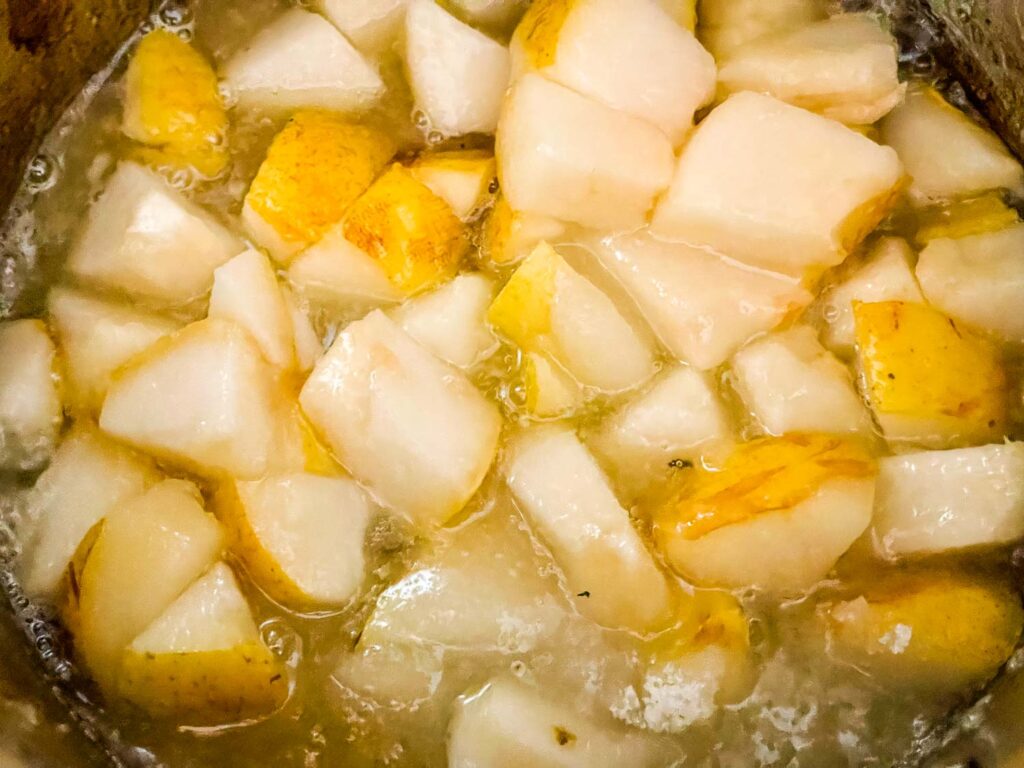 Once boiling, reduce the heat to medium and continue to simmer the pears.
Mash the pears as much or little as desired to create a jam consistency.
Modifications and Substitutions
Add some warm spice like cinnamon or nutmeg for a fun flavor!
Frozen fruit will work just fine, it just might take a little longer to cook since it has more moisture.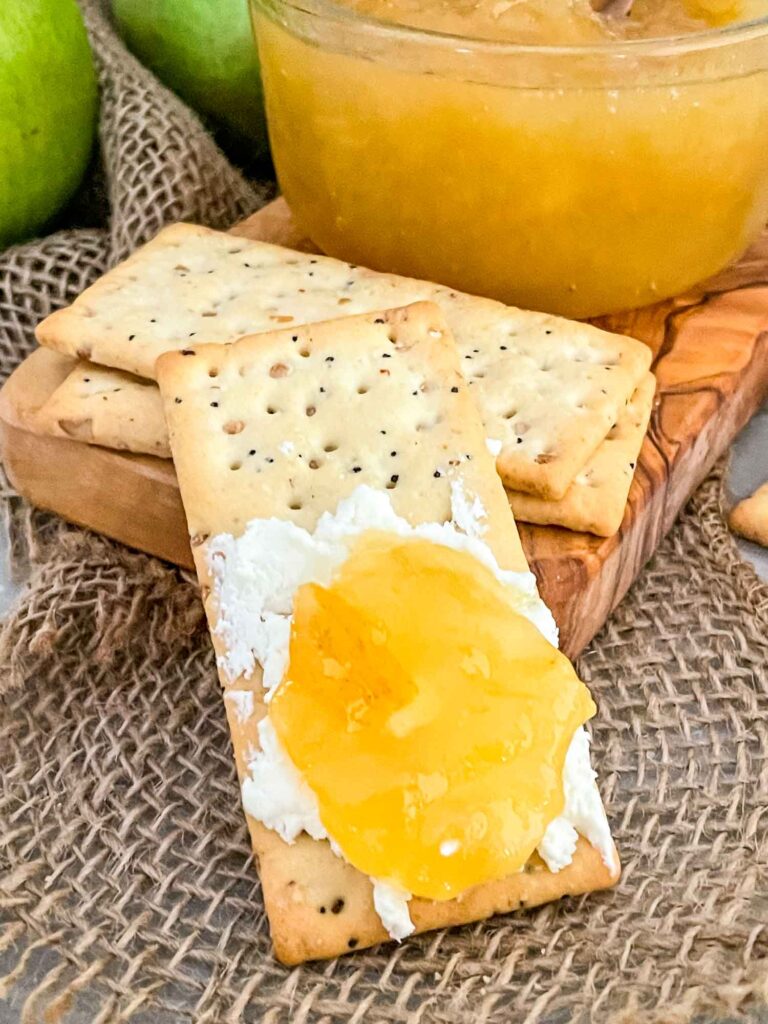 Kim's Tips
The jam will thicken a little more as it cools, so stop cooking when it is a touch thin or put some on the back of a frozen spoon (which will immediately give you the cooled consistency) to know when it is ready.
FAQs
How long does pear jam last?
The jam lasts up to three weeks in the refrigerator.
What cheese does pear jam go with?
How do you thicken pear jam?
You can continue to cook it, evaporating more of the liquid. Or add a teaspoon or cornstarch while still cooking which will thicken when warmed.
How can I thicken pear jam without pectin?
Cornstarch! When heated, the cornstarch will quickly thicken the jam.
Are pears high in pectin?
Yes, pears have a high level of pectin which means it will help the jam thicken naturally.
What is the difference between jam and marmalade?
Jam is made from whole fruit and marmalade is specifically made from a citrus.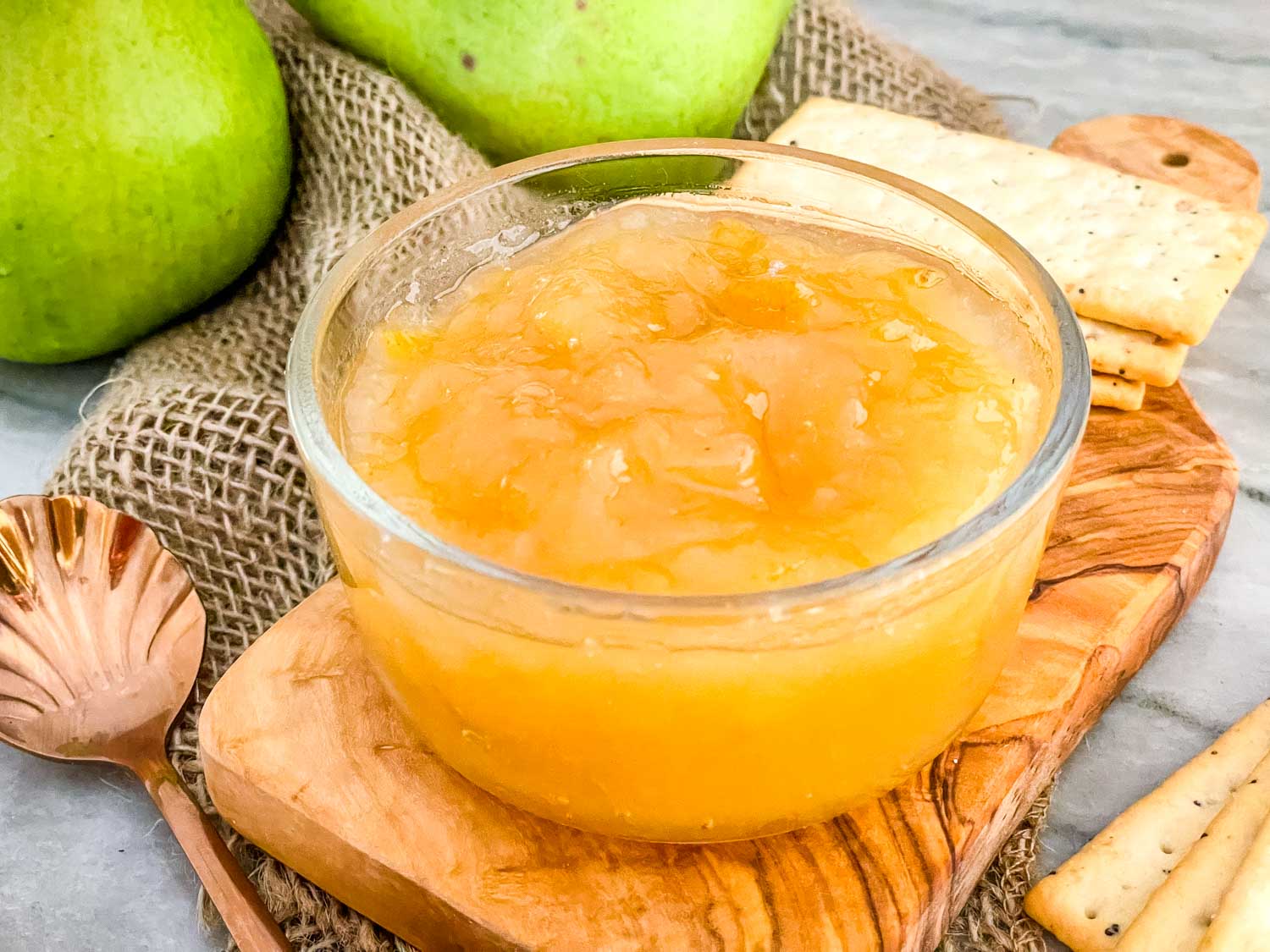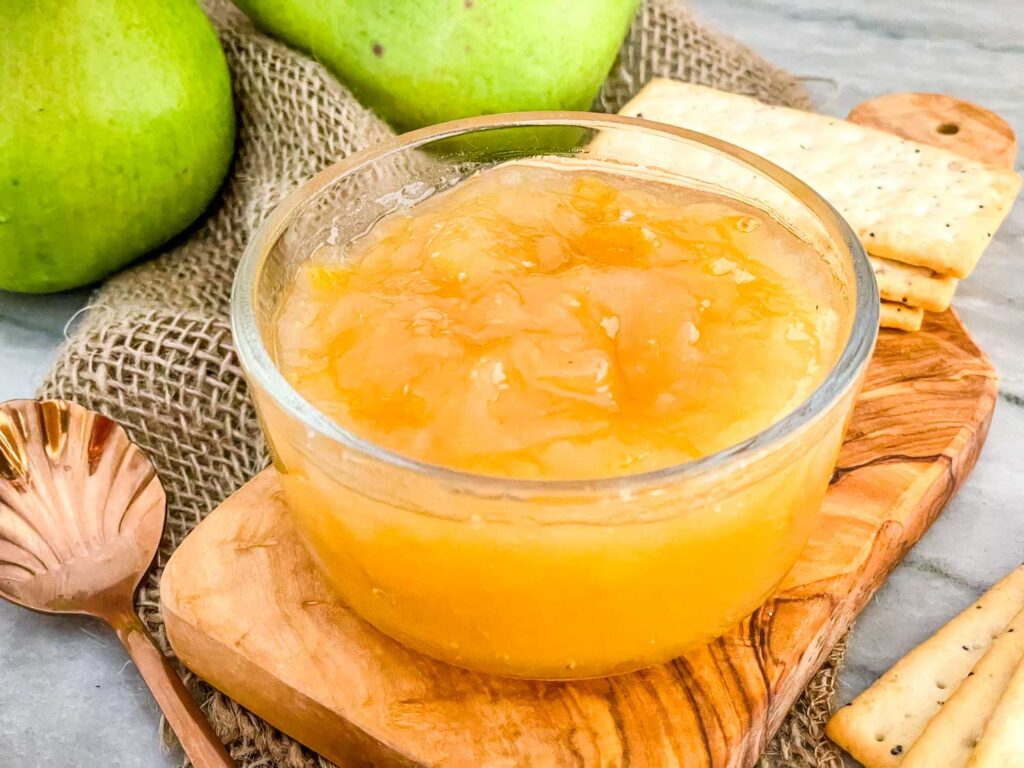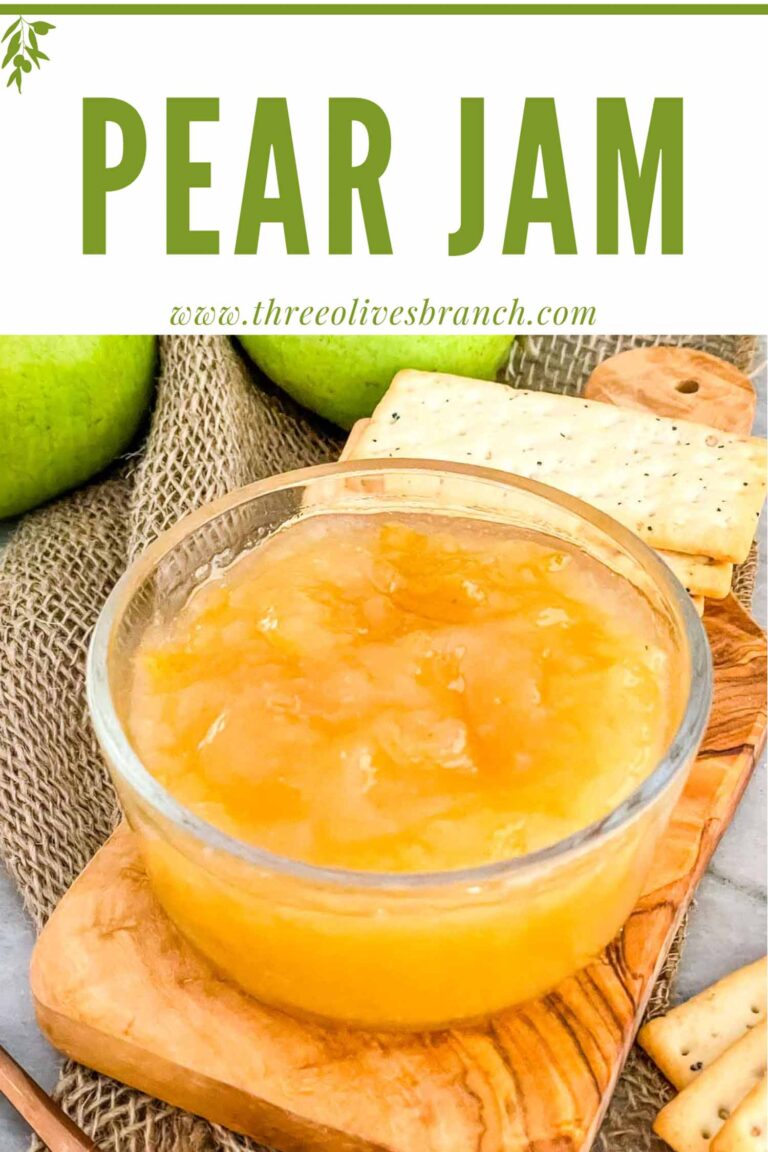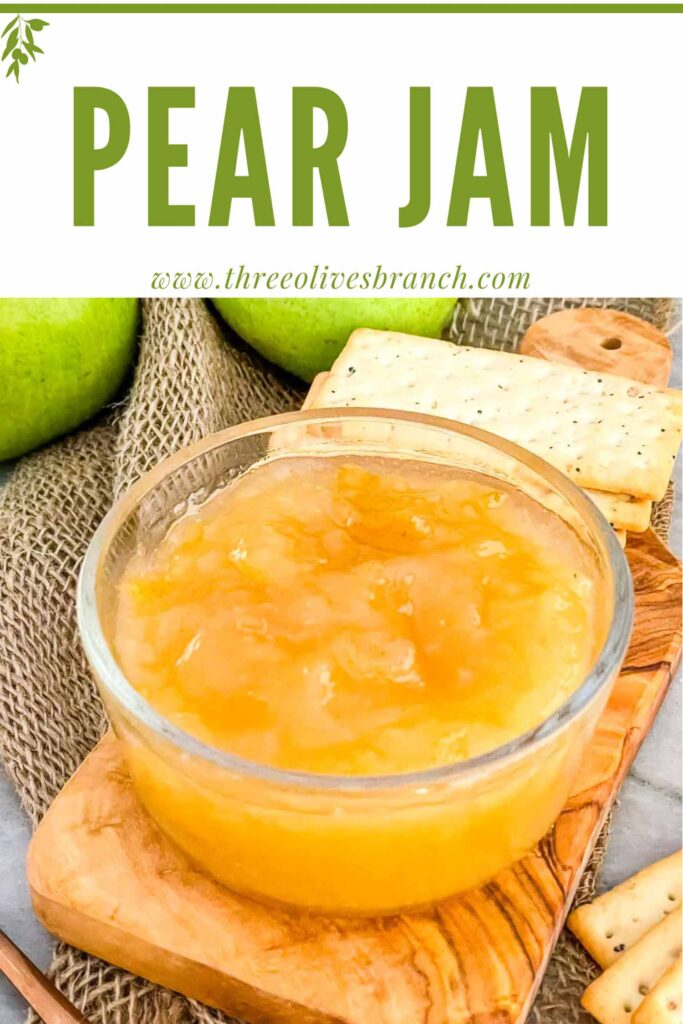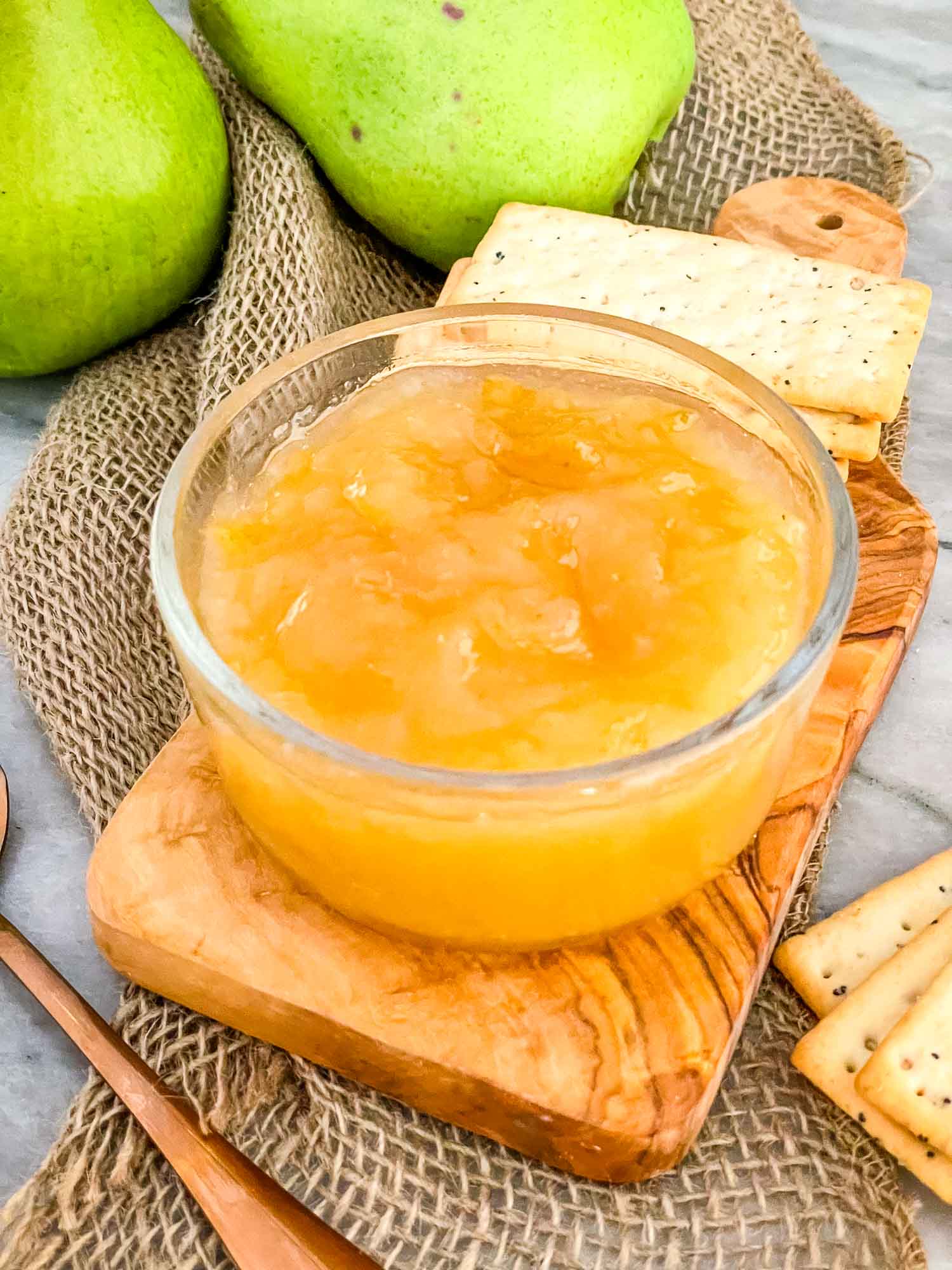 Instructions
Peel and cut the pears into large chunks, removing the stems and cores.

Place the pears, sugar, and lemon juice in a small or medium saucepan.

Bring the fruit to a boil over medium high heat. Reduce heat to medium and simmer to thicken, approximately 15 minutes.

Use a potato masher or fork to mash the fruit as much or little as desired.

The jam is done when it is thick and more of a clump when put on a cold spoon or cold plate and tilted.

If it runs like honey, it is not thick enough yet and you need to heat it longer. You want the jam to move slowly when tilted.

Store in a jar in the refrigerator for up to three weeks. Or freeze.
Notes
Follow proper canning procedures to store at room temperature. You can also freeze this jam.
The volume you get will vary with how long you cook it (how thick it is) and how much you mash it.
This will roughly fill one pint sized mason jar, which is perfect for storing in the refrigerator.
Nutrition
Serving:
1
cup
|
Calories:
389
kcal
|
Carbohydrates:
102
g
|
Protein:
1
g
|
Fat:
1
g
|
Saturated Fat:
0.1
g
|
Polyunsaturated Fat:
0.2
g
|
Monounsaturated Fat:
0.2
g
|
Sodium:
3
mg
|
Potassium:
280
mg
|
Fiber:
7
g
|
Sugar:
89
g
|
Vitamin A:
58
IU
|
Vitamin C:
16
mg
|
Calcium:
22
mg
|
Iron:
0.5
mg
More Jam Recipes
Homemade Jam Recipes
Some of our homemade jam recipes for desserts, breakfast, and more.

By