This Pear Tree Vodka Cocktail is a perfect drink recipe for fall, Thanksgiving, winter, and Christmas! A twist on a Moscow mule with warm pear, ginger, and cinnamon flavors. A great holiday party drink idea.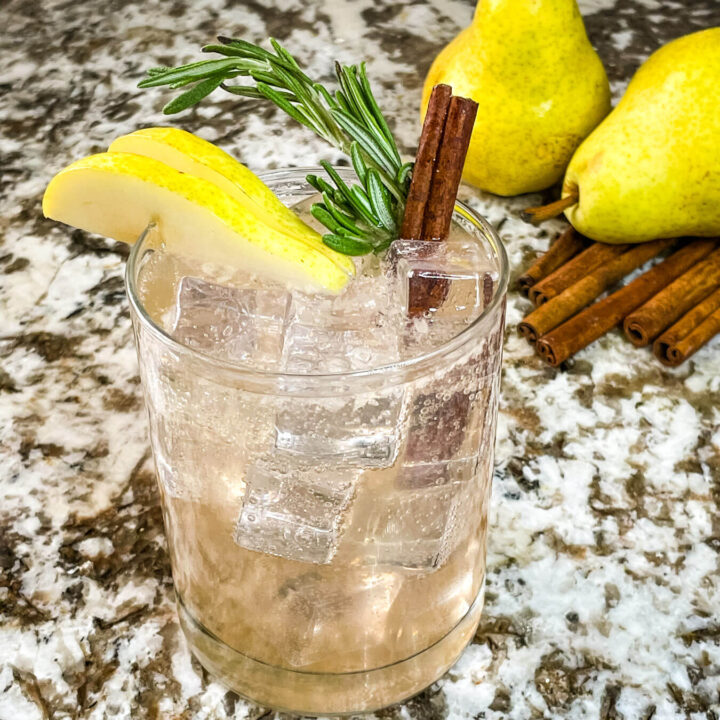 This Pear Tree Cocktail is a perfect vodka cocktail recipe for Thanksgiving, fall, and Christmas. Full of warm fruit flavors and perfect for your holiday party gatherings.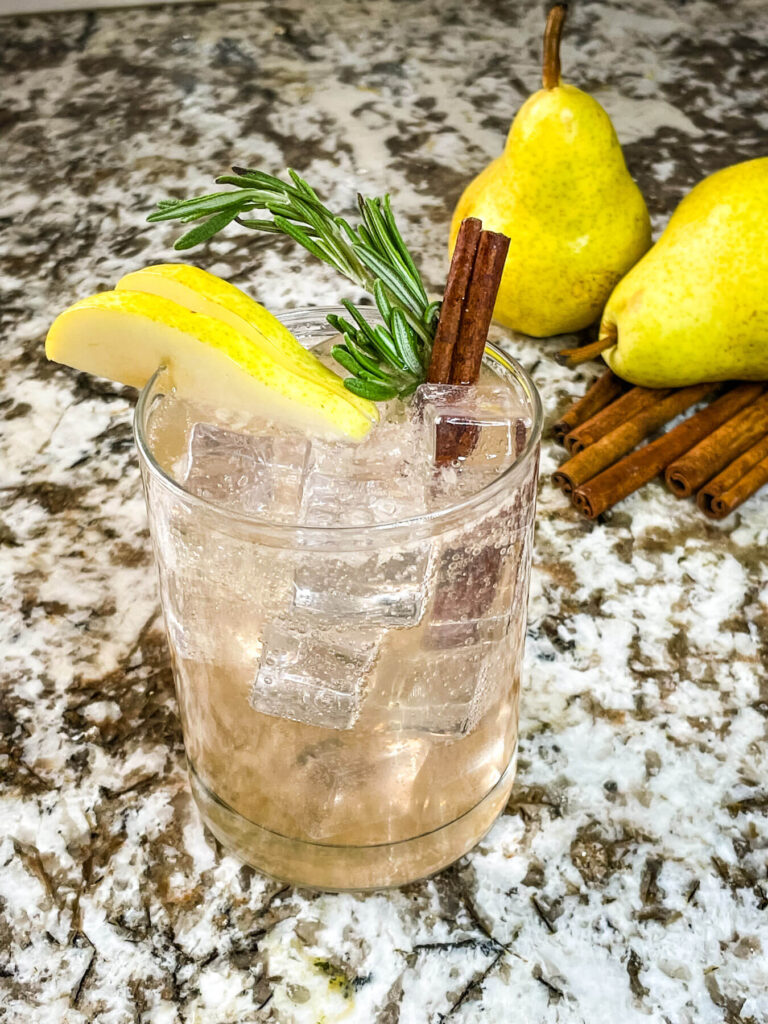 Pear Vodka Cocktail
This cocktail recipe was inspired by fall flavors and the classic Moscow mule.
A mule traditionally uses vodka, lime juice, and ginger beer and it is delicious!
I have taken warm and seasonal flavors of pear, cinnamon, and cranberry and added them to this perfect holiday cocktail idea.
It is SO warm and delicious, it is perfect for your holiday party or family gathering!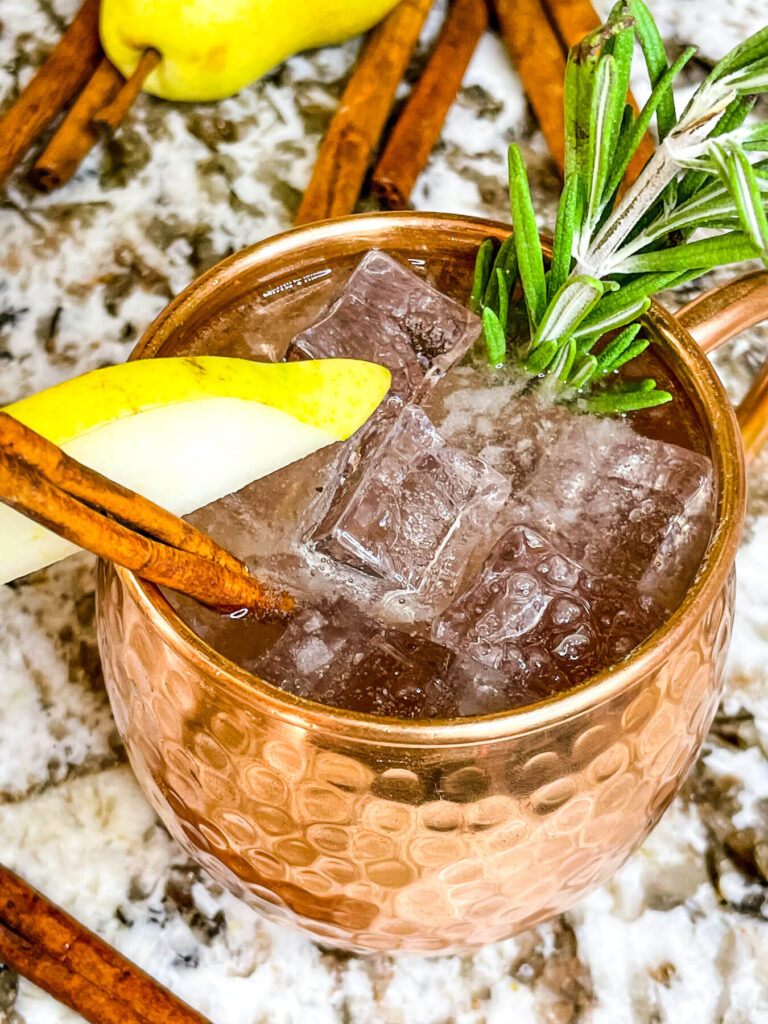 What does pear vodka taste like?
Pear vodkas will vary in flavor, but overall they have a slightly sweet taste to them and remind me very much of apples.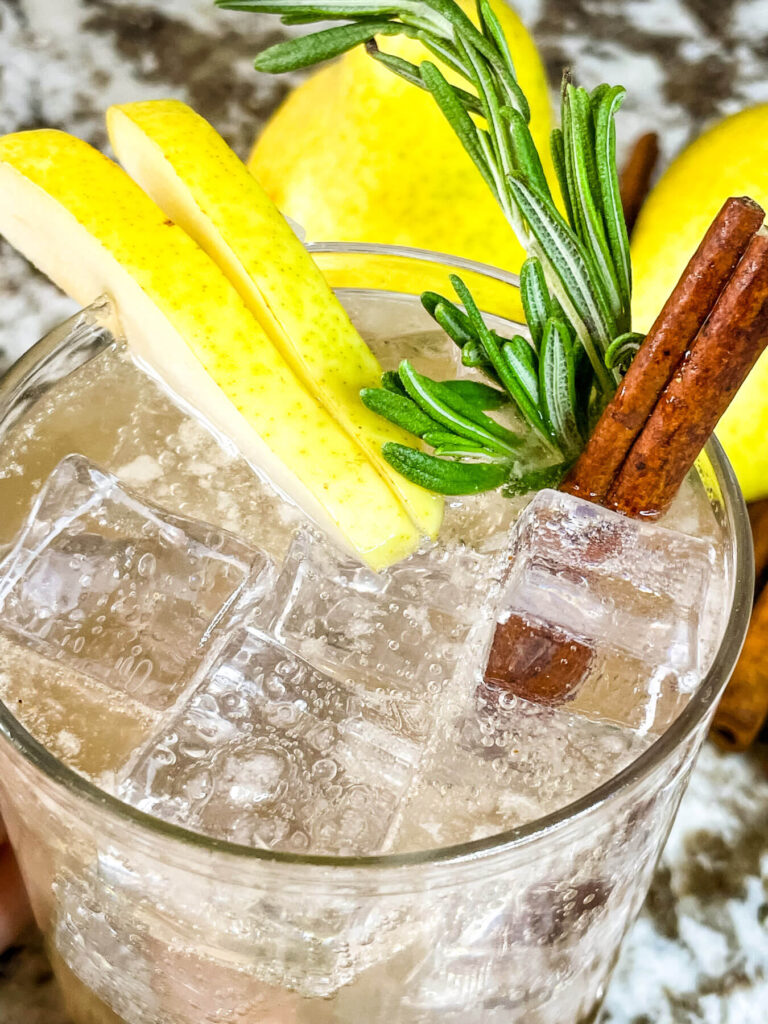 Ingredients for Pear Tree Cocktail
Here is what you will need to make the cocktail:
Pear Vodka
Fresh Pears
Ginger Beer
Garnish (Fresh Pears, Cinnamon Sticks, and/or Rosemary Sprigs)
Regular vodka will work, but will be missing some of the extra flavor. So if you go with a regular vodka, add extra fresh pear to the drink.
I use my cinnamon simple syrup because it brings amazing warmth to the drink, perfect for fall. You can also use regular simple syrup and a small dash of cinnamon added to the cocktail shaker.
If desired, you can serve them up in copper mugs like a traditional Moscow mule. But I like to use a clear glass as well where you can see how pretty it is!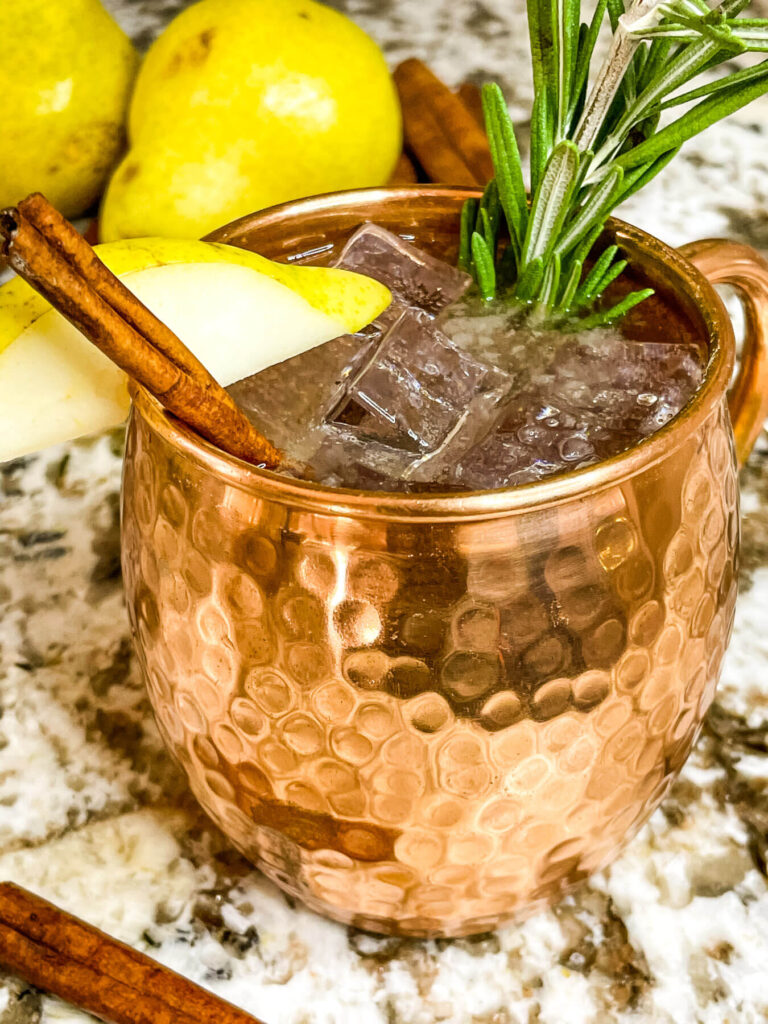 Instruction Overview
To make the drink, first start by muddling the fresh pear pieces with the vodka in a cocktail shaker (or tall glass).
Yes, we are using pear vodka, but the fresh pear brings a great fresh flavor and really pushes the pear flavor forward.
Add the rest of the ingredients except the ginger beer and shake with ice until very cold.
Then strain, finish off with ginger beer, garnish, and serve!
Watch me make the cocktail from start to finish in the video below.
What does "muddle" mean?
Muddling means you are pressing and mashing the ingredients together.
To muddle the pear, place the fruit in the cocktail shaker with the vodka. You want some liquid in there to help break up the fruit.
Then use a muddler to repeatedly press and twist the ingredients together, breaking the pear up and helping all of the ingredients meld.
No muddler? You can also use the end of a wooden spoon or something that has a thick handle.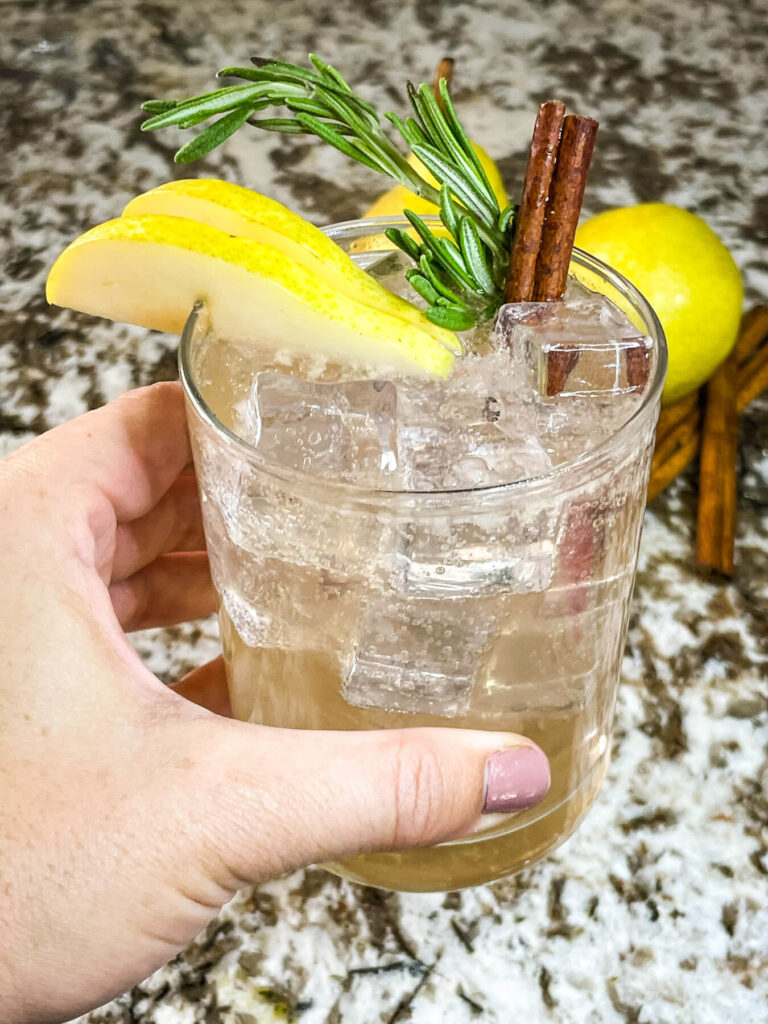 What is the difference between ginger beer and ginger ale?
Yes, there is a difference. Ginger ale is more like a soda. It is much sweeter and lighter in the ginger flavor. Ginger ale is made by carbonating water and flavoring it.
Ginger beer has a much stronger ginger flavor and is made through a fermentation process.
The ginger flavor comes off almost as a little spicy. I love using ginger beer instead of ginger ale exactly for this reason, because I love the strong ginger flavor and less sweetness.
Both ginger ale and ginger beer work well, so use whatever you prefer or have on hand!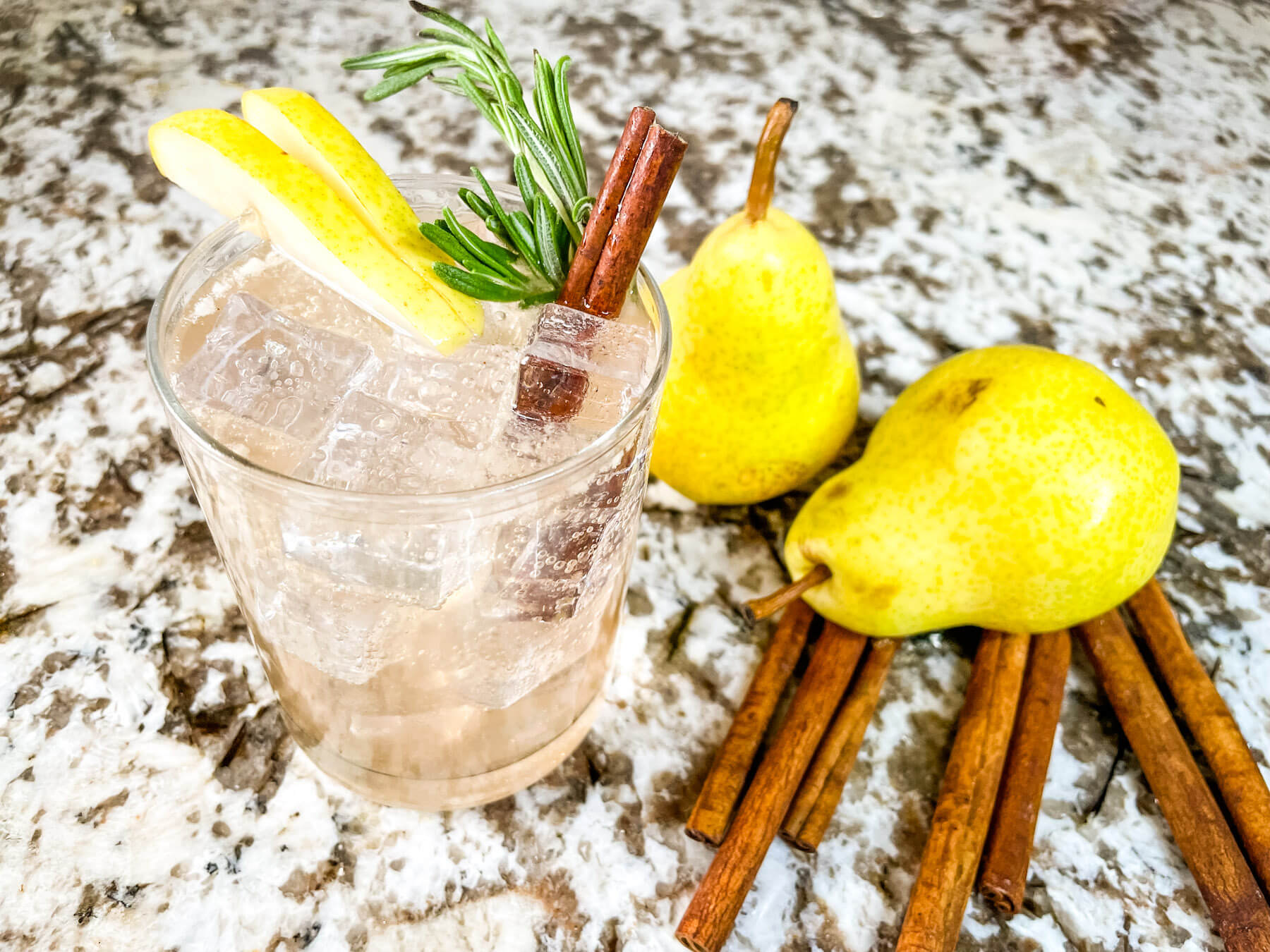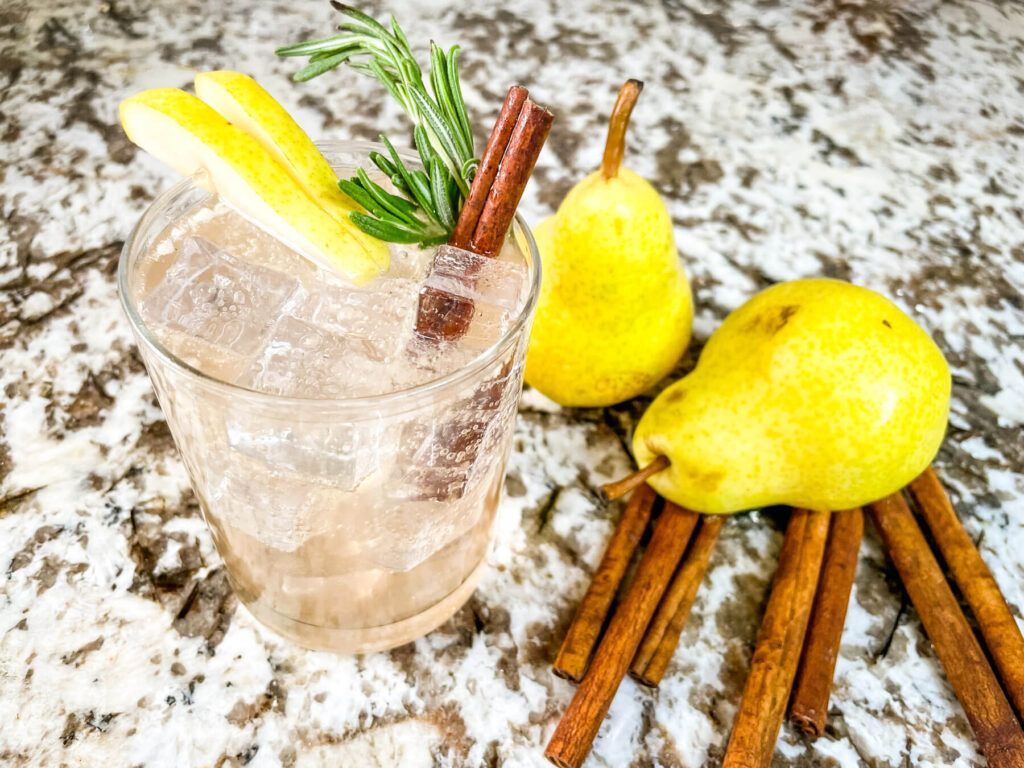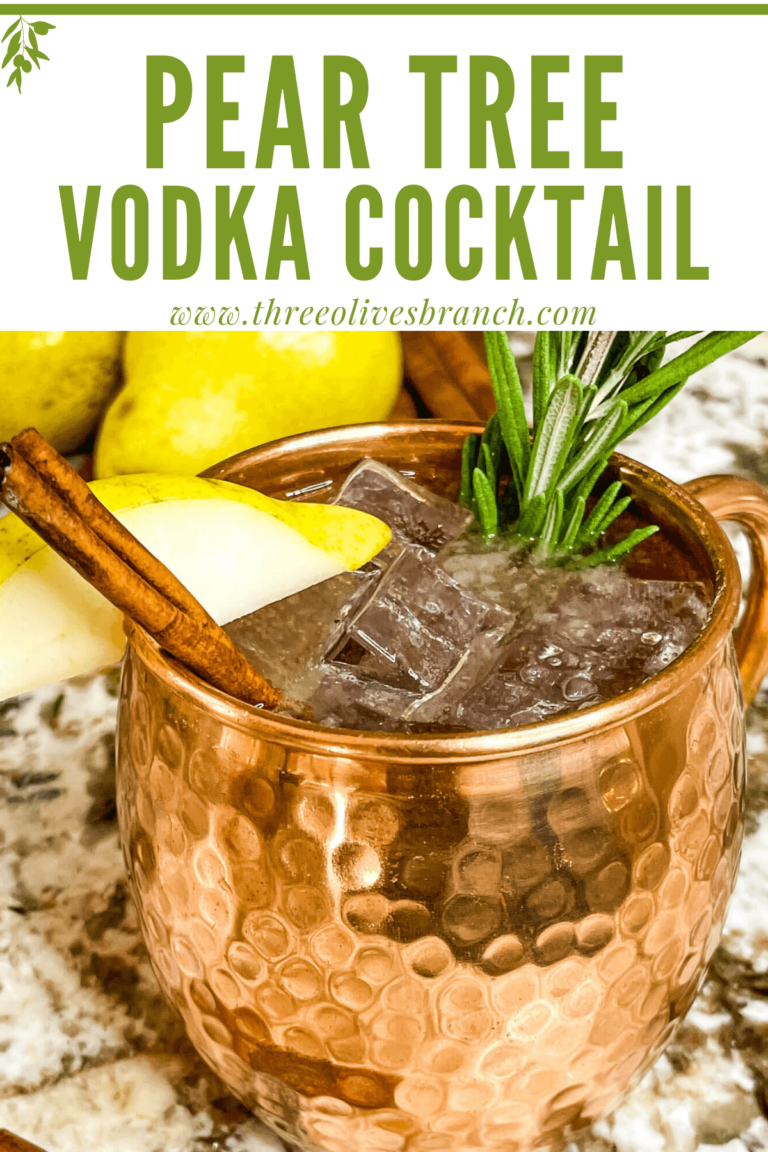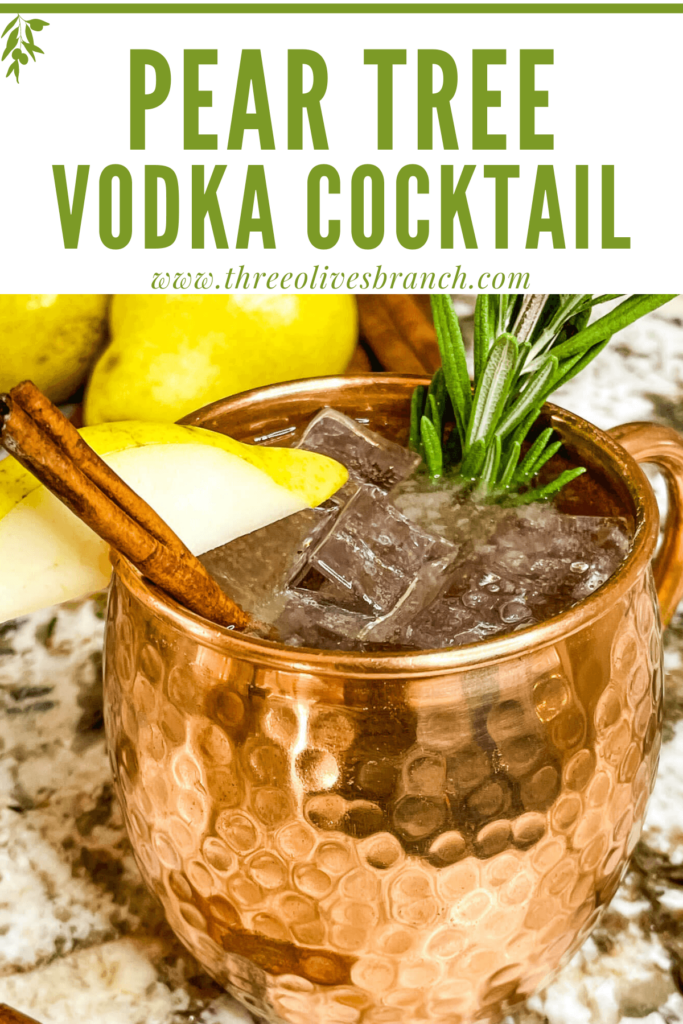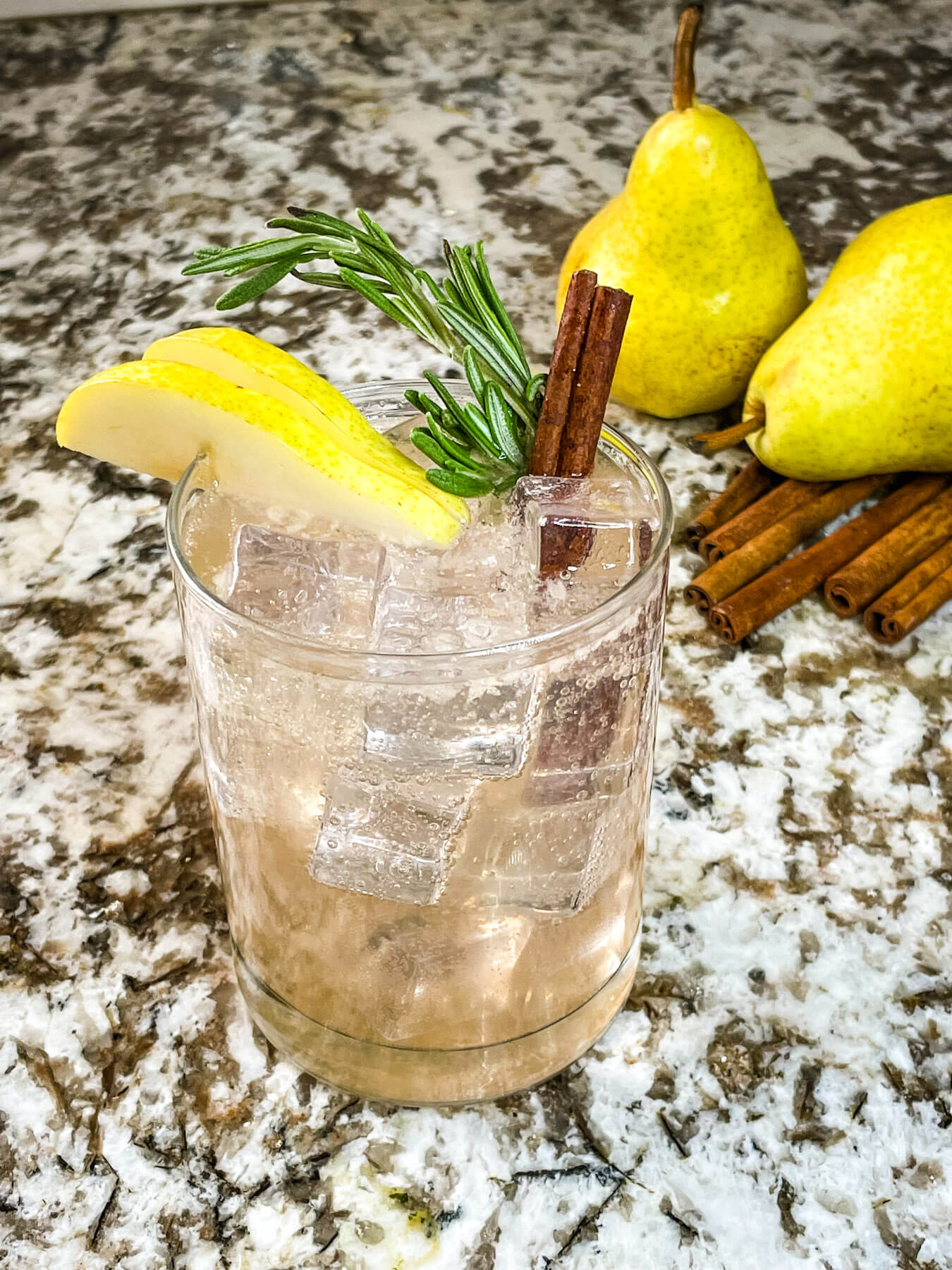 Instructions
Cut the fresh pear into slices about 1/4 inch thick. You need ¼ of a pear total for each cocktail. Half of each cocktail's portion will be part of the drink and the other half is for garnish.

Add a few pear slices to the cocktail shaker (1/8 pear total, half of the drink's portion) with the vodka. Use a muddler to press and break up the pear.

Add cranberry juice, simple syrup, and lime juice to the shaker with a big scoop of ice. Cover and shake until very cold, about 30 seconds.

Strain into a cocktail glass filled with ice. Top off with ginger beer. Garnish as desired with cinnamon sticks, remaining pear slices, and rosemary. Serve immediately.
Notes
No cocktail shaker? You can use a tall glass instead.
No muddler? You can use the end of a spoon or anything with a flat surface.
Pear vodka is best to really bring the pear flavor forward. If using regular vodka, you will want to double the amount of pear you muddle with.
Cinnamon simple syrup brings the warmth to the drink. If using regular, add a dash of cinnamon to the cocktail shaker.
Want to make in advance? The batch can be increased and muddled. Then shake with ice, pour, and top with ginger beer when ready to serve.
If making a large batch, the pear can be muddled into the vodka with a food processor or blender.
Nutrition
Serving:
1
drink
|
Calories:
257
kcal
|
Carbohydrates:
34
g
|
Protein:
1
g
|
Fat:
1
g
|
Saturated Fat:
1
g
|
Polyunsaturated Fat:
1
g
|
Monounsaturated Fat:
1
g
|
Sodium:
20
mg
|
Potassium:
93
mg
|
Fiber:
1
g
|
Sugar:
31
g
|
Vitamin A:
27
IU
|
Vitamin C:
7
mg
|
Calcium:
13
mg
|
Iron:
1
mg
Thanksgiving and Fall Cocktails and Mocktails
By