Keto Low Carb Shakshuka Spaghetti Squash is a delicious, healthy dinner recipe. The stuffed spaghetti squash is filled with a spiced tomato sauce used in shakshuka (eggs in purgatory) with eggs on top. #ketorecipes #lowcarbrecipes #spaghettisquash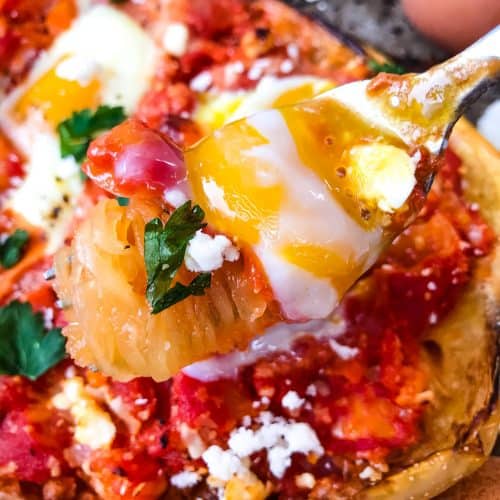 Shakshuka Spaghetti Squash combines two favorites: shakshuka (Eggs in Purgatory) and spaghetti squash "noodles."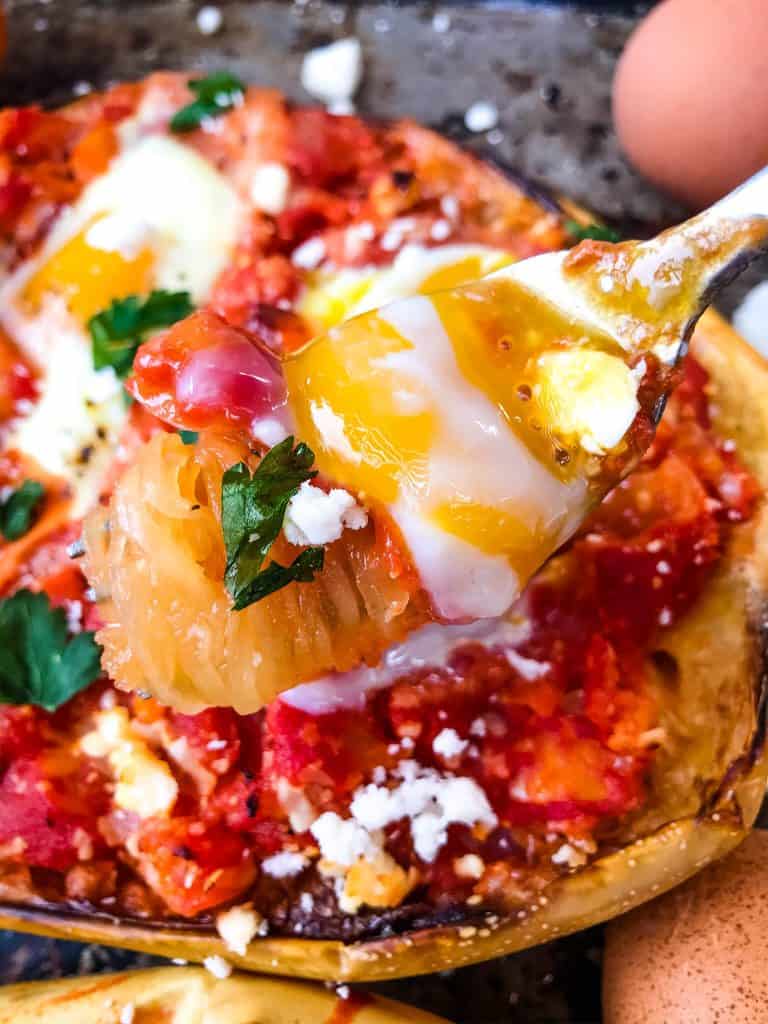 This post contains affiliate links.
This Shakshuka Spaghetti Squash is a hearty and filling healthy recipe. The squash noodles are tossed with a savory spiced tomato sauce with some eggs cooked right inside.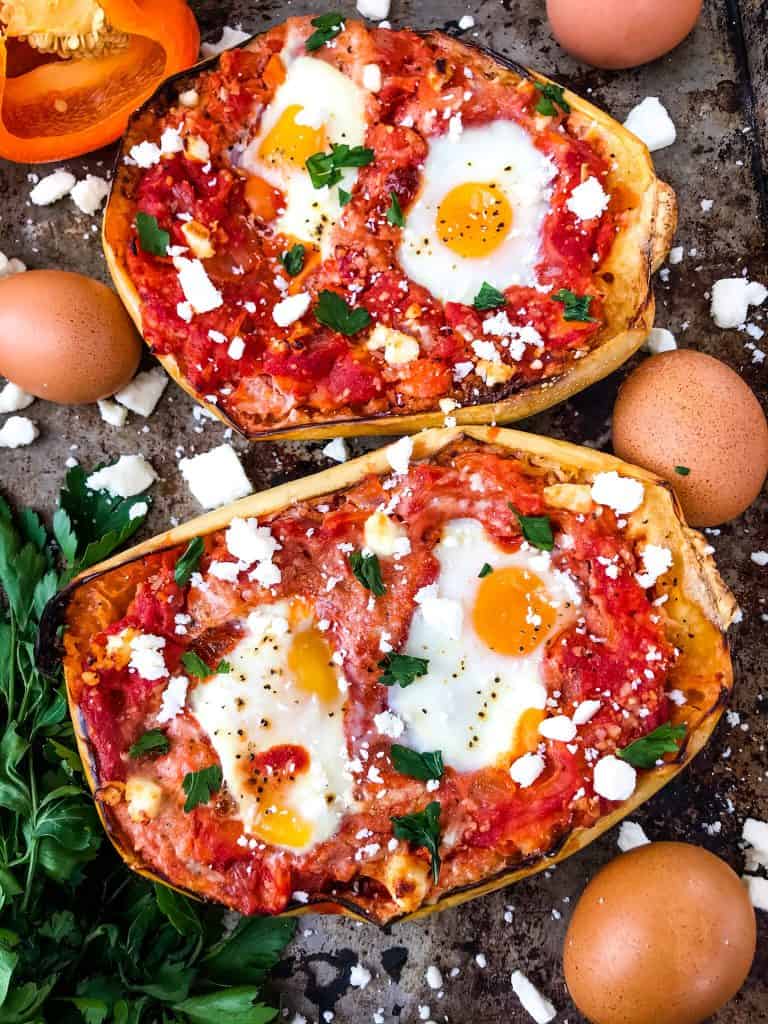 Shakshuka, also commonly called Eggs in Purgatory, has several variations. It is from the Middle East and typically consists of a slightly spicy tomato sauce that eggs are cooked in. I like to try and cook the eggs to a medium temperature where the whites are cooked but the yolk is still runny. You can find our different variations of Shakshuka here! I love to serve a shakshuka with bread.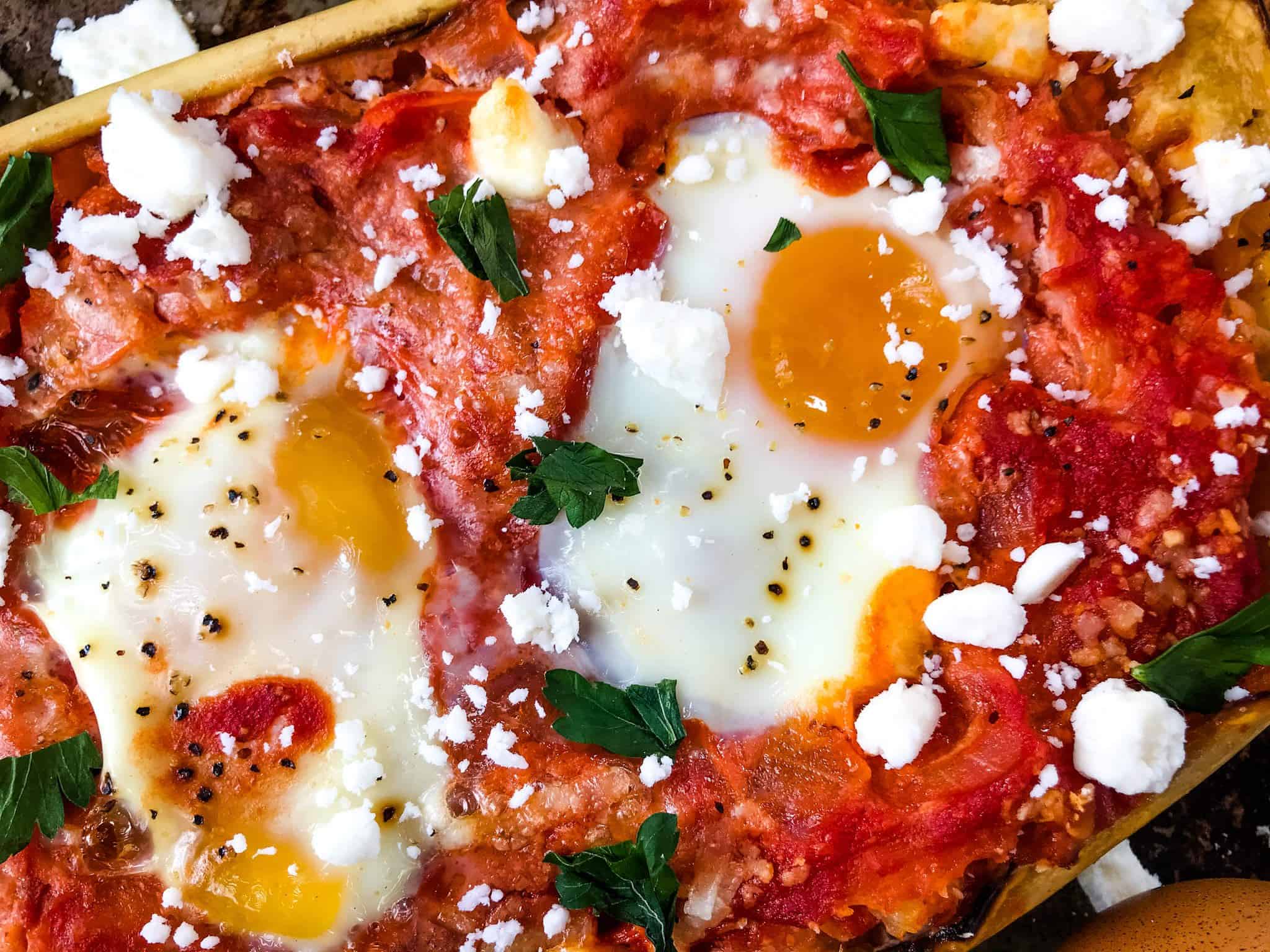 If you have not had spaghetti squash yet, I definitely recommend trying it! I am generally not a big fan of squash (except zucchini) and a HUGE fan of pasta so I was very skeptical. But the squash once cooked doesn't really have the squash smell, and acts like a somewhat crunchy or crispy angel hair pasta. The best way to approach it is to not think of it as a pasta substitute, because you will be disappointed, but rather as an alternative and completely different thing. It is also rather filling so just one 3 pound squash can typically get you 4 servings. Find more of our stuffed spaghetti squash recipes here!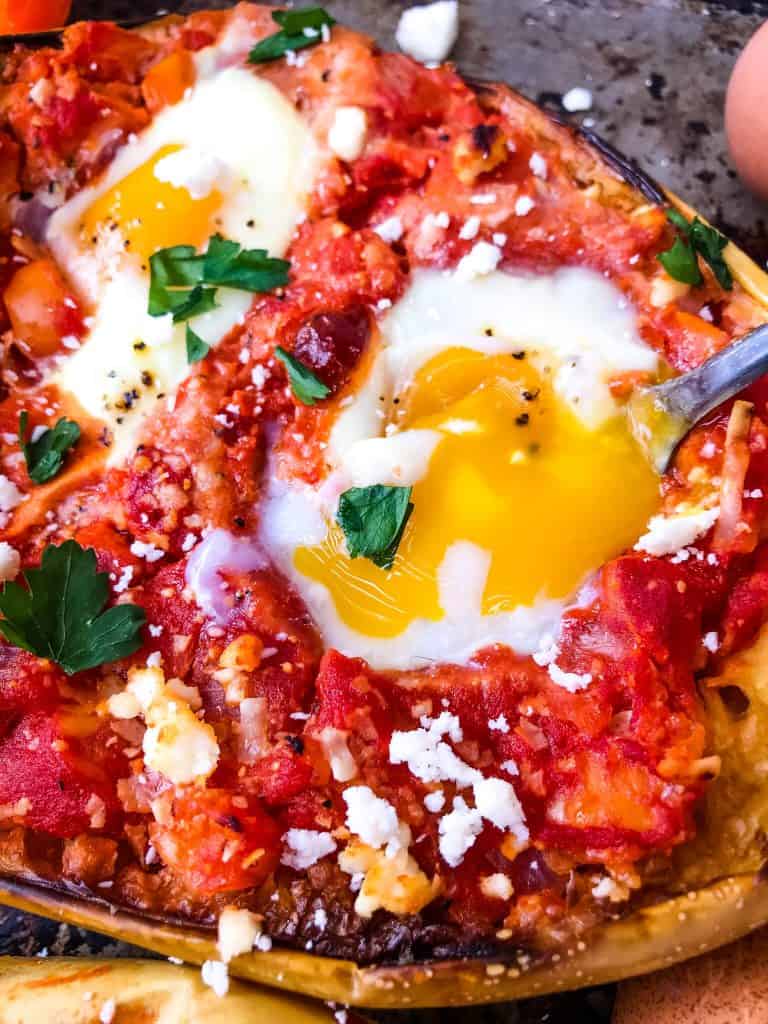 This healthy baked spaghetti squash is gluten free, keto low carb, and vegetarian. You can easily add any other vegetables, or even meat, as desired to the base. Feta cheese is traditional for shakshuka, but you can also use mozzarella or Parmesan cheese. This recipe includes how to cook spaghetti squash instructions. And roasted spaghetti squash holds up well when made in advance! You can cook the squash and sauce ahead of time, and then simply assemble and heat, cooking the eggs, before serving.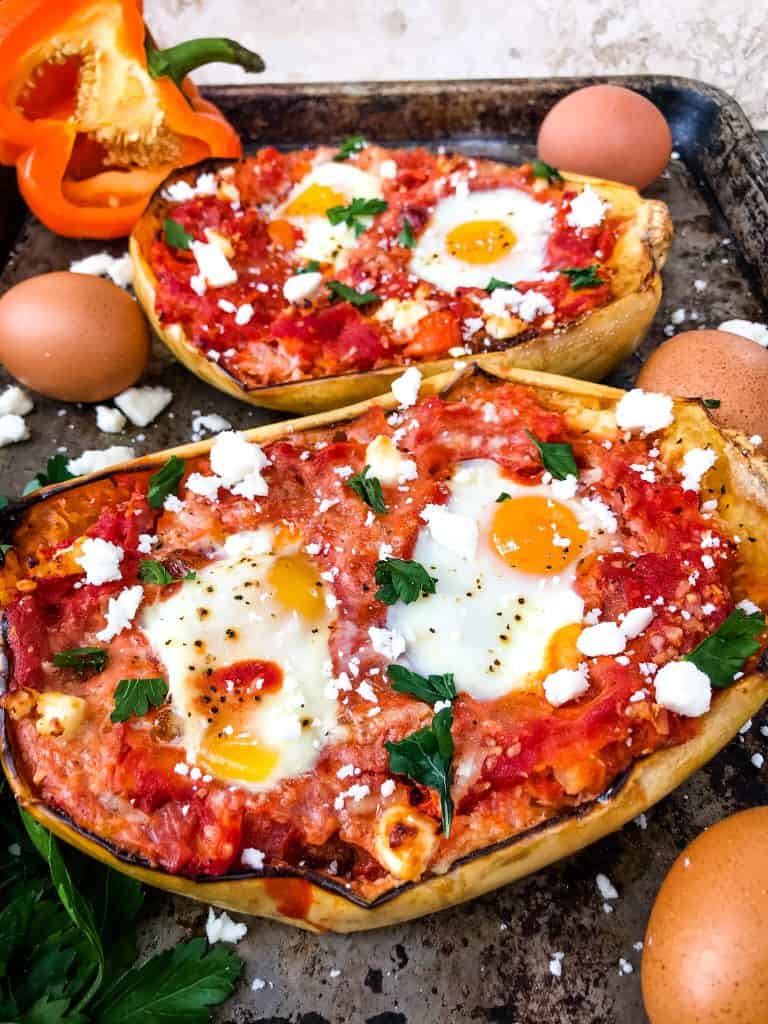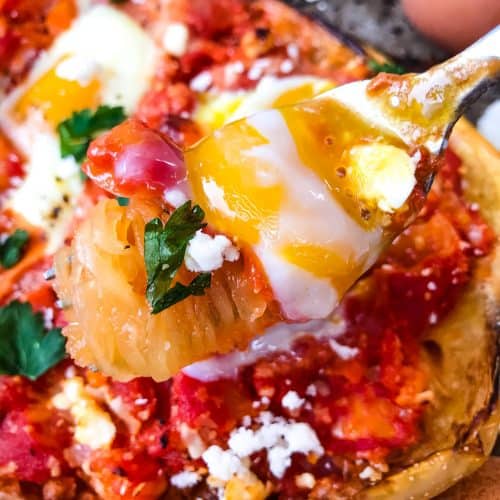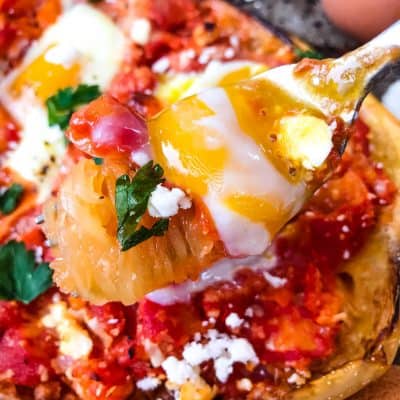 Shakshuka Spaghetti Squash
Keto Low Carb Shakshuka Spaghetti Squash is a delicious, healthy dinner recipe. The stuffed spaghetti squash is filled with a spiced tomato sauce used in shakshuka (eggs in purgatory) with eggs on top. #ketorecipes #lowcarbrecipes #spaghettisquash
Print
Pin
Rate
Ingredients
1

spaghetti squash

(2-3 pounds)

2

Tablespoons

olive oil

or vegetable oil

salt

black pepper

1

cup

feta cheese

crumbled (approximately 4 ounces, more or less to taste)

4

large

eggs

2

Tablespoons

fresh parsley

chopped (or cilantro)
Instructions
Preheat oven to 400F.

Cut the spaghetti squash in half lengthwise. Be careful as it is tough to cut through. Place the squash on towels if necessary to keep it in place.

Remove the seeds by scraping the inside of each half with a spoon.

Drizzle the inside of each half with the oil and sprinkle with salt and pepper.

Place the squash cut side down on a baking sheet. Roast in the oven until tender when pierced with a knife, approximately 30-40 minutes. Remove from oven and let cool slightly to handle.

While the squash is cooking, prepare the sauce. Heat a Tablespoon of oil in a small sauce pot over medium heat. Add the onion and bell peppers and cook until onions are translucent,, approximately 3-5 minutes.

Add the garlic, paprika, cumin, and red pepper and cook until fragrant, approximately 30 seconds. Add the salt and black pepper.

Add the tomato sauce and stir to combine. Bring to a light simmer and reduce heat to medium low. Cook for sauce flavors to develop while the squash is cooking, ideally at least 15 minutes. Season to taste with salt, pepper, and spices as desired.

When the squash is ready, fluff up the interior of each squash by using a fork and shredding at the squash flesh. This will make the "noodles"! (Keep the oven on at 400F).

Pour a little sauce into each of the squash halves. Toss if desired by using a fork to fluff.

Use a fork to make deep wells for your eggs in the squash strands (I make the wells almost to the bottom) - the deep wells help prevent the egg from spilling over the sides of the squash. Spoon the remaining sauce over the squash, a little in the wells. Sprinkle the feta across the squash.

Crack an egg into each well you have made and lightly sprinkle with salt and pepper.

Place the squash back in the oven. Bake for approximately 10-15 minutes until the eggs are cooked to your preference. You can gently poke the whites or yolks with your finger and if they jiggle, they are not solid. I prefer to go for a "medium" cook where the whites are cooked but yolks are runny.

When cooked, remove from oven. Garnish with parsley/cilantro if desired. Serve immediately.
Notes
Cheese lover? Add some mozzarella and/or Parmesan to the mix! These are also great substitutes for feta.
Make ahead by cooking the sauce and the squash, then just assemble and cook to serve.
Nutrition
Calories:

386

kcal

|

Carbohydrates:

29

g

|

Protein:

15

g

|

Fat:

25

g

|

Saturated Fat:

9

g

|

Cholesterol:

219

mg

|

Sodium:

1238

mg

|

Potassium:

828

mg

|

Fiber:

6

g

|

Sugar:

15

g

|

Vitamin A:

2524

IU

|

Vitamin C:

55

mg

|

Calcium:

297

mg

|

Iron:

4

mg

By