Strawberry Nutella Crepes are a delicious dessert recipe inspired by French and Italian food. A chocolate hazelnut spread is layered with fruit in a thin pancake like crepe. Also served as breakfast or brunch, this sweet and rich dessert is a popular combination!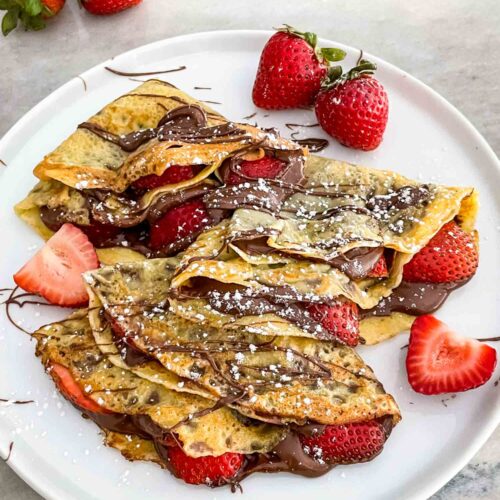 Rich and decadent Strawberry Nutella Crepes are a fun dessert recipe! Sweet crepes are filled with a chocolate hazelnut spread and sliced strawberries. Served with powdered sugar.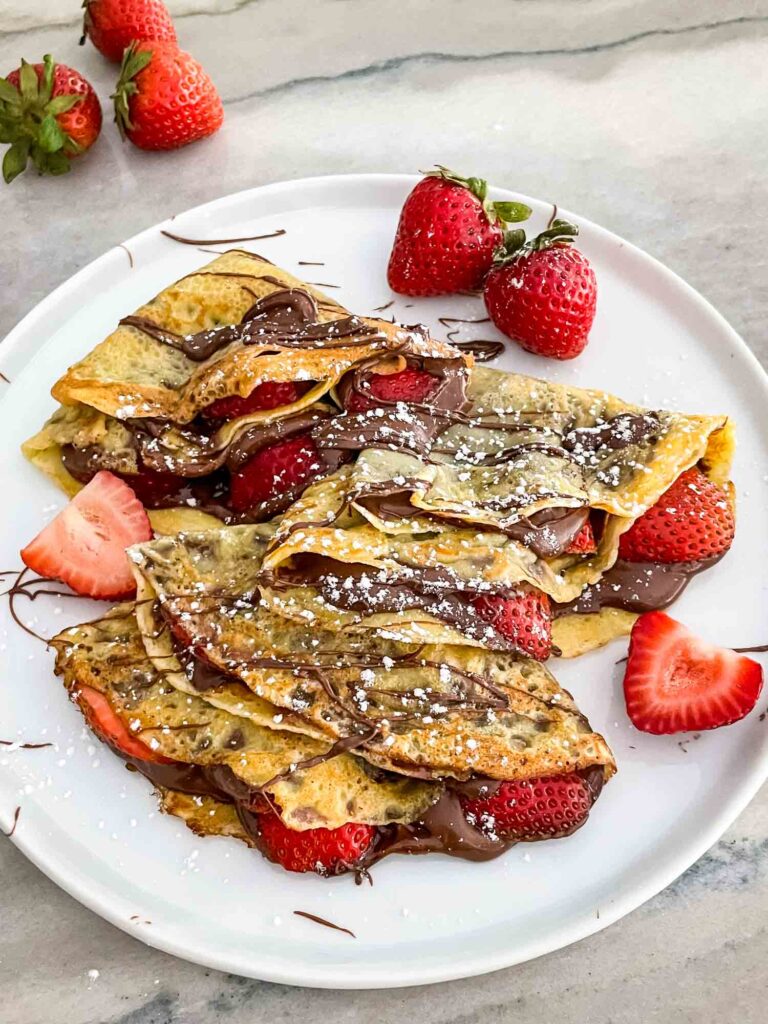 Chocolate Strawberry Crepes
These Strawberry Nutella Crepes have a special place in my heart!
When I was living in Italy for college, I fell in love with Nutella.
We would go to a local crepe shop called Bomba Crepe and the Strawberry Nutella Crepe was what I got every. single. time.
So now I like to make these at home and they bring me right back to those side streets of Italy!
What is in Strawberry Nutella Crepes?
These are the ingredients that you need to make these homemade crepes:
Strawberries
Sweet Crepes
Powdered Sugar (optional, but highly recommended!)
How many eggs go in crepes? I use two for a single batch. You can find more information on the ingredients and my crepe tips in my Sweet Crepe Recipe.
If desired, you could use a Strawberry Sauce instead of sliced strawberries for a saucier crepe!
What is Nutella?
Nutella is a magical, magical thing. It is a chocolate hazelnut spread.
This means it is a thick spread similar to peanut butter texture made out of hazelnuts, sugar, etc. and has some cocoa powder to bring the chocolate flavor.
You can use any chocolate hazelnut spread. Nutella is the famous brand that became so popular!
Can You Use Frozen Strawberries in Crepes?
Yes. I recommend letting them defrost first and then draining them of the excess moisture.
If still frozen, you will bite into frozen pieces! And if not drained, it will be very soggy.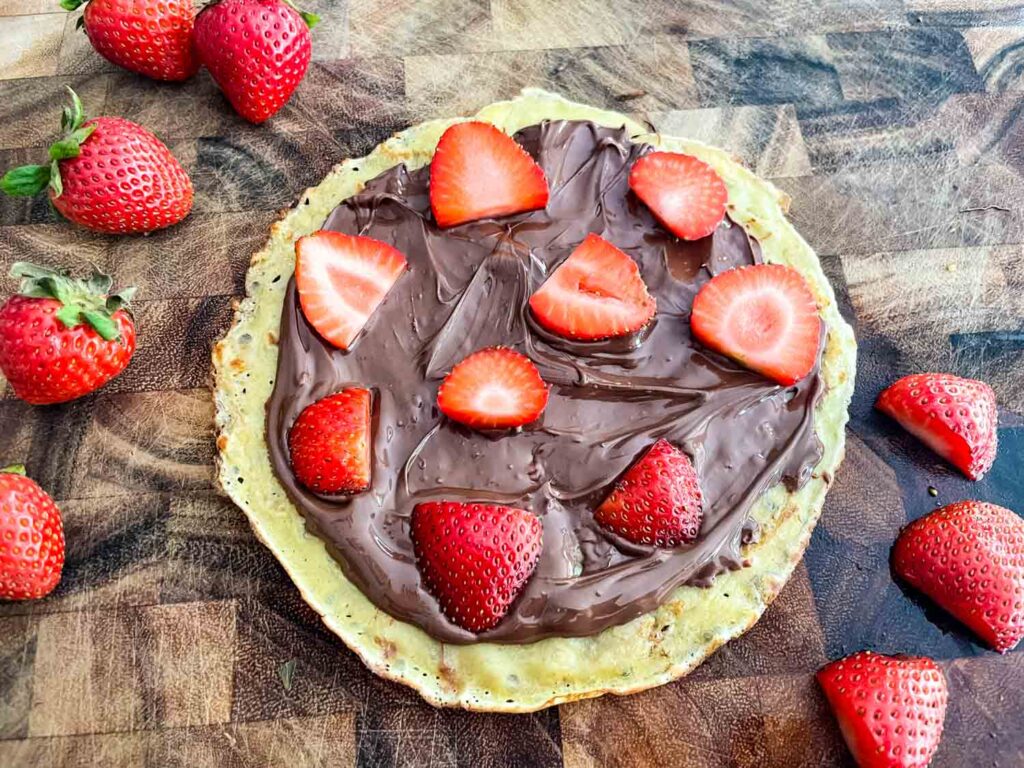 How Do You Make a Strawberry Nutella Crepe?
How do you make Nutella fruit crepes?
First you need to make your crepes and have them ready to go. They can still be a little warm, or room temperature. Cold crepes will make the Nutella freeze up so I do not recommend that.
Then spread the Nutella across the crepe in a thin layer. Use more if you want!
And then layer the strawberries on top.
Fold in half, and half again, and that is it! Top with powdered sugar if desired (this is how they did it in Italy) and you are ready to eat.
Can You Make Crepes on Bottom of a Pan?
Yes, this is how I do it! Find all of my tips and instructions for making crepes on my Sweet Crepes Recipe page.
Why Do Crepes Crack?
This typically happens because the batter is drying out.
And this normally means that you are cooking the crepe too long. If it is not browning but is cracking, turn the heat up just a little and flip sooner.
If cracking and browning too fast, your pan is too hot. So reduce the temperature just a little.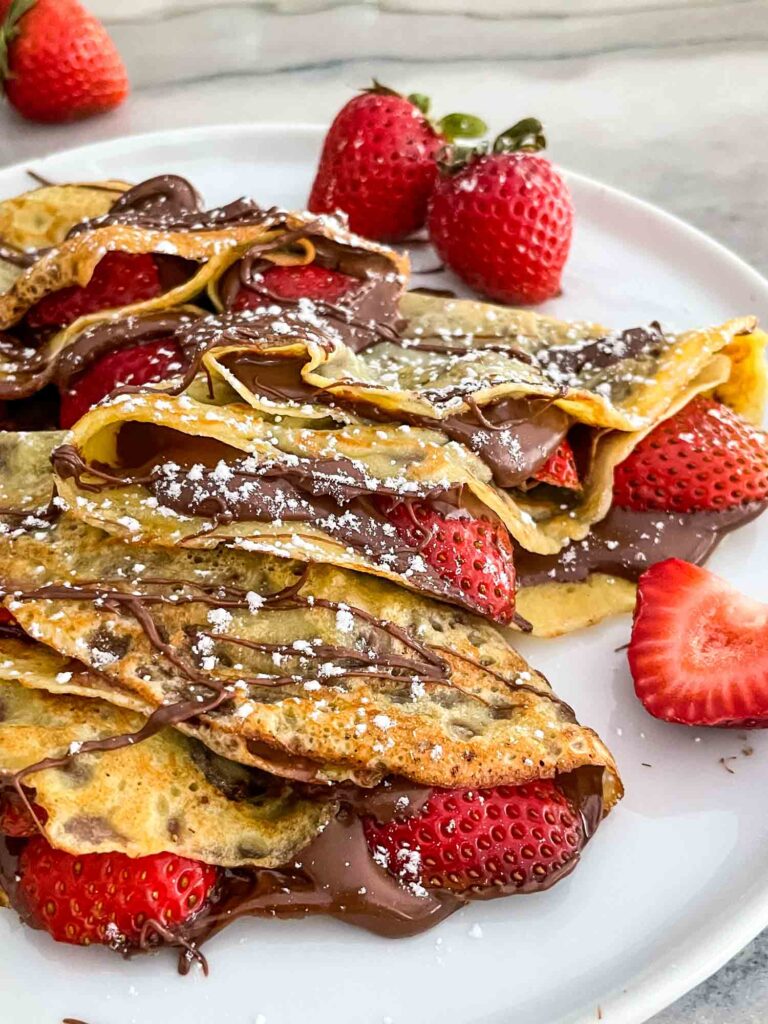 Do Crepes Need to be Flipped?
Yes, you want to cook them on both sides.
The second side is much faster to cook. You can find tips about how to flip a crepe on our Sweet Crepes Recipe page.
How Do You Spread Nutella on a Crepe?
I recommend heating your Nutella for about 30 seconds in the microwave first. This makes it easier to spread!
Then use a knife or back of a spoon to spread it across the crepe in a thin layer.
How Much Nutella Goes on a Crepe?
About a Tablespoon will give you a great Nutella flavor.
It will look like very little, but when folded up, it feels like more!
Use more Nutella if desired. I found that 1.5-2 Tablespoons worth made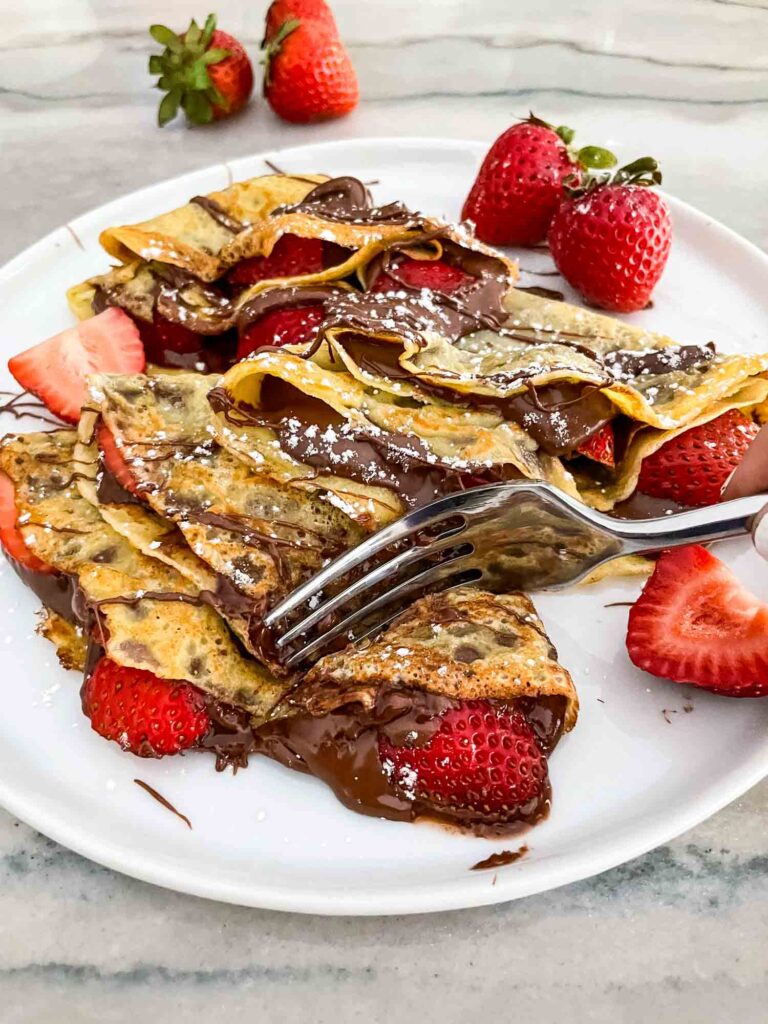 How Do You Fold and Stuff Crepes?
I like to fold mine up into triangles.
First coat the crepe with the Nutella and fruit, and then fold in half, and half again to make a triangle.
That is it!
Another popular way is to serve them rolled up. Just start at one end and roll all the way like an enchilada.
Can You Serve Crepes Cold?
Yes!
This specific recipe is better when a little warm but can absolutely be served cold as well.
What Can I Do with Left Over Crepes?
I like to freeze them in a resealable bag.
Then simply let them defrost completely before using when you are ready to dig into the leftovers!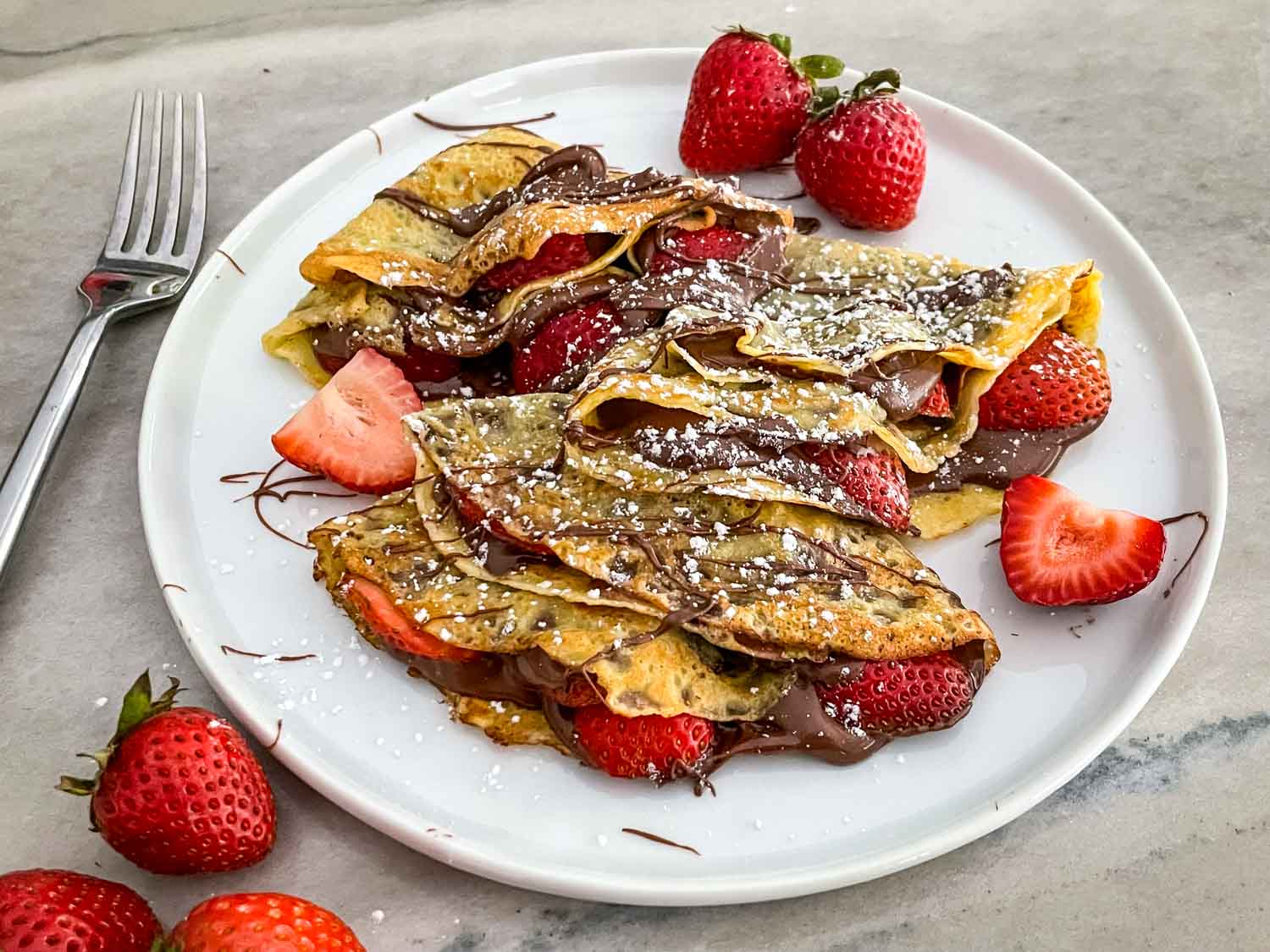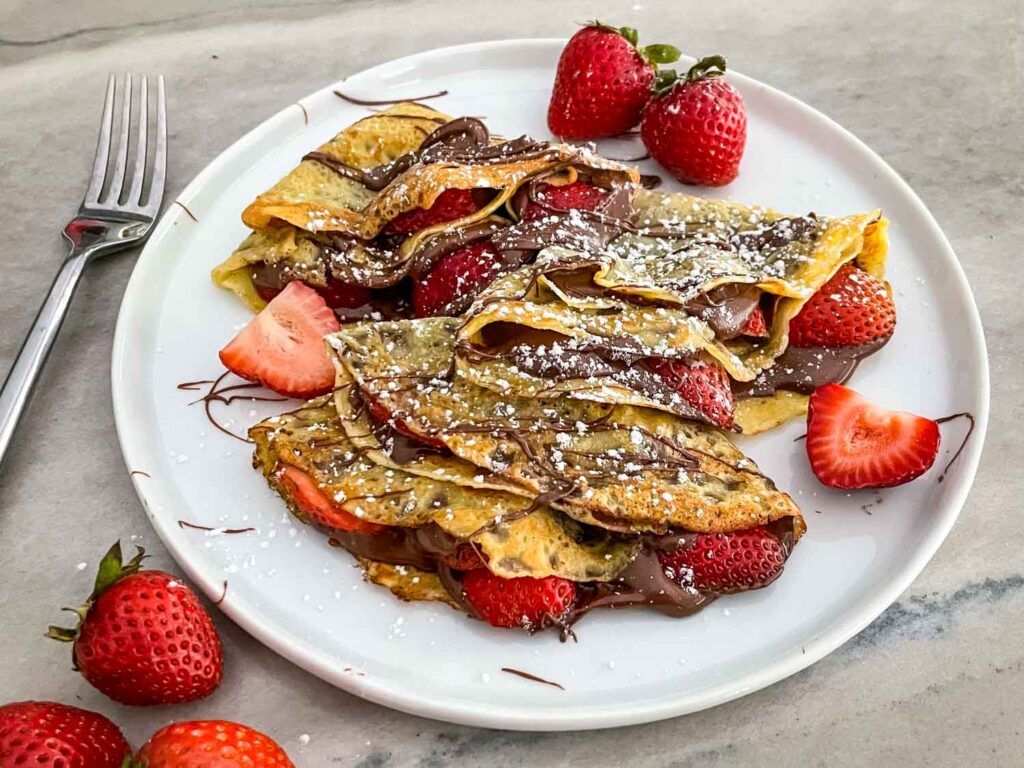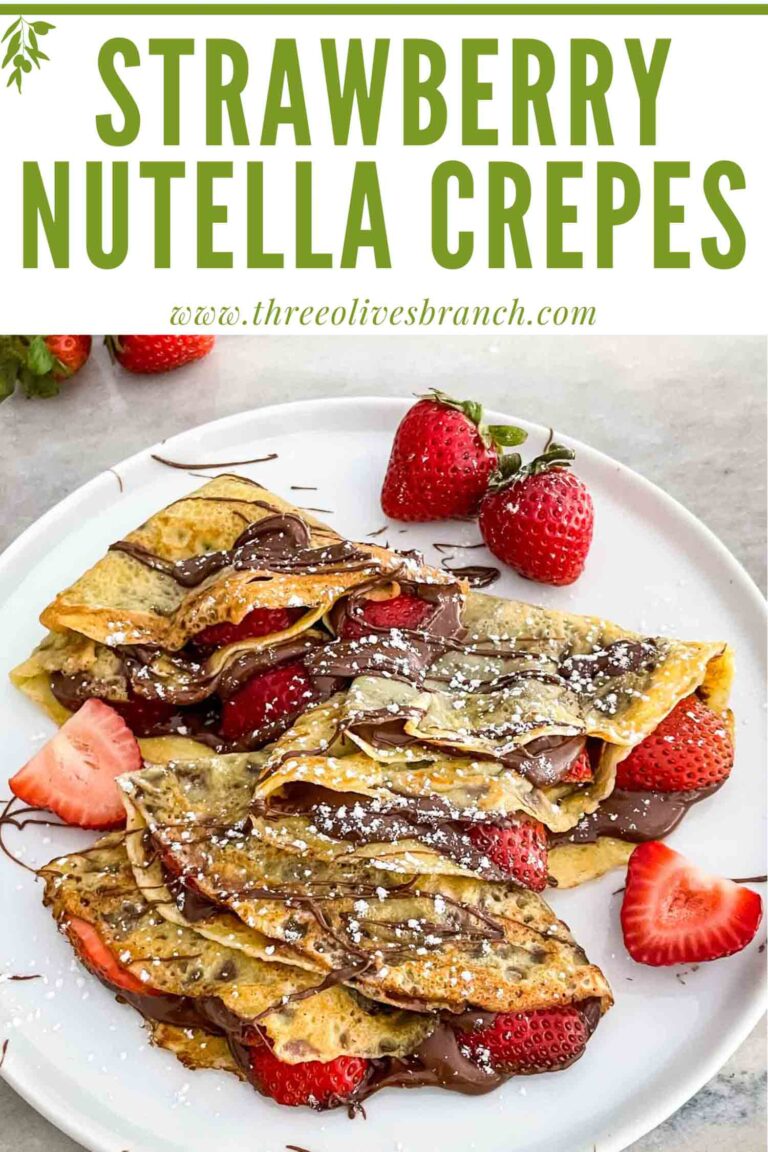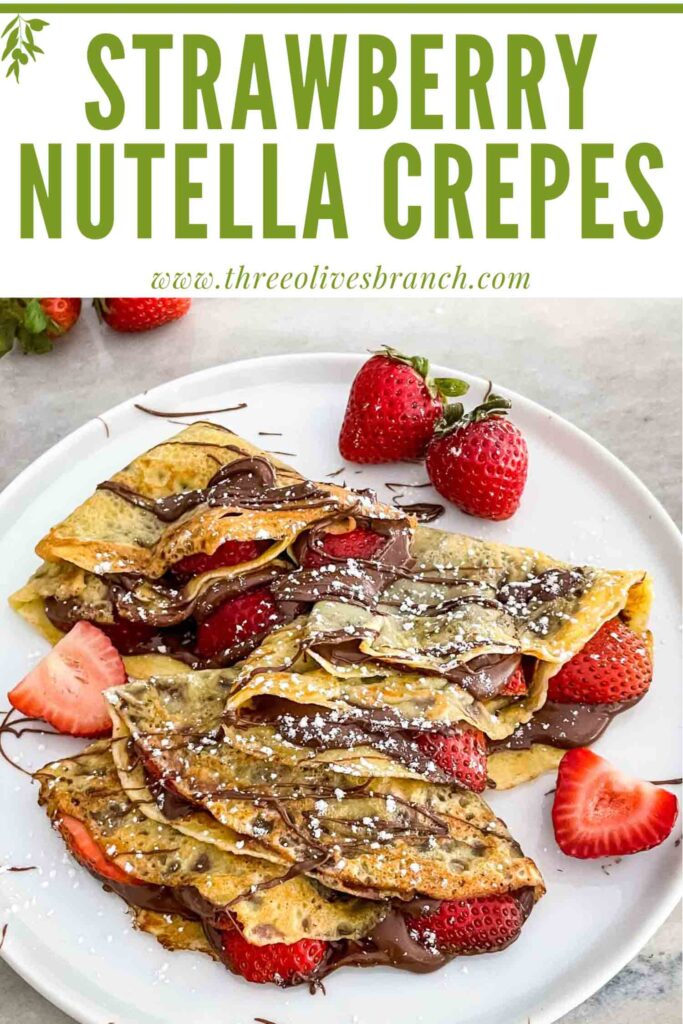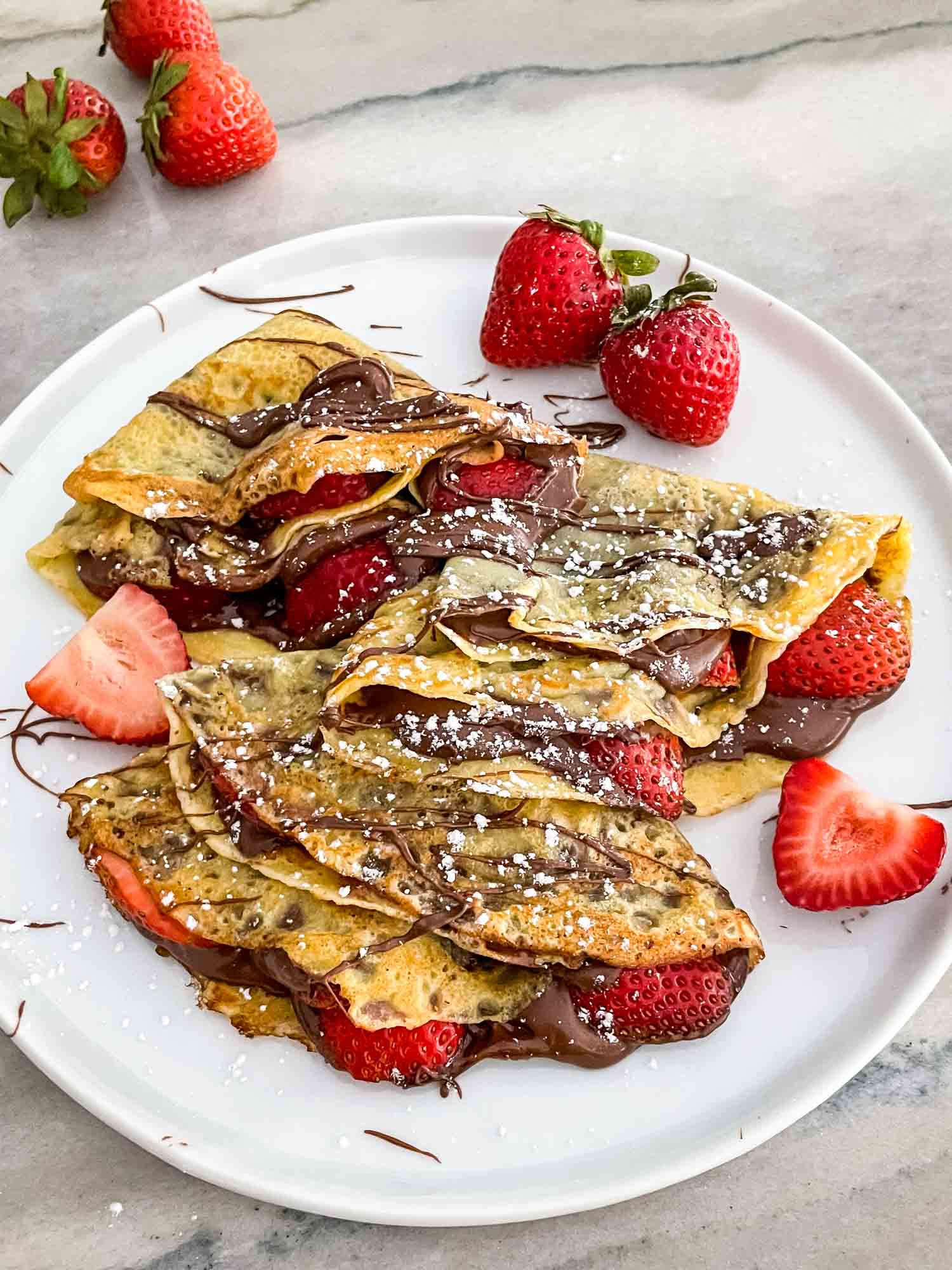 Instructions
Have your crepes ready to go. They can be warm or cooled off, but should not be cold.

Spread about one tablespoon of Nutella across the crepe.

Remove the strawberry stems and slice. Place the strawberries across the crepe on top of the chocolate.

Fold the crepe in half, and then in half again the opposite direction to make a triangle.

Sprinkle with powdered sugar if desired and serve.
Notes
This recipe assumes a full batch of crepes from the Sweet Crepes recipe. You can easily make just one at a time as desired. Each crepe needs 1-2 Tablespoons of Nutella and about 2-3 strawberries.
Nutrition
Serving:

1

filled crepe

|

Calories:

164

kcal

|

Carbohydrates:

22

g

|

Protein:

3

g

|

Fat:

7

g

|

Saturated Fat:

6

g

|

Polyunsaturated Fat:

1

g

|

Monounsaturated Fat:

1

g

|

Trans Fat:

1

g

|

Cholesterol:

25

mg

|

Sodium:

28

mg

|

Potassium:

162

mg

|

Fiber:

3

g

|

Sugar:

14

g

|

Vitamin A:

66

IU

|

Vitamin C:

17

mg

|

Calcium:

50

mg

|

Iron:

2

mg

By