Arrabbiata Pasta, also known as "angry pasta," is traditionally a spicy dish that gets its heat from the garlic and red pepper flakes. Makes this simple yet delicious dish as mild or spicy as you want! Great on its own, or add in some sauteed vegetables or meat of choice.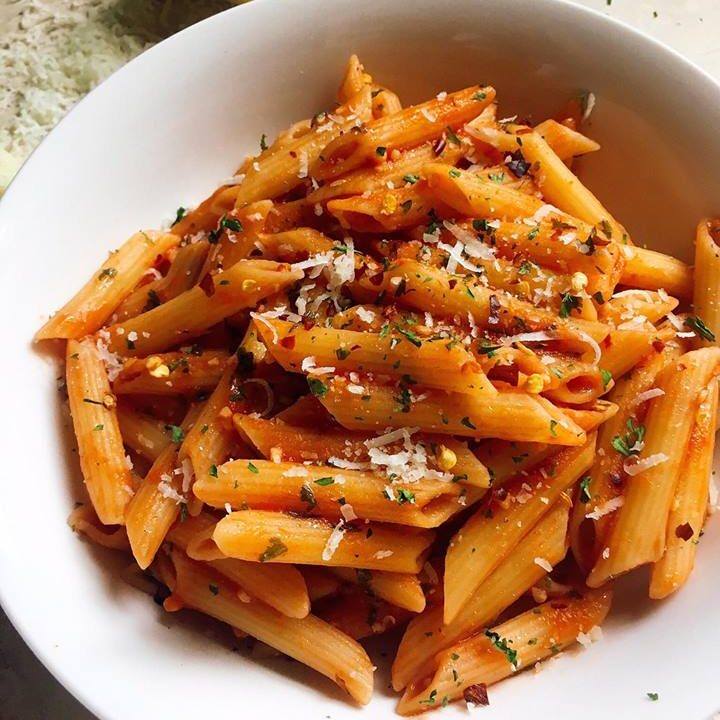 Arrabiata pasta is a super fast and easy Italian pasta recipe. Perfect for busy weeknight dinners.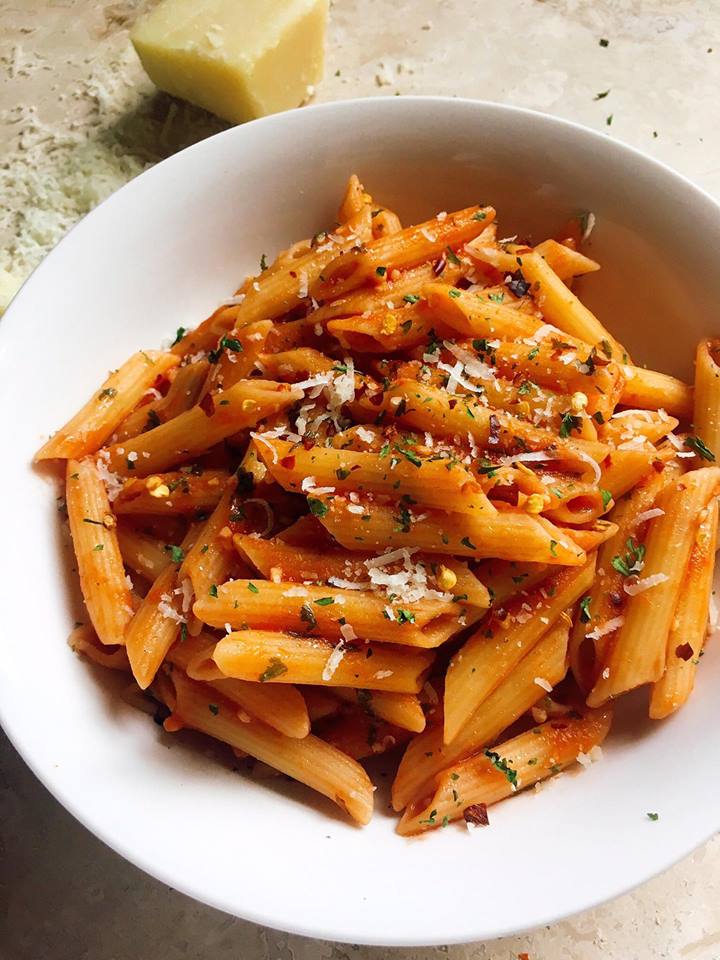 This post contains affiliate links.
Arrabiata Meaning – Why is it called arrabbiata?
Pasta Arrabiata translates into "angry pasta" in Italian.
But don't let the name scare you!
The "angry" is in reference to this pasta being slightly (or a lot) spicy.
You can control the heat level very easily to enjoy the flavors of the pasta if you are not a high-heat person.
The sauce is an amazing combination of simple flavors that I love so much, I have started using in different ways like Arrabiata Beans!
Authentic Italian Pasta
Arrabiata Pasta is a dish I was introduced to this dish when I was living in Italy for college.
I had never heard of this pasta before, but was extremely intrigued by it.
I was finding arrabbiata pasta everywhere I traveled to.
It was such a common menu item that I knew it had to be considered a staple in the country.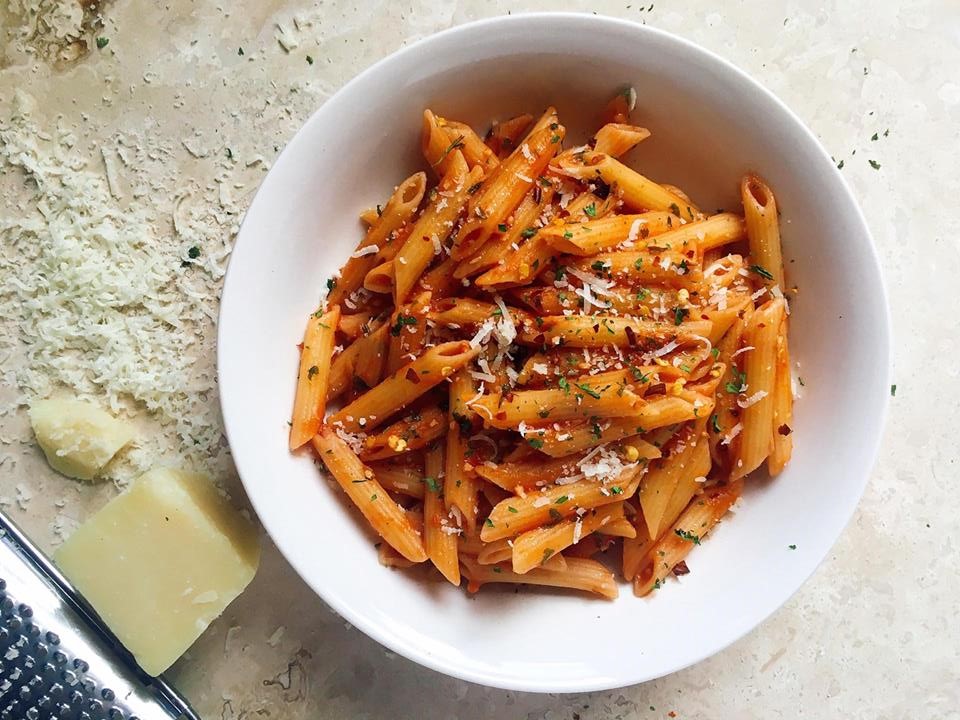 What pasta goes best with arrabiata sauce?
Any pasta shape works, but penne is the classic.
Penne is perfect because it has ridges on the outside of a tube shape which makes them perfect for grabbing and holding onto the sauce.
You might see the name for this spicy pasta spelled a couple different ways: Pasta Arrabiata, arrabbiata pasta, and even angry spaghetti.
What is the difference between arrabiata sauce and marinara sauce?
They are very similar, but arrabiata is a spicy tomato sauce with garlic and red pepper flakes being the primary ingredients.
Marinara sauce is typically not spicy, with minimal garlic and red pepper flakes, often incorporating an herb of some sort like oregano.
What is the difference between arrabiata and Bolognese?
The heat level is different for arrabiata and bolognese, just like with marinara.
But the primary difference besides heat is bolognese incorporates a ground meat, typically pork or beef.
What is the difference between arrabiata and amatriciana?
These two sauces are actually incredibly similar – they are both flavored with garlic and red pepper flakes, with a slightly spicy kick.
Amatriciana adds pancetta, or bacon, into the sauce as well.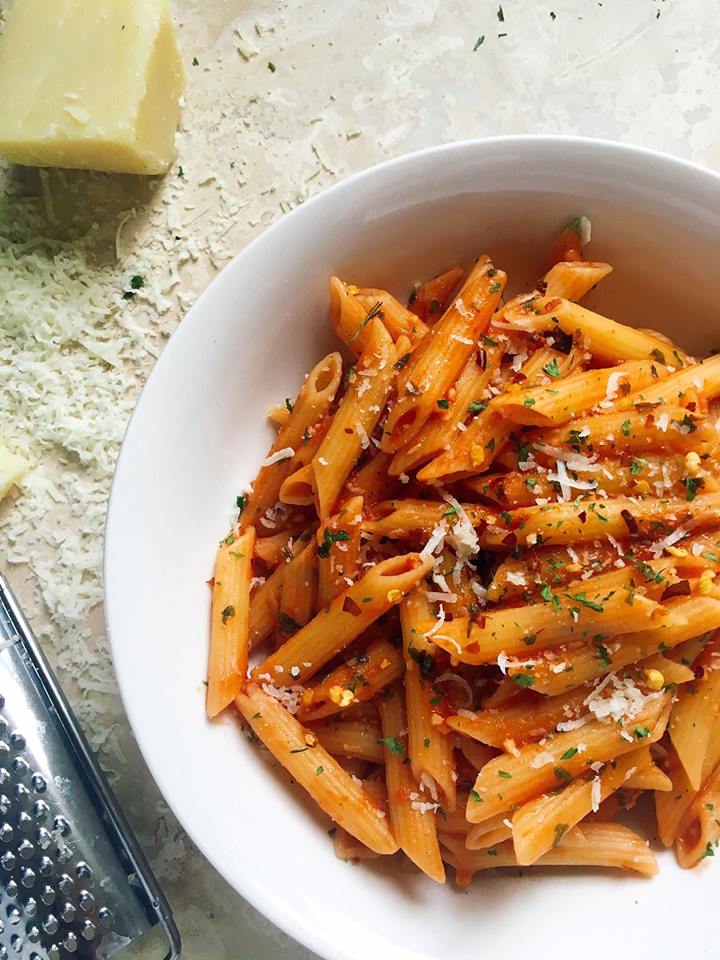 Instruction Overview – How do you make arrabbiata pasta?
This recipe for pasta arrabiata is incredibly fast and easy to make!
And it sounds so simple (which normally means amazing): tomatoes, garlic, red pepper flakes, olive oil.  Yum.
It is one of my go-to dishes for when I am tired or pressed for time.
And you are going to be cooking the pasta anyway, so you can get this sauce simmering right next to it and they can be buddies for a few minutes as you wait!
To make the pasta, you want to cook the pasta as per package directions until al dente. Drain, but do not rinse!
While the pasta is cooking, make the sauce by sautéing the garlic and red pepper flakes in some oil.
Then add the tomato sauce, stir, and simmer for at least 10 minutes. Longer is better if you have the time because it will give the flavors more time to develop.
When ready, simply toss the pasta with the sauce and you are ready to eat! Simple!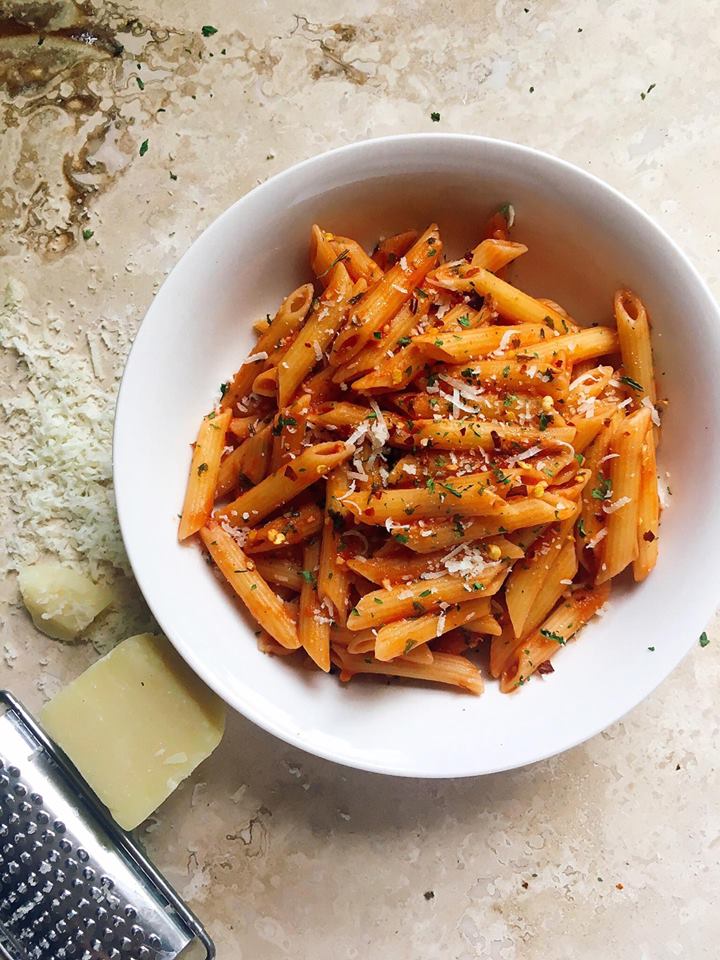 Even though this dish is considered spicy, the recipe below is just a mild kick.
The fresher the garlic and the newer the pepper flakes, the more kick they have.  
If you want it spicier, increase the amount of garlic or red pepper flakes.
Traditionally, the pasta is tossed in the sauce for an even coating and it is great with some fresh Parmesan cheese on top!
This pantry pasta is a great recipe to make because you probably have all the ingredients on hand already.
And you can easily add your favorite vegetables, chicken, sausage, or shrimp to it if desired.
Variations
This classic Italian pasta recipe is also a great base to build off of!
My favorite thing is to sautee any vegetables I have on hand and mix them in. Asparagus, zucchini, and onion are my favorite.
If you are looking for some meat options, adding shrimp, chicken, or sausage works beautifully!
You could also top it with some shredded Mozzarella and let it melt for a pasta bake!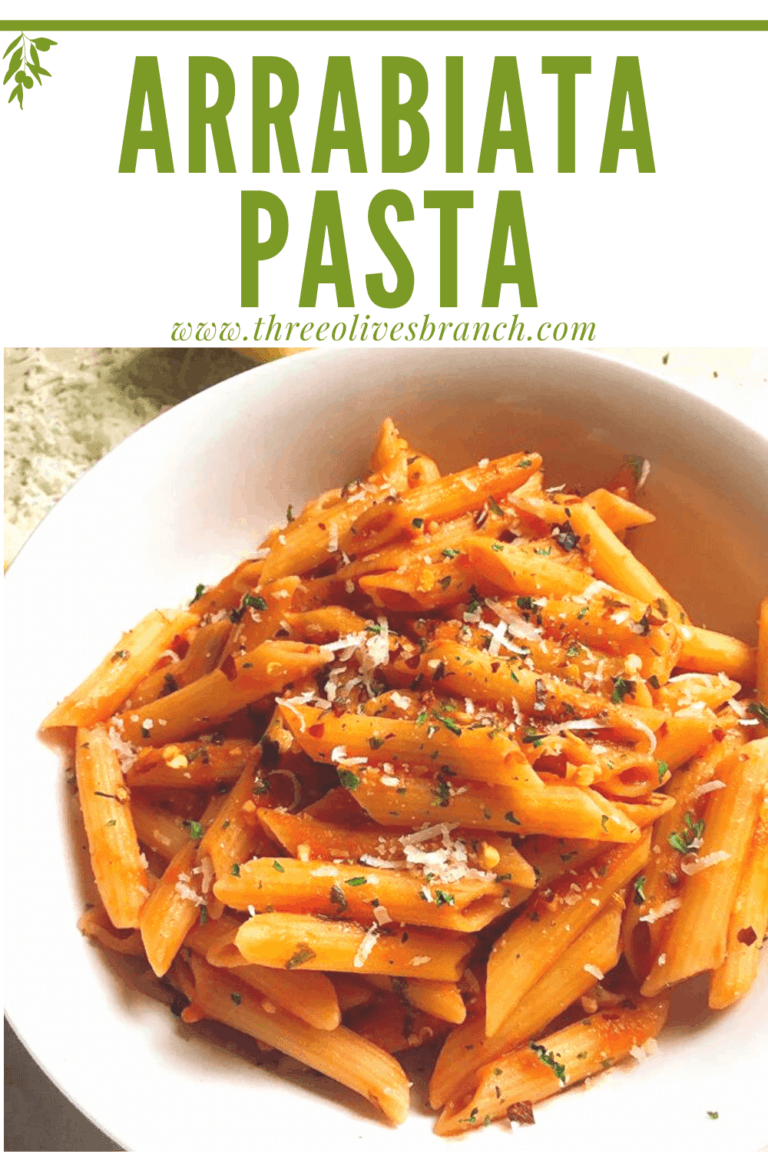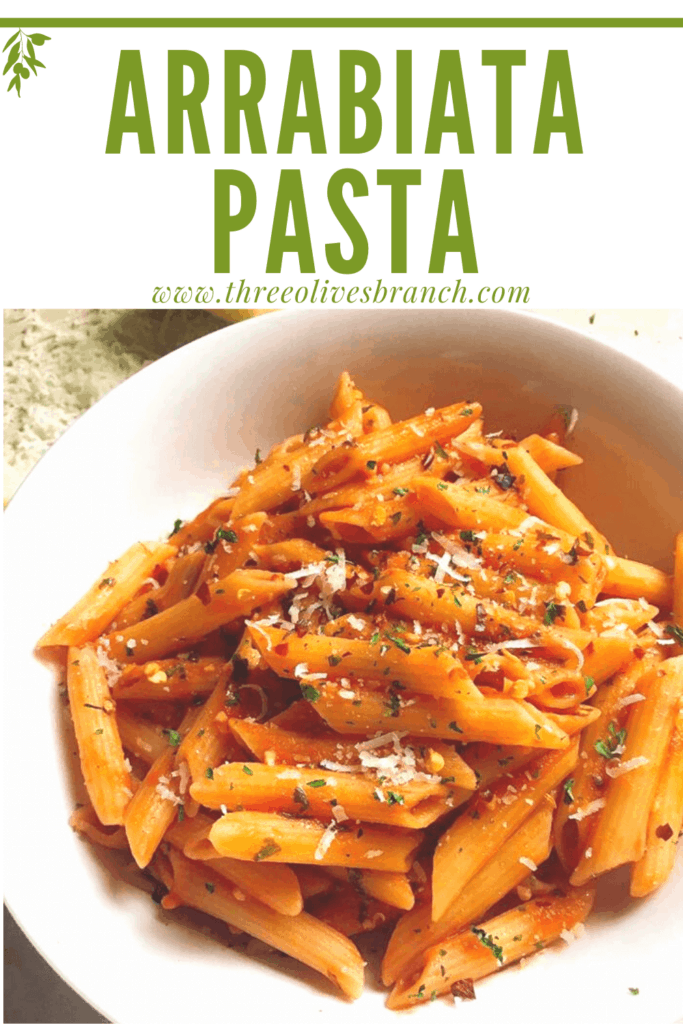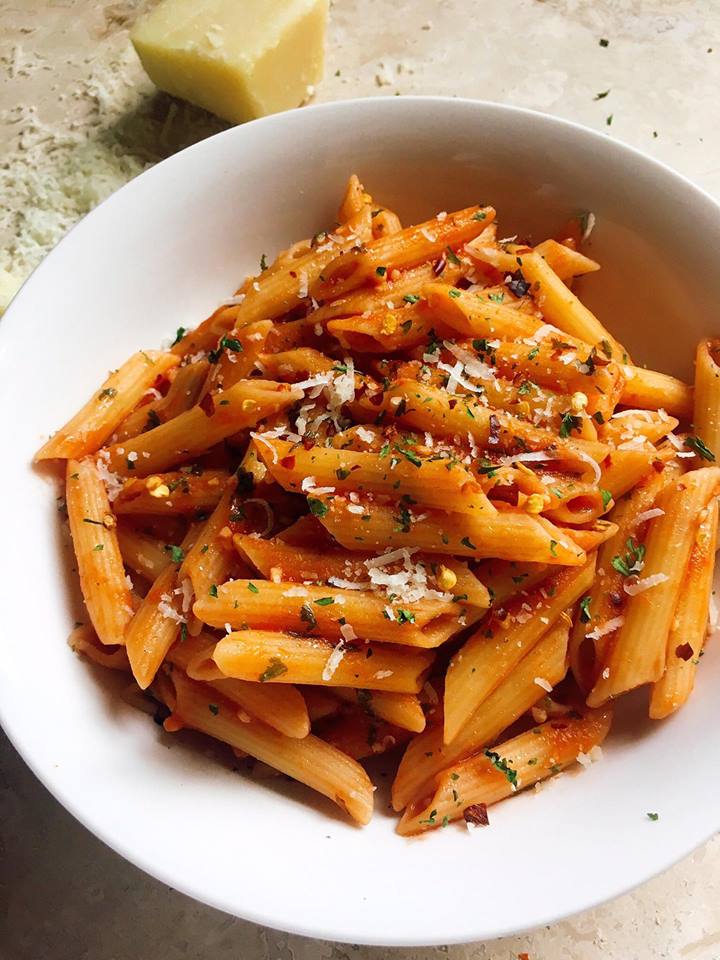 Instructions
Heat a large pot of water over high heat. Salt the water and cook the pasta to al dente as per package directions.

While the pasta water is heating, make your sauce. Heat oil in a small pot over medium heat.

Add garlic, red pepper flakes, and a pinch of salt. Sauté until garlic starts to slightly brown, approximately 2-3 minutes.

Add tomato sauce and 1/2 cup of water. Stir and reduce heat to low.

Simmer sauce while cooking pasta as per package directions. The sauce will taste better the longer it cooks, but just 10 minutes or so should do the trick to meld the flavors.

When pasta is ready, drain. Add parsley to the sauce. Stir to combine. Season to taste with salt and red pepper. Serve with Parmesan cheese.
Notes
The intensity of heat will vary based upon the garlic and red pepper flakes that you use.
Traditionally, this sauce is served with penne but you can use any shape.  Keep in mind that shapes with more edges, such as rotini, will need more sauce so you will want to add 1/4 cup more water to thin it out, or use 3/4 pound pasta instead.
I love to add some sauteed vegetables to the pasta, or you can add chicken, shrimp, or sausage for meat eaters.
Nutrition
Serving:
1
serving
|
Calories:
521
kcal
|
Carbohydrates:
96
g
|
Protein:
18
g
|
Fat:
7
g
|
Saturated Fat:
1
g
|
Sodium:
914
mg
|
Potassium:
885
mg
|
Fiber:
7
g
|
Sugar:
10
g
|
Vitamin A:
915
IU
|
Vitamin C:
15
mg
|
Calcium:
72
mg
|
Iron:
4
mg
Pasta Recipes Without Meat
A collection of delicious pasta recipes without meat to serve up as a side or main course!

By