Melted brie cheese with blackberries and thyme wrapped in puff pastry for a warm and gooey appetizer!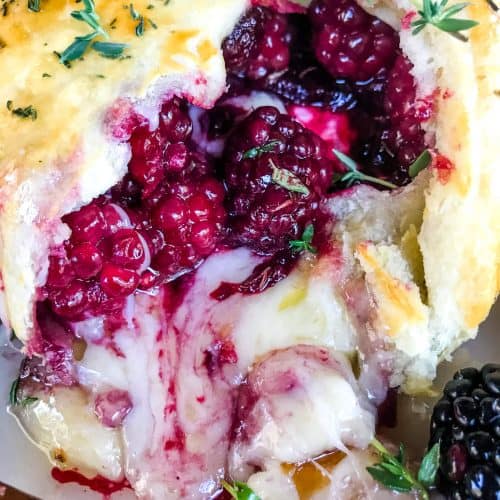 This Thyme Blackberry Baked Brie in Puff Pastry is my new favorite go-to for holiday entertaining recipes!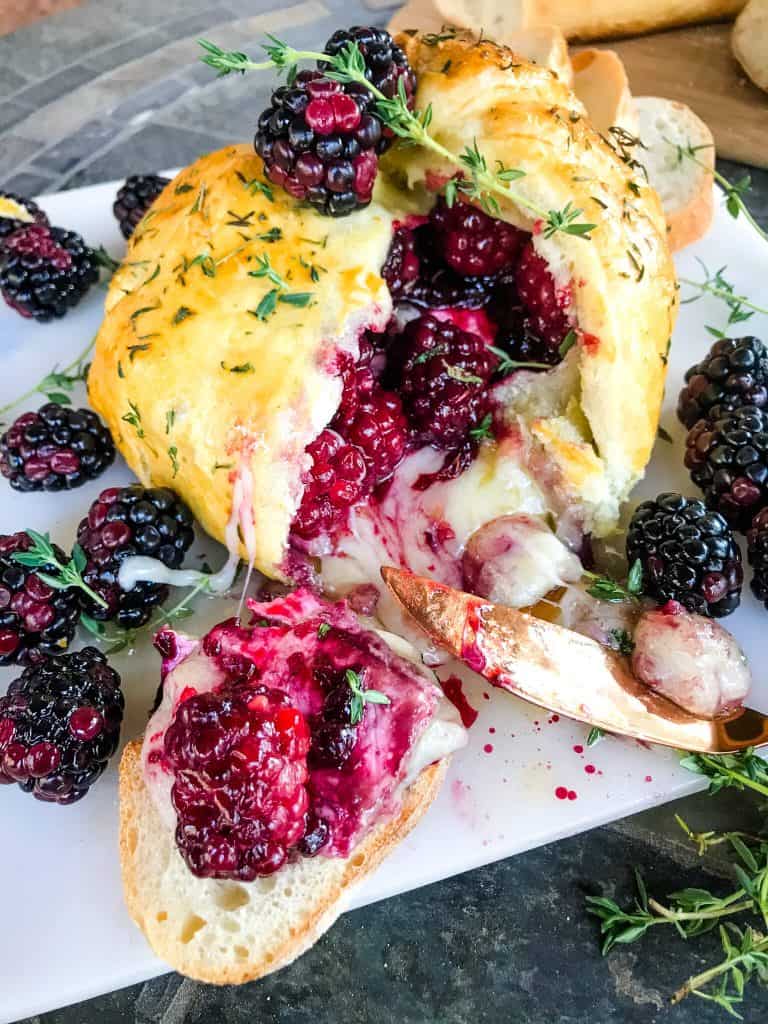 This post contains affiliate links.
Making a brie in puff pastry is incredibly simple and a beautiful Thanksgiving appetizer.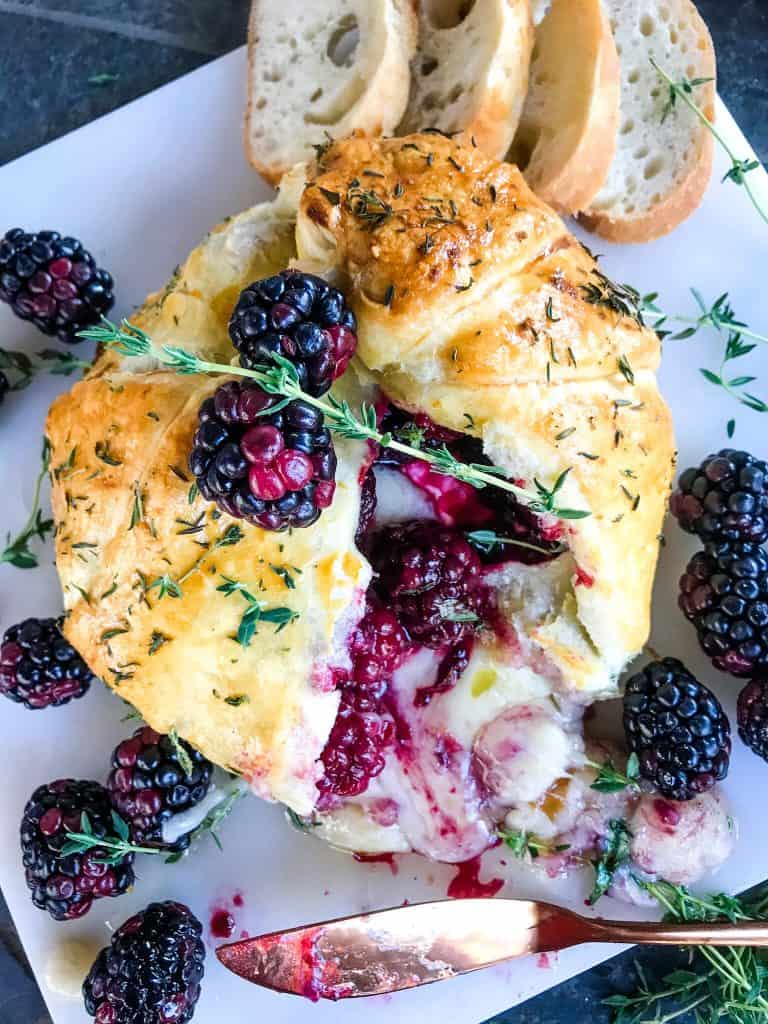 I have made this Thyme Blackberry Baked Brie in Puff Pastry a few times for different people and it is always a hit!
Personally, I am a huge fan of berries and the tartness and freshness they bring to this holiday appetizer recipe.
So I like to use the full package of blackberries instead of the 2/3 cup.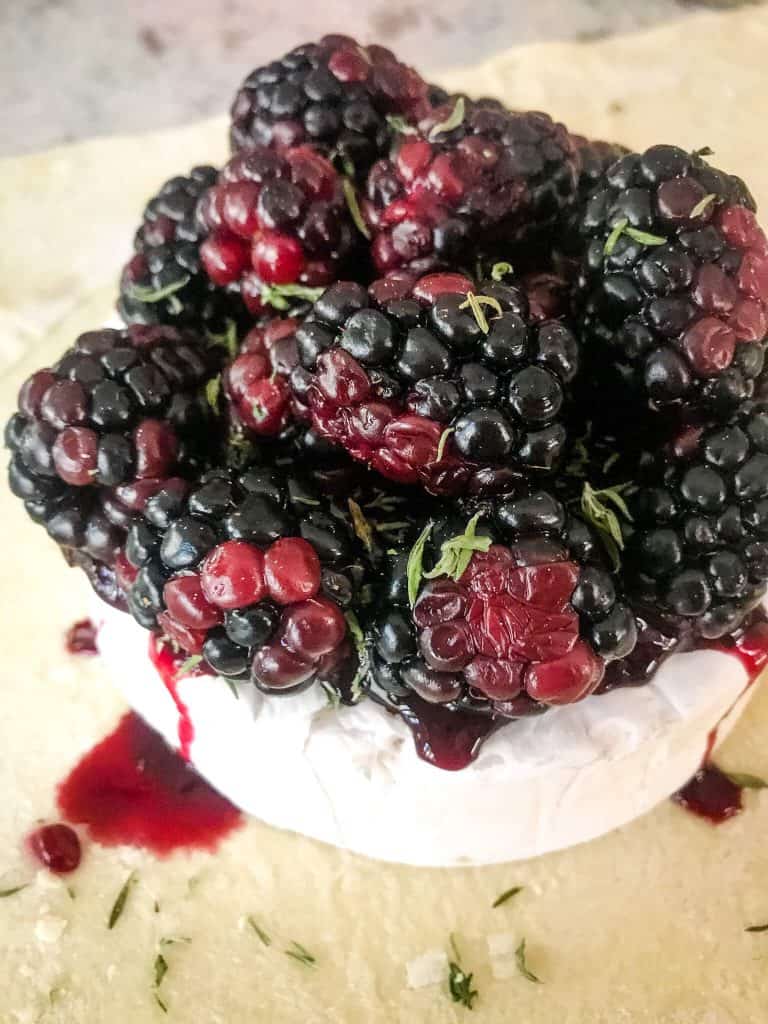 I like to serve this Christmas appetizer with some crostini bread or crackers. Apples are a great low carb and fresh option as well!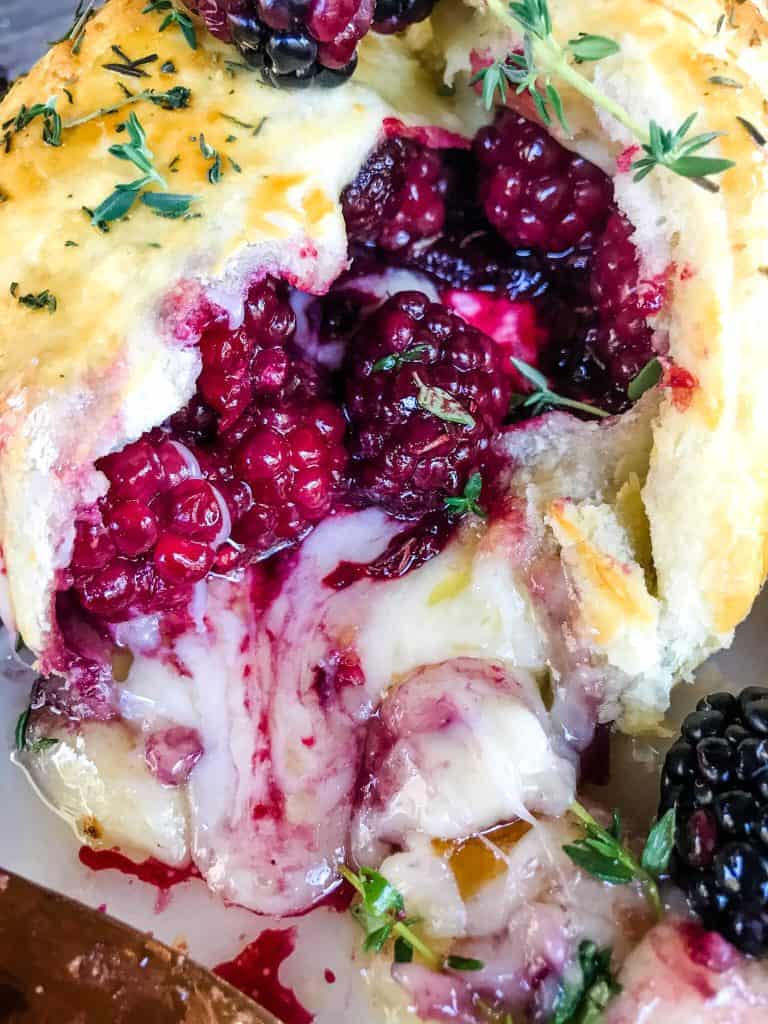 Cheese Selection
This is very important!
In order to get the cheese melted and gooey, you need to buy the normal, full fat brie cheese wheel.
Do NOT buy a light or low fat cheese! It will NOT melt!
I mistakenly bought a light brie cheese the first time I made this and after a LOT of heating, it was still in a solid state.
It was quite sad, as everyone there were cheese lovers and very excited about this cheese appetizer.
So make sure that the brie cheese you buy is a regular, normal, full fat variety.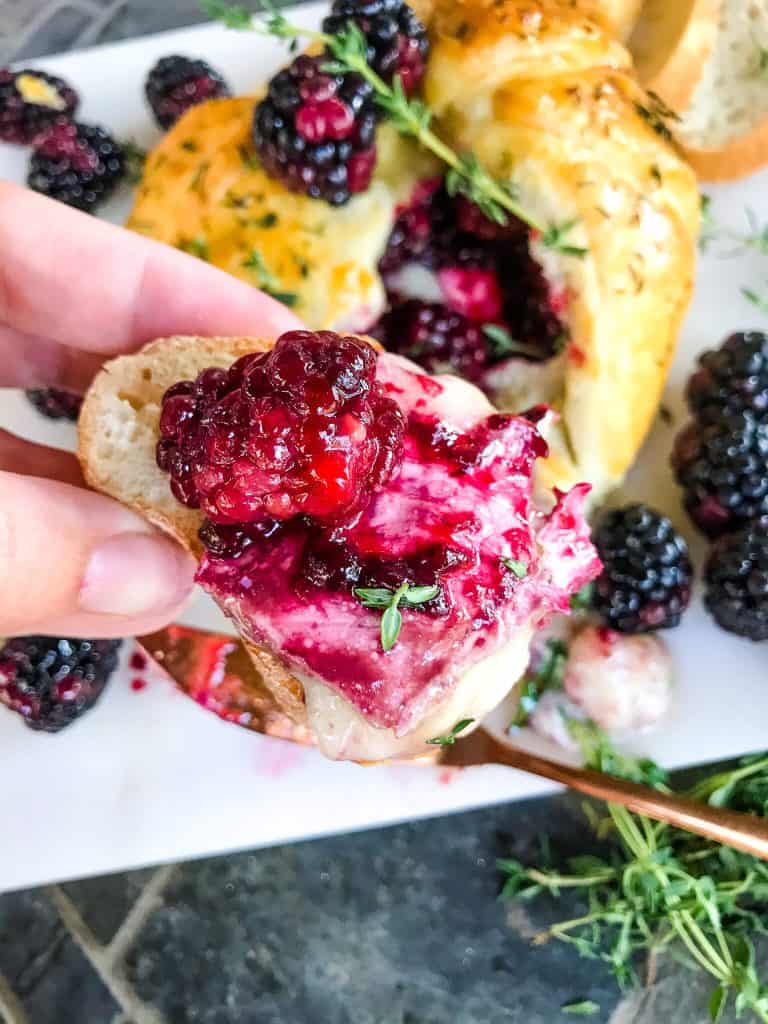 Modifications
There are a few modifications or variations you can use in this recipe based on preference or what is available.
Frozen blackberries will work just fine! Make sure that you thaw and drain them before cooking, however, or else there will be too much moisture and it will get soggy.
You could also go for a berry mixture or any specific berry that you love.
Dried thyme works just fine in place of fresh thyme. Simply decrease the amount you use to about 1/2 teaspoon dried thyme total. Dried herbs have much more concentration than fresh as they have shrunken from lack of moisture.
Blackberry jam can be tricky to find sometimes. I prefer to make Homemade Blackberry Jam which is perfect for this recipe!
A good substitute would be another berry jam like raspberry, or even cherry!
Some people I know use crescent roll sheets instead of puff pastry. I would not recommend this. It is a very different flavor and much denser without the flakiness. It works in a pinch or if you prefer it, but otherwise I would steer clear of it.
And to repeat, do NOT but a light brie cheese. Go full fat.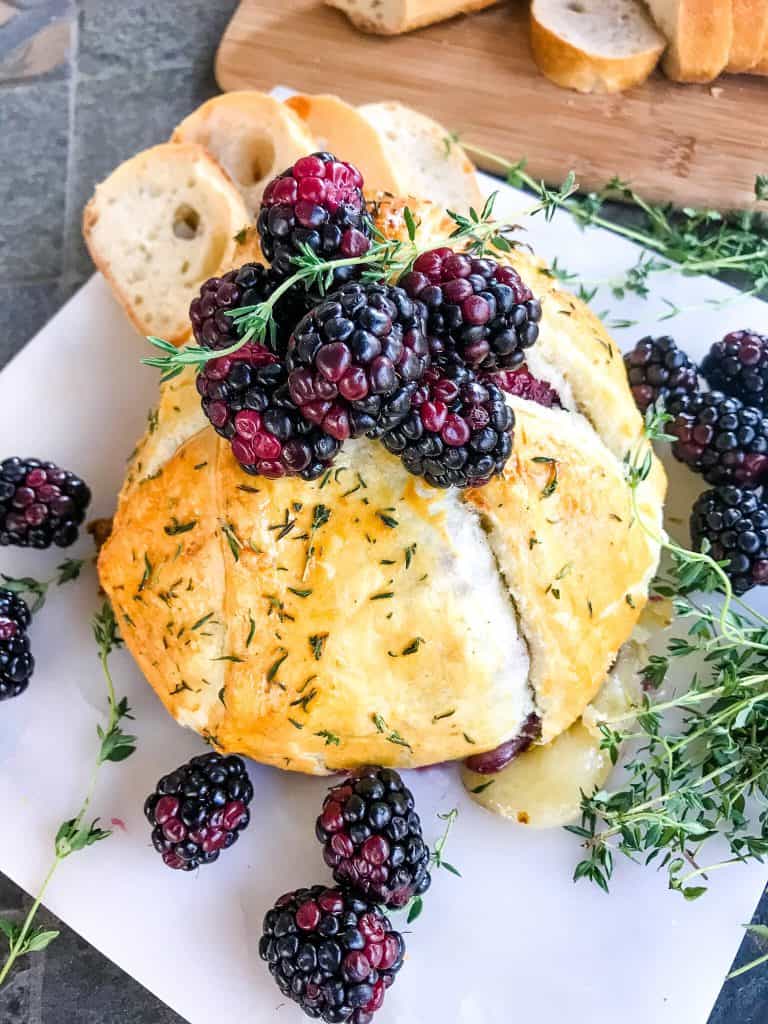 Blackberry Recipes
Delicious recipes featuring blackberries! Both sweet and savory.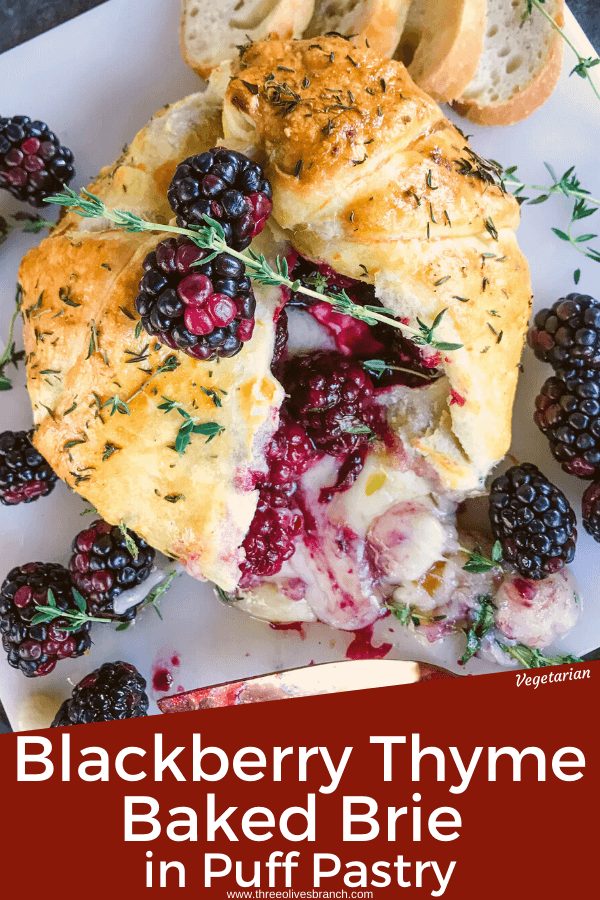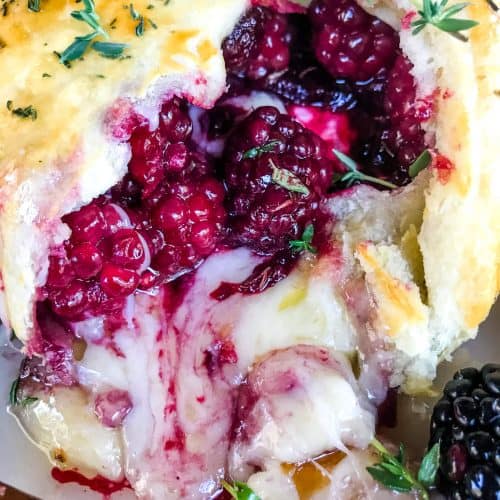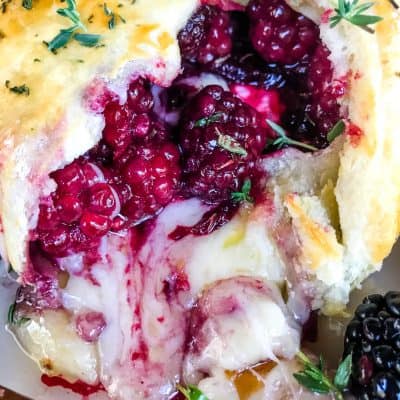 Thyme Blackberry Baked Brie in Puff Pastry
Melted brie cheese with blackberries and thyme wrapped in puff pastry for a warm and gooey appetizer!
Print
Pin
Rate
Equipment
Cookie cutters or pie cutters (optional)
Instructions
Roll out the puff pastry, with a silicone baking mat or parchment paper on top to prevent sticking, until it is 11 by 11 inches. Place the puff pastry on a piece of parchment or silicone baking mat that is on a baking sheet.

Place the whole brie wheel in the center of the puff pastry.

Spread the jam on top of the brie, almost to the edges.

Add the blackberries on top of the brie, piled up as needed.

Sprinkle 1/2 teaspoon of the fresh thyme on top of the blackberries.

Beat the egg in a small bowl.

Pull one corned of the puff pastry up and over the brie, snuggly against the cheese.

Using a basting brush, brush the egg onto the puff pastry that is folded up onto the brie. This will help the following pieces stick together.

Repeat pulling edges of the puff pastry up onto the brie, brushing each section with egg, all the way around the brie.

Remove excess puff pastry dough that has collected at the top of the brie wheel.

If desired, use small cookie cutters or pie dough cutters to cut shapes out of the excess dough. Apply the shapes with extra egg under and on top of the shapes.

Brush additional egg on any exposed puff pastry that is still dry.

Sprinkle the remaining fresh thyme across the top of the puff pastry.

Bake the brie for 25-30 minutes until the puff pastry is cooked and golden.

Remove and serve immediately with crostini bread slices, apple wedges, or crackers.
Notes
This appetizer goes much further than 6 if you are serving other foods.
Keep a close eye on the pastry as it is baking to ensure it is not getting too dark.
Use full fat brie, not light brie. Light brie does not melt.
For a berry heavy appetizer, use a full 6 ounce package.
Nutrition
Serving:

1

serving

|

Calories:

381

kcal

|

Carbohydrates:

23

g

|

Protein:

12

g

|

Fat:

27

g

|

Saturated Fat:

11

g

|

Cholesterol:

65

mg

|

Sodium:

352

mg

|

Potassium:

92

mg

|

Fiber:

1

g

|

Sugar:

4

g

|

Vitamin A:

279

IU

|

Vitamin C:

1

mg

|

Calcium:

78

mg

|

Iron:

1

mg

By