Vegetable Teriyaki Stir Fry recipe is a perfect weeknight meal idea! Made with a homemade sauce with lots of veggies. Use any vegetables you like and serve with white rice, brown rice, or noodles. Gluten free, dairy free, vegan, and vegetarian.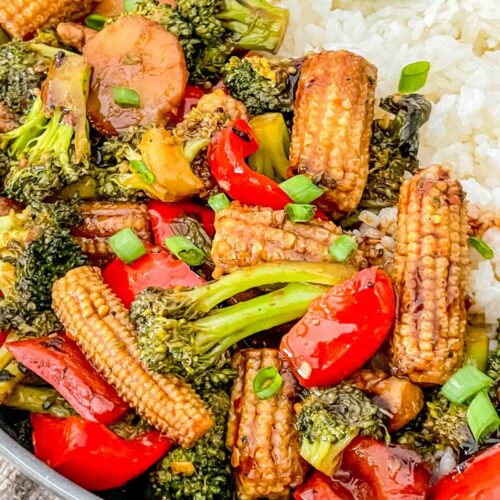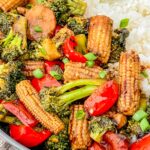 Vegetable Teriyaki Stir Fry comes together in just minutes! A fast and easy weeknight meal with lots of veggies and Asian flavors.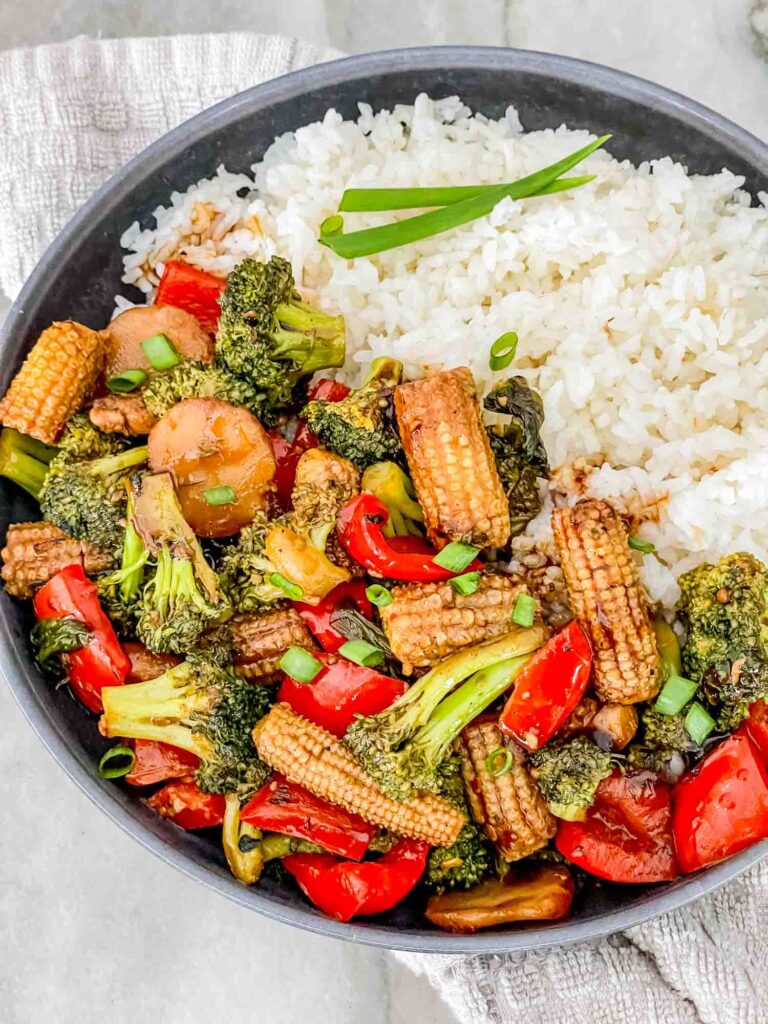 Why You Will Love This Recipe
This Vegetable Teriyaki Stir Fry is a great way to get your veggies in!
Clear out your fridge and use any veggies you have on hand or prefer.
Made with an easy homemade teriyaki sauce, this recipe is gluten free, dairy free, vegan, and vegetarian. And all cooked in less than 30 minutes.
Ingredients
These are the ingredients you need for a vegetable stir fry:
Broccoli
Bell Pepper
Baby Corn
Water Chestnuts
Green Onions
Soy Sauce
White Wine Vinegar
Vegetable Stock or Broth
Cornstarch
Sugar
Red Pepper Flakes
Salt
You can use different veggies as desired based on what you like or have on hand! Other great options include onions, cauliflower, carrots, green beans, and snap peas.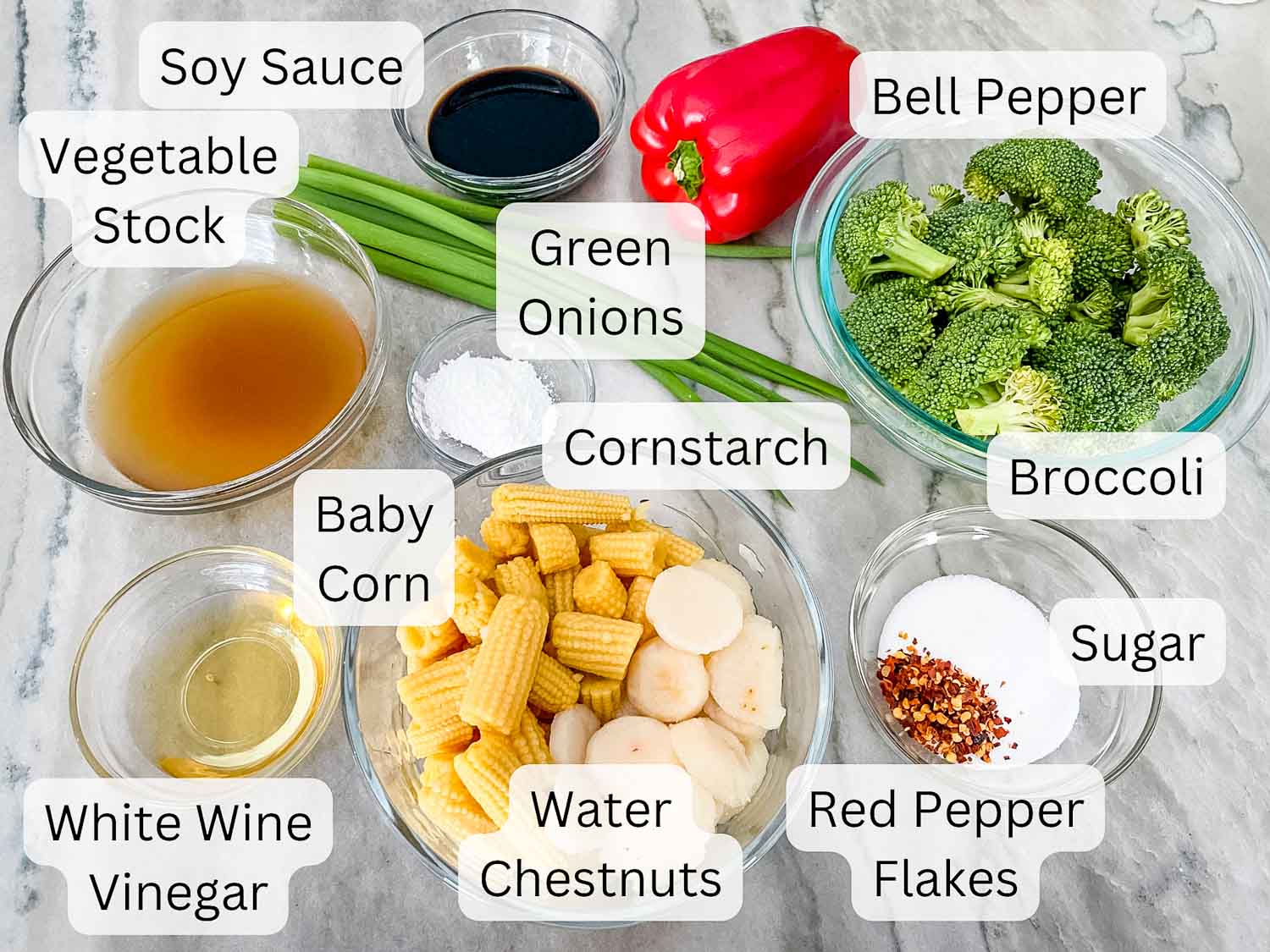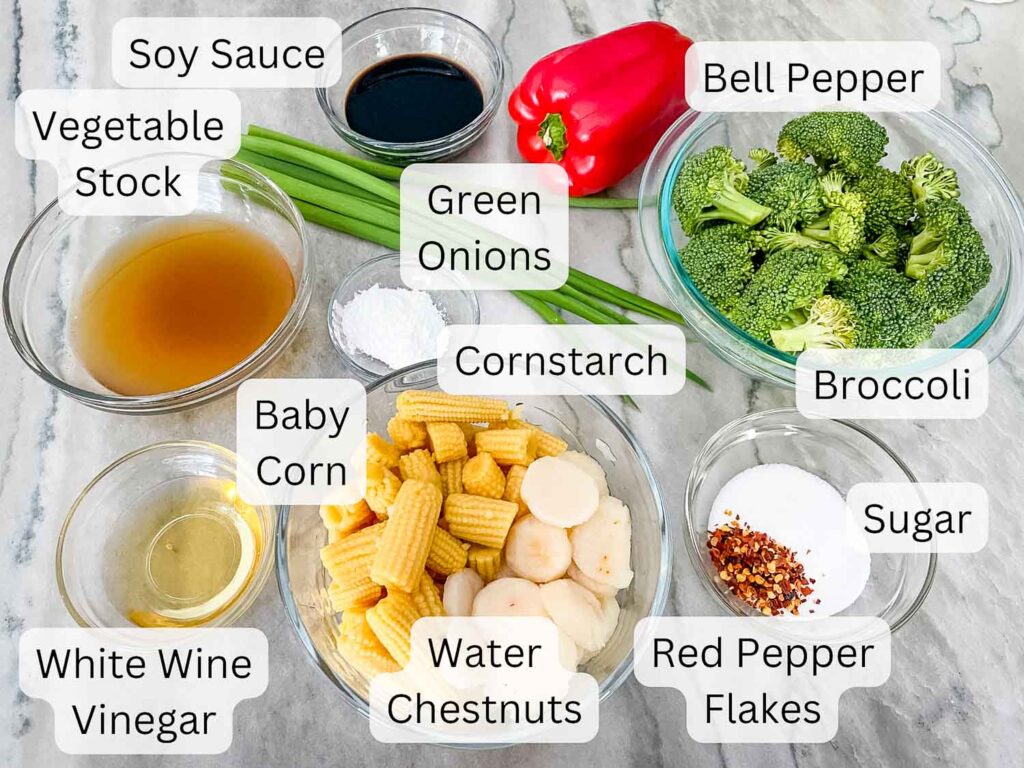 Equipment
This is the equipment you need for a veggie stir fry:
Knife
Cutting Board
Measuring Cups
Measuring Spoons
Large Skillet
Instruction Overview
See full instructions and details for how to make vegetarian stir-fry in the recipe card below.
First make your sauce by whisking together all of the ingredients. It will be very thin as it does not thicken until cooked!
Prep all of your veggies.
Heat a large skillet over high heat.
Add some oil and start cooking your broccoli, steaming with some water.
Then add the rest of your vegetables and cook a few minutes.
Add your sauce, stir, and cook until the sauce is just thickened.
Remove from the heat and serve as desired!
Garnishes can include more green onion, peanuts, and sesame seeds!
Modifications and Substitutions
Use any vegetables that you like or have on hand! Ideas include onions, cauliflower, carrots, green beans, and snap peas.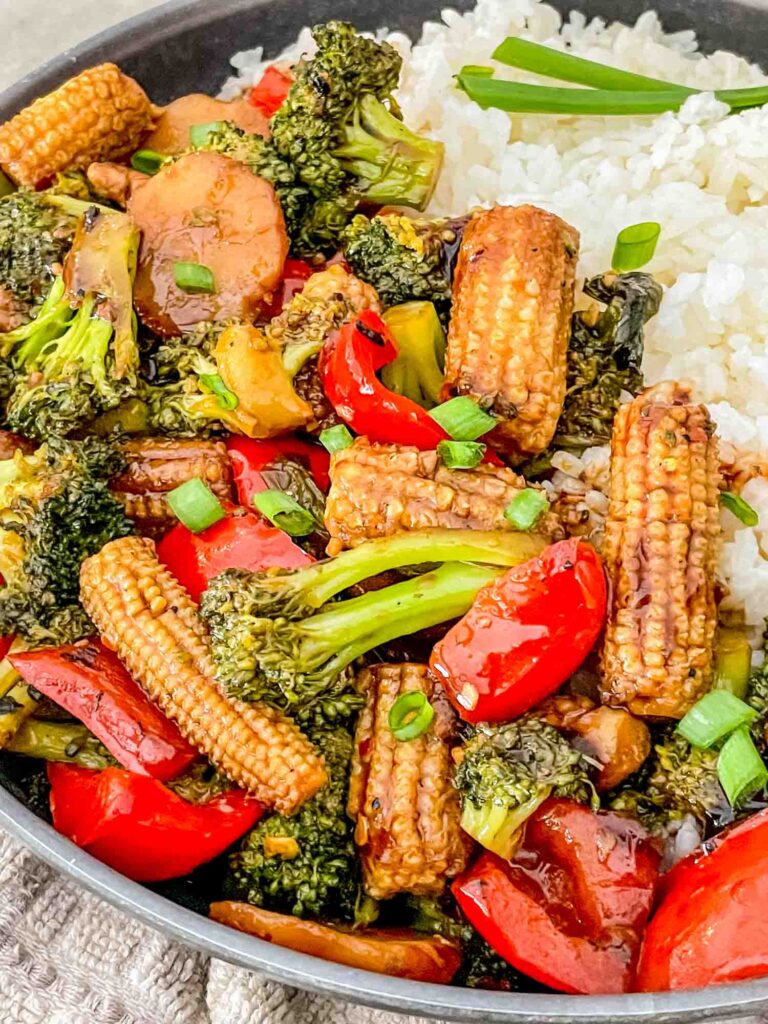 Kim's Tips
Everything cooks VERY fast so make sure it is all ready to go and close to the stove when you start cooking!
This dish is great served alongside white rice, brown rice, or noodles!
Cooking on a high heat is key for stir fry to get a quick cook with color, but also makes it easier to burn. Watch your pan and adjust your heat accordingly to keep it hot without being too hot and burning.
FAQs
Is teriyaki the same as stir fry?
Not exactly.
Teriyaki sauce is a kind of stir fry sauce. But stir fry sauces can come in many flavor options.
Does teriyaki sauce go on before or after cooking?
This sauce is briefly cooked alongside the vegetables at the end so it can thicken up.
Teriyaki has a lot of sugar in it so it only needs a brief cooking time or else it can burn.
What does teriyaki stir fry sauce taste like?
Teriyaki stir fry sauce is slightly sweet, a little tangy, and a little sticky.
Do you put soy sauce in teriyaki?
Yes, it is one of the main ingredients.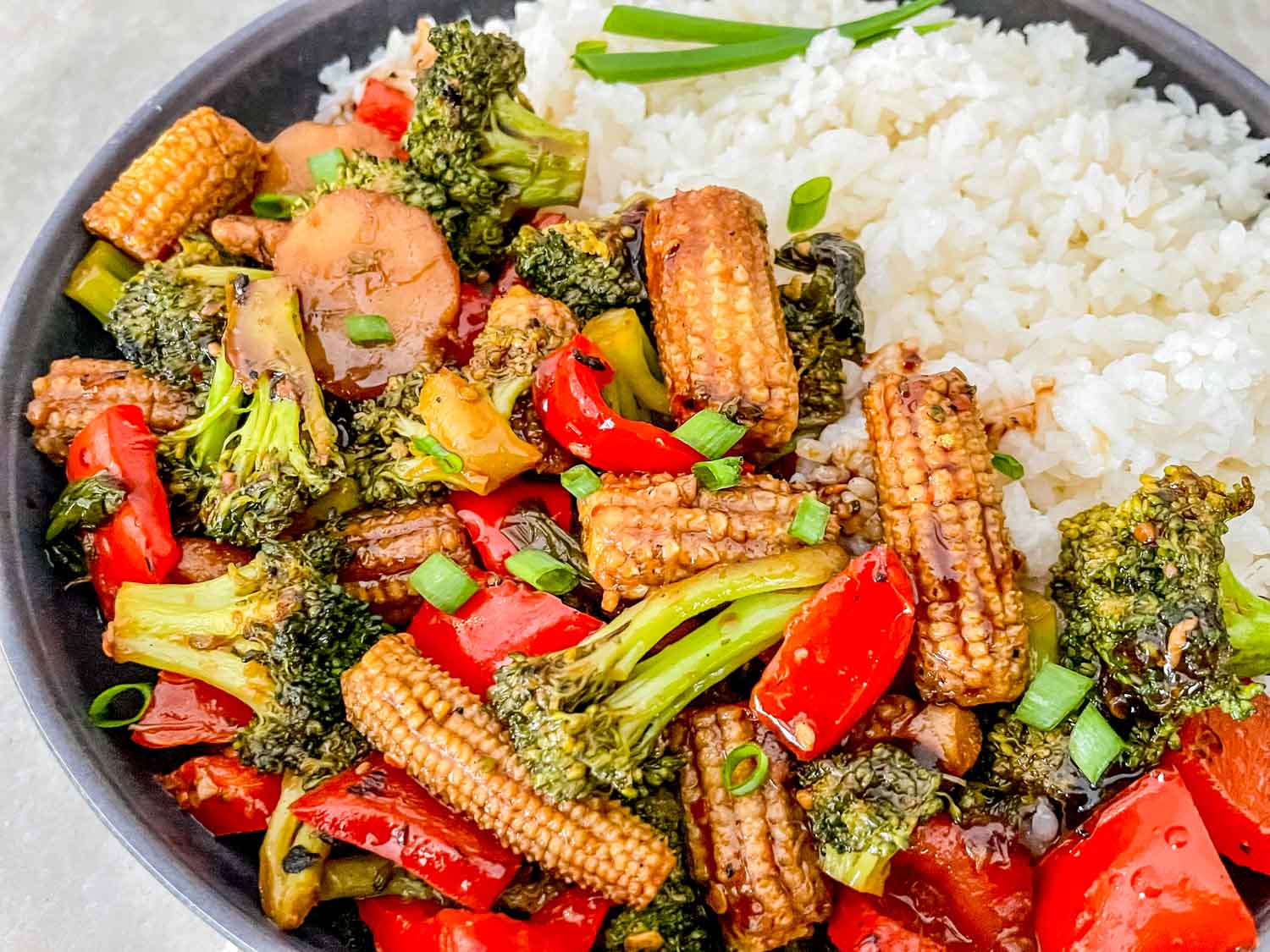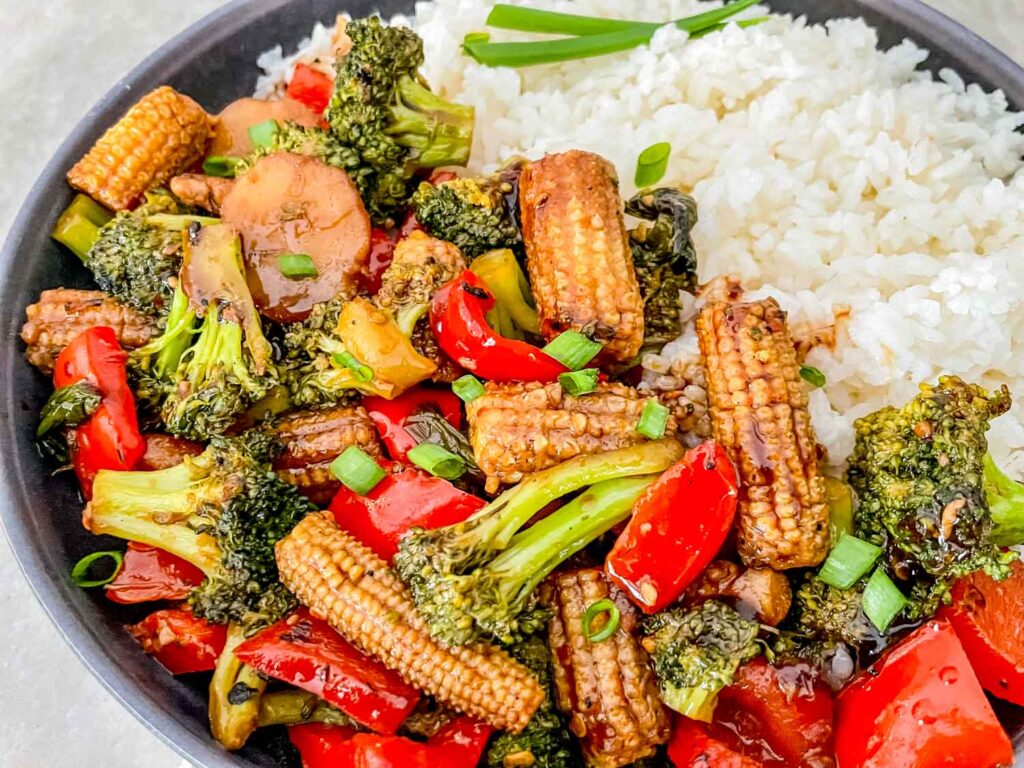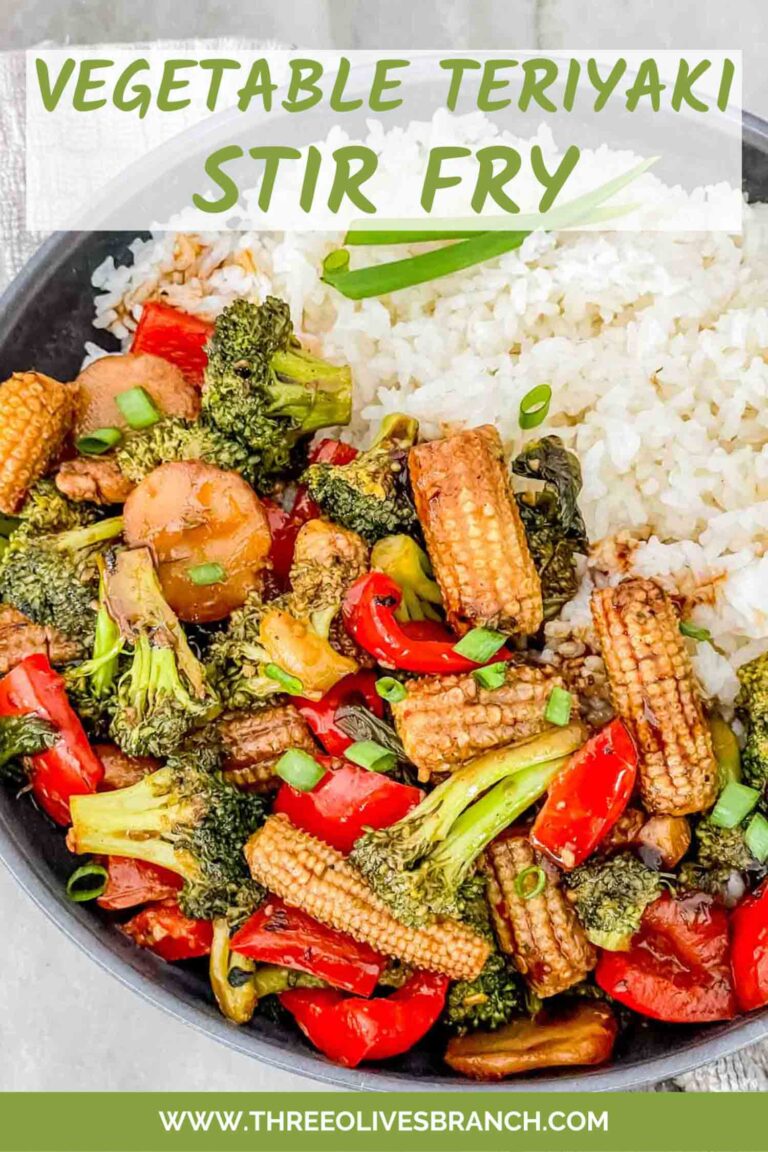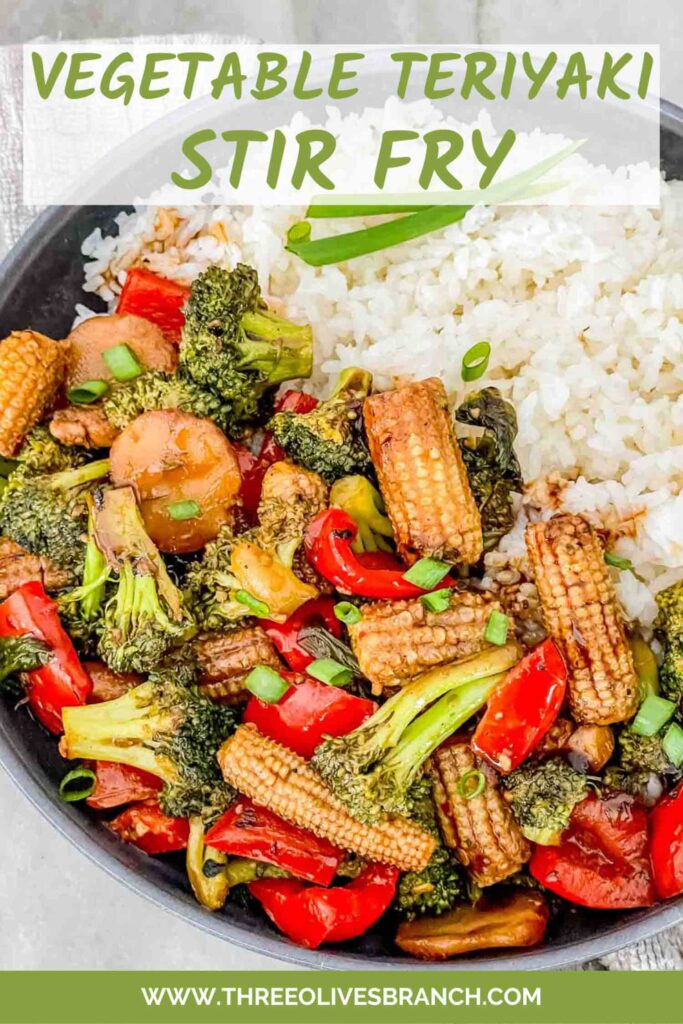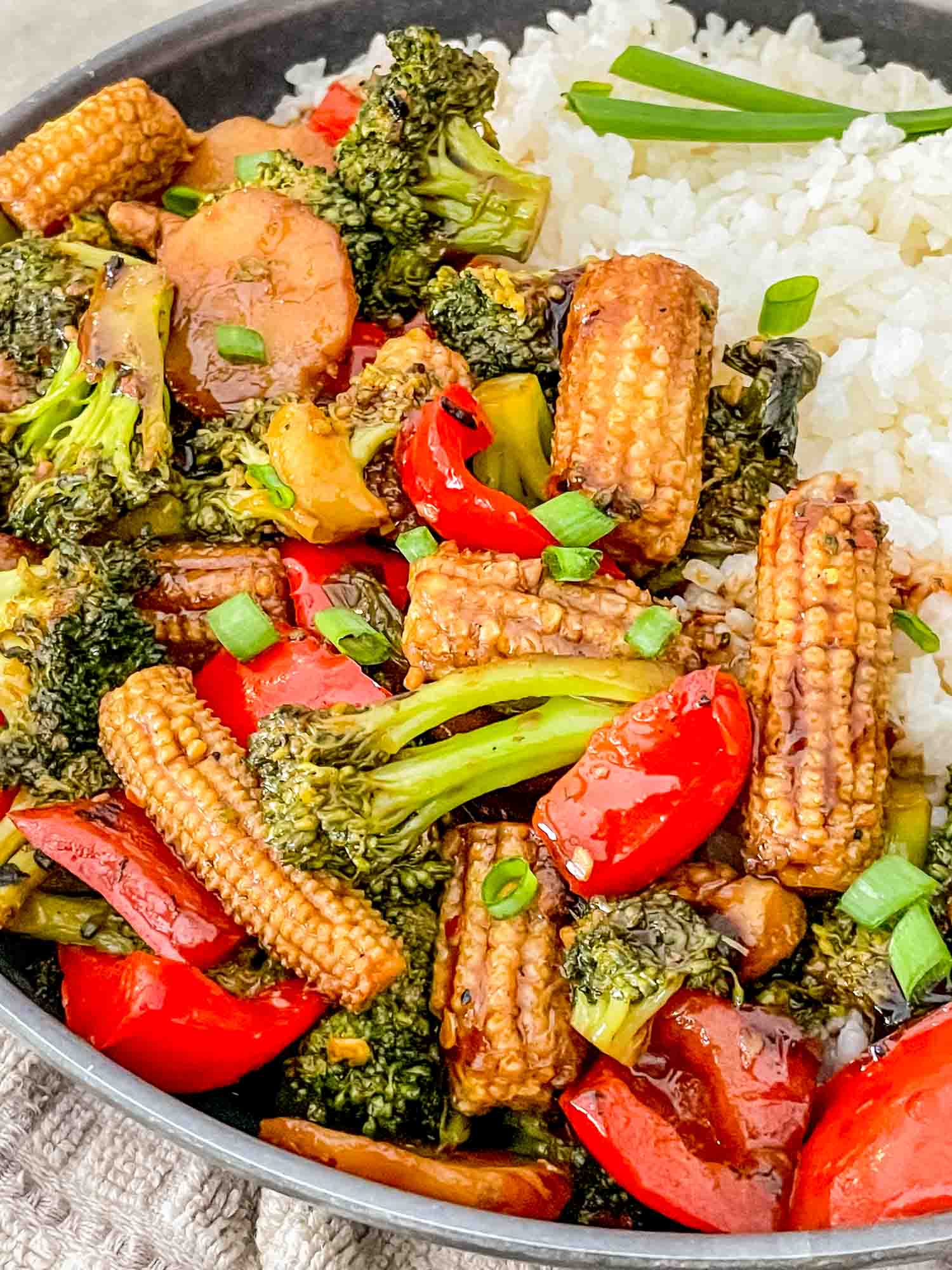 Instructions
Prepare your teriyaki sauce by whisking all sauce ingredients together. Set aside or refrigerate if making later.

½ cup vegetable stock,

3 Tablespoons soy sauce,

2 Tablespoons white wine vinegar,

2 Tablespoons sugar,

2 teaspoons cornstarch,

½ teaspoon red pepper flakes

Also prepare your vegetables.

Cut the broccoli into bite sized florets, trim and cut the bell pepper into bite sized pieces about one inch square, and cut the green onions into two inch long segments. Set aside.

¾ pound broccoli,

1 red bell pepper,

4 green onions

When ready to cook, have all of your ingredients out and ready to go (it goes fast!).

Heat a large skillet over medium high heat.

Add a Tablespoon of oil to the hot skillet.

2 Tablespoons vegetable oil

Add the broccoli in a single layer and add the water.

Cover immediately and let the broccoli steam for 2 minutes.

Remove the cover, push the broccoli to one side, and another teaspoon of oil to the empty side, and add the bell pepper, green onions, water chestnuts, and baby corn to the open side of the skillet.

8 ounces baby corn,

4 ounces sliced water chestnuts

Cook the vegetables for 2-3 minutes until starting to get some color and softening but still crisp.

Add the garlic and ginger to the pot. Stir and let cook until fragrant, about 30 seconds.

2 cloves garlic,

1 Tablespoon fresh ginger root

Add the sauce into the skillet.

Stir and cook until the sauce is just thickened, 1-2 minutes.

Remove from heat and serve. Garnish if desired with fresh green onions, sesame seeds, cashews, or peanuts.

Great with white/brown/jasmine rice or noodles.
Notes
Want it to have a kick? Add more red pepper flakes or a chili paste!
Use any vegetables you like or have. Great options include broccoli, cauliflower, green onions, white/yellow onion, bell pepper, snow peas, snap peas, baby corn, water chestnuts, green beans, or carrots.
Want it super saucy? Double the sauce portion of the recipe.
Nutrition
Serving:
1
serving (without rice/noodles)
|
Calories:
159
kcal
|
Carbohydrates:
35
g
|
Protein:
7
g
|
Fat:
1
g
|
Saturated Fat:
0.3
g
|
Polyunsaturated Fat:
1
g
|
Monounsaturated Fat:
0.3
g
|
Sodium:
913
mg
|
Potassium:
590
mg
|
Fiber:
6
g
|
Sugar:
13
g
|
Vitamin A:
1867
IU
|
Vitamin C:
120
mg
|
Calcium:
62
mg
|
Iron:
2
mg
More Stir Fry Recipes
By