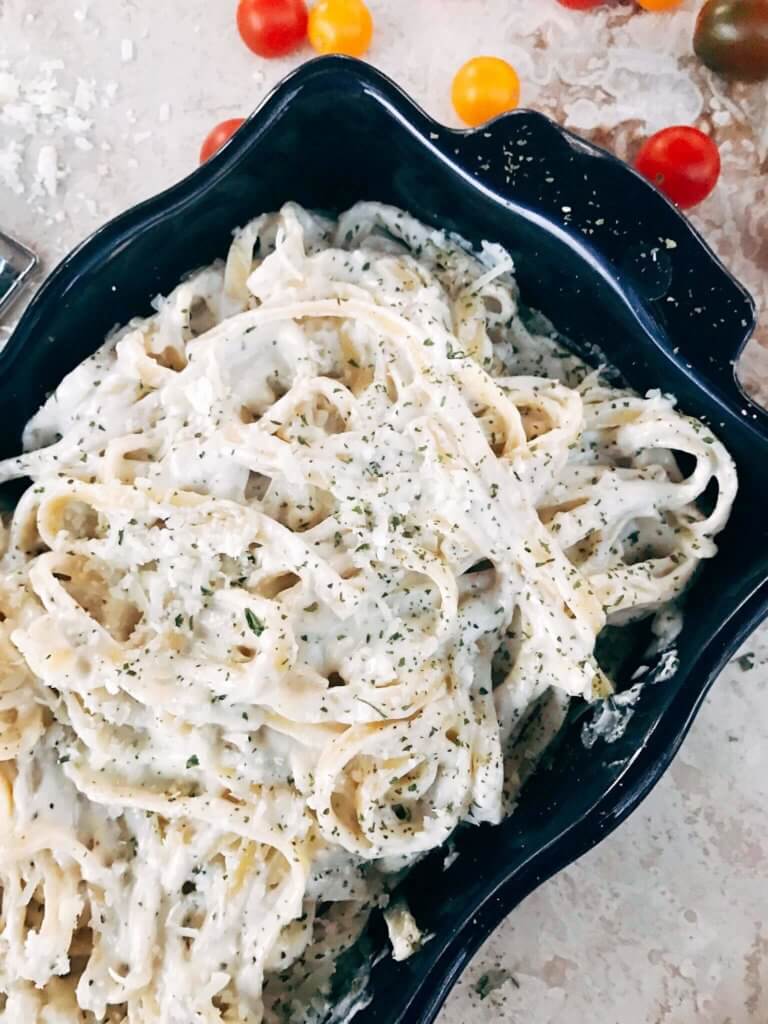 Finding the perfect alfredo sauce has been quite the difficult task. It seems so simple! After some experimenting, I think this Copycat Olive Garden Fettuccine Alfredo is better than the original! But now that I know how to make an amazing alfredo, it is a little dangerous. I have to resist making this hearty dish too often!
I can't get enough of this stuff.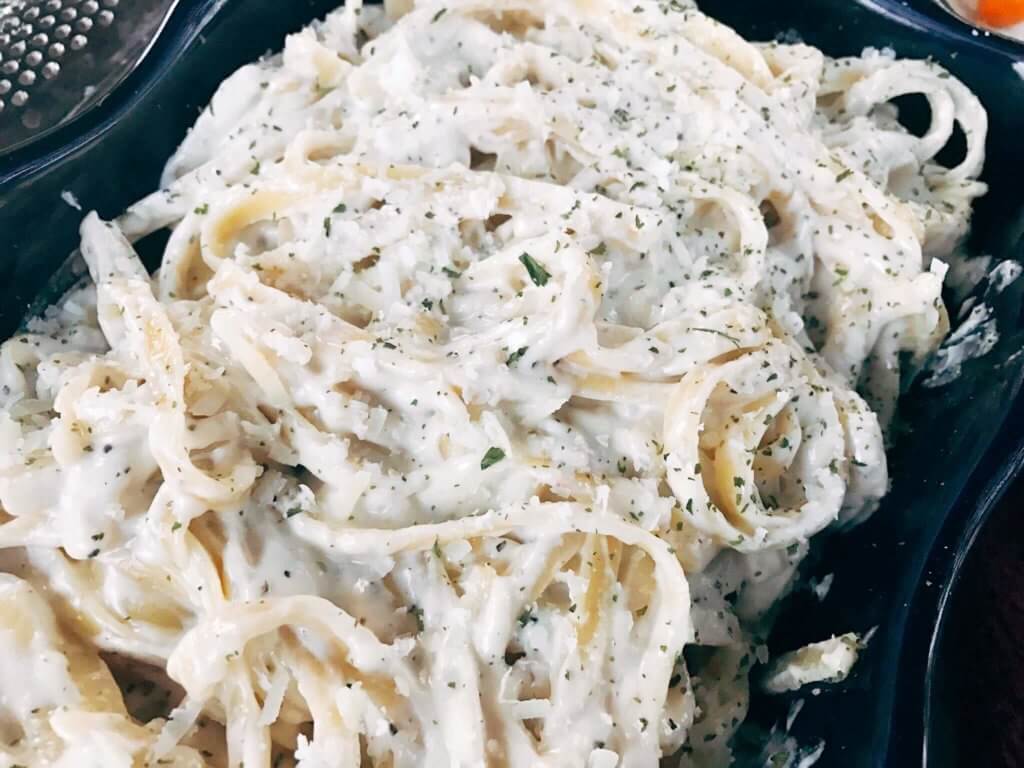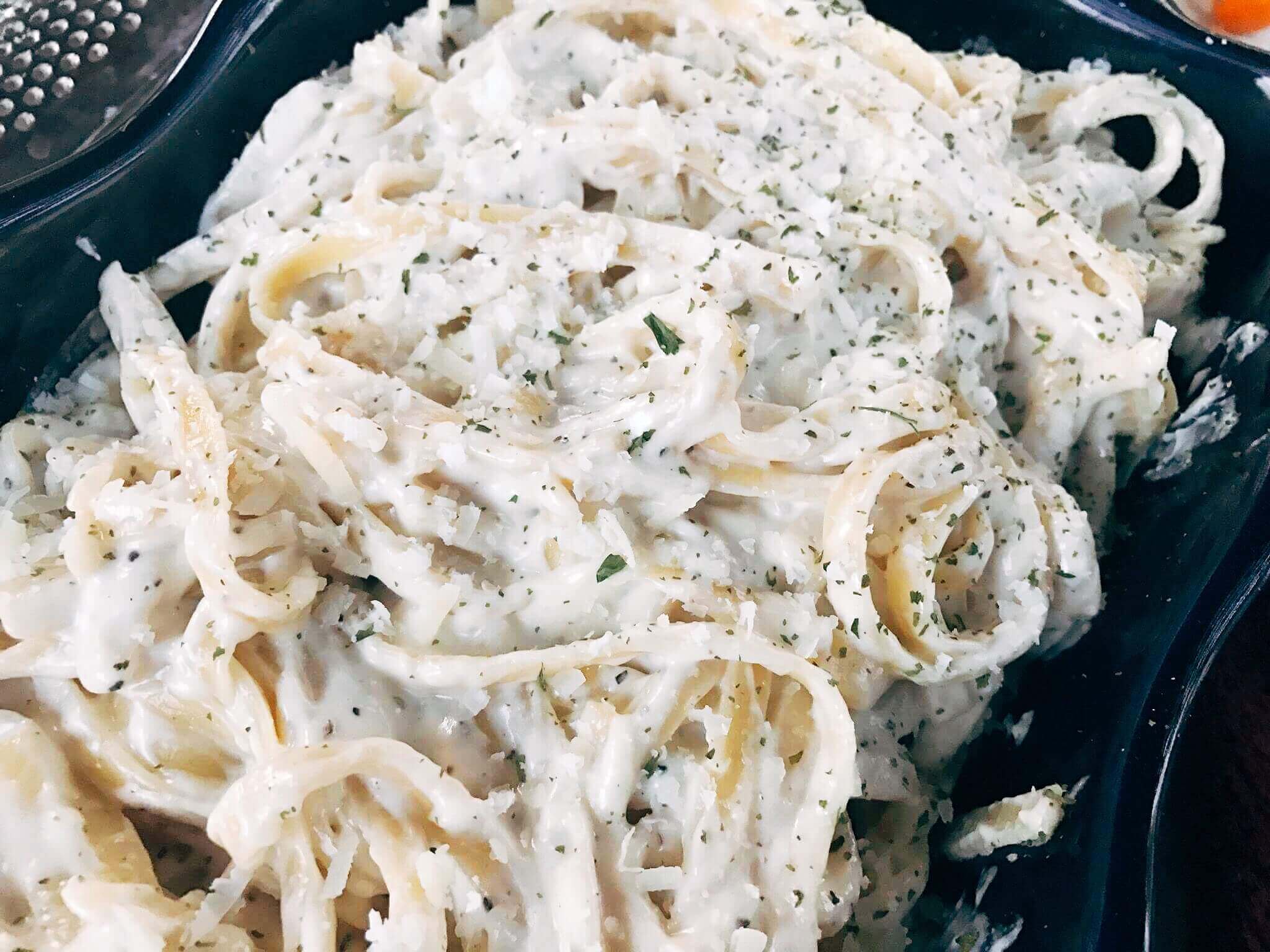 This Copycat Olive Garden Fettuccine Alfredo has now become a popular requested dish in the house, including friend birthdays and dinner parties! The sauce does not hold over too well, so it is best to make it at go-time, but since it is so simple and fast, it is not a problem!
This post contains affiliate links.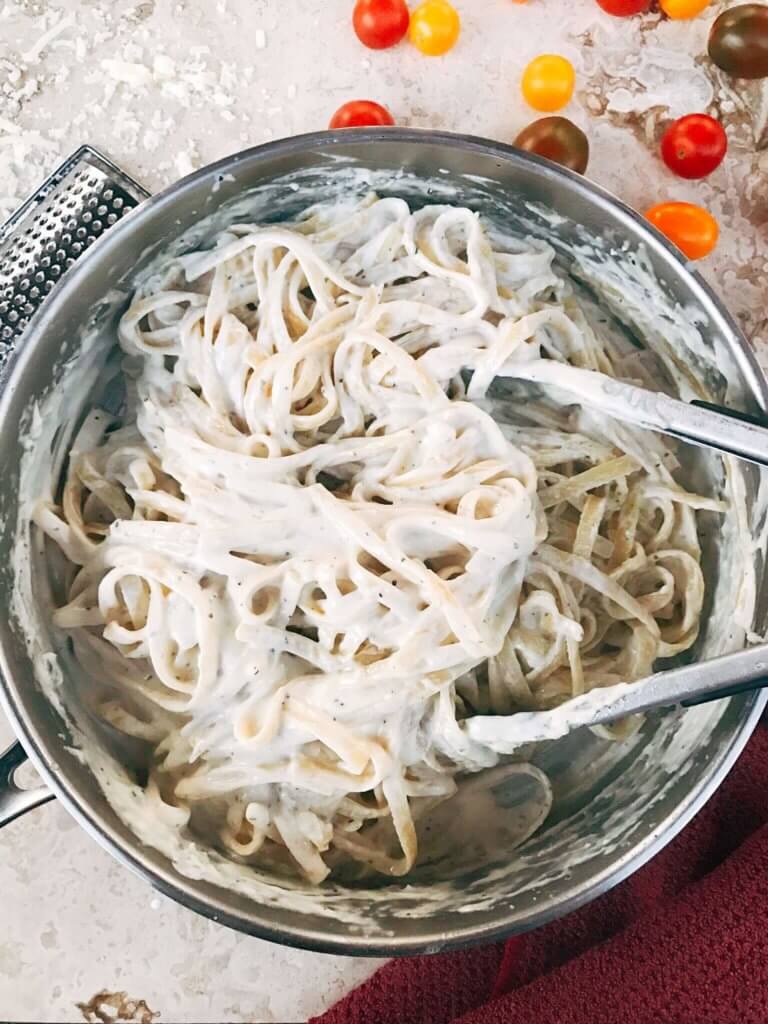 Our Copycat Olive Garden Steak Gorgonzola Alfredo has been a longstanding hit and one of the most popular recipes last year. With this recipe, we go back to the classic alfredo sauce. I do personally think that this sauce is better than the original. You can customize it to your exact taste preferences, perhaps making this Copycat Olive Garden Fettuccine Alfredo better than the original. We love an alfredo that is heavier on the black pepper, so we add more. Love cheese? Use more Parmesan!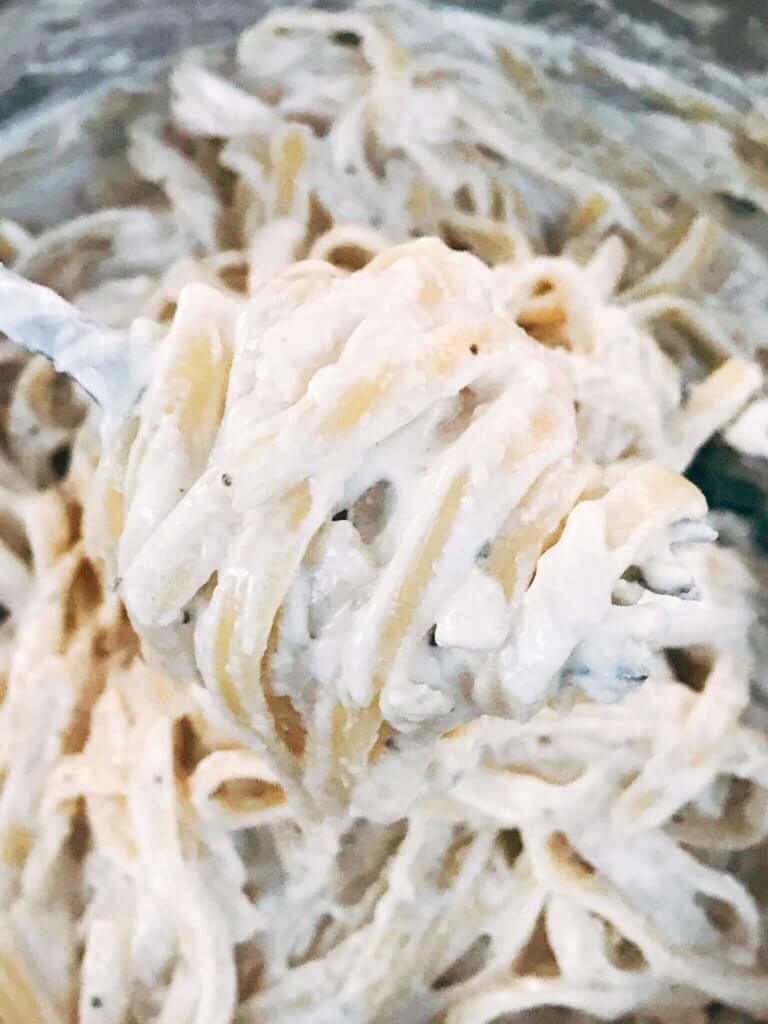 Alfredo can be heavy, so I love to add in steamed vegetables into the pasta itself. My favorites are spinach, peas, and broccoli. My husband's favorite thing to do is drizzle on some balsamic glaze. The acidity of the balsamic cuts through some of the richness in the pasta. We use this glaze on everything!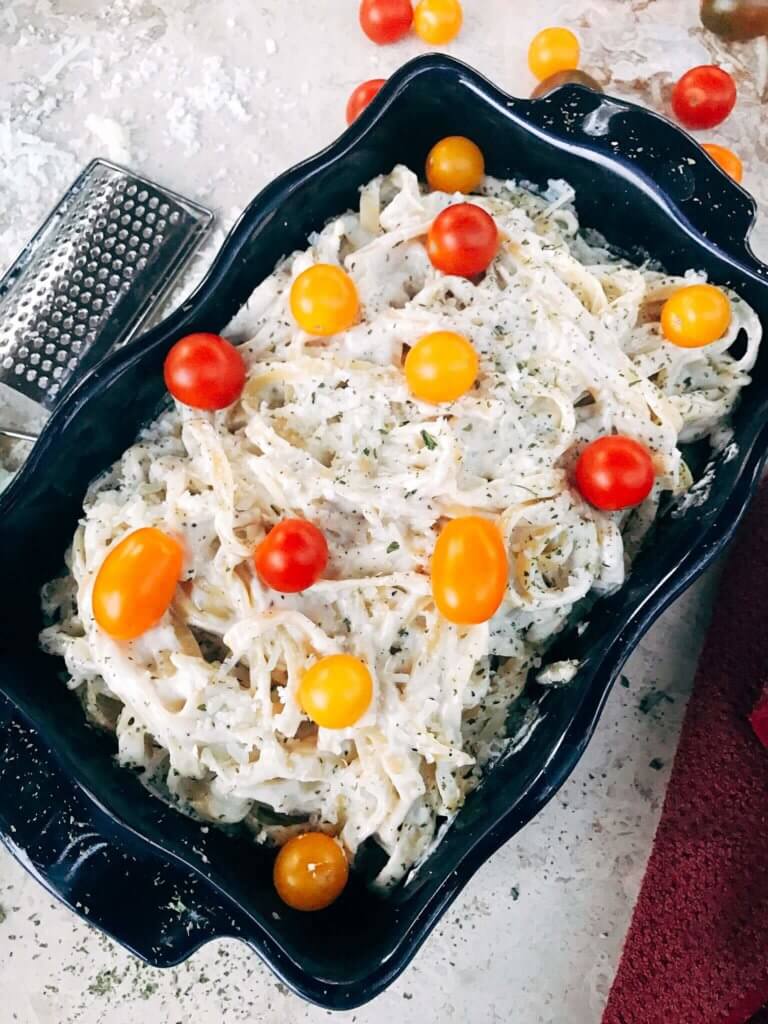 Cheese is definitely the star here, so ideally you want to get good quality cheese. The better the cheese, the better the Copycat Olive Garden Fettuccine Alfredo will taste. None of that ground, canned stuff!!! I love to buy wedges of Parmesan Reggiano cheese and use (affiliate) one of my favorite tools, a food processor, to shred the brick and then I keep it in my refrigerator in plastic bags so that I always have fresh, quality cheese shredded on hand. If you make healthier and higher-quality foods easier to access, you will use them more often.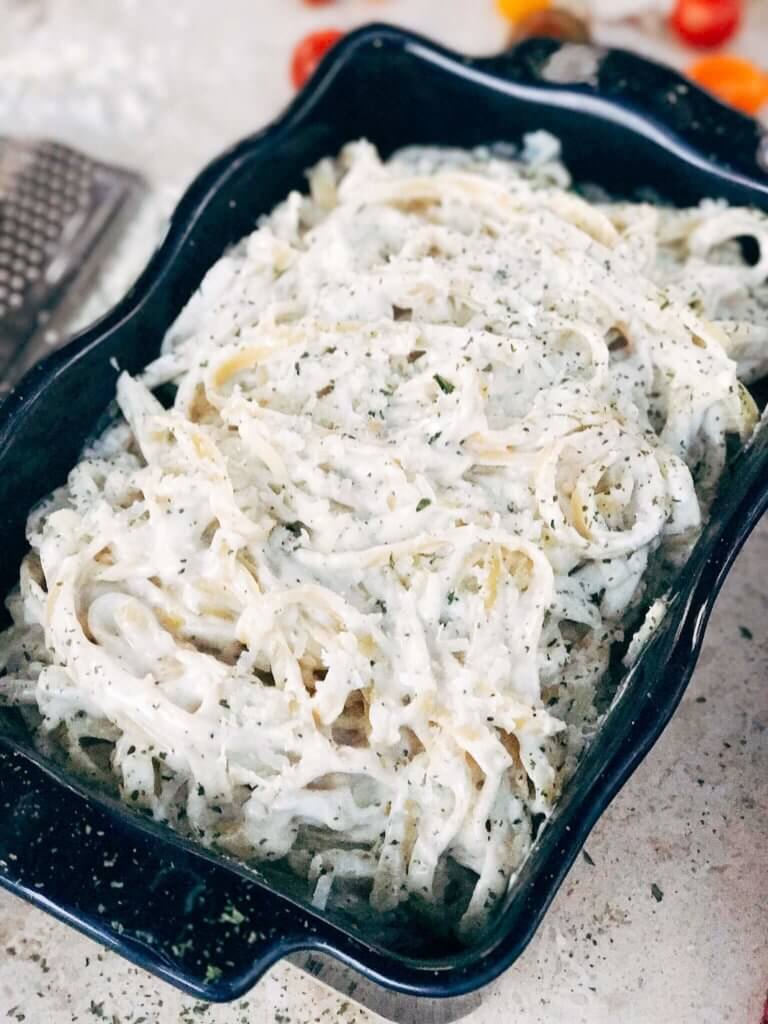 I love bringing the restaurant home with dishes like this. What are some of your favorite restaurant meals that you wish you could recreate?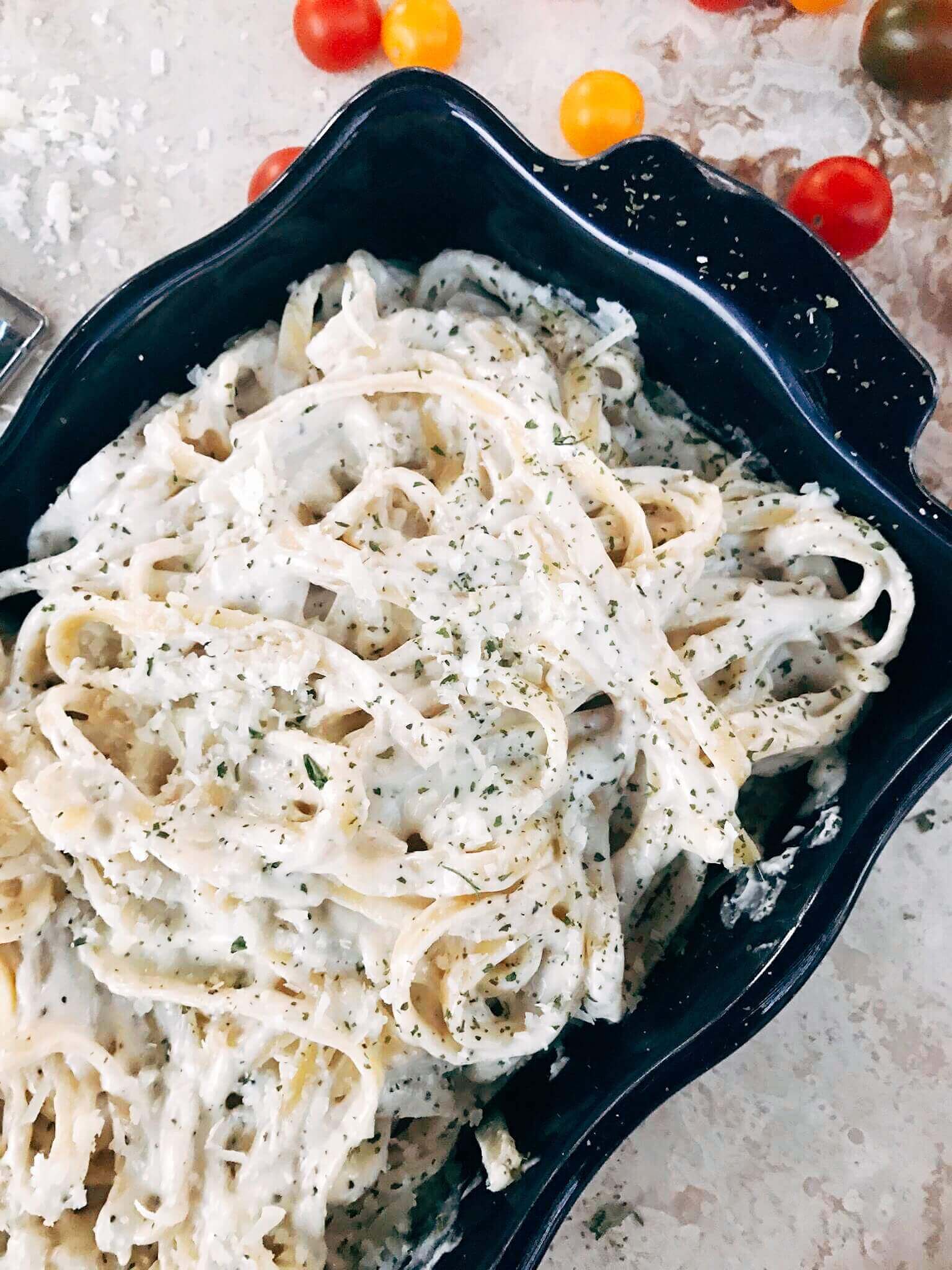 Ingredients
1

pound

fettuccine

1/4

pound

unsalted butter

(1 stick)

2

cups

heavy cream

1/4

teaspoon

nutmeg

1 1/2

cups

freshly grated Parmesan

(see note)
Instructions
Start the water for the fettuccine pasta. Cook as per package directions until just shy of al dente (it will be added to the sauce later and will continue to cook). If the pasta is done too early, drain and set aside while reserving 1 cup of the cooking liquid just in case the sauce is too thick.

As the water is starting for the pasta, combine the butter and cream in a large pot or a wide skillet with tall edges (like the one in my picture). Heat over medium until the butter is melted into the cream.

Turn heat down to medium low. Add the nutmeg to the cream and butter mixture. Whisk to combine.

Add the Parmesan cheese. Season with salt and pepper to taste (cheese is salty, so make sure you do not salt until after the Parmesan is added).

Add the pasta to the sauce and toss to coat. Let it cook for 2-3 minutes to combine the flavors. If the sauce is too thick, add a little pasta water at a time to loosen the sauce (or cream). If too thin, let it cook a little longer.

Mix in steamed vegetables or serve with chicken or sausage if desired. Serve immediately.
Notes
The quality of the cheese is very important since it is the star of the dish.  Use any freshly grated Parmesan cheese.
Lighten the dish with adding steamed vegetables, such as peas or broccoli.  Add some chicken or sausage for the meat lovers.
(Affiliate) Make shredding cheese easy by using one of my favorite tools, a food processor!
To ensure a truly vegetarian dish, make sure the cheese is vegetarian.
Nutrition
Calories:
1197
kcal
|
Carbohydrates:
85
g
|
Protein:
32
g
|
Fat:
82
g
|
Saturated Fat:
49
g
|
Cholesterol:
345
mg
|
Sodium:
673
mg
|
Potassium:
400
mg
|
Fiber:
4
g
|
Sugar:
3
g
|
Vitamin A:
2821
IU
|
Vitamin C:
1
mg
|
Calcium:
568
mg
|
Iron:
2
mg