This Asparagus Omelette is an easy breakfast or brunch recipe. A fast vegetarian egg meal, this omelet is packed with cheese and spring vegetables. Gluten free and keto low carb.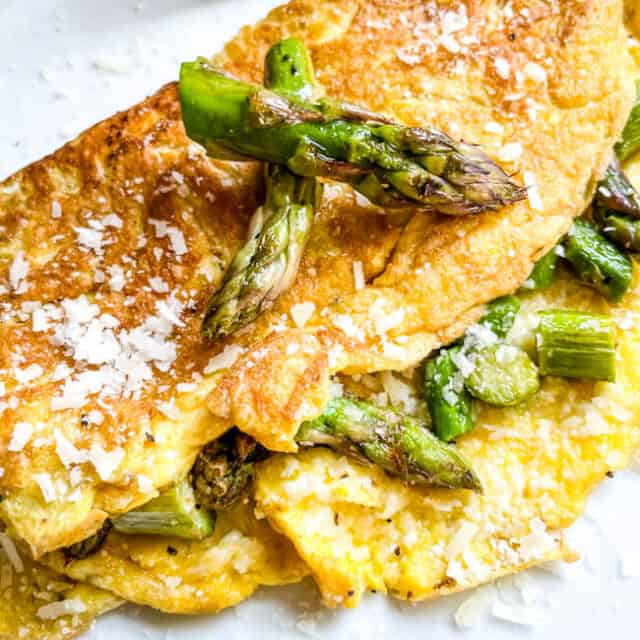 This Asparagus Omelette is a perfect way to highlight the popular spring vegetable in a simple breakfast recipe.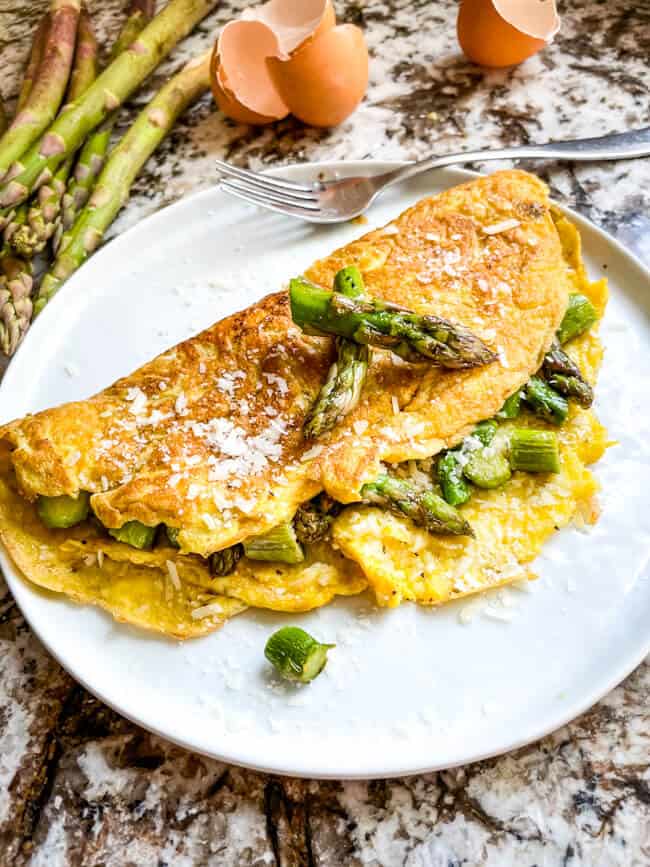 Asparagus is one of my absolute favorite vegetables!
This healthy Asparagus Omelet is a perfect brunch recipe using just a few ingredients. And since it is keto low carb, gluten free, and vegetarian, it is a great recipe to serve up for everyone.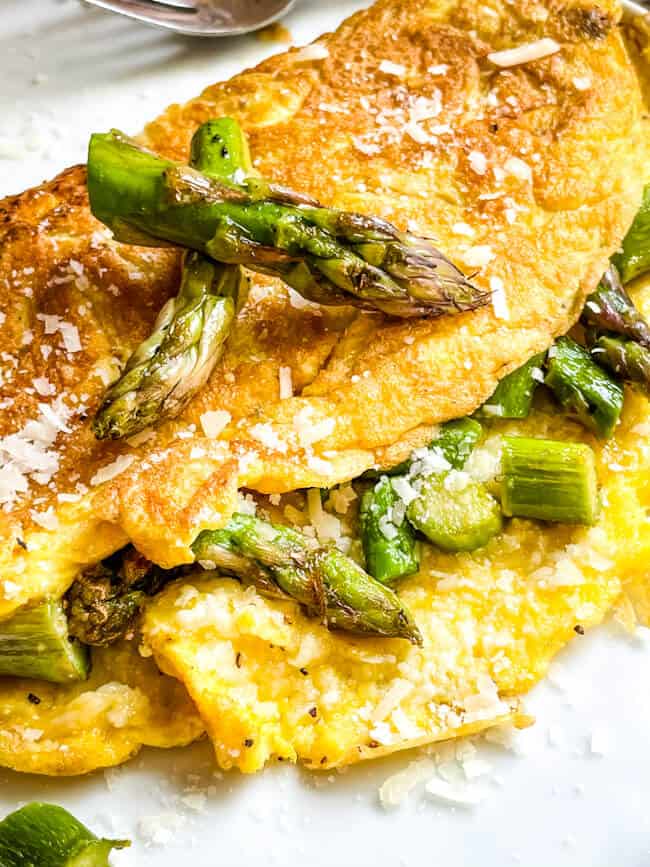 Omelet or Omelette?
Both mean the same thing.
And like many other words, it is simply a variation due to geographic location.
Omelet is most common in American English, and Omelette is most common in British English.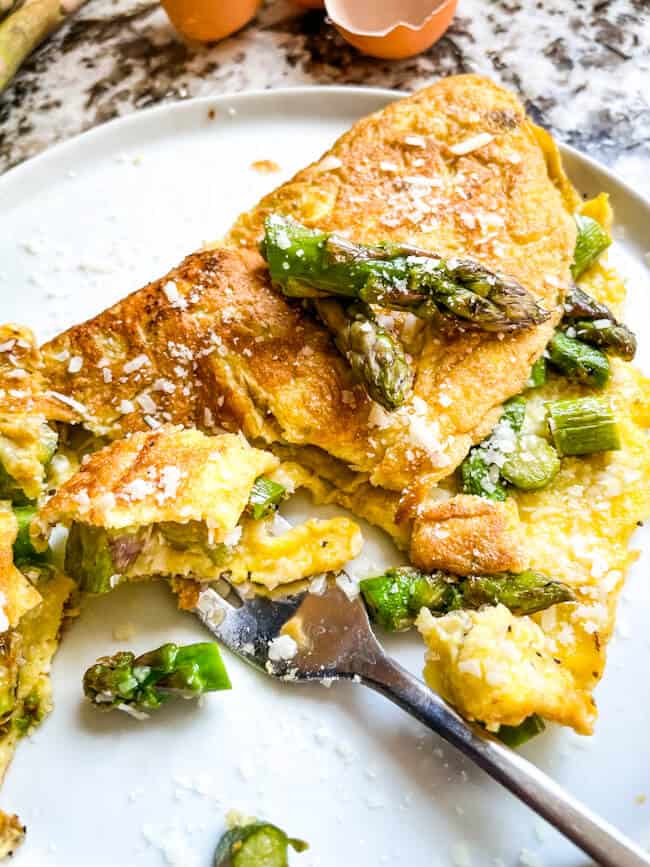 Trimming Asparagus
Asparagus stalks have tough ends that you will want to remove before cooking.
The tough ends are edible, however not very pleasant as they are very fibrous, stringy, and tough.
The best way to trim each piece, knowing you got most if not all of the tough end off, is to hold each piece halfway down and then use your other hand to snap the end off. It will naturally break where the tough root ends.
I almost never run into tough asparagus doing it this way.
Yes, it takes a minute, but is worth it to me to not get a hard piece.
A shortcut is to do that once and then cut all the asparagus at the same height, however this is not very consistent.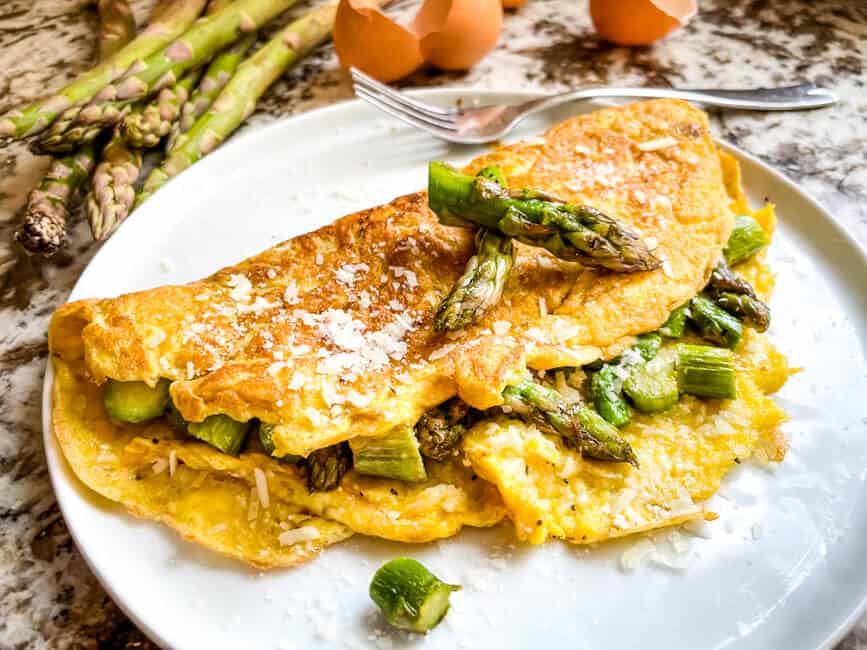 Making an Omelette
Making an omelette is pretty simple!
Whisk your eggs up in a small bowl and have them ready to go for the skillet.
When you pour them in, you want to move them around with a spatula, almost like you are making scrambled eggs, until they are approximately half way cooked. This tends to be pretty fast!
Then gently lift up the edge of the cooked egg and tilt the skillet so the lifted edge is tilted down to move the liquid egg on top down and under the cooked egg. Repeat this in a few spots as needed until the top is a little wet but not liquidy.
Then layer in your cheese and cut asparagus.
You can fold over the omelet one of two ways. One, you can fold it over in the pan and then shimmy it out onto a plate. Two, you can leave it flat, shimmy it out of the skillet onto the plate, and fold the last half over as it falls out. Whatever works best for you.
I have found that if you want to make a two egg omelet, it is best to use a small skillet. Two eggs is just SO thin, almost like a crepe, unless you want that.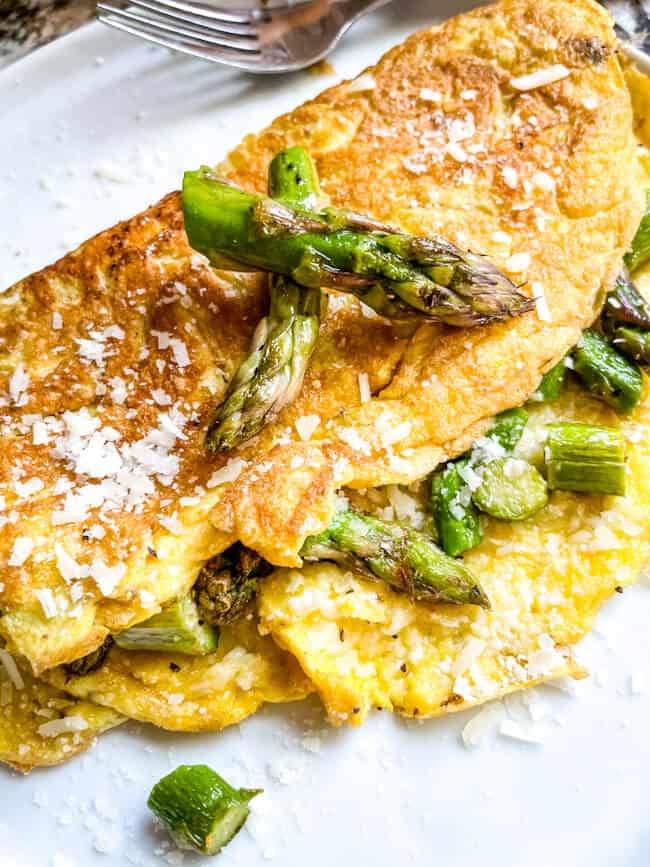 Asparagus Recipes
Find new ways to use the popular spring vegetable!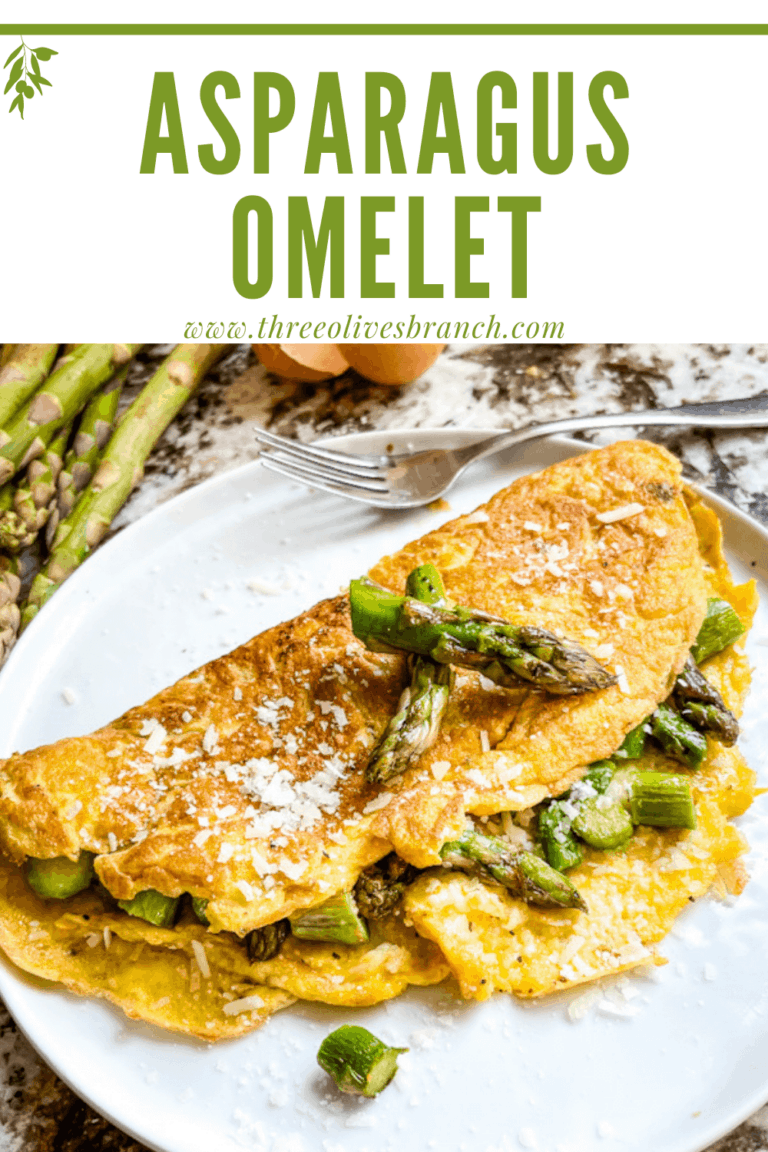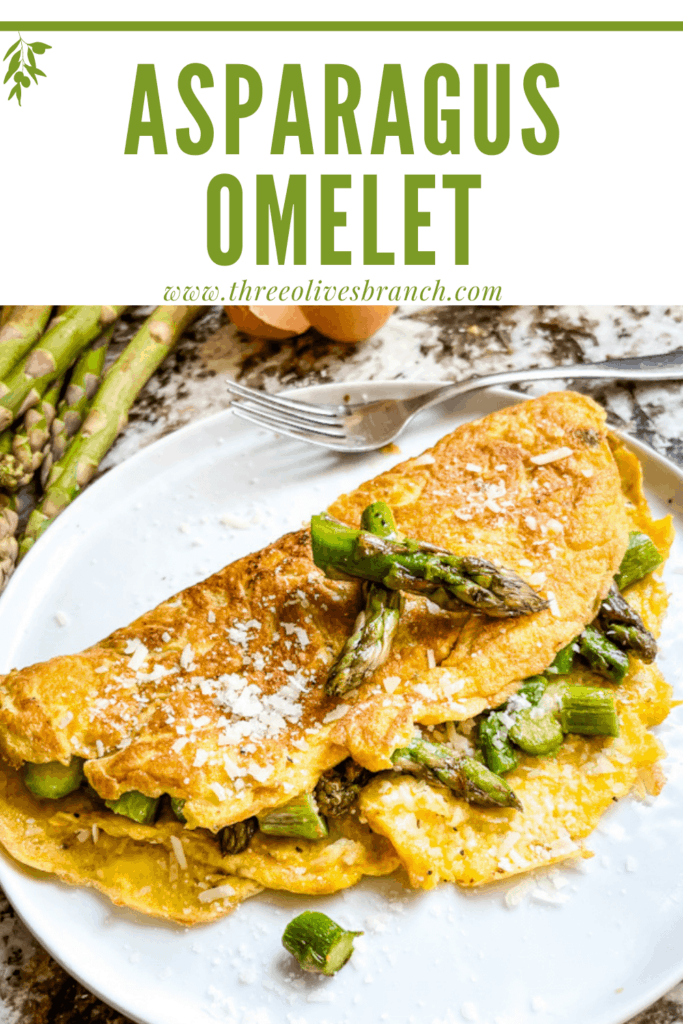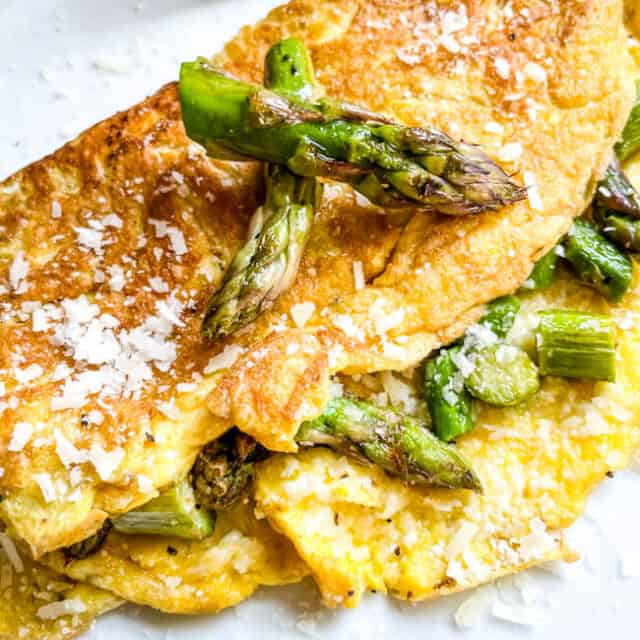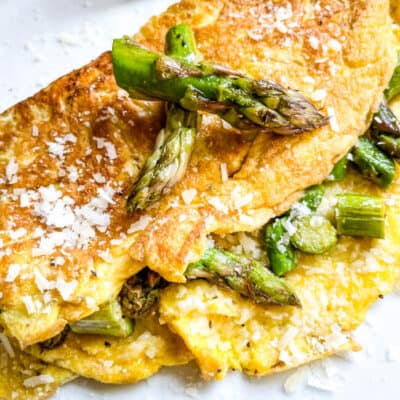 Asparagus Omelette
This Asparagus Omelette is an easy breakfast or brunch recipe. A fast vegetarian egg meal, this omelet is packed with cheese and spring vegetables. Gluten free and keto low carb.
Print
Pin
Rate
Instructions
Heat a large nonstick skillet over medium heat.

Wash, trim, and cut the asparagus into small pieces (as large or small as you want them in your omelette).

When the skillet is hot, add ½ Tablespoon of butter.

When melted, add the asparagus, and a pinch each of salt, black pepper, and garlic powder.

Cook, stirring occasionally, until the asparagus turns a bright green, approximately 3 minutes.

Remove the asparagus from the skillet and set aside in a small bowl.

Return the skillet to the heat.

Whisk the three eggs in a medium bowl with a big pinch of salt and pepper.

When the skillet is hot again, add the remaining 1 Tablespoon of butter.

When melted, pour the eggs into the skillet.

Very gently move the eggs around, almost as if scrambling, until about half cooked. Stop stirring. (This happens very quickly).

Tilt the skillet while lifting up the egg at the bottom edge, to move the liquid egg around to cook.

When the top of the omelette is mostly cooked but a little wet, sprinkle the cheese across the eggs.

When the cheese is starting to melt, remove from the heat. Sprinkle the asparagus on the egg.

Using a spatula, shimmy the omelette out of the skillet onto a plate, folding it in half as it comes out. Serve immediately.
Notes
For a truly vegetarian dish, ensure you are using vegetarian Parmesan.
Nutrition
Serving:

1

omelette

|

Calories:

431

kcal

|

Carbohydrates:

6

g

|

Protein:

25

g

|

Fat:

34

g

|

Saturated Fat:

17

g

|

Trans Fat:

1

g

|

Cholesterol:

612

mg

|

Sodium:

518

mg

|

Potassium:

454

mg

|

Fiber:

2

g

|

Sugar:

3

g

|

Vitamin A:

2279

IU

|

Vitamin C:

6

mg

|

Calcium:

227

mg

|

Iron:

5

mg

By