Air Fryer Asparagus is a fast and easy healthy side dish recipe ready in just 10 minutes! Gluten free, vegan, and keto low carb. Air fried with minimal oil and some seasoning. #airfryerrecipes #healthysides #asparagusrecipes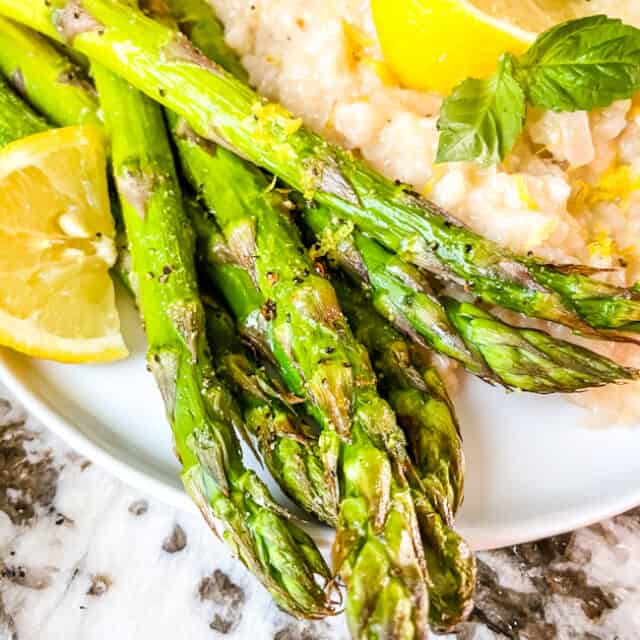 Air Fryer Asparagus is a healthy side dish recipe that goes with so many cuisines and flavors! Fast and easy with minimal oil.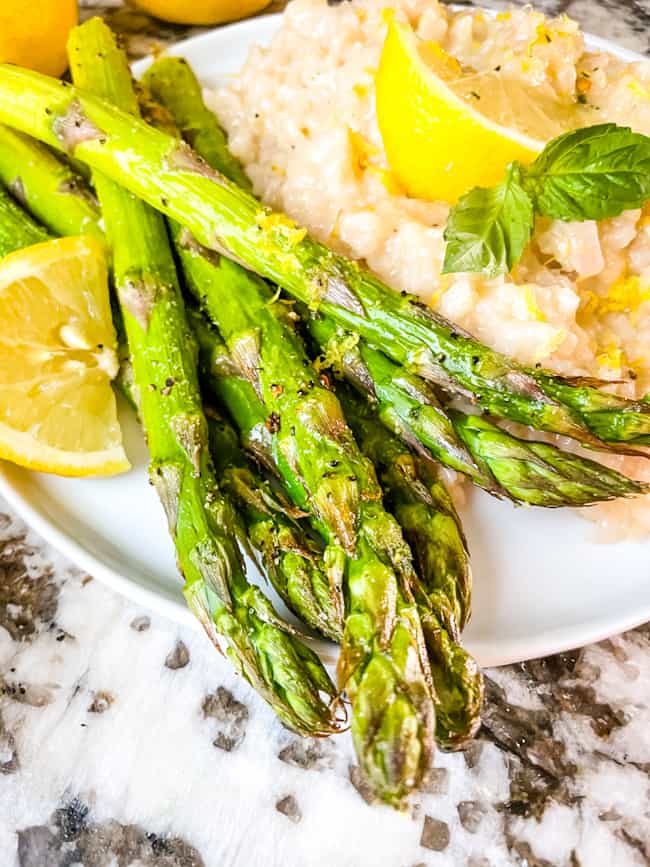 Air fried asparagus is similar to roasting asparagus in the oven under a broiler.
It is ready in just a few minutes, it gets a little color, and is easy to cook.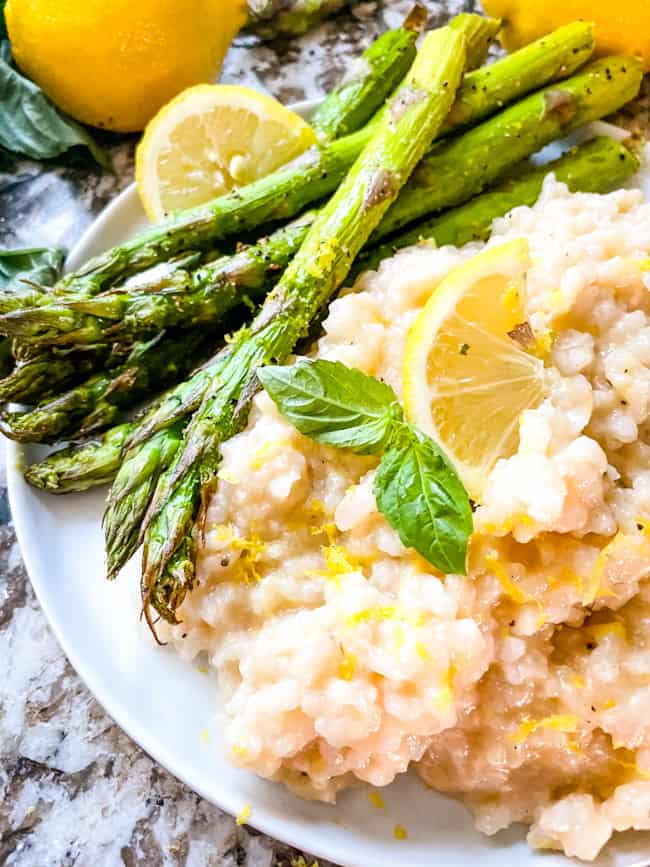 Trimming Asparagus
Asparagus stalks have tough ends that you will want to remove before cooking.
The tough ends are edible, however not very pleasant as they are very fibrous, stringy, and tough.
The best way to trim each piece, knowing you got most if not all of the tough end off, is to hold each piece halfway down and then use your other hand to snap the end off. It will naturally break where the tough root ends.
I almost never run into tough asparagus doing it this way.
Yes, it takes a minute, but is worth it to me to not get a hard piece.
A shortcut is to do that once and then cut all the asparagus at the same height, however this is not very consistent.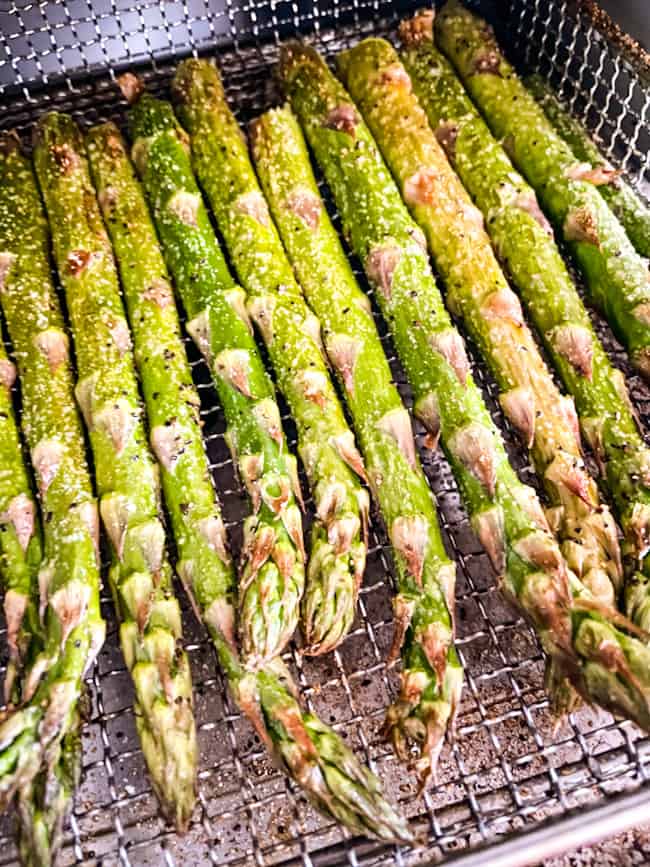 Picking an Air Fryer
There are a lot of air fryer options out there. Many air fryers are designed as single-use appliances, as in they air fry and not much else.
If you are looking at purchasing an air fryer, you want to consider how you will likely be using it.
Not only does the batch size vary with how large the air fryer is, but some have small and deep baskets while other have shallow and wide frying baskets.
I prefer and recommend something that has a wide and shallow basket because you can fit more in it without the food overlapping on itself, which especially matters sometimes as with these Air Fryer Asparagus.
I have the Cuisinart Air Fryer Toaster Oven which is wonderful because it also bakes, toasts, and more all in one appliance. With the shallow and wide basket.
And it works FAST which means chicken nuggets for the kiddos are ready in a flash!
Asparagus Cooking Time
Cooking asparagus in air fryer means you might need a slight adjustment to the cooking time.
This is because asparagus cooks so quickly, and the thickness of your asparagus stalks makes a difference.
If you have a thicker asparagus like what you see here, around 8 minutes was perfect for it to still have some texture.
If the asparagus is thin, like a pencil or less, you will want to aim more for 5 minutes.
Want your asparagus really soft? Add 2-3 minutes of cooking time.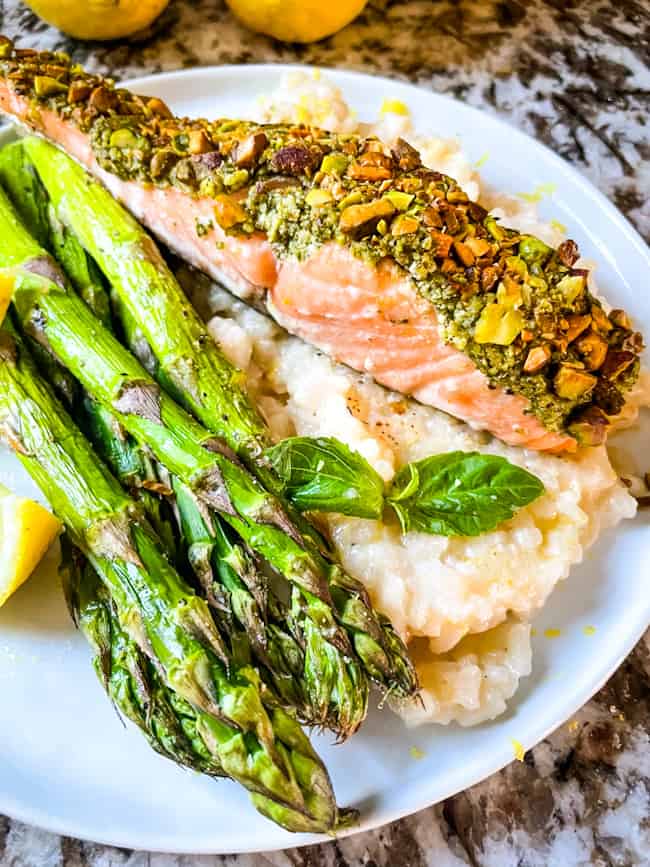 What to Serve Air Fryer Asparagus With
Looking for a main course to serve alongside the asparagus?
Here are some of our favorite Italian inspired main course recipes!
One of my favorites is the Risotto al Limone since the flavors are just perfect together.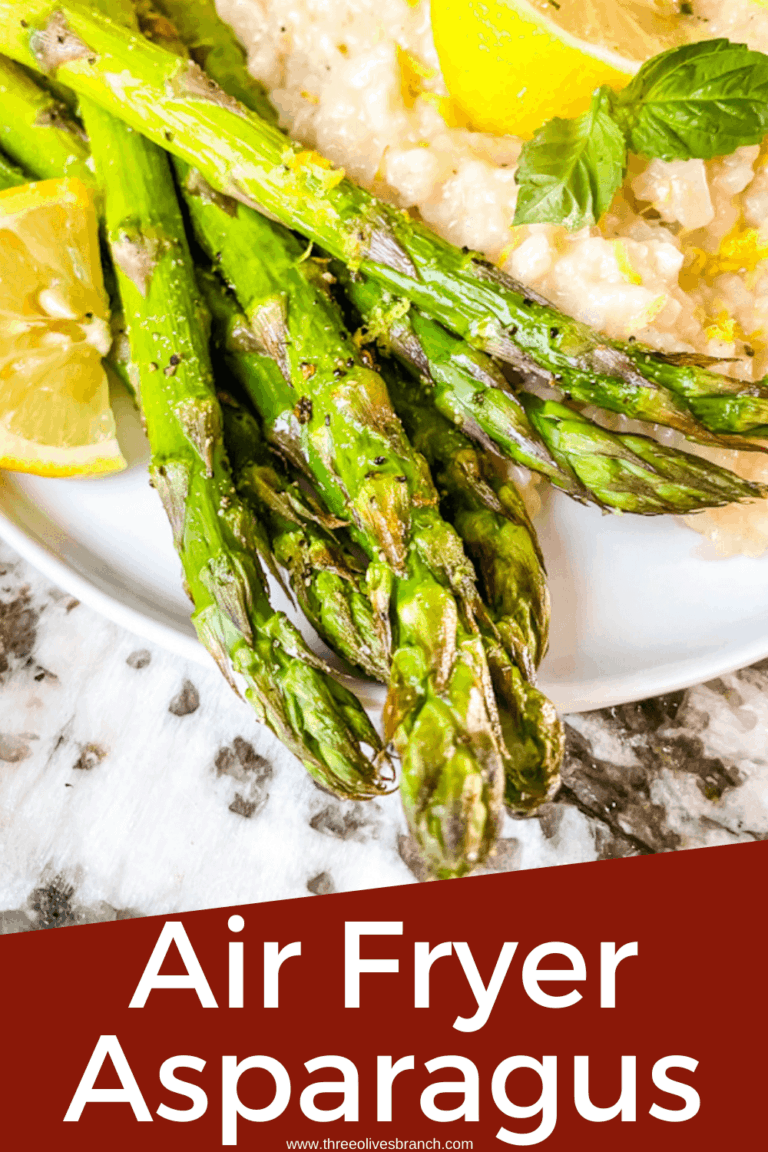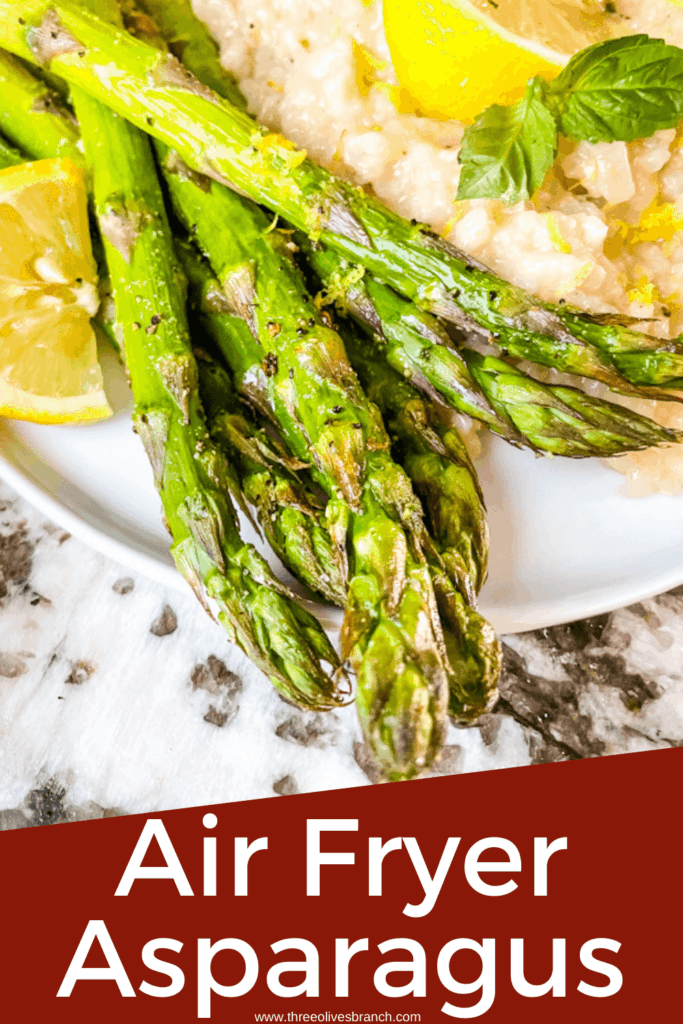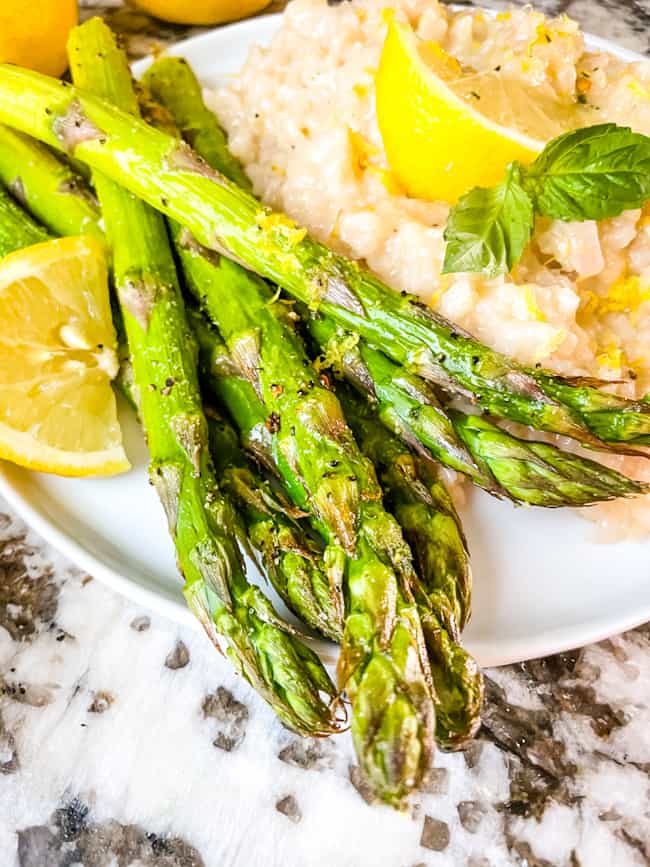 Servings:
4
small servings
Ingredients
1

pound

asparagus

nonstick cooking spray

1/8

teaspoon

salt

to taste

1/8

teaspoon

black pepper

to taste

1/8

teaspoon

garlic powder

to taste
Instructions
Trim your asparagus by snapping off the tough ends. Wash.

Spread the asparagus across the air fryer basket in a single or double layer.

Spray lightly with the cooking spray. Shake the tray to toss the asparagus around to coat.

Sprinkle the asparagus with the salt, black pepper, and garlic powder. Shake the tray again to coat.

Place the asparagus in the air fryer and cook at 350F for approximately 8 minutes (see note regarding thickness of stalks and preference of softness).
Notes
For thicker asparagus, 8 minutes will give you asparagus that still has a crisp but soft texture. For thinner asparagus (similar to a pencil), reduce cooking time to 5 minutes.
If you want very soft asparagus, add 2-3 minutes of cooking time.
Nutrition
Serving:

1

serving

|

Calories:

23

kcal

|

Carbohydrates:

5

g

|

Protein:

3

g

|

Fat:

1

g

|

Saturated Fat:

1

g

|

Sodium:

75

mg

|

Potassium:

231

mg

|

Fiber:

2

g

|

Sugar:

2

g

|

Vitamin A:

858

IU

|

Vitamin C:

6

mg

|

Calcium:

28

mg

|

Iron:

2

mg

By