A no yeast Irish bread full of cinnamon and raisin flavor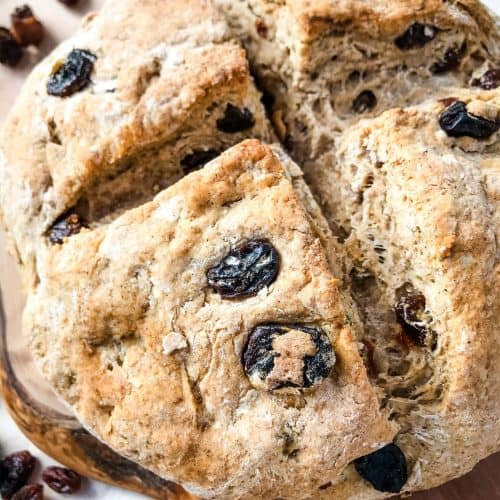 Make Irish Cinnamon Raisin Soda Bread Mini Loaf for St Patrick's Day or as a quick, flavorful bread!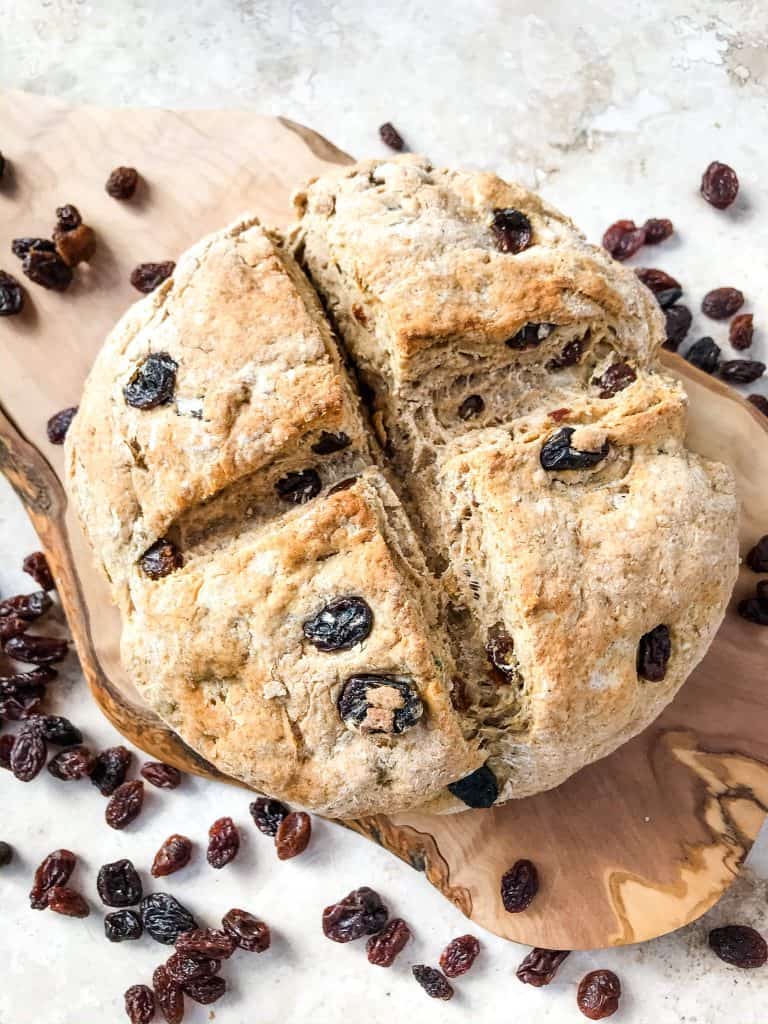 This post contains affiliate links.
Irish soda bread sometimes has a bad reputation for not tasting like much. The trick to fixing this is loading it up with a ton of flavor! Raisin soda bread is somewhat common in Ireland, and this variation amps up the flavor with a good dose of cinnamon in addition to the raisins.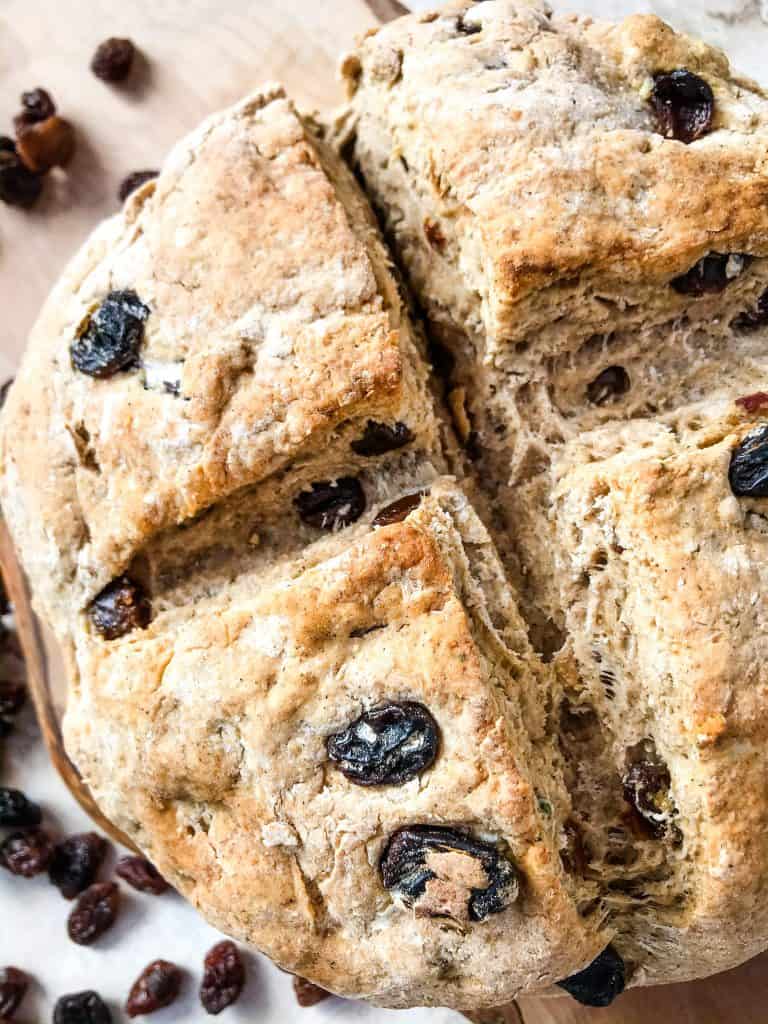 While I love a good bread, so many Irish bread loafs are pretty large. So this is a mini loaf recipe that still produces enough bread for 4-6 people! If you do want a larger loaf, easily double up all of the ingredients. Or, what I like to do, is make different kinds for variety! Find our recipe for Irish Herb Cheddar Soda Bread Mini Loaf here!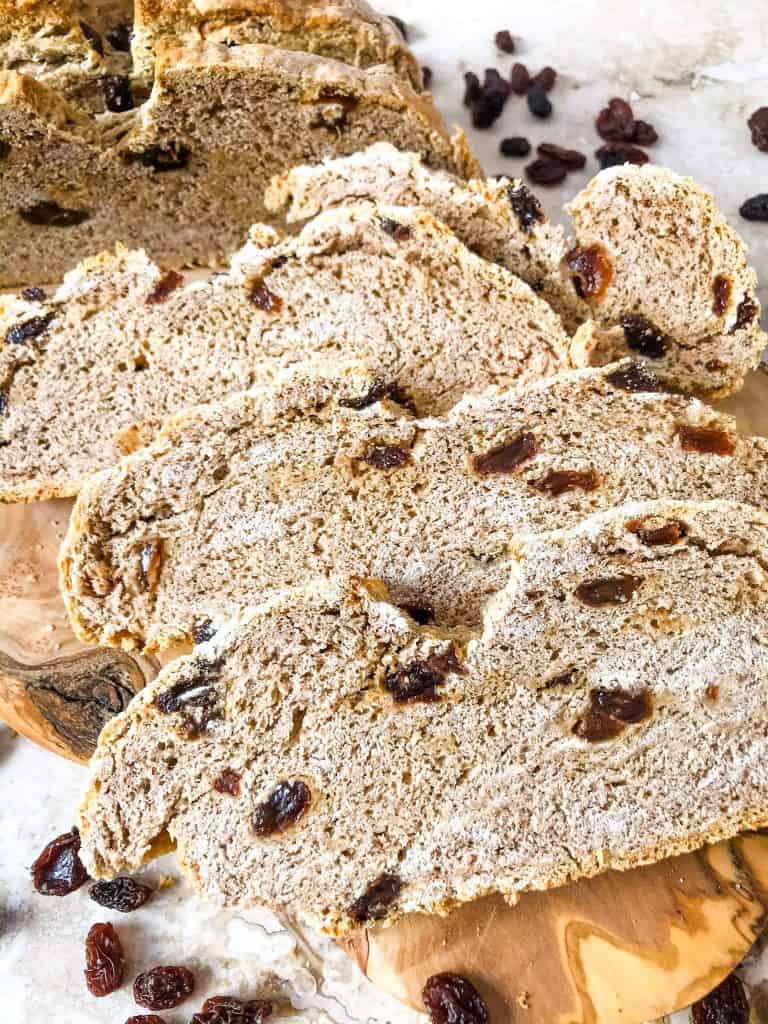 To make the cinnamon raisin soda bread, no yeast is needed. And while it calls for buttermilk, there is a quick way around this, so no buttermilk is necessary! To make a substitute (which is what I ALWAYS do) just mix in 1 Tablespoon of fresh lemon juice for each cup of milk and let it sit for a few minutes. It works perfectly.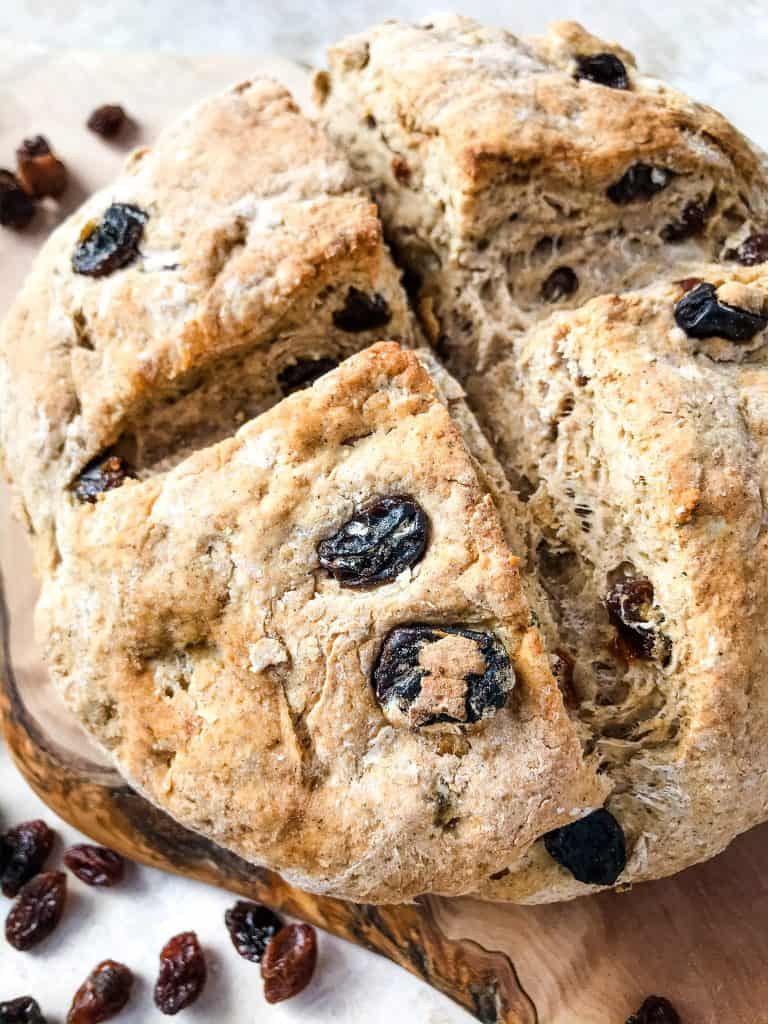 The soda bread with raisins is a great side for any Irish inspired meal like corned beef and colcannon, or even with non-Irish foods. It is also great toasted in the morning for breakfast! Find more of our Irish recipes here!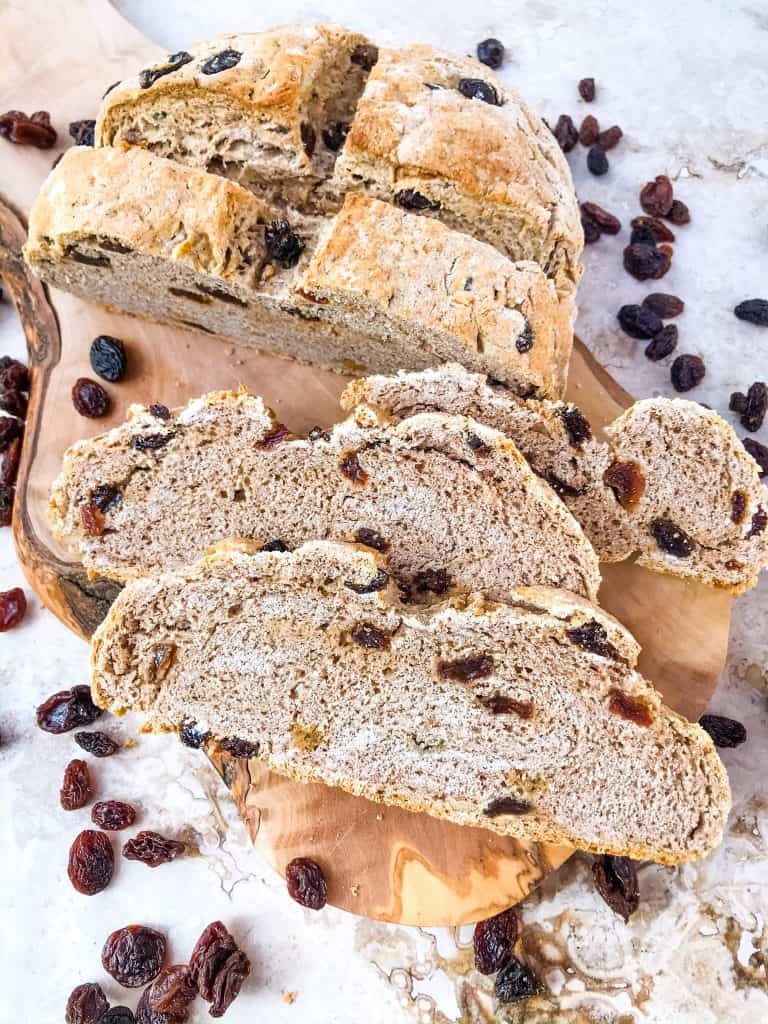 To make the bread, first get the dry ingredients mixed together and then cut the butter into it with a fork until it is incorporated into the dough like wet sand. Add the liquids and raisins, and mix until combined. Knead for just a minute until everything is incorporated. Then pat the dough into a disk and cut the traditional X in the top. This X allows the bread to expand when baking and prevents it from exploding like little volcanoes. When brown and cooked through, let it cool completely (which is SO hard to wait for!).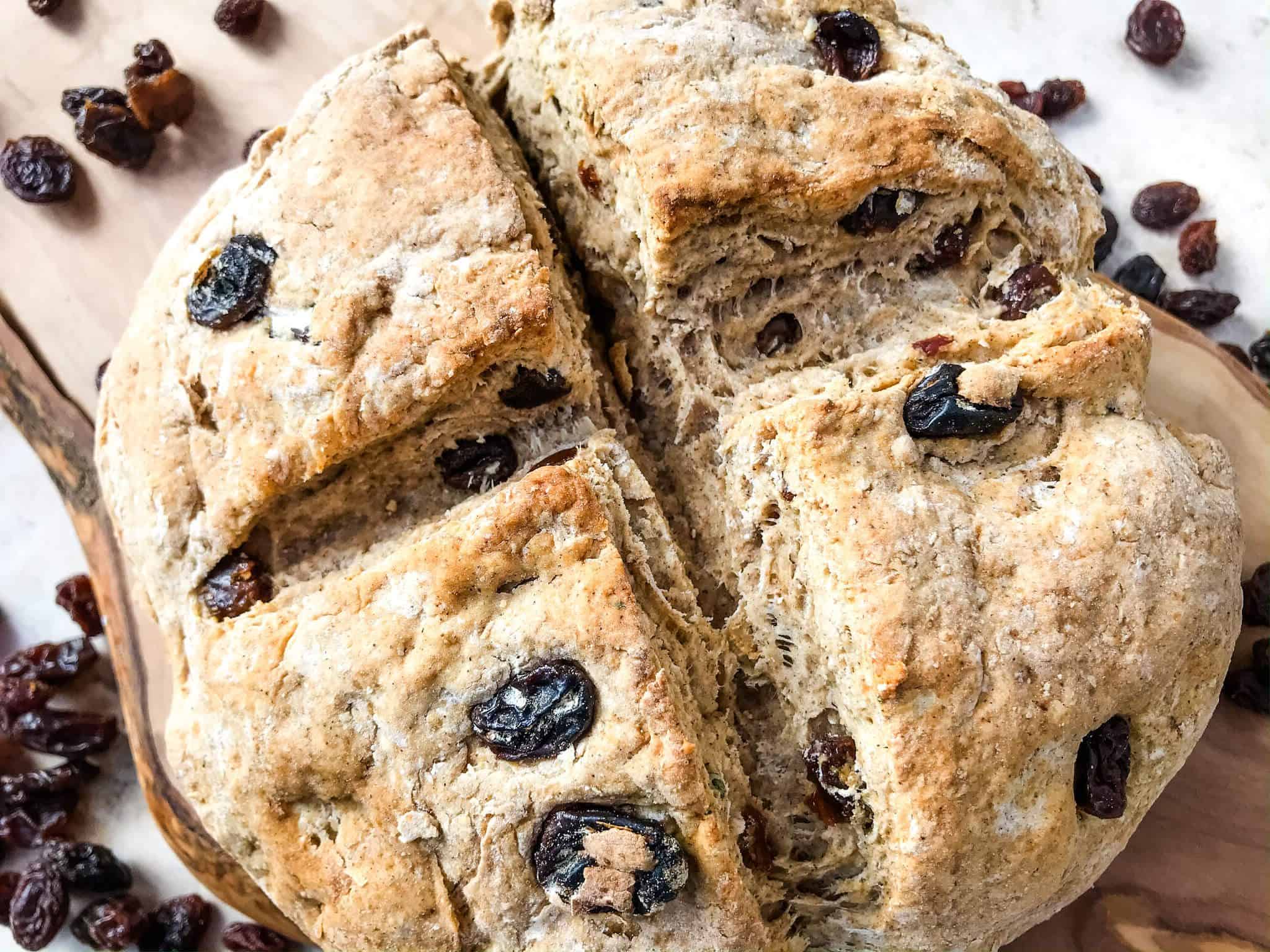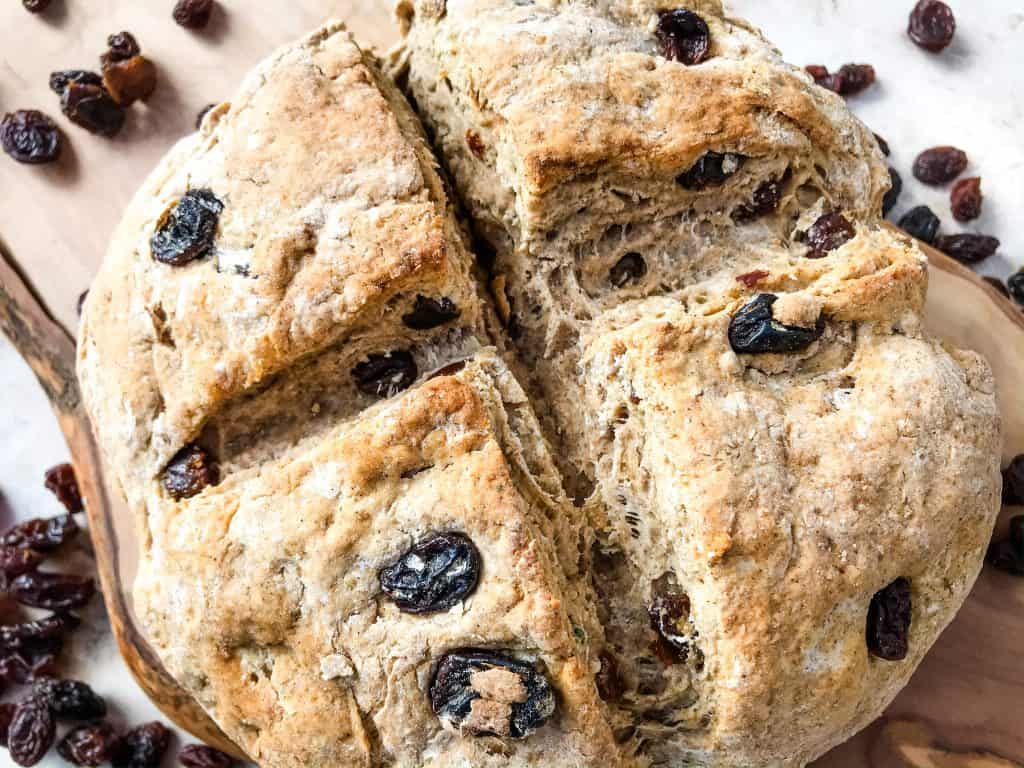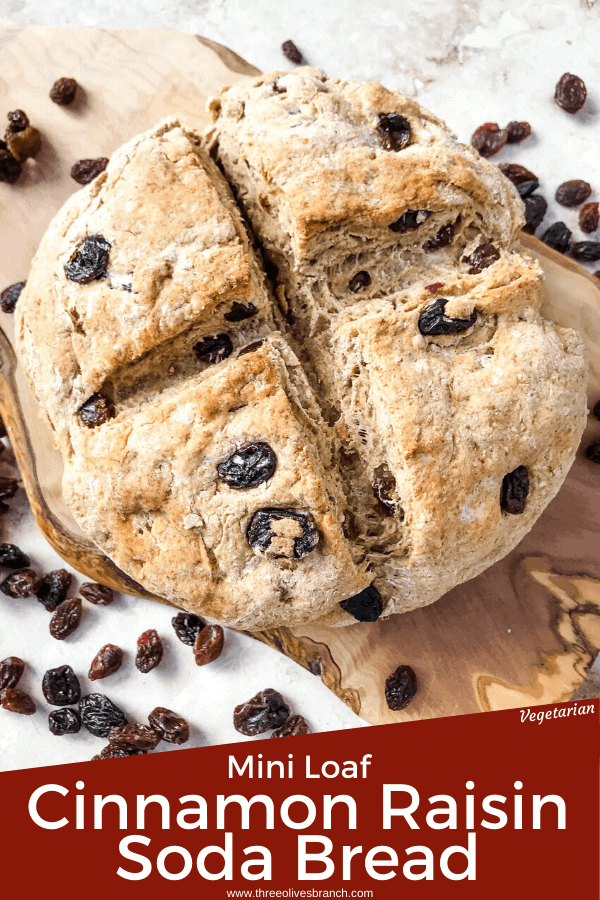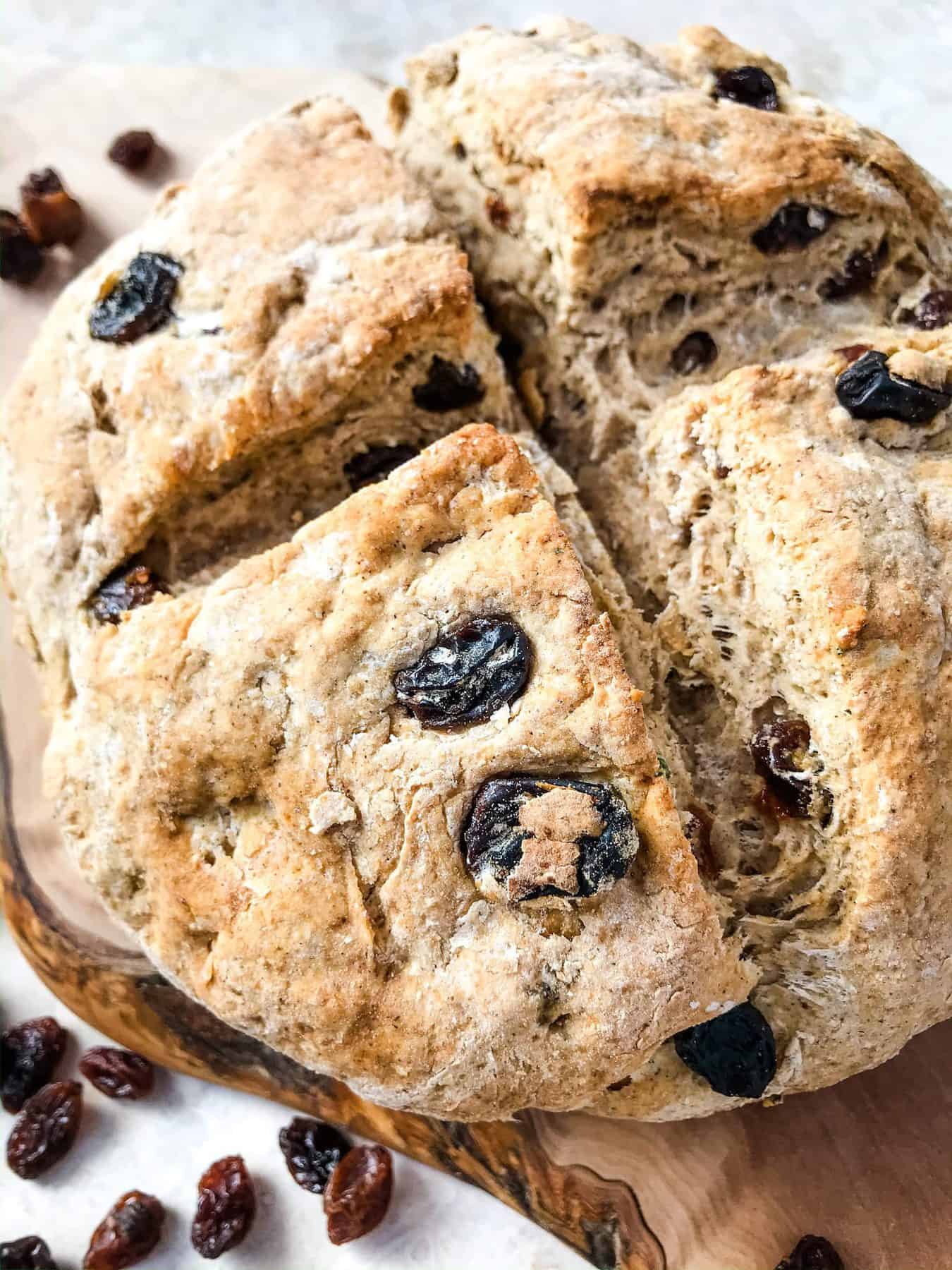 Instructions
Preheat oven to 400F with rack in the upper middle position.

If making the buttermilk substitute, combine the milk and lemon juice and set aside.

Measure out 2 cups of flour in a large bowl. REMOVE 1 Tablespoon of flour from these two cups. Add the cornstarch, sugar, baking soda, cream of tartar, salt, and cinnamon. Whisk to combine.

Using a fork, cut the butter into the flour in a corner of the bowl until the flour is broken down and it looks like wet sand. The butter should not be in large pieces or strips anymore.

Add the buttermilk (or milk mixture) and raisins to the flour and use a fork to combine.

Pour out the dough and lightly knead just until everything is combined. It should not be completely smooth.

Pat the dough down into a disk approximately 1 inch tall and 5 inches wide. Transfer to a parchment or silicone mat lined baking sheet.

Using a serrated bread knife, cut an X in the top of the dough approximately 1/2 to 1 inch deep.

Bake the bread until golden brown and a toothpick inserted in the middle comes out with just a few crumbs, approximately 25 minutes.

Let the bread cool on a cooling rack for 1 hour.
Notes
You can easily double all the ingredients for a larger, "regular" loaf. Make the disc in step 7 be 2 inches high and 6 inches wide, and cook for closer to 40 minutes.
If you do not have buttermilk, combine 3/4 cup whole milk with 2 teaspoons lemon juice and set aside for 5 minutes.
Nutrition
Calories:

238

kcal

|

Carbohydrates:

47

g

|

Protein:

6

g

|

Fat:

3

g

|

Saturated Fat:

2

g

|

Cholesterol:

8

mg

|

Sodium:

480

mg

|

Potassium:

247

mg

|

Fiber:

2

g

|

Sugar:

4

g

|

Vitamin A:

108

IU

|

Vitamin C:

1

mg

|

Calcium:

49

mg

|

Iron:

2

mg

By