Guinness Shepherd's Pie uses the Irish beer to flavor a classic Irish ground beef casserole recipe. Perfect for St Patrick's Day!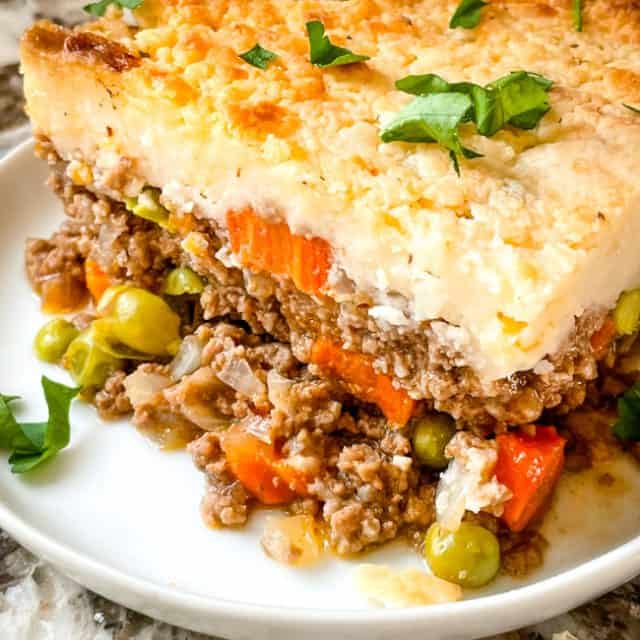 Guinness Shepherd's Pie is a fun twist on the classic Irish recipe! Great to make for St Patrick's Day or as a beef casserole.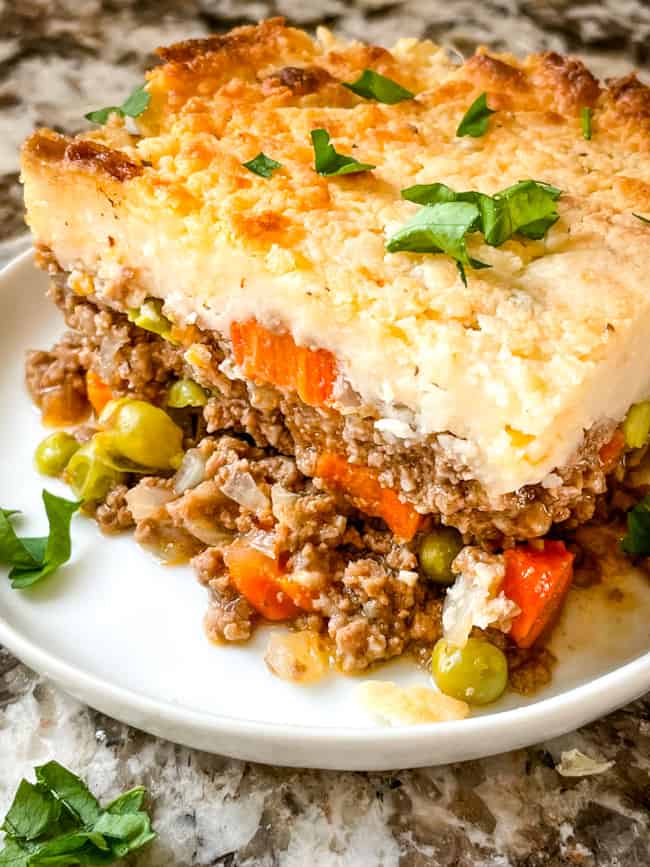 Why You Will Love This Recipe
Guinness beer and ground beef are classic flavor pairings! And this ground beef dinner idea is great any time of the year.
This shepherd's pie recipe uses this pairing for a delicious and fun variation.
The Guinness beer cooks off, so it is not alcoholic, but leaves the beer flavor in the meat.
Strong enough to taste it, but not overpowering.
Shepherd's pie is traditionally made with ground lamb.
But as the dish became popular outside of the UK, ground beef became a common substitute. Especially in the United States where beef is much more prevalent than lamb.
Technically, because it uses beef, it should be called a Guinness cottage pie. But many are not aware of the differences in these dishes.
Learn more about Shepherds Pie vs Cottage Pie.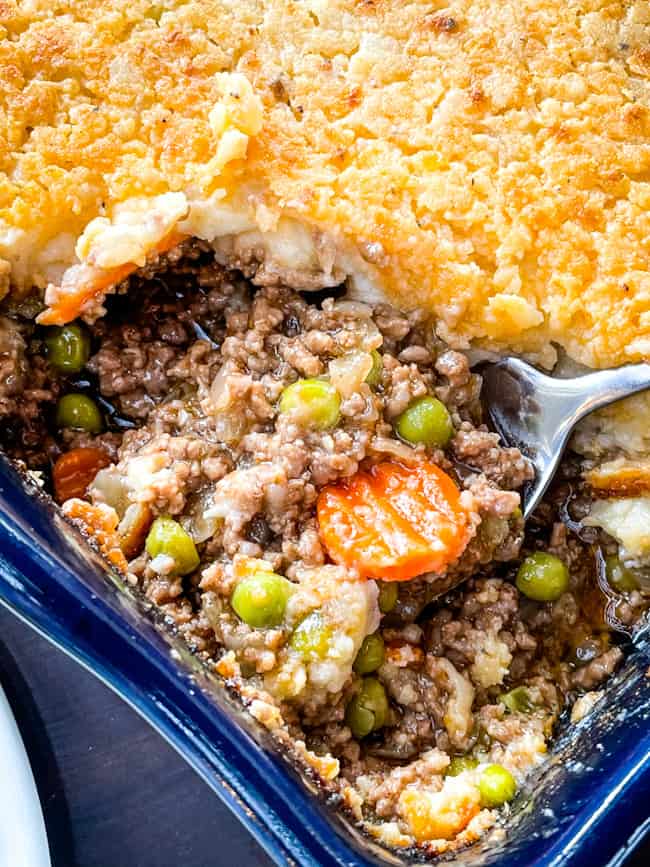 Ingredients
These are the ingredients you need for this beef shepherds pie:
Ground Beef
Yellow Onion
Carrot
Peas
Tomato Paste
Worcestershire
Garlic
Cornstarch
Dried Thyme
Guinness Beer (or other Stout Beer)
Russet Potatoes
Milk
Butter
Salt
Black Pepper
Modifications and Substitutions
I also like to make this beef casserole veggie heaving by adding a LOT of peas and carrots to the meat mixture.
You can even add other non-traditional vegetables that you love. Pearl onions and corn would be fun additions!
Adjust the portions, or even the vegetables as you want.
Shortcuts
I love to find ways too make a homemade meal faster and easier for those busy nights.
This Guinness Shepherds Pie freezes very well! So you can make a large batch and freeze some in a foil pan for a later date.
And it is also a great recipe to make in advance, without freezing, such as if you are doing a meal prep session.
Another great shortcut is using store bought mashed potatoes. And sometimes I like to lighten it up a little with a cauliflower mashed potato instead!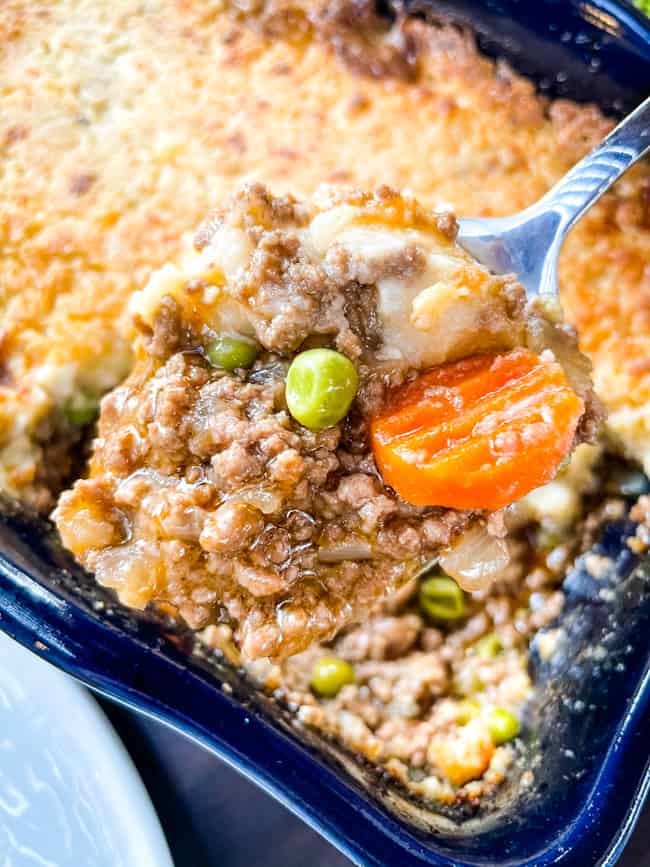 Leakage from the Sauce
I get people asking me how to prevent the sauce from leaking out from under the potatoes and getting on top of the potato crust.
I have not found a fool proof way to do this.
But! If you follow the instructions below in the recipe, this has been the best method I have found to date.
I did have some leakage where the sauce started to pool up on top of the potatoes, but it disappeared when ready to serve.
I think this was a combination of it going back down the sides as well as soaking through the potatoes.
Try to make the potatoes just ever so slightly mound up in the center of the dish and slope down toward the edges and corners, which should also hopefully prevent some pooling if the sauce does get up on top.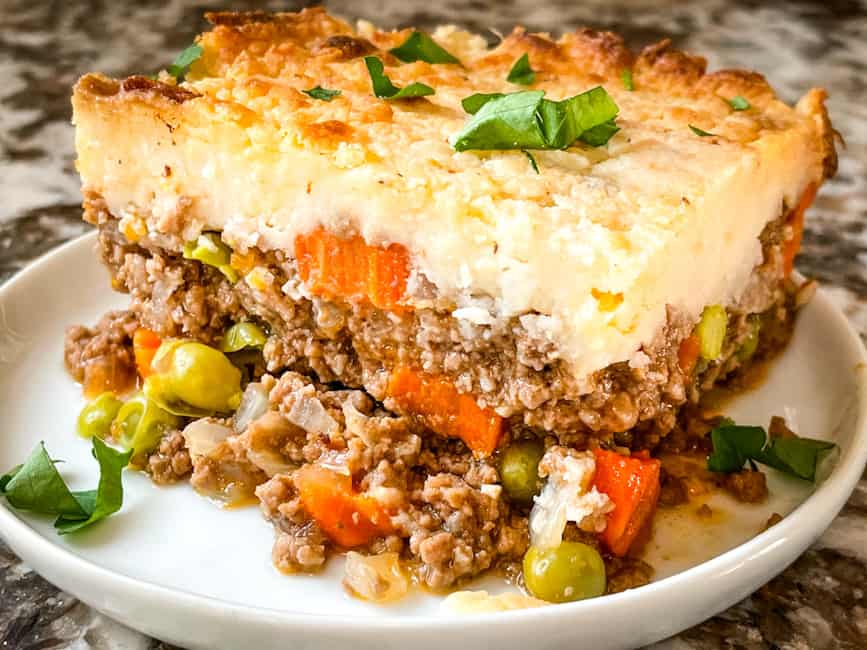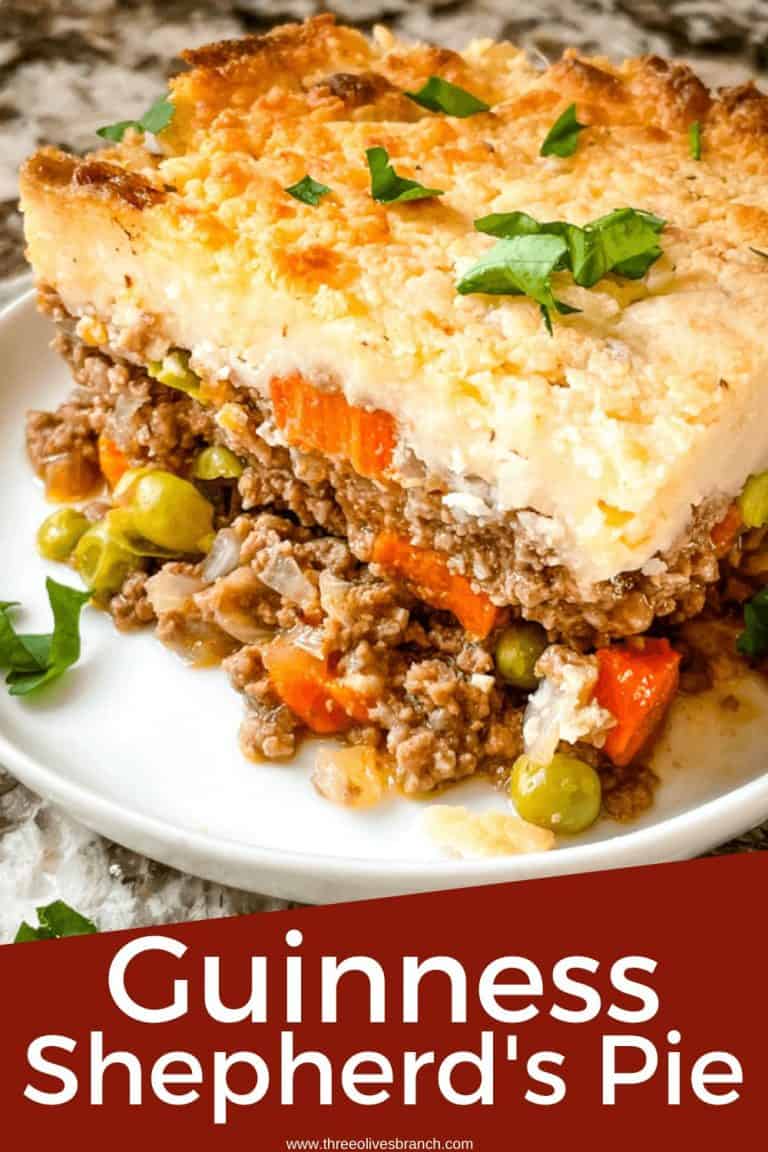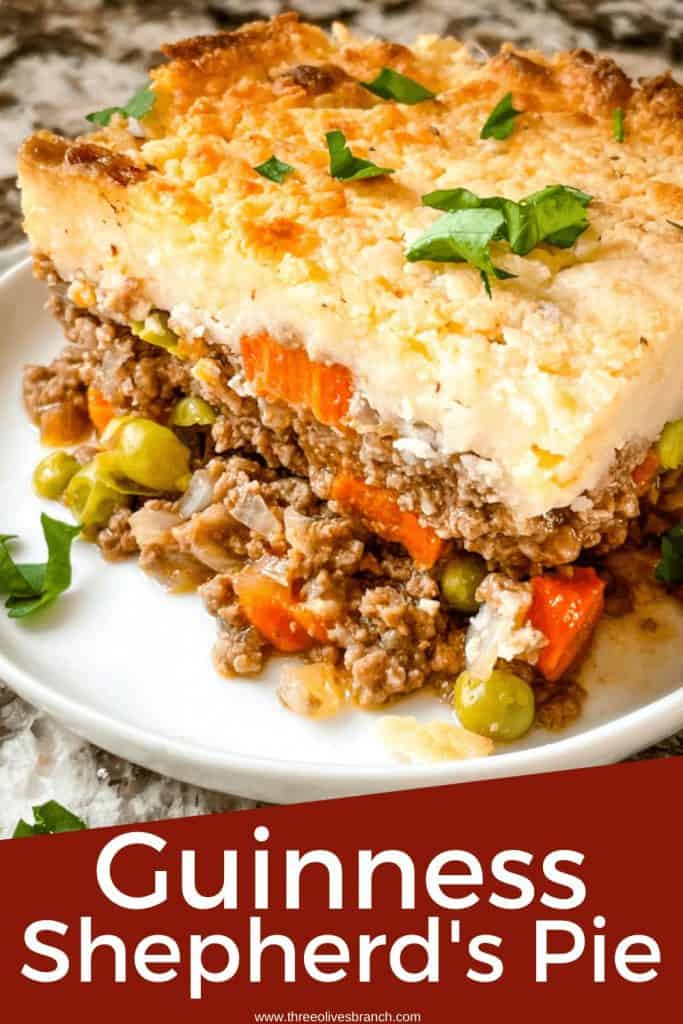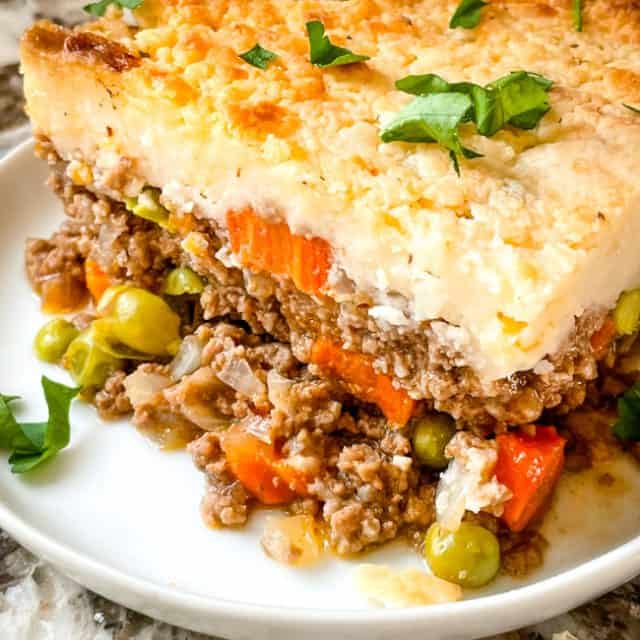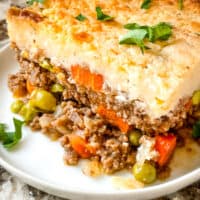 Guinness Shepherd's Pie
Guinness Shepherd's Pie uses the Irish beer to flavor a classic Irish ground beef casserole recipe. Perfect for St Patrick's Day!
Print
Pin
Rate
Instructions
Prepare your potatoes. Peel the potatoes and cut into 1 1/2 inch cubes. Cook in boiling water until tender, approximately 20-25 minutes.

Drain the potatoes and return to the pot. Mash with the butter and milk, and season with salt and pepper to taste. Set aside when done.

3 Tablespoons unsalted butter,

1/2 cup milk,

salt,

black pepper

While the potatoes are cooking, start your filling. Brown the ground beef in a medium to large pot over medium heat until cooked through.

Add the carrots and onion, and cook until softened, approximately 5 minutes.

1 cup yellow onion,

1 carrot

Add the tomato paste, garlic, thyme, cornstarch (or flour), and 1/4 teaspoon salt. Cook for one minute.

1/2 Tablespoon tomato paste,

2 cloves garlic,

1/2 Tablespoon cornstarch,

salt,

1/4 teaspoon dried thyme

Add the Guinness and Worcestershire to the meat, scraping up any browned bits from the bottom of the pot.

1 1/4 cups Guinness beer,

1 teaspoon Worcestershire

Cover, reduce heat to low, and simmer 10-15 minutes.

Stir the peas into the beef mixture. Pour the beef mixture into a small baking dish (approximately 8×8 inches).

Spread the potatoes across the top of the meat in the dish, edge to edge, completely sealing the meat in to trap the moisture and juices.

Bake until the top is starting to brown, approximately 20 minutes. Serve warm.
Notes
If you are trying to prevent sauce from pooling on top, make an ever so subtle mound in the center of the dish with the potatoes and have the potatoes very slightly slope downward toward the edges and corners. This should help encourage the sauce to go back in the bottom instead of sitting on top.
Nutrition
Serving:
1
serving
|
Calories:
543
kcal
|
Carbohydrates:
34
g
|
Protein:
25
g
|
Fat:
32
g
|
Saturated Fat:
15
g
|
Cholesterol:
106
mg
|
Sodium:
214
mg
|
Potassium:
1003
mg
|
Fiber:
4
g
|
Sugar:
6
g
|
Vitamin A:
3029
IU
|
Vitamin C:
18
mg
|
Calcium:
94
mg
|
Iron:
4
mg
More St Patrick's Day Recipes
St Patrick's Day Irish Recipes
By