A take on the restaurant classic Irish stout glaze. Use it on meats or as a finishing sauce!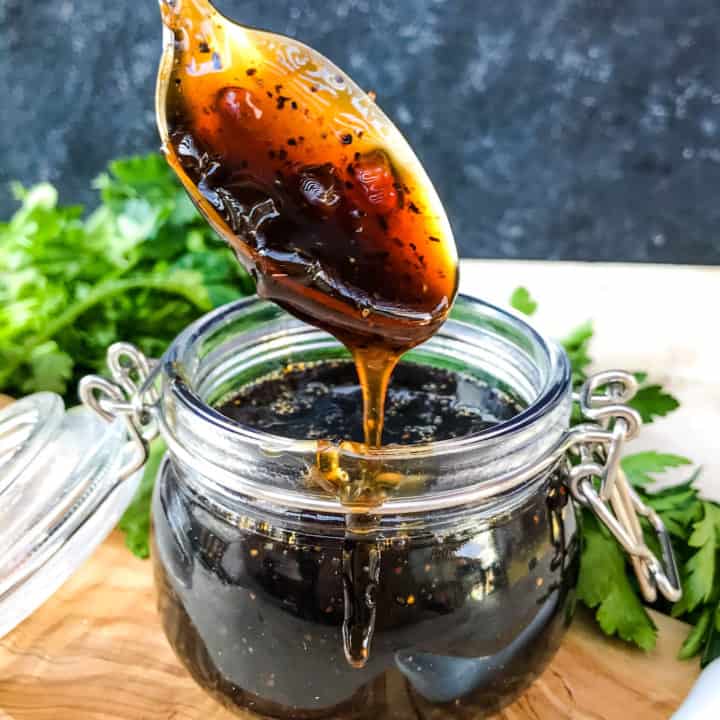 Copycat Bennigan's Guinness Glaze can be used as a sauce for just about anything! Chicken, steak and beef, pork, and vegetables. Use it either as a drizzle or douse your food with it!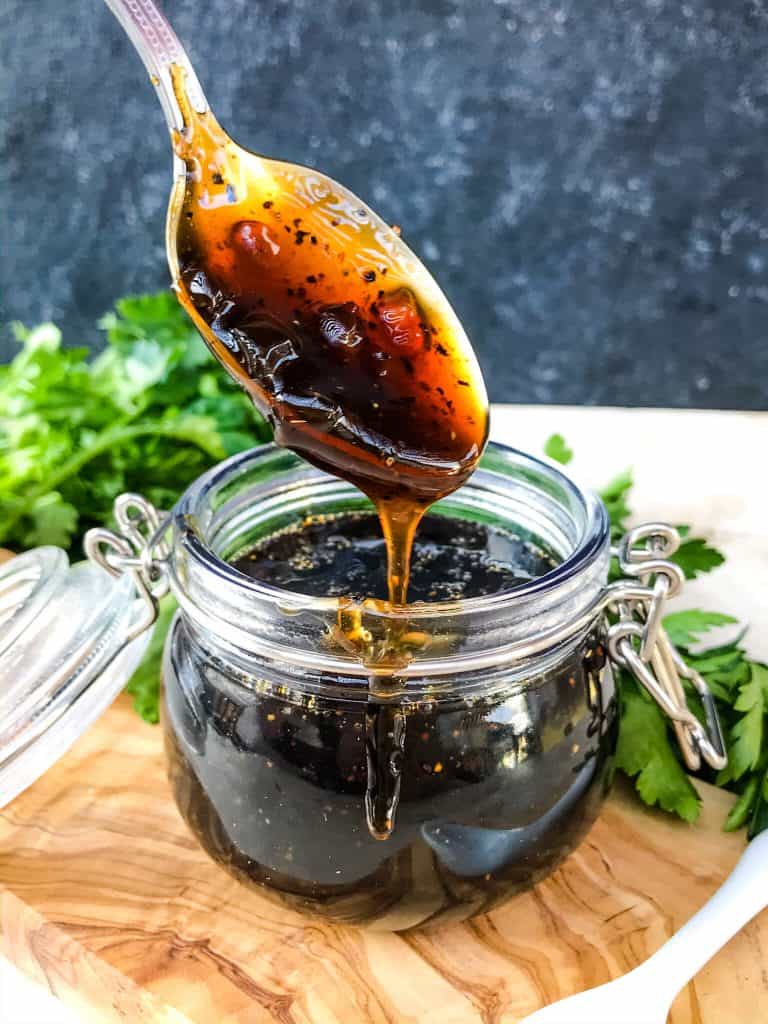 Why You Will Love This Recipe
There is only a handful of Bennigan's left and when they were more prevalent, I only remember being there a few times.
But I DO remember the Guinness glaze that they used on burgers and their blue cheese chips. And it was SO good!
Now with this Copycat Bennigan's Guinness Glaze you can bring their famous sauce home and add it to your favorite meals. It is a great condiment to use for St. Patrick's Day!
And having a copycat sauce recipe that you loves is so fun to use on a bunch of different recipes.
Ingredients Needed
Here is what you need to make this glaze:
Guinness
Onion
Brown Sugar
Honey
Ground Red Pepper
Cornstarch
Salt
Black Pepper
Oil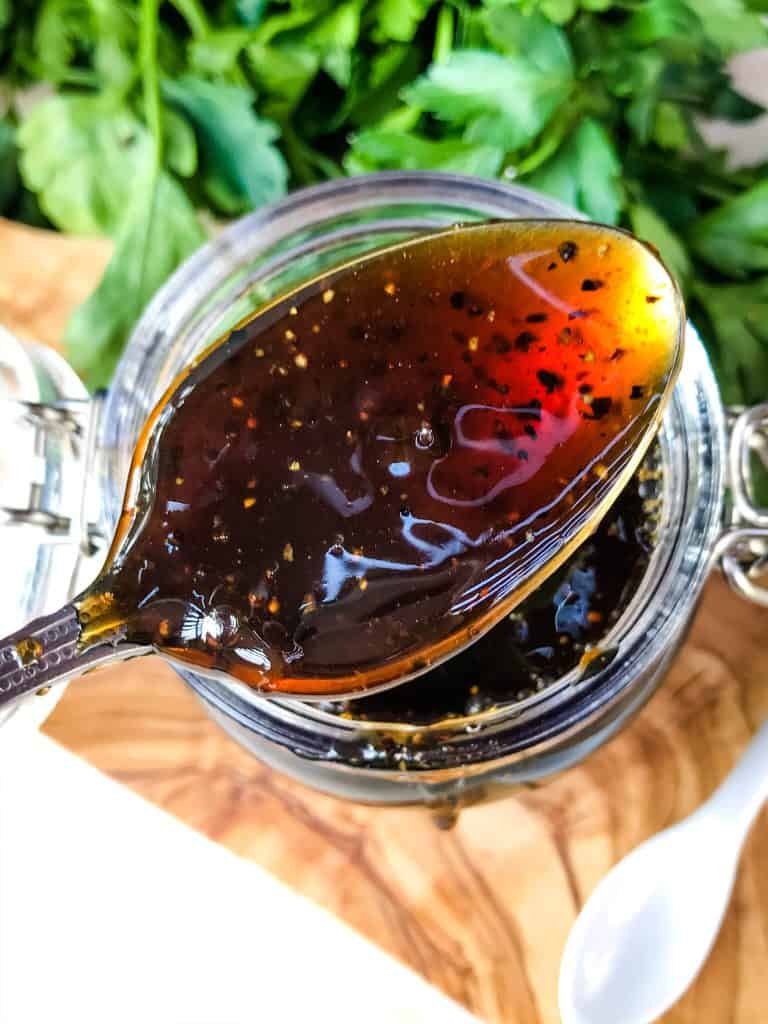 Instruction Overview
Making the sauce is very, very easy but does take a little time for it to reduce on the stove and then chill in the refrigerator.
Use a pot that is larger than a stock pot because the mixture will bubble up. The larger pot means less worries about it spilling over (my first batch spilled over when I literally walked 3 FEET away and was watching it, and then I had hard sticky sugar all over my stove).
Sautee the onions, add the seasonings and then the liquids.
Let it simmer and thicken up for 30-45 minutes. You want it bubbling so it thickens, but not such a rapid boil that it grows and spills everywhere. At this point, it will not be super thick as the sugars need to cool for it to thicken. If you let it get really thick at this point, it will be pretty much rock hard when it cools off.
So pour it in a gar or glass container (16 ounce mason jars are perfect as this makes 2 cups of glaze) and let it chill, ideally overnight in the refrigerator. When cooled, the consistency will be similar to honey.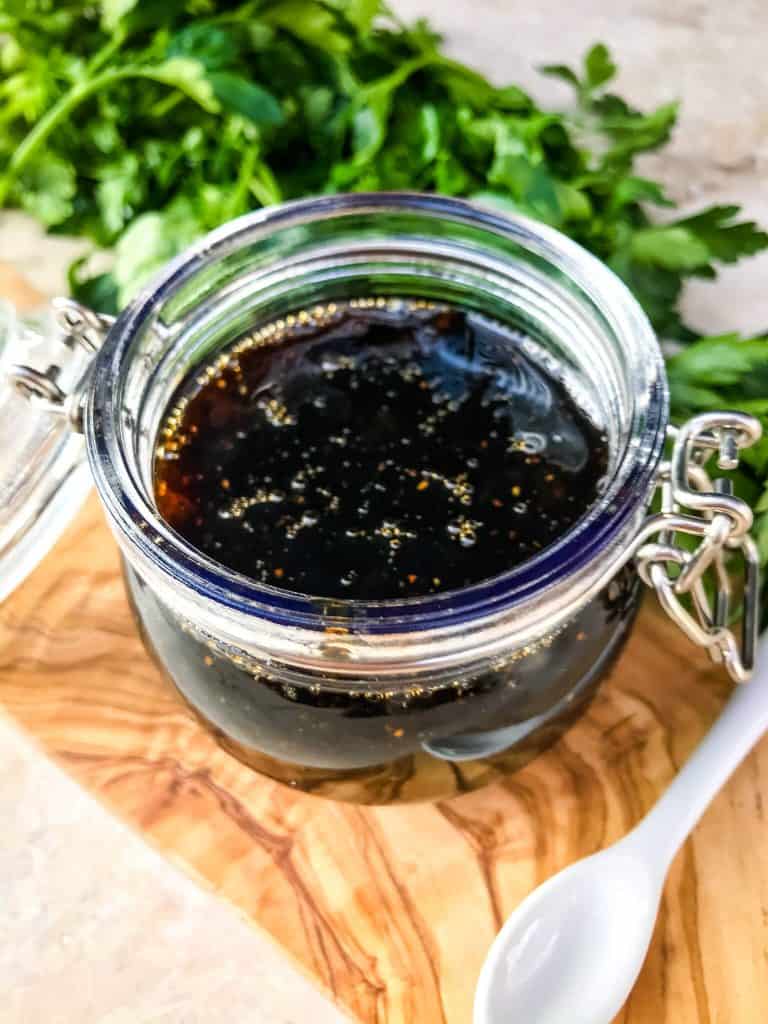 Using the Glaze
When you use the Irish stout glaze, if the food is hot, the glaze will thin out again. So keep this in mind with how you plan to use it.
Also, since there is so much sugar in it, it burns easily. So if grilling, baking, or anything else with long or high heat exposure, it is best to add it at the end or after cooking altogether to prevent the burn from happening.
I like to just spoon it like a finishing sauce over my Guinness Corned Beef!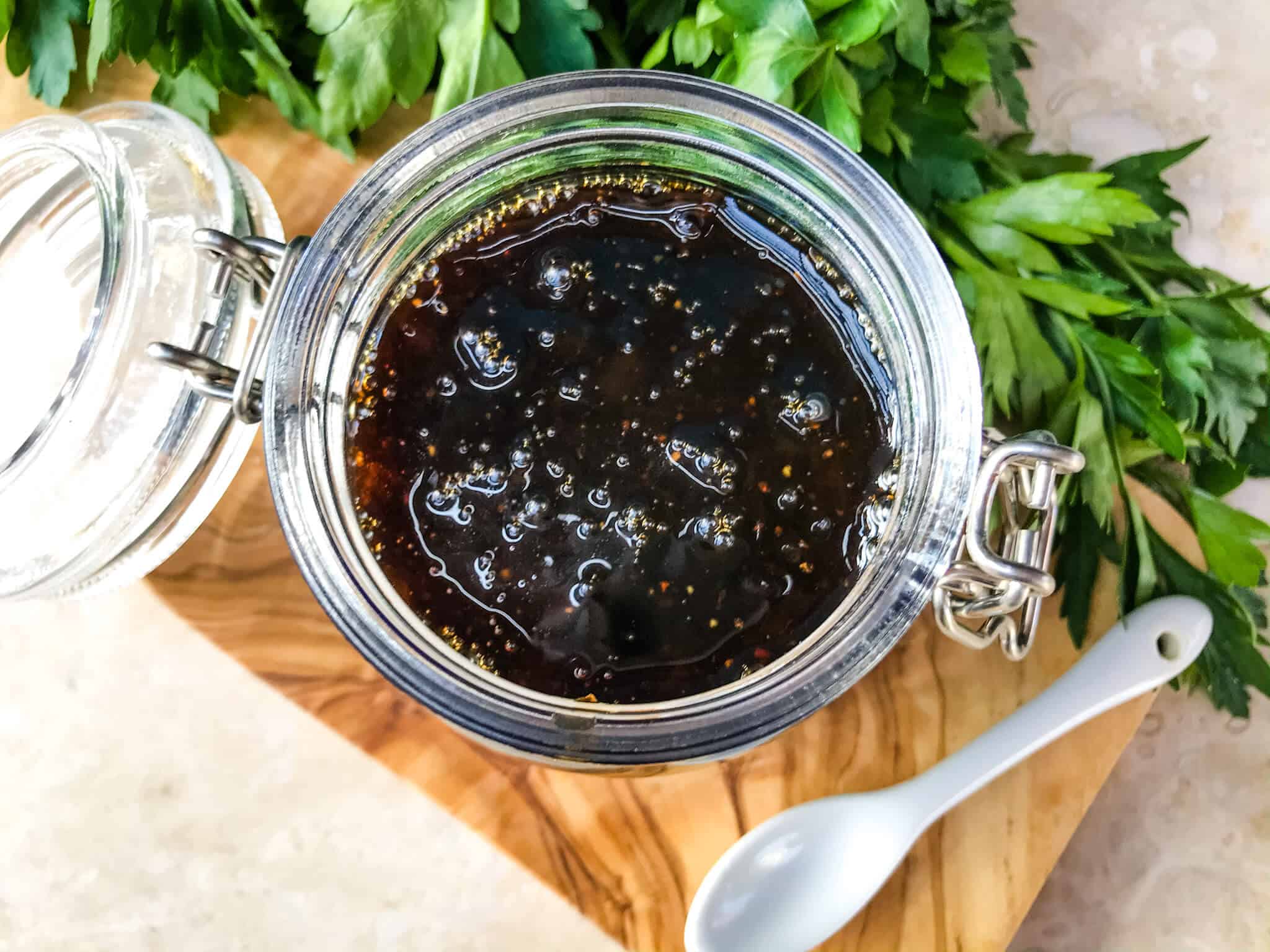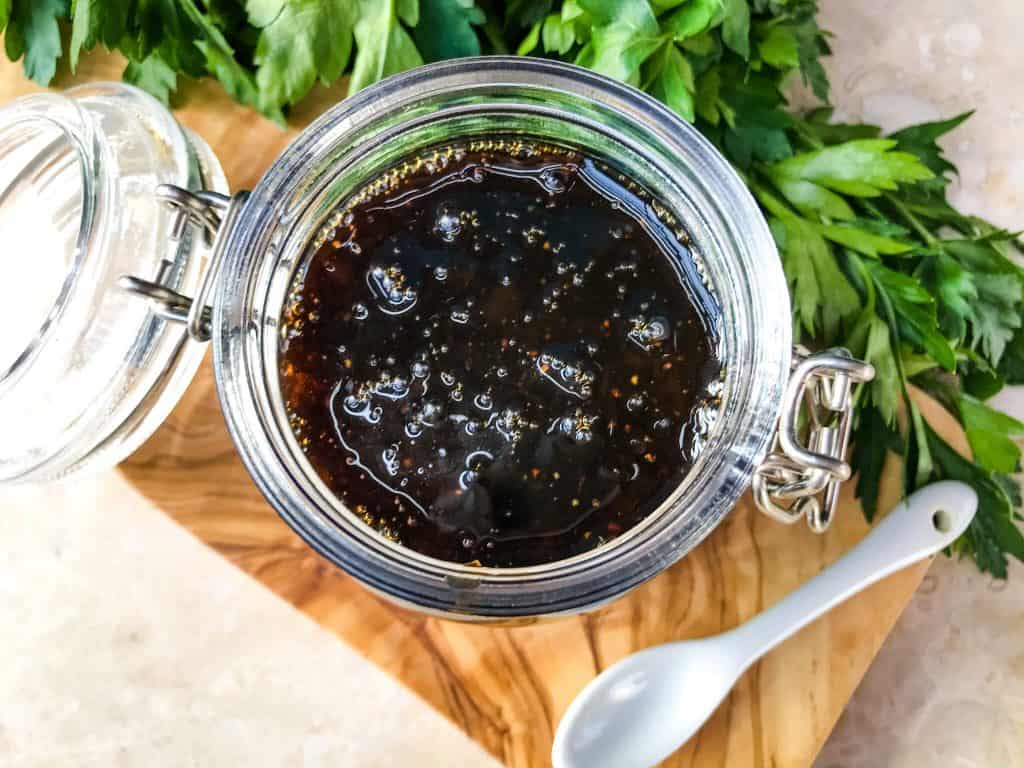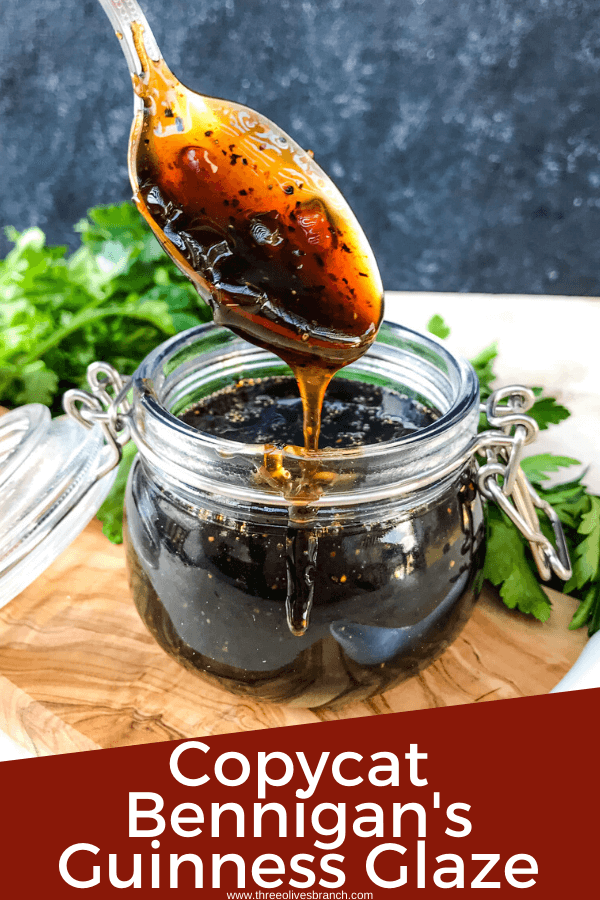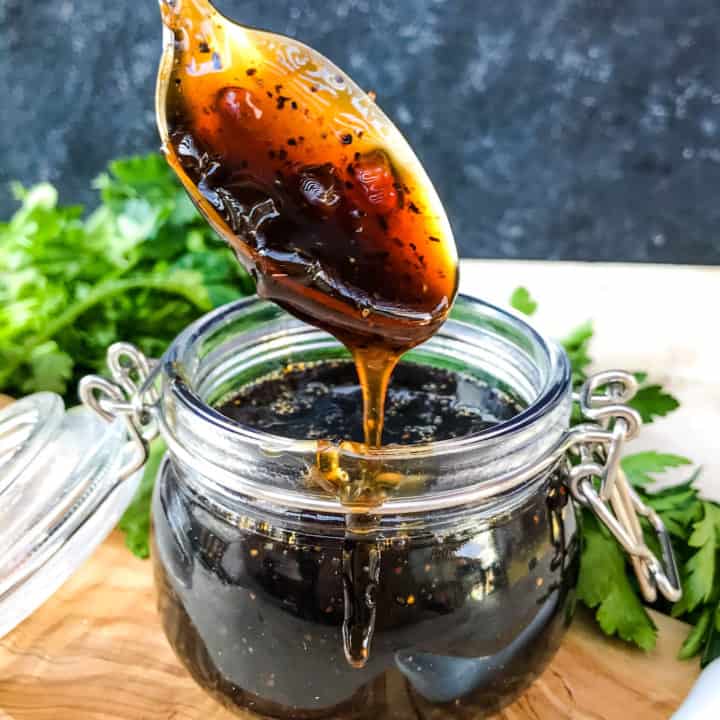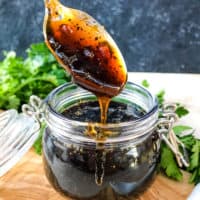 Copycat Bennigan's Guinness Glaze Recipe
A take on the restaurant classic Irish stout glaze. Use it on meats or as a finishing sauce!
Print
Pin
Rate
Instructions
In a medium pot, heat the oil over medium high heat. (The mixture will bubble a lot so go larger than a saucepan for ease).

When the oil is warm, add the onion and cooked until soft and translucent, approximately 5 minutes.

Add the salt, black pepper, ground red pepper, and cornstarch and stir to combine. (Yes, this seems like a lot of salt and spice, but it works, I promise).

Add the Guinness, sugar, and honey. Let the mixture come up to a simmer and reduce heat to medium.

Let the sauce continue to cook and thicken until similar in consistency to heavy cream. This will take 30-45 minutes.

Pour into a jar or glass container and refrigerate after cooling slightly. Let it refrigerate ideally overnight to fully cool and thicken. The glaze will thicken much more when cool, and should then resemble the consistency of honey.
Notes
You can also use a full can, but the cans are larger in quantity. It will just take longer to reduce down as there is more liquid.
When you put the glaze on something hot, it will thin out again so be careful when using on an open flame.
If using for grilling, baking, etc, it is recommended to use the glaze at the end or when removed as the sugar in the glaze will easily burn.
If reduced properly, this batch of glaze fits perfectly into a 16 ounce mason jar.
Nutrition
Calories:
865
kcal
|
Carbohydrates:
210
g
|
Protein:
1
g
|
Fat:
7
g
|
Saturated Fat:
6
g
|
Sodium:
3532
mg
|
Potassium:
316
mg
|
Fiber:
2
g
|
Sugar:
204
g
|
Vitamin A:
416
IU
|
Vitamin C:
3
mg
|
Calcium:
133
mg
|
Iron:
2
mg
More St Patrick's Day and Irish Recipes
St Patrick's Day Irish Recipes
By