Berry Picking in the Pacific Northwest (Sauvie Island, Portland, Oregon) is a fun family activity for the summer! Find tips below for going berry picking, and in this case Sauvie Island berry picking, plus some recipes!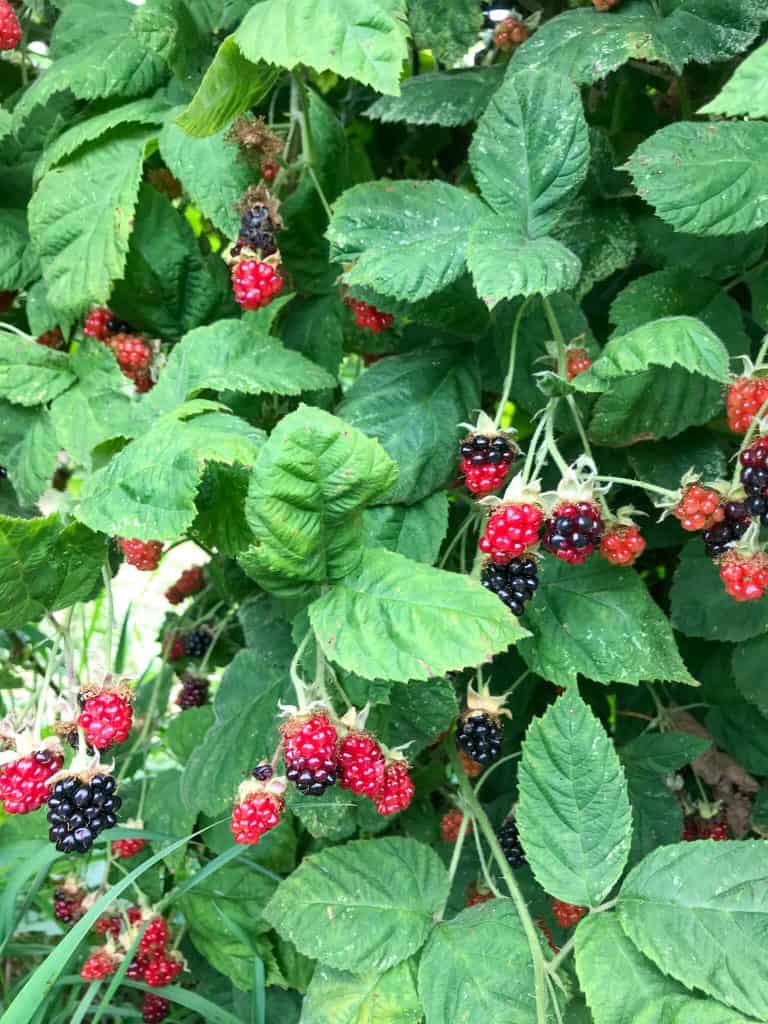 This post contains affiliate links.
I am a huge foodie (obviously) and also LOVE to travel, and so any time I can combine those two things and do culinary activities while traveling, I am in! I visited my sisters in Portland, Oregon during berry season and we hit the farms the first day for some Sauvie Island berry picking!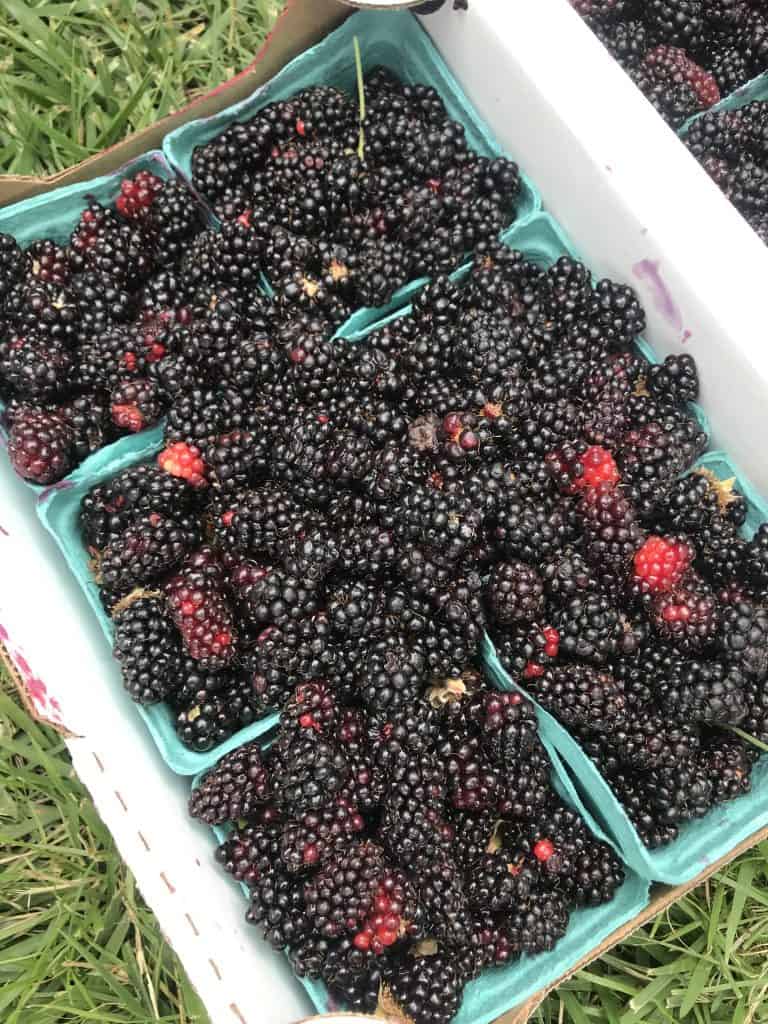 Sauvie Island is near Portland, Oregon and is a large island along the Columbia River. It is a beautiful area full of wildlife space and lots of berry farms! Different berries are ripe at different times of the season. July seems to be great in general with many berries overlapping and most being available.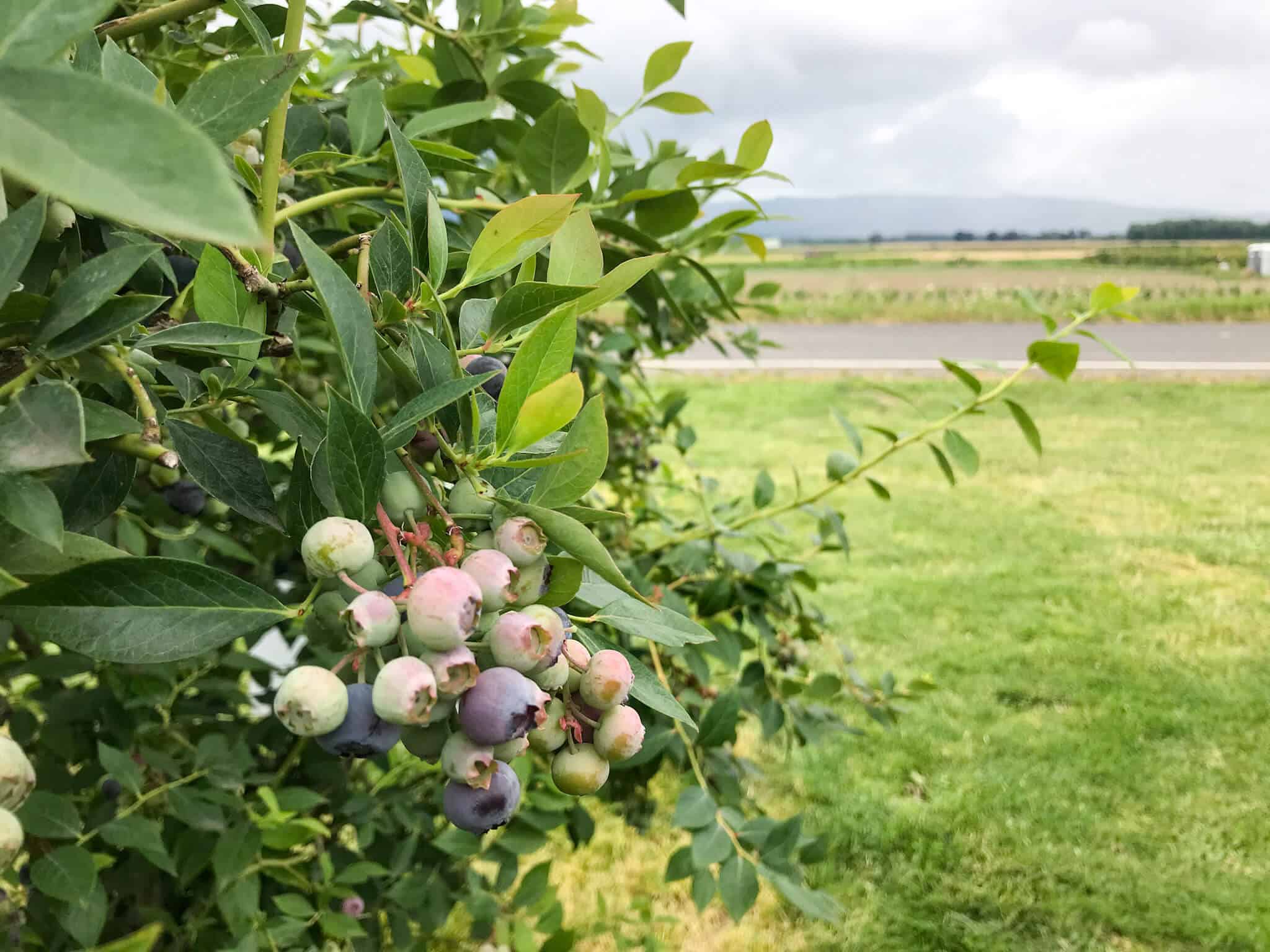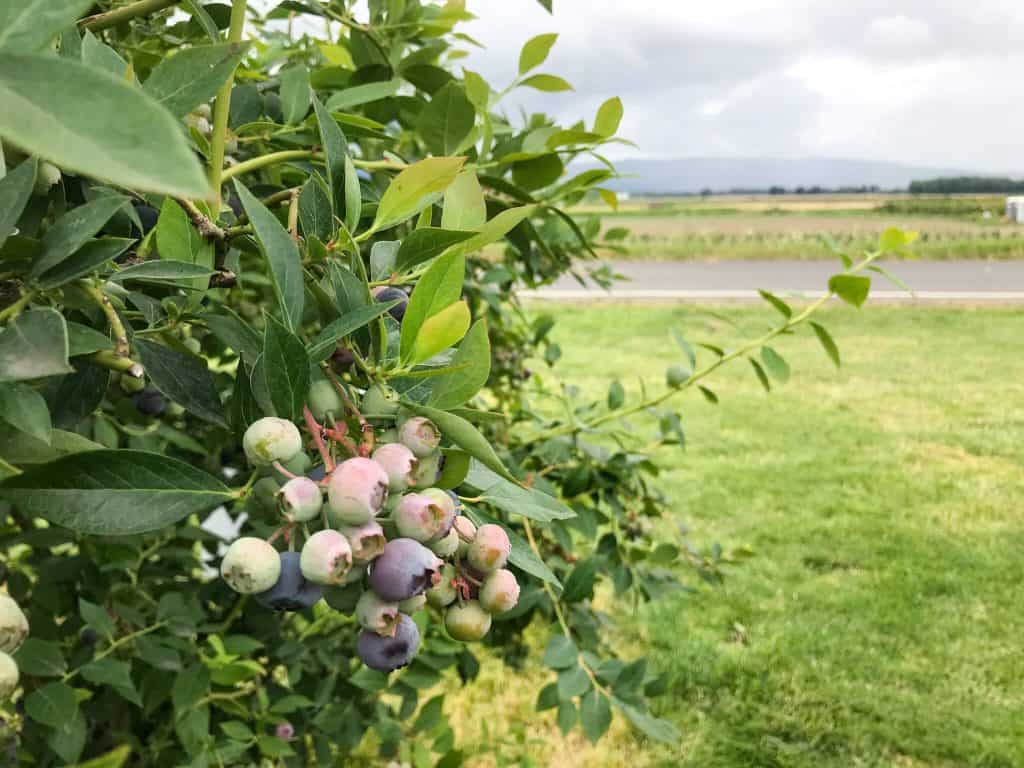 Whether you are going berry picking or just using berries that are available to you, find our recipe inspiration for berries at the end of this post! My favorites from this trip were Homemade Blackberry (Marionberry) Jam (can't get over how gorgeous it is!) and Mixed Berry Crumble Bars which we made twice in three days!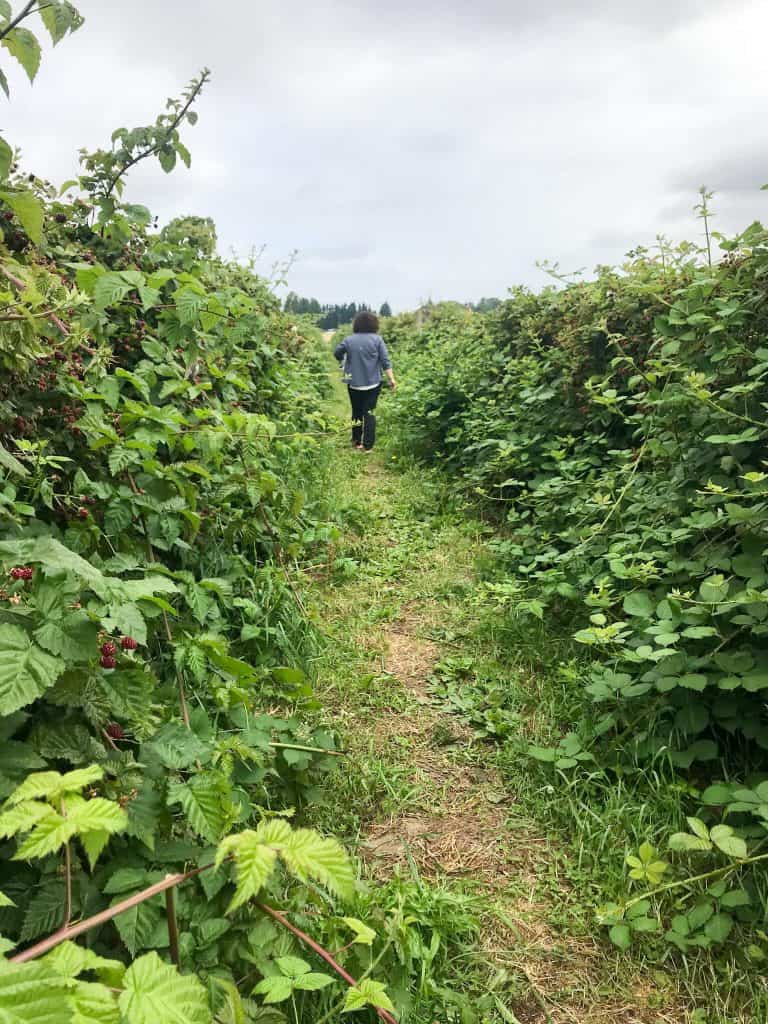 Berry picking is a great activity for the whole family! But the little ones wear out quickly in about an hour, so be prepared with snacks etc (although you typically have to keep foods in your car). My 3 year old nephew was with us on this berry picking trip and he had a blast! But being gentle was a little foreign to him with the berries, especially the fragile ones, so most of his came out mainly smashed. Perfect for jam! Haha 🙂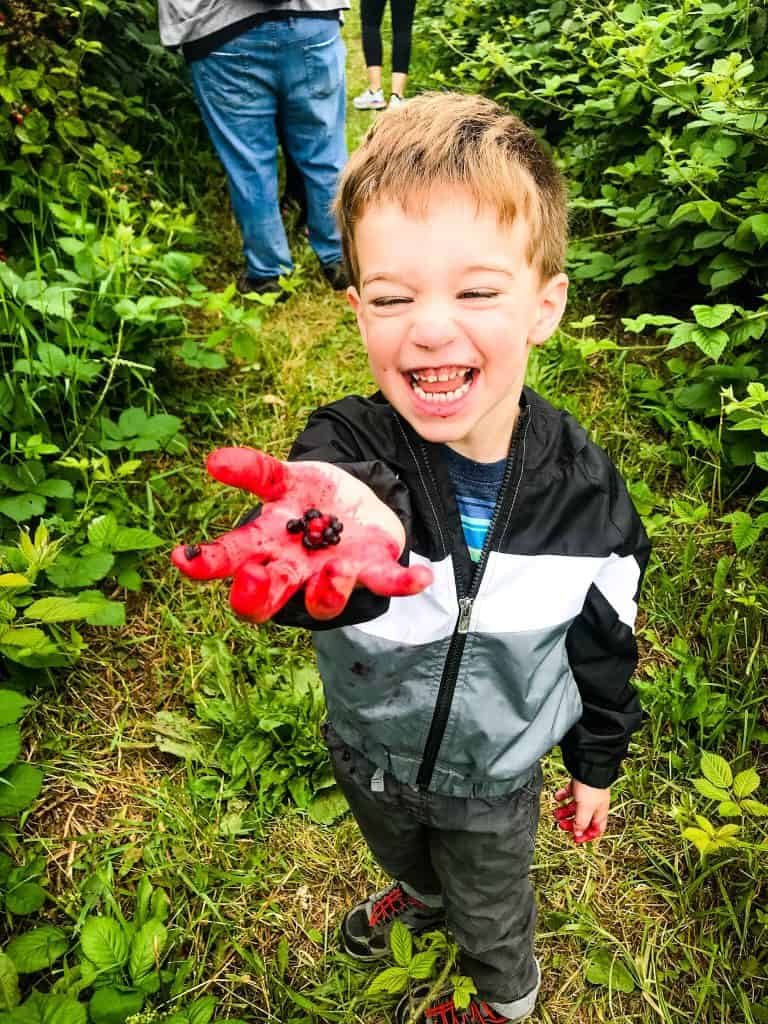 For this trip we went to Columbia Farms and it was amazing! This post is not sponsored by them, and there are many, many farms to pick from. Here are some tips for going Berry Picking in the Pacific Northwest!
Look at the websites ahead of time for what is ripe
This is probably one of the most important things if you are on the hunt for specific berries. Whenever I visit the northwest, I MUST get at least some marionberries because I cannot get them at home in Denver. So if you are looking for certain berries, check their site or call the day of and they will have updates about what is ripe, and what is not. The place we went to ONLY had blueberries that day, so we changed plans!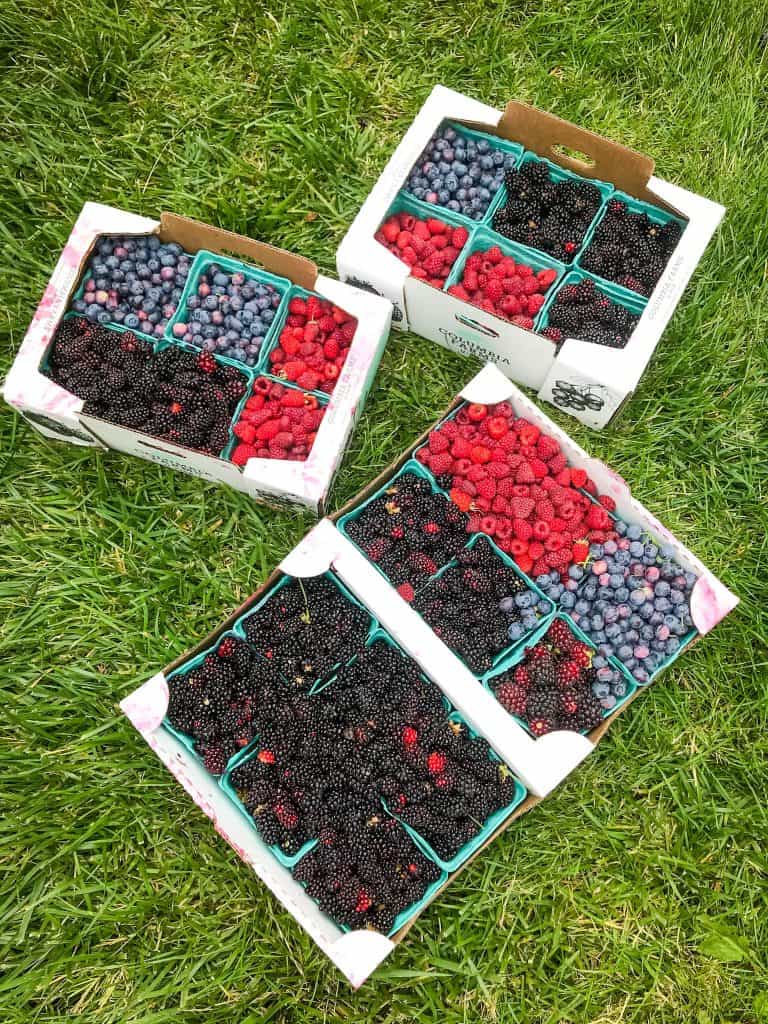 Dress accordingly
It gets hot from all the movement just to pick the berries. And on top of that, check the weather. We were lucky that it was overcast so we did not have the sun beating down on us.
Make sure you were close toed shoes like tennis shoes because you will be walking through fields, on uneven ground, and through a lot of plants.
The vines of some berry types like blackberries are prickly as well. If you have a nylon or similar fabric jacket, that is best. I had a long sleeve cotton shirt on and was getting stuck on thorns! My nephew had a windbreaker jacket with a hood which was PERFECT for him to protect him from the prickles.
You will likely be balancing being hot but covered in the fields.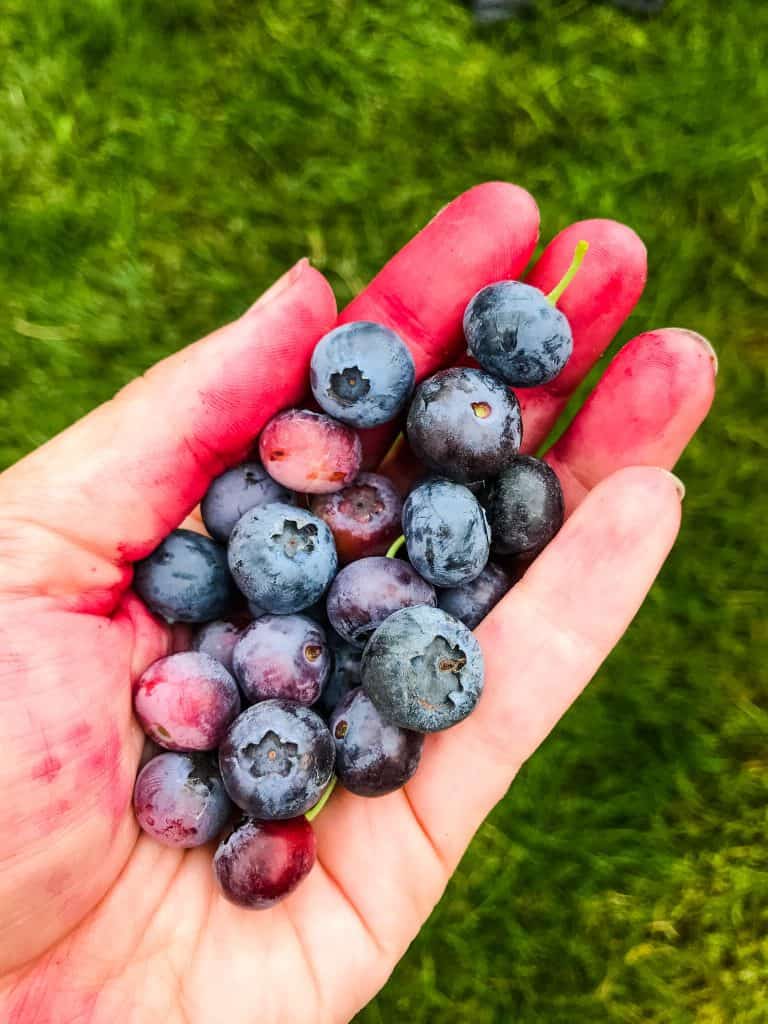 Take pictures of their farm map and start with your most important berries
It is easy to get turned around in the fields and forget which berries are where. Many sites have signs in the field for what type of berries are in front of you, but farms can be large. Most places have a sign near the entrance that shows which berries are where across the property. Take a picture with your phone so you know where you need to go next! You will think you will remember, but this is so much easier.
Check with the people that work there about differences of varieties, and if certain crops are best to hit (or avoid). And start with the berries that are the most important to you. That way if you run out of time or energy, you have the berries you wanted the most.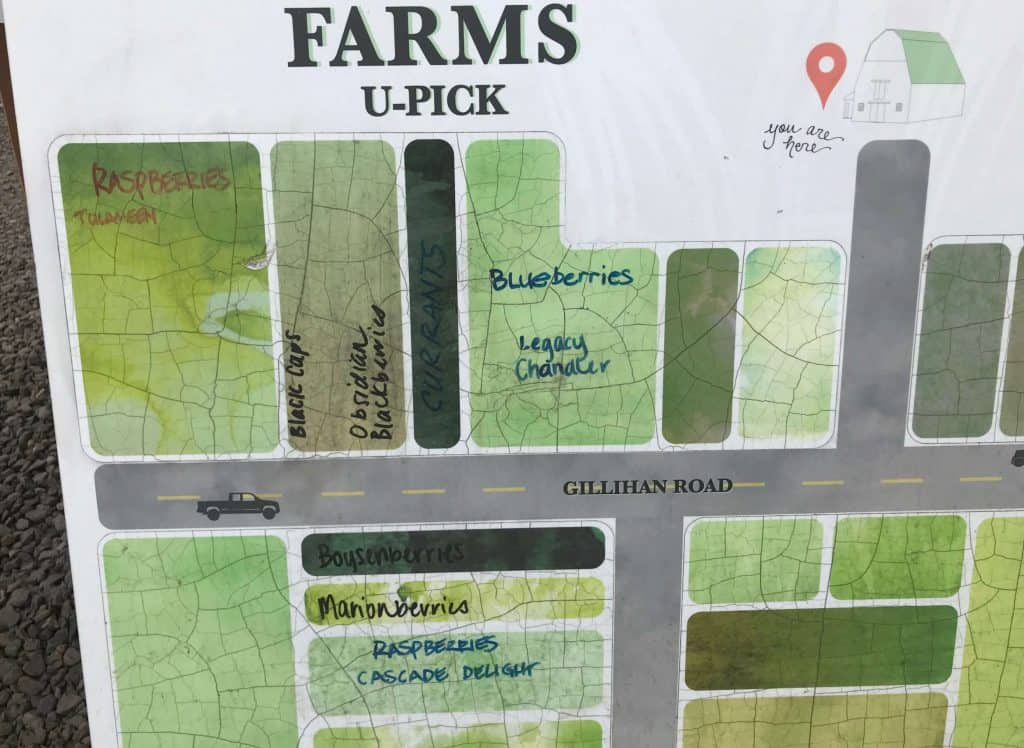 Do not pick super ripe berries unless you are using them right away
I found multiple people talking about how they did not want to pick the berries unless they were super ripe. But the super ripe ones, like the darkest raspberries and marionberries, went bad FAST at home. Like the next day they were covered in mold. So picking just barely shy of perfectly ripe was perfect for using the berries in a day or two. Consider when you are using them, and have that be your guide for how ripe you want the berries to be that you pick.
They also go bad faster once washed, so we kept the berries in the baskets with minimal handling until we sorted and cooked with them the next day.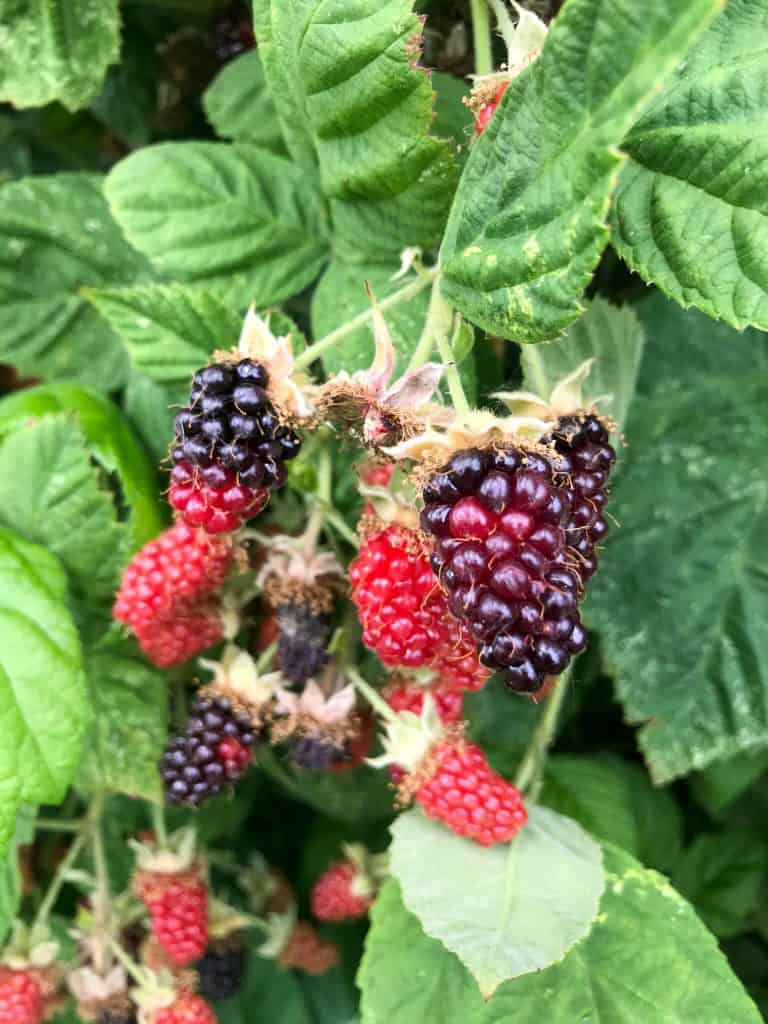 Your berry tray will get heavy
Holding a flat full of berries got really heavy and it felt like I had a toddler on my hip! Hauling them around in a wagon could be helpful, however the ground is very uneven, so that is another hurdle to overcome. Be prepared to get an arm workout by holding the berries.
Some places encourage you bringing your own baskets or bags. Check out all the details on a farm's website before heading out! Using a bag that I could have slung over my shoulder would have been much easier to carry than the box, but with the pandemic, they were not allowed.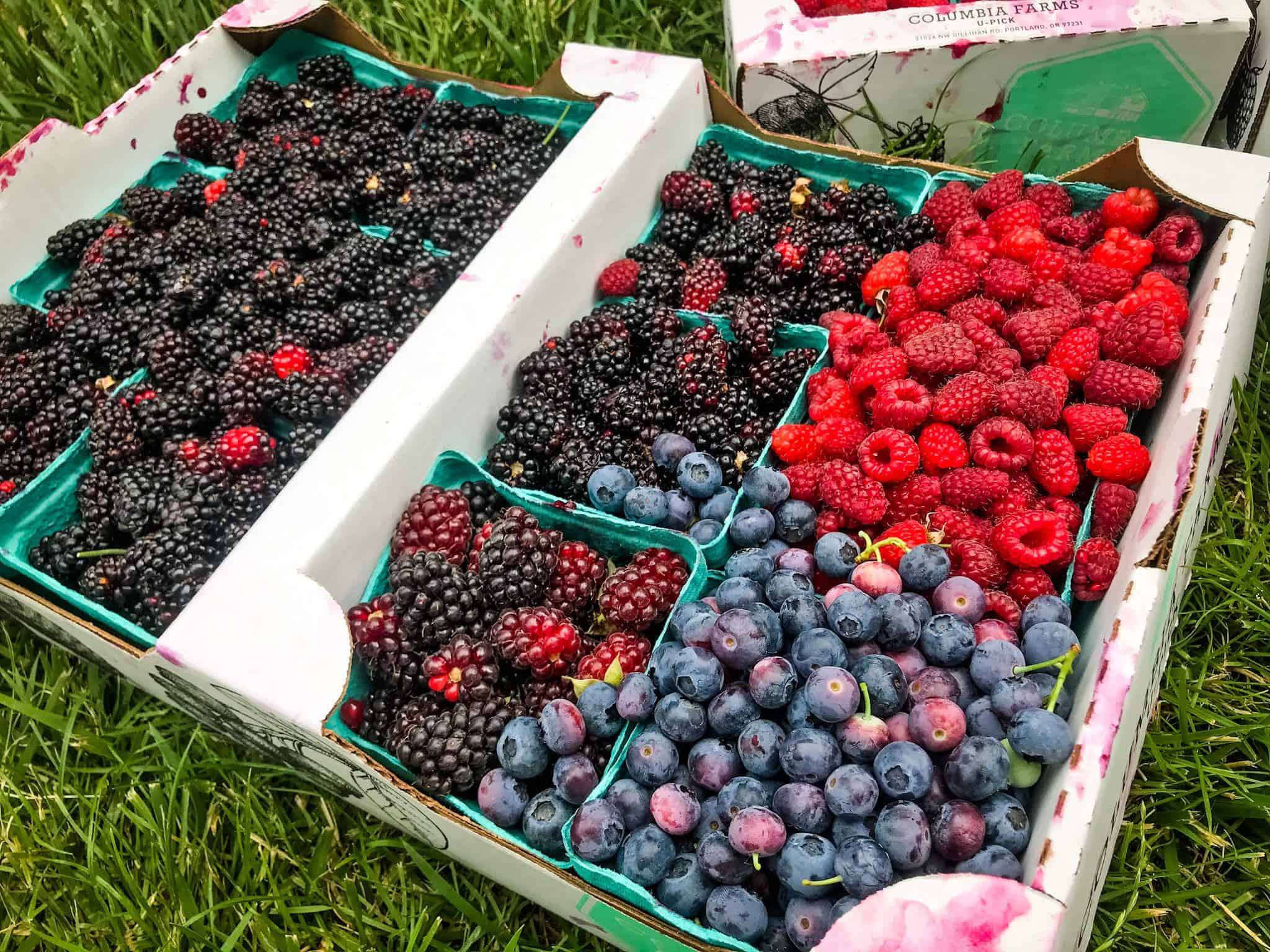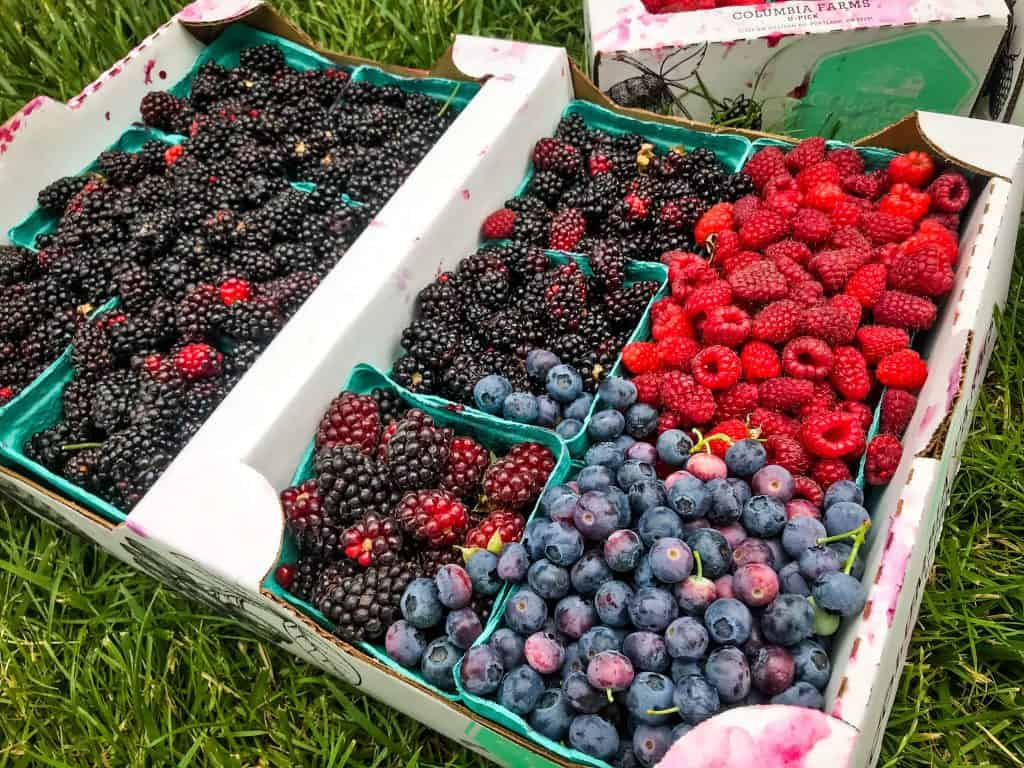 Look high and low and in the vines
Just like the grocery store, most people are looking straight into the berry bushes at eye level. So these berries are typically the first to go. Make sure you are looking up toward the top, inward under vines, and at the bottom (a great kid height!) to find more berries that are hidden from plain view.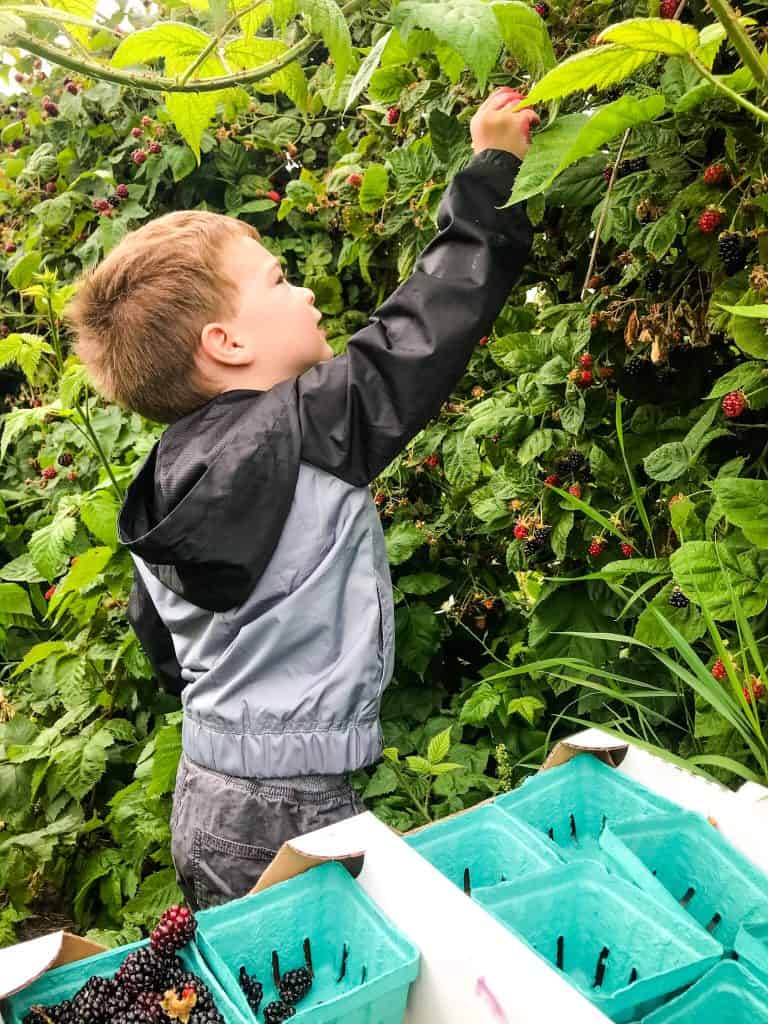 There are pre-picked berries
Many farms have pre-picked berries, so if you run out of energy or do not have the time, you can always grab some berries that are already picked. Each location will have different options available so be sure to check out their selection.
And also check out their little market shops for other fun items! I have seen local honey, produce, jams, and more.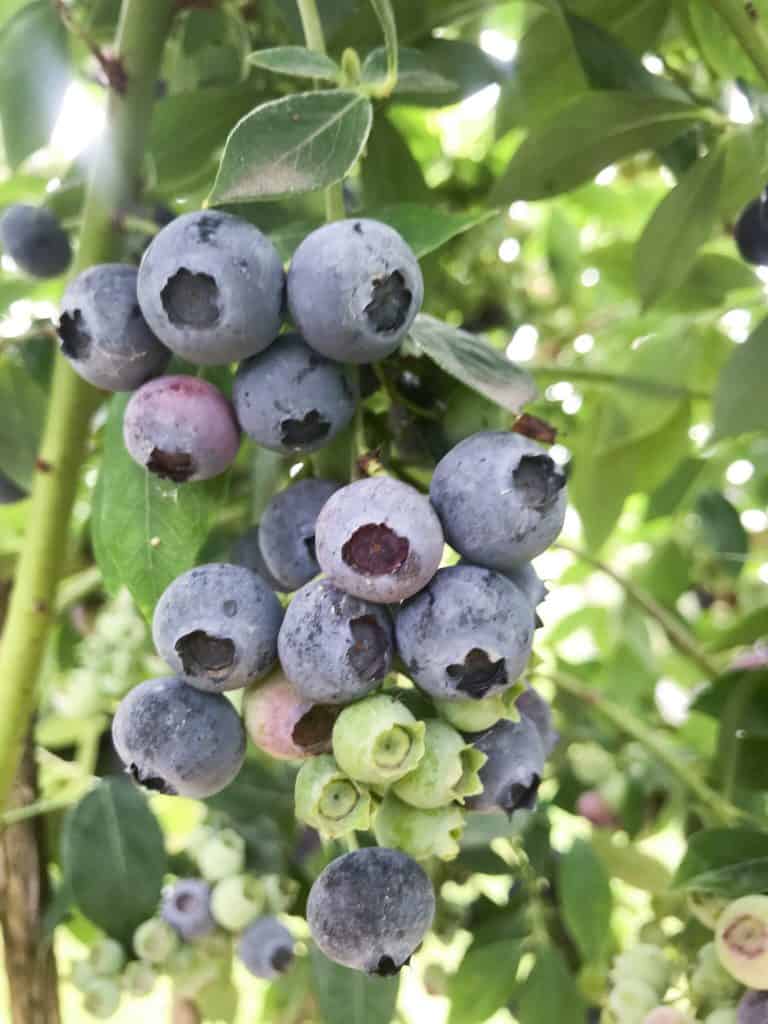 Here are just a few of our berry recipes to use up your berry picking haul!
(Or if you want to live vicariously with what you have locally!)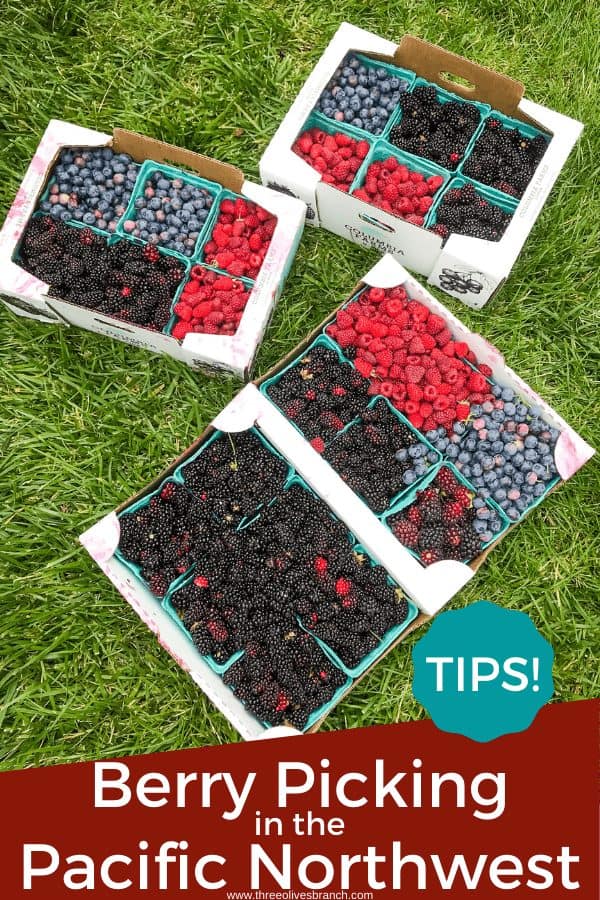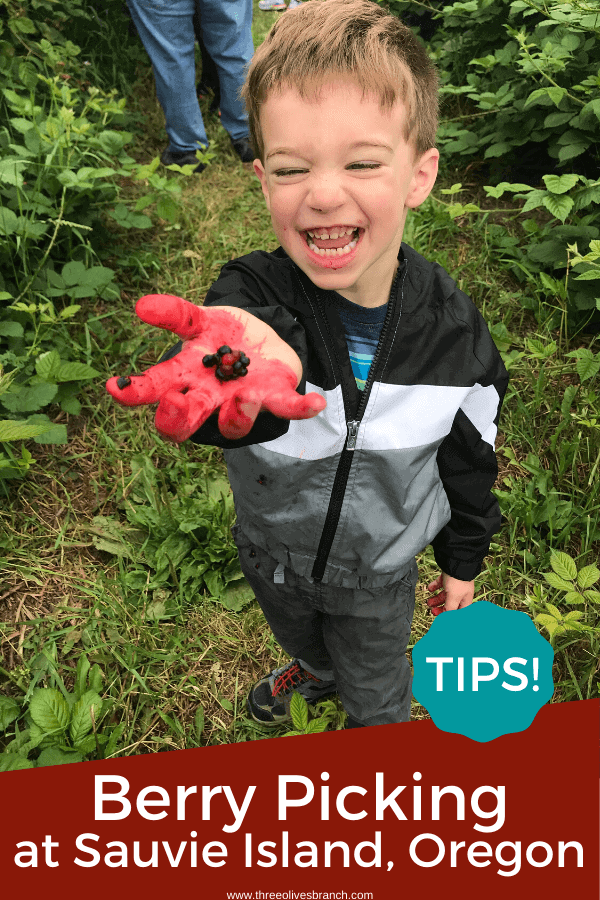 By